Product Showcase
Apr 1st, 2011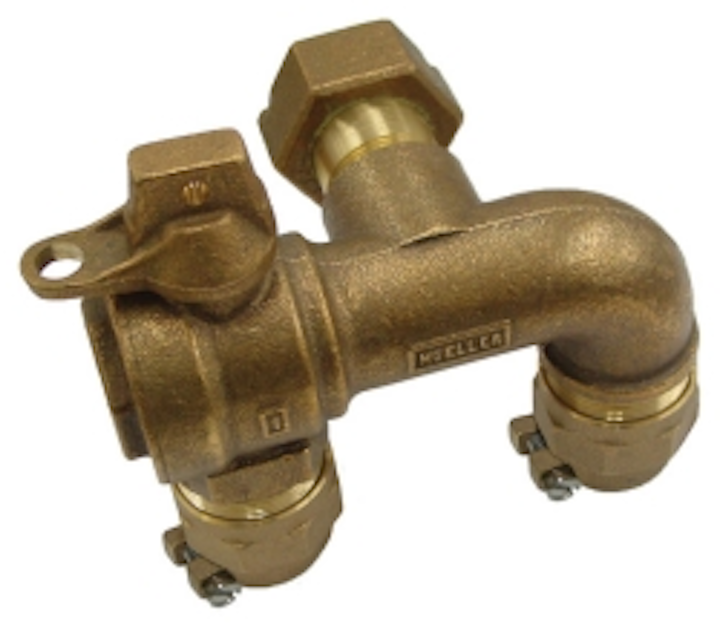 Fire service fittings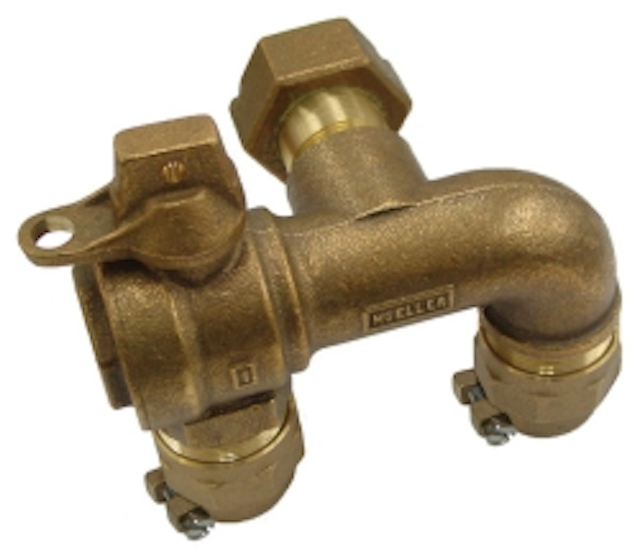 The Mueller® Residential Fire Service Fitting saves time and cuts the potential for leakage when installing residential fire service and domestic supply lines on one meter. It includes everything needed to make the connection in an integrated "uni-cast" bronze body. There's no assembly of separate valves and fittings involved. The fitting has a 1" lockable angle ball valve to control the domestic side without interrupting flow to the fire line. The meter connection can accommodate 1" or full ¾" meters. Its two 1" outlet connections can be ordered with integral Mueller 110® Compression, pack joint or FIP connections.
Mueller Water Products
Cleveland, NC
Tel: 800-423-1323
Web: www.muellerwaterproducts.com
Circle No. 266 on Reader Service Card
---
High-speed blowers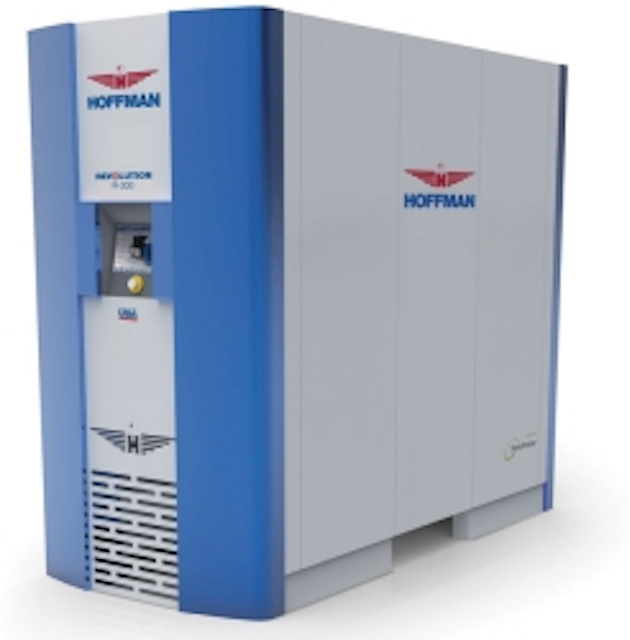 Gardner Denver has announced a new line of high speed centrifugal blowers using magnetic bearing technologies. Marketed under the company's Hoffman® brand of centrifugal aeration blowers, the Revolution is an advanced energy management blower system. The first in this family of blowers, the R-200 and R-300 are capable of flows from 2,500-8,500 CFM and pressures from 3-15 PSIG. In addition to the active magnetic bearing technology, the blowers feature patented surge control technology, a permanent magnetic synchronous motor, integrated human machine interface and programmable logic controller, variable frequency drive, all factory prewired and tested in an ergonomically designed sound enclosure.
Gardner Denver Inc.
Tel: 770-632-5028
Web: www.hoffmanandlamson.com
Circle No. 267 on Reader Service Card
---
Flow monitoring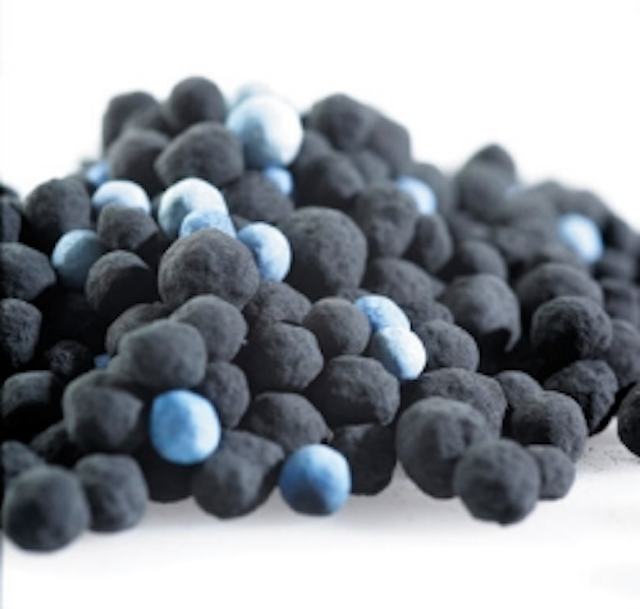 Hach has announced the release of its latest open channel flow monitoring solution, the sc200™ Universal Controller with Ultrasonic Flow Sensor. The controller offers flexibility with its plug-and-play sensor set up and communication options. The large, trans-reflective display uses menu-driven programming to guide the user through set up, primary device selection, and calibration. Password protection prevents unwanted changes and tampering.
Hach Co. Flow Products
Frederick, MD
Tel: 800-368-2723
Web: www.hachflow.com
Circle No. 269 on Reader Service Card
---
Diffused air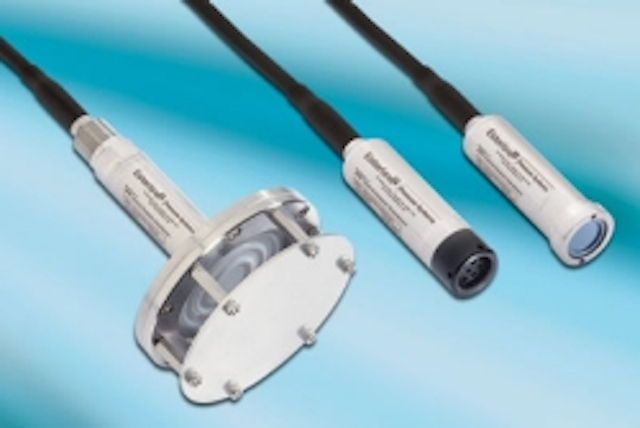 Otterbine Barebo has expanded its Air Flo 2 diffused air system product line by releasing 2-dome and 1-dome diffuser manifold options to the original 4-dome option. The new manifolds allow creation of modular systems that can be adapted to suit the depth and aeration requirements of lakes and ponds. The new diffusers are offered in self-cleaning varieties and as Traditional Air Stone Diffusers. The systems are suitable for operating depths to 40 feet and include a shore mounted cabinet that provides quiet operation and simplified servicing.
Otterbine Barebo Inc.
Emmaus, PA
Tel: 610-965-6018
Web: www.otterbine.com/airflo2
Circle No. 268 on Reader Service Card
---
Chemical feed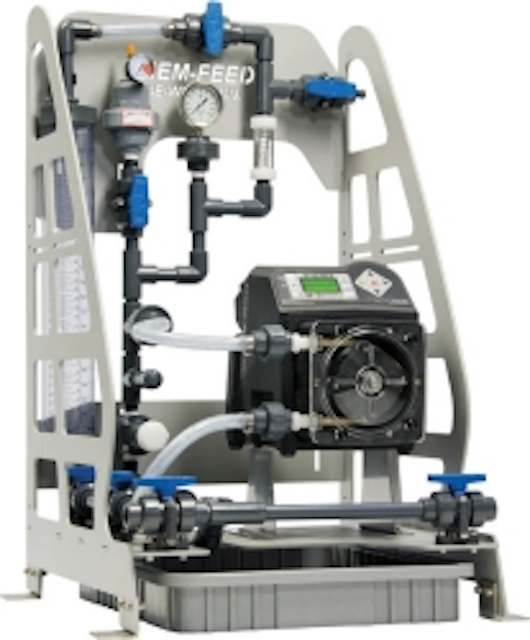 Chem-Feed® Skid Systems from Blue-White are available for the ProSeries® M Series Metering Pumps. Systems can be floor or wall mounted. Custom universal mounting blocks and pre-assembled component assemblies are easily stocked and field replaceable into pre-machined mounting slots. Each system is factory tested. The skid systems include a self-filling calibration cylinder and an exclusive flow indicator. Single and dual pump systems are available. The systems provide easy access to wiring components from the rear and feature removable drip containment trays.
Blue-White Industries
Huntington Beach, CA
Tel: 714-893-8529
Web : www.bluwhite.com
Circle No. 270 on Reader Service Card
---
Check valve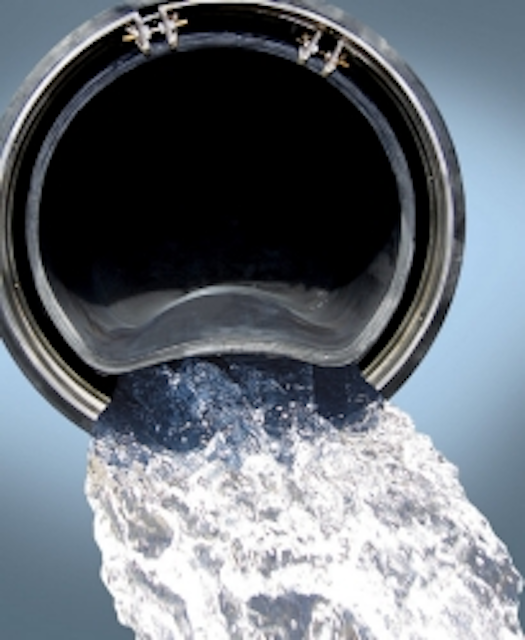 The CheckMate® Inline Check Valve is ideal for backflow prevention and odor mitigation. In outfalls, stormwater, CSO and SSO applications, the valve's custom-engineered, all-rubber unibody design eliminates backflow from oceans, rivers and interceptors. Its elastomer fabric-reinforced design provides extremely low headloss. The valve can open to a near full pipe diameter. This maximizes the flow capacity of the outfall, which is particularly beneficial in low-lying areas where limited driving head is available. The valves are available in 4" to 72" sizes.
Tideflex Technologies
Carnegie, PA
Tel: 412-279-0044
Web: www.tideflex.com
Circle No. 271 on Reader Service Card
---
Packaged treatment system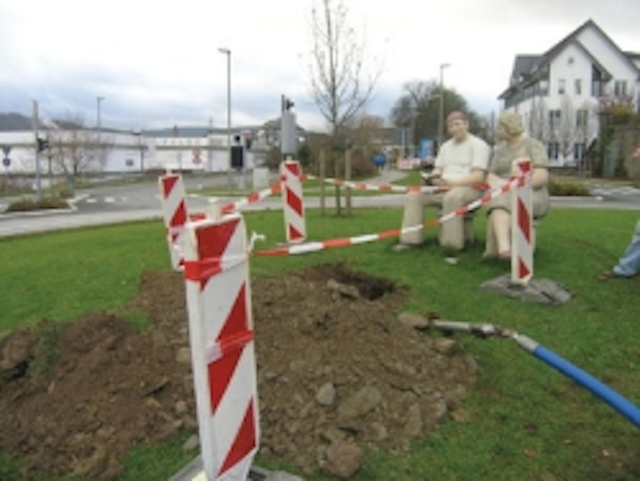 The AlgaePac™ Packaged Wastewater Treatment System, available from Oldcastle Precast, provides low-energy tertiary treatment. Featuring Algaewheel® technology, the system combines algal and bacteriological processes in a controlled symbiotic relationship for expanded treatment. Nutrients in the wastewater are converted directly to algae, a plant grown through photosynthesis, while consuming carbon dioxide and producing oxygen. Algae biomass generated from the system is a renewable biomass source for biofuel production, cogeneration, fertilizer, or it can be digested.
Oldcastle Precast Inc.
Littleton, CO
Tel: 888-965-3227
Web: www.oldcastleprecast.com/wastewater
Circle No. 272 on Reader Service Card
---
Centrifugally cast pipe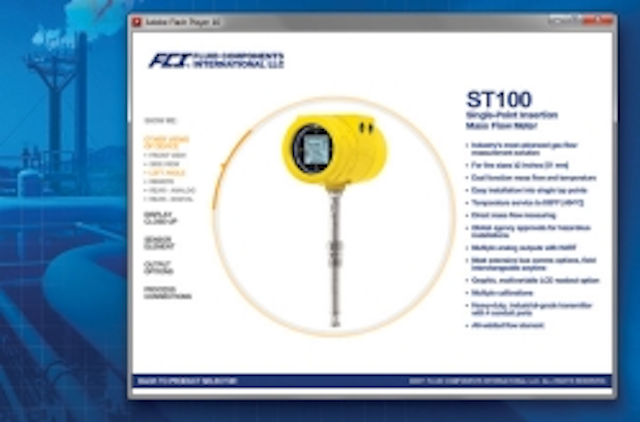 Hobas pipe's high strength-to-weight ratio, smooth surface and flush, push-together joints are ideal for sliplining. Superior hydraulic characteristics provide maximum flow recovery. Smaller installation pits and longer pushes minimize surface disruption. The centrifugally cast, fiberglass-reinforced, polymer mortar pipe is inherently corrosion resistant and has a life expectancy of 100 years or more. The pipe has been used in new construction and rehab for critical installations including storm and sanitary sewers, potable water and corrosive environments. In addition to sliplining, it is ideal for a variety of installation methods including open cut, jacking, microtunneling, two-pass tunnel, casing carrier and above ground. Pipe diameters range from 18" to 110" for both pressure and gravity applications.
Hobas Pipe USA
Houston, TX
Tel: 800-856-7473
Web: www.hobaspipe.com
Circle No. 273 on Reader Service Card
---
Thermoplastic pump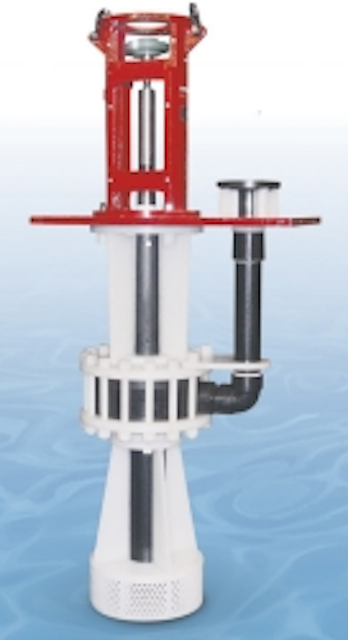 Vanton's Sump-Gard® model SGK-2700 thermoplastic centrifugal pump handles flows to 1200 gpm at heads to 200 ft, making it ideal for fume scrubbers and other applications in which caustic and acidic chemicals are transferred. All wetted components are molded of solid polypropylene, PVDF or CPVC to eliminate chemical attack associated with pumping of aggressive chemicals while minimizing abrasion. The alloy shaft, which is isolated from fluid contact by a thick-sectioned thermoplastic sleeve, transfers torque from a 125 hp motor and can employ a balanced 14" diameter impeller.
The pump's large diameter cantilevered shaft eliminates the necessity for any immersed bearings and permits operation for short or extended periods of dry run with no damage to the pump.
Vanton Pump & Equipment Corp.
Hillside, NJ
Tel: 908-688-4216
Web: www.vanton.com
Circle No. 274 on Reader Service Card
More WaterWorld Current Issue Articles
More WaterWorld Archives Issue Articles