New Literature
May 1st, 2011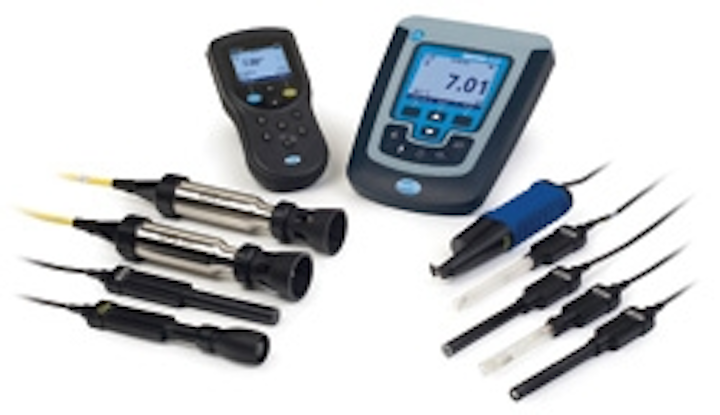 Water quality monitoring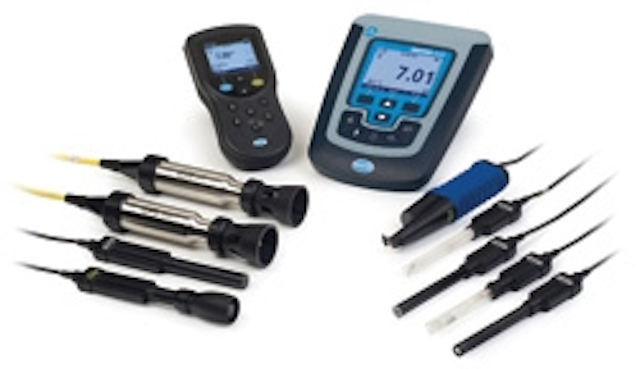 Hach has developed a customized electrochemistry solution for water quality testing that takes the guesswork out of measurements. The company's HQd IntelliCAL smart probes automatically recognize the testing parameter, calibration history, and method settings to minimize errors and setup time. A 14-page brochure on the company's website provides in-depth information on the system. A full suite of interchangeable laboratory and field probes are available, including ammonia, ammonium, chloride, conductivity, fluoride, LBOD, LDO, nitrate, ORP, pH and sodium.
Hach Co.
Loveland, CO.
Tel: 800-227-4224
www.hach.com
Circle no. 209 on Reader Service Card
---
Level monitoring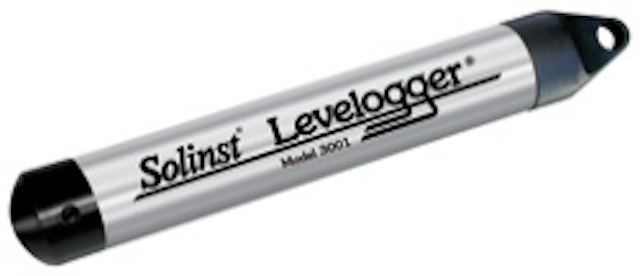 The Levelogger Junior provides a low cost solution for continuous water level and temperature measurement. A detailed datasheet on the logger is available on the company's website. The instrument combines a datalogger and 5-year battery in a compact 7/8" (22 mm) diameter stainless steel housing. The maintenance-free design features memory for 32,000 data points and accuracy of 0.1% FS with lifetime calibration. It is simple to deploy, and program with user-friendly software.
Solinst Canada Ltd.
Georgetown, ON
Tel: 905-873-2255
Web: www.solinst.com
Circle no. 210 on Reader Service Card
---
Open channel flow meter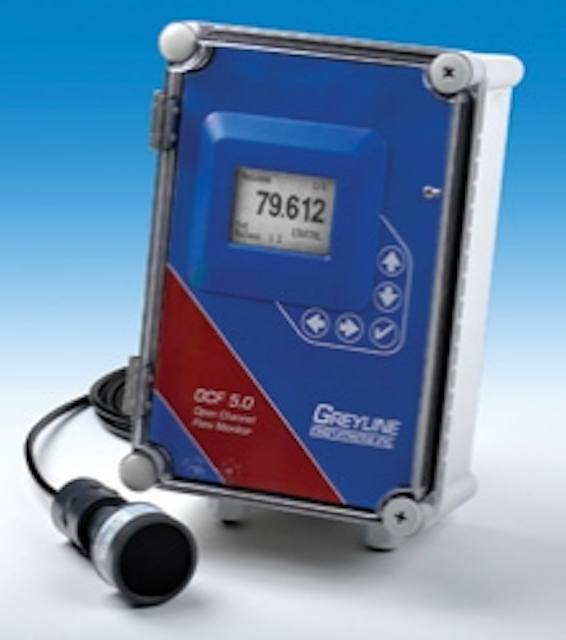 This new model OCF 5.0 Open Channel Flow Monitor from Greyline uses a non-contacting ultrasonic sensor to measure wastewater flow through flumes or weirs. A 4-page brochure is available on the company's website. The monitor features a built-in data logger with on-screen flow reports and output to USB flash drives plus Windows software to display and graph flow reports in fully customizable formats. The non-contacting ultrasonic sensor mounts above the flume or weir. It includes an isolated 4-20 mA and USB outputs, two programmable relays, a backlit LCD flow rate display and totalizer.
Greyline Instruments Inc.
Massena, NY
Tel: 888-473-9546
Web: www.greyline.com
Circle no. 211 on Reader Service Card
---
Flow meters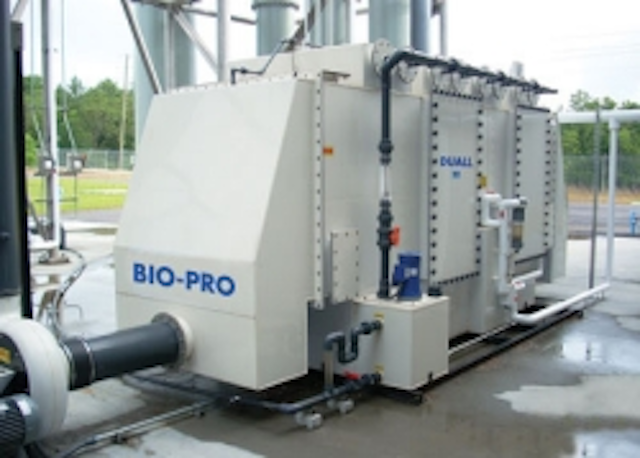 McCrometer's new online product demo makes it easier to understand the application and cost of ownership advantages of the FPI Mag™ Flow Meter. As the successor to the company's Multi-Mag Insertion Flow Meter, the new FPI Mag is a multi-electrode, hot tap, full profile insertion flow meter delivering a continuous total flow profile similar to a full-bore mag meter. The enhanced design features additional sensing electrodes for increased sensitivity and is now packaged in a heavy-duty 316 stainless steel sensor body for maximum structural integrity. The sensor is coated with a NSF certified 3M fusion-bonded epoxy coating for operational longevity.
McCrometer
Hemet, CA
Tel: 800-220-2279
Web: www.mccrometer.com
Circle No. 212 on Reader Service Card
---
Flow calculator tool
Badger Meter has created an online calculator tool that enables utilities to estimate revenue potential when using water meters that accurately capture readings at both high and low flow rates. Utilities can access this free tool by visiting http://calculatelowflow.badgermeter.com/lowflowapp.htm. The Low Flow Revenue Calculator helps utilities compare a variety of common metering technologies. With 16 percent of all domestic water consumption occurring at flow rates of less than 1 gpm, if low flow is not accurately captured by the meter, the impact on a utility's revenue may be significant.
Badger Meter Inc.
Milwaukee, WI
Tel: 800-876-3837
Circle no. 213 on Reader Service Card
---
PE pipe
The Plastics Pipe Institute (PPI) has added two new online software aids to assist in the design and installation of polyethylene (PE) pipe. The PPI-BoreAid™ software simplifies the design process of complex calculations for trenchless applications of PE pipe used in gas distribution, water and sewer systems. Project and pipe details can be entered into the tool to assess deflection, critical collapse, pull back force and allowable pullback force. The PPI Design and Engineering Calculator makes available to engineers a tool that assists in greater understanding of PE pipe capabilities. Specifically, the calculator will assist the design engineer in performing multiple computations relating to internal and external pressure ratings, pressure and gravity water flow, water hammer, and automates other assessments for above and underground systems.
Plastics Pipe Institute
Web: www.plasticpipe.org
Circle no. 214 on Reader Service Card
---
Gas sensor modules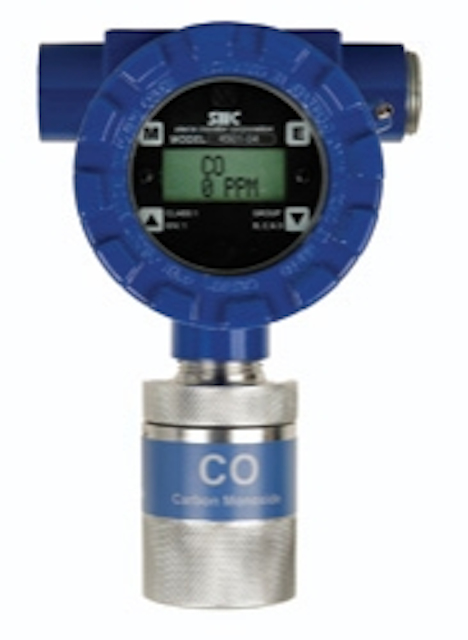 The Water/Wastewater Treatment section of Sierra Monitor's website offers a series of case studies and white papers on the use of its gas detection systems. A new product from the company, the 4501-04, 2-Wire Carbon Monoxide Gas Sensor Module, is loop powered gas detector that provides the user with lower cost and easier installation and maintenance. This eliminates the need for separate power runs and associated power distribution and circuit protection for each device. The sensor features an integral scrolling menu-driven LCD display for access to gas status, calibration instructions, adjustment of ranges and outputs and diagnostic information.
Sierra Monitor Corp.
Milpitas, CA
Tel: 800-727-4377
Web: www.sierramonitor.com
Circle no. 216 on Reader Service Card
---
Replacement parts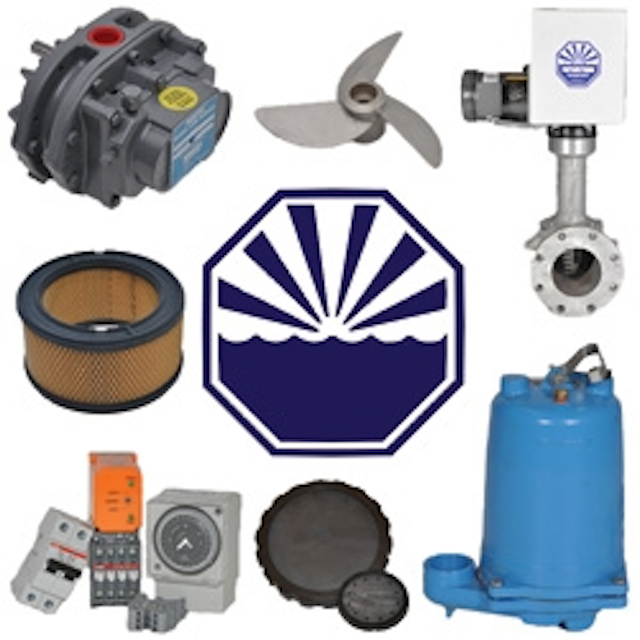 Purestream has developed a new website and online ordering catalog for the wastewater industry. The website offers replacement parts for Purestream equipment. In many cases, parts such as circuit breakers, timers, blowers, pumps, etc. can be used on any system even if it is of a different manufacturer. The company has parts available for comminutors, controls, aeration, and mixing. The company continues to add more products to the website.
Purestream Inc.
Web: www.purestreamparts.com
Circle no. 215 on Reader Service Card
---
Sludge level detector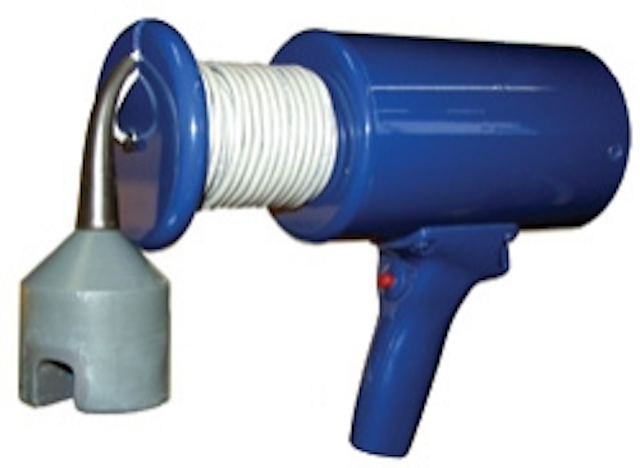 An animation of the Markland Sludge Gun® can be found on the company's website. The device is used to find sludge levels in lagoons, ponds, clarifiers, septic tanks or any other process where there is a sludge/liquid interface. An audible tone indicates sludge level. Battery life is about a year. The design is portable, rugged and weather proof. Sensitivity is adjustable for thick or thin sludges. Markland also makes fixed installation sludge depth meters, suspended solids meters and samplers.
Markland Specialty Engineering Ltd.
Tel: 905-873-7791
Web: www.sludgecontrols.com
Circle no. 217 on Reader Service Card
---
More WaterWorld Current Issue Articles
More WaterWorld Archives Issue Articles