New Products
Mar 1st, 2011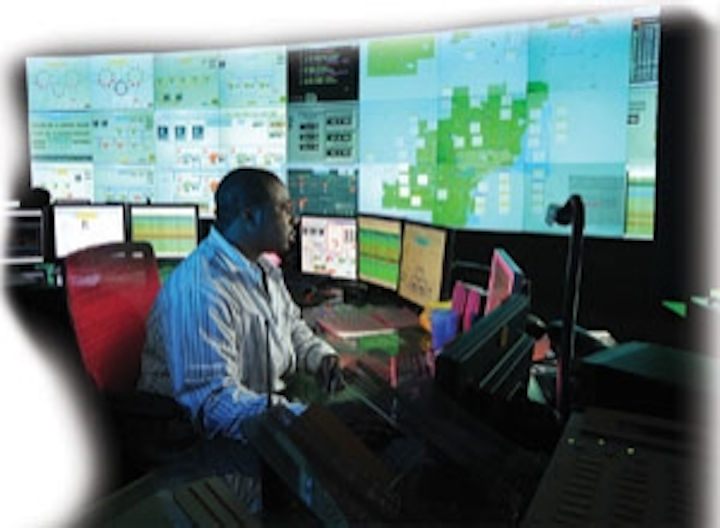 Progressing cavity pumps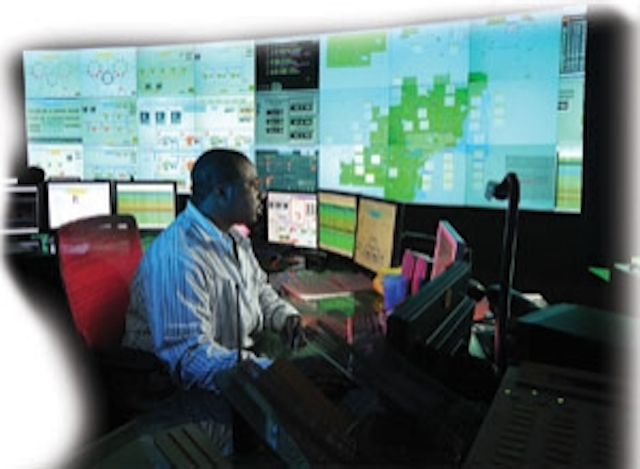 The Smart Rotor (SRT) design from Seepex allows rotor geometry to be changed using a plug-in connection, with no need to dismantle the suction casing, suction pipe or rotor-sided joint. The Smart Rotor can only be used in conjunction with the Smart Stator (SST). It is available for new pumps and as a retrofit for all SST ranges. Technical features include a two-part pluggable rotor comprising rotor and rotor head. For clockwise pumps, the rotor is axially secured in the rotor head using a locking plate.
seepex Inc.
Enon, OH
Tel: 937-864-7150 Web: www.seepex.com
Circle No. 237 on Reader Service Card
---
Modeling software
XP Software has announced the official approval of XPSWMM 2D and XPSTORM 2D by the Federal Emergency Management Agency (FEMA) for two-dimensional flood modeling and mapping for the National Flood Insurance Program (NFIP). Its XPSWMM and XPSTORM programs have been FEMA approved for one-dimensional modeling since 2003. Both 2D programs allow Floodplain Managers and engineers to accurately model urban floodplains, open and closed channels, surface and sub-surface flows, braided river systems, levee breaches, dam breaks and more with a stable and tested 1D/2D model, fully-supported in a commercial software package.
XP Software
Portland, OR
Tel: 888-554-5022
Web: www.xpsoftware.com
Circle No. 239 on Reader Service Card
---
Grinder system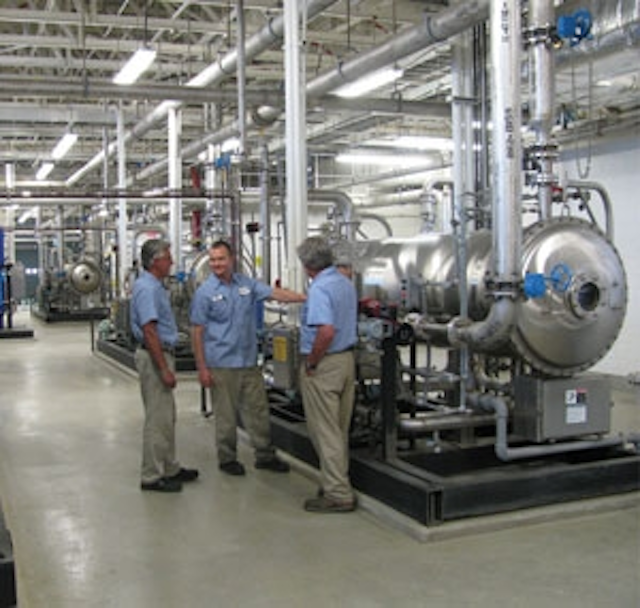 The new Moyno® Max-Flow Annihilator™ Grinder System is a custom engineered headworks debris handling system that protects downstream pumps, valves and process equipment in water treatment plants and their lift stations. The grinder can be used in place of bar rakes and screens as well as drum screen grinders. It contains two or more Annihilator grinders mounted side-by-side in a stainless steel retrieval frame in the headworks of a waste treatment system. They can be installed in an in-line or a staggered or offset design to accommodate a variety of channel widths. The frame is engineered to order and pre-fabricated. It includes guide rails to permit the independent retrieval of each grinder for easy maintenance.
Moyno Inc.
Springfield, OH
Web: www.moyno.com
Circle No. 240 on Reader Service Card
---
Chlorine dioxide sensor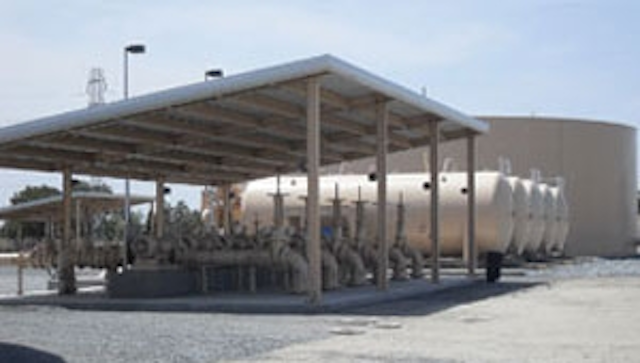 The CLD Series Chlorine Dioxide Sensor from Sensorex is a flexible, low maintenance solution for applications including water treatment disinfection and chlorine dioxide generators. The sensor is available in both 0-2 ppm and 0-10 ppm measurement ranges for real-time amperometric chlorine dioxide measurement with a 4-20 mA output. The sensor's design reduces maintenance cycles, which lowers lifecycle costs with less frequent sensor membrane cap/solution replacement and reduced technician installation time.
Sensorex
Garden Grove, CA Tel: 714-895-4344 Web: www.sensorex.com
Circle No. 238 on Reader Service Card
---
Water quality test kit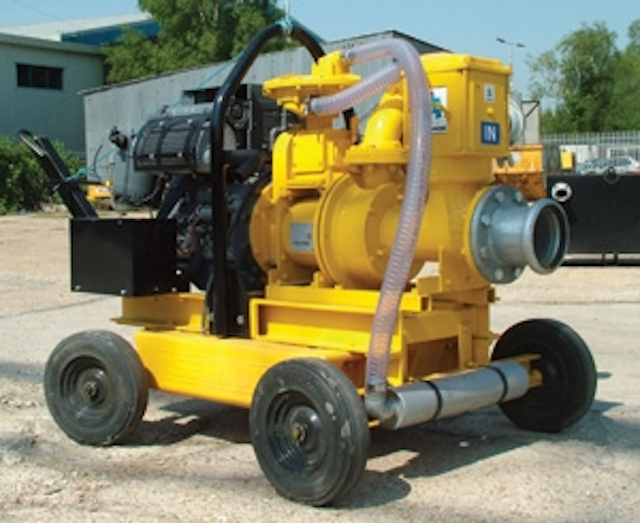 Based on the Ultrameter II, Myron L's new Ultrameter III 9P adds the ability to perform in-cell alkalinity and hardness titrations - either as stand-alone measurements or as part of an LSI calculation. Alkalinity, hardness, pH and temperature values can be manipulated in the LSI calculator to predict the effect of changes on water balance. The new tester is simple to use and maintain. It is packaged in a hard protective carry case with all required accessories and solutions for measurements and titrations.
Myron L Co.
Web: www.myronl.com
Circle No. 212 on Reader Service Card
---
Chemical scale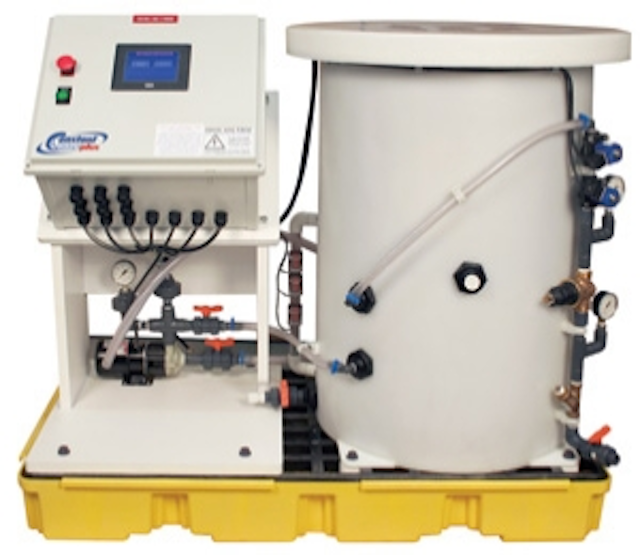 The IBC Tote Scale™ allows operators to see exactly how much polymer is being used to reach target solids level. Use scale data to adjust feed amount and to help determine most effective type of polymer for an application. View info on Wizard 4000® and SOLO G2® indicators. Connect outputs to SCADA for remote monitoring.
Force Flow
Concord, CA
Tel: 800-893-6723
Web: www.forceflow.com
Circle No. 213 on Reader Service Card
---
Environmental monitoring
Labtronics has announced the release of Nexxis EM (Environmental Monitoring), a software system that monitors environmental systems and makes the data available laboratory staff. The system connects directly to any instrument to monitor conditions such as temperature, humidity or any type of specific chemical. Collected information is processed and made available to informatics systems. The data collected from instruments is standardized and stored in an environmental database which provides access to any system that requires the information. Standardizing the data makes it easy for other software supplications to use the data.
Labtronics Inc.
Guelph ON
Web: www.labtronics.com
Circle No. 214 on Reader Service Card
---
Bar screen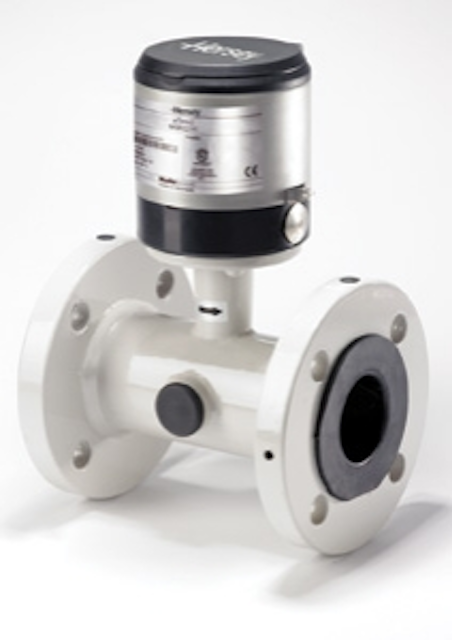 The ScreenMaster® CS Wastewater Bar Screen from Franklin Miller provides efficient cleaning of a bar screen rack and removal of solids from rectangular channel installations. The unit employs a front clean/ front return principle, is easy to install in new or existing channels and at a 75-degree inclination has a very small footprint. The design features a simple, continuous rotary motion. As the rake head passes through the bar slots collecting debris, it travels up the unit's dead plate until it reaches a scraper supplied with a dash pot for smooth operation.
Franklin Miller Inc.
Livingston, NJ
Tel: 973-535-9200
Web: www.franklinmiller.com
Circle No. 215 on Reader Service Card
---
Level monitoring
Frontline Sensors & Systems has released the wireless LD575 RF Level Mate, a standalone system for gauging water levels remotely. The system integrates Ametek's Level Mate II Level System and an SG900-M Modbus gateway from Wireless Sensors. The sensors are suited for a wide range of applications found in municipal water/wastewater, including groundwater monitoring, lagoons and lift stations.
Frontline Sensors & Systems
Lake Forest, CA
Tel: 949-472-8631
Web: www.frontlinemanagement.com
Circle No. 216 on Reader Service Card
---
Magnetic manhole cover lifts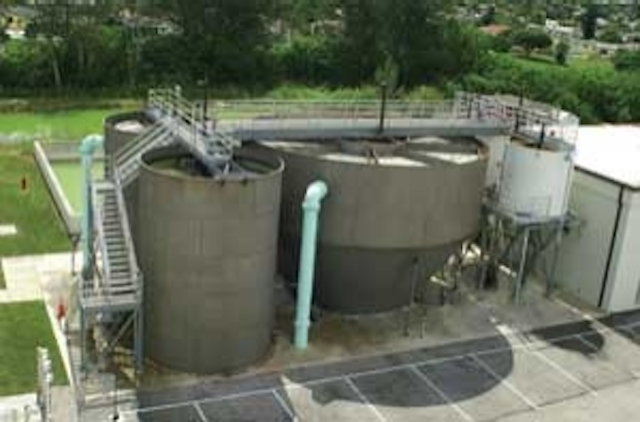 Industrial Magnetics' new products allow manhole covers to be moved and replaced by one person, significantly reducing injuries and disabilities caused by traditional prying and lifting of manhole covers. The patented Magnetic Manhole Cover Lift System's two, PowerLift® Rare Earth Magnets attached to a spreader bar and lift dolly allows one operator to lift and move up to a 36" diameter manhole cover. Smaller covers with smooth-surfaced centers can be lifted by removing the Spreader Bar and using one PowerLift® Magnet.
Industrial Magnetics Inc.
Boyne City, MI
Tel: 888-582-0822
Web: www.magnetics.com
Circle No. 217 on Reader Service Card
---
Colorimetric online analyzer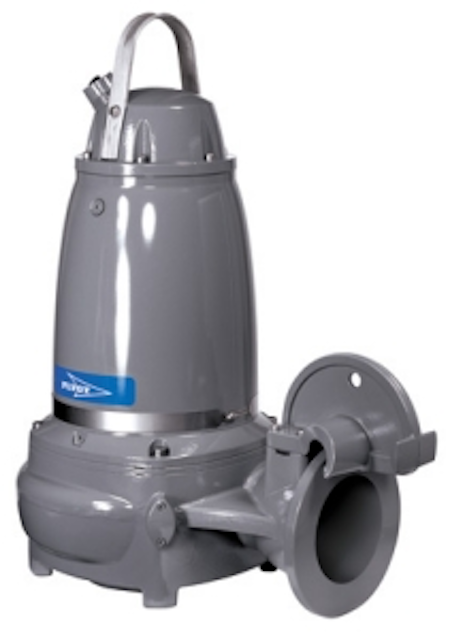 The new CA-6 Colorimetric Online Analyzer from Electro-Chemical Devices performs colorimetric or Ion Selective Electrode (ISE) based laboratory analyses accurately and reliably. Its online sequential sampling analyzer weighs less than 40 lbs. and can be wall mounted or set on a bench. Simply connect the sample, waste and reagent lines to the analyzer and provide power, and the CA-6 will begin its preprogrammed analysis sequence. The analyzer is available with up to four channels each from a separate sample point.
Electro-Chemical Devices
Irvine, CA
Tel: 800-729-1333
Web: www.ecdi.com
Circle No. 218 on Reader Service Card
---
Atmospheric monitor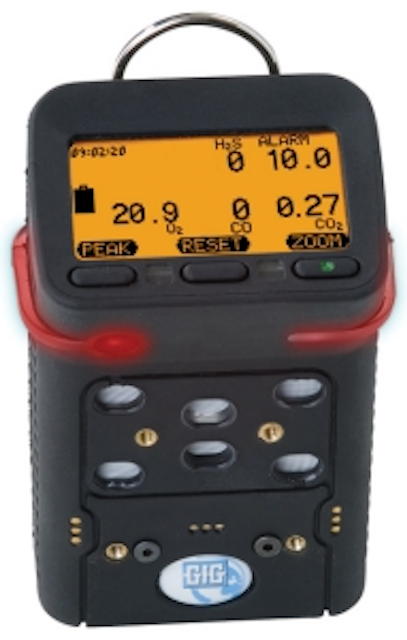 GfG Instrumentation offers the G460 multi-sensor atmospheric monitor, which is suited for confined spaces. The concussion proof boot, along with the dust and water resistant housing, protects the instrument in the harshest environments. Installed sensor options include infrared (NDIR) for CO2 and PID for a direct reading of toxic VOC measurements. It features completely automatic calibration, one-button operation, top mounted display, interchangeable battery packs, a configurable smart sensor design, plus data and event logging.
GfG Instrumentation Inc.
Ann Arbor, MI
Tel: 734-761-5083
Web: www.gfg-inc.com
Circle No. 219 on Reader Service Card
---
Generator sets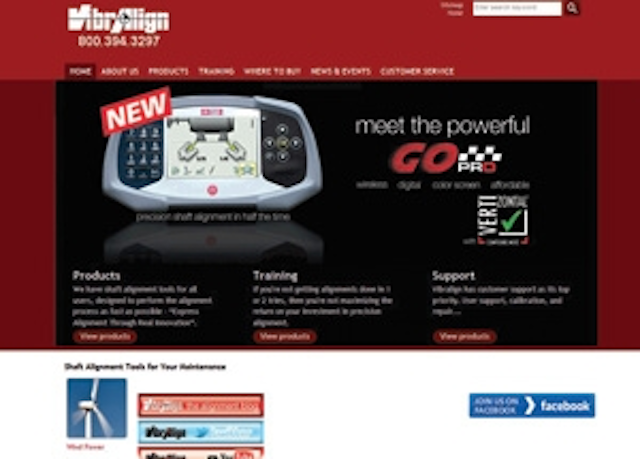 MTU Onsite Energy has introduced seven new gaseous-fueled generator sets in the important power node from 130 kW to 400 kW. The new units are certified to accept rated load in one step as specified by NFPA 110, a transient performance feature that makes them ideal for standby power applications where gaseous fuels are preferred. The new units are standby-rated at 130 kW, 150 kW, 175 kW, 200 kW, 260 kW, 325 kW and 400 kW when running on natural gas.
MTU Onsite Energy Corp.
Mankato, MN
Web: www.mtu-online.com
Circle No. 220 on Reader Service Card
---
pH/ORP sensor
Emerson Process Management has released the Rosemount® Analytical Model 3900 general purpose pH/ORP sensor, designed to meet a broad range of applications. It has the widest temperature operating range of any general purpose sensor and is the first to function at sub-zero temperatures, providing accurate measurements in applications from -10 degrees C to 100 degrees C. Each sensor is equipped for both ¾" and 1" mounting and can be used in insertion, submersion and flow-through applications.
Emerson Process Management
Tel: 641-754-3288
Web: www.emersonprocess.com
Circle No. 221 on Reader Service Card
---
Ultrasonic flow meter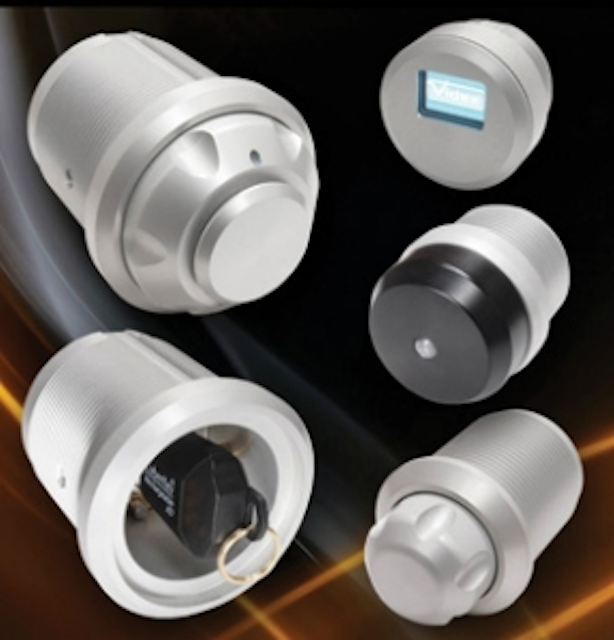 The new Portaflow PT400 Transit Time Flow Meter from Greyline is designed for clean liquids like water, oils and most chemicals. It is recommended for troubleshooting, spot checks and balancing flow. Clamp-on sensors mount on the outside of plastic or metal pipes and ultrasonic signals are injected through the pipe between the two sensors. Select A or B sensor configuration for a wide range of pipe sizes. Meter features include a large, backlit graphics display, 4-20mA output, and a user-friendly operating system with "Quick Start" calibration menu, plus ability to store calibrations for up to 20 different sites.
Greyline Instruments Inc.
Massena, NY
Tel: 888-473-9546
Web: www.greyline.com
Circle No. 222 on Reader Service Card
---
DO monitoring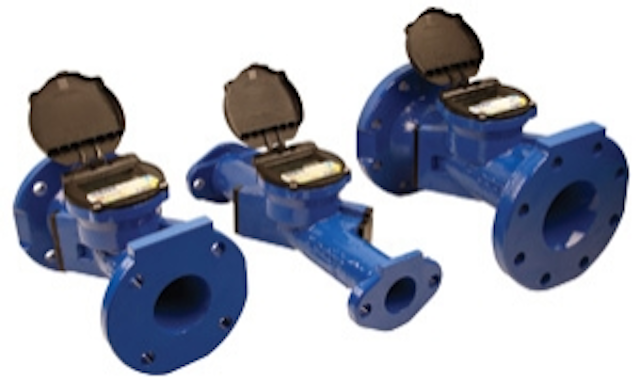 The Reliant Model 2100SC is a dissolved oxygen (DO) analyzer/sensor combination that is designed to be installed in any wastewater treatment aeration basin, or bio-reactor, and not touched for maintenance or recalibration for years. The Laminar Galvanic® Model 20 DO sensor features an armored lamina sensing medium which covers the pure platinum sensor cathode.
Reliant Water Technologies
New Orleans, LA
Tel: 504-400-1239
Web: www.reliantwater.us.com
Circle No. 223 on Reader Service Card
More WaterWorld Current Issue Articles
More WaterWorld Archives Issue Articles