New Products
Jan 1st, 2011
Mobile water treatment
Recently recognized by the Wall Street Journal in the 2010 Technology Innovation Awards, the Water Phoenix, produced by Active Water Sciences, is a patented new wastewater treatment system that offers promise in virtually any scenario where clean water is a priority -- including disaster relief and municipal wastewater cleanup efforts. Based on a continuous flow technology, the system uses special bacteria to convert wastewater into EPA standard water, producing little to no sludge. Portable and scalable, the system can be fully functional within a matter of hours, can provide clean water within 24 hours after setup, can operate virtually autonomously and be monitored remotely.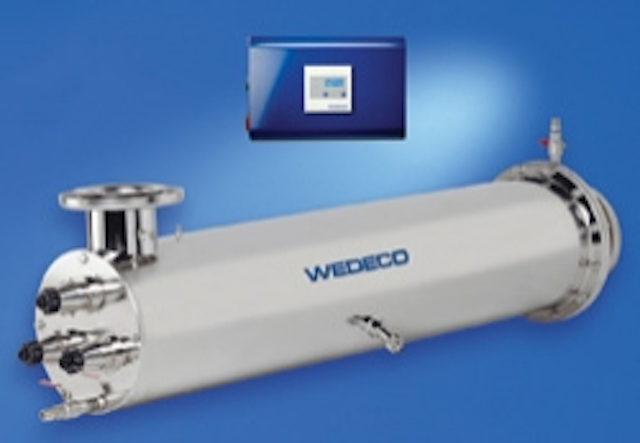 Active Water Sciences, LLC
Palestine, TX
Tel: 903-549-2056
Web: www.activewatersciences.com
Circle No. 267 on Reader Service Card
---
Modeling software
Schlumberger Water Services has released Visual Modflow v.2010. This latest release offers new features designed to simplify the modeling experience and also expands to new surface water-groundwater applications. It integrates the USGS Modflow Lake package and the Modflow ETS1 package. This advancement provides users with the ability to estimate aquifer-lake interactions while also considering the effects of site-specific evapotranspiration. This latest version also supports a variety of import formats to simplify constructing the numerical model. Import ESRI™ shapefiles for accurate placement of hydrogeologic boundaries; import USGS Modflow packages files for quick modification of pre-developed models; or import any matrix data following row, column and layer formats.
Schlumberger Water Services
Waterloo, Canada
Tel: 713-513-2480
Web: www.swstechnology.com/software
Circle No. 280 on Reader Service Card
---
Lead-free pumps
Hydroflo Pumps USA has added the Zero Lead Pump to its line of turbines, pumps and specialty products. The pump meets regulations of the current Safe Drinking Water Act (SDWA), including the most stringent laws in the states of California and Vermont. Due to lead's harmful health effects, recent legislation restricts the amount in a component of a drinking water system to a maximum of 0.0025%. The pump features stainless steel impellers and hardware, cast-iron lined bowls and Vesconite bearings, a specialized thermoplastic composed of internally lubricated polymers. Impellers are offered in 201, 304 and 316 stainless steel.
Hydroflo Pumps USA Inc.
Fairview, TN
Tel: 615-799-9662
Web: www.hydroflopumps.com
Circle No. 281 on Reader Service Card
---
Headworks
Smith & Loveless recently announced the release of its new Pista® Works™, a pre-engineered packaged headworks system combining screening, grit removal and grit washing into one integrated system. The complete system is pre-assembled and shipped direct to the job site, significantly reducing field-installation costs while allowing for a compact footprint. All equipment components are constructed of stainless steel and use multiple patented technologies including grit removal technologies Pista® 360™ with V-Force Baffle™, S&L Turbo Grit Pump and the Pista® Turbo™ Grit Washer featuring Tri-Cleanse Technology™. Package components also include ANSI flanged connections, a 6 mm fine auger screen, manual bypass bar screen, two platforms for easy equipment access, and epoxy-coasted carbon steel skid support for the complete system with concrete fill. Additionally, the system comes with a PLC-based control system with touch screen, color HMI interface and NEMA 4X panel to operate the entire system.
Smith & Loveless Inc.
Lenexa, KS
Web: www.smithandloveless.com
Circle No. 282 on Reader Service Card
---
Filter controls
Industrial Control Systems, a systems integrator, has announced the launch of Filter Magic®, a universal filter control system suited for retrofit solutions or new construction. The system was designed and patented by Controls International Inc. to make all filter control systems a standard, reproducible "product" instead of a unique integrated system. The concept is based on using a dual filter control console, AS-Interface (AS-I) bus network technology, K-Tork pneumatic vane actuators and is completely scalable from a micro two filter water treatment plant to a major facility with 40 or more filters.
Industrial Control Systems Inc.
Sandston, VA
Tel: 804-737-1700
Circle No. 286 on Reader Service Card
---
Soft starter
Schneider Electric has released the new Enclosed Altistart™ 22 soft start/soft stop motor controller. The new product includes an integrated circuit breaker disconnect and soft starter in a stand-alone enclosure. These new solid-state combination motor controllers provide a pre-engineered, integrated solution which helps to reduce voltage starting and soft stopping of standard three-phase asynchronous induction motors. The controllers include integrated bypass functions, which reduce the number of external components, such as power wiring, contactor, and control wiring for coil, while also decreasing heat dissipation and allowing for a smaller enclosure. The controllers are suited for horsepower ratings up to 125 hp at 480V.
Schneider Electric
Tel: 888-778-2733
Web: www.schneider-electric.us/go/drives
Circle No. 284 on Reader Service Card
---
Inorganic treatment
Severn Trent Services has announced the expansion of its line of inorganic treatment products, now including five drinking water treatment solutions for the removal of arsenic, iron and manganese, nitrate and fluoride. They are also used for pH adjustment. The product line includes: SORB 33® arsenic removal system featuring Bayoxide® E33 media; SORB 09™ fluoride removal system; SORB 07™ nitrate removal system; Omni-SORB™ iron / manganese removal system; and the TETRApHix® CO2 addition system;
Severn Trent Services
Tel: 215-997-4058
Circle No. 283 on Reader Service Card
---
Fire service meter
Neptune Technology Group has announced its HP Protectus® III S stainless steel meter has become the premier product offering for Neptune fire service compound meters. The stainless steel meter has the same dimensions and weight as the company's epoxy-coated steel version. It features a 304 stainless steel body, UL/FM approval and meets or exceeds AWWA C703. It has NSF/ANSI 61, Annex G and Annex F certification. The meter is offered with a 20 year meter and strainer body corrosion warranty.
Neptune Technology Group Inc.
Tallassee, AL
Web: www.neptunetg.com
Circle No. 287 on Reader Service Card
---
Filler compound
Sauereisen's new Hi-Build Filler Compound No. 209HB is designed for preparation of concrete surfaces. It is a strong-bonding epoxy material that was specifically engineered to fill large voids and open joints in concrete substrates prior to the application of a protective topcoat. The product is easy to apply and creates a smooth finish and appropriate bonding surface for the preparation and application of a protective coating or lining. The physical properties include compressive strength exceeding 5,000 psi. It has a curing time of 30 minutes at 70 degrees Fahrenheit and a recoat window of 24 hours, enabling fast track scheduling.
Sauereisen
Pittsburgh, PA
Web: www.sauereisen.com
Circle No. 285 on Reader Service Card
More WaterWorld Current Issue Articles
More WaterWorld Archives Issue Articles