New Article
Halogen Valve System's Eclipse Actuator™ closes standard chlorine and SO2 cylinder and ton container valves in less than one second when activated by...
Jan 1st, 2019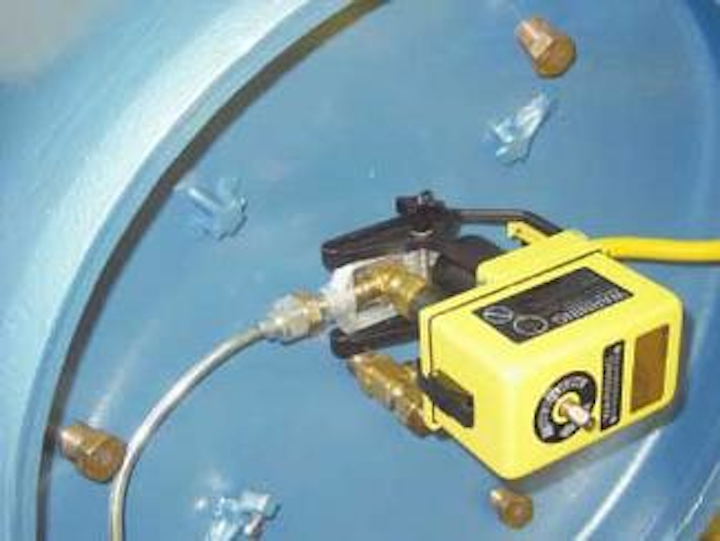 Chlorine shutoff system
Halogen Valve System's Eclipse Actuator™ closes standard chlorine and SO2 cylinder and ton container valves in less than one second when activated by leak detectors, earthquake sensors, and local or remote "panic buttons". This battery-operated actuator allows operators to shut off leaking toxic gas systems without entering the toxic atmosphere. The latest Fire Codes recognize and approve the "automatic-closing fail-safe shutoff valve" system in lieu of a scrubber treatment system.
Halogen Valve Systems
Irvine, CA
Tel: 877-476-4222
Web: www.halogenvalve.com
Chemical scale
The new WP1000 electronic, ultra-low profile weigh plate from Eagle Microsystems provides ± 0.1% full-scale accuracy and readout/transmission versatility. This scale can be used for weighing liquid, dry or liquefied gaseous chemicals packaged in cylinders, drums and carboys and have capacities to 1000 lbs. in three platform sizes. Weighing is accomplished using four environmentally sealed load cells. The weigh plate is constructed entirely of corrosion-resistant PVC, and electronics are packaged in a surface mount, fiberglass NEMA 4X enclosure.
Eagle Microsystems Inc.
Pottstown, PA
Tel: 800-780-8636
Web: www.eaglemicrosystems.com
Mixing equipment
Chemineer offers an aftermarket program designed to extend the service life of mixing equipment. The program features an extensive inventory of Chemineer and Prochem replacement parts, the company's Emergency Service program and a network of in-field and in-plant aftermarket service professionals. It also includes a Refurbished Mixer Gearbox replacement program for any brand of mixer to minimize costs and speed turnaround time.
Chemineer Inc., a unit of Robbins & Myers
Dayton, OH
Tel: 937-454-3200
Web: www.chemineer.com
Miniature pumps
Micropump® has announced a special material offering for its GJ Series gear pumps. This new component architecture enables users to pump a wide range of abrasive and chemically aggressive fluids. The series is now available with ceramics, Nickel Carbide, hardened stainless steel and other wear-resistant materials. These special materials extend the service life of pumps used to deliver fluids containing solids or abrasives. Available in custom OEM configurations, the pumps deliver pulseless flow rates to 0.85 gpm and pressures to 80 psi.
Micropump Inc.
Vancouver, WA
Tel: 360-253-2008
Web: www.micropump.com
Chlorine testing
Industrial Test Systems' DPD-1 ReagentStrip for Free Chlorine offers users a new, more convenient, delivery system for DPD. With the new system, there are no more tablets to crush, powders to spill, glass ampoule to break, or dispensers that release irritating dust. All required reagents are measured and impregnated on a test strip pad. Operators simply dip the strip into a 10ml water sample for 20 seconds with back and forth motion, remove, discard the strip, and immediately read in a chlorine meter. The testing system is compatible with a wide range of existing meters from manufacturers such as Hach, LaMotte, Orion, WTW, and others.
Industrial Test Systems Inc.
Rock Hill, SC
Tel: 800-861-9712
Web: www.sensafe.com
Chemical scales
Scaletron Industries offers a line of scales for measuring chemicals used in the harsh, corrosive environments of the water treatment industry. The company also offers a new applications and overview brochure which describes the firm's new Single Cylinder Hydraulic and IBC/Tote bin scales; its Mechanical and Digital Dual Cylinder, Tank and Ton scales; standard and ultra low profile Drum and Platform scales as well as the various indicators available for each scale.
Scaletron Industries
Plumsteadville, PA
Tel: 800-257-5911
Web: www.scaletronscales.com
Chemical dosing
The Milton Roy RoyPak Pre-Engineered Dosing Package can be combined with the RoyPak 4201 Pre-engineered Tank System to meet chemical fluid handling requirements. All RoyPak Systems feature pre-engineered and pre-sized components specifically matched to material, flow and pressure requirements. RoyPak Dosing Systems accommodate all of the company's metering pump line.
Milton Roy USA
Ivyland, PA
Tel: 215-441-0800
Web: www.miltonroy.com
Emergency valve actuators
Robo-Control® manufactures battery-operated actuators to remotely open and close hazardous gas cylinder valves such as chlorine and sulfur dioxide. All actuators are independently microprocessor controlled. They mount to the valve without interfering with existing hardware or dispensers and have LED indication of valve position. Actuators can be purchased to close only or have integral I/O for remote control. Optional integral leak detectors are available. The new Model RC is lighter than a vacuum regulator and weighs less than six pounds.
Robo-Control Inc.
Bridge City, TX
Tel: 409-697-2666
Web: www.robo-control.com
Process pump
Goulds Pumps, one of the fluid businesses of ITT Industries, has developed a new ANSI magnetic drive process pump. Designated the Model 3296 EZMAG™, this new sealless pump is specifically designed to handle difficult fluids such as corrosives, pollutants, ultra pure liquids and toxics. The new pump eliminates the risks of leakage normally associated with conventionally sealed pumps. Applications are numerous in water treatment facilities. The pump features Safeglide™ silicon carbide bearings for dry run protection.
Goulds Pumps
Seneca Falls, NY
Tel:800-734-7867
Web: www.gouldspumps.com
Bulk bag filler
A new bulk bag filler from Flexicon features a pivot-down fill head that allows the operator to connect empty bags at floor level and resume filing operations in less than one minute. The Swing-Down™ filler simultaneously lowers and pivots the fill head, stopping it in a vertically oriented position that places the bag inlet spout inflatable connection, inflator button and four bag loop latches within arm's length.
Flexicon Corp.
Bethlehem, PA
Tel: 888-353-9426
Web: www.flexicon.com
Sludge dewatering polymers
A new family of structurally engineered sludge dewatering aids specifically designed to improve the performance of centrifuges used in municipal wastewater treatment is being launched by GE Infrastructure Water & Process Technologies. The varying biological characteristics of different municipal sludges makes them particularly difficult to dewater effectively.
GE Infrastructure Water & Process Technologies
Trevose, PA
Tel: 215-355-3300
Web: www.gewater.com
Metering pumps
G.H. Stenner has introduced the SVP Series, a new variable speed peristaltic metering pump with optional 4-20 mA input for automatic control. Capable of 1.66 gph at 100 psi and 3.5 gph at 25 psi, the pumps are designed to respond directly to a 4-20 mA input signal from water treatment controls including pH and ORP monitors to maintain proper water chemistry and treatment of effluent discharge water. The SVP features a 4-button keypad for manual adjustment and an LED display.
G.H. Stenner & Co. Inc.
Jacksonville, FL
Tel: 800-683-2378
Web: www.stenner.com
Ball valves
CR-TEC Engineering has released a new line of ball valves designed for a range of applications handling water, gases or aggressive chemicals. These high performance ball valves are made in sizes from 3/8'' to 6'' and are available with pneumatic actuators, electric motor operators or manual control with levers and hand wheel gearboxes. Both 2-way and 3-way models are made with operating pressures from zero to 3000 psig. Choose from stainless steel, nickel plated brass, carbon steel or PVC for body materials, and from PTFE, UHMWPE or several other elastomers for sealing materials.
CR-TEC Engineering Inc.
Madison, CT
Tel: 203-318-9500
Web: www.crtec.com
Chlorination, dechlorination
Measurement Technologies' H2O Neutralizer™ family of products includes a Chlorination/Dechlorination device that will perform at levels as low as 5 psi of working pressure, and as low as 5 gpm flow rate, with a full vacuum insuring a constant feed solution rate. The H2O Neutralizer comes in two different sizes that will handle flow ranges from 5 gpm to 5,000 gpm.
Measurement Technologies Inc.
Redmond, WA
Tel: 877-889-8482
Web: www.h2oneutralizer.com
Sodium hypochlorite
Miox now offers on-site sodium hypochlorite generation in addition to mixed-oxidant generation. The only feed stocks are salt, water, and power, eliminating the need for hazardous chlorine gas. The hypochlorite system offers the company's largest cell capacity at 1000 pounds per day of chlorine. The systems are modular, so capacity can be increased by adding an additional cell cabinet. The hypochlorite systems are optimized for salt and power conversion efficiencies.
Miox Corp.
Albuquerque, NM
Tel: 505-343-0090
Web: www.miox.com
Metering pump drive
A new integrated DC motor and controller is available for the small metering, dosing and transfer pumps from seepex. These non-pulsating devices are ideal for polymer flocculants, NaOCl, NaOH, most acids, bases, water treatment chemicals, reagents and even viscous products to 100,000 cps. The 120 vAC powered controller provides current and internal circuitry for low-flow, run-dry and high-pressure protection devices. External electrical enclosures are not needed. Instruments are connected to the controller with standard 5-pin electrical connectors. The specially designed unit will deliver 20-600 rpm with repeatable flows from 2 cc/min to 4 gpm and pressures to 350 psi.
seepex Inc.
Enon, OH
Tel: 800-695-3659
Peristaltic pumps
Watson-Marlow Bredel's new 520 Du peristaltic pump is designed to handle the most corrosive fluids. For demanding metering requirements, the pumps are equipped with a high-torque microprocessor controlled drive, ensuring a higher range of flow rates up to 875,000:1 turn down ratio. The large swept volume of the pumphead provides greater volumetric displacement per revolution, resulting in longer tube life. Its aluminum die-cast body with unique polyester finish provides optimal impact and corrosion resistance in even the harshest environments. In addition, the pumps have no valves or seals and are self-priming.
Watson-Marlow Bredel Pumps
Wilmington, MA
Tel: 800-282-8823
Web: www.wmbpumps.com