Thermoplastic Pumps Help MunicipalitiesCope With Noxious Odors, Corrosive Fluids
For more than half a century, Vanton Pump & Equipment Corp. has been dedicated to the design and application of engineered thermoplastic pumps...
Sep 1st, 2004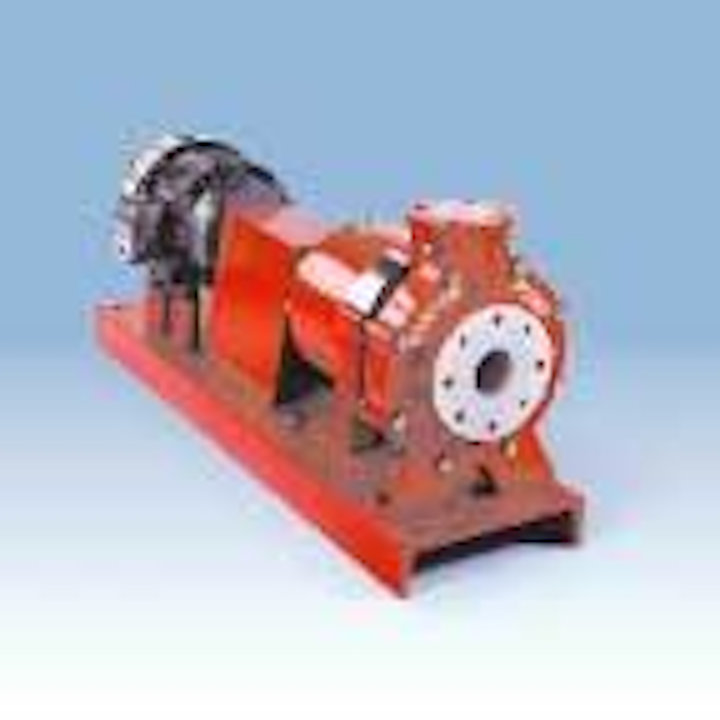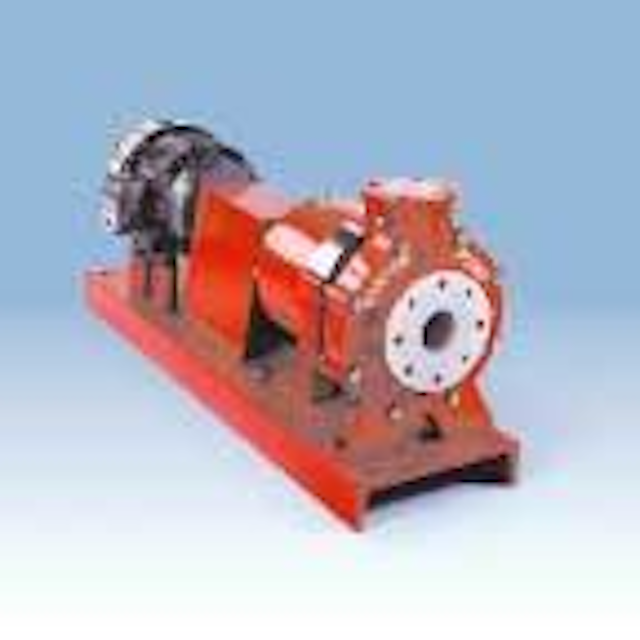 Vanton Chem-Gard®CGM horizontal centrifugal pump.
Click here to enlarge image
For more than half a century, Vanton Pump & Equipment Corp. has been dedicated to the design and application of engineered thermoplastic pumps for the transfer of corrosive, abrasive, hazardous, toxic and other aggressive fluids involved with water and waste treatment services, including scrubbing systems for odor control, chemical feeding for enhanced coagulation, water recovery and neutralization to satisfy strict EPA regulations.
The company's experience has been documented and made available through a published series of illustrated technical articles and case histories describing critical pump designs and material selection choices for the safe handling of pumping acids, caustics, halogens and solvents. The articles were published in the world's leading and most prestigious trade publications. More than 160 of these articles have been individually reprinted, numbered and described in a Technical Library Index. Copies of this index or any of the reprinted articles are available on request.
The building of this database is in keeping with the belief of the company founders that the free sharing of experience is the cornerstone of progress. Vanton's product development programs have always been linked to innovative problem solving through close personal customer involvement. It has helped the company grow from the initial design of the first all-plastic pump — a peristaltic type rotary unit for the gentle, noncontaminating transfer of blood during heart-lung operations — to the manufacturer of a comprehensive line of thermoplastic horizontal centrifugal, vertical centrifugal and peristaltic type pumps.
The Vanton display at WEFTEC 2004 will feature an assortment of pumps including cut-away units and dynamic display models. All pumps are built from solid homogeneous thermoplastic materials designed to resist chemical attack. On display will be three different types of sealless pumps, including a flexible liner rotary pump, horizontal mag-drive, and vertical centrifugals with designs for sump depths of 50 feet.
Also featured will be a dynamic display of a vertical bearingless cantilevered pump "running dry" without any adverse effects. Technical literature will be available and will provide useful data on the selection and use of thermoplastic pumps, and details on a large number of case histories describing applications at various municipal water and waste treatment facilities in the U.S. and abroad. Here are a few examples of the many documented case history application reports available.
— Odor scrubbing at Miami Dade's wastewater treatment facility relies on Vanton thermoplastic horizontal and vertical centrifugal pumps to reduce obnoxious odors, cut maintenance and improve air quality. This case history was prepared by Yvonne Picard, P.E., CH2M Hill.
— Magnetically driven Vanton horizontal centrifugal thermoplastic pumps in liquid caustic treatment system help Harpeth Valley Water Treatment facility reduce costs and improve the environment for employees and the community. Prepared in cooperation with Ronnie Parman, Plant Superintendent.
— Flexible liner Vanton peristaltic type thermoplastic rotary pumps replace conventional positive displacement pumps to save on maintenance and repair costs at New York City's Rockaway Water Pollution Control Plant. This case history was prepared with the help of plant superintendent, Guy Pappaceno, who reported that these pumps have a measure of reliability not available from more complicated pumps.
— Vanton PVC vertical centrifugal sump pumps transfer 93% sulfuric acid, 50% sodium hydroxide, alum various polymers and carbon slurries at Val Vista's 245 mgd water treatment facility in Mesa, AZ. Treatment facilities manager, Greg Froehling, reports no rust, no painting, lower maintenance and less downtime since the installation in 1994.
Fore more information on thermoplastic pumps and their applications in handling the many aggressive fluids encountered in water and wastewater treatment facilities, visit Vanton's website at www.vanton.com.