WEFTEC® EXHIBITOR PRODUCTS
Available in both cast and fabricated bodies, Crispin's Universal Sewer Valve is ideal for even the most highly corrosive applications.
Sep 1st, 2004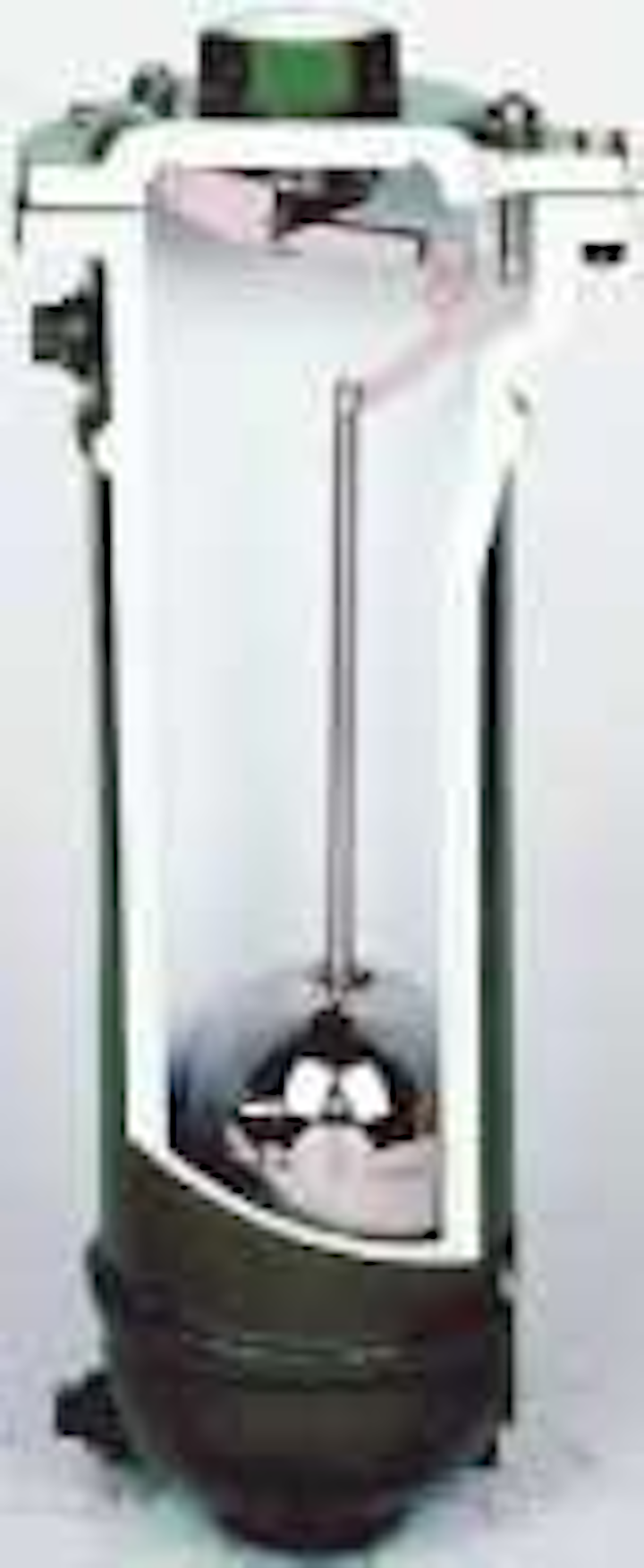 Sewer valve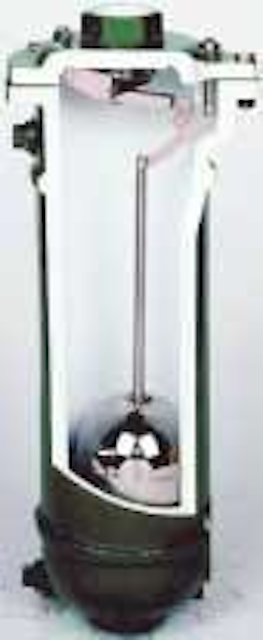 Click here to enlarge image
Available in both cast and fabricated bodies, Crispin's Universal Sewer Valve is ideal for even the most highly corrosive applications. It stays open to fully exhaust air volume, and comes in both short and long body styles. Stainless steel internals add extra strength and durability to the design, reducing the need for frequent backflushing. In addition, the valve has a field replaceable seat that eliminates the need for valve disassembly during routine maintenance. Engineered and manufactured in the U.S., its heavy duty construction meets or exceeds current industry specifications. Sizes 2'' thru 6'' are available.
Crispin Valve
Berwick, PA
Tel: 570-752-4524
Web: www.crispinvalve.com
Odor control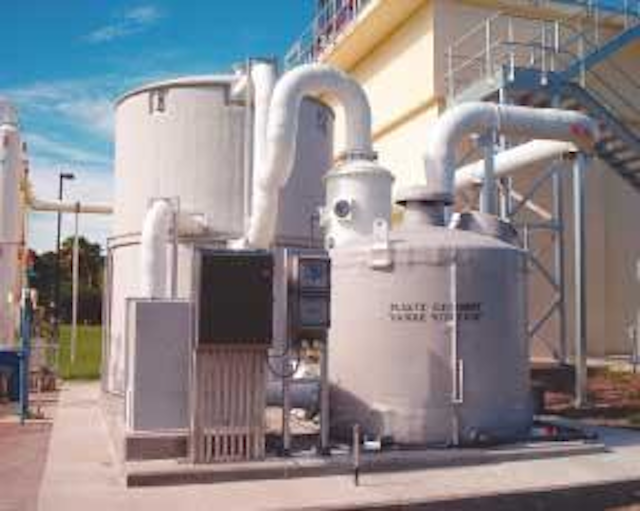 Click here to enlarge image
The newest addition to the Biocube line, the BMF-12 Odor Control System, is specifically designed to address higher-volume emissions associated with WWTP headworks, primary clarifiers, sludge management facilities and large pumping stations. The system's modular expandability and configuration flexibility combine to treat applications ranging from large pumping stations to entire waste treatment plants. A single 12 ft. diameter vessel can handle airflows from 1000 to 5000 cfm, with >99% H2S removal efficiency. Several BMF units can be manifolded together for larger capacities.
Biocube Inc.
Victor, NY
Tel: 585-924-2220
Web: www.biocube.com
Jet aeration, mixing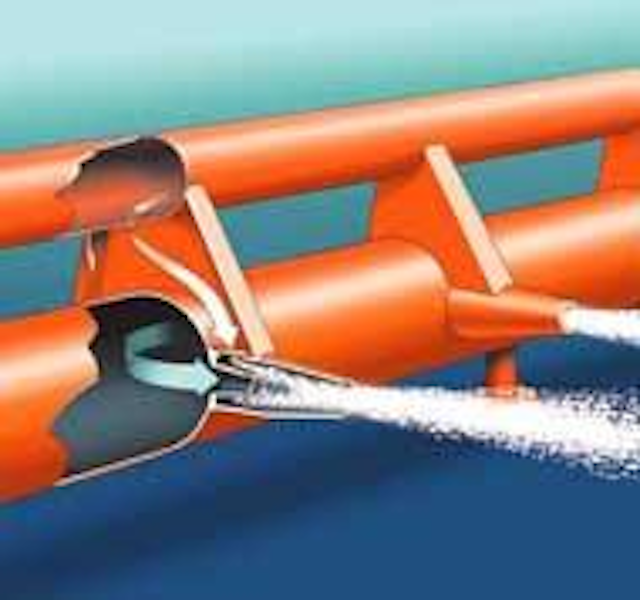 Click here to enlarge image
MTS (Mass Transfer Systems) for more than 20 years has specialized in the supply of jet aeration and jet mixing systems for biological wastewater processes. The majority of its products are engineered systems consisting of MTS jet aerators, in-basin piping, recirculation pumps, blowers, and out-of-basin piping and accessories. The company also offers the Multi-Aspirator submersible aerator, which provides efficient aeration without the need for a blower.
Mass Transfer Systems
Walpole, MA
Tel: 508-660-9150
Web: www.mtsjets.com
Ultrasonic level measurement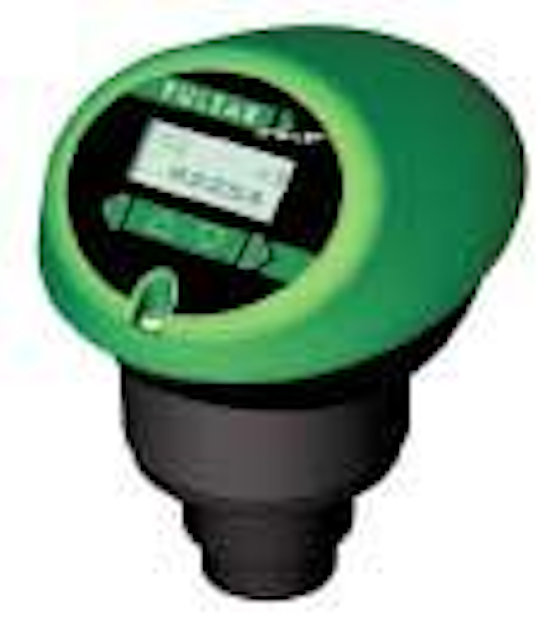 Click here to enlarge image
The Pulsar IMP will be launched at WEFTEC.04. The non-contact ultrasonic level system will has a range of 20 ft. and a 1 1/2'' NPT thread. The system features a corrosive-resistant PVDF housing, 4-20 mA output, and two Form C Relays as standard. Programming is accomplished by answering a few prompted menu-driven questions. The most important features are the unit's 3° Effective Beam Angle and smart algorithms.
Pulsar Inc.
Shalimar, FL
Tel: 850-609-1777
Web: www.pulsar-us.com
Chemical scales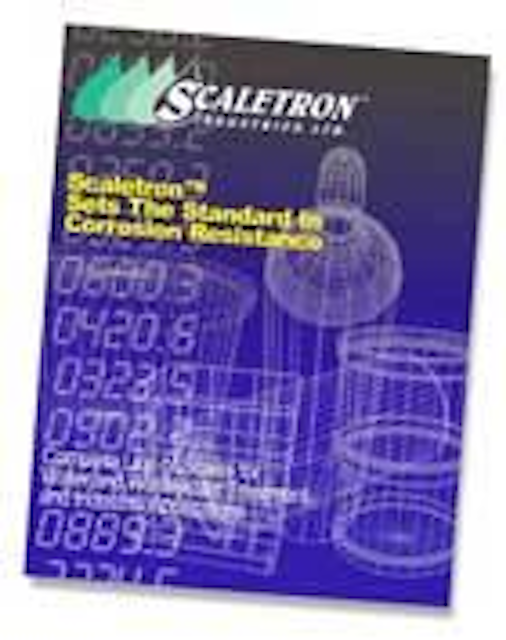 Click here to enlarge image
Scaletron Industries offers a full line of scales for measuring chemicals used in the harsh, corrosive environments of the water treatment industry. The company also offers a new applications and overview brochure which describes the firm's new Single Cylinder Hydraulic and IBC/Tote bin scales; its Mechanical and Digital Dual Cylinder, Tank and Ton scales; standard and ultra low profile Drum and Platform scales as well as the various indicators available for each scale.
Scaletron Industries
Plumsteadville, PA
Tel: 800-257-5911
Web: www.scaletronscales.com
Membrane filtration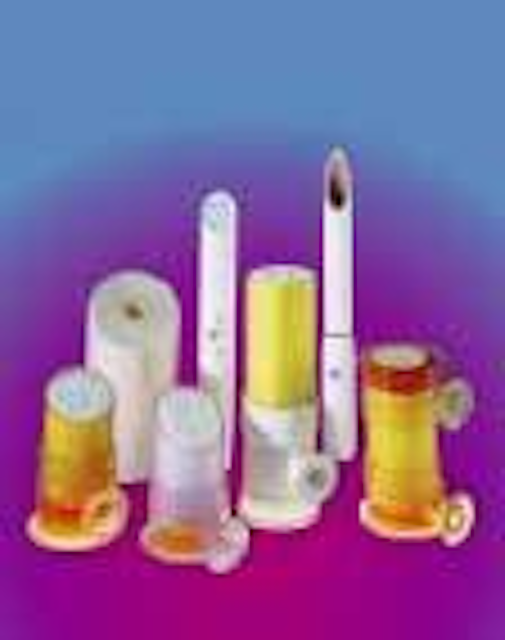 Click here to enlarge image
Koch Membrane Systems will display a full line of ultrafiltration and reverse osmosis membrane products at WEFTEC.04. These products can be used to treat and reuse industrial wastewater from a variety of facilities, as well as to handle municipal wastewater treatment requirements. Wastewater treatment ultrafiltration products in tubular, spiral and hollow fiber configurations will be shown, including spiral reverse osmosis and nanofiltration elements. NSF-61 certified hollow fiber ultrafiltration cartridges used to produce municipal drinking water will also be on display. Information on KMS packaged systems incorporating some of these membranes will be available.
Koch Membrane Systems Inc.
Wilmington, MA
Tel: 800-343-0499
Web: www.kochmembrane.com
Ozone, UV disinfection
Click here to enlarge image
Ozonia North America, a supplier of ozone generation systems, also designs and manufactures Medium Pressure Ultra Violet (UV) systems for various water and wastewater treatment applications in the municipal and industrial markets. Each system employs a touch-screen operator interface and PLC driven control logic. Full communication capability with plant DCS or SCADA via Ethernet or other data-highway can be configured per customer requirements. The systems have a variety of technical features developed to simplify installation and allow minimal operator attention and maintenance.
Ozonia North America
Elmwood Park, NJ
Tel: 201-794-3100
Web: www.ozonia.com
Pumping products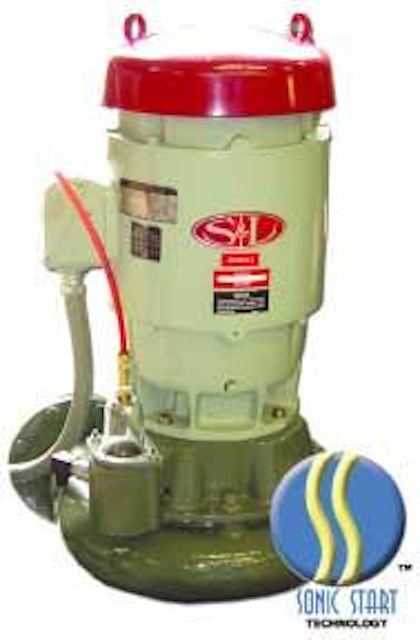 Click here to enlarge image
Smith & Loveless will have several new products and systems on display at WEFTEC.04, including actual equipment, working models, and after market specialties. The company's products include the Formula X® Pump Station, which now comes standard with the Sonic Start™ priming system for above grade pump stations, and the new BioFicient™ Treatment System, which reduces biosolids and sludge production below effluent levels so that wasting sludge is extremely rare. Also see a complete, scaled and working model of the proprietary Pista® Grit Chamber, demonstrating its patented flat-bottom technology with the new Pista® Grit Baffle, which is being introduced nationally at WEFTEC.04.
Smith & Loveless
Lenexa, KS
Tel: 913-888-5201
Web: www.smithandloveless.com
Automatic hydrant flushing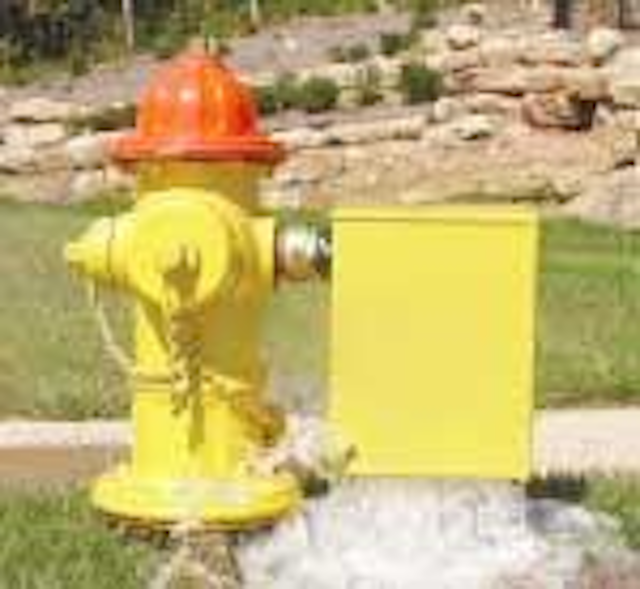 Click here to enlarge image
Kupferle Foundry will be exhibiting its new #9700 Automatic Hydrant Flusher at this year's WEFTEC.04 conference. The flusher attaches to any 2 1/2" NST nozzle, and then the flushing cycle can be selected, usually at night. Man-hour savings can be realized by flushing troublesome dead-ends without sending personnel.
Kupferle Foundry Co.
St. Louis, MO
Tel: 800-231-3990
Web: www.blow-offs.com
Regenerative blower, exhauster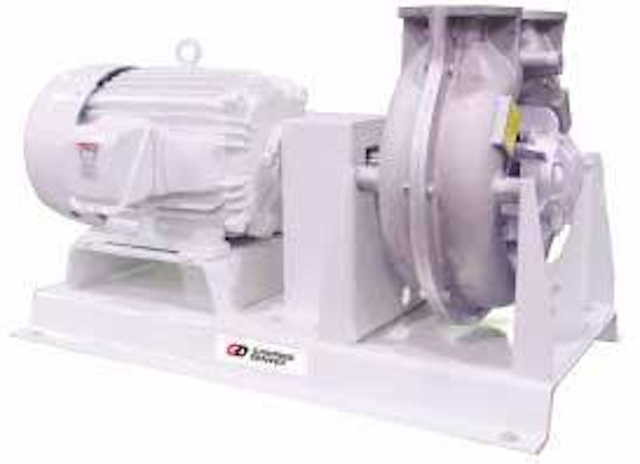 Click here to enlarge image
Gardner Denver's new TurboPak VFD (variable frequency drive) pre-engineered package includes a patented regenerative blower/exhauster with a variable frequency drive, motor, coupling and guard on a heavy-duty base. The system provides quiet, continuous pulse-free airflow to 900 cfm, pressure to 13 psig and vacuum to 14'' Hg.
Gardner Denver Blower Division
Peachtree City, GA
Tel: 770-632-5029
Fall-through prevention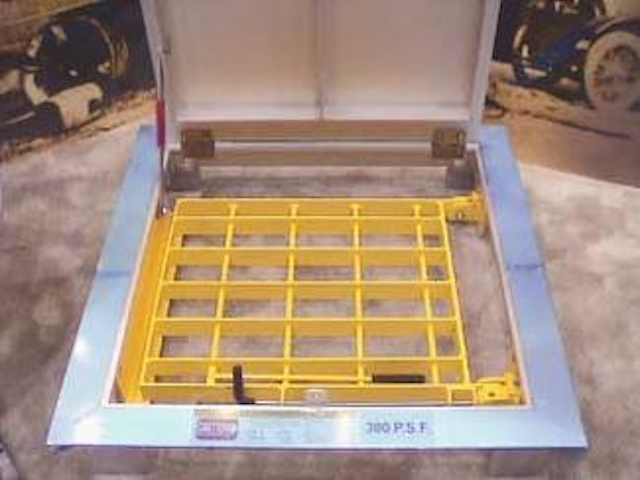 Click here to enlarge image
U.S.F. Fabrication manufactures three fall-through prevention systems to meet any specification: a Hinged Hatch Safety Grate (shown), a Hinged Hatch Safety Net, and the Hatch Safety Net. When used with hatches made by the company, all of these systems operate independent of the cover's reinforcing so that the hatches continue providing load-support even if the fall-through prevention system is damaged or removed.
U.S.F. Fabrication Inc.
Hialeah, FL
Tel: 800-258-6873
Web: www.usffab.com
Hatch railing system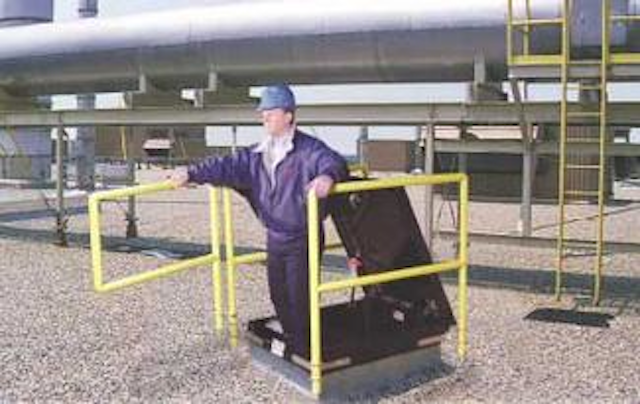 Click here to enlarge image
Bilco has introduced its new Bil-Guard™ Hatch Railing System. Designed to satisfy OSHA standard CFR 1910.23 (which requires the exposed sides of roof openings to have some form of guardrail protection), the fixed railing system provides a permanent means of fall protection for hatch openings. Tested and proven to meet and exceed OSHA fall protection regulations, it mounts directly to the capflashing of any brand of roof hatch.
Bilco Company
New Haven, CT
Tel: 203-934-6363
Web: www.bilco.com
Digital panel meters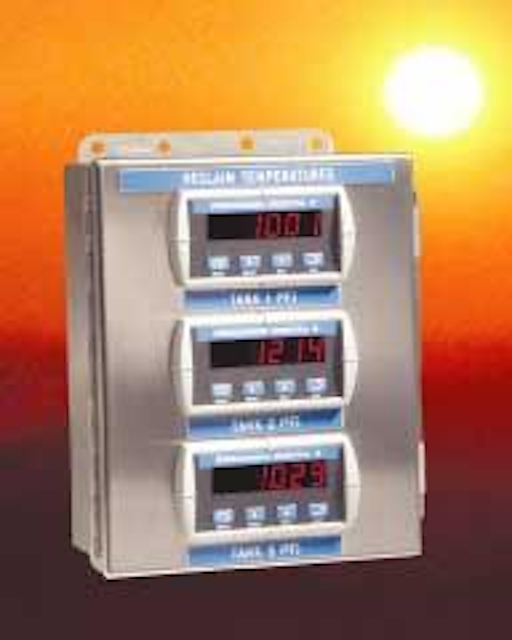 Click here to enlarge image
A new series of universal digital panel meters that feature user adjustable, sunlight readable LED displays for outdoor applications is being introduced by Precision Digital Corp. The Trident Digital Panel Meter is a solid-state unit with a Type 4X, NEMA 4X, IP65 front that features a 4-digit, 0.56'' 7-segment sunlight readable LED display that provides eight levels of brightness for day- or night viewing.
Precision Digital Corp.
Natick, MA
Tel: 800-343-1001
Web: www.predig.com
Hazardous gas shutoff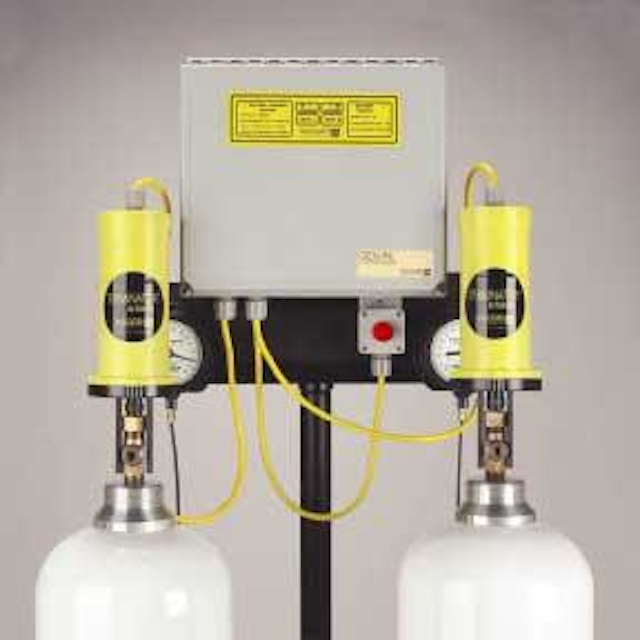 Click here to enlarge image
Halogen Valve System announces a new dual-torque Terminator Actuator™ that closes and torques hazardous gas 150 lb. cylinder valves in an emergency in three seconds. This microprocessor controlled and sequential operated system applies 20 to 30 ft.-lbs. for actuator testing and 40 to 50 ft.-lbs. during an emergency close situation to the valve stem as recommended by the Chlorine Institute. The Gemini controller has a self-contained battery powered system that operates the motorized closing mechanism even during a power failure.
Halogen Valve Systems
Irvine, CA
Tel: 877-476-4222
Web: www.halogenvalve.com
Multi-probe digital controller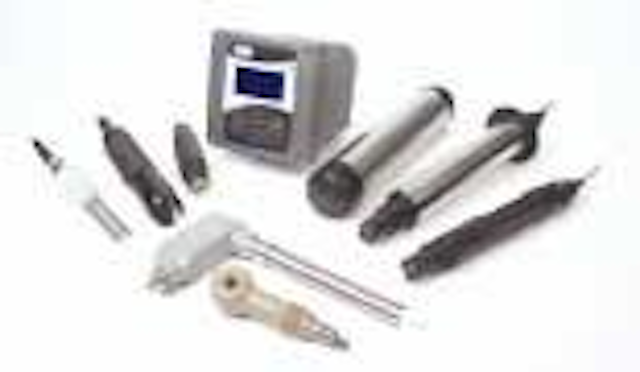 Click here to enlarge image
The flexible sc100 Controller accepts any two sensors – in mix-or-match arrangement – from Hach digital sensors now available, including for pH, ORP, conductivity, dissolved oxygen, and turbidity, without special cabling, configuration or software. Weighing a mere 1.6 kg, the controller is housed in a NEMA-4X/IP66 metal enclosure with compact, 1/2 DIN dimensions. It provides operators with menu-driven software for control and interface functions.
Hach Co.
Loveland, CO
Tel: 800-227-4224
Web: www.hach.com
Flow systems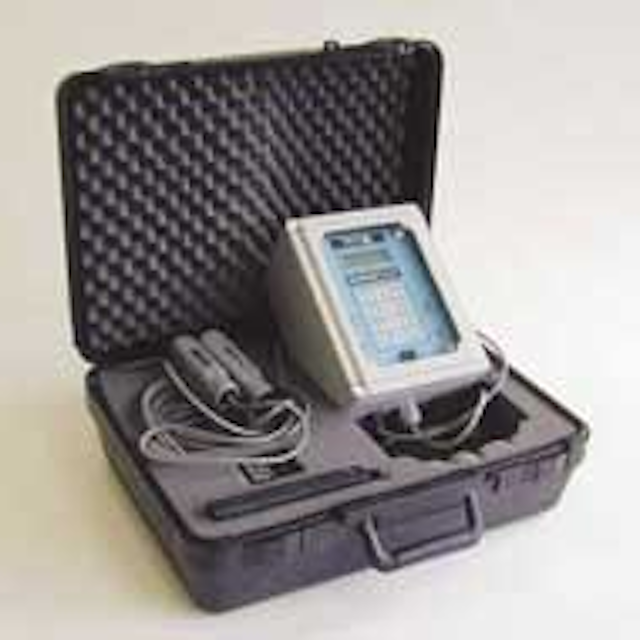 Click here to enlarge image
EMCO Flow Systems includes the Advanced Energy® brand of precision flow meters and controllers. Field proven for over 35 years, the company's product line offers solutions for liquid, gas, and steam measurement, accommodating pipe sizes from 0.25 to 100''. EMCO products provide a wide range of metering solutions to diverse industries, including the military, hospitals, universities, and many Fortune 500 companies.
EMCO Flow Systems
Fort Collins, CO
Tel: 800-446-9167
Web: www.emcoflow.com
Chemical dosing
Click here to enlarge image
Milton Roy USA has released the RoyPak Setpoint family of pre-engineered systems packages for chemical dosing and fluid handling. The new system provides the company's family of metering pumps with flow display, analog inputs and outputs, variable AC motor control and a variety of SCADA and computer interfaces for local and remote system control.
Milton Roy USA
Ivyland, PA
Tel: 215-441-0800
Web: www.miltonroy.com
Ultrasonic level sensor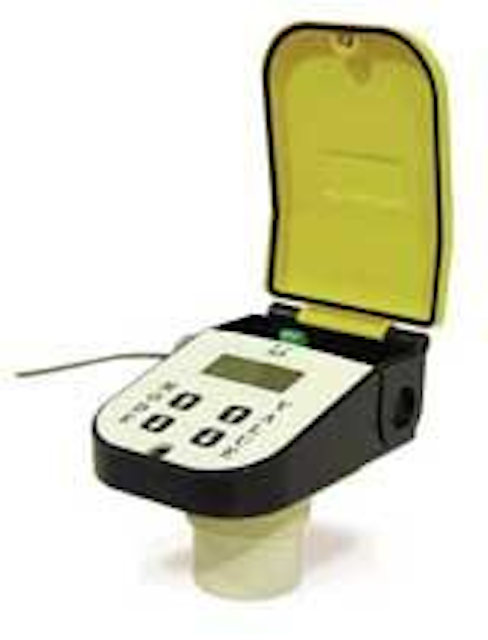 Click here to enlarge image
Scientific Technologies, Automation Products Group, has introduced the LPU-2127 Loop Powered Ultrasonic Level Sensor. Designed for tank/bin continuous level measurement and environmental monitoring, the sensor's versatility, low maintenance and non-contact operation makes it ideal for a variety of applications and harsh environments.
Scientific Technologies Inc.
Logan, UT
Tel: 888-349-7098
Web: www.stiapg.com
Laser alignment system
Click here to enlarge image
Ludeca's RollAlign is a visual laser tool to facilitate quick yet accurate field replacement of process rolls in industry. A Laser Emitter unit mounted on a reference roll projects two Class 2 fanned 635nm laser lines onto a Reflector unit mounted on the roll to be moved, allowing the operator to view both the vertical angle (pitch) and horizontal angle (parallelity) as the roll is adjusted into alignment.
Ludeca Inc.
Miami, FL
Tel: 305-591-8935
Web: www.ludeca.com
Water, wastewater pumps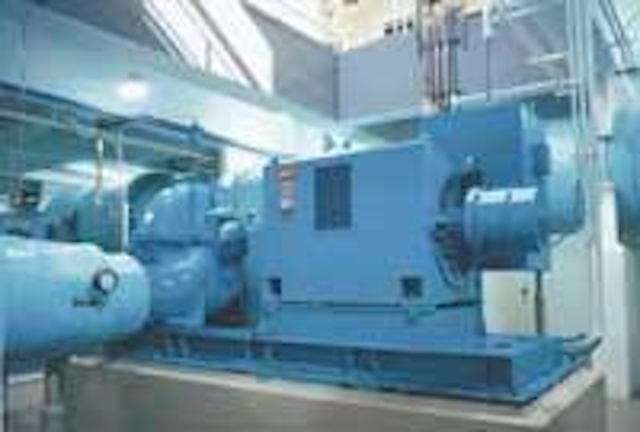 Click here to enlarge image
In addition to its full line of modern, high-performance pumps for water and wastewater duties, Patterson Pump Co. will feature its Forceline® NCS Series non-clog sewage pump, now offered with Zero Flush Technology. This will be in conjunction with the new Prime-Pac™ Prepackaged Sewage Pump Station, by its business unit, Flo-Pak®.
Patterson Pump Co.
Toccoa, GA
Web: pattersonpumps.com
Electrochlorinators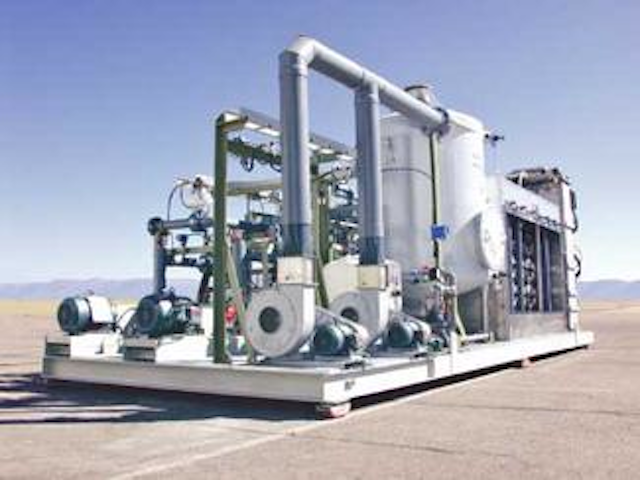 Click here to enlarge image
Pepcon Systems ChlorMaster electrochlorinators provide on-site sodium hypochlorite generation for use in a variety of applications including wastewater disinfection, marine organism growth control, potable water chlorination, and odor control systems.
Pepcon Systems
Cedar City, UT
Tel: 435-865-5045
Web: www.pepconsystems.com
Remote monitoring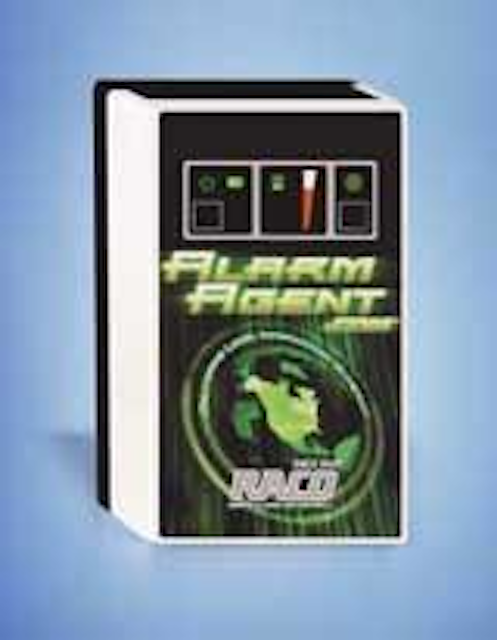 Click here to enlarge image
RACO has expanded its product line with the development of a new wireless remote maintenance, monitoring, control and alarm notification system, AlarmAgent.com. This cost-effective, easy-to-set-up service will allow field, plant and other personnel to collect, access and view data from their monitored equipment 24 hours a day, from any Internet-connected PC or other Web-enabled device, via a secure central Web site.
RACO Mfg. and Eng. Co., Inc
Emeryville, CA
Tel: 800-722-6999
Web: www.racoman.com
Dewatering services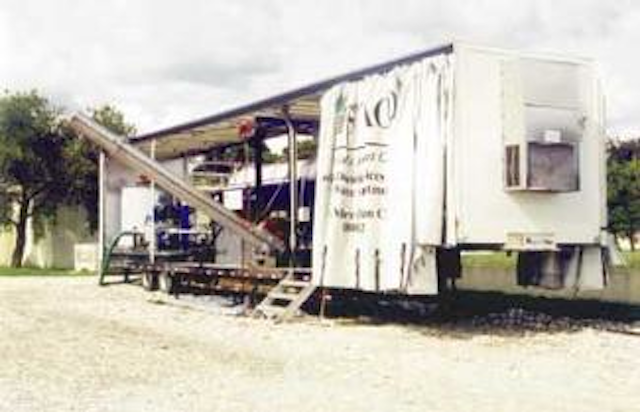 Click here to enlarge image
Synagro provides mobile dewatering services. Municipal and industrial generators of biosolids and other liquid organic wastes can use the service for many applications, including managing emergency situations, seasonal demands, and production spikes. Synagro also provides monitoring analysis and operating records necessary to demonstrate regulatory and contractual performance.
Synagro
Houston, TX
Tel: 866-794-7411
Web: www.synagro.com
Main cleaning system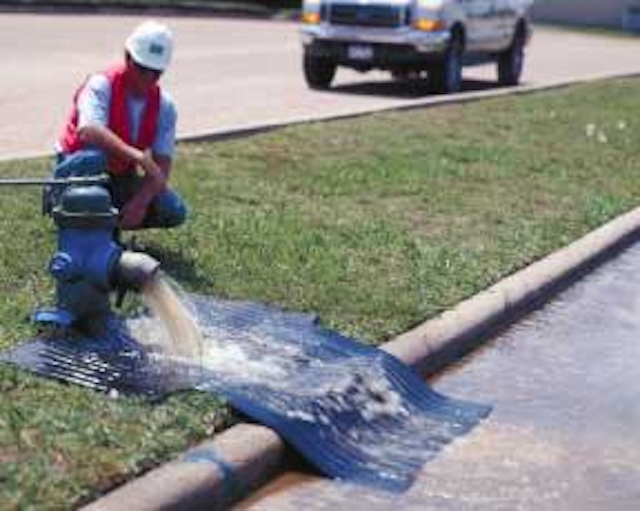 Click here to enlarge image
Air Scouring™ is a patented water main cleaning method that provides cleaner water and extended water main life. Clean, compressed air alternated with slugs of water are injected into the line, removing sediment and mineral scale. Flow capacity and water quality are improved. No pigging or disassembly of the water main is necessary.
Severn Trent Services
Ft. Washington, PA
Tel: 215-997-3760
Web: www.severntrentservices.com
New cyanide test kit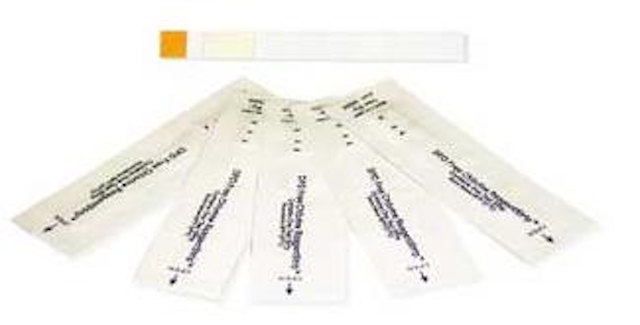 Click here to enlarge image
Industrial Test Systems, manufacturer of the world's first EPA recommended strip for Free Chlorine in drinking water, just released its ReagentStrip Cyanide kit. Designed for monitoring effluents and surface waters, this new test requires as little as two minutes for cyanide colorimetric analysis. Color reading can also be made using a colorimeter or spectrophotometer for more precise determination.
Industrial Test Systems Inc.
Rock Hill, SC
Tel: 800-861-9712
Web: www.sensafe.com
Decanting centrifuge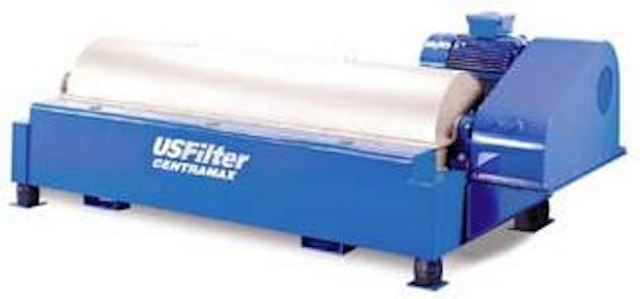 Click here to enlarge image
USFilter Dewatering Systems offers a state-of-the-art horizontal decanting centrifuge. The Centramax centrifuge provides a cost-effective solution for dewatering chemicals, fermentation broths and industrial waste continuously. This centrifuge offers plant managers high reliability while requiring low maintenance.
USFilter Dewatering Systems
Holland, MI
Tel: 800-245-3006
Web: www.usfilterdsg.com
Industrial dewatering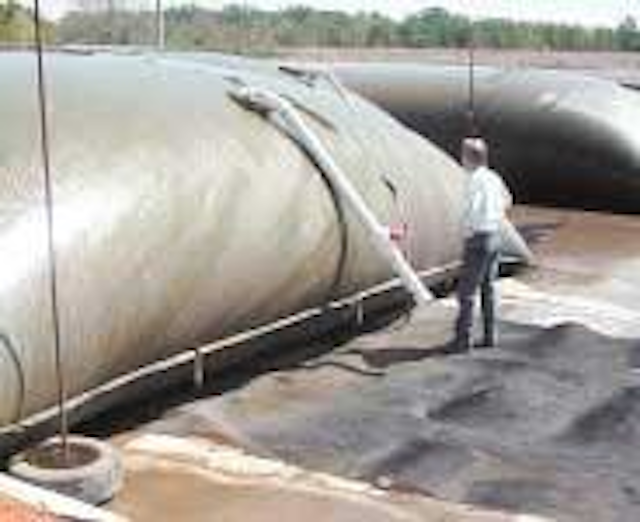 Click here to enlarge image
Geotube™ technology from Miratech provides cost-effective, high-volume industrial dewatering or remediation. The high-strength system is first filled with sludge. Fabric confines the solids, and allows water to drain. Decanted water is often of a quality for reuse or release without additional treatment. Volume reduction is as high as 90%. Solids can then be removed for disposal.
Miratech/Div. of Ten Cate Nicolon
Commerce, GA
Tel: 888-795-0808
Web: www.geotube.com
Waterproof testing meters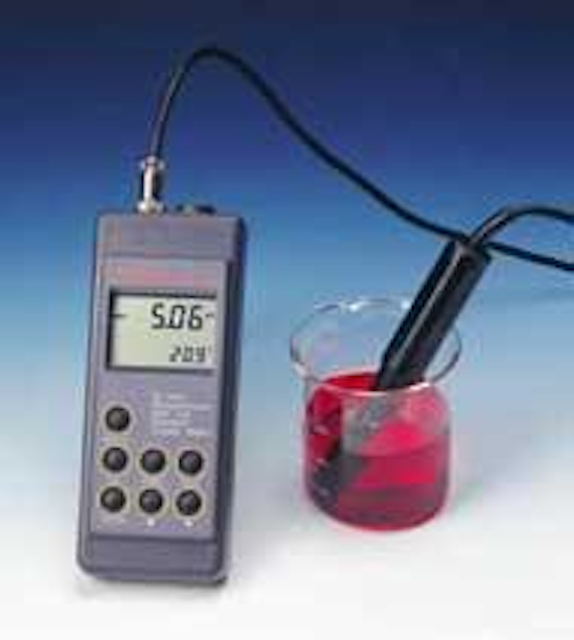 Click here to enlarge image
Hanna Instruments produces a line of waterproof meters for water quality testing. The meters can measure multiple parameters anywhere in seconds with a single rugged probe. The HI 991300 and HI 991301 measure multiple ranges of pH, TDS, EC and temperature. Easy-to-use, two-button meters offer °C or °F display with ß from 1.8% to 2.4%, TDS conversion factor from .45 to .75, pH calibration with 1 or 2 points using NIST or standard buffers.
Hanna Instruments
Woonsocket, RI
Tel: 401-765-7500
Web: www.hannainst.com
Chlorine/pH monitor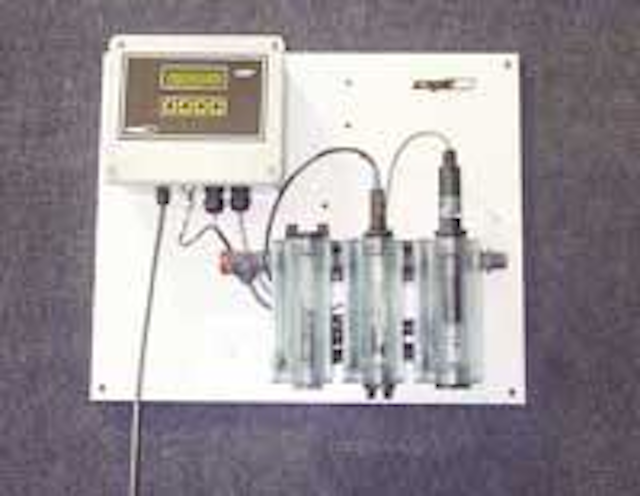 Click here to enlarge image
The new Eagle Chlorine/pH Monitor combines monitoring of two common water parameter into a single instrument for reduced installation and maintenance costs and simplify system startup. The monitor measures both chlorine residual and pH simultaneously and has separate isolated 4-20 mA outputs for each parameter for remote indication, recording or data logging. In addition, each parameter has two user-configurable alarms.
Eagle Microsystems Inc.
Pottstown, PA
Tel: 800-780-8636
Web: www.eaglemicrosystems.com
Wastewater pumps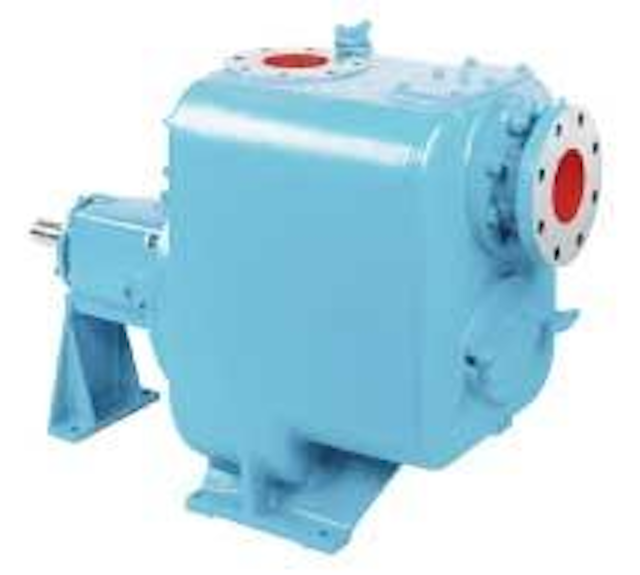 Click here to enlarge image
The Trash Hog® solids handling, self-priming centrifugal pump line from Goulds Pumps, an ITT Industries company, was developed to handle municipal and industrial wastewater. Able to process solids up to 3" in diameter, it is ideal for sewage lift stations, sewerage treatment plants and industrial processes.
Goulds Pumps/ITT Industries
Seneca Falls, NY
Tel: 800-734-7867
Web: www.gouldspumps.com
Rail systems
Conery Mfg Inc has published its 2004 Catalog, featuring the new Freeflow design of Base Elbow Rail Systems for 1.25'' and 2'' pump systems. Additionally, the company recently updated its website.
Conery Mfg Inc.
Ashland, OH
Tel: 419-289-1444
Web: www.conerymfg.com
Fiberglass buildings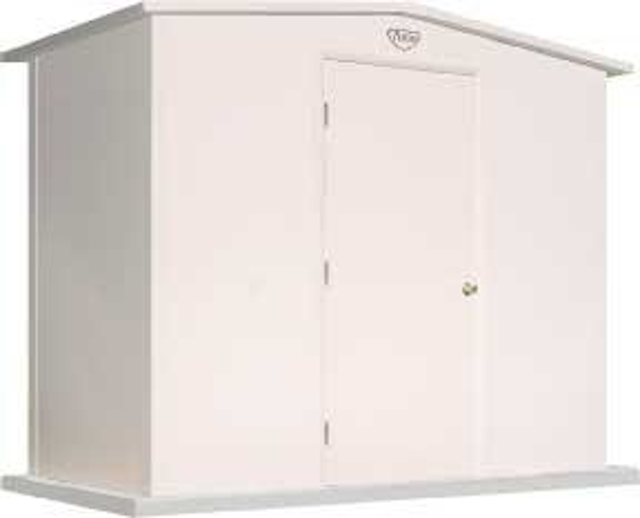 Click here to enlarge image
AEGIS™ offers weather-tight fiberglass buildings specifically designed to house mechanical equipment and/or supplies. The buildings feature shock-resistant, non-conductive construction which consists of a fiberglass composite "sandwich" of internal and external sheets of fiberglass laminated to a Polyisocyanurate foam insulation core, colored UV resistant gel coated exterior and an inside reflective white gel coat finish.
AEGIS
Jacksonville, FL
Tel: 888-852-3447
Web: www.aegisshelters.com
Multifunction hybrid flowmeter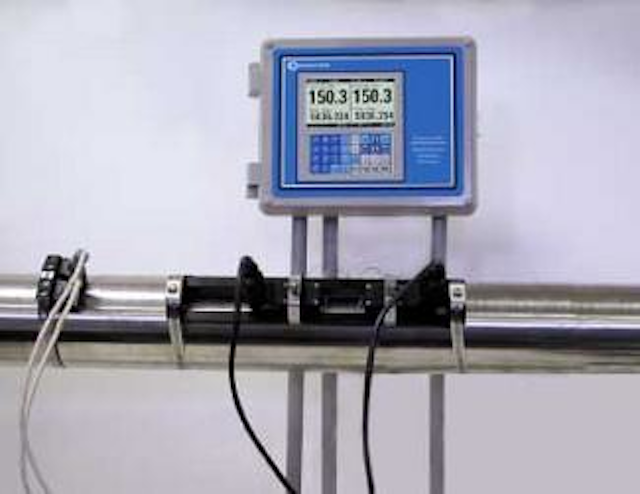 Click here to enlarge image
System 1010N provides accurate, non-intrusive mass and volumetric flow measurement in full pipes. Simple to install as no pipes are cut or operations interrupted, the flowmeter is field programmable for two modes of operation: Wide-Beam™ Transit-Time or Reflexor (Fast Fourier Transform Doppler) for quick adaptation to changing conditions.
Controlotron Corp.
Hauppauge, NY
Tel: 800-275-8479, x235
Web: www.controlotron.com
Headworks system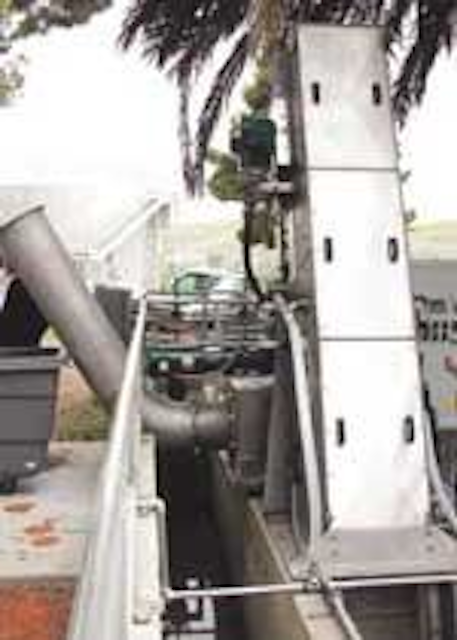 Click here to enlarge image
At this year's WEFTEC.04 show JWC Environmental will construct a complete headworks screening system in its booth. The unique design is called Monster Separation Systems™, and combines a Finescreen Monster™ with a Screenings Washer Monster® to capture, remove, convey, grind, wash and compact unwanted wastewater solids.
JWC Environmental
Costa Mesa, CA
Tel: 800-331-2277
Web: www.JWCE.com
Diaphragm seal guarantee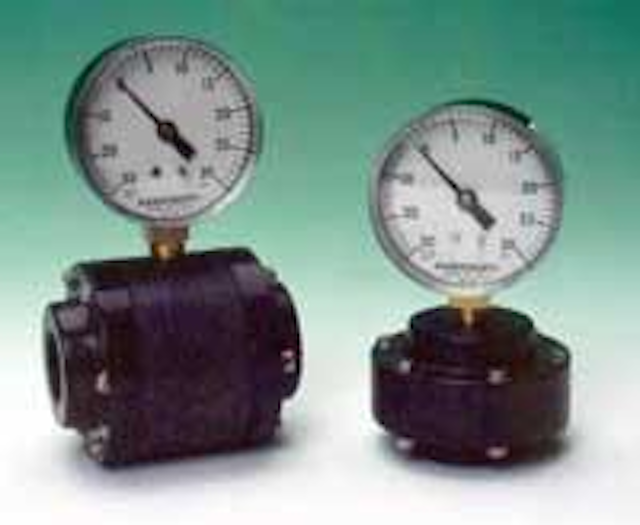 Click here to enlarge image
Sentinel Diaphragm Seals have protected all forms of system instrumentation from corrosive process flow environments for years. Now, they're also unconditionally guaranteed. They're available in a range of chemically resistant materials and models. The Sentinel Flow-Thru offers an inline design to prevent clogging of viscous process fluid and "dead-leg."
Blacoh Fluid Control
Riverside, CA
Tel: 800-603-7867
Web: www.blacoh.com
Monitoring system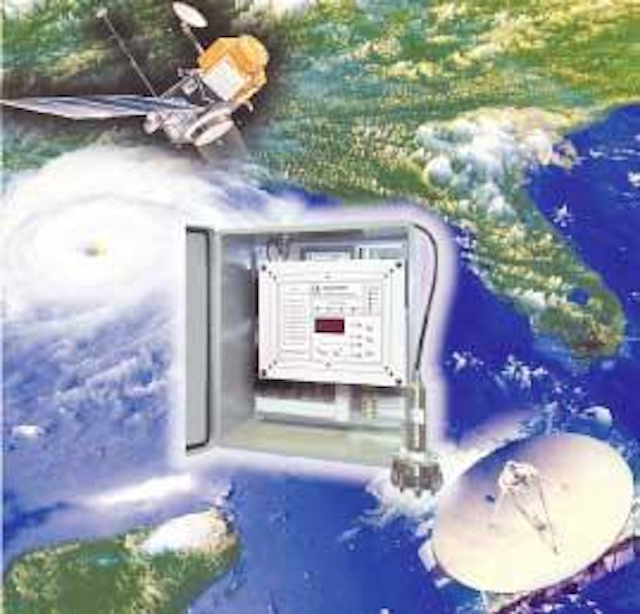 Click here to enlarge image
The Blue Ribbon Internet Messenger Model MS2-SAT monitors and controls the various functions of up to four pumps in a lift station. It detects pump failures, process levels, high or low water alarms, loss of station power, and other anomalies as they occur.
Blue Ribbon Corp.
Winter Park, FL
Tel: 877-677-8899
Web: www.blueribboncorp.com
Permanent curb markers
The das Curb Marker® can be permanently applied to most flat surfaces(concrete, asphalt, cast iron). Permanently mark manholes, service lines, confined space entry, and storm drains. Available in over 50 stock titles or custom made for just about any application.
das Manufacturing Inc.
Valrico, FL
Tel: 800-549-6024
Web: www.dasmanufacturing.com
Large submersible pumps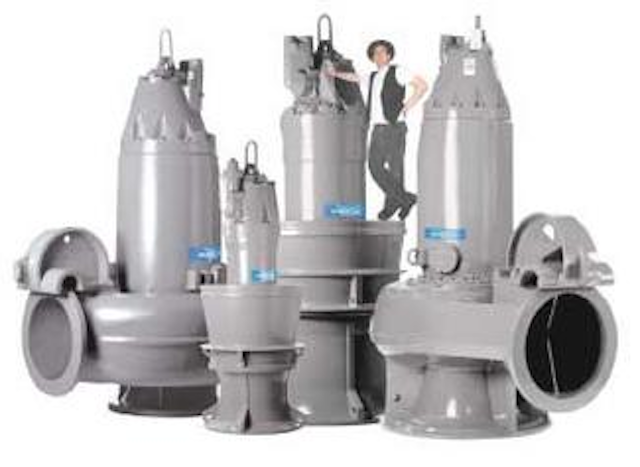 Click here to enlarge image
ITT Flygt is active in the design, manufacture and application of large scale electric submersible pumps. Since 1985, the company has successfully installed nearly 4,000 units sized from 100 hp through 800 hp and 8'' through 32'' discharge in the United States totaling more than 725,000 installed horsepower in both wet-pit and dry-pit configurations.
ITT Flygt Corp.
Trumbull, CT
Tel: 203-380-4700
Web: www.flygtus.com
DO sensor, transmitter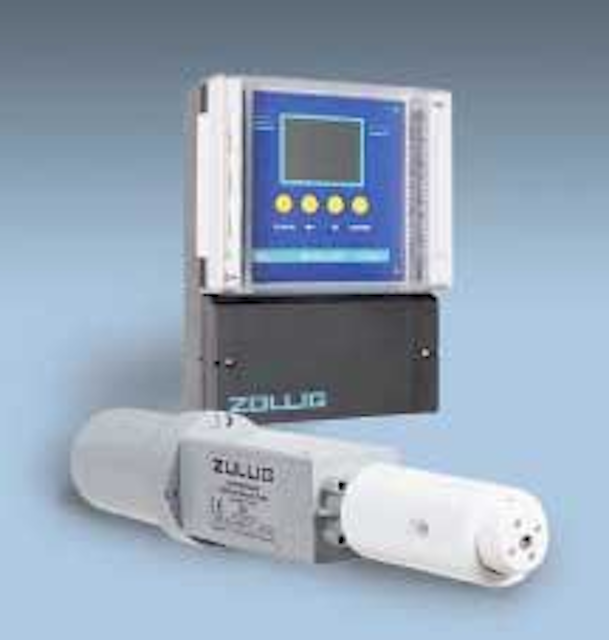 Click here to enlarge image
The Züllig dissolved oxygen system, available from Emerson, significantly reduces cleaning and calibration frequency in harsh industrial and municipal wastewater treatment environments. This non-membrane galvanic sensor has two insulated electrodes continuously polished by a rotating diamond grindstone.
Emerson Process Management, Rosemount Analytical Inc., Liquid Division
Irvine, CA 92606
Tel: 800-854-8257
Web: www.raihome.com
Diaphragm pumps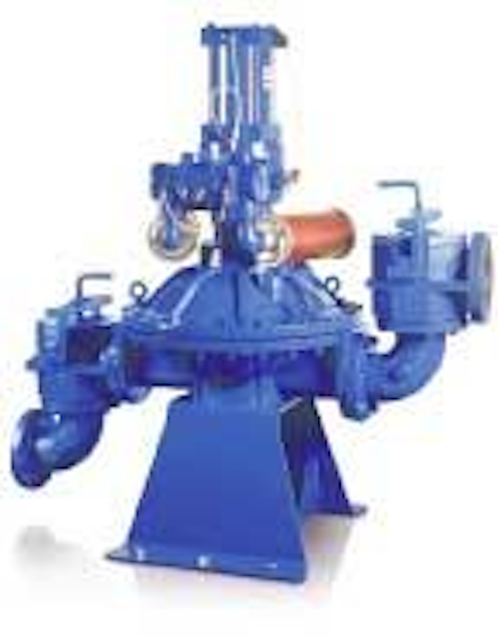 Click here to enlarge image
Gorman-Rupp has announced a new line of Ramparts integrated control (iC) air-driven diaphragm pumps. These pumps are designed for handling heavy sludge and slurries found in industrial and wastewater applications. The pumps have the following features: run-dry capabilities without damage; infinitely variable flow controls; corrosive, abrasive, viscous and shear-sensitive media handling abilities.
Gorman-Rupp Co.
Mansfield, OH
Tel: 419-755-1011
Web: www.gormanrupp.com
Grinder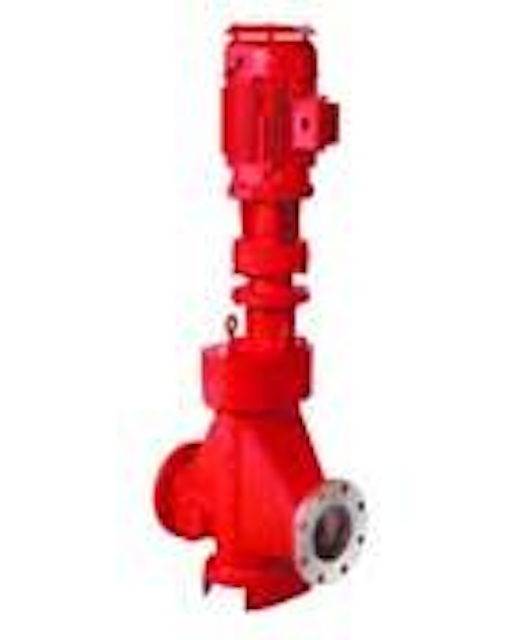 Click here to enlarge image
Moyno will introduce the new Series 4 Annihilator™ grinder as well as display its premier 2000 HS pump at the WEFTEC.04 exhibition. The new grinders are twin shaft solids reduction units designed for performance in a variety of industrial and municipal applications. The new grinder now offers new features including optimized cutter combinations, one-piece flange housing and a quick change cutter cartridge.
Moyno Inc.
Springfield, OH
Tel: 877-486-6966
Web: www.moyno.com
Sludge dewatering aids
GE's Novus™ shear resistant polymers improve centrifuge efficiency for increased throughput in dewatering industrial sludge. They are especially suited for biological and oily wastewater sludges in organic chemical, oil refining, steel, aluminum, mineral, food, and pharmaceutical industries. Some chemical and industrial sludges with oil, water and solids aren't easily dewatered, and centrifuges are increasingly used to separate these materials.
GE Infrastructure Water & Process Tech.
Trevose, PA
Tel: 215-942-3208
Web: www.gewater.com
Plug valve
The Pratt Ballcentric Plug Valve, available is sizes ranging from 3'' – 36'', is designed specifically for wastewater applications. The round port design, available on sizes 3'' – 20'', offers less resistance to slurry, sludge and fluid flow resulting in better flow characteristics and less pressure drop across the valve than other types of eccentric plug valves.
Henry Pratt Co.
Aurora, IL
Tel: 877-436-7977
Web: www.henrypratt.com
Valve actuator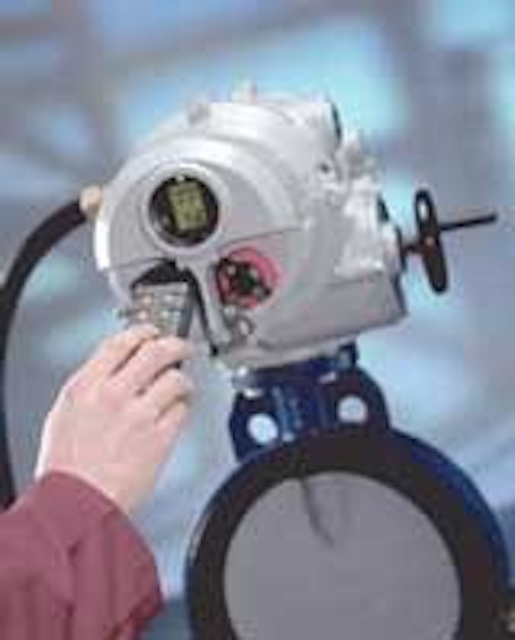 Click here to enlarge image
The new Rotork IQT electric, quarter-turn, non-intrusive valve actuator is suited for many of the quarter-turn valve applications in water and wastewater treatment plants. It is double sealed to provide a watertight enclosure and incorporates advanced electronic diagnostic and networking capabilities. Users can configure and set the non-intrusive actuator without removing its covers by using an intrinsically safe, point-and-shoot hand-setting tool, which is supplied with the actuator.
Rotork Controls Inc.
Rochester, NY
Tel: 585-328-1550
Web: www.rotork.com
Conveyors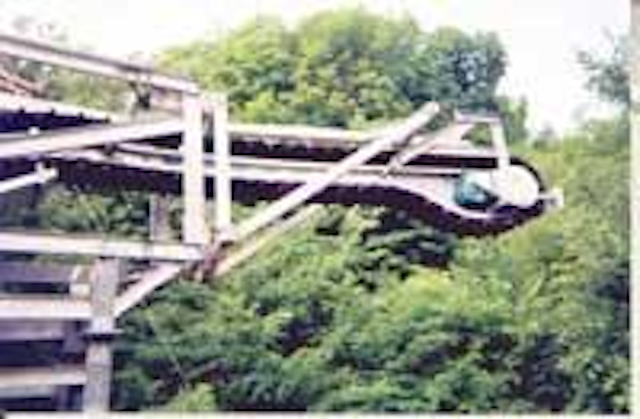 Click here to enlarge image
Conveyors manufactured by Serpentix that turn, twist, climb, flex, and telescope in and out as used by hundreds of wastewater treatment plants to transport sludge, grit, screenings, and biosolids. The company will display its shaftless screws, container handling systems, and complete dewatering equipment solutions specifically for smaller municipalities.
Serpentix Conveyor Corp.
Westminster, CO
Tel: 800-466-7979
Web: www.serpentix.com
Tablet chlorination system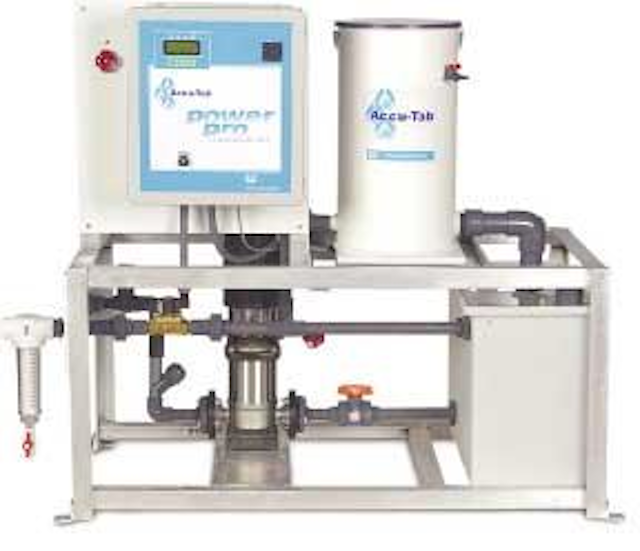 Click here to enlarge image
PowerPro® chlorination units by PPG Industries are designed specifically for use with Accu-Tab® System tablets and chlorinators. The Accu-Tab System's patented chlorinators and 3'' calcium hypochlorite tablets together allow for consistent and controllable chlorine dosages. The tablets are specifically formulated for controlled erosion. PowerPro units provide a compact, turnkey system based on any of the Accu-Tab chlorinator models.
PPG Industries Inc.
Pittsburgh, PA
Tel: 800-245-2974
Web: www.ppgaccu-tab.com
Plastic filter housings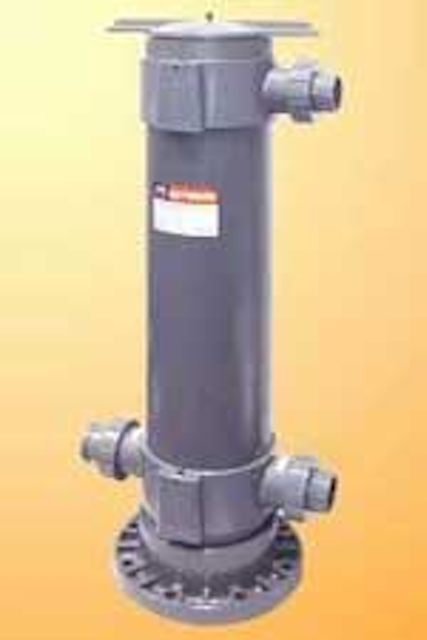 Click here to enlarge image
Now corrosive and ultra-pure filtration applications in all industries can take advantage of the corrosion resistant, non-contamination benefits of a plastic filter housing. New PVC and CPVC plastic bag filter housings from Hayward will never rust, corrode, or contaminate the process media. For application versatility, both the double length and single length housing sizes accept most standard 7'' x 16'' or 7'' x 32'' filter bags. This permits the housing to be used with thousands of different bags to exactly match the application requirements.
Hayward Industrial Products Inc.
Elizabeth, NJ
Tel: 908-351-5400
Web: www.haywardindustrial.com
Encapsulating coupling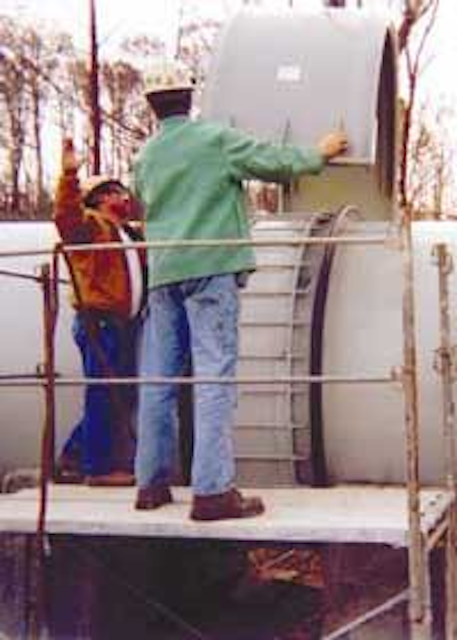 Click here to enlarge image
Victaulic Depend-O-Lok now offers a bolted, split-sleeve, two-segment encapsulating coupling to enclose failing pipeline joints without removing the failed joint, moving the pipe or taking the system off-line. Unlike traditional methods of repairing leaking bell and spigot joints or leaking couplings, the encapsulating coupling does not require draining the line, moving or removing sections of pipe, or replacing the leaking joints or couplings with new pipe or couplings.
Victaulic Depend-O-Lok Inc.
Easton, PA
Tel: 610-559-3300
Web: www.victaulic.com
UV disinfection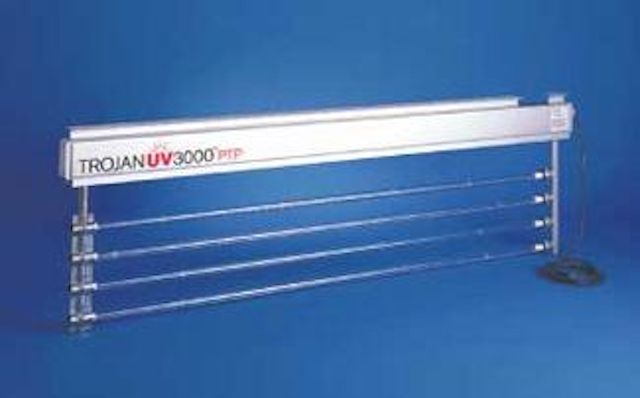 Click here to enlarge image
TrojanUV™ systems provide municipal wastewater treatment plants with an alternative to chlorination. The company offers a wide range of UV systems with options for multiple combinations of flowrates and disinfection goals. The projects range from the low-flow Package Treatment Plant (PTP) for small municipalities to the TrojanUV4000™Plus for large municipalities, with peak flows 10 mgd and up.
Trojan Technologies
London, ON
Tel: 519-457-3400
Web: www.trojanuv.com
Level transducer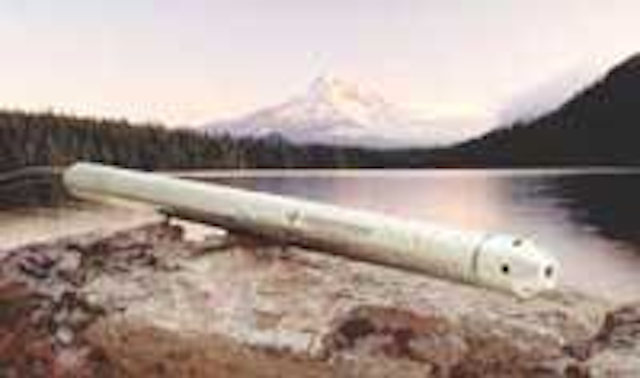 Click here to enlarge image
Pressure Systems has introduced a new submersible hydrostatic level transducer that includes internal data logging functionality. The new Series 550 waterMONITOR is specifically designed for measuring water levels in environmental and land management applications, such as ground water, surface water, and open channel level measurement. Capable of storing up to 600,000 level, temperature, and time stamp measurements, the transducer is ideal for remote environmental data collection and process monitoring.
Pressure Systems Inc.
Hampton, VA
Tel: 800-678-7226
Web: www.pressuresystems.com
Emergency valve actuators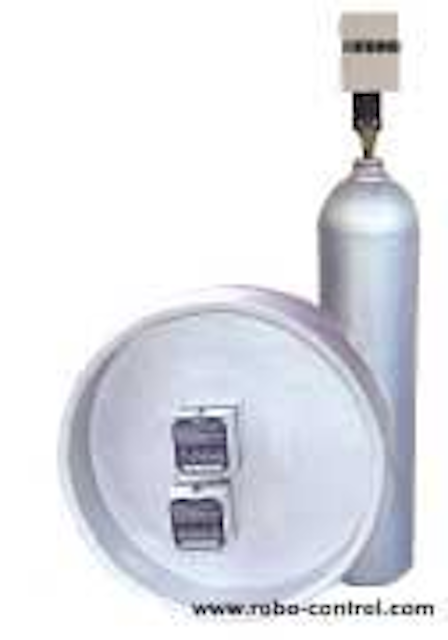 Click here to enlarge image
Robo-Control® manufactures battery-operated actuators to remotely open and close hazardous gas cylinder valves such as chlorine and sulfur dioxide. The actuator mounts to the valve without interfering with existing hardware or dispensers and has LED indication of valve position. Some actuators can have I/O for SCADA and integral leak detection.
Robo-Control Inc.
Bridge City, TX
Tel: 409-697-2666
Web: www.robo-control.com
Pinch valve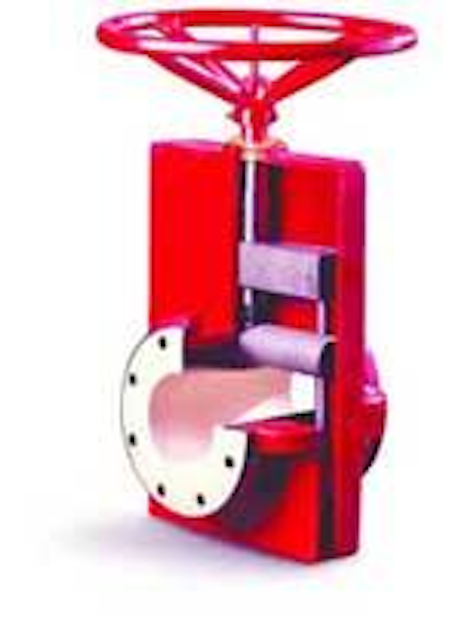 Click here to enlarge image
The Red Valve Series 75 Pinch Valve is designed to eliminate the problems associated with ball and plug valves in tough slurries and sludge applications. The full port design eliminates dead spots or crevices, seats or bearings. The self-cleaning, flexing action of the elastomer sleeve eliminates clogging. The valve has the same face-to-face dimensions as plug or ball valves up to 12''.
Red Valve Co. Inc.
Carnegie, PA
Tel: 412-279-0044
Web: www.redvalve.com
Rotary blower packages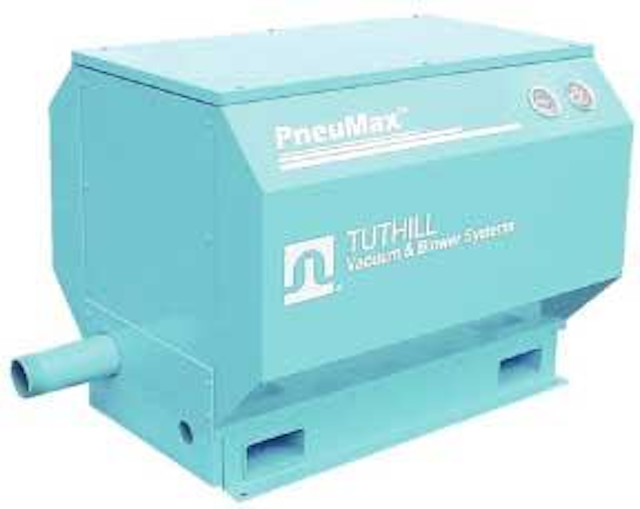 Click here to enlarge image
The Tuthill PneuMax rotary blower packages include the Competitor® models 3002, 3003, 3006 and 4002. They offer flow rates to 300 CFM and pressures to 15 PSIG or vacuums to 16" Hg gauge. The packages include a 85 dB(A) integral noise enclosure pre-installed at the factory and an instrumentation panel including pressure and filter restriction gauges.
Tuthill Vacuum & Blower Systems
Springfield, MO
Tel: 800-825-6937
Web: www.tuthill.com
Cylindrical fine screens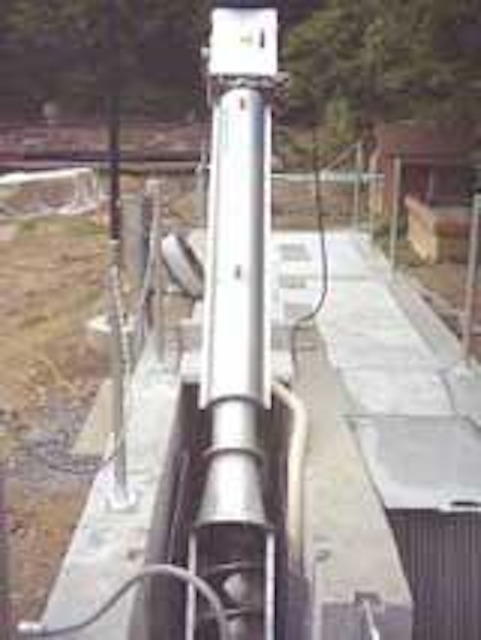 Click here to enlarge image
Hi-Tech offers a line of cylindrical fine screens for use in wastewater treatment. Major components in the screen are constructed from 304 stainless steel. Each screen is shop assembled, test run and shipped complete to the jobsite. Features include: shaftless flighting, screening washing, compaction and weather protection.
Hi-Tech Environmental Inc.
Birmingham, AL
Tel: 800-264-7005
Respirometer
The Strathkelvin Instruments ASR (Activated Sludge Respirometer) is designed to test for toxic shock loads coming into a wastewater treatment plant. The instrument is robust, simple to use and can screen an effluent in under 15 minutes.
Strathkelvin Instruments Limited
Glasgow, Scotland
Tel: +44 (0) 141 576 5080
Web: www.strathkelvin.com
Odor control media
Biorem now offers an improved formula for its Biosorbens™ biofilter media. The new media, now warranted for up to 20 years, provides odor removal at residence times as low as only 20 seconds. The single stage, homogeneous biofilter media is able to handle a wide range of odor-causing contaminants including H2S, mercaptans, DMS and DMDS.
Biorem
Guelph, ON Canada
Tel: 800-353-2087
Web: www.bioremtech.com
Pressure sewer system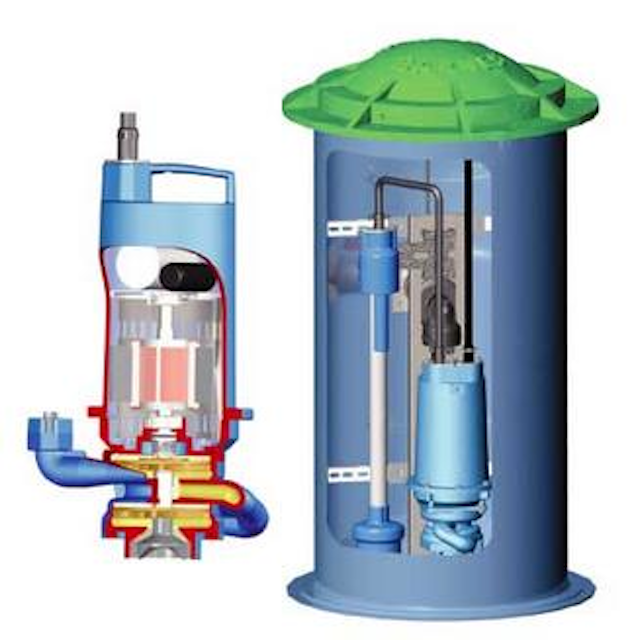 Click here to enlarge image
The Omni Grind Plus pump design, using vortex impellers, can be operated anywhere on it curve, including high and low heads. This makes the unit a universal pump for residential low-pressure sewer station applications. The pump, available from Crane Pumps, has double the capacity of progressive cavity pumps at normal encountered system heads, ensuring more than adequate scouring velocities in the pressure mains.
Crane Pumps & Systems
Piqua, OH
Tel: 937-773-2442
Web: www.cranepumps.com
Stormwater filtration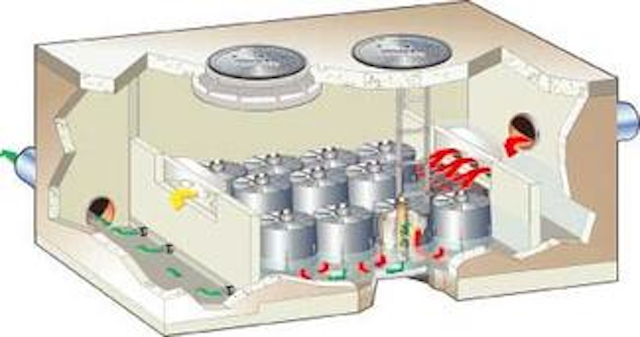 Click here to enlarge image
The Stormwater Management StormFilter®, a modular, gravity-powered, media filtration system, provides an ideal solution for the point-source treatment of polluted stormwater runoff and washwater from industrial sites. The system allows industrial sites to meet stormwater requirements in a cost-effective manner. It combines high levels of pollutant removal with an easy-to-install system that may be placed entirely underground, requires no chemicals or power.
Stormwater Management Inc.
Portland, OR
Tel: (800) 548-4667
Web: www.industrialstormfilter.com
Sludge pumps

Click here to enlarge image
seepex has developed a new type of open hopper pump to transport extremely viscous products and dewatered sludge cake. The BTH pump can transport materials up to three million cPs and municipal wastewater sludge with over 50% solids. It has been used on mineral slurry cakes from plate-and-frame filter presses with over 80% solids and waste sludge up to 45% consistency.
seepex Inc.
Enon, OH
Tel: 800-695-3659
Web: www.seepex.com
Joint restraints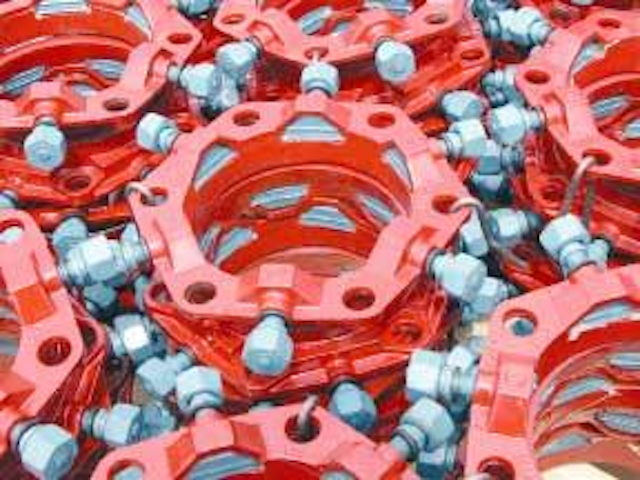 Click here to enlarge image
Mega-Bond®, a dual-process coating system for improved corrosion and impact resistance, is now standard on joint restraints from EBAA Iron. Restraint bodies receive a specially formulated powder coating (blue for PVC applications, black for ductile iron), electrostatically applied and heat cured. Gripping wedge assemblies receive two coats of fastener class liquid Xylan® coating in blue, heat cured after each coat.
EBAA Iron Sales Inc.
Tel: 800-433-1716
Web: www.ebaa.com
UV disinfection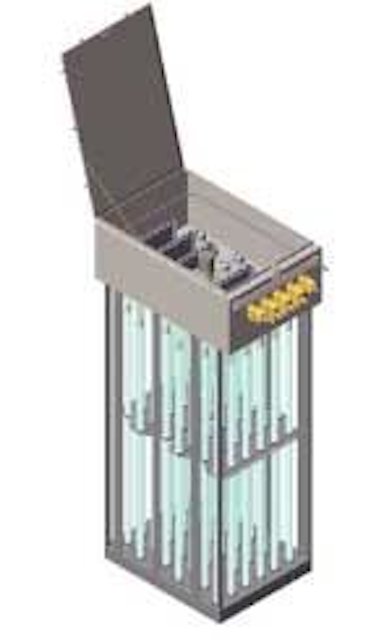 Click here to enlarge image
Infilco Degremont's new Aquaray 3X HO vertical lamp system features 36 low-pressure, super high output Amalgam UV lamps. The system can reduce footprint and increase energy efficiency of existing systems. Each high output lamp yields almost three times the germicidal output of IDI's 40 HO lamp, so fewer lamps can treat the same capacity.
Infilco Degremont
Richmond, VA
Tel: 804-756-7600
Polymer mortar pipe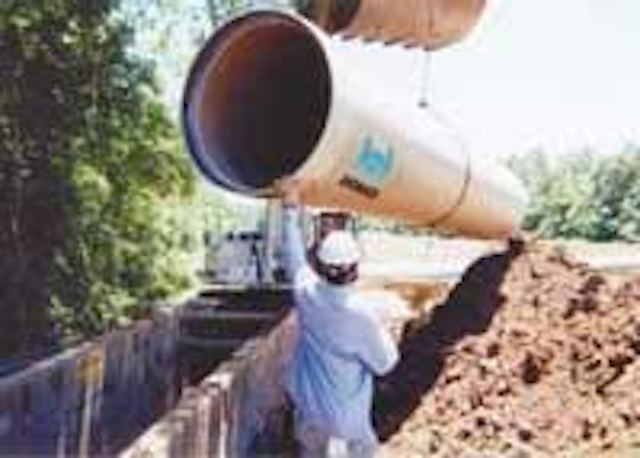 Click here to enlarge image
Many U.S. municipalities have installed Hobas pipe in new construction and rehab for critical applications, and its use is growing. The pipe is ideal for open cut, sliplining, jacking, microtunneling and above ground installation. The centrifugally cast, fiberglass-reinforced, polymer mortar pipe is inherently corrosion resistant.
Hobas Pipe USA
Houston, TX
Tel: 800-856-7473
Web: www.hobaspipe.com
Sludge mixing

Click here to enlarge image
Litzler Environmental will display a working scale model of the patented HR-5000 mixing gun. The mixing gun is used in anaerobic digesters for municipal wastewater treatment plants. The guns feature a gas bubble generator mounted to the stackpipe for maximum mixing. A gas supply line is attached to an external compressor that releases gas under pressure into the interior chamber.
Litzler Environmental Inc.
Cleveland, OH
Tel: 216-267-8020
Web: www.litzlerenvironmental.com
Conductivity test kit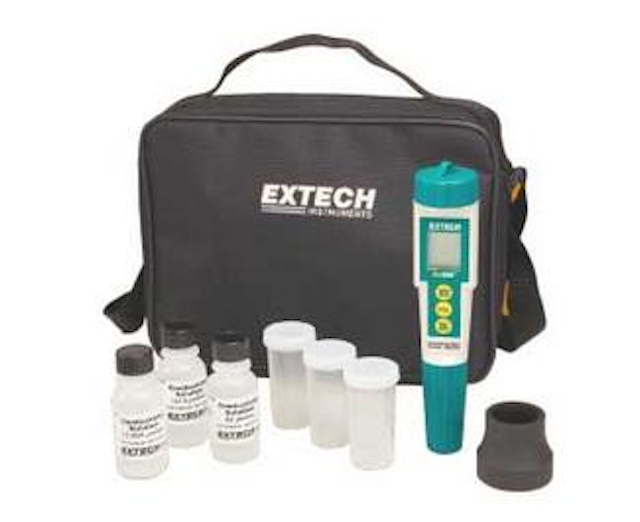 Click here to enlarge image
The new ExStik® Conductivity/ TDS/Salinity Kit, Model EC410, provides the meter, conductivity cell and all the accessories and standards needed for measurements in any aqueous solution including tap water and wastewater. All the necessities are assembled into a convenient carrying case. The kit includes the autoranging meter offering measurements in µS, mS, ppm, ppt, mg/L, and g/L. Conductivity, total dissolved solids (TDS), salinity, and temperature are all measured with a single conductivity cell.
Extech Instruments
Waltham, MA
Tel: 781-890-7440
Web: www.extech.com
Electromagnetic flowmeters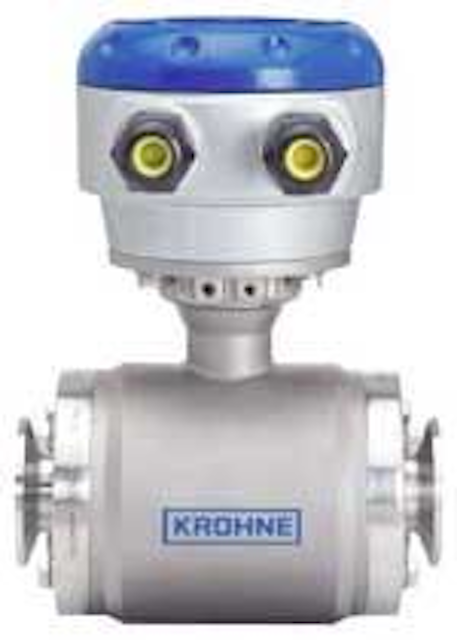 Click here to enlarge image
Krohne has introduced its new Optiflux family of electromagnetic flowmeters. The family consists of nine flowmeter models covering a wide range of applications in the water and wastewater, chemical, pulp and paper, and pharmaceutical industries. All models feature unique 3 x 100% diagnostics: 100% Application Diagnostics, 100% Accuracy Diagnostics, and 100% Instrument Diagnostics. Consequently, maintenance engineers not only have information on the state of the flowmeter and the quality of the measurement, they will also obtain notification of unnoticed application faults.
Krohne Inc.
Peabody, MA
Tel: 800-356-9464
Web: www.krohne.com
Denitrification system
The Leopold elimi-NITE™ Denitrification System uses the advantages of deep bed, mono-media filters to effectively remove nitrogen in wastewater effluent. In addition to nitrogen, the system can simultaneously remove suspended solids. The gravity, downflow, packed-bed denitrification system is an attached growth, microbiological process which removes nitrate-nitrogen achieving levels below 1 mg/liter.
F.B. Leopold Company Inc.
Zelienople, PA
Tel: 724-452-6300
Web: www.FBLeopold.com
Lift station control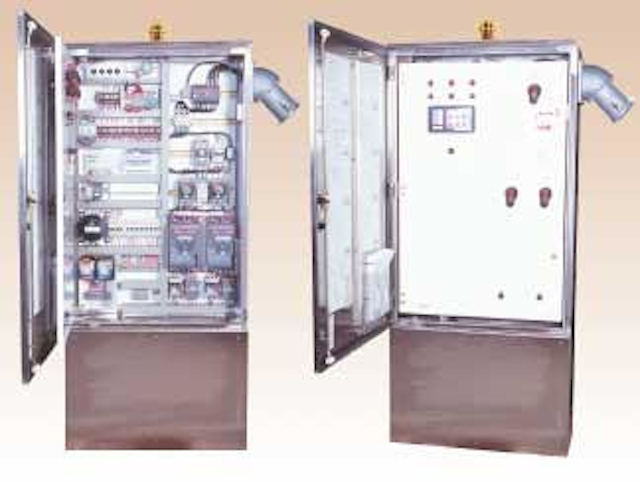 Click here to enlarge image
Visitors to the Romtec Utilities booth at WEFTEC 2004 will have an opportunity to examine the same lift station control panel used in the conference's Operations Challenge competition. The pre-assembled, fully tested electrical control panel will be available for demonstrations and for practice by teams participating in the event, which showcases the skills of wastewater collection and treatment personnel.
Romtec Utilities
Roseburg, OR
Tel: 541-496-3541
Web: www.romtecutilities.com
Midge control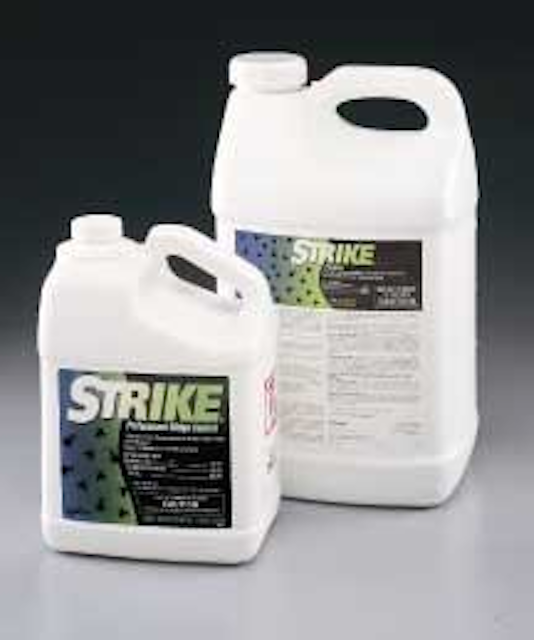 Click here to enlarge image
Strike® Professional Midge Control provides a practical solution to the problem of midge and filter fly infestations in wastewater treatment facilities. Available in three formulations, the product controls midge and filter fly infestations within days – eliminating the risk of costly facility shutdowns due to insect contamination. Manufactured by Wellmark International and distributed by Pest Control Technology, Strike contains the active ingredient methoprene, an insect growth regulator (IGR) which is approved by the EPA.
Wellmark International
Schaumburg, IL
Tel: 800-248-7763
Web: www.pct-strike.com
Chopper pumps
Vaughan will be exhibiting the chopper pump with an operating display of its 8" horizontal pump, handling rope and plastic rods up to 1" in diameter, demonstrating its ability to chop and pump large solids without wrapping, binding or clogging. The company's Rotamix mixing system will be the centerpiece of its exhibit, with glass-lined and powder coated ductile iron nozzle assemblies fed by chopper pumps to mix digesters, sludge storage tanks, CSO basins and other solids entrained tanks that require efficient hydraulic mixing.
Vaughan Co. Inc.
Montesano, WA
Tel: 360-249-4042
Web: www.chopperpumps.com
Filtration media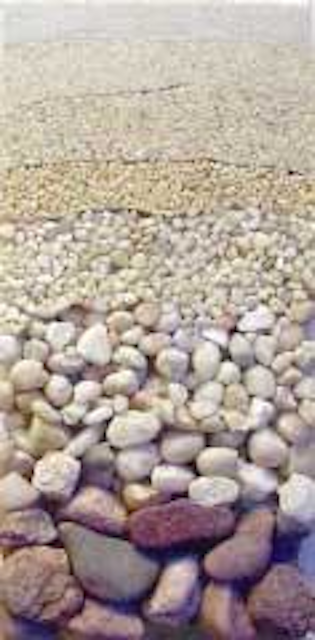 Click here to enlarge image
Fairmount Minerals offers high quality filtration media. Its subsidiaries, Best Sand and Wedron Silica, have been producers of high quality filtration media for decades. All filtration media is washed, dried and precisely screened to meet each customer's requirements. All products meet and/or exceed the AWWA B100-96 specifications and are NSF certified to Standard 61. A full range of sizes is offered, from 0.20 mm sand to 2.0" gravel. Anthracite and garnet media are also available.
Fairmount Minerals
Best Sand Co., Chardon, OH
Wedron Silica Co., Wedron, IL
Tel: 800-237-4986
Web: www.fairmountminerals.com
Level transmitters
Click here to enlarge image
Siemens Energy & Automation has introduced the new Sitrans Probe LU (ultrasonic) and Sitrans Probe LR (radar) continuous level transmitters for storage vessels, process vessels, and open channels in water and wastewater. The probes are based on the Siemens-Milltronics® The Probe®. They offer a longer measurement range and an improved signal-to-noise ratio that enhances echo processing features, such as Sonic Intelligence® and Auto False-Echo Suppression, for greater accuracy and reliability.
Siemens Energy & Automation Inc.
Spring House, PA
Tel: 215-646-7400
Web: www.sea.siemens.com/ia
Stormwater treatment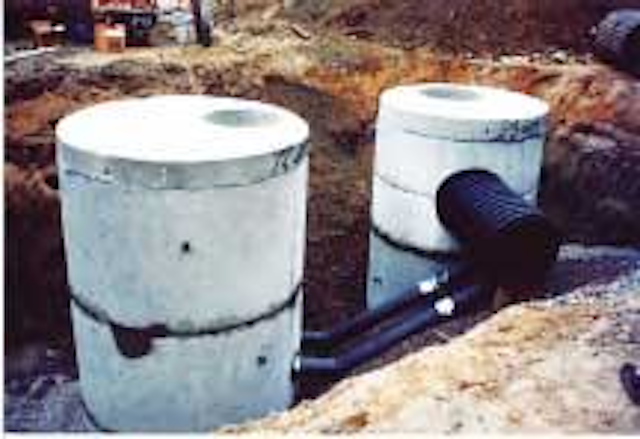 Click here to enlarge image
The BaySaver® Stormwater Separation System technology helps operators meet current and upcoming federal and state regulations. It has been proven to exceed required flow rate treatment, while delivering flexible design, installation and reduced maintenance. The systems are customizable to project site conditions, suitable for retrofit situations, and typically require less space than other types of BMPs.
BaySaver Technologies Inc.
Mount Airy, MD
Tel: 800-229-7283
Web: www.BaySaver.com
Grinder pumps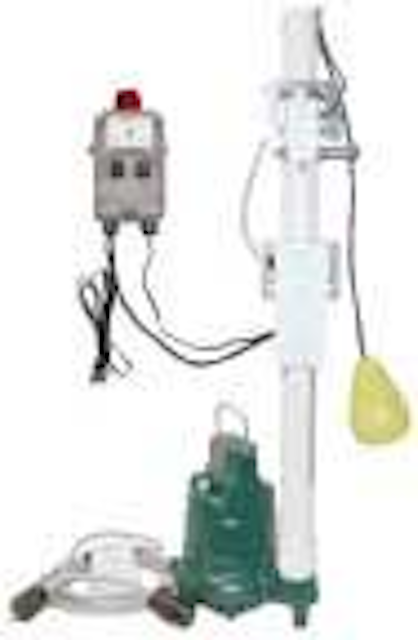 Click here to enlarge image
Zoeller Submersible Solids Handling and Grinder Pumps include features such as finned castings, oil filled housings and non-overloading windings to minimize the heat rise of the motor, which allows the unit to operate at a low stabilization temperature. These features also minimize the wear on the bearings and mechanical seals, which eliminate the need for premature replacement.
Zoeller
Louisville, KY
Tel: 800-928-7867
Web: www.zoeller.com
Process monitor, control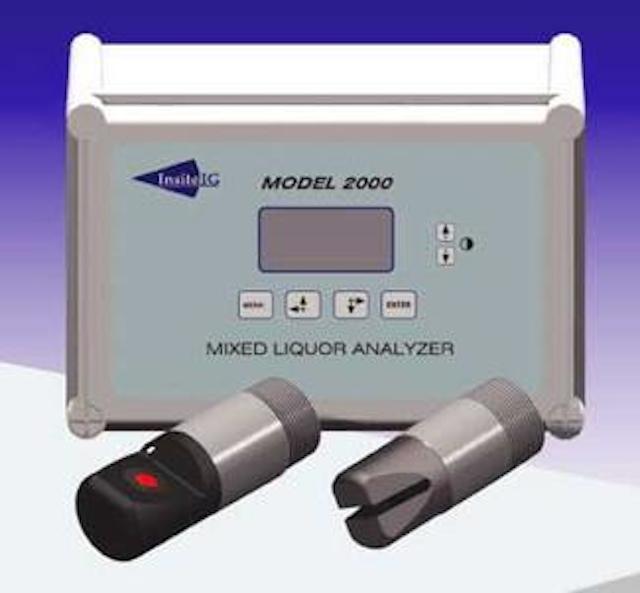 Click here to enlarge image
Dissolved oxygen and suspended solids are two of the most important controllable parameters in any biological reactor. Stabilizing these two parameters will reduce operation costs and enhance process performance. Insite Instrumentation Group's Model 2000 will make both of these crucial measurements. The dissolved oxygen sensor is an optical design that eliminates the need for replaceable membranes, sensor caps, cartridges, and fill solutions.
Insite IG
Slidell, LA
Tel: 985-639-0006
Web: www.insiteig.com
Glass pH electrodes
Horiba Instruments offers new, virtually unbreakable glass pH electrodes and ISFET electrodes to support many applications. The glass electrodes can be pounded on a laboratory bench without breaking. Their response time is 40 times faster than conventional electrodes.
Horiba Instruments Inc.
Irvine, CA
Tel: 800-446-7422
Web: www.horiba.com
Wireless remote monitoring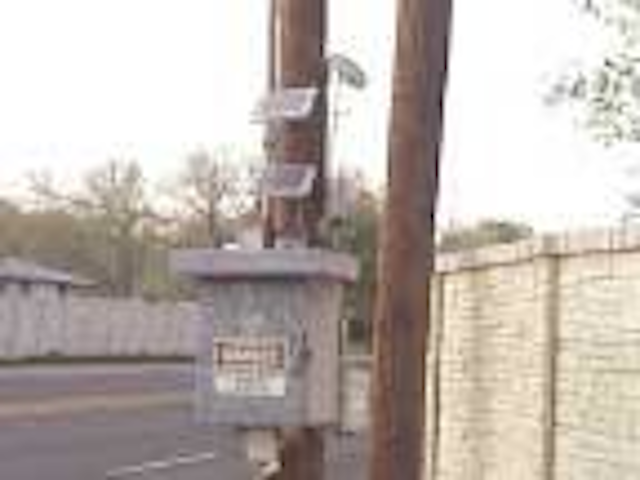 Click here to enlarge image
American Innovations (AI) offers a new addition to its Bullhorn® family of wireless remote monitoring products: the APM4AM-SAT. The monitoring system uses the Inmarsat D+ satellite system for communication and is an excellent way to supplement installations where 100% cellular coverage is not available. It is ideal for international use and enables equipment monitoring in very remote locations. The system monitors many different kinds of equipment and provides automatic notifications of alarm events via voice notification, fax, page and/or email.
American Innovations
Austin, TX
Tel: 800-229-3404
Web: www.aimetering.com
Aeration systems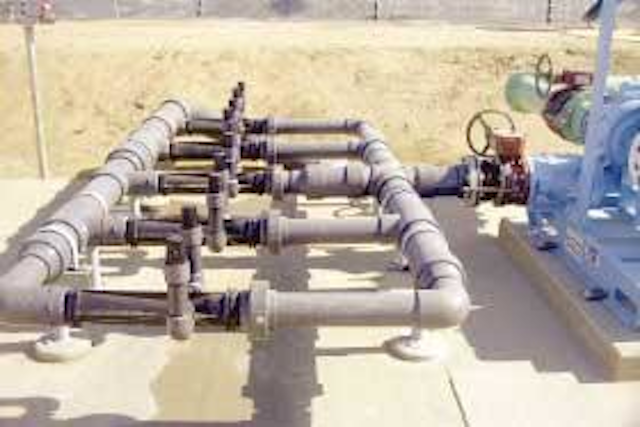 Click here to enlarge image
The patented Mazzei AirJection® System delivers dissolved oxygen economically to any depth in municipal water bodies needing complete aeration. The system is SOTR tested and certified and Alpha values have been independently tested to 1.0. It produces predictable, thorough aeration without the use of blowers and diffusers. Key applications are for odor control, activated sludge treatment, and BOD/COD reduction.
Mazzei Injector Corp.
Bakersfield, CA
Tel: 661-363-6500
Web: www.mazzei.net
Odor control
Altivia offers Nitrazyme™ Plus, a proprietary (Patent pending) blend containing sodium nitrate. The product is a safe, natural biological approach to controlling odors and corrosion produced from reduced sulfur compounds in wastewater. Nitrate provides a source of bound oxygen (nitrate-oxygen) to naturally occurring facultative anaerobic denitrifying bacteria present in wastewater, which these bacteria metabolize preferentially over alternative sources of oxygen such as sulfate, preventing the formation of H2S gas.
Altivia Corp.
Houston, TX
Tel: 866-258-4842
Web: www.altivia.com
Clear coating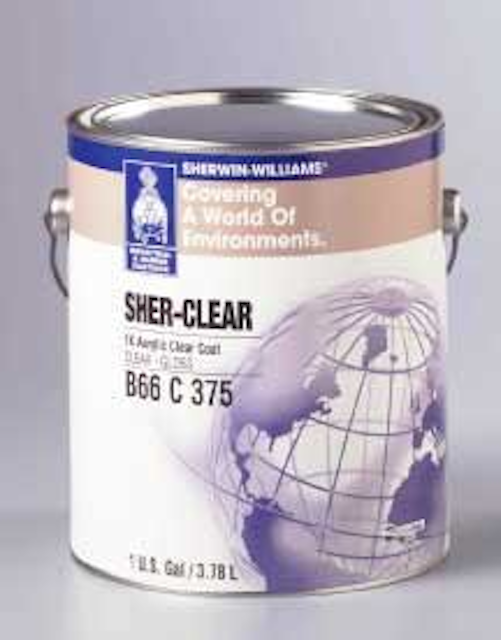 Click here to enlarge image
For applications where a beautiful appearance and long-lasting good looks are critical, Sherwin-Williams Industrial and Marine Coatings group now offers Sher-Clear™ Acrylic Clear Coat, a high gloss, low VOC, UV-resistant clear coat. The coating provides extended color and gloss protection for acrylics and certain solvent-based coatings in exterior industrial environments. Created for use over newly applied or existing industrial coatings, the clear coat dries in 45 minutes and may be applied by brush, roller, conventional or airless spray equipment.
Sherwin-Williams Ind.and Marine Coatings
Cleveland, OH
Tel: 800-524-5979
Web: www.sherwin-williams.com
Self-cleaning filters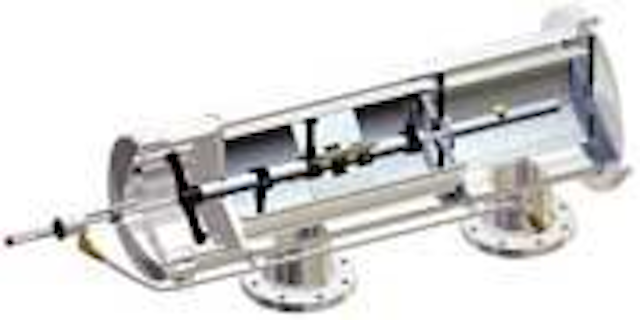 Click here to enlarge image
Constructed of 316ss, the V-Series Automatic self-cleaning water filters from Valve & Filter feature an energy efficient cleaning mechanism. These filters are suitable for tertiary wastewater disposal for a variety of applications – service water, polishing, recycling, environmental protection and irrigation systems – required to use treated effluent.
Valve & Filter Corp.
Arvada, CO
Tel: 800-759-6554
Web: www.valveandfilter.com
Pressure gauge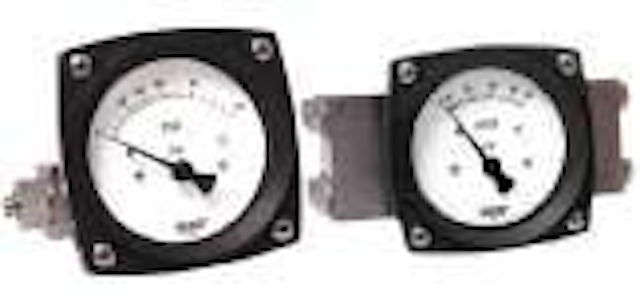 Click here to enlarge image
Wika's Type 700.04 piston-type gauge measures differential pressure ranges of clean liquid or gaseous media to 100 PSID, with a maximum working pressure of 6000 PSID. It is suitable for measuring pressure drops across heat exchangers, chillers and vaporizers; and for local flow indication and control in filters, strainers/separators, pumps and valves. The company's Type 700.05 diaphragm-style assembly is suited for "no blow-by" low/medium differential and medium/high process pressure media.
Wika Instrument Corp.
Lawrenceville, GA
Tel: 770-338-5216
Web: www.wika.com
Pipe, cable locator
Click here to enlarge image
The new SubSurface PL-2000 Multi-Frequency Pipe & Cable Locator offers a new approach to low frequency locating. The transmitter has 3.0 watts of power output in the Direct Connection mode and three different active frequencies: 512 Hz, 8.125 kHz and 26.725 kHz. The light-weight receiver has four modes of operation: Peak, Null, Dist, and Sonde, and both inductive and direct connection capabilities.
SubSurface Locators
San Jose, CA
Tel: 408-249-4673
Coatings, linings
Sauereisen provides products to restore and protect wastewater infrastructure. The company is at the forefront of spincast installation methods that allow manhole restoration projects to proceed safely and easily from ground level. For substrate deterioration, the company offers SubstrateResurfacer. Its SewerGard product is used where microbiologically induced corrosion is the problem. For water inflow and infiltration, its new SewerSeal is the answer. All of these materials accommodate low-cost pumps and rotary spray equipment to facilitate quick turnaround.
Sauereisen Inc.
Pittsburgh, PA
Tel: 412-963-0303
Web: www.sauereisen.com
Vacuum sewer components

Click here to enlarge image
Airvac is a manufacturer of specialty components used in vacuum sewer systems. These components include vacuum valves, valve pits and vacuum station equipment. The company offers complete start-to-finish project services, including preliminary system layout and design, cost estimating, detailed design assistance and construction supervision.
Airvac
Rochester, IN
Tel: 574-223-3980
Web: www.airvac.com
Sludge reduction
Click here to enlarge image
The EIMCO® Sonolyzer™ Ultrasound Disintegration Reactor can be installed with existing anaerobic digestion equipment to increase biogas production and minimize sludge production. Applications include the treatment of filamentous or bulking sludge, sludge minimization in aerobic digesters, SVI control in activated sludge systems, and the enhancement of anaerobic digestion.
EIMCO Water Technologies
Salt Lake City, UT
Tel: 801-526-2400
Web: www.eimcowater.com
Stormwater filtration
Click here to enlarge image
Bio-Microbics, an affiliate of Smith & Loveless, recently introduced the BioStorm™ system, a proprietary stormwater filtration device designed to receive and treat the initial runoff, or "first flush" from streets, parking lots or other surfaces. The system's off-line design consists of a patented StormTee™ self-cleaning deflector screen and a modular separation/coalescing unit, all housed in readily available precast concrete tanks.
Bio-Microbics Inc.
Shawnee, KS
Tel: 800-753-3278
Web: www.biomicrobics.com
Conductivity datalogger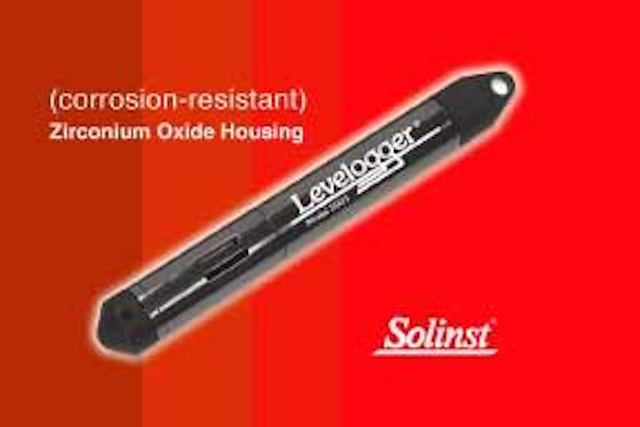 Click here to enlarge image
Solinst's new LTC Levelogger combines a datalogger, 8-year battery, pressure transducer, temperature and conductivity sensors in a corrosion-resistant zirconium oxide housing measuring 7/8'' x 7''. The logger is not affected by hydrogen sulfide, sodium, chloride, or iron. It is stable in ethanol, BTEX and chlorinated hydrocarbons. The conductivity sensor is a 4-electrode platinum sensor. It auto-ranges from 20µS/cm to 80,000µS/cm. Cleaning and calibration are simple.
Solinst Canada Ltd.
Georgetown, ON
Tel: 905-873-2255
Web: www.solinst.com
DO measurement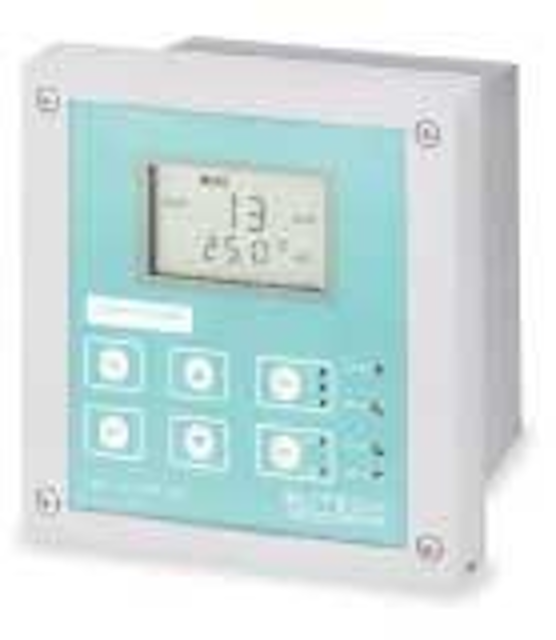 Click here to enlarge image
Eutech Instruments has introduced the new DO 2000, an advanced 1/2-DIN controller for dissolved oxygen measurements. The instrument features a measurement range of 0 to 20 ppm or 0 to 200% saturation, making it ideal for use in a variety of applications including water treatment and monitoring. This CE-approved controller offers on/off, proportional (P), or proportional integral (PI) control modes with pulse length or pulse frequency determinants. Four programmable relays with time delay capabilities allow for customized control.
Eutech Instruments America
Vernon Hills, IL
Tel: 888-358-4710
Web: www.eutechinstamerica.com
Hydrogen sulfide monitor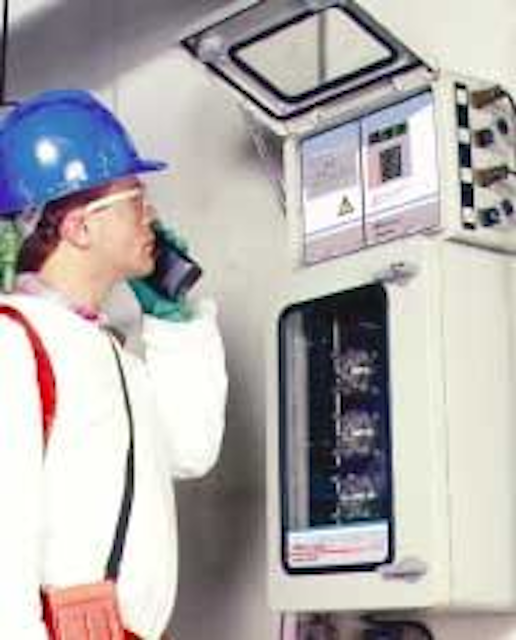 Click here to enlarge image
Teledyne Isco has introduced the Advisor™ Purgeable Hydrogen Sulfide Monitor, which provides continuous sensing of purgeable H2S in wastewater flow streams. The monitor measures dissolved H2S, and regulates existing chemical dosing or injection systems to assure cost-effective odor control. Housed in a self-contained NEMA 4x (IP67) enclosure, the monitor is easy to install and program.
Teledyne Isco Inc.
Lincoln, NE
Tel: 800-228-4373
Web: www.isco.com
Tank covers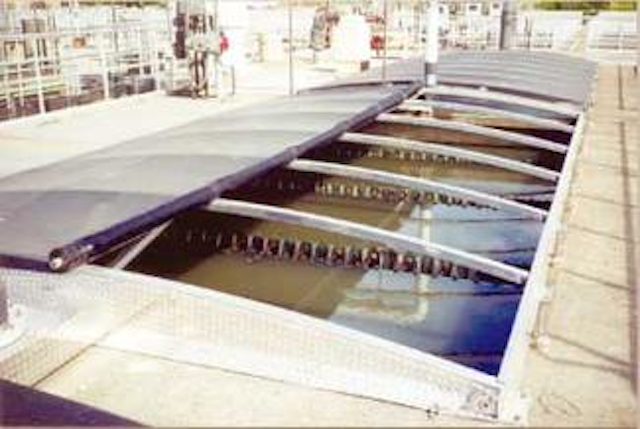 Click here to enlarge image
GTI's structurally supported cover system consists of a sheet of high strength, UV-protected, coated fabric tensioned across a series of low profile aluminum arches which span a tank opening. Applications include odor control, blocking sunlight, temperature control, or preventing debris from entering the tank. The fabric cover is sufficiently air tight to allow a ventilation system to function, yet it can be detached on three sides and retracted to expose the tank contents for inspection or maintenance.
Geomembrane Technologies Inc.
Fredericton, New Brunswick
Tel: 506-452-7304
Web: www.gti.ca
Modeling software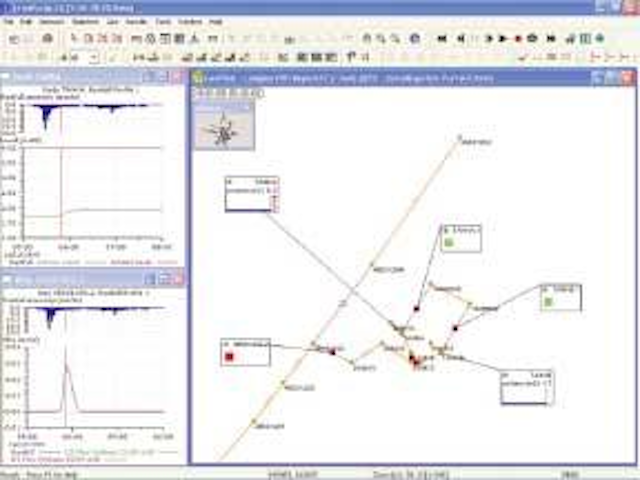 Click here to enlarge image
Wallingford Software, a developer of network data management and hydraulic modeling software, is demonstrating InfoWorks v5.5 for the first time at WEFTEC 2004. Visitors will be able to view versions WS for water supply, RS for river systems and CS for collection systems.
Wallingford Software Inc.
Fort Worth, TX
Tel: 888-520-2224
Web: www.wallingfordsoftware.com
Expansion joints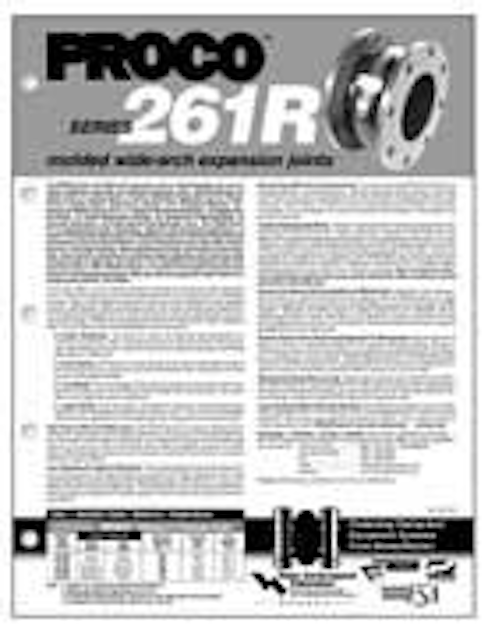 Click here to enlarge image
The Proco Style 261R is an elastomeric expansion joint specifically designed for plastic and FRP piping systems. Traditional spool-type or spherical-type expansion joints are too rigid and offer too much resistance to be used with thermoplastic, fluorplastic or FRP pipe.
Proco Products
Stockton, CA
Tel: 800-344-3246
Web: www.procoproducts.com
Decanter monitor, control
Alfa Laval is launching the Octopus, a new continuous intelligent monitoring and optimization system for sludge dewatering decanters. The system, based on software developed by the company, monitors and controls all dewatering parameters 24 hours a day, 7 days a week. This ensures that the decanter operates unattended at peak performance under all process conditions.
Alfa Laval
St. Louis, MO
Tel: 314-265-4385
Web: www.alfalaval.us
Water quality monitors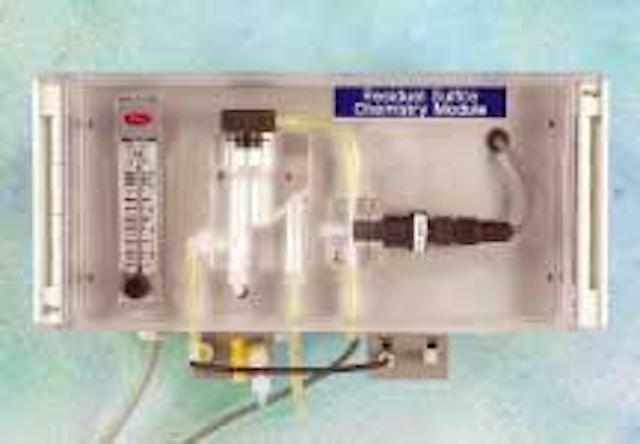 Click here to enlarge image
ATI will exhibit a line of water quality monitors and gas detection products. Products on display for water monitoring include pH, auto-cleaning dissolved oxygen, dissolved ozone, and unique "Gas Phase" analyzers for residual chlorine and dissolved sulfite for dechlorination control. Gas detection instruments for chlorine, ammonia, sulfur dioxide, ozone, hydrogen sulfide, and combustible gas will be featured.
Analytical Technology Inc.
Collegeville, PA
Tel: 610-917-0991
Web: www.analyticaltechnology.com
Wastewater treatment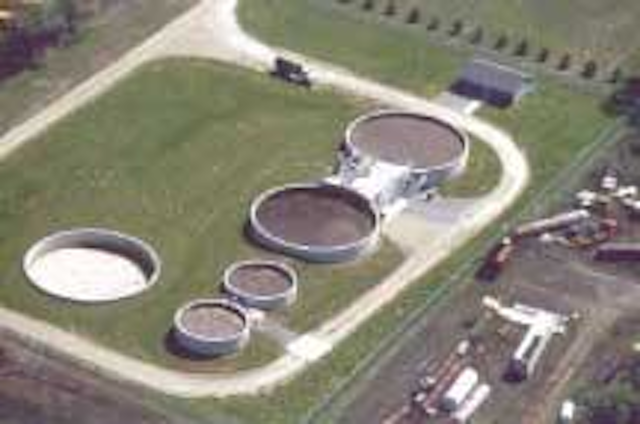 Click here to enlarge image
USFilter Jet Tech Products is a full service specialist in wastewater treatment systems using advanced biological nutrient removal processes. The company offers Sequencing Batch Reactors (SBR), Jet Aeration/ Jet Mixing equipment, and process design for industrial and municipal wastewater treatment applications.
USFilter Jet Tech Products
Edwardsville, KS
Tel: 913-422-7600
Web: www.usfilter.com
Mixers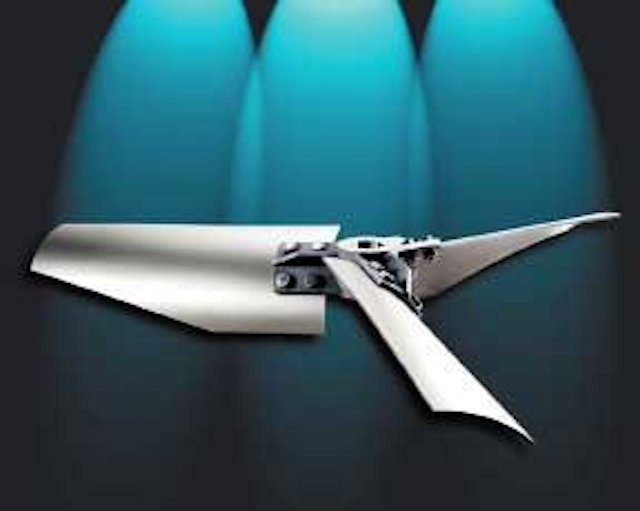 Click here to enlarge image
Chemineer will be exhibiting its new SC-3 High Efficiency Impeller along with an assortment of its rotating and static mixers. The new impeller features a design that produces flow characteristics of much larger impellers, without the added weight or the resulting loss in pumping efficiency. The lighter-weight, high-flow impeller is available in high-alloy materials with numerous coating options for application versatility.
Chemineer Inc.
Dayton, OH
Tel: 937-454-3200
Web: www.chemineer.com
Fiberglass composite parts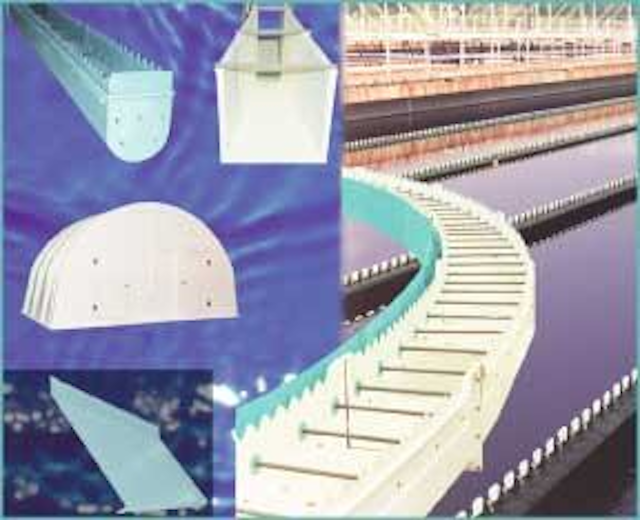 Click here to enlarge image
MFG Water Treatment Products' fiberglass parts are engineered for use in water and wastewater treatment applications and plants. The parts are corrosion resistant, high strength, light weight, dimensionally stable and easy to install. Fiberglass parts are used in clarifiers, troughs, flumes, gates, launder covers and engineered structures.
MFG Water Treatment Products
Union City, PA
Tel: 877-826-2509
Web: www.mfgwtp.com
Turnkey monitoring/SCADA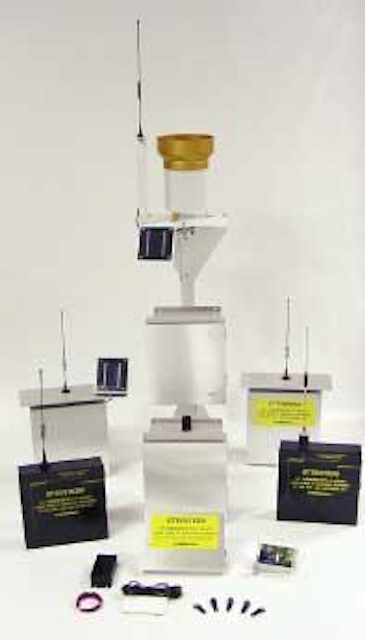 Click here to enlarge image
From full, always on wireless SCADA and in-sewer monitoring systems to vehicle tracking and rainfall monitoring systems, Mission has recently expanded its low cost products that are simple enough to install in a morning. All the company's systems include a web site, display & graphics software, alarms to anything, reports, built-in site security and maintenance logs, and pump runtime/starts analysis with automatic alarms if they aren't running right.
Mission Communications
Norcross, GA
Tel: 877-993-1911
Web: www.123mc.com
Pipe inspection systems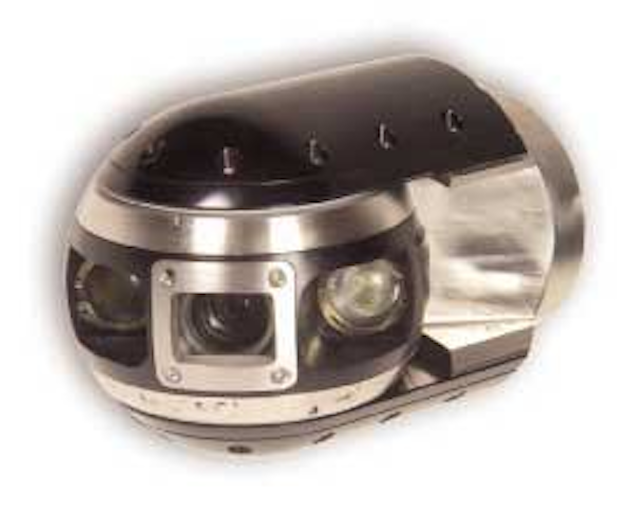 Click here to enlarge image
Pearpoint, a manufacturer of video pipeline inspection technology, will be showcasing the latest development for its P400 Series of mainline inspection cameras and tractors. The P494 camera is now available with a 40X Digital Zoom Pan and Tilt Color camera head option for inspection in lines 8'' and larger in diameter. The new zoom camera technology provides optimum clarity and the ability to capture the smallest details during mainline and lateral inspections.
Pearpoint Inc.
Thousand Palms, CA
Tel: 800.688.8094
Web: www.pearpoint.com
Peristaltic pump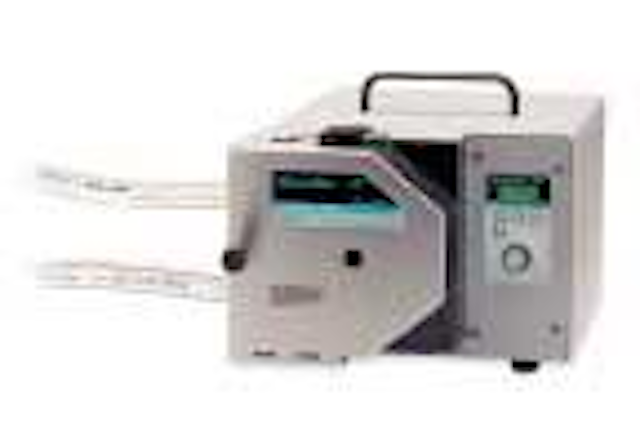 Click here to enlarge image
The new Masterflex I/P® Process Pump System, available from Barnant, is ideal for metering applications including sodium hypochlorite, ferric chloride, flocculant, peroxide, acids, and caustics. The peristaltic pump design eliminates the vapor-lock problems of other pump technologies.
Barnant Co.
Barrington, IL
Tel: 800-637-3739
Web: www.barnant.com
Odor control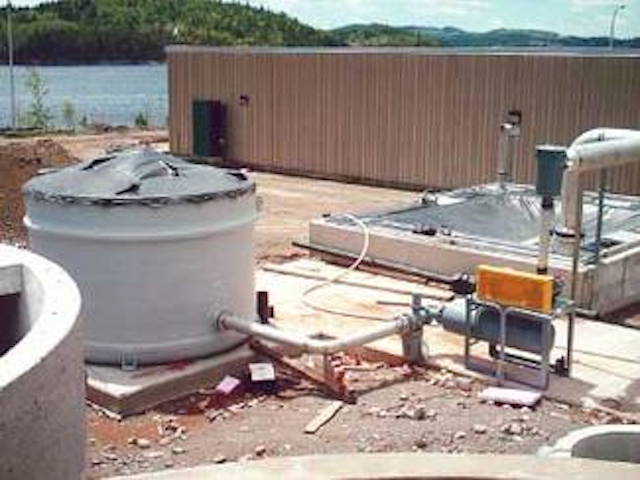 Click here to enlarge image
ADI International introduces Sulfa-Bind™, an iron-based H2S adsorption media. The media can handle concentrations up to 30,000 ppm, reducing to less than 1 ppm. After H2S saturation the media can be regenerated for re-use simply by blowing air through it. At least a dozen regenerations are possible, by which time the media will actually hold up to 50% sulfide by weight.
ADI International Inc.
Fredericton, NB Canada
Tel: 800-858-1888
Web: www.adi.ca
Polymer control system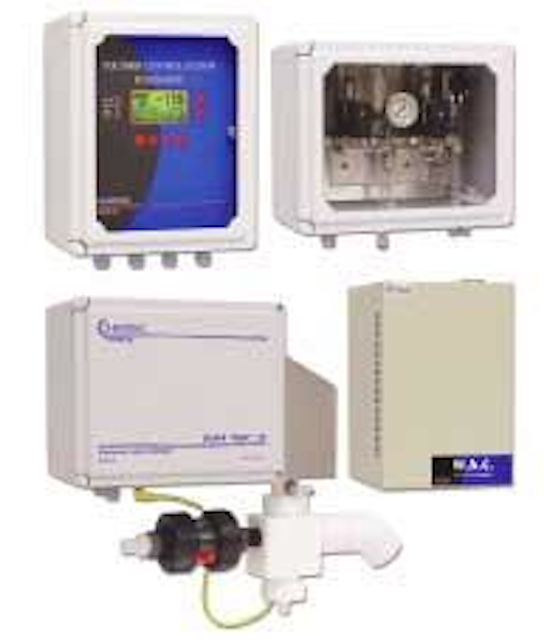 Click here to enlarge image
Chemtrac's Polymer Control System model PCS5500 can help optimize polymer dosage on all types of clarifiers, and many dewatering machines such as centrifuges, belt filter presses, gravity belt thickeners, dissolved air flotation, and screw presses. Typical savings range from 20% - 40%.
Chemtrac Systems Inc.
Norcross, GA
Tel: 800-442-8722
Web: www.chemtrac.com
Pressure measurement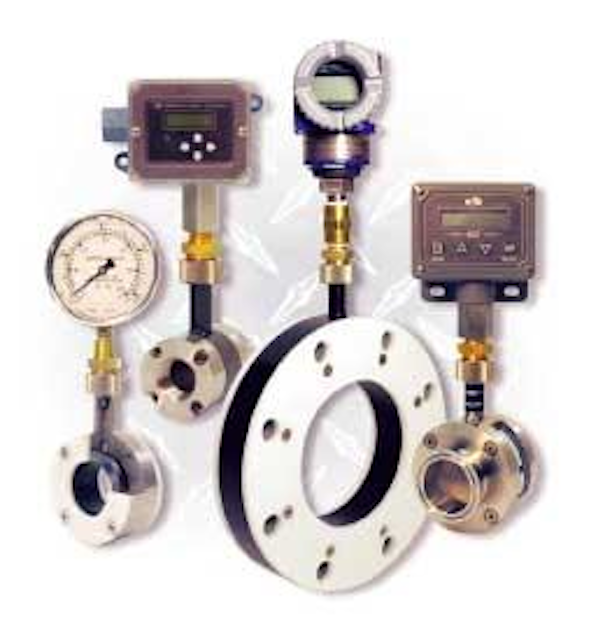 Click here to enlarge image
The Onyx Isolator Ring provides a practical method for obtaining pressure measurements on slurries, abrasives, and hard-to-handle materials. The ring is vacuum-filled at the factory with high-viscosity silicone fluid; then permanently sealed with the company's "Module-Seal".
Onyx Valve
Cinnaminson, NJ
Tel: 856-829-2888
Web: www.onyxvalve.com
Level transmitter

Click here to enlarge image
The Model SST Submersible Level Transmitter from Ametek PMT Products is designed to fit into tight applications, while providing the same digitally compensated level measurement capability as the company's other products. The transmitter's 0.69'' diameter housing allows the unit to fit small-bore applications, while its 316 stainless steel diaphragm construction offers environmental protection.
Ametek U.S. Gauge/PMT Products
Feasterville, PA
Tel: 215-355-6900
Web: www.ametekusg.com
Grinder pump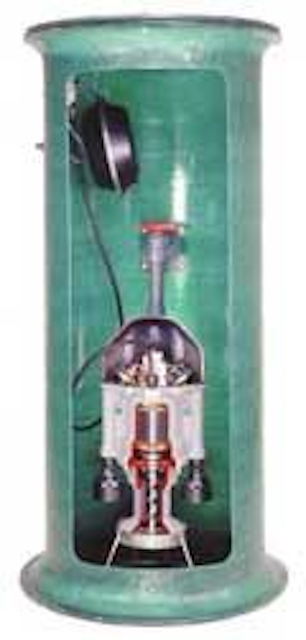 Click here to enlarge image
E-One's Gatorgrinder system reduces all forms of sanitary waste to a non-clogging slurry and pumps it through a network of small-diameter pipes in pressure sewer systems. The grinder's high-torque motor can chew through any obstacle, even a steel spoon. The grinder comes with integrated controls, is factory tested and needs no adjustment.
Environment One Corp.
Niskayuna, NY
Tel: 518-346-6161
Web: www.eone.com
Fiberglass reinforced pipe
Click here to enlarge image
Amitech USA will be displaying Flowtite Fiberglass Reinforced Pipe and Meyer Polycrete Pipe and Structures, two piping systems for sanitary sewers, industrial sewers, storm and raw water transmission lines for both new construction and rehabilitation projects.
Amitech USA
Zachary, LA
Tel: 217-590-2645
Web: www.amitechusa.com
Hybrid PLC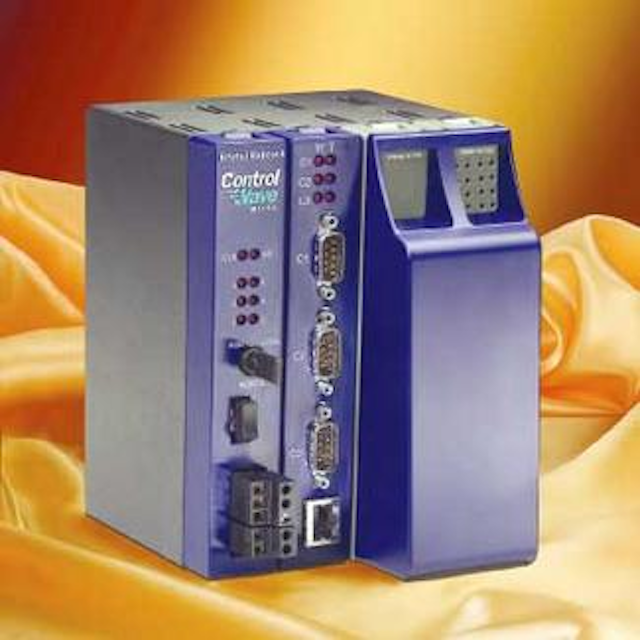 Click here to enlarge image
Bristol Babcock has introduced ControlWave Micro, a new hybrid PLC for the control of wastewater treatment processes. The advanced PLC hybrid provides the flexibility to control the entire primary, secondary and advanced treatment of wastewater. It also has the performance, control and calculation capability to automate the many complex processes such as pH control and Anaerobic, RO and SBR treatment.
Bristol Babcock Inc.
Watertown, CT
Tel: 860-945-2200
Web: www.bristolbabcock.com
DO monitoring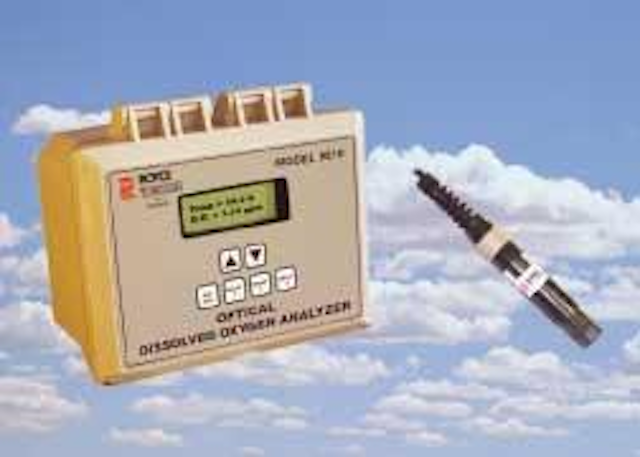 Click here to enlarge image
The Royce Model 9810/98 Optical Dissolved Oxygen (DO) monitoring and control system is designed for use in wastewater treatment, aquaculture, environmental and industrial markets. The key to this new technology is the patented Model 98 DO sensor. It is a fluorescent emitting sensor that monitors the optical phased shift of the luminescent quenching of a fluorophore during its contact with oxygen.
Royce Technologies
New Orleans, LA
Tel: 800-347-3505
Chopper pumps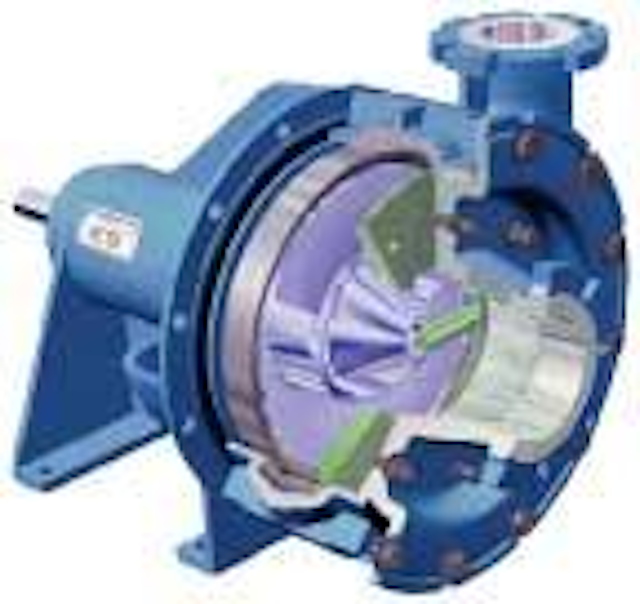 Click here to enlarge image
Fairbanks Morse offers a line of Vortex and C-Chop™ Chopper Pumps. The hard metal vortex pumps handle flows from 50-3000 gpm, and heads to 200 feet using a fully recessed impeller, and are ideally suited for grit applications with higher concentrations of solids and sludge. At WEFTEC.04, attendees can learn how they can upgrade their vortex pump with the company's interchangeable and backward-compatible Chopper Pump retrofit.
Fairbanks Morse Pump
Tel: 913-371-5000
Web: www.fmpump.com
Disinfection, odor control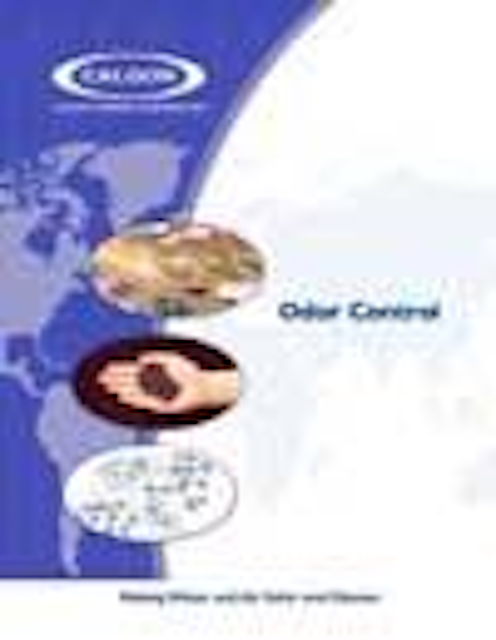 Click here to enlarge image
Calgon Carbon's portfolio of odor control products spans all three of the major control technologies: activated carbon, biological oxidation, and chemical scrubbing. Its product range allows users to select the right product or combination of products to solve any odor control challenge. The company can provide integrated systems that employ various combinations of these technologies to solve the most challenging odor control problems.
Calgon Carbon Corp.
Pittsburgh, PA
Tel: 800-422-7266
Web: www.calgoncarbon.com
Grit removal system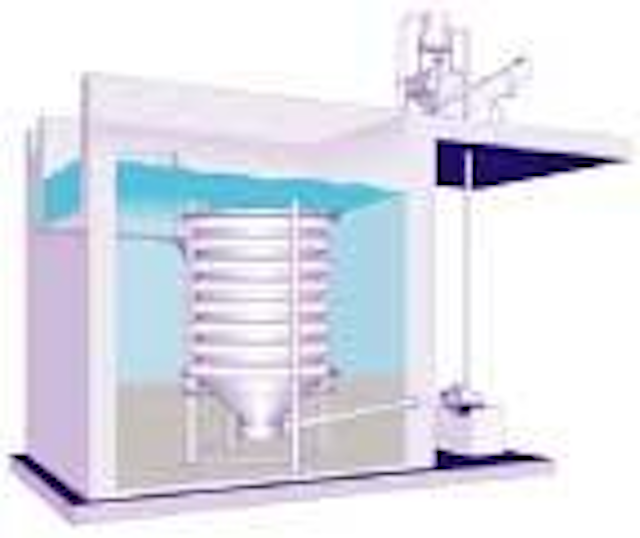 Click here to enlarge image
The Headcell™ Grit Removal System from Eutek can remove grit as small as 50-micron within a compact area. It uses stacked trays to maximize settling surface area within a small footprint, while retaining a short settling distance. These factors dramatically increase capture efficiency. Standard designs require less than 12'' of head.
Eutek Systems Inc.
Hillsboro, OR
Tel: 866-615-8130
Web: www.eutek.com
Pumping system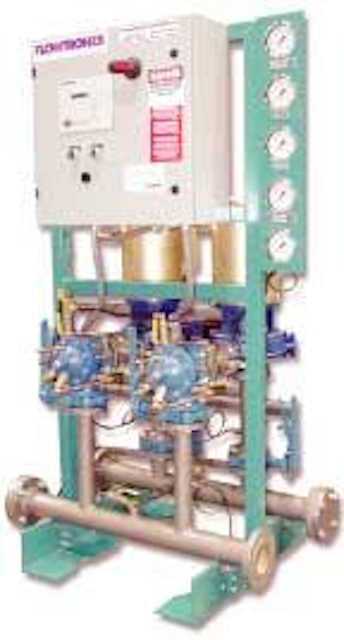 Click here to enlarge image
The Flowtronex JTC is a pre-engineered, completely assembled, factory flow-tested pumping system. The system is designed to supply water into moderately high building distribution systems. Industrial engineered pre-manufactured subassemblies provide cost effective systems with short lead times. Standard features include: UL Listed as a complete pumping system, high efficiency back pull-out end suction pumps and individual pump suction and discharge isolation valves.
Flowtronex Inc.
Dallas, TX
Tel: 214-357-1320
Web: www.flowtronex.com
Historian software
GE Fanuc Automation Americas, a unit of GE Infrastructure, will showcase the new Proficy™ Historian 2.0. The plant-wide data historian collects, archives and distributes tremendous volumes of real-time, plant floor process information at extremely high speed. A new Calculation Collector enables users to perform advanced calculations, metrics, key performance indicators and analysis on plant-wide data and store the results. The Server-to-Server Collector is used to distribute data from one Historian to another, enabling data distribution and "store and forward" data recovery.
GE Fanuc Automation Americas Inc.
Charlottesville, VA
Tel: 800-433-2682
Web: www.gefanuc.com
Dry prime pumps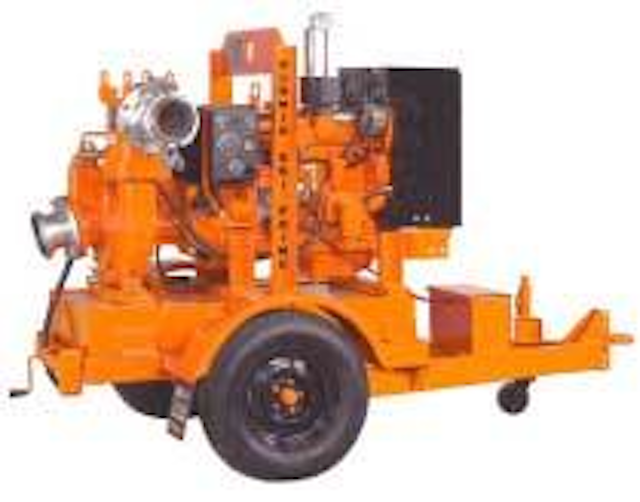 Click here to enlarge image
Godwin Pumps will display the latest additions to its high volume "CD Series" pump range at WEFTEC.04. Two new high volume Dri-Prime models will be introduced specifically for lift station applications and more: the 4-inch CD103M and 6-inch CD160M which offer heads from 145' to 300' with 3'' solids handling. Other pumps on display will include a 12'' high head, high volume diesel Dri-Prime® pump featuring a Caterpillar C-9 engine; the company's standard CD150M model 6'' high volume diesel pump and its hydraulic and electric submersible pumpends.
Godwin Pumps of America Inc.
Bridgeport, NJ
Tel: 856-467-3636
Web: www.godwinpumps.com
DO sensor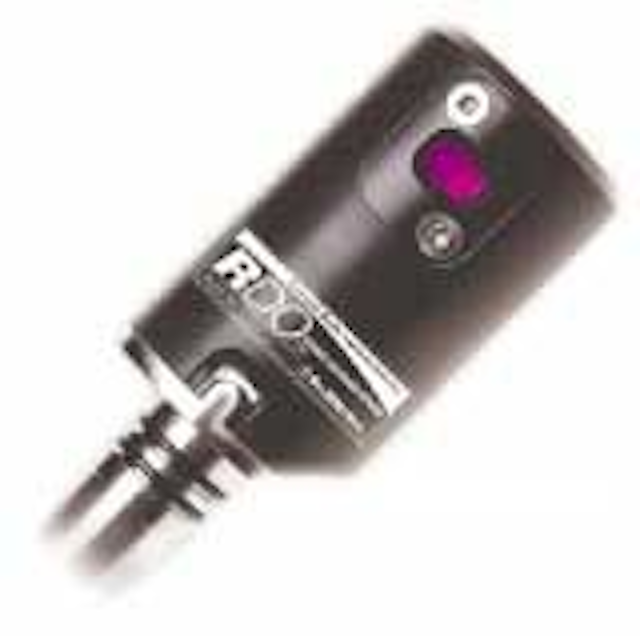 Click here to enlarge image
In-Situ will be presenting its new and integrated RuggedDO (RDO) sensor for the Multi Parameter Troll 9000 water quality probe at WEFTEC.04. The new sensor uses recent advances in lifetime-based optical fluorescence sensor technology to provide a stable, low maintenance dissolved oxygen sensor. The technology eliminates the need for membranes, ending the need for stirring and allowing deployment for many months without need for re-calibration. Features include a solid-state design, very low drift, low impact of bio-fouling and high and repeatable accuracy.
In-Situ Inc.
Fort Collins, CO
Tel: 800-446-7488
Web: www.in-situ.com
TOC analyzer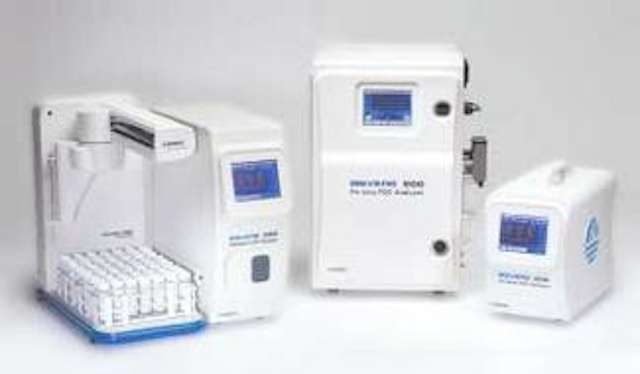 Click here to enlarge image
Ionics Instruments has introduced its new Sievers® 900 Series Total Organic Carbon (TOC) Analyzers, offering improved analytical performance, ease of use and reliability. The analyzers represent the next generation of the Sievers 800 TOC Analyzer used by more than 3,000 customers worldwide.
Ionics Instruments Inc.
Boulder, CO
Tel: 800-255-6964
Web: www.ionicsinstruments.com
Plastic media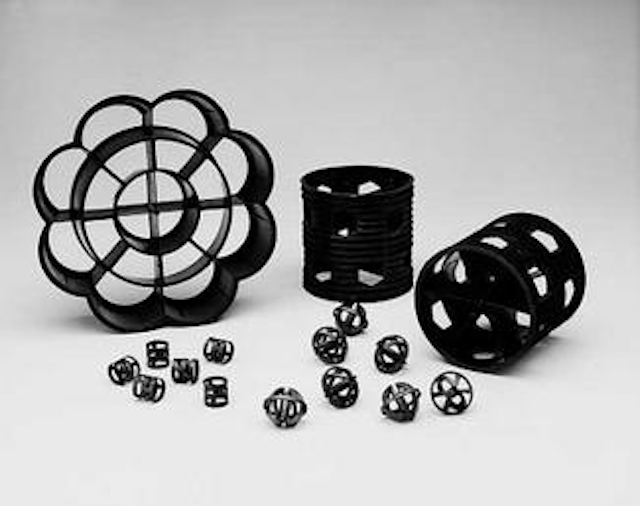 Click here to enlarge image
A new style of plastic media, specially manufactured for biological filter applications, has been introduced by Jaeger Products. The company's Cascade Bio-Rings provide a surface area for a biomass to attach and grow. The rings are designed to provide greater void areas for the sloughing of biomass to pass while providing an optimum surface for biomass growth.
Jaeger Products Inc.
Houston, TX
Tel: 800-678-0345
Web: www.jaeger.com
Rotary screw compressor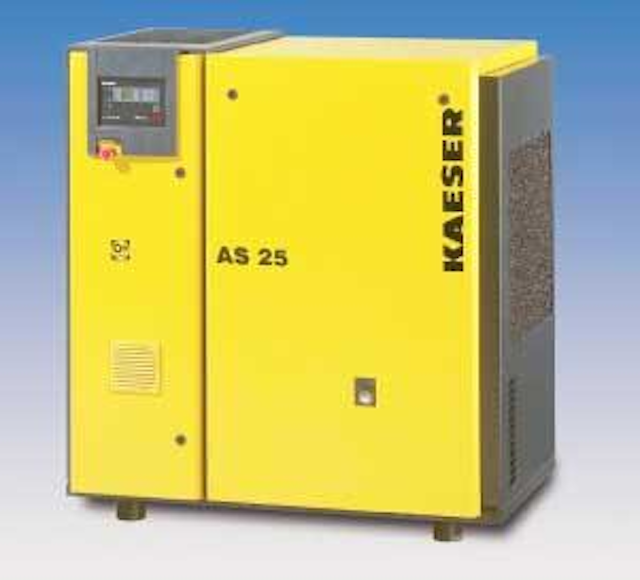 Click here to enlarge image
Kaeser Compressors has announced its new AS series rotary screw compressors. These 20, 25 and 30 hp models feature Sigma Profile™ airends and deliver flows from 59-124 cfm and pressures from 80 to 217 psig. They are designed for reliability, easy maintenance, and energy efficiency. The units feature the company's "split cooling air flow" design that significantly improves cooling and reduces noise levels.
Kaeser Compressors Inc.
Fredericksburg, VA
Tel: 800-777-7873
Web: www.kaeser.com
Centrifugal pumps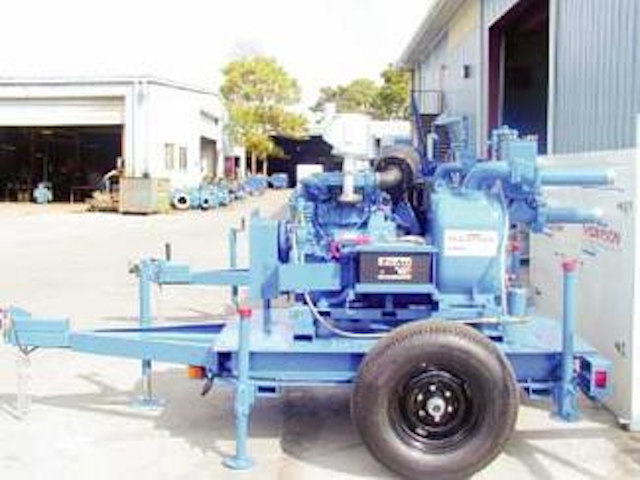 Click here to enlarge image
Thompson Pump has added a new series of pumps to its line of construction and public works pumps. The ST Series is a new line of self-priming centrifugal sewage pumps from Varisco Pumps which have been specifically designed for use in sewage applications. Available in 3'', 4'', 6'' and 8'', the series can handle up to 3" solids. The pumps will discharge in flows of up to 1,500 gpm, and at heads of up to 120 feet. The pump casing is made of heavy-duty class 30 cast iron and has a built-in volute. The clean-out cover is easily removable with the fitted wrenches and no additional tools, making it a simple operation to inspect the pump casing or to remove blockages.
Thompson Pump
Port Orange, FL
Tel: 386-767-7310
Web: www.thompsonpump.com
Progressing cavity pumps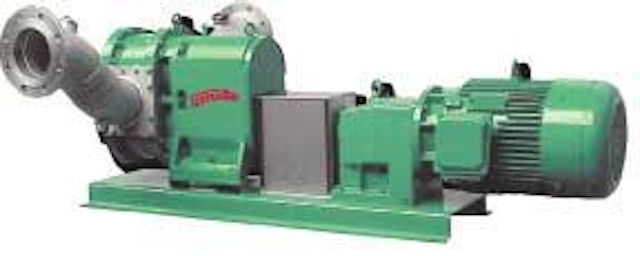 Click here to enlarge image
Netzsch will display its complete line of self-priming, pulsation-free positive displacement pumps which range in size from the industry's smallest metering pumps to high volume pumps. The company's Nemo® Progressing Cavity Pumps offer accurate, repeatable and precise flow capabilities typically required in chemical processing and wastewater treatment facilities. The company will also display its new Tornado® Rotary Lobe Pump that is capable of handling viscous materials and large solid particles all in a compact, space saving design.
Netzsch Inc.
Exton, PA
Tel: 610-363-8010
Web: www.netzschusa.com
Monitoring equipment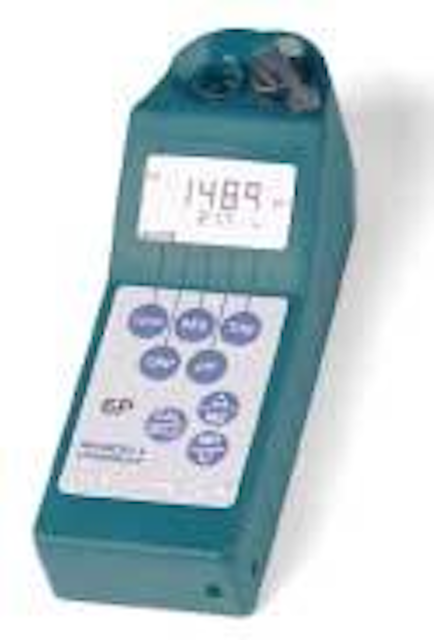 Click here to enlarge image
The Myron L Co. manufactures water quality instrumentation, including handheld meters and process monitors/controllers for municipal, industrial, agricultural, and commercial process control. The company's product line includes many of the control parameters required for effective treatment - conductivity, total dissolved solids, pH and ORP - bundled in either single- or multiple-parameter, analog or digital.
Myron L Co.
Carlsbad, CA
Tel: 760-438-2021
Web: www.myronl.com
Fiberglass products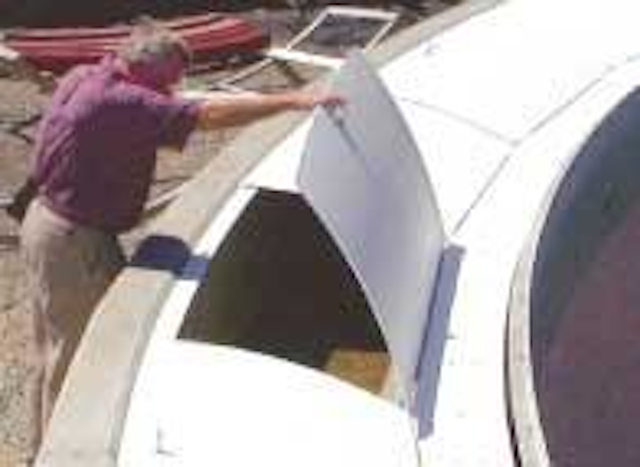 Click here to enlarge image
NEFCO is a supplier of engineered fiberglass products to the wastewater treatment industry. It products include the Stamford Density Current Baffle Systems – baffles that improve the performance of activated sludge clarifiers by 25% to as much as 50%. It's Launder Cover Systems virtually eliminate algae and downstream maintenance.
NEFCO Inc.
Palm Beach Gardens, FL
Tel: 561-775-9303
Web: www.nefcoinc.com
Hoists
Thern davit cranes and hoists, equipped with a quick-disconnect feature, simplify placing and pulling of pumps in wastewater treatment plants. The quick-disconnect allows operators to remove the cable from the hoist while leaving it attached to the submerged pump. The hoists are designed for easy relocating.
Thern, Inc.
Winona, MN
Tel: 507-454-2996
Web: www.thern.com
PVC pipe liner
Click here to enlarge image
Ultraliner PVC Alloy Pipeliner has sufficient material stiffness to provide full independent structural integrity when installed in 4–24" pipelines. The tight-fitting liner has high impact strength, a high degree of dimensional stability, offers abrasion and chemical resistance, and the ability to relieve high levels of stress without structurally compromising the material.
Ultraliner Inc.
Oxford, AL
Tel: 205-831-5515
Web: www.Ultraliner.com
Aluminum covers
Ultraflote provides aluminum covers for the water and wastewater industry. Its Ultradome™ roof is custom engineered to meet specific design requirements. The self-supporting dome allows for maximum overhead space and provides interference-free operation for equipment. The Quad-Seal™ flat cover, for both rectangular and round tanks, consists of individual, interlocking panels made up of reinforced extruded aluminum planks.
Ultraflote Corp.
Houston, TX
Tel: 713-461-2100
Web: www.ultraflote.com
CSO screens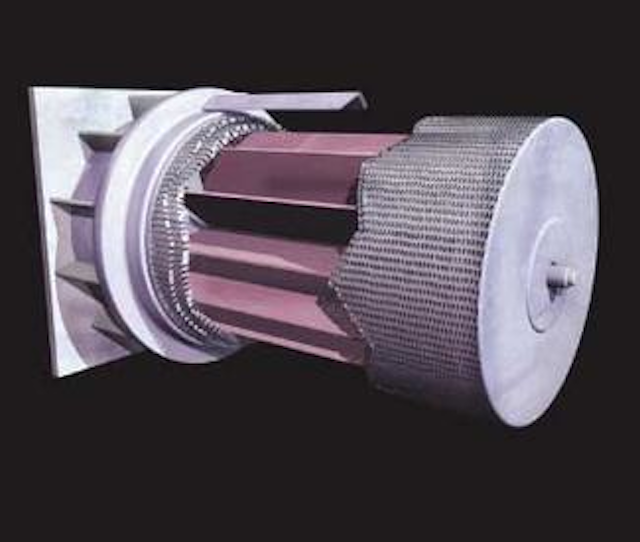 Click here to enlarge image
The Cyclone from CDS Technologies is a self-cleaning CSO screen designed to be virtually maintenance free. The stainless steel screen requires no mechanical cleaning of the screen surface and no external power source, as it operates by using the available energy of the overflow through an internal water wheel. With numerous installations throughout the UK and US, the screen has a track record for reliable combined sewer overflow screening in municipal settings.
CDS Technologies Inc.
Morgan Hill, CA
Tel: 800-848-9955
Web: www.cdstech.com
Aluminum pipe fittings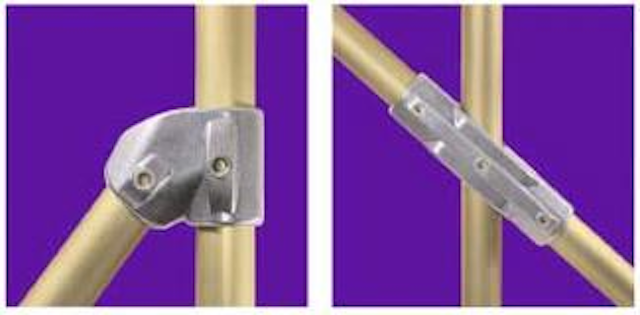 Click here to enlarge image
Kee Industrial Products has announced the addition of two new fittings, models L29 and L30, to its line of Kee Lite® slip-on aluminum pipe fittings. The new fittings are angled and adjustable for use in the construction of stair rails and other safety railings, and are available to fit standard pipe Size 7 and Size 8 for 1 1/4'' and 1 1/2'' diameter pipe respectively. The Model L29 is most frequently used for struts and braces. It may be adjusted for any desired angle between 30 and 60 degrees.
Kee Industrial Products Inc.
Buffalo, NY
Tel: 800-851-5181
Web: www.KeeLite.com
Modular treatment system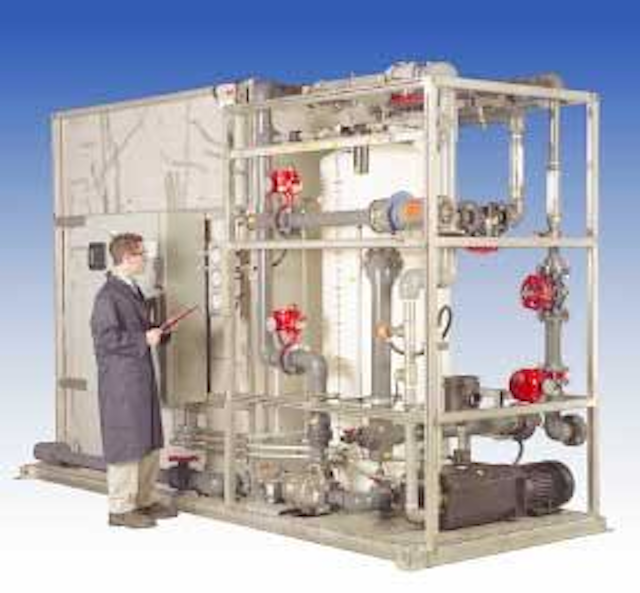 Click here to enlarge image
Zenon Z-Mod® MBR offers small communities a simple modular wastewater treatment system that can be set up in virtually any location. Pre-engineered and factory tested, the system combines reinforced hollow-fiber membrane technology with activated sludge processes to produce high quality effluent. Designed for rapid commissioning and reduced capital costs, a system can be delivered and set up in less than six months within a footprint that is significantly smaller than plants based on conventional technology.
Zenon Environmental Inc.
Oakville, Ontario
Tel: 905-465-3030
Web: www.zenon.com
Centrifugal compressor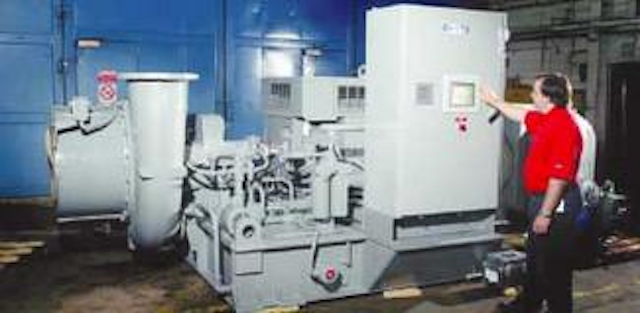 Click here to enlarge image
The Dresser Roots IGCH is a single-stage centrifugal compressor that is designed to meet air and gas compression needs at peak efficiency. The compressor features a horizontally split gearcase with bearing and seals that allow routine maintenance with the blower still in place. Diffuser vanes teamed with inlet guide vanes allow the user to enjoy the highest efficiency throughout the operating range.
Dresser Roots Blowers & Compressors
Houston, TX
Tel: 281-496-8100
Web: www.rootsblower.com
Level, turbidity analyzer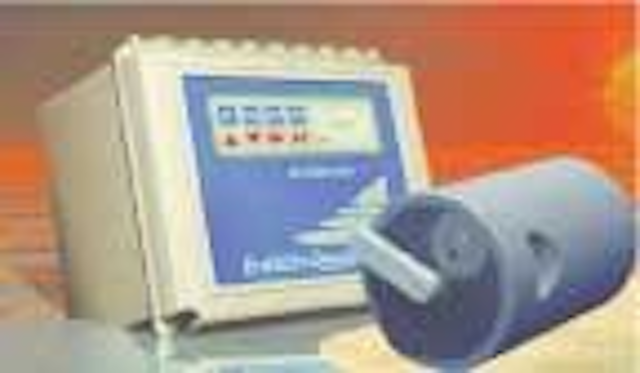 Click here to enlarge image
The BinMinder 9300-ETS from Entech Design combines ultrasonic sludge level and 90° scattered light turbidity measurements in a dual purpose analyzer. The combination of two measurements in one sensor results in low installed cost. Instruments are available in single or multi-channel configurations for use in up to four separate basins. Factory setup and calibration and automatic self-cleaning make system startup and operation simple and virtually maintenance free.
Entech Design Inc.
Denton, TX
Tel: 940-898-1173
Web: www.blanketlevel.com
UV disinfection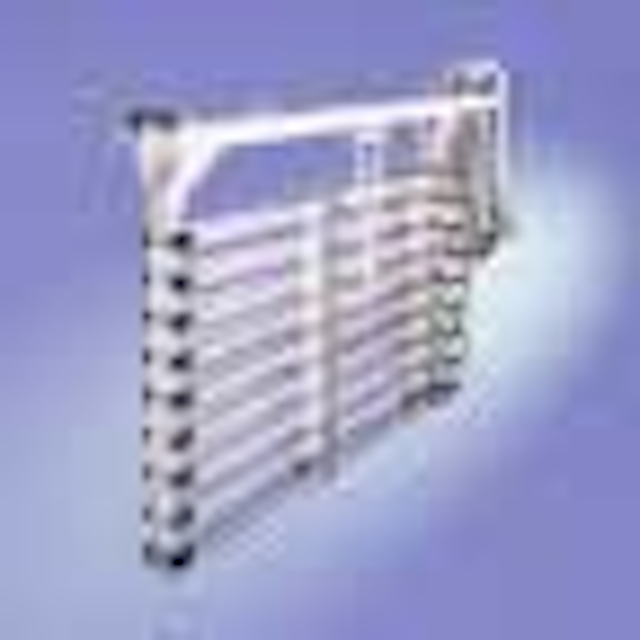 Click here to enlarge image
Wedeco's TAK series UV disinfection system was specifically engineered for the disinfection of municipal wastewater. Several different TAK design configurations have been produced to meet worldwide regulatory requirements, such as California's Title 22 for wastewater reclamation, WHO guidelines for irrigation, and European bathing water guidelines. The system uses Spektrotherm® lamps, which deliver 4-5 times more energy than a typical low pressure mercury lamp, while maintaining the same electrical efficiency.
Wedeco
Charlotte, NC
Tel: 704-409-9785
Web: www.wedeco.us
Aeration system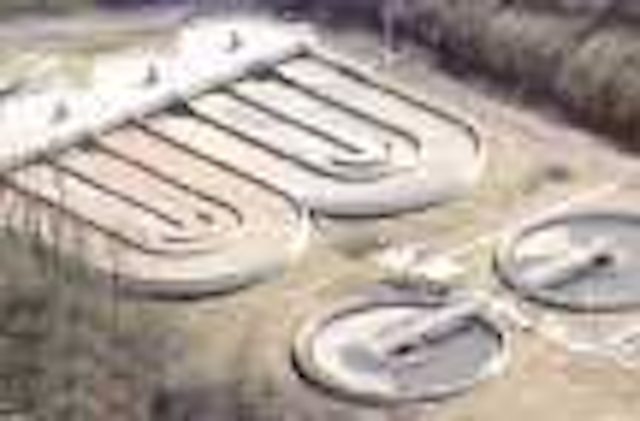 Click here to enlarge image
Philadelphia Mixing Solutions has announced the availability of its new HALO (High Aeration, Long Oxidation) System with the ability to provide extended aeration performance in an economical, low maintenance package. The turn-key system uses the latest advances in low-speed surface aerators and other proven technologies to control BOD removal, nitrification/denitrification, and biological phosphorous removal. The system has been modeled and proven in the field and in one of the world's largest and most comprehensive mixing lab test facilities.
Philadelphia Mixing Solutions
Palmyra, PA
Tel: 800-956-4937
Web: www.philamixers.com
Flowmeter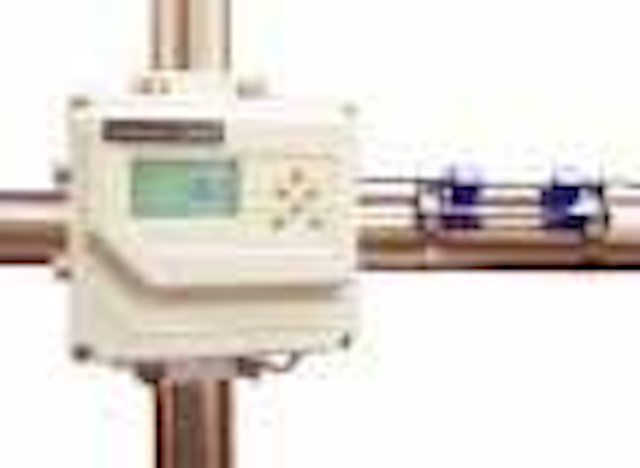 Click here to enlarge image
The GE DigitalFlow™ UTX878 is a patent-pending, low-cost flowmeter requiring as little as 60mW of power. Its new ultrasonic transducer technology delivers low power consumption and high-performing ultrasonic signals. The meter's low-profile NEMA 4X package has a 128 by 64 pixel LCD display. A six-button external keypad accesses the instrument program for verifying meter diagnostics. Suitable for pipes from 1/2'' up to 8'' in diameter, the flowmeter has no pressure drop and requires no calibration.
GE Infrastructure Sensing
Billerica, MA
Tel: 800-833-9438
Web: www.gesensing.com
Membrane filtration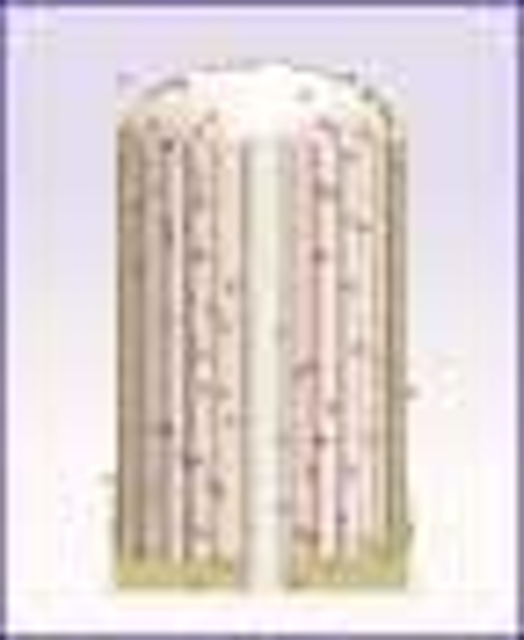 Click here to enlarge image
SpiraSep ultrafiltration technology, offered by Ashbrook Simon-Hartley, employs the advantages of spiral geometry – combined with a high-flow, low-pressure "sheet" membrane – to form a patented, backflushable, spiral-wound membrane. The ultrafiltration membrane is unique in its hydrophilic properties and its low resistance to fluid transfer. The company will also exhibit its Aquabelt gravity belt thickener, which is now available as a totally enclosed unit.
Ashbrook Simon-Hartley
Houston, TX
Tel: 800-362-9041
Web: www.ashbrookcorp.com
Dosing system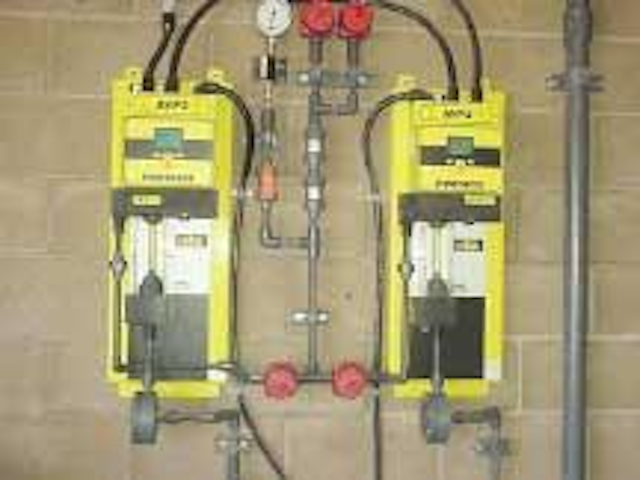 Click here to enlarge image
The Portacel Trent Liquid Dosing system features V-notch metering technology coupled with electronic controllers that can be used independently or with a facility SCADA system. The AVP2 controller will operate in a variety of control modes including flow/residual/trim, standard compound loop configurations, flow only and feed forward. Standard disinfection chemistry that can be dosed through this vacuum system includes sodium hypochlorite, sodium bisulfite, LAS and other ammonia derivatives.
Portacel Inc.
The Woodlands, TX
Tel: 281-363-2091
H2S control
Q2 Technologies offers a treatment program to reduce or eliminate H2S with 99.5% efficiency. Its Enviro-Scrub® program reduces H2S when drip-fed into sewer pipelines and wetwells. A computerized Scrub-It® program measures, monitors and feeds the prescribed amount of treatment for detected H2S in potable water contact scrubbers.
Q2 Technologies
Conroe, TX
Tel: 800-327-8934
Web: www.q2technologies.com
Wastewater screening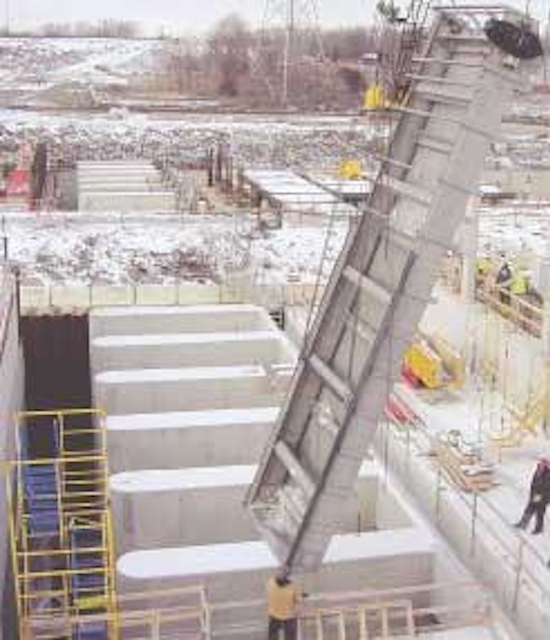 Click here to enlarge image
Headworks® manufactures advanced wastewater screening equipment. The company intends to display its heavy duty Headworks® Bar Screen, Perforator™ Plate Screen, and its new Eliminator™ Dual Flow / Band screen with 2 mm openings designed to protect MBR systems. The bar spacing of the company's Bar Screen is 3/16'', with each screen custom made to the customers requirements. The Perforator™ screen is contained in a rigid frame with a seamless filter belt made of perforated step elements mounted on roller chains.
Headworks® Inc.
Houston, TX
Tel: 713-647-6667
Web: www.headworksusa.com
Double disc pump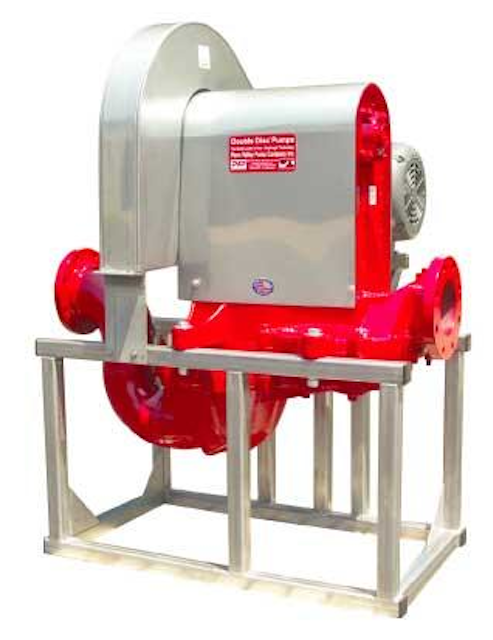 Click here to enlarge image
Penn Valley has introduced its new 6'' Simplex Double Disc® pump, which provides flow rates to 500 gpm with pressures to 100 ft. TDH. This product eliminates the duplex and triplex designs previously offered. Features include hinged housings and two-piece suction neck for ease of maintenance. The new design allows the pump to be serviced without disturbing the discharge piping or drive assembly.
Penn Valley Pump Co. Inc.
Warrington, PA
Tel: 215-343-8750
Web: www.pennvalleypump.com
Automation services
A new company brochure describes how Healy-Ruff can reduce the need for constant operator attention, improve a system's performance and reduce costs throughout a community's water and wastewater cycle. Total control solutions described in detail in the new brochure include the company's Pumpak control panels, V-PAC family of telemetry controls, Systemanager SCADA software, professional services and WorkSite Web-based system monitoring.
Healy-Ruff
St. Paul, MN
Tel: 651-633-7522
Web: www.healyruff.com
Membrane bioreactor
The USFilter Memcor® Membrane Bioreactor (MBR) Package Plant offers wastewater treatment in a small package. The skidded plant, a pre-engineered membrane wastewater treatment system, is designed for applications generating 25,000 to 100,000 gpd or less. The FastPac™ can be used for residential and commercial development projects, industrial applications, remote installations, emergency response wastewater treatment applications, and rapid infrastructure deployment.
USFilter Memcor Products
Towson, MD
Tel: 410-307-6540
Web: www.usfilter.com