PRODUCT SHOWCASE
Moyno recently introduced the new Moyno(r) 1500 pump for municipal applications where close-coupled configurations are deemed acceptable, but the robustness of a gear joint drive is needed.
Dec 1st, 2004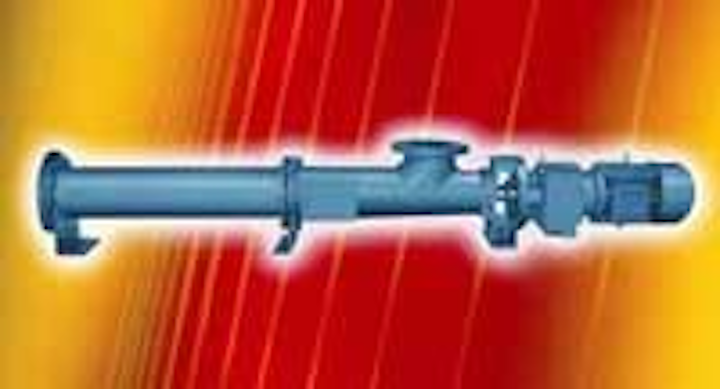 Close-coupled pumps
Click here to enlarge image
Moyno recently introduced the new Moyno(r) 1500 pump for municipal applications where close-coupled configurations are deemed acceptable, but the robustness of a gear joint drive is needed. The pumps feature a sealed gear-type universal joint drive train and optimized rotor/stator pumping element geometry. The new pump is designed to transfer abrasive, high-solids content materials. Using proprietary Ultra-Drive(r) gear-joint technology, the pump handles radial and thrust loads for maximum performance. Ultra-Pro(r) rotor/stator pumping elements are engineered to require less energy consumption and reduce the potential for plugging and costly down time. The pumps feature flow rates to 1,000 gpm, ANSI flat face flanges on suction and discharge ends and gear drives with integral motors, C-face reducers with AC or DC motors or mechanical variable speed drives.
Moyno, Inc.
Springfield, OH
Tel: 877-486-6966
Web: www.moyno.com
Emergency response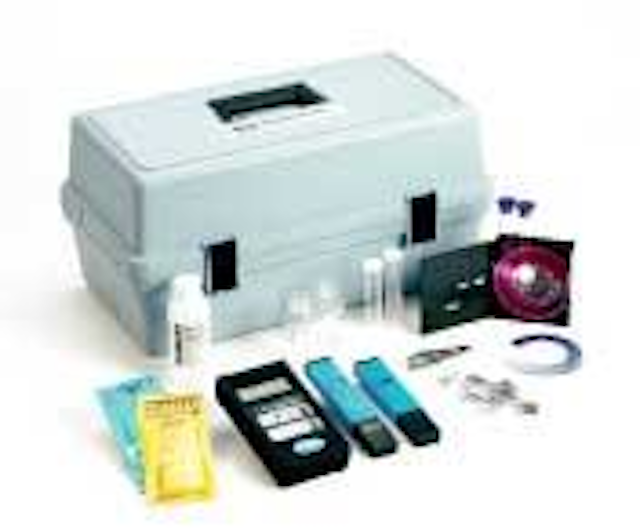 Click here to enlarge image
The new Emergency Response Tool Kit from Hach Homeland Security Technologies combines a pocket-sized radiation detector with on-site tests for free chlorine, cyanide, pH and conductivity. Modeling USEPA recommendations, this core field kit allows operators to react quickly, 24/7, to suspected or threatened water contamination.
Hach Homeland Security Technologies
Loveland, CO
Tel: 800-604-3493
Web: www.hach.com
Wastewater monitoring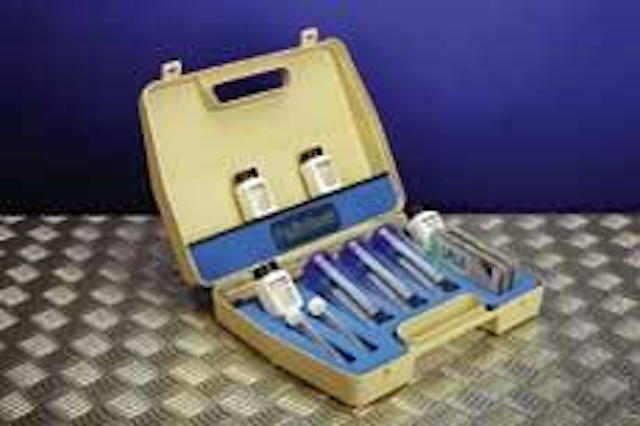 Click here to enlarge image
Routine monitoring of the quality of treated wastewater can be accomplished with the SP304 test kit from Palintest. The kit includes all the tests commonly required to optimize the efficiency of wastewater treatment plants and to help ensure that final effluents meet discharge consent limits. The equipment is simple to use and needs no formal operator training in water analysis. Tests are equivalent to methods recommended by EPA. To assess the general quality of final effluents and their suitability for discharge, the Palintest PV Permanganate Value (0-30 PV) test is a simplified version of the standard AO method. A universal 4-8 pH test ensures that biological wastewater treatment processes are operating within optimum ranges. Turbidity and suspended solids are measured visually using two inspection tubes graduated in 5-25 and 30-500 turbidity units. Probable BOD, COD, and TOC can all be derived from the result of the Permanganate value test.
Palintest USA
Erlanger, KY
Tel: 800-835-9629
Web: www.palintestusa.com
Residual chlorine monitor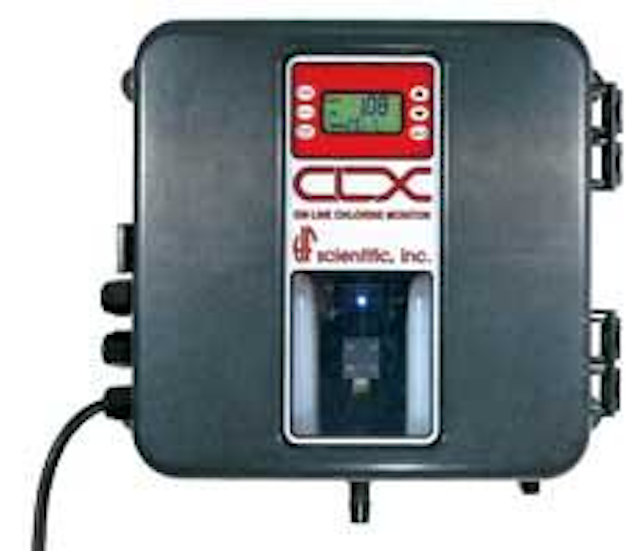 Click here to enlarge image
HF Scientific has announced the release of the CLX OnLine Residual Chlorine Monitor. With a range of 0 - 6 mg/l (displayed to 10 mg/l) and based on colorimetric DPD chemistry this instrument has been designed for processes that require continuous monitoring of residual Free or Total Chlorine levels. User selectable cycle times (90 seconds - 10 minutes), user selectable 4-20 mA or Modbus outputs that can be used to control feed pumps and user selectable alarms allow manual or automatic control of chlorine dosing. Its new flow-through design maintains cuvette cleanliness and allows for viewing of optical operations. The instrument is housed in a shatterproof case with easy access to all service functions and reagents.
HF scientific, Inc
Ft. Myers, FL
Tel: 239-337-2116
Web: www.hfscientific.com
Flow meter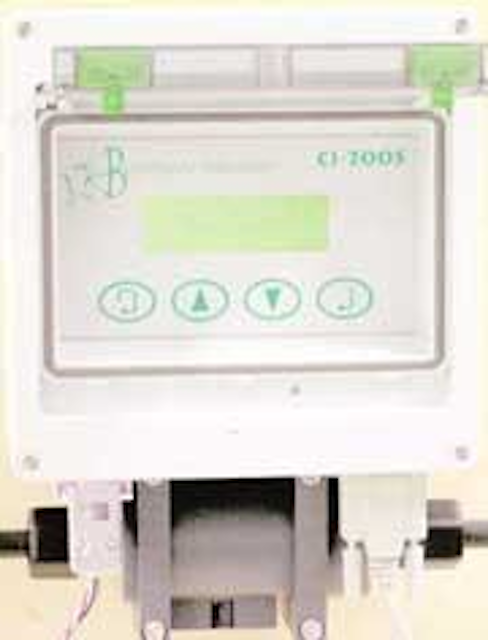 Click here to enlarge image
Bowman Industry has introduced the CI-2005 flow meter for use in all applications where the real time metering of chemicals dosed, injected, pumped or dispensed is of importance. Flow ranges of .1 gph to 400 gph at pressures from 20-300 PSI afford the general range of use in the water and wastewater markets.
Bowman Industry
Tucson, AZ
Tel: 520-722-6633
Email: jb@bowmanindustry.com
EDR systems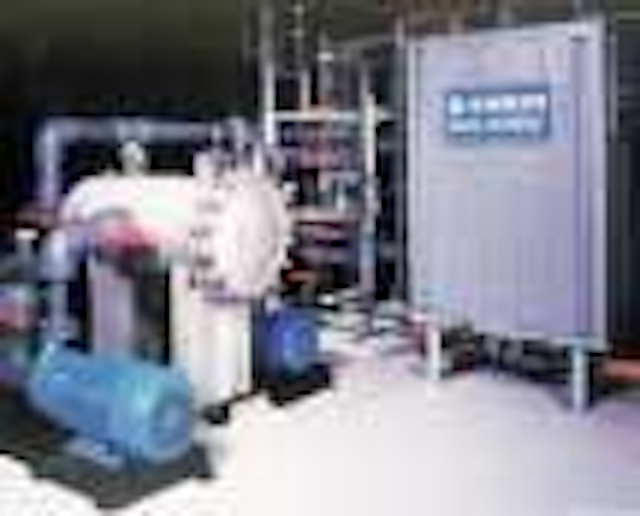 Click here to enlarge image
Ionics provides electrodialysis reversal (EDR) systems for a range of municipal applications. The EDR process uses DC voltage to transfer ionic species from the feed water through ion exchange membranes to a concentrate stream, creating a more dilute stream. The polarity of the DC voltage is reversed several times per hour. The alternating exposure of membrane surfaces to the dilute and concentrate streams provides a self-cleaning capability that enables purification and recovery of up to 94% of the feed water as product. DR applications include desalination of brackish ground and surface waters and removal of specific ions such as arsenic, radium and nitrates. In addition, EDR is used to desalt secondary-treated municipal effluent for irrigation and other non-potable uses.
Ionics Inc.
Watertown, MA
Tel: 617-673-4317
Web: www.ionics.com
Magnetic flowmeter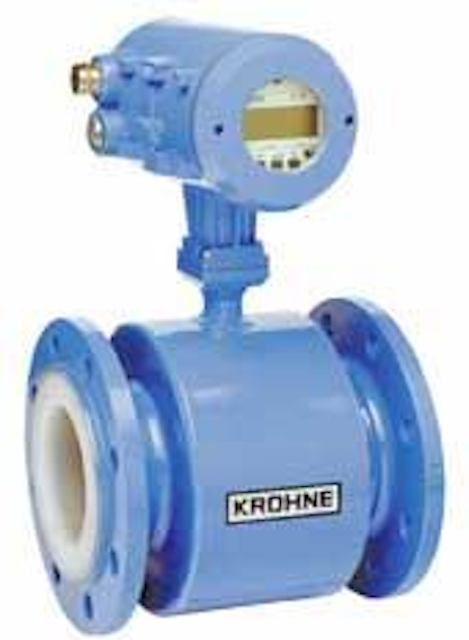 Click here to enlarge image
Krohne offers the IFS 4000 KC magnetic flowmeter for municipal water and wastewater treatment applications. The meter offers simple, low cost installation and commissioning. With no mechanically moving parts, it is maintenance free. When used with IFC 090 24V DC/AC and IFC 090 115/120V, the meter is UL approved to General Purpose/Ordinary Location standard, IEC61010-1, for the United States, Canada, and other countries that accept UL Mark. The meter's design incorporates a polyurethane liner with field replaceable HC4 Hastelloy electrodes. It has a 2000:1 turndown with specified measuring accuracy. The meter is suitable for applications with process temperatures up to 176
Krohne Inc.
Peabody, MA
Tel: 800-356-9464
Web: www.krohne.com