UV emerges as the Disinfectant of Choice for Many Utilities
For many years, ultraviolet (UV) light has been considered an alternative method of disinfecting wastewater. Many utilities are performing demonstration studies...
Mar 1st, 2004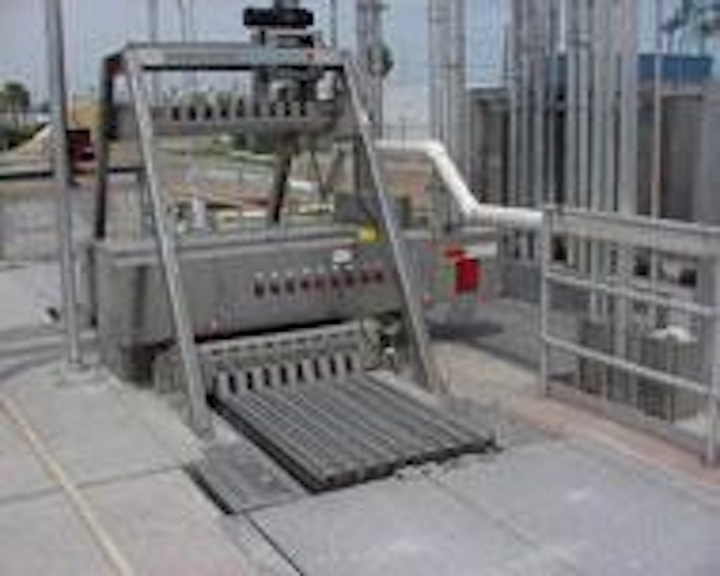 By Gary L. Hunter
For many years, ultraviolet (UV) light has been considered an alternative method of disinfecting wastewater. Many utilities are performing demonstration studies to establish design criteria, especially where chemicals are used to polish effluent. And more attention than ever is focused on the performance of UV systems, especially in reuse applications.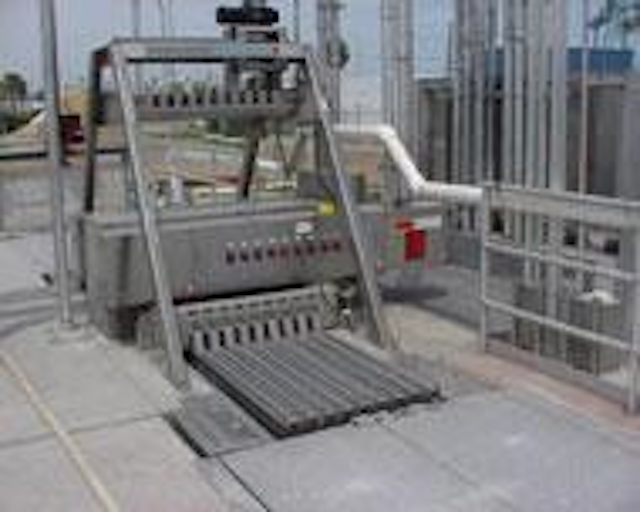 Large-capacity UV disinfection facilities include the 157.5 mgd medium-pressure UV system at the JEA Buckman Water Reclamation Facility in Jacksonville, FL.
Click here to enlarge image
With the increasing concern about chemical releases to the environment as well as security, many utilities are now seriously considering converting from a chemical-based disinfectant to UV disinfection. The 157.5 mgd medium-pressure UV system at the JEA Buckman Water Reclamation Facility and the 250 mgd low-pressure, high-output UV system at the Ringsend Wastewater Treatment Works in Dublin, Ireland, are examples of facilities with design capacities greater than 100 mgd incorporating UV disinfection.
At WEFTEC 2003, a session was held on the use of UV at wastewater facilities. This session encompassed demonstration studies, validation, and selection of UV systems. Presentations during this session of the conference highlighted some of the most recent advancements in the use of UV in the wastewater industry.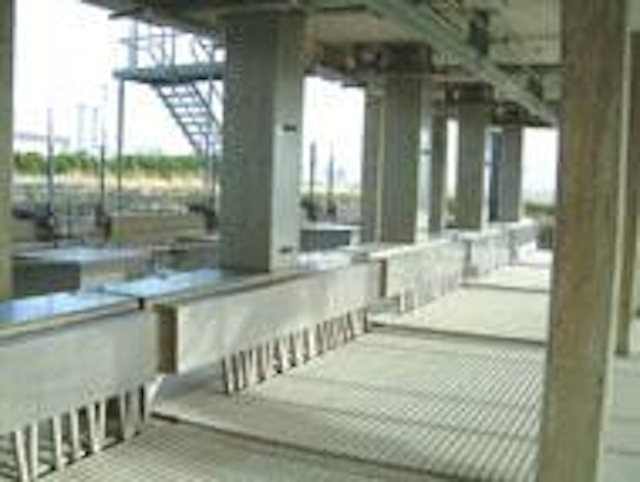 The Ringsend Wastewater Treatment Works in Dublin, Ireland, features advanced, compact technologies and provides first-time tertiary (UV) as well as biological treatment to a population equivalent of 1.7 million people.
Click here to enlarge image
Demonstration studies have long been used to establish design requirements for both chemical and UV disinfection systems. Recently, the Orange County Sanitation District (OCSD) conducted laboratory studies on sodium hypochlorite, peracetic acid, ozone, and UV. Results of these studies are being used to select the disinfectant that best meets the utility's disinfection goals.
One chemical that can challenge the effectiveness of any disinfection system is iron. Its presence necessitates additional chemical use and can provide special challenges to UV systems. During a study conducted at the Prince William County Service Authority's H. L. Mooney wastewater facility to assess the impact of iron on UV performance. Medium-pressure and low-pressure – high intensity UV systems were subjected to a number of tests to determine additional fouling rate, cleaning frequency, and maintenance requirements attributable to iron in the effluent. Test results indicated that UV could be successfully used at the facility.
The performance validation of UV systems was a key topic of discussion at the conference. Validation testing often is a requirement for the application of UV disinfection to potable water treatment. In the wastewater industry, validation testing is required for UV systems used in reuse applications.
Such validation typically involves detailed and costly testing of each system under consideration. Researchers are suggesting that performance curves be developed for various UV transmittances as a way of evaluating UV disinfection systems on an equal basis. Velocity testing and lamp performance are also considered key design parameters for UV systems in reuse applications.
Speakers representing utilities in Goldsboro, NC, Roseville, CA, and Charlotte, NC, presented case studies on evaluation of and conversion to UV disinfection. Each utility uses a different disinfection process and different criteria. In each case, the results of the evaluation determined UV to be a viable means of meeting the utility's disinfection requirements.
The City of Goldsboro conducted a pre-design study to evaluate continued use of chlorine/sulfur dioxide gas, conversion to liquid chemicals for chlorination and dechlorination, and UV. The results of the study indicated that UV disinfection was the best choice for the Goldsboro plant. However, selecting the UV system presented more challenges and required detailed examination of the following factors.
• Area requirements
• Increase in peak flow from 20 mgd to 40 mgd.
• Increase in average daily flow from 10.8 mgd to 14.2 mgd
• Competitive bidding by UV manufacturers
• Varying disinfection requirements
• Plant hydraulics
• Hardware/electrical requirements
• Power requirements, including emergency generation capacity
• Maintenance requirements
Pilot testing, focusing on fecal and E. coli organisms, was conducted for two weeks to validate design conditions. Another challenge was presented by the bidding requirements at the time, which stipulated separate contracts for general, electrical, and HVAC construction. Information was collected from the separate bids in order to select the UV system. Operating data reported since plant startup indicates that fecal coliform counts were all below 6 cfu/100 mL at flows as high as 25 mgd.
The City of Roseville completed an evaluation of various disinfection methods, including chlorine (liquid/gas), peracetic acid (PAA), and UV light. Each disinfection alternative needed to meet a 7-day median total coliform limit of 2.2 cfu/100 mL, with a single-sample, 30-day maximum of 23 cfu/100 mL. An analytic hierarchy process was used to evaluate the ability of each alternative to meet the following criteria established by the utility.
• Employee safety
• Off-site safety
• Present and proposed regulations
• Water quality issues
• System reliability
• Operation and maintenance
• Costs
Results of the modeling indicated that UV light would be the best disinfection alternative. Design of the UV facility is now in progress.
The Charlotte-Mecklenburg Utility in Charlotte, NC, evaluated seven different UV disinfection systems for its Sugar Creek and Irwin Creek wastewater treatment facilities, using the following criteria.
• System alignment
• Power range
• Guaranteed lamp life
• Lamp operating temperature
• Restarting procedures
• Power consumption per lamp
• UV output per lamp
• Total number of lamps
• System efficiency
• Experience (in the United States and the wastewater industry, and with large systems)
Four of the seven alternatives were selected for further consideration based on constructability, reliability, operation and maintenance, expandability, and hydraulic limitations. These non-economic evaluations were based on information provided by the various UV system vendors and from telephone interviews with plant staff using similar equipment. The vendor of the system to be used was selected through a bidding process.
In summary, UV systems continue to gain acceptance in the wastewater industry, but a number of factors need to be considered before a UV systems is installed at a treatment plant. The utilities evaluating UV systems are using a variety of approaches and criteria to make their final selections, allowing UV to emerge as the disinfection method of choice.
About the author:
Gary Hunter is a senior process engineer in the Americas Division of Black & Veatch and is based in Kansas City, MO. A recognized expert in UV disinfection and member of PROTEUS, the company's global team of water and wastewater process specialists, Hunter served as the moderator of the WEFTEC 2003 session, "Disinfection and Innovative Technology Forum: UV System Sizing and Selection."