New Coating Systems Help Protect Aging Wastewater Infrastructure
Afflicted by pipe failures, sewer backups and sewage spills, America's wastewater infrastructure is clearly showing its age.
Mar 1st, 2004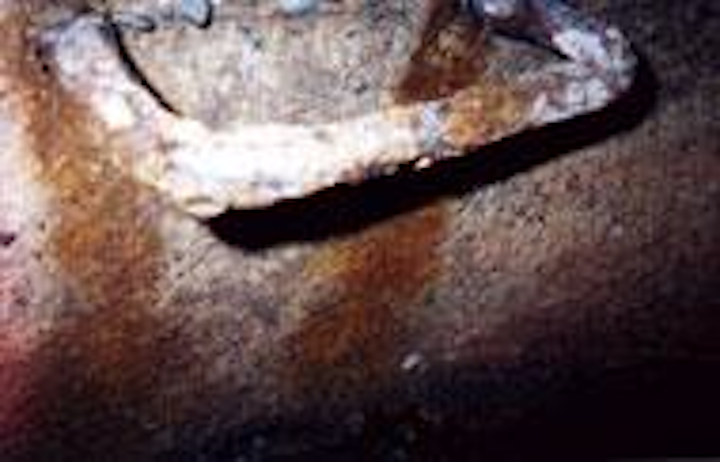 By Bob Murphy
Afflicted by pipe failures, sewer backups and sewage spills, America's wastewater infrastructure is clearly showing its age. Most municipal sewer systems are 75 to 100 years old, and nearly all are compromised to some degree by corrosion, overburdening and structural fatigue. Even as these existing systems are deteriorating, population demands are pressing upon cities to expand their wastewater collection capabilities.
More and more municipalities are addressing this growing health and environmental challenge by paying increased attention to rehabilitating corroded manholes. By most industry estimates, leaking manholes account for an estimated 20% - 30% of the unnecessary groundwater infiltration and inflow that overtax and threaten the sanitary sewage system.
Once seen as secondary to mainline pipe repair, manhole rehabilitation is now recognized as essential to restoring a collection system's overall integrity.
Advanced, high-performance polymer coatings technologies, including high solids epoxies, polyurethanes and polyureas, are increasingly finding a place in manhole rehabilitation due to their corrosion resistance and long-term effectiveness. Featuring higher film builds, faster dry times and other advantages, these new protective coatings formulations offer cost-effective solutions to municipalities seeking to reduce downtime, restore access and minimize the costs associated with sewer system repair.
Corrosion
A primary cause of corrosion in municipal sewer environments is MIC or Microbiologically Induced Corrosion. MIC occurs when bacteria of the genus Thiobacillus, "concrete-eating bacteria," oxidize sulfur from hydrogen sulfide, "sewer gas," and produce sulfuric acid as a by-product. Sulfuric acid is highly corrosive to concrete, steel and non-ferrous metals. When concentrated and heated by summer temperatures, it is extremely damaging to the concrete and non-ferrous metals used in most wastewater structures.
Construction materials in such environments quickly lose their ability to support loads, maintain their shape, transport liquids and function as designed. Manholes may be among the toughest environments encountered.
Manhole restoration can take several forms. For many years, manhole rehabilitation consisted mainly of spot repair or patching, typically offering only a temporary solution to the inevitable acid attack.
Today's cementitious coatings are more sulfide-resistant, yet they still remain vulnerable to the corrosion that eroded the cement in the first place. Structural form repair using PVC liners with mechanical locking projections cast into the concrete provides an effective level of protection; however, installation generally requires excavating the manhole or replacing the entire structure and building a new one. Many municipalities have discovered that high-performance polymer coating systems offer the easiest and most effective way to rehabilitate manholes without having to excavate.
Creating a "manhole within a manhole," these corrosion control coatings form a protective layer between the substrate and the chemical attackers — essentially prohibiting the environment from reaching the concrete. In the absence of major structural damage, advanced corrosion-resistant systems can offer 50 to 100 years of service life.
The coatings industry has developed corrosion-resistant systems designed specifically to withstand MIC because conventional epoxies and coal tar products are not as effective in highly corrosive environments. These hydrogen sulfide-resistant systems include tough, flexible aromatic 100% pure polyurea and polyurethane coatings and high solids epoxy coatings offering low or no VOCs and high film build. They can save certified applicators time and labor by reducing the number of coats needed to achieve the specified (or necessary) dry film thickness (DFT). These coatings are also suitable for other wastewater treatment facilities where hydrogen sulfide concentrations frequently can occur such as wet wells, lift stations, dewatering buildings and odor control buildings.
High Solids Epoxies
Among their advantages for manhole restoration, 100% solids high build epoxy coatings emit no odor, can be easily spray or trowel-applied, adhere to damp surfaces and tolerate moisture during cure. Several formulations contain finely graded aggregate to increase abrasion resistance and decrease permeability. These tough, corrosion-resistant coatings provide protection from the ravages of MIC as well as the harsh treatment chemicals used in municipal wastewater operations.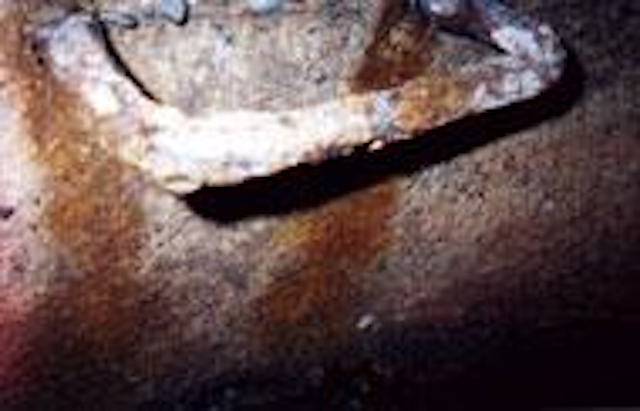 Sulfuric acid is highly corrosive to concrete, steel and non-ferrous metals. This rusted steel rung is typical of the level of corrosion often found in manholes.
Click here to enlarge image
Because of their ability to hang vertically without sagging up to 30 mils or more, high-build epoxy coatings may be used to replace multiple coat thin mil systems in corrosive wastewater environments. The coatings dry to touch in eight hours at 72°F, 50% relative humidity, enabling them to penetrate into concrete surfaces and flow evenly over steel surfaces for increased adhesion. In addition, they can be recoated after 10 hours allowing for a full day's work prior to reaching a critical recoat time.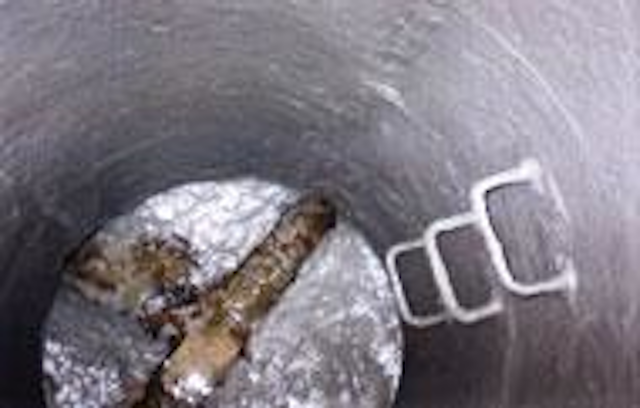 The interior wall of this manhole was successfully coated with a 100% solids epoxy, zero-VOC formulation containing finely graded aggregate that is uniquely resistant to MIC and is trowel-applied to a thickness of 1/8 in.
Click here to enlarge image
Recently, the city of Belen, NM, approved repairing nearly 200 manholes throughout its municipal sewage system using high solids epoxy lining systems for concrete and steel substrates after a pilot program provided a comprehensive and successful test of the protective coatings systems.
The protective coatings were selected for testing because of their resistance to hydrogen sulfide and MIC, high film build, low VOCs and ease of application. At the end of the evaluation period, the protective epoxy coatings used to rehabilitate the test manhole – including a polymer-modified patching and rebuilding mortar – achieved the desired results.
Polyureas, Polyurethanes
Polyurethane and polyurea coatings create highly elastic waterproof coating and lining systems that are resistant to chemicals and abrasion. These fast cure, no VOC, no odor coatings offer ultra-high film build and an extremely rapid dry time. When coated with polyurea or polyurethane systems, concrete and steel substrates can be submerged, buried or driven upon in just minutes. This fast reaction time is particularly appealing in municipal wastewater rehabilitation because it permits quick installation and a nearly immediate return to service. In a recent example in San Diego, five standard 8-foot manholes were completely rehabbed – including surface preparation, spark testing and the coatings system application — during one 8-hour shift.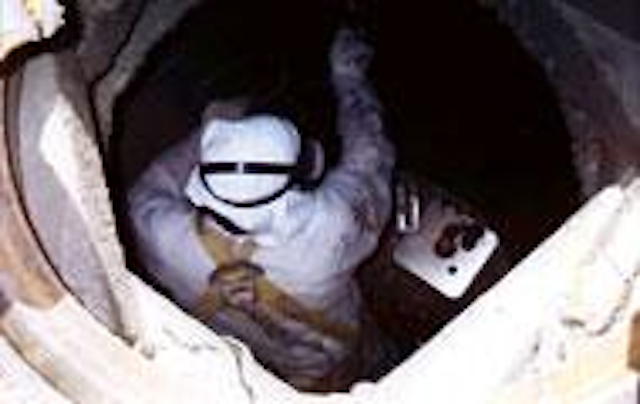 Polyurea coatings require applicator experience with specialized equipment and proper spray techniques. Only certified contractors should apply polyurea coatings.
Click here to enlarge image
Because of their elasticity, polyurea and polyurethane coatings are ideal for concrete-dominated structures like manholes, which tend to crack. These coatings have the ability to stretch and bridge gaps up to 1/8 inch. They are not limited by extremes of temperatures and can maintain their flexibility as the substrate expands or contract. The coatings' elongation characteristics serve municipalities especially well that experience severe freeze/thaw cycles or frequent ground movement.
Polyurea and polyurethane coatings can be applied from 10 mils to 125 mils (up to 1/8 inch) in one coat. Because only a single coat of these high build materials is required, labor and rental costs for scaffolding and other equipment can be reduced. The coatings also offer excellent adhesion. They are regularly tested at up to 2000 psi, compared with conventional epoxy coatings at 600 to 800 psi. Polyurea and polyurethane systems can cure under conditions of high moisture and humidity when the surface is properly prepared and primed with a penetrating, moisture-tolerant primer. In addition, because these coatings can be cured under cold and hot conditions (from –20°F to above 350°F), they can be applied throughout the entire year.
Polyurea and polyurethane coatings do require a greater degree of applicator experience with both the specialized equipment required and the proper spray techniques. The margin of error with these advance technologies is narrower than for traditional coatings due to the coatings' rapid dry time and high film build. Only certified contractors who have invested in the proper equipment and training should apply polyurea coatings.
Tensile strength and elongation properties combined with low permeability and high impact resistance make polyurea and polyurethane coatings well-suited to manhole rehabilitation where a tough, flexible lining is needed. Their rapid cure time facilitates a quick return to service with minimal disruption to the public.
Conclusion
According to various industry sources, there are anywhere from 18 million to 25 million manholes in the United States. It's reasonably safe to say that a significant number of these are in some need of repair. Both high solids epoxies and advanced technology polyurea and polyurethanes offer cost-effective, nearly permanent solutions for manhole restoration to cities with limited funding. Factors including the structural condition of the manhole, application efficiencies, climatic conditions and economics may all determine which coatings system is ultimately the best for the job. Regardless, municipalities who elect to upgrade their sanitary sewer systems using these high performance coatings formulations can expect completed manholes that perform better than they did when they were new.
About the Author: Bob Murphy is the National Market Manager to the Water/Wastewater Industry for Sherwin-Williams. A corrosion and water/wastewater industry veteran for over 20 years, Murphy holds a bachelor's degree in Geology & Environmental Science from Thiel College, Greenville, PA. He is an active member of SSPC, NACE, NRWA, AWWA and WEF. He has contributed technical papers to both NACE and SSPC.