New System Provides Remote Water Quality Monitoring
A new in-pipe analysis system is available to help drinking water utilities monitor water quality throughout their distribution systems.
Mar 1st, 2004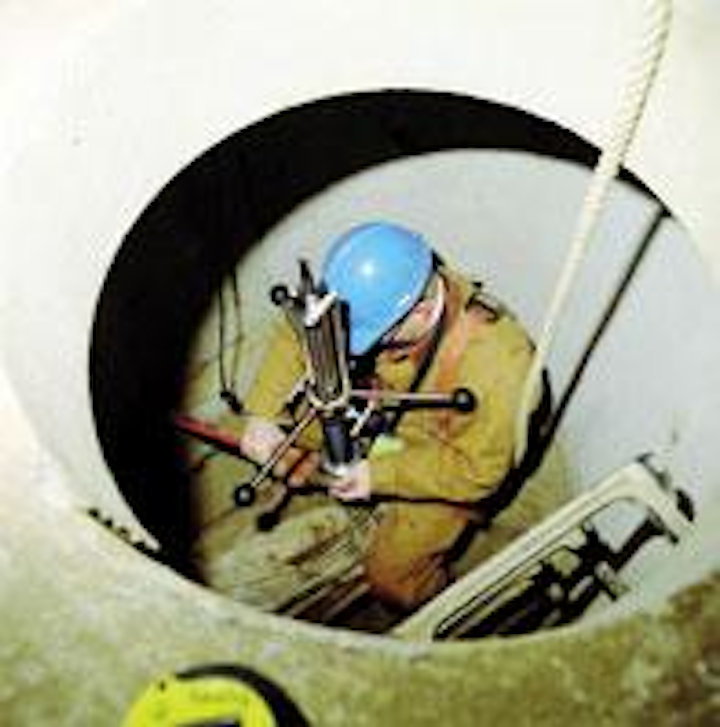 A new in-pipe analysis system is available to help drinking water utilities monitor water quality throughout their distribution systems.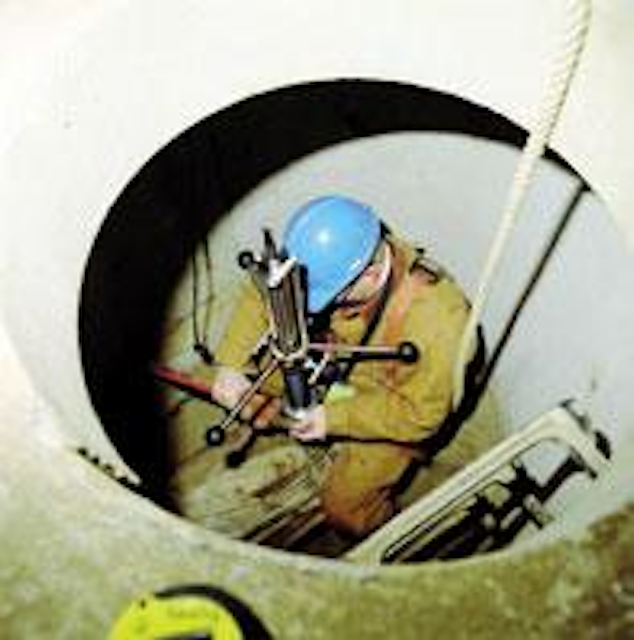 A quality adapter and redundant safety mechanisms make insertion and removal of the PipeSonde In-Pipe Probe secure and safe for operators.
Click here to enlarge image
The PipeSonde™ In-Pipe Probe from Hach Co. is designed for long-term monitoring of finished water in distribution mains. It features andapter that facilitates safe insertion against line pressure; field-proven probe technology that continuously measures seven significant drinking water quality indicator parameters; flexibility in power sourcing; and digital output in several protocols that seams with typical data communication systems.
Unlike other sonde-type systems originally targeting source water or environmental monitoring, the PipeSonde bundles the parameters that key on finished water surveillance. It uses Hydrolab®-technology sensors to continuously measure pH, conductivity, and temperature – all general indicators of water matrix change; ORP – to track oxidant activity; turbidity – which helps detect biomass sloughing and red water; dissolved oxygen (DO) – which signals the presence of oxygen-consuming material; and line pressure – a signal for immediate system attention.
The sonde also accommodates an autosampler for grab samples or sidestream analyzer for measurement of total organic carbon (TOC) or other key parameter not suited to probe measurement.
These parameters supply information that helps build a water quality baseline throughout the distribution network. These data also help track system dynamics such as changes in oxidant activity and the presences of biofilm and corrosion products. Easily-harvested data support routine system maintenance such as flushing of mains and other repair and rehabilitation activities. Finally, the readings also can serve as first alert to water system contamination – accidental or intentional.
The compact PipeSonde can be installed in pipes as small as eight inches; can be powered by direct current from a battery, line converter, or solar pack; and has a non-obtrusive presence – ideal for deployment in space-confined locations such as air vaults and manholes and point-of-use sites such as hospitals and airports.
Operators use water industry standard-design two-inch corporation stops – the same used by the utility for connecting service lines to water distribution mains – to install the sonde in the pipe. They attach the 1.7-inch-diameter probe to the corporation stop with a patent-pending adapter designed specifically with redundant mechanisms for safe, live tapping and removal in a pressurized pipe.
The complete system – sensor housing, sensor guard, and adapter assembly – are constructed of 316-stainless steel for durability and corrosion resistance.
While not as sensitive as panel-type analyzers, the PipeSonde uses advanced but familiar sensor technology that does not require reagent replenishment or continuous flow.
Low profile and low maintenance, the system is suitable for deployment in nearly any point in the water delivery system. As such, it complements the monitoring effected by analyzers stationed at tanks and reservoirs and gives utilities further means to establish a comprehensive, system-wide baseline and maximize continuing surveillance – all with minimal operator attention.
The PipeSonde Probe provides digital communication to a SCADA or other data management system via MODBUS®, RS232 or SDI-12 connection, or RS485 or RS422 communication via an adapter. This real-time surveillance from various points of the piping system allows fate and transport profiling in the event of contamination: operators can identify the source and extent of the problem and implement prompt isolation.