NEW PRODUCTS
Bristol Babcock announces availability of the 3808 MVT multivariable, smart transmitter. Featuring extremely low power consumption, the transmitter provides network communication...
Jan 1st, 2004
Smart transmitter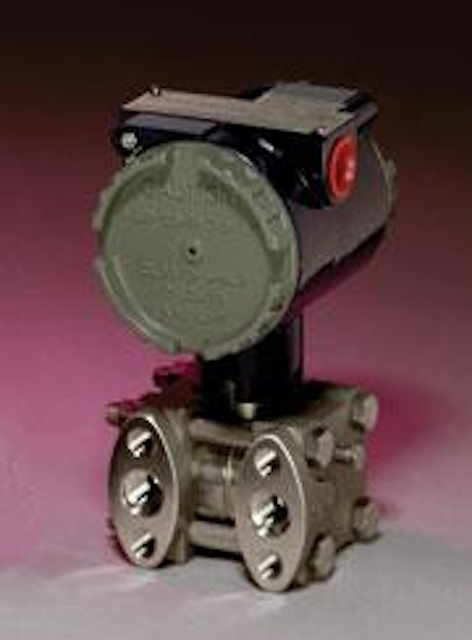 Click here to enlarge image
Bristol Babcock announces availability of the 3808 MVT multivariable, smart transmitter. Featuring extremely low power consumption, the transmitter provides network communication as well as accurate measurement of differential pressure, static pressure and process temperature. The transmitter has been designed with remote site management in mind.
Bristol Babcock Inc.
Watertown, CT
Tel: 860-945-2200
Web: www.bristolbabcock.com
Flow controller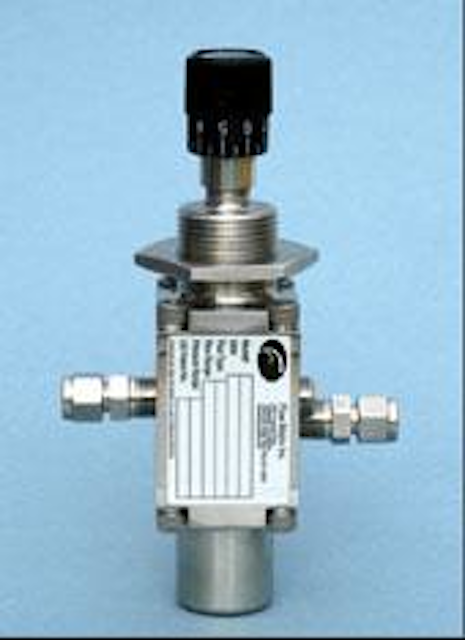 Click here to enlarge image
Flow Matrix has introduced its FMC-2000 chemical flow controller. Constructed of chlorine immune materials, the product is not susceptible to fluctuations of hammering pressure associated with chemical injection pumps delivering pulsating flow of toxic and aggressive water treatment chemicals or gases. The patented technology provides constant flow at industry standard rates of 1 to 8 gph.
Flow Matrix Inc.
Carlsbad, CA
Tel: 760-431-3930
Web: www.flowmatrix.net
Double-wall tanks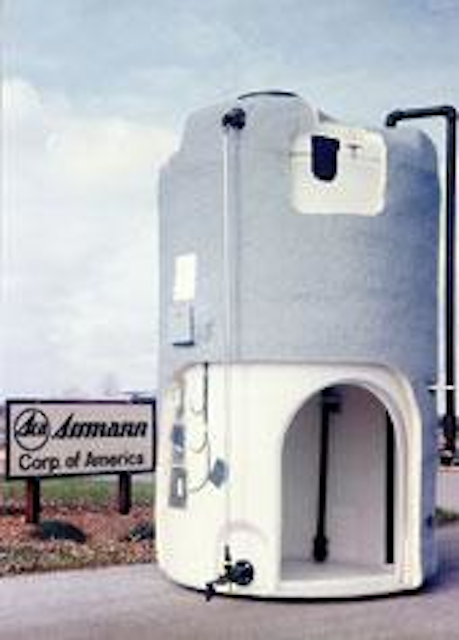 Click here to enlarge image
New, cylindrical double-wall tanks from Assmann Corp. eliminate chemical spills and prevent dome collapse without the expense of lined concrete containment. The company's molding process provides a heavier-top sidewall and dome to prevent dome collapse, while the primary inner tank and a secondary locked-on outer tank ensures against chemical spills.
Assmann Corp.
Garrett, IN
Tel: 888-357-3181
Web: www.assmann-usa.com
Flange rings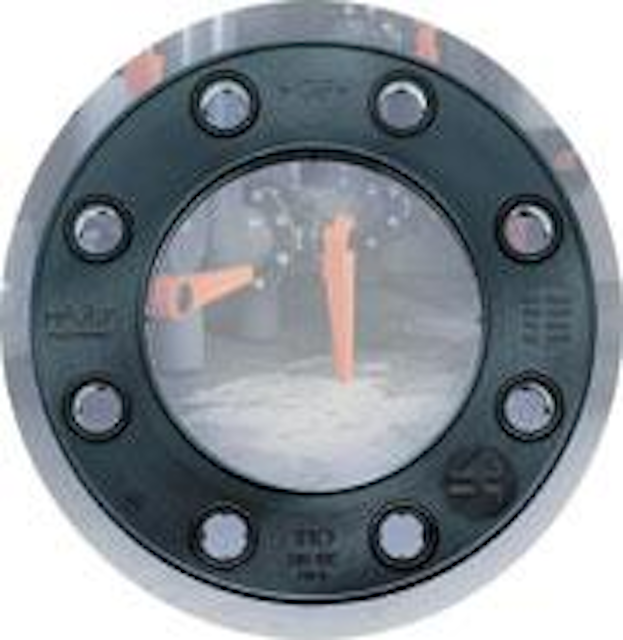 Click here to enlarge image
George Fischer has introduced the new light-weight V-Flange Ring, which features a patent pending V-shaped groove in the inner diameter. The new V-design ensures that force is distributed evenly on the flange adapter, providing superior connection strength and durability. The flange ring is made of fiberglass-reinforced polypropylene PP-H (polypropylene homopolymer) and is ideally suited for the conveyance of of aggressive media.
George Fischer, Inc.
Tustin, CA
Tel: 800-854-4090
Web: www.us.piping.georgefischer.com
Check valve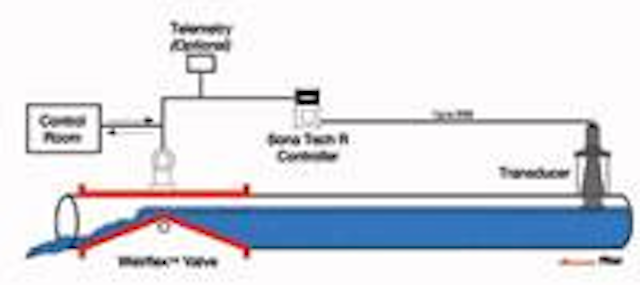 Click here to enlarge image
The new TF-1 Curved Bill Tideflex® Check Valve, offered by Red Valve, is designed to enhance sealing, especially in low-lying areas with little backpressure. The TF-1 design requires less bottom clearance and can hold greater water weight than the TF-2. The valve is constructed entirely of rubber, making it virtually immune to rust, corrosion and weathering.
Red Valve Co. Inc.
Carnegie, PA
Tel: 412-279-0044
Web: www.redvalve.com
Dosing pumps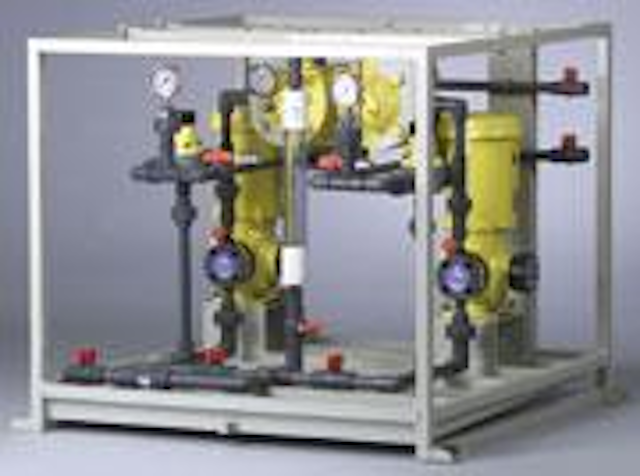 Click here to enlarge image
Dosing with gas-bearing liquids such as sodium hypochlorite and hydrogen peroxide are challenging to all water and wastewater facilities, both central and remote. The MacRoy family of pumps combined with the RoyPak family of pumping systems provides the solution to this requirement.
Milton Roy
Ivyland, PA
Tel: 215-441-0800
Web: www.miltonroy.com
UV lamps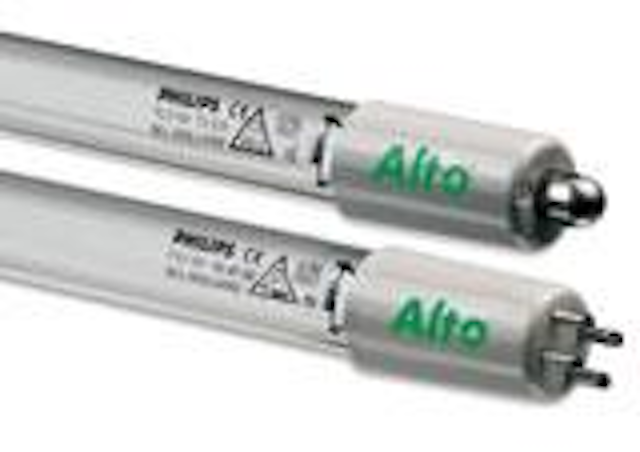 Click here to enlarge image
The U.S.-based Philips Lighting Company of Royal Philips Electronics has introduced new low-pressure, mercury-vapor UV T5 lamps featuring low-mercury Alto® technology. The new germicidal lamp combines the benefits of UV technology, which emits UVC energy to disinfect water, with low mercury. As one of the lowest mercury germicidal lamps on the market, the T5 is the first UV lamp to pass the Environmental Protection Agency's (EPA) Toxicity Characteristic Leaching Procedure (TCLP) test for non-hazardous waste.
Philips Lighting Co.
Somerset, NJ
Tel: 732-563-3039
Web: www.lighting.philips.com/nam
Ladder safety
Click here to enlarge image
The Bilco Company offers the LadderUP® Safety Post, an extension device for fixed ladders, allowing workers safe entrance and egress from these areas. The safety system is an easy-to-install, extension device for fixed ladders. Featuring rugged tubular construction, the spring balanced device permanently mounts on the top two ladder rungs, telescopes up and down, locking in the upright position.
Bilco Co.
New Haven, CT
Tel: 203-934-6363
Web: www.bilco.com
Pipe cutters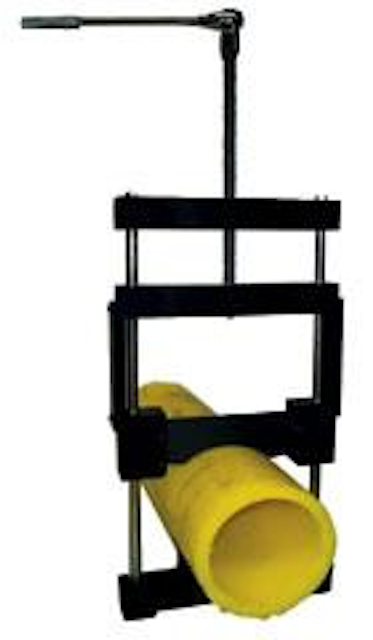 Click here to enlarge image
Wheeler-Rex Guillotine Style Pipe Cutters are designed to make quick, accurate cuts on high density polyethylene pipe. The pipe cutters feature a wide saddle swing-open base for easy on-off pipe positioning and straight cutting, a dry-lube coated drive screw, Teflon® coated blade and an all aluminum body construction with stainless steel fasteners. They are available in four different models for pipe sizes up to 13.2'' OD, and are available with either T-Handle, Ratchet or adapter to fit user supplied low speed power drives.
Wheeler Mfg.
Ashtabula, OH
Tel: 800-321-7950
Web: www.wheelerrex.com
Submersible pumps
Click here to enlarge image
ITT Flygt has introduced two new submersible pumps with a slim design, ideal for dewatering construction sites, trenches, and deep excavations. When installed in driven pipes, they are excellent at lowering the underground water table. The new Bibo BS 2102 and BS 2125, with diameters of 111/2'' and 143/8'', respectively, can be used in tight spaces and inside small pipes.
ITT Flygt Corp.
Trumbull, CT
Tel: 203-380-4700
Web: www.flygtus.com
Chemical chilling system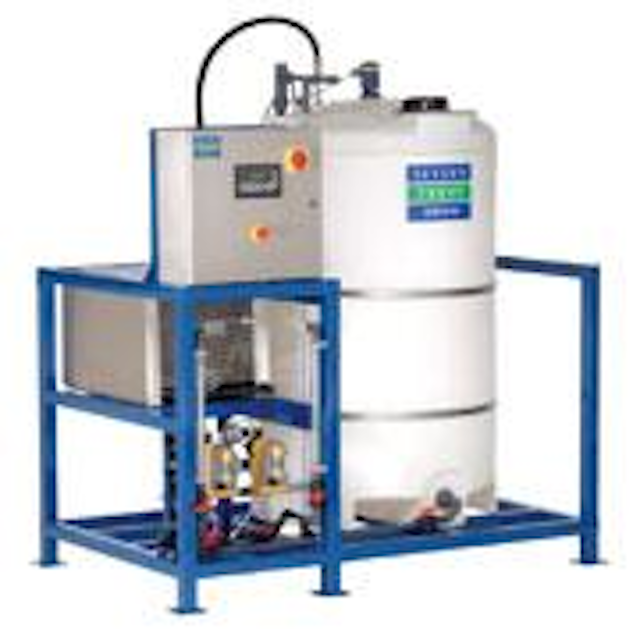 Click here to enlarge image
The new ClorTec™ Liquid Chemical Chill System from Severn Trent Services offers water system users a safe and stable means for chilling and storing any liquid chemical, including ammonia and sodium hypochlorite. The new skid-mounted liquid chemical chill system is composed of storage tanks, level sensors, chiller/storage system, temperature probe, chiller probe, metering pumps, vents and a PLC based control panel. Unlike other systems, the chiller does not require pressurized storage of liquid chemicals.
Severn Trent Services
Fort Washington, PA
Web: www.severntrentservices.com
Tel: 215-283-3478