Products & Services: Pipes & Supplies
Collection of Pipes and Supplies products and services.
Oct 21st, 2014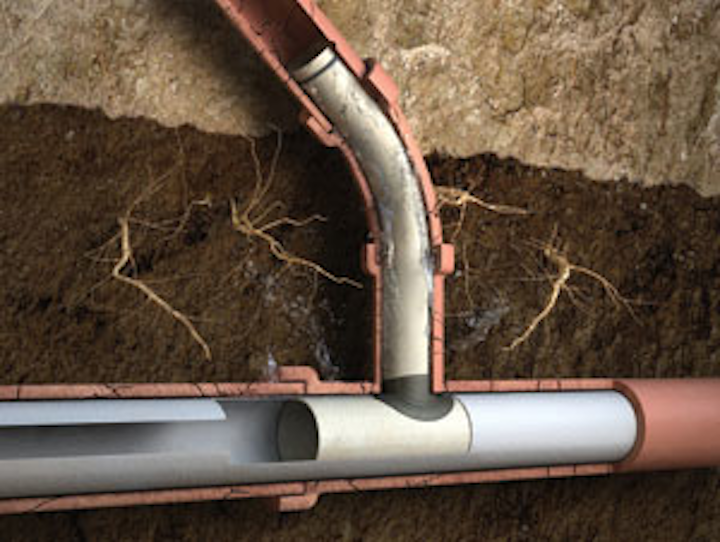 Connection liner
LMK's T-Liner® is a one-piece, homogenous main and lateral CIPP connection liner that is ASTM F2561 compliant. The T-Liner has a uniform wall thickness and incorporates compressible lining material at the upstream and downstream ends, creating a smooth, tapered transition to the host pipe. Further, the T-Liner with Insignia™ compression gasket-sealing technology provides a verifiable, non-leaking system. These gaskets are embedded between the host pipe and the T-Liner.
LMK Technologies
www.lmktechnologies.com/t-liner
---
Rotary cutters
Reed's Low Clearance Rotary™ Cutters need only 5" (127 mm) clearance to cut pipe up to 16" in diameter. The manual-operated cutters cold-cut large diameter steel, most stainless steel, ductile, and cast iron pipe in close quarters. The cutters are supplied with a slip-on handle that is used to turn and tighten the cutter. With good leverage from the tool's long handle, pipe snaps off squarely before the cutter wheels penetrate halfway through the pipe. The tool provides a square cut and can be used in close quarters anywhere -- in the ditch, underwater, in noise-free zones, overhead, in racks of pipes, etc.
Reed Manufacturing
www.reedmfgco.com
---
Tapping sleeves
Total Piping Solutions announced its high- performance Triple Tap Tapping Sleeve® in three designs: flanged end, mechanical joint end and line stop fitting. All tapping sleeves are tested on a simulated 360-degree beam break to 1.5x the rated working pressure and feature a triple seal that guards against cross leakage due to a beam break of the pipe. Other features include a minimum of three pipe classes covered in a given diameter; an extra heavy gauge shell construction that reinforces the pipe; and ends available in both stainless steel and carbon steel.
Total Piping Solutions Inc.
www.tps.us
---
Fusible PVC pipe
With over 1,000 miles of Fusible PVC™ pipe installed, fused PVC pipe is one of the fastest growing infrastructure technologies in North America. Available in nominal diameters from 3" to 36", the pipe provides both trenchless and open-cut projects with economical solutions. The benefits of having no mechanical couplings or bells, and possessing a thinner wall for given pressure class versus other thermoplastic pipes, ensures that the pipe maximizes flow and reconnects easily to ductile iron or bell and spigot lines.
Underground Solutions Inc.
www.undergroundsolutions.com
---
Pipe-handling system
The QuickCamp™ System from McElroy allows operators to fuse pipe from 8" IPS to 36" OD (225 mm to 900 mm) day or night during severe weather conditions in a climate-controlled shelter that protects fusion joints from the elements. An operator can load and align pipe by remote control from inside with the MegaMc® PolyHorse® and MegaMc Rollers pipe-handling tools. A 1236/900 or 824/630 fusion carriage can also be moved by up to 18" so the pipe ends can be adjusted for proper face-off when pulling pipe through the shelter.
McElroy Manufacturing Inc.
www.mcelroy.com
---
Complete piping solutions
ISCO Industries offers complete piping solutions for waterworks projects, whether they involve water, sanitary sewers or stormwater management. The company supplies HDPE, PVC, ductile iron pipe, and fittings for a variety of projects worldwide. A professional waterworks staff is available to support piping and product needs and offers complete estimating services for underground utility work.
ISCO Industries
www.isco-pipe.com
---
Pipe coupling
Krausz's HYMAX GRIP pipe coupling and flange adaptor featuring patented technology uses universal teeth to restrain all types of connecting plastic and metal pipes. As pressure is applied to the connecting pipes, the HYMAX GRIP actually increases its hold on the pipe. Like the HYMAX, the HYMAX GRIP has a unique hydraulic sealing that allows joining pipes to move up to four degrees on each end of the coupling and still maintain a tight, durable seal. Through dynamic deflection, the technology absorbs a wide variety of fluctuating stresses, making it a durable and secure coupling.
Krausz Industries
www.krausz.com

More WaterWorld Current Issue Articles
More WaterWorld Archives Issue Articles