Working in the Water: Five Tips for Successful Dewatering and Cofferdam Projects
Cofferdam and dewatering projects pose a number of complex challenges during construction. As such, Portadam and Rain for Rent have partnered to provide technologically-advanced dewatering solutions for use in construction, remediation, rehabilitation, flood protection, and inspection projects in various waterways and other retaining areas.
Feb 3rd, 2014
By Howard Schaffer
Cofferdam and dewatering projects pose a number of complex challenges during construction. Misinterpretation of what lies beneath the surface - the depth and flow, degree of turbidity and groundwater infiltration - can be costly in terms of operating costs, manpower and project deadlines.
Portadam, a provider of temporary portable cofferdams and portable water storage systems, and Rain for Rent, a supplier of temporary liquid handling solutions, have teamed up to provide technologically-advanced dewatering solutions for use in construction, remediation, rehabilitation, flood protection, and inspection projects in rivers, streams, lakes, reservoirs, and other retaining areas. They've compiled a few guidelines to consider when completing projects utilizing cofferdam and dewatering solutions.
➊ Depth and Flow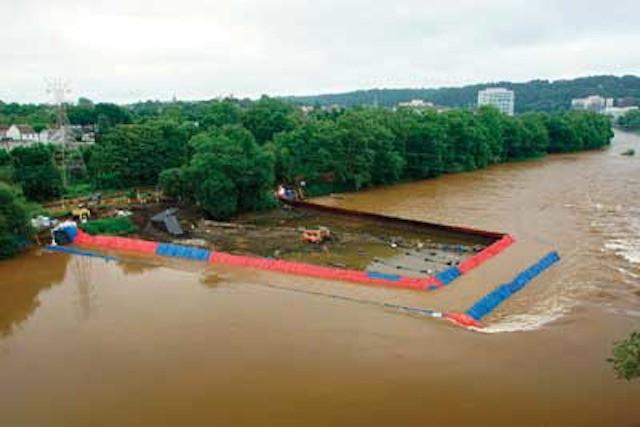 Two-Phase River Crossing.
Achieving dry conditions for in-water construction requires a broad knowledge of the historical levels of water depth and silt conditions, as well as flow conditions of the targeted river or stream.
"The depth and flow conditions of rivers will fluctuate season by season, so it's always good to review what the timing of the project is," said Portadam's Chief Executive Officer Bob Gatta. "For example, in the Northeast, water levels are generally lower in August as compared to what they are in April following a snow melt or heavy rain."
Apart from taking measurements before starting the project, it is important to consult U.S. Geological Survey (USGS) gauges to monitor fluctuations in river levels and speeds of flow to best determine the most productive timetable for a project, Gatta said.
An engineer's drawing typically won't include actual water depth and silt levels. Because cofferdam construction relies on a stable foundation, it's important for the contractor to gather as much information on the anatomy of the subsurface to decrease the overall risk.
Portadam routinely conducts a water-site survey so the contractor can determine the best height for the cofferdam or other dewatering system that will be used for the project.
"An in-water survey can give a good indication of budgetary constraints as well as the silt levels and general variables for the contractor to consider," said Gatta. "However, these general surveys cannot uncover every variable or guarantee the subsurface is suitable for a cofferdam system. Suitability can only be determined by a professional engineer and boring samples."
The survey is useful when combined with USGS gauge readings, as this can assist the contractor and owner to determine the best timetable for the project.
➋ Permits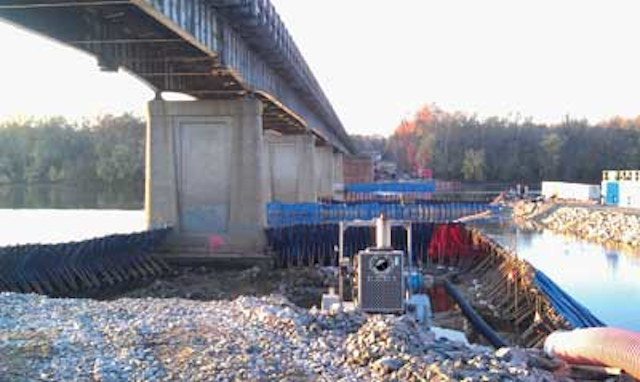 Bridge Widening and Rehabilitation Project.
Turbidity requirements, contamination concerns, right-of-way restrictions, and time constraints for working in the water often fall under the purview of the project engineer. Nevertheless, the contractor should be mindful of what these permitting criteria entail.
"It's important for the contractor to know the permitting considerations, because they will ultimately affect the dewatering solution," Gatta said.
For example, a project in the Northeast in the spring concurrent with the spawning season of fish will be delayed until the April timeframe. Additionally, there are cases where the Army Corp of Engineers must maintain a certain water level to accommodate activities of bluefish, shad and bass in that part of the country.
➌ Navigating the Subsurface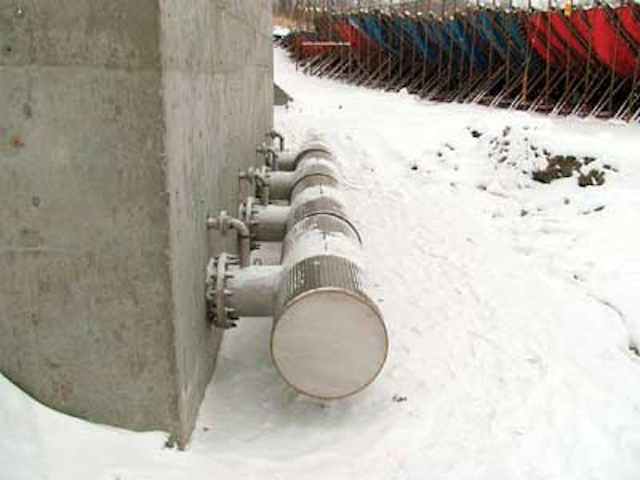 Raw Water Intake Strainer.
Contractors should know the silt levels, slopes, vegetation and composition of the subsurface because all of these considerations will determine the type of cofferdam technology that will best suit the project.
For example, bedrock is not conducive to driving sheet piling, while excessive vegetation may create channels or waterways under the subsurface that infiltrate the dry work area. Knowing the subsurface terrain and elevations will play an important role in selecting the best cofferdam technology, according to Gatta.
➍ Contractor Experience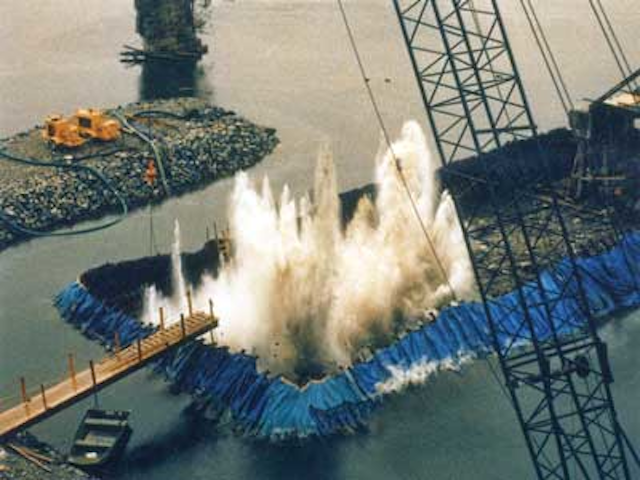 Blasting Bedrock for Bridge Pier.
The low bidder is not always the experienced bidder. Hire a contractor who is familiar around water. A marine contracting professional with a proven safety record and the ability to respond to changing site conditions is an ideal choice.
"The person who is actually installing the cofferdam must have experience working in and around water," Gatta said. "They have to understand that you're dealing with an environment with many different variables - many of which can't be seen because they're below the surface."
Accordingly, that also means quickly and efficiently responding to any changes caused by Mother Nature in ways that meet the specifications of the original engineering design.
"During hurricane season, for instance, you will inevitably be faced with delays and added expense," said Gatta. "You have to be able to stop mid-project, reassess and make repairs."
Once the cofferdam or other dewatering solution is established, choosing the right pumps to filter and maintain dry work conditions requires professionals with filtration experience, engineering support, equipment availability, and proactive response rates.
"You want to work with someone who has done this before," said Rain for Rent Senior Engineer Mike Grundvig. "If the project's timeframe is super critical, you will want a backup. If you build your own pump (as Rain for Rent does), you will know more about what they will do and won't do."
Subsurface conditions determine the type of pumps that are needed for the project. Environmental factors, such as turbidity, or the amount of mud floating in the water and what the filtration requirements entail must be part of the pumping solution.
During the initial draw-down phase, the flow requirements for the pumping system will be greater than during the maintenance phase. The inexperienced pump rental company/contractor may not plan ahead for how to replace the larger, or more numerous, initial drawdown pumps with a smaller, more cost-effective solution during dewatering.
➎ Engineering and Design Criteria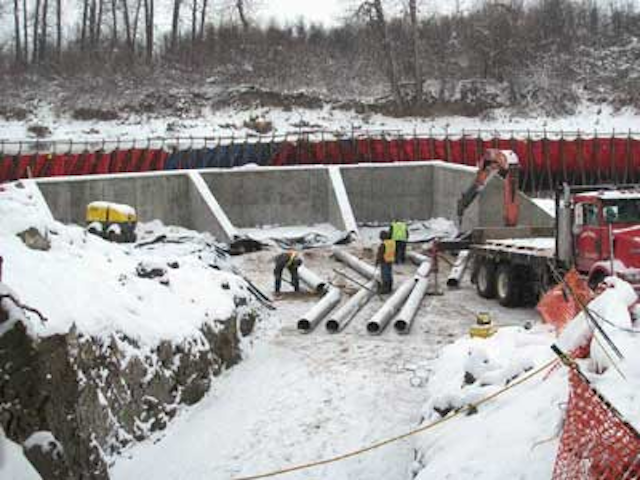 Raw Water Intake.
The contractor should be able to determine if cofferdam technology is specified for a project and if it is ideal for the specific application from a cost and viability standpoint - particularly with regard to elevation concerns and requirements. Further, he or she should conclude if the project calls for Professional Engineer Stamped Calculations. The contractor should be well-versed in dam safety protocol and standard operating procedures and also able to provide engineering support in an emergency.
The geology for a site doesn't often reveal how much water to expect during the initial pump out. High flows of water are routinely seen during the initial pump out, and if the water needs to be treated, it can be a costly undertaking, Grundvig said.
Other considerations include the value of a P.E.-stamped drawing, which will feature detailed calculations. Having a professional engineer involved will potentially assist in making the regulatory process a smooth undertaking, he said.
About the Author: Howard Schaffer is Media Coordinator for Portadam. He is also an award-winning journalist, adjunct professor of Journalism at the University of Albany, and previously served as a deputy press secretary for former Governor Mario Cuomo of New York.