New Products
Collection of new products for the municipal drinking water and wastewater markets.
May 13th, 2014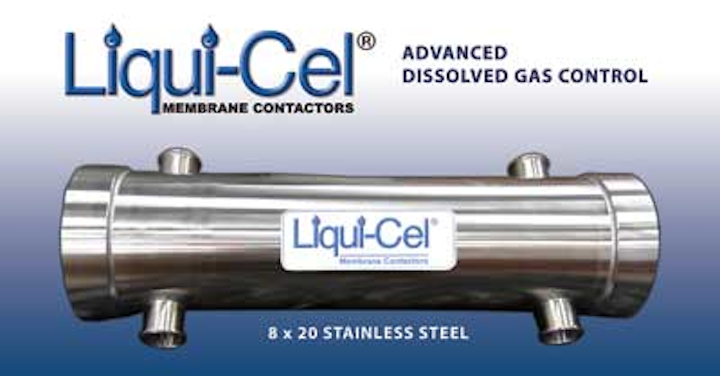 Membrane contactor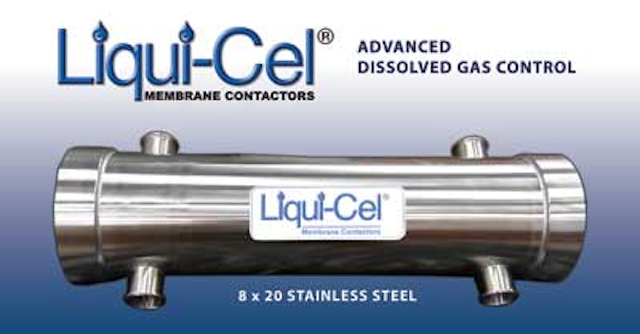 Membrana-Charlotte, a Division of Celgard, LLC, has introduced a new 8" x 20" stainless steel Liqui-Cel® Membrane Contactor to its portfolio of dissolved gas control products. This FDA-compliant device provides customers with an option to economically design membrane-based systems with flow-rate requirements that fall in between existing low and high flow rate products available on the market today.
Membrana
www.membrana.com
Ionization system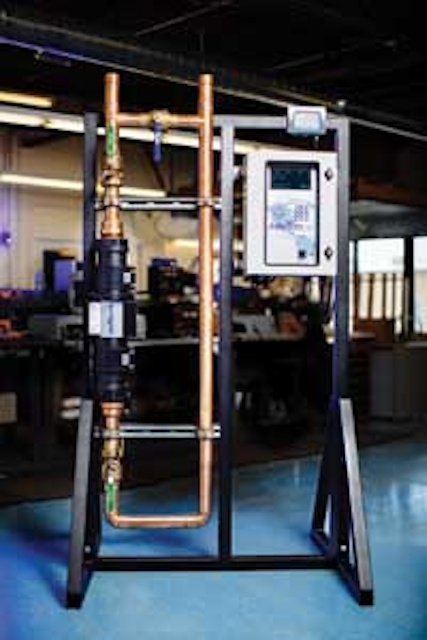 The LiquiTech LC series copper silver ionization system provides secondary water treatment and is a viable technique for long-term remediation of Legionella. Copper silver ionization consists of releasing positively-charged copper and silver ions into the water system. Through static electricity, the ions bond with negative sites on bacterial cell walls. Over time, the ions are absorbed into biofilms and slimes that can harbor waterborne pathogens such as Legionella. This absorption into the biofilm provides residual protection where the offending bacteria are eliminated rather than merely suppressed.
Liquitech Environmental Solutions
www.liquitech.com
Dome network cameras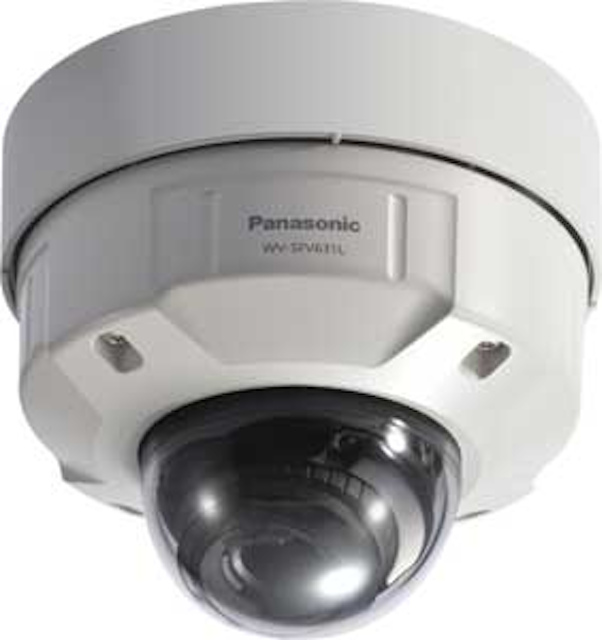 Panasonic announced two new HD and Full-HD fixed dome network cameras. The IP66-rated outdoor weather- and vandal-resistant 1080p model (WV-SFV631L) and 720p model (WV-SFV611L) are the first additions to Panasonic's new high-performance 6 Series i-PRO camera platform. The cameras utilize the company's UniPhier® S2 LSI processors that produce high-definition resolution at 60 frames per second, enabling the capture of exceptionally-clear images of moving objects, as well as feature the ability to encode up to four simultaneous H.264 streams. The 6 models feature Dual SDXC memory card slots that support high-capacity H.264/JPEG edge-recording with flexible record modes, including alarm-recording and backup-recording upon network failure.
Panasonic Corporation of North America
www.panasonic.com
Service center program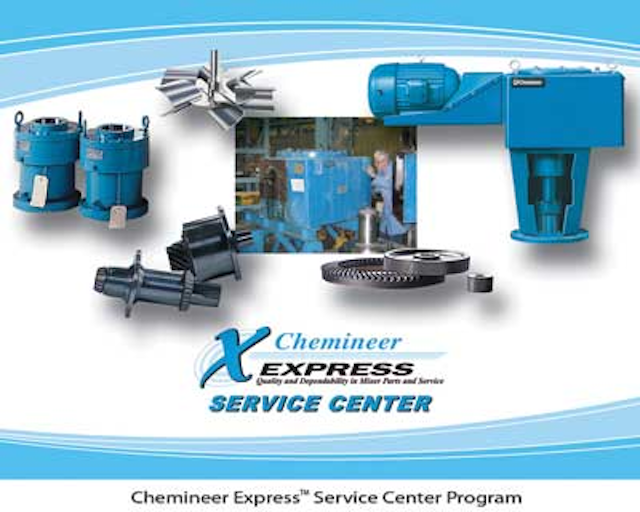 Chemineer Inc. has implemented a Chemineer® Express™ Service Center Program. Customer benefits include ready access to extensive failure analysis, fast replacement parts assemblies and reliable agitator repair service. The center speeds equipment back into operation with top-quality assessment, repair and testing support from experienced technicians. Additional benefits of the center include a 48-hour assessment of service center items to ensure fast turnaround and emergency assessments and repairs to meet critical deadlines. The Chemineer Express Service Center Program is available for mechanical seal cartridges, drive and extension shaft replacement or repair, impeller hubs and blades, and steady bearing assemblies.
Chemineer Inc.
www.chemineer.com
Welding system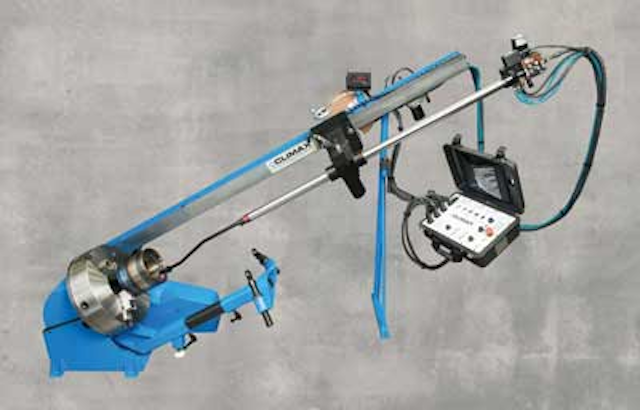 CLIMAX Portable Machining and Welding Systems announced the release of the AC5000 AutoClad to its line of on-site cladding machines. Designed to automate the internal cladding of small-diameter nozzles and pipes, the system makes it easy for manufacturers of processing equipment to achieve the proper weld in the right place, even during the most difficult welding jobs. A water-cooled torch keeps temperatures under control, allowing the AC5000 to complete long weld times, ultimately maximizing productivity and increasing the life of consumables. With infinitely-adjustable step and rotation speed, the AutoClad produces high-quality welds with difficult-to-weld materials such as nickel alloys (Inconel™, Monel™ and Hastelloy™) and stainless steels.
CLIMAX Systems Inc.
www.climaxportable.com
Shear mixer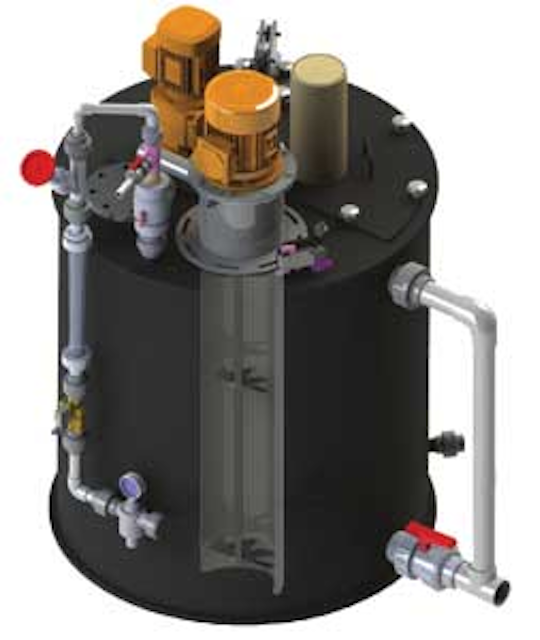 Sodimate's dust-free PAC slurry high-shear mixer, the Sodimix, has recently been patented in the United States. The system uses pre-mixing technology to mitigate dust emission created in PAC slurry processes. Featuring a submerged pipe with a high- velocity dual impeller, the unit thoroughly mixes PAC particles with water before dispersing the mixture into the main slurry tank. The remaining dust is then vacuumed out by an eductor connected to the water line.
Sodimate Inc.
www.sodimate-inc.com