New Literature
Compilation of print and digital information resources for the municipal water and wastewater markets.
Sep 1st, 2012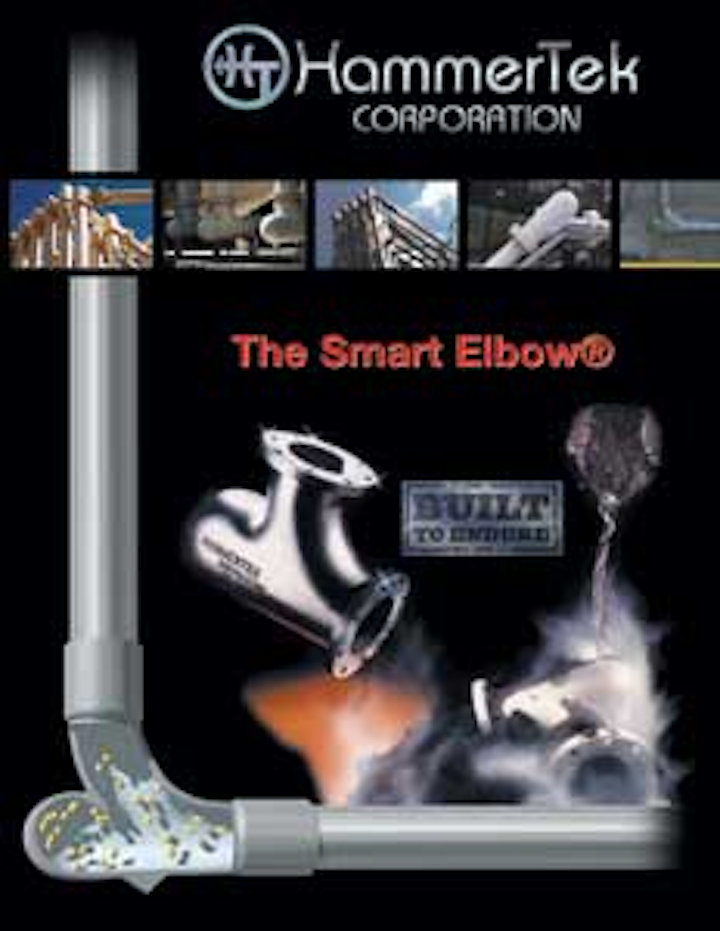 Pipe elbows
Hammertek offers a brochure featuring its Smart Elbow® for pneumatic and slurry conveying systems. The pipe elbow virtually eliminates elbow wear, product degradation, plugging, surging, cross-contamination, noise, turbulence, etc. Due to its design, product changes direction by deflection rather than impact with the elbow walls and/or pipe walls. The elbow does not pack, nor cause a noticeable difference in pressure drop. It is available in a variety of sizes, alloys and end configurations for both pipe and tube systems.
HammerTek Corp.
www.hammertek.com
---
Compressed air leaks
Kaeser Compressors has published a whitepaper entitled "Compressed Air System Leaks: The Cost, Common Culprits, Detection and Repair." The paper explains how to determine the annual cost per compressed air leak, sheds light on where most leaks occur, and describes both rudimentary methods and best practices for leak detection. Additional whitepapers are also available on Kaeser's website, including "Basics of Rotary Screw Compressor Lubricants," which covers the advantages and disadvantages of the seven basic types of fluids used today; and "Comprehensive Compressed Air Audits, The 5-Step Process" which describes how compressed air audits can identify ways to lower compressed air system energy consumption.
Kaeser Compressors
www.kaesernews.com/whitepaper
---
Automation security
Vacon Plc, Nixu Ltd. and F-Secure Corp. have worked together to produce a white paper on industrial automation security. The white paper is available on Vacon's website. There has been a lot of discussion about malware and security in industrial automation systems after Stuxnet. This white paper focuses on presenting a generic overview about security in industrial automation on the Fieldbus and device level.
Vacon Plc
www.vacon.com

---
Centrifugal pumps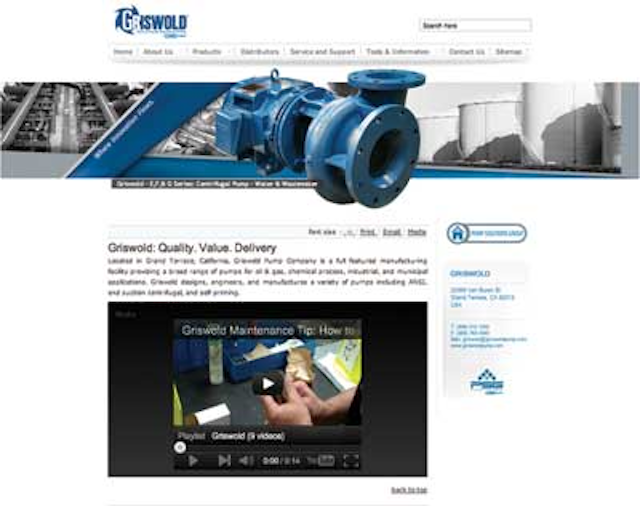 Griswold™ Pump has redesigned its website and created a new Corporate Brochure. The debut of these new marketing tools has been designed to coincide with the rollout of the Pump Solutions Group's (PSG®) new "One Company-One Customer" campaign. The redesigned website includes a new brand style. It contains the same detailed information about the company, its line of ANSI, end suction centrifugal and self-priming pumps, as well as the markets it serves. The brochure includes the most up-to-date information about its line of centrifugal pumps and baseplate systems. The new brochure also includes comprehensive explanations and illustrations of the industries Griswold serves, including Energy, Process and Water & Wastewater.
Griswold™ Pump Co.
www.griswoldpump.com
---
Channel grinder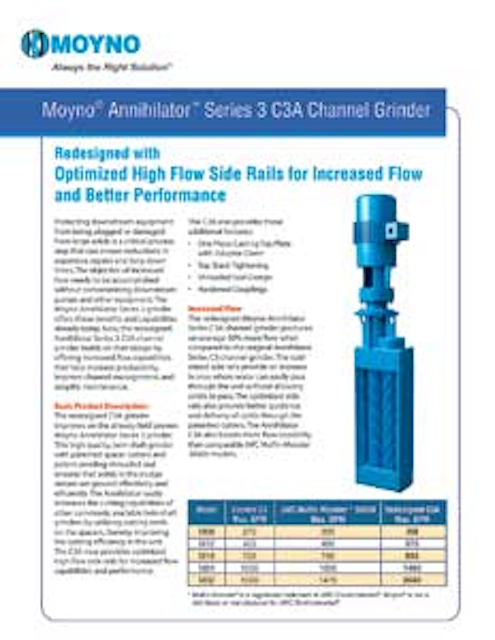 A brochure describes the new Moyno® Annihilator™ Series 3 C3A Channel Grinder. The brochure provides detailed descriptions, key performance benefits, technical information and full color photographs. The grinder features optimized high flow side rails for increased flow and enhanced performance. It allows for greater flexibility and management of channel and flow conditions for a variety of application requirements. The optimized side rails provide an increase in area where water can easily pass through the unit without allowing solids to pass.
Moyno Inc.
www.moyno.com
---
AODD pumps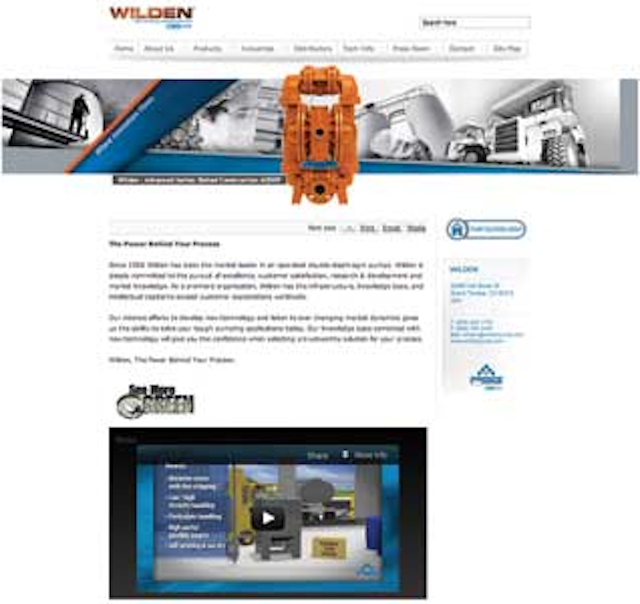 Wilden®, a provider of air-operated double-diaphragm (AODD) pump technology, has redesigned its website and created a new corporate brochure. The debut of these new marketing tools has been designed to coincide with the rollout of the Pump Solutions Group's new "One Company-One Customer" campaign. The website includes a new brand style and the same in-depth information about the company, its pump products, and the markets it serves. The new corporate brochure includes up-to-date product information on the company's line of AODD pumps and accessories, as well as its Air Distribution Systems (ADS).
Wilden, a member of Pump Solutions Group
www.wildenpump.com
---
Flow control products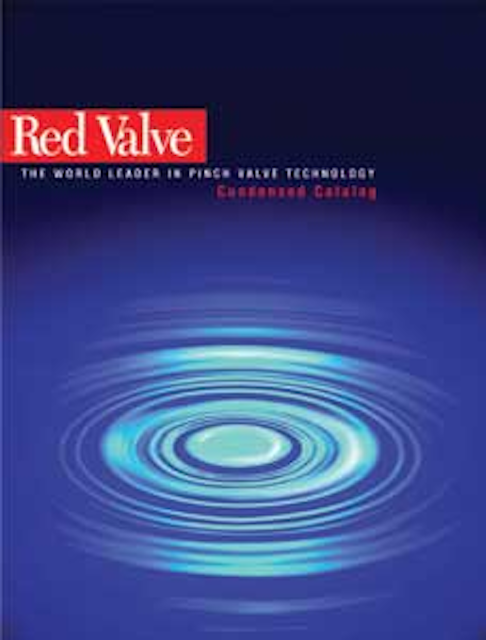 Red Valve's 28-page condensed catalog includes all of the latest information on its quality pinch valves, Tideflex® Check Valves, non-clogging air diffusers, Redflex® Expansion Joints and other flow control products. Product dimensions and applications are featured.
Red Valve Co.
www.redvalve.com
---
Check valve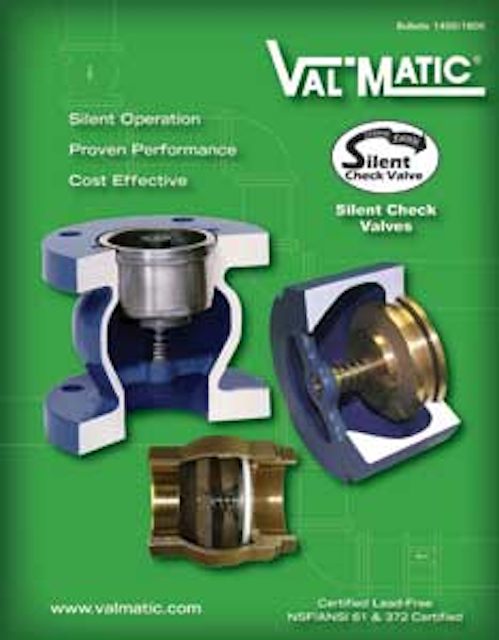 Val-Matic has released an expanded version of its Silent Check Valve brochure. The brochure features all three types: Threaded, Wafer and Globe style together in one brochure. The company's Silent Check Valve is the fastest closing check valve because of its short stroke and spring-assisted closure which reduces the potential for shock and water hammer. All three styles of valves can be installed in either horizontal or vertical lines with the flow up or down with operation not being affected. Globe style versions are available in sizes from 2 ½" – 42"; Wafer style, sizes 2" – 10", and Threaded style, sizes ½" – 2".
Val-Matic Valve & Manufacturing
www.valmatic.com
---
Water research
The Water Research Foundation has updated its website. The site has been restructured and redesigned to make it easier for users to access and apply the research knowledge and resources provided there. A centerpiece of the new website is four new Knowledge Portals that provide up-to-date, in-depth, topic-specific information compiled from Foundation research and other sources. The information is delivered via summary documents and fact sheets as well as links to other resources including Webcasts, case studies, web tools, workshop proceedings and reports.
Water Research Foundation
www.waterrf.org