Products & Services: Chemical and Application Equipment
Collection of Chemical and Application Equipment products and services.
Sep 1st, 2012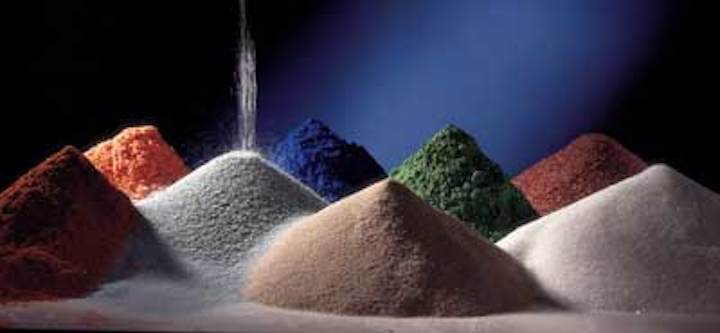 Water treatment additives
Hydrex™ water treatment additives, part of Veolia Environnement, include a wide range of chemicals formulated for most industrial and municipal applications. The line is categorized in product series 1000-9000 which encompass solutions suitable for drinking water and wastewater treatment, cooling and boiler water, membrane operations, and food and beverage related chemicals. These programs optimize the entire water cycle, chemical consumption, operating and maintenance costs.
Kruger Inc.
www.krugerusa.com
---
Peracetic acid
Environmentally compatible Proxitane® WW-12 Peracetic Acid (PAA) microbiocide from Solvay Chemicals is used for biological control in municipal wastewaters. This EPA-registered wastewater disinfectant is an alternative to halogenated disinfectants such as chlorine-based chemicals, and can have an immediate positive synergistic effect on an existing UV disinfection system by simply adding it into the wastewater. Compared to dosage requirements for industrial grade NaOCl, the product is applied at a similar rate, does not require a dechlorination step, nor does it form chlorinated byproducts.
Solvay Chemicals Inc.
www.solvaychemicals.us
---
Bulk bag unloader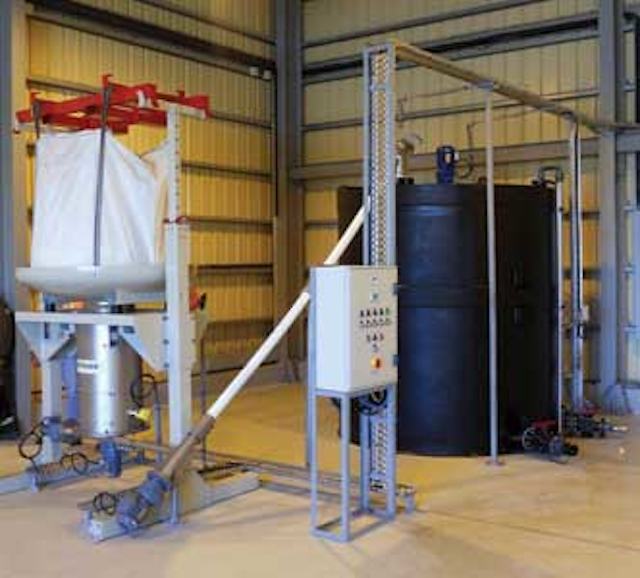 The Bulk Bag Unloader from Sodimate combines the efficiency and reliability of mechanical discharge, accurate feeding, and complete bulk bag discharge. The unloader can be used to inject powdered activated carbon (PAC), along with lime and soda ash during the water treatment process. Each unit incorporates an arch breaker spindle mounted with flexible blades that extract the bulk chemicals, preventing jamming, bridging, or compaction often seen with vibration systems. The discharger can also be integrated with up to four independent screw feeders, allowing for accurate conveying to different injection points with only one unloader.
Sodimate Inc.
www.sodimate-inc.com
---
Peristaltic pumps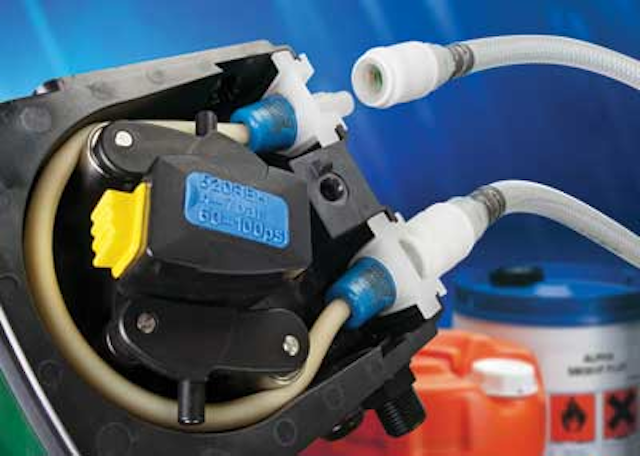 Watson-Marlow Pumps Group offers peristaltic tube and hose pumps for the environmental market. Using peristaltic pumping, the company's systems deliver metering accuracy of ± 0.1% and better reliability than diaphragm pump systems. There are no back pressure regulators or de-gassing valves required and maintenance is a simple one-minute tube change. Designed for easy operation and low maintenance metering of tough water purification chemicals like sodium hypochlorite and ferric chloride, these ARRA compliant chemical metering systems are also very easy to install.
Watson-Marlow Pumps Group
www.wmpg.com
---
Dispensers, metering pumps
Fluid Metering offers a full line of dispensers and metering pumps for water, wastewater, laboratory and industrial applications. The company's unique piston-type positive displacement units feature no valves, low-dead volume, 1% accuracy and a ceramic/fluorocarbon fluid path. The company's Chloritrol is the solution for sodium and calcium hypochlorite injection while its CTS is ideal for metering caustic soda and soda ash for pH control.
Fluid Metering
www.fmipump.com
---
Chemical feeder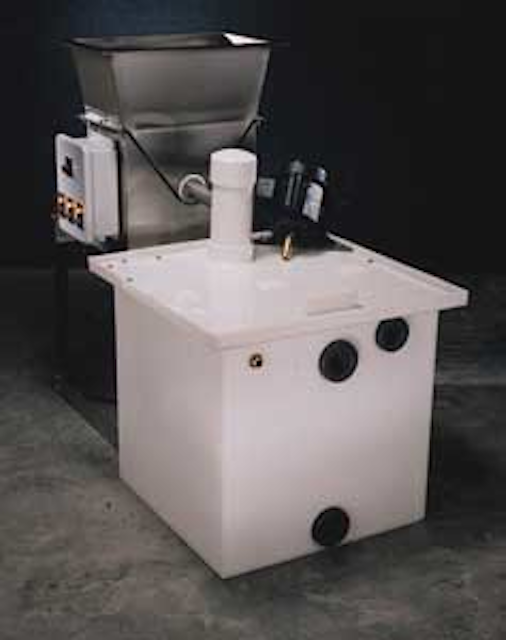 Eagle Microsystems' VF-100 Dry Chemical Feeder features stainless steel construction and direct drive for use in harsh environments. The feeder is available with a large range of feed rates and options including: solution tanks, wetting cones, extension hoppers, stands, and custom controls, just to name a few. The system is fully customizable and comes with a two year warranty.
Eagle Microsystems Inc.
www.eaglemicrosystems.com
---
Scales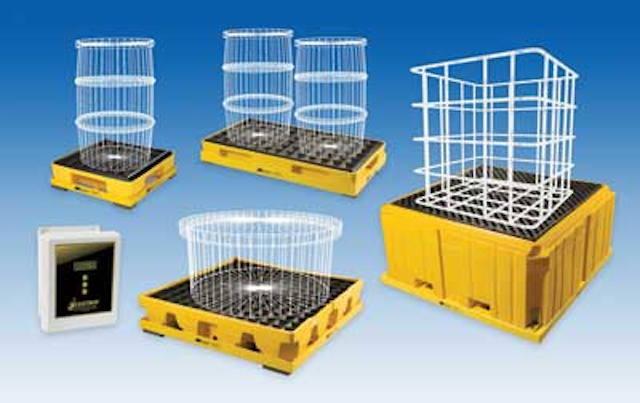 Scaletron is a manufacturer of corrosion resistant electronic and mechanical scales and accessories. Scales are designed for weighing and monitoring the usage of corrosive chemicals and/or materials in water treatment, wastewater treatment and industrial applications. The company offers a complete line of scales including 150 lb. cylinder and ton cylinder scales; drum, tank and platform scales; IBC tote and spill containment scales. Scales feature a low profile platform design, capacities from 30 lbs. to 30,000 lbs., and a five year warranty.
Scaletron™ Industries, Ltd.
www.scaletronscales.com
---
Metering pumps
Walchem and IWAKI America Inc. have released the new EWN-Y Series of electromagnetic metering pumps with an Electromagnetic Flow Sensor (EFS). The sensor helps a "smart" pump system accurately control the pump flow rate throughout changing operating conditions. Set point control in the pump (through a manual setting or digital/analog proportional inputs) sets the desired flow rate. Continuous measurement and feedback from the sensor provides actual output information to the pump, allowing the pump to self-adjust its speed and maintain the programmed flow rate. If a reduction in flow rate is sensed, the pump will speed up to full 360 spm operation, resulting in a quick re-priming of the pump. The pump will then slow down back to set point once flow is re-established.
Walchem, an Iwaki America Company
www.walchem.com
---
Metering pumps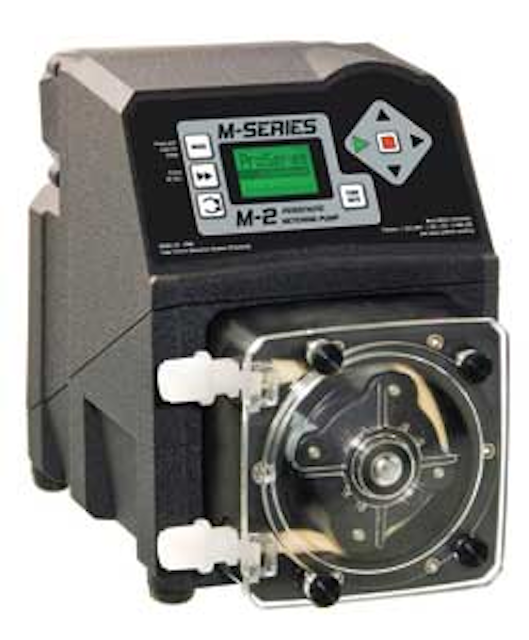 Blue-White® has announced an all new addition to its ProSeries-M Line of Peristaltic Metering Pumps. The mew M-2 model offers feed rates from .007 to 15 gph; pressures to 125 psi; a 200:1 turndown ratio; 4-20mA input and output (dual input ready); industrial Ethernet, Profibus, ProfiNet, Modbus, Modbus TCP (optional); NSF Listed Std. 61; NEMA 4X, IP 66, for wash down; and a five year warranty. The peristaltic pump design does not have valves that can clog and require maintenance, and is self-priming even against maximum line pressure. By-pass / priming valves are not required. It cannot vapor lock or lose prime.
Blue-White Industries
www.blue-white.com