WEFTEC Products
Collection of WEFTEC products and services
Sep 2nd, 2012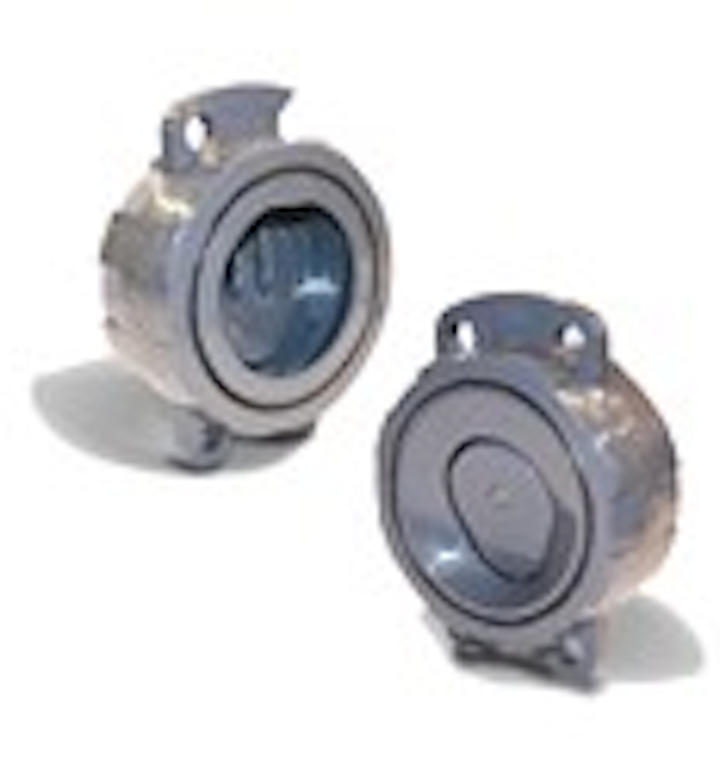 WEFTEC® 2012, hosted by the Water Environment Federation, will take place Sept. 30-Oct. 3 in New Orleans, LA. The program includes 130 technical sessions, 24 workshops and eight local facility tours, and is expected to draw thousands of water quality professionals and exhibitors from around the world. For more information, visit www.weftec.org
Automatic flushing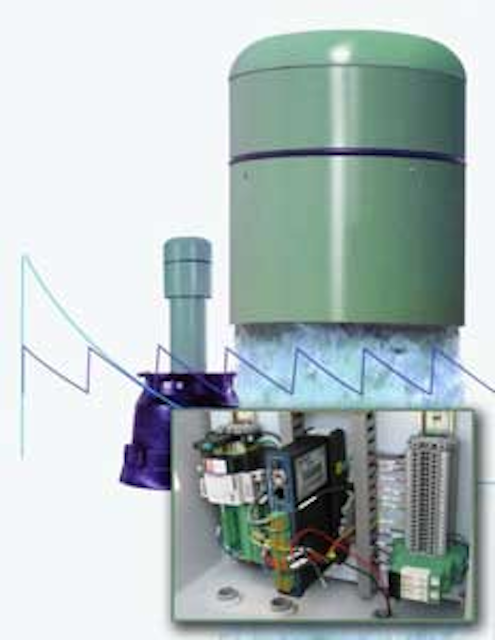 Hydro-Guard's S.M.A.R.T. Automatic Flushing System can flush water mains automatically with precise timing and frequency to maximize results with less water. The system offers two-way communication over secure web link or existing SCADA. Operators can receive real-time updates and residual analysis results remotely without fielding personnel.
Mueller Co.
www.hydro-guard.com
Booth 4241
---
Check valve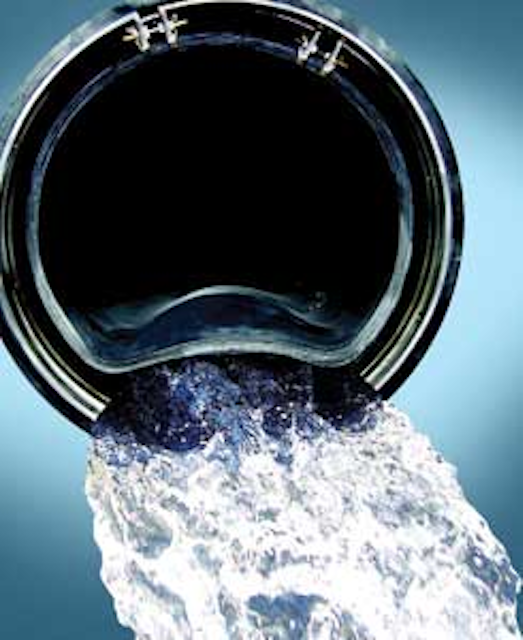 The CheckMate® Inline Check Valve is ideal for backflow prevention and odor mitigation. In outfalls, stormwater, CSO and SSO applications, the check valve's custom-engineered, all-rubber unibody design eliminates backflow from oceans, rivers and interceptors. Its elastomer fabric-reinforced design provides a proven record of maintenance-free performance and extremely low headloss. The valve can open to a near full pipe diameter, maximizing the flow capacity of the outfall.
Red Valve Co.
www.redvalve.com
Booth 1733
---
Controllers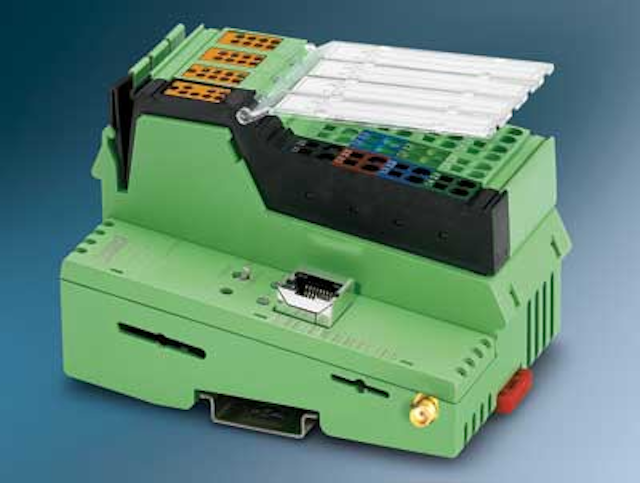 Phoenix Contact's new ILC 1x1 compact controllers make advanced control options available for small- to medium-sized water systems, including remote assets such as water towers, remote pumping and lift stations, and other distant monitoring sites. The controllers support the Modbus TCP protocol. This means the user can configure and commission in just two steps, no additional programming required.
Phoenix Contact
www.phoenixcontact.com
Booth 5925
---
CIPP system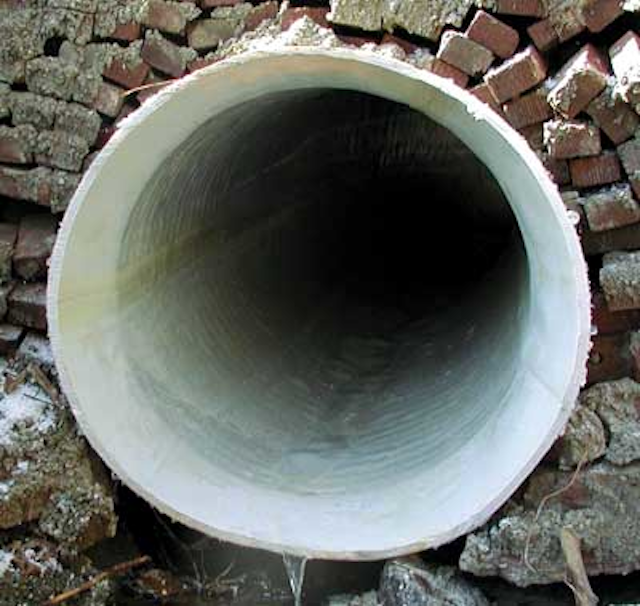 Inliner Technologies offers cured-in-place pipe renewal systems for pipes and culverts ranging in diameter from 4" to 120". The company's licensees are contracted by municipalities and industrial companies to renew storm, waste, and process sewer piping that has been damaged by corrosion and/or structural deterioration.
Inliner Technologies
www.inliner.net
Booth 1811
---
Check valve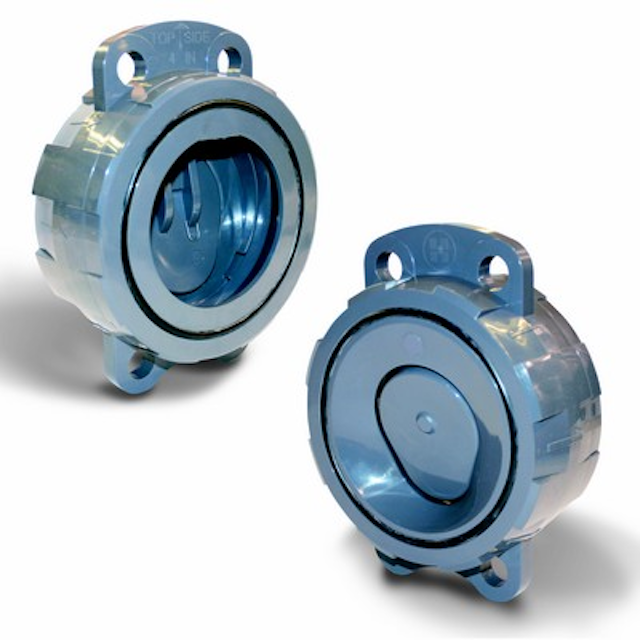 The patent-pending WCV Series Full Pattern Wafer Check Valve from Hayward features robust thermoplastic construction in PVC, CPVC or GFPP, eliminating the need for spacers or specialty flanges. The lightweight WCV provides excellent corrosion resistance, with a unique angled seat and disc design that allows for high flow rates and excellent sealing. The valves fit both ANSI and DIN/EN flange patterns, and are pressure rated at 150 psi at 70°F non-shock in sizes 2" - 8".
Hayward Flow Control
www.haywardflowcontrol.com
Booth 1739
---
Solids handling pumps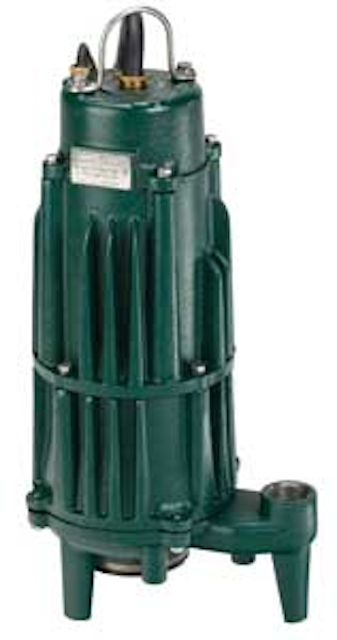 Zoeller offers a broad selection of 1-15 hp submersible solids handling pumps with vortex impellers. Vortex pumps, recognized for their improved solids handling capabilities, are being successfully applied in the most challenging wastewater pumping applications. The company offers these pumps in either 2.5" or 3" solids handling capacity. Discharge sizes are 3", 4" and 6" with standard or explosion proof motors.
Zoeller Engineered Products
www.zoellerengprod.com
Booth 2945
---
Self cleaning filters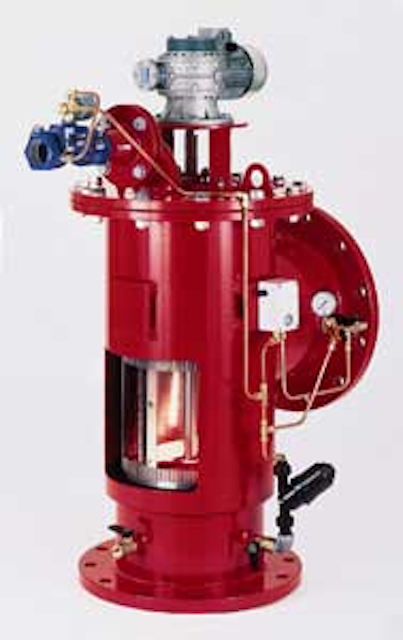 Amiad automatic self cleaning filters deliver clean water with clean technology. The technology is used in wastewater treatment systems worldwide. For example, the company's ABF automatic brush filters handle more than 200 mgd in Singapore's NEWater system. Amiad EBS and SAF automatic screen filters protect thousands of cartridge, membrane and other fine filtration systems.
Amiad Filtration Systems
www.amiad.com
Booth 4141
---
Surge protection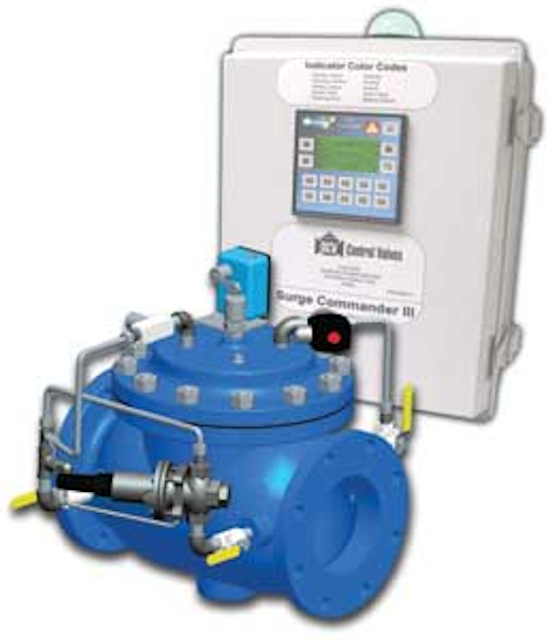 In addition to protecting systems against power surges and pump failures, the OCV Model 118-4 control valve operates in conjunction with the Surge Commander III, which functions via solid state circuitry. The valve offers features such as a charged battery backup, multiple control options and indicator lights that monitor and communicate the valve's activity at all times. The efficient design also saves space and operates on a lower electrical usage.
OCV Control Valves
www.controlvalves.com
Booth 2341
---
Remote monitoring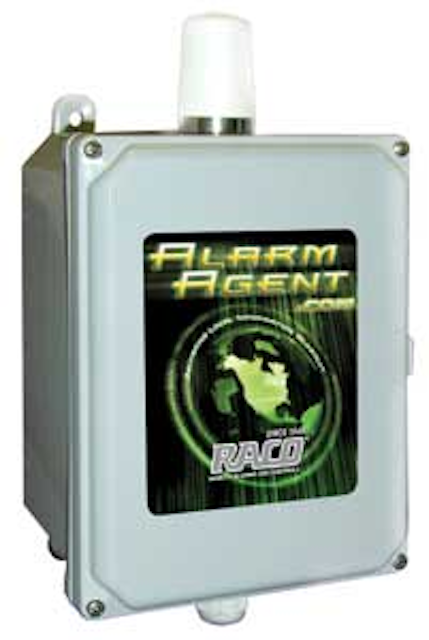 RACO Manufacturing continues to add new features to its AlarmAgent.com wireless, web-based remote equipment monitoring and reporting system. The latest is Real Time Data due out in Q4, 2012. Together with centralized WRTU access, Real Time Data gives customers the information they need for comprehensive fleet management.
RACO Manufacturing and Engineering Co.
www.racoman.com
Booth 4018
---
Sensors, analyzers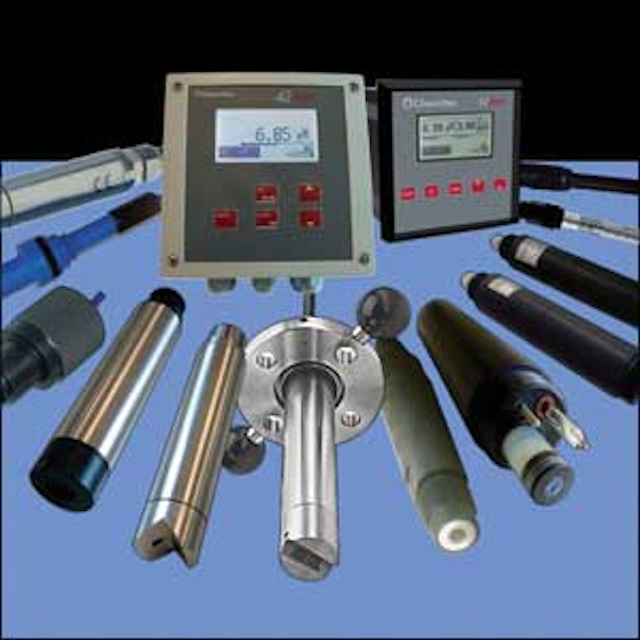 Liquid Analytical Resource had introduced the Chemitec line of sensors and analyzers. The company's measurement parameters already included TOC, COD, BOD, total nitrogen, ammonia, toxicity, conductivity, dissolved oxygen, pH, ORP, turbidity, suspended solids and respiration. The new line expands client's choices for pH/ORP, conductivity, turbidity and suspended solids.
Liquid Analytical Resource, LLC
www.larllc.com
Booth 1119
---
Fiberglass tanks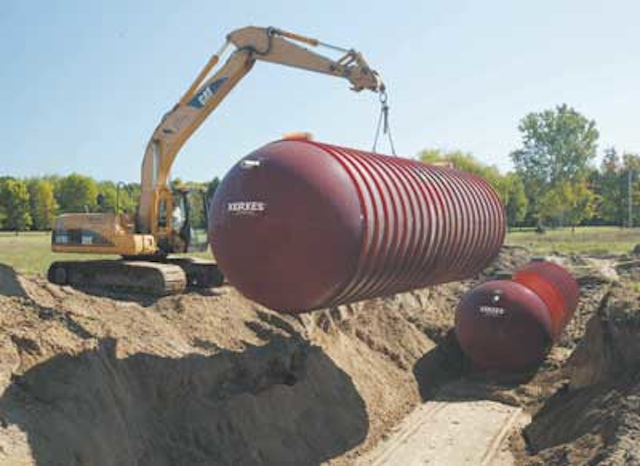 Xerxes Corporation and ZCL Composites offer fiberglass underground storage tanks. The tanks are ideally suited for a wide range of water and wastewater applications such as onsite wastewater, rainwater harvesting, NSF listed potable water and more. With over 150,000 tanks installed for motor fuels, the companies have 30 years of experience producing structurally strong, watertight, corrosion resistant tanks.
Xerxes Corp.
www.xerxes.com
Booth 6252
---
H2S analyzer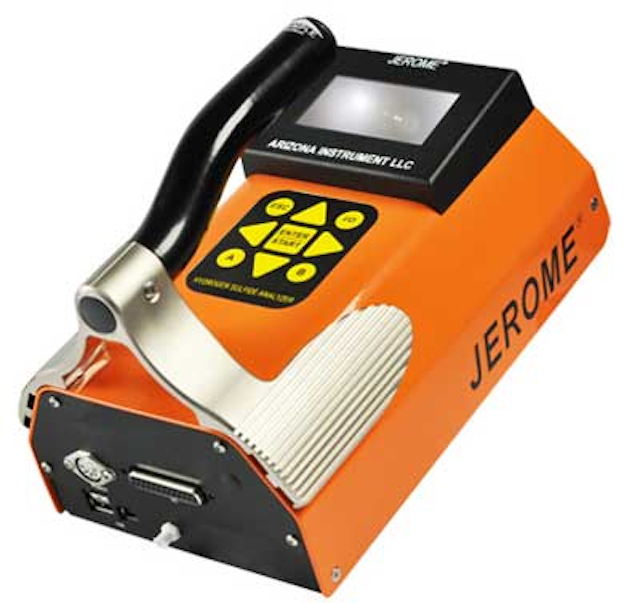 The newest instrument from Arizona Instrument is the Jerome® J605 Hydrogen Sulfide Analyzer. The analyzer can read as low as 3 ppb with a resolution to 20 ppt, and is housed in a light and ergonomically designed case. The gold film sensor has been upgraded and improved from previous models, resulting in longer life expectancies.
Arizona Instrument LLC
www.azic.com
Booth 3021
---
Paddle wheel meter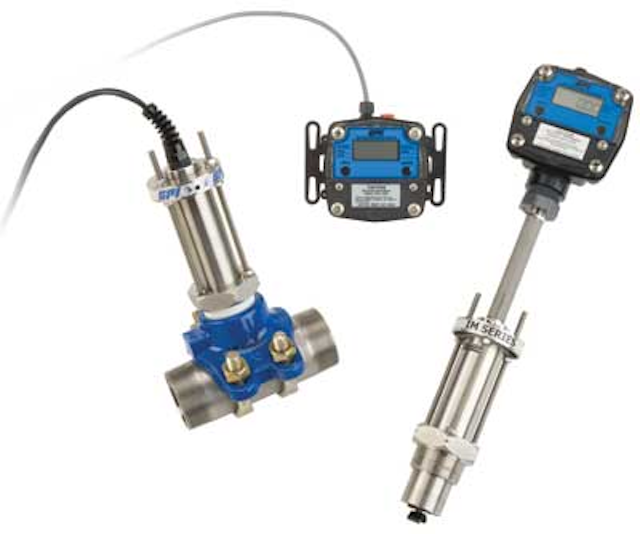 Great Plains Industries has introduced the IM36S insertion paddle wheel meter. The meter is suited for line sizes from 1½" to 36". Its stainless steel construction makes it ideal for metering many low viscosity liquids in application including: irrigation, water distribution, boiler feed, heat and energy monitoring, chemical batching and blending, and many more. The meter comes standard with hall-effect and reed switch pulse outputs making it compatible with GPI's battery and AC powered electronics.
Great Plains Industries
www.gpimeters.net
Booth 4758
---
Lateral valve
The Uni-Lateral from E/One is an all-stainless steel lateral valve system for use with the company's grinder pump stations. An integrated unit consisting of a check valve, ball valve and cleanout all in a compact module, the system effectively protects against backflow. The kit can be installed and accessed between the sewer main and sewer service line. Its versatile design greatly reduces opportunity for leak paths — simplifying and speeding installation, while meeting all codes and regulations.
Environment One Corp.
www.eone.com/sewer
Booth 2319
---
Algae treatment system
Algaewheel has been re-branded to OneWater. The change reflects the evolution of the company from a technology supplier to a fully integrated service provider. OneWater exclusively uses the Algaewheel Technology to deliver a full-range of wastewater treatment solutions. Its systems deliver effluent water quality ranging from direct discharge to high grade re-use.
AlgaeWheel
www.onewaterworks.com
Booth 7847
---
Pipe restraint products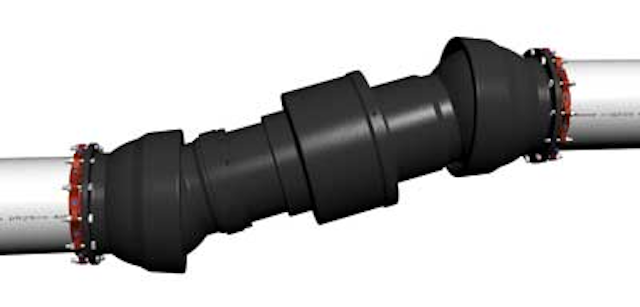 The two newest products from EBAA Iron are the Mega-Stop PVC Bell Protection System and Series 1900 PVC Restraint Systems. The bell protection device facilitates quick, accurate, proper assembly of PVC pipe joints. It reduces damaging stresses in pipe joints caused by over-insertion, and incorporates an ERS to allow for pipe expansion and contraction. The PVC restraint systems are engineered to accommodate the increased pressure ratings for C900 and C909 PVC pipe. They effectively and economically restrain pipe in a variety of applications – above or below ground, residential or industrial. EBAA's other products include the Force Balanced Flex-Tend flexible expansion joint.
EBAA Iron
www.ebaa.com
Booth 6939
---
Cal hypo system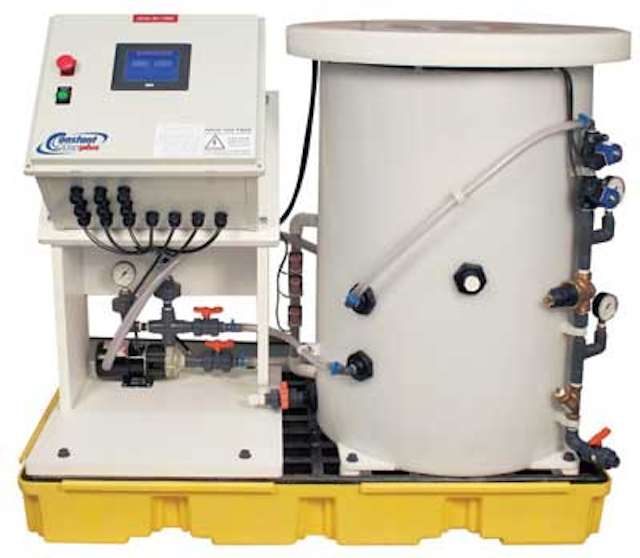 Arch Chemicals' new generation of Constant Chlor® Plus calcium hypochlorite briquette feed systems provide increased capacity and accuracy, plus new capabilities and features that further enhance operation, maintenance and safety. The model MC4-150 system retains all of the key features of the earlier system, such as optimum solution consistency and a small footprint, but its loading and feed rate capacities are much higher, allowing for service in larger treatment facilities.
Arch Chemicals Inc.
www.archchemicals.com
Booth 6057
---
Emergency actuators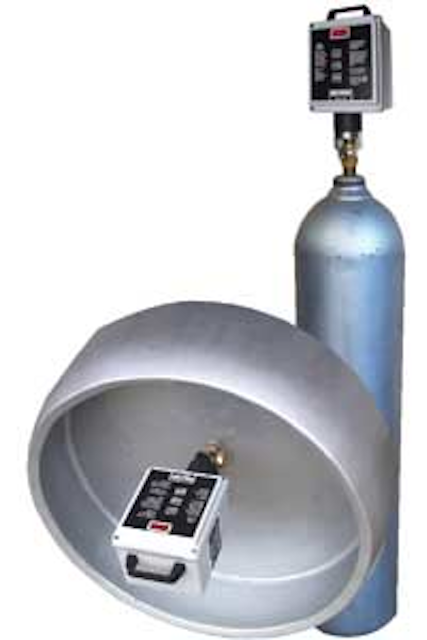 Robo-Control manufactures battery-operated actuators to remotely open and close hazardous gas cylinder and container valves such as chlorine and sulfur dioxide. The actuators weigh as little as six pounds and mount to the valve independently from existing hardware or dispensers. Each actuator has integral indication for actual valve position and outputs for valve position are available.
Robo-Control
www.robo-control.com
Booth 3645
---
Level measurement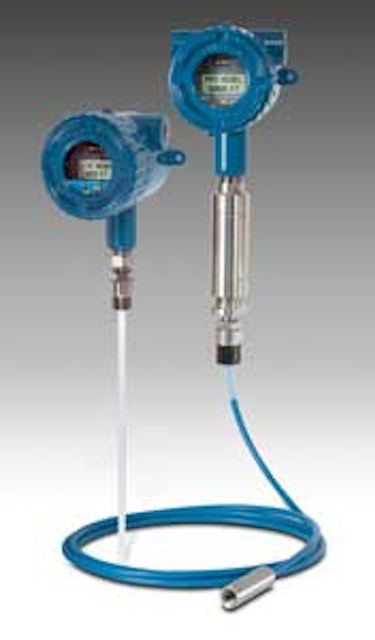 AMETEK Drexelbrook has launched the Universal IV™, its fourth generation Radio Frequency (RF) Admittance/Capacitance continuous level measurement transmitter. The transmitter offers a wide range of features and options and is ideally suited for the most common to the most challenging level measurement applications. The transmitter is intrinsically safe, explosion proof and flameproof for Class 1 Div 1 Zone 0 hazardous locations. It features stable, repeatable and accurate measurement within 0.25% of range and a user friendly push-button LCD display for configuration and monitoring.
AMETEK Drexelbrook
www.drexelbrook.com
Booth 2131
---
Insertable valve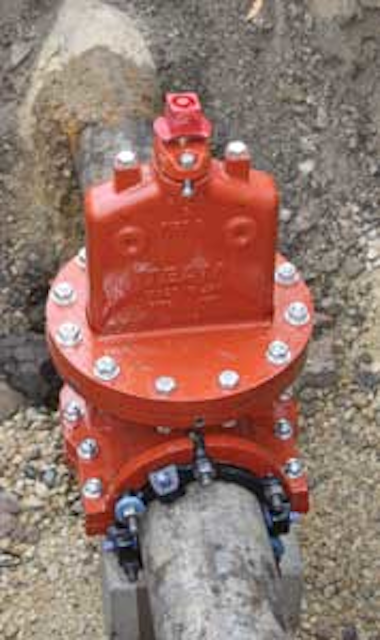 Team's InsertValve™ installs under pressure, eliminating the need for line shut downs for valve cut-ins. Designed for a wide range of line sizes and types, the valve's wedge gate seats on the valve body, not the pipe bottom. This unique feature prevents the seat from coming into contact with the cut pipe edges. If repairs are needed, the valve can be repaired under pressure. Team offers professional installation services by trained technicians or packaged solutions ready for line cut-in.
Team Industrial Services
www.teamindustrialservices.com
Booth 7613
---
Valve systems
Val-Matic's product line of Shut-off Valves include the Ener•G® AWWA Resilient Seated Ball Valve featuring fusion bonded epoxy interior/exterior coating, bi-directional resilient Tri-Loc™ seating system and compliance with AWWA C507. The American-BFV® Butterfly Valve features a ductile iron disc, continuous uninterrupted seating and compliance with AWWA C504, C516, and NSF/ANSI 61.
Val-Matic Valve & Mfg. Corp.
www.valmatic.com
Booth 5829
---
HDPE pipe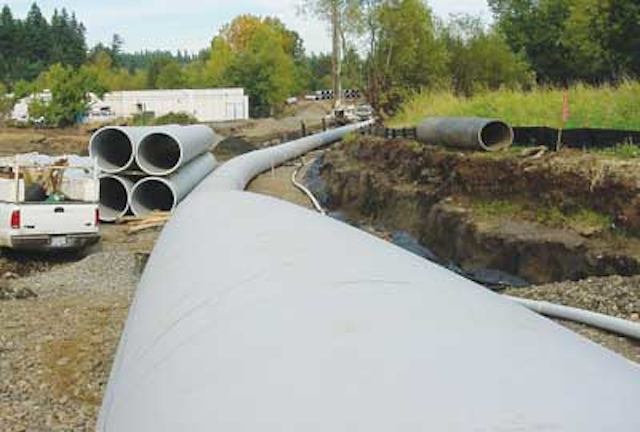 PolyPipe® has introduced LightView™ Plus HDPE pipe for forced main applications. Its specially formulated gray color allows inspection of the pipe interior via CCTV monitoring. The pipe is flexible enough to easily bend around obstacles and under roads, and is well suited for both open-cut and HDD installations. It is manufactured with high performance polyethylene resin, provides superior fatigue resistance, is resistant to corrosion, abrasion, and chemical attack, and suffers no damaging effects from freeze-thaw cycles.
PolyPipe Inc.
www.polypipeinc.com
Booth 1626
---
Vacuum sewer technology

Airvac is a manufacturer of specialty components used in vacuum sewer systems. These components include vacuum valves, valve pits and vacuum station equipment. The company offers complete start-to-finish project services including preliminary system layout and design, cost estimating, detailed design assistance and construction supervision.
Airvac
www.airvac.com
Booth 7039
---
Grit removal system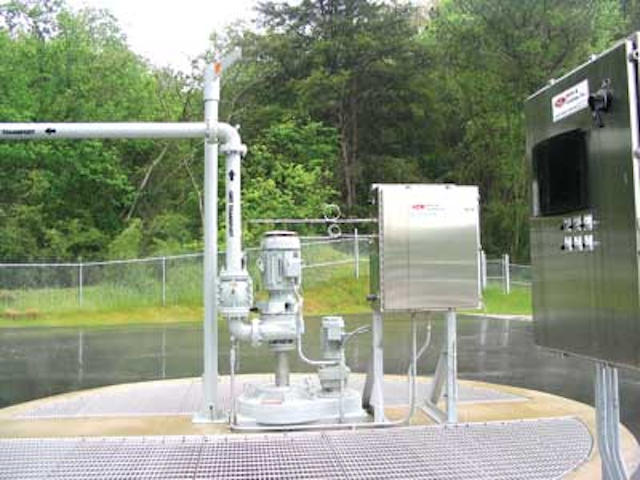 The Smith & Loveless Pista® 360™ grit removal system with patented V-Force Baffle™ captures 95 percent of grit particles down to 140 mesh / 105 microns. The system design increases velocity during low flow periods while maintaining consistent grit capture during surges. Its baffle, uniquely positioned within a 360-degree, flat-floor grit chamber, helps comprise a patented hydraulic design within the chamber. The integral baffle design also serves as a water level control device, often eliminating the need for downstream flow control devices like weirs.
Smith & Loveless
www.smithandloveless.com
Booth 6739
---
Packaged water treatment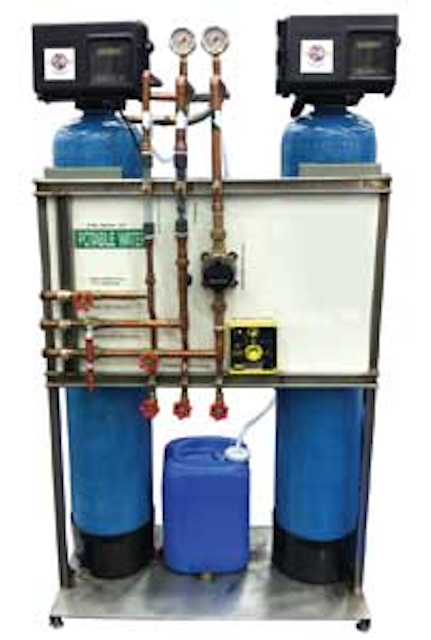 Filtronics EM-mini packaged water treatment systems are factory assembled, fully self-contained and specifically designed for applications from 5 to 100 gpm or less. Available in standard configurations, the EM-mini features a smaller footprint at the lowest capital cost in the industry, making them perfect for budget minded small communities, schools, commercial or industrial facilities.
Filtronics Inc.
www.filtronics.com
Booth 2665
---
Nutrient removal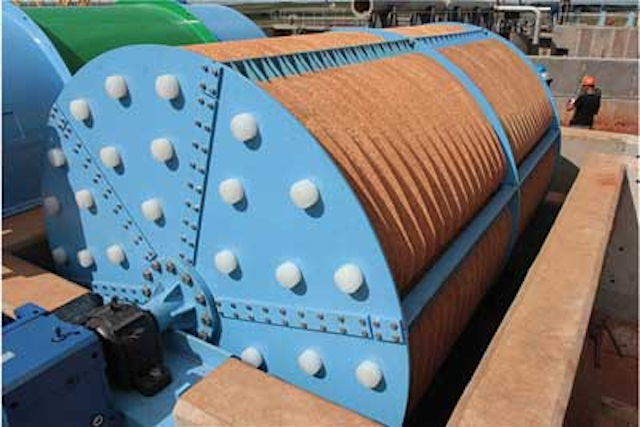 The Hybacs process, available from Infilco Degremont, is an economical and versatile approach to nutrient removal. The process consists of two biological stages followed by clarification. The first stage comprises Smart™ units and the second stage comprises activated sludge tanks. The Smart units use shaft mounted advanced reactor technology featuring a series of plates.
Infilco Degremont
www.degremont-technologies.com
Booth 4527
---
Flowmeter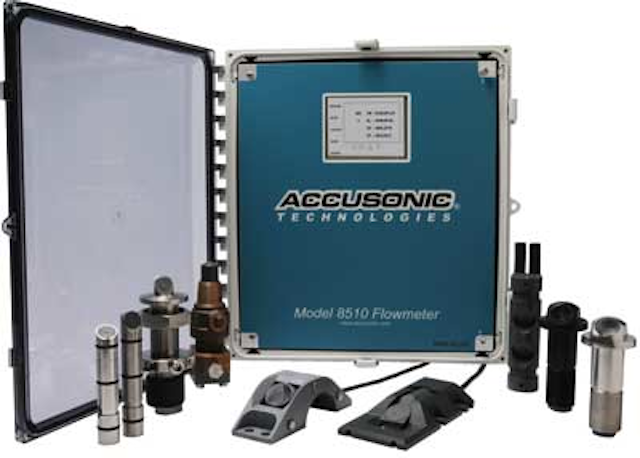 The new Accusonic Model 8510 is a multiple-path, transit-time flowmeter. The backward compatible meter is designed to conquer challenging installation and measurement requirements associated with large pipes and channels in a variety of applications. The meter was designed to meet the installation challenges of large ultraviolet (UV) disinfection systems which require very accurate flow measurement to operate most efficiently. Measurable pipe and channel sizes range from 8" to 600'.
Accusonic Technologies, a Division of ADS® LLC
www.accusonic.com
Booth 1329
---
Transmitter, controllers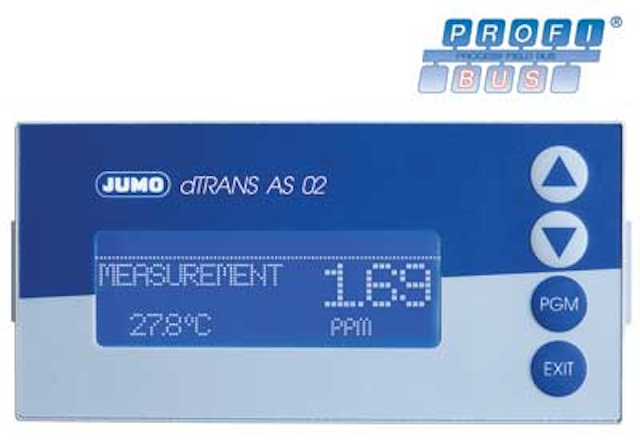 Jumo dTrans pH/CR/AS 02 are compact and modular transmitters/controllers that are highly flexible (for example three slots for optional boards) and capable of performing a wide range of tasks. The quality of this series is ensured by production on fully automatic production lines and a final 100% inspection. The extensive spectrum of pH and ORP electrodes, conductivity sensors and accessories allows adaptation to every measuring task. The transmitters feature 4-20 mA and 0–10v signal input for sensors with a standard signal output, such as free chlorine, chlorine dioxide, ozone and hydrogen peroxide sensors, level probes, and pressure measuring instruments.
JUMO Process Control Inc.
www.jumousa.com
Booth 2001
---
Tank cleaning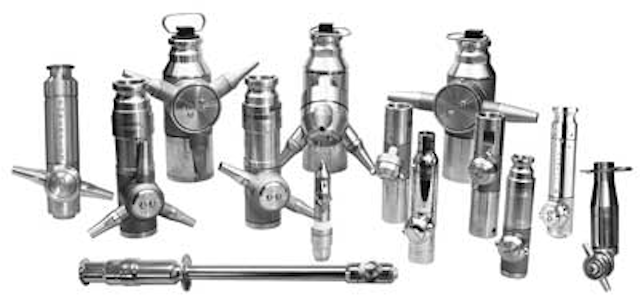 Gamajet's impingement technology has enabled hundreds of municipal treatment facilities to clean lift stations, wet wells, and manholes quickly, while eliminating the need for confined space entry. The patented tank cleaning machines combine pressure and flow to create high impact cleaning jets. It is this impact and tangential force that radiates from the jets, blasting away sludge, grease, and non-biodegradable waste in a full coverage, global indexing pattern.
Gamajet Cleaning Systems Inc.
www.gamajet.com
Booth 6156
---
MBR systems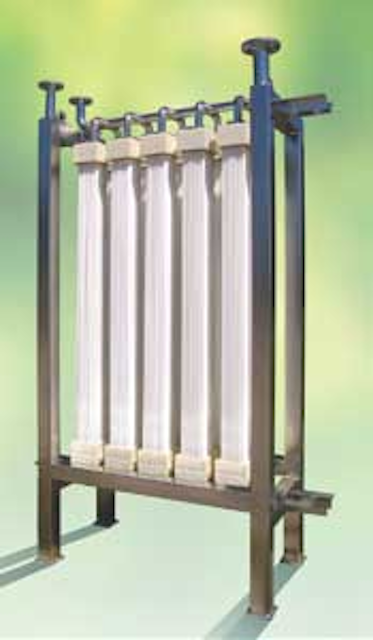 As one of the nation's largest treatment plant contractors, Layne has the specialized wastewater treatment equipment knowledge to provide sustainable solutions. The company's teams are responsible for managing water in every phase of its lifecycle – supply, treatment, delivery and maintenance. Throughout each phase, they work to ensure compliance with complex state and federal regulations, meet increasingly high standards for quality, reliability and efficiency while constructing projects in any delivery mode required.
Layne Co.
www.layne.com
Booth 1711
---
Pump station manager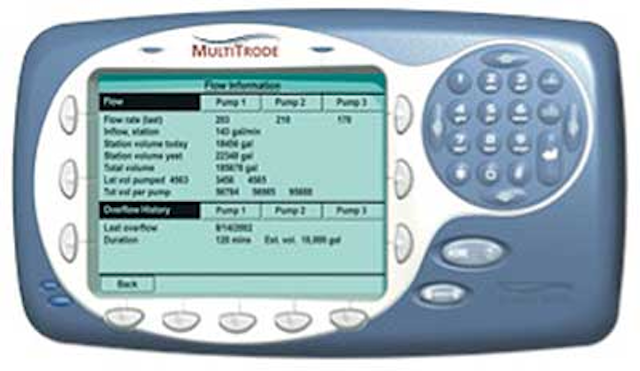 MultiTrode's MultiSmart is an intelligent Pump Station Manager that can help reduce energy consumption and operating costs. With out-of-the-box functionality designed for simplified deployment, the manager combines thousands of dollars in technology, components and engineering into one device. It features the best of PLCs, RTUs and pump controllers in a comprehensive, intuitive package. Pre-programmed logic developed from decades of real-world industry experience is designed to significantly reduce operating costs, decrease energy costs and consumption, and prevent failures, blockages and spills.
MultiTrode
www.multitrode.com
Booth 2239
---
Remote monitoring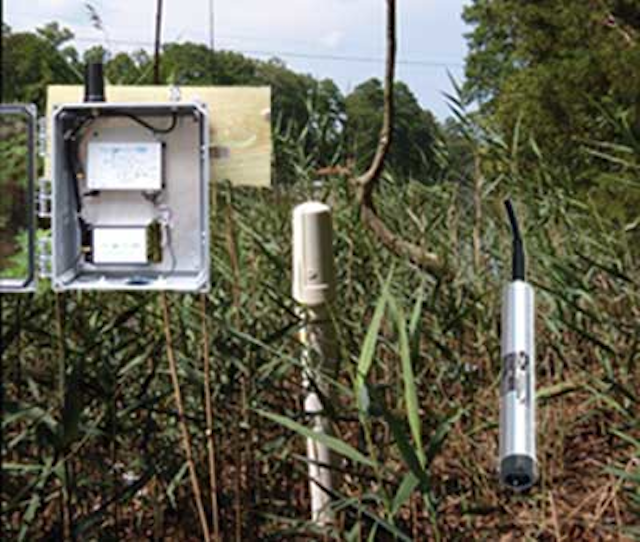 The TruBlue® Remote Monitoring System (TRMS), from Measurement Specialties, the makers of KPSI® Level Transducers, makes gathering essential data on water levels more cost effective, allowing users to obtain readings remotely instead of having to travel to each monitoring point to collect data. The system provides a comprehensive, systematic approach to collecting and managing groundwater level data. Up to four transmitters can be attached to a Node, which transmits data via a built-in 900 MHz RF transmitter to a Gateway, which collects information from multiple Nodes.
Measurement Specialties
www.meas-spec.com
Booth 1164
---
Valve systems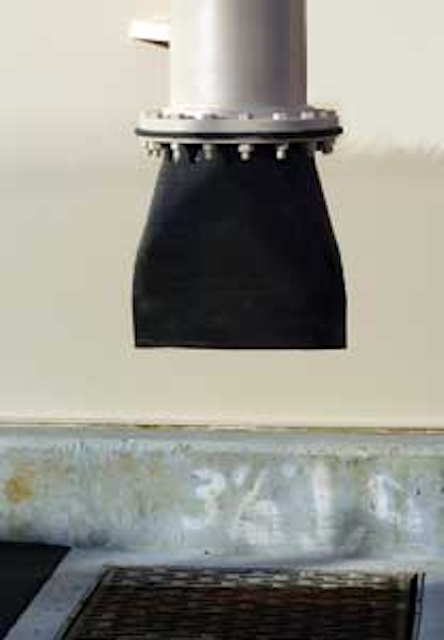 Onyx pinch valves are ideal for on/off and throttling applications including raw sewerage (equalization basin flow), sludge (centrifuge feed) and lime slurry (pH control). The company's Isolator Rings are a convenient way to reliably measure pressure on sewerage, slurries and other hard-to-handle fluids. They are guaranteed to never clog or plug and are compatible with a wide array of gauges, switches, and transmitters. Onyx Duckbill checks valves are ideal for high flow/low head applications such as stormwater and tank over flow applications.
Onyx Valve Co
www.onyxvalve.com
Booth 4701
---
On-site water reuse
Bio-Microbics has earned NSF®/ANSI® 350 certification for its Bio-Barrier® membrane bioreactor (MBR). NSF scientists conducted an evaluation spanning more than six months of continuous operation of the treatment system at one of NSF's approved wastewater testing facilities. NSF/ANSI 350 was developed over a four-year period and covers onsite water reuse technologies. As one of the first systems to comply with applicable standards, the goal of Bio-Microbics is to use decentralized treatment technology for the benefit of water-reuse projects that reduce fresh water consumption and minimize effluent discharge.
Bio-Microbics
www.biomicrobics.com
Booth 3116
---
Valve strainers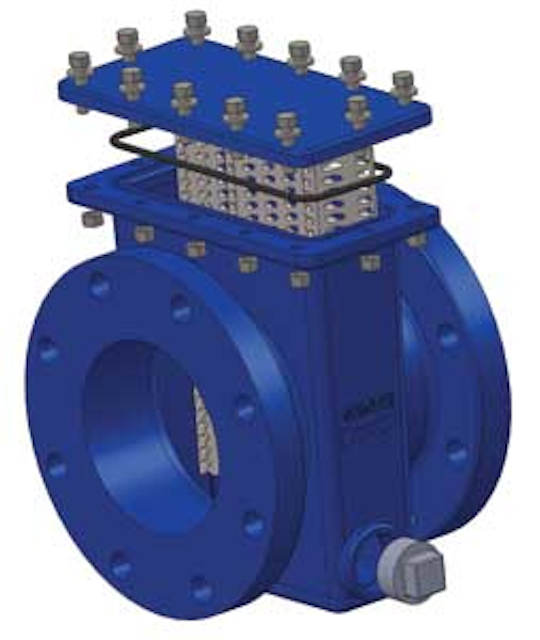 The Singer Valve Strainer ZS is designed to protect control valves and pipelines from foreign matter such as twigs, leaves and rocks that get caught in the flow and can cause blocks or equipment failure. The strainer has a Z plate design that provides a smooth laminar flow which reduces downstream disturbance making it ideal for locations ahead of automatic control valves.
Singer Valve
www.singervalve.com Booth 6123
---
Data management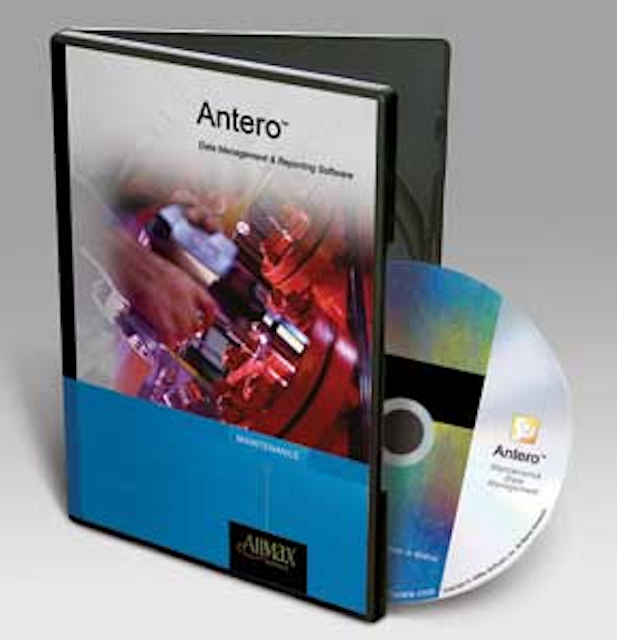 AllMax's new Antero™ v5 maintenance data management program bridges the needs for performance, security and data governance with solutions that focus on accountability, reducing maintenance costs and downtime. The software is designed to help plants and facilities comply with strict industry and regulatory requirements. One of the more significant improvements is the migration from a Microsoft® Access® database engine to the more robust MS SQL.
AllMax Software Inc.
www.allmaxsoftware.com Booth 1717
---
Screening, washing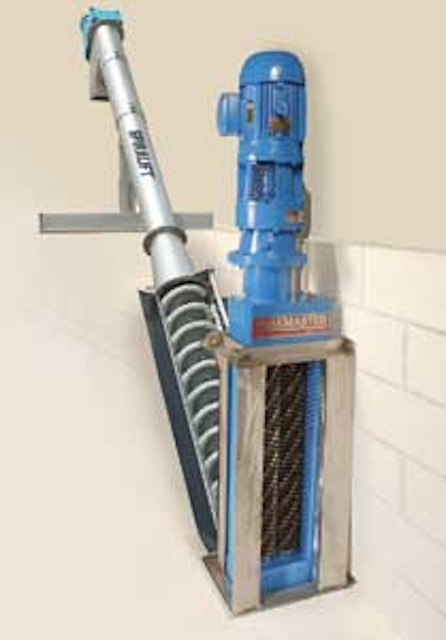 The Spiralift SL provides fine screening, washing, transporting and compacting of wastewater solids while leaving essential organics in the flow. It can be installed in existing channels, reduces solids disposal costs and protects downstream equipment. Provided as a fully integrated system, it includes a shaftless screw screen, a Taskmaster® Grinder and control system which coordinates the system's normal and special functions. The PLC driven unit uses flow level data to cycle the screw to minimize power and wear. These units are provided standard with stainless steel screens and screw housings.
Spiralift, Franklin Miller Inc.
www.franklinmiller.com
Booth 3751
---
Solids separation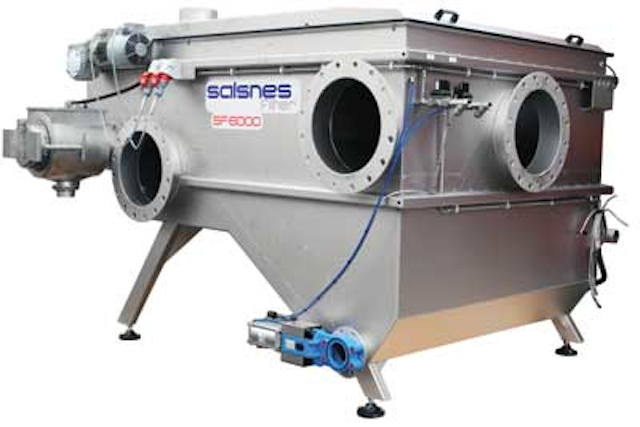 Salsnes Filter manufactures solids separation technologies for municipal and industrial applications. Solids separation, sludge thickening and dewatering - three critical water treatment processes - are performed within one compact, automated unit. Within a very small footprint, 40-80% TSS and 20-35% BOD are removed and drier sludge (20-30% DM) is produced. The system can augment, enhance or completely replace conventional primary treatment, making it ideal for plant upgrades/expansions.
Salsnes Filter
www.salsnes-filter.com
Booth 5548
---
Thermoplastic pumps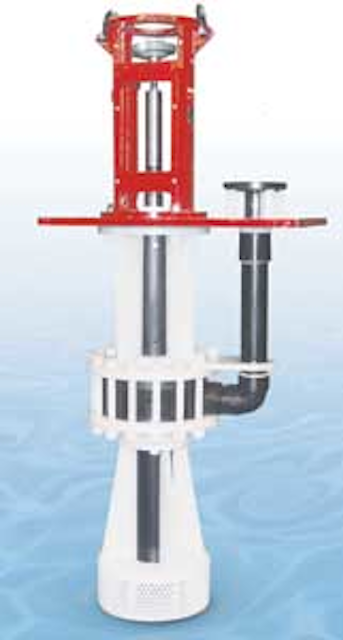 Vanton's Sump-Gard® model SGK-2700 thermoplastic centrifugal pump handles flows to 1200 gpm at heads to 200 ft., making it ideal for fume scrubbers and other applications in which caustic and acidic chemicals are transferred. All wetted components are molded of solid polypropylene, PVDF or CPVC to eliminate chemical attack associated with pumping of aggressive chemicals while minimizing abrasion.
Vanton Pump & Equipment Corp.
www.vanton.com
Booth 3241
---
Sludge blanket monitoring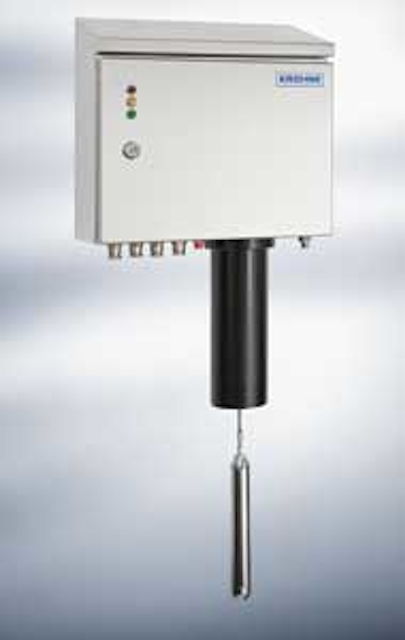 Krohne's new Optisys SLM 2080 optical sludge blanket measurement system offers accurate measurement of sludge blanket depth, separation zone, and swirled solids (fluff zone) depth using optical suspended solids measuring technology. The system is ideal for continuous measurement of industrial and municipal wastewater sludge, sludge settlement monitoring, and control of return activated sludge (RAS) and waste activated sludge (WAS).
Krohne Inc.
us.krohne.com
Booth 6413
---
Inclined screw press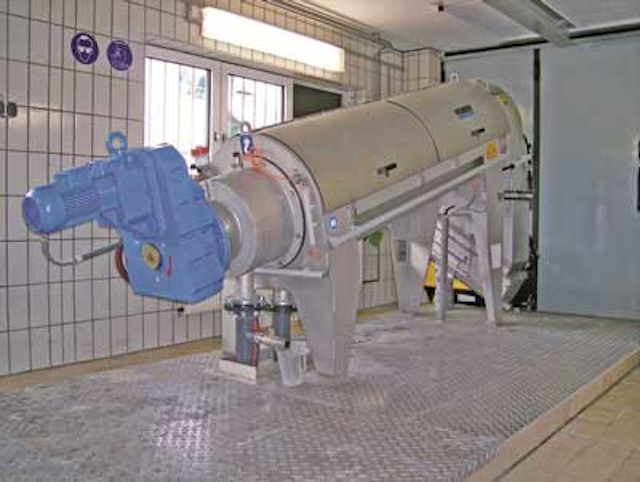 The Huber Technology RoS3Q Inclined Screw Press provides high performance sludge dewatering in a compact entirely enclosed machine. The press requires minimal operator attendance. It has a simple, energy efficient, slow rotational design. Huber also offers the Strainpress® Inline Sludge Screen, designed to screen sludge in pressurized lines, increasing the operating reliability of downstream sludge treatment systems.
Huber Technology
http://huberforum.net/transform
Booth 7539
---
Intrusion detection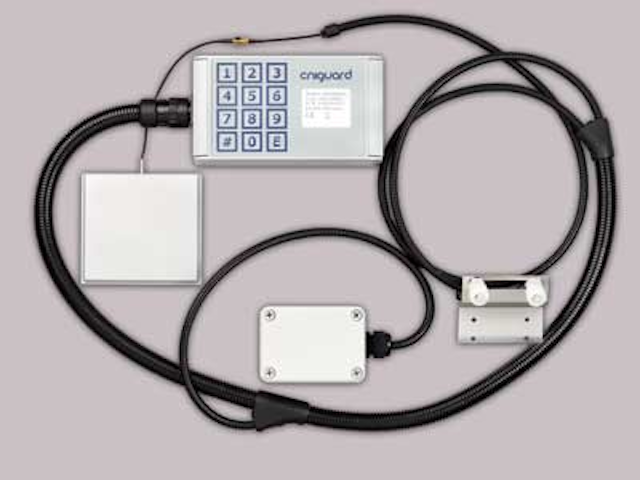 Bilco's CNIguard™ wireless intrusion detection system is specifically designed to protect access points in drinking water distribution systems against the threat of intentional contamination. The system uses a patented Smart Sensing Technology to detect tampering such as drilling, grinding and cutting, while virtually eliminating false alarms as it can distinguish between real threats and common occurrences such as heavy rain, hail, etc.
Bilco
www.bilco.com
---
Booth 3744
---
Locking manhole covers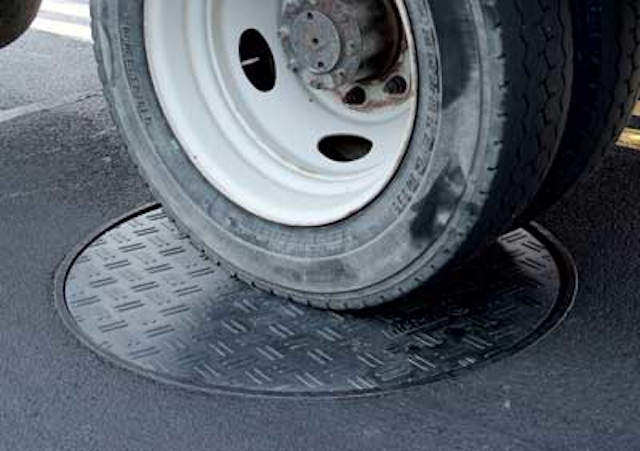 The FiberShield manhole cover from McGard is constructed of a durable, fiber reinforced polymer material with multiple security points. The lightweight cover is easy to handle and transport. It eliminates the lifting and dropping injuries caused by heavy, cast iron manhole covers. Weighing 80% less than cast iron, the cover maintains an H20 and EN124 rating. It is installed in seconds, and can be removed without bending over. The integrated locking system prevents removal and requires a registered key to operate.
McGard
www.manholelocks.com
Booth 8340
---
Blower systems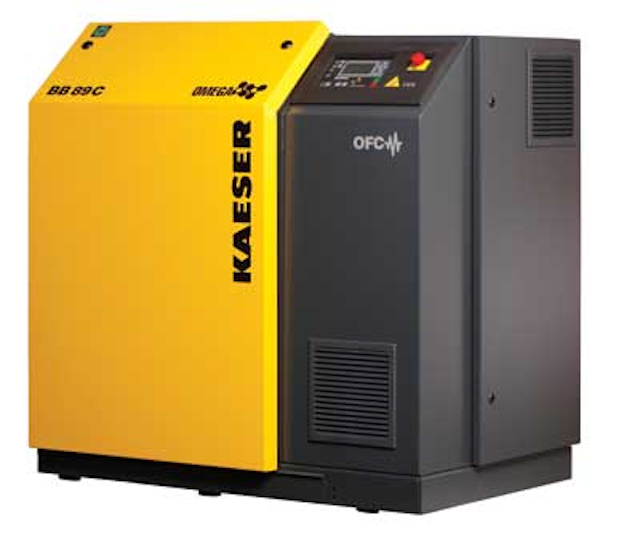 Coming in January 2013, Kaeser will expand its complete blower product offering with the redesign of the BBC and FBC models. These units will expand the Com-paK Plus™ blower line to cover 3 hp to 150 hp, and will be available in both STC (wye-delta start) and OFC (Variable Frequency Drive) versions. As with previous models, the fully integrated BBC and FBC units arrive onsite ready for use and include a full complement of sensors, starters/drive, and an onboard controller.
Kaeser Compressors
www.kaesernews.com/Jan2013
Booth 4461
---
Filter presses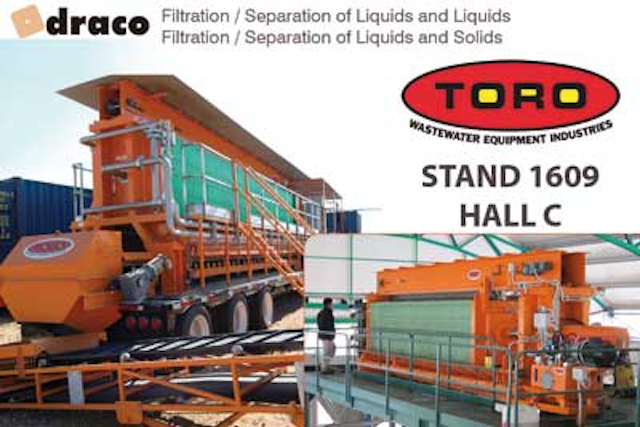 Toro Equipment's Draco filter presses are used to separate solids from liquids in a wide range of applications. The sludge is pumped into a series of filter chambers fitted with a permeable filter cloth on both sides. While the liquid is forced out of the sides, the filter clothes retain the solid components, leaving a filter cake deposited inside the chambers.
Toro Equipment
www.toroequipment.com
Booth 1609
---
Mud valves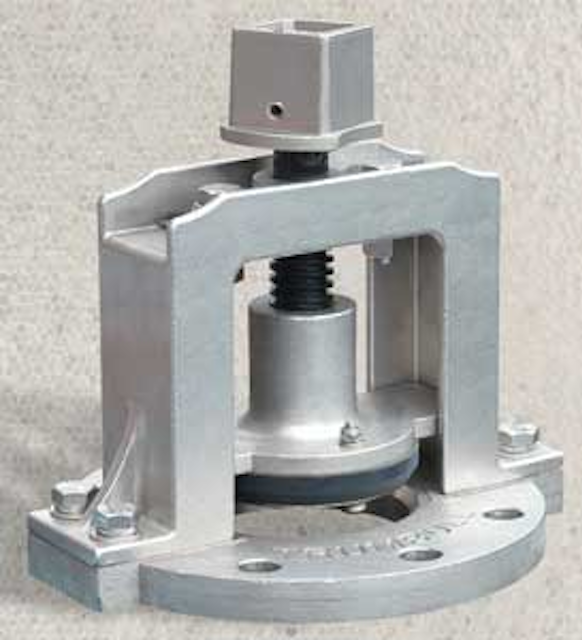 Trumbull stainless steel mud valves feature type 316 stainless steel components for maximum corrosion protection in submerged service. All stainless components are cast, avoiding the corrosion problems frequently incurred when stainless is welded. The Buna N seat is mechanically retained and field replaceable. The valves offer a heavy duty design with generous stem diameters and wall thicknesses.
Trumbull Industries Inc.
www.trumbull-mfg.com
Booth 4403
---
Pipe supports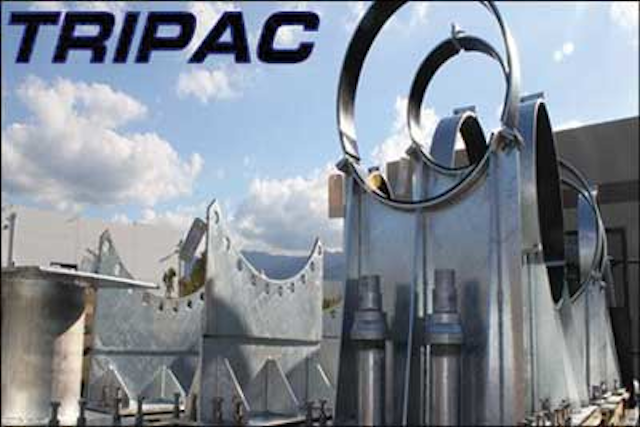 TRIPAC offers a complete line of pipe supports and struts to accommodate applications in the drinking water and wastewater markets. Both pipe supports and struts are available in carbon steel, T-304 and T-316 stainless steel. Carbon steel products are available in plain, electro-galvanized and hot dipped galvanized finishes. Custom fabrication is also available along with engineered pipe support design and calculations upon request.
TRIPAC
www.tripaconline.com
Booth 4947
---
UV, carbon products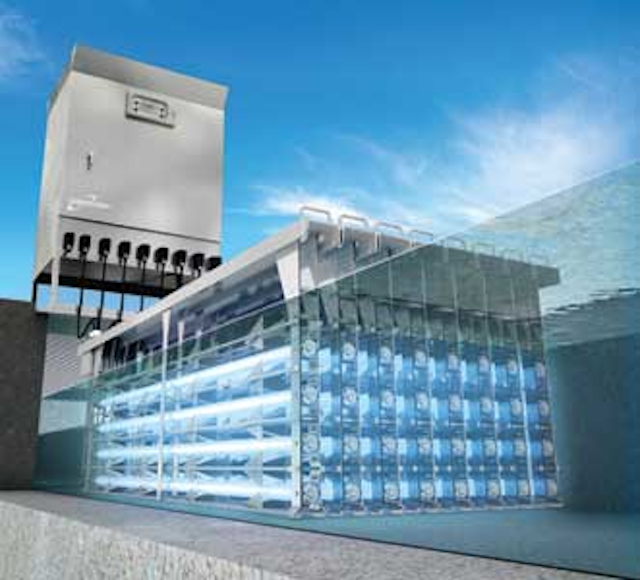 Designed for the most challenging wastewater reuse and low-effluent-quality applications, Calgon Carbon's C3500TMD UV disinfection systems feature unique Delta wing mixing devices that maximize efficiency while minimizing costs. The company's activated carbon solves many water and wastewater challenges, from product purification to pollution control to environmental remediation.
Calgon Carbon Corp.
www.calgoncarbon.com
Booth 2901
---
Portable velocity flow meter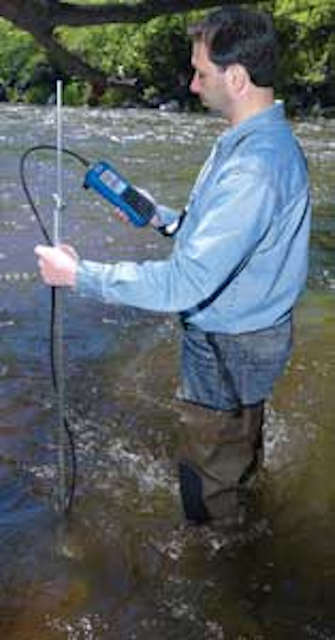 Hach's new FH950 Portable Velocity Flow Meter with electromagnetic sensor simplifies the velocity measurement process for stream discharge measurements, primary device calibration and sewer spot-check measurements. Step-by-step instructions guide the user through the flow profiling process, and with the ability to log velocity and entered depth information within the meter, field time is cut in half.
Hach Co. Flow Products and Services
www.hachflow.com
Booth 5728
---
Lining systems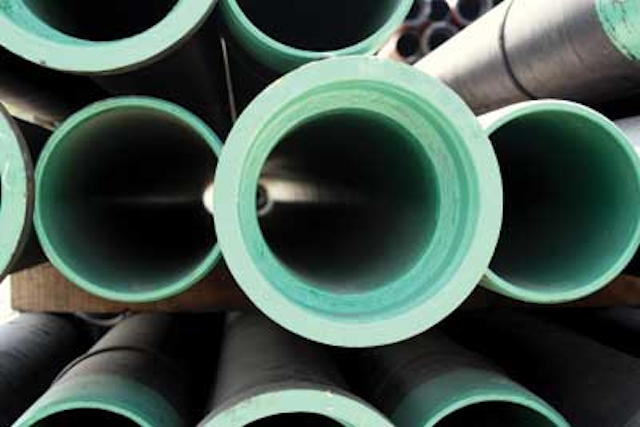 Tnemec's Series 431 Perma-Shield® PL is a high-performance, ceramic-modified epoxy lining for ductile iron and steel pipe. Formulated for the most aggressive sewer environments, it offers advanced permeation, abrasion, and chemical resistance.
Tnemec Co. Inc.
www.tnemec.com
Booth 6129
---
Aeration systems
MTS/Mass Transfer Systems designs and manufactures the MTS jet aeration product for industrial and municipal water and wastewater treatment. The technology uses two phase jet nozzles to supply atmospheric oxygen to recirculated liquid in a proprietary mixing system. Recirculated liquid is pumped through the inner, primary nozzle creating a high velocity liquid stream while air is fed into the secondary outer nozzle. The high velocity liquid stream shears the air into a turbulent, fine dispersion of gas and liquid.
MTS/Mass Transfer Systems
www.mtsjets.com
Booth 505
---
Tanks, covers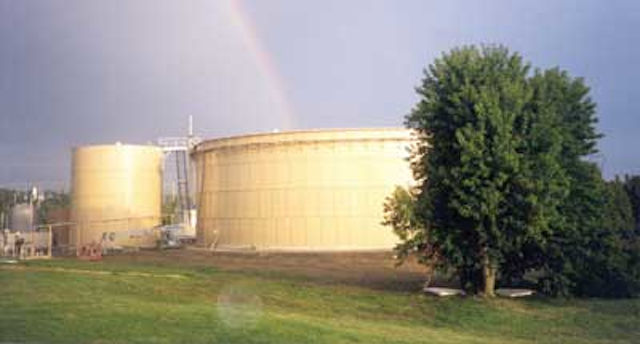 CST Storage (formerly Engineered Storage Products and Columbian TecTank) is the world's largest provider of modular, factory coated bolted storage tanks and covers for liquid applications in the municipal market. CST's Aquastore glass-fused-to-steel coated tanks and HydroTec™ epoxy coated tanks are designed for all municipal liquid applications including potable water, fire protection, wastewater, sludge storage, leachate and aerobic/anaerobic digesters.
CST Storage
www.cstindustries.com
Booth 4327
---
Media moving system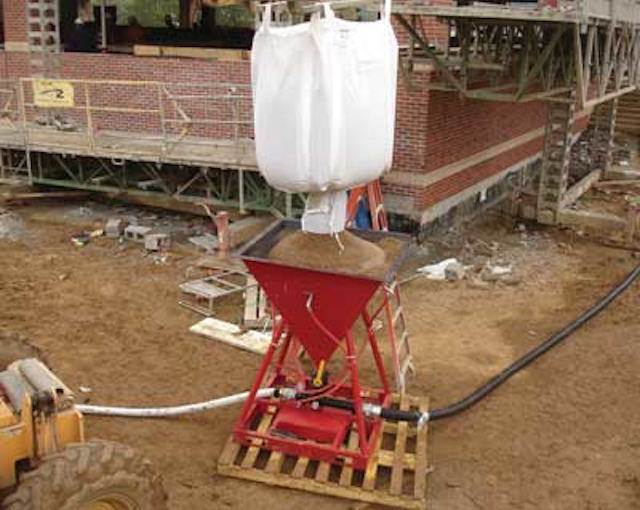 Flo Trend's Jet Hopper system can be used to move sand, aggregate, and anthracite to media beds using water as the motive force. Media can be spread out in the basin by simply moving the hopper's discharge hose. The system eliminates the manpower requirements of manually dumping and spreading media.
Flo Trend Systems Inc.
www.flotrend.com
Booth 6256
---
Metering pumps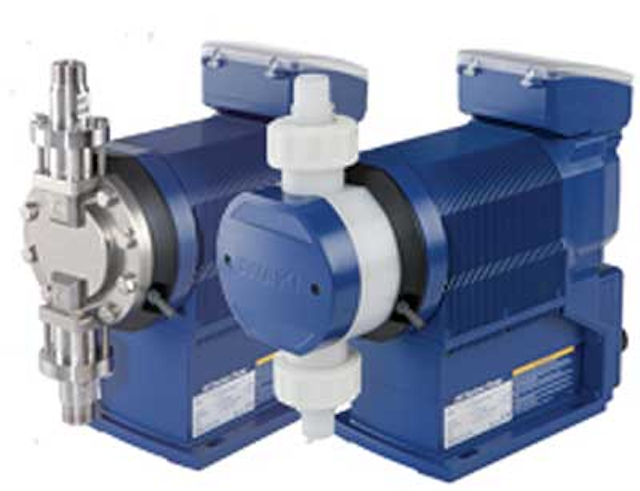 The Walchem IX Series are direct-drive, digitally controlled metering pumps combining both accuracy and flexibility in an energy efficient design. Precise control is maintained over a wide output range, enabling one pump to satisfy a broad range of application flow rate requirements. The series meets today's demands for automated chemical delivery in industries from wastewater treatment to chemical process.
Walchem, an Iwaki America Co.
www.walchem.com
Booth 7257
---
Plastic media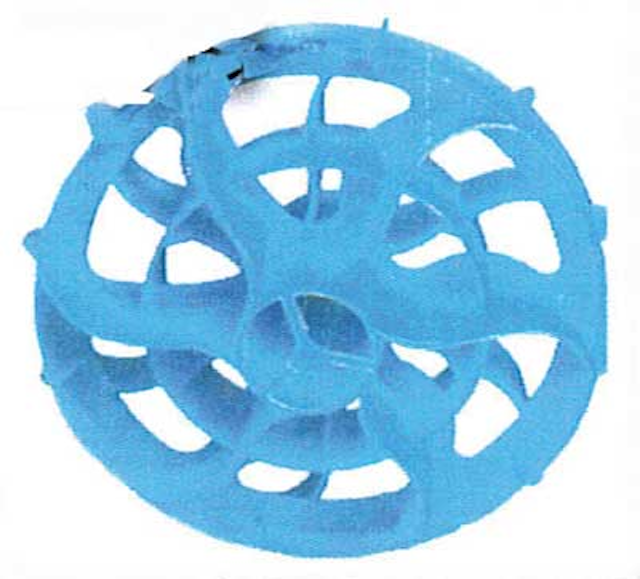 Bioscience is now the exclusive U.S. distributor of Biofill® high-efficiency plastic media made by Cepicma S.A. of Spain. The chemical-resistant plastic media is designed for use in biological processes such as trickling filters (Type A), septic tanks (Type B), or packaged biotreatment plants. The random-pack media comes in three sizes, each assuring long-term contact between water and biomass.
Bioscience Inc.
www.bioscienceinc.com
Booth 2002
---
Dewatering systems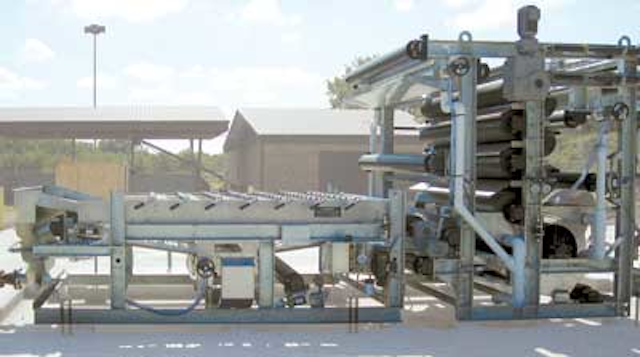 Ashbrook Simon-Hartley's Klampress technology can match the specific dewatering needs of every application. With seven basic configurations, each one of the North American sludge types can be dewatered to optimum dryness. The Klampress Type Z is suited for dewatering applications that benefit from vertical roller stacking. It elevates operator "ease-of-use" for tower type presses to the Klampress standard and introduces energy savings and long-term durability to the tower option.
Ashbrook Simon-Hartley
www.as-h.com
Booth 1915
---
Water quality monitoring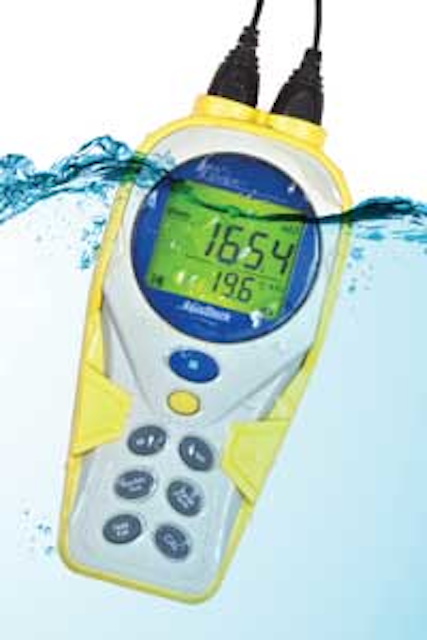 Sper Scientific has introduced a new line of waterproof and shockproof water quality meters that are rechargeable, and float if dropped in water. The handheld meter line, called AquaShock™, is the first IP67 waterproof meter line to feature replaceable BNC-connected probes. The meters feature a screw-down, waterproof housing surrounding the BNC probe connection.
Sper Scientific
www.sperdirect.com
Booth 7217
---
Velocity sensor, profiler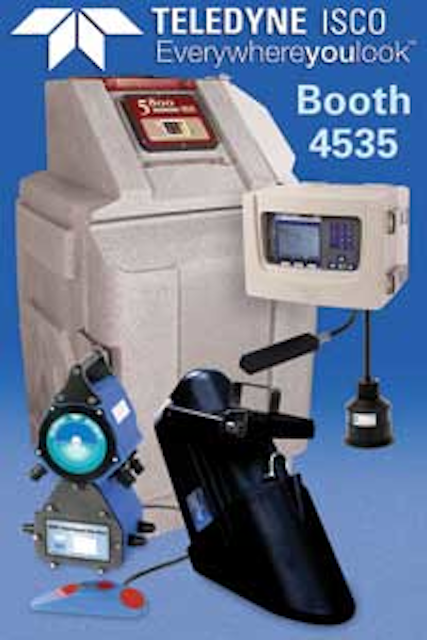 Teledyne Isco's LaserFlow™ Velocity Sensor is a non-contacting flow measurement technology for open channels that uses laser Doppler velocity profiling. The sensor technology sees beyond the surface measured by other non-contacting sensors by penetrating the surface for multipoint subsurface velocity readings. The company's accQpro™ Velocity Profiling Flow Meter provides flow rate measurements in large pipes and channels.
Teledyne Isco
www.isco.com
Booth 4535
---
Water treatment additives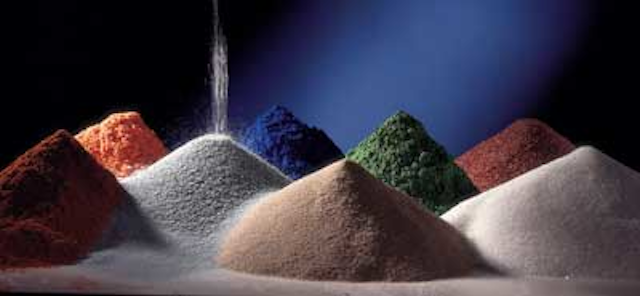 Hydrex™ water treatment additives, part of Veolia Environnement, include a wide range of chemicals formulated for most industrial and municipal applications. The line is categorized in product series 1000-9000 which encompass solutions suitable for drinking water and wastewater treatment, cooling and boiler water, membrane operations, and food and beverage related chemicals. These programs optimize the entire water cycle, chemical consumption, operating and maintenance costs.
Kruger Inc.
www.krugerusa.com
Booth 3250
---
Flow meters
McCrometer offers a wide array of flow meter technologies and solutions, including the FPI Mag™, the industry's only multi-electrode, hot tap, full profile insertion electromagnetic flow meter. The meter offers high performance accuracy, a standard Quick-Connect cable fitting and an improved ordering process, making delivery quicker and easier than ever. The FPI Mag is ideal for capital or maintenance projects, retrofits and sites never before metered. McCrometer will also be featuring its Connect™ systems and sensors for wireless monitoring.
McCrometer Inc.
www.mccrometer.com
Booth 6851
WEFTEC®.12 Booth No. 6057
---
Odor control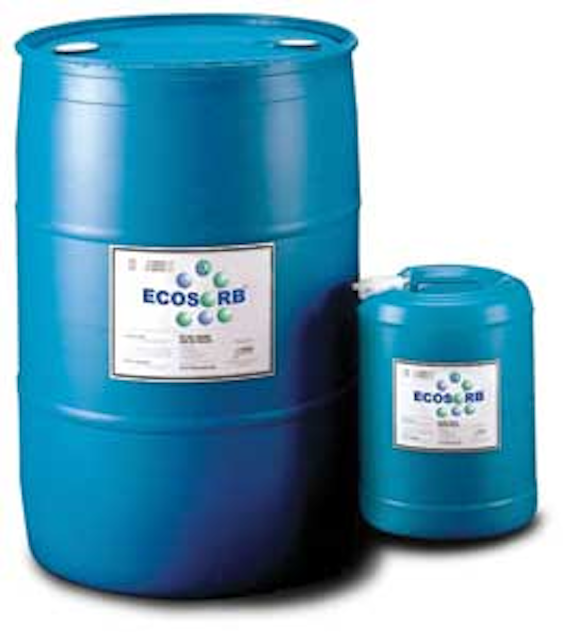 OMI Industries offers natural odor neutralizing products. Its Ecosorb® formula has been successful in industrial settings dealing with year-round malodor problems including municipal and industrial wastewater treatment plants. It is suited for odors generated in varying degrees throughout the wastewater treatment process, including those associated with pump stations, head works, clarifiers, digesters, aeration basins, lagoons and sludge handling areas.
OMI Industries
www.omi-industries.com
Booth 2433
---
Ductile iron pipe
The new NXT DDP product line from U.S. Pipe takes advantage of technology advancements to provide better joint deflection, pumping costs, and corrosion protection, when compared to previous water transmission systems. Allowing joint deflection up to seven degrees the NXT gasket is available in both restrained and non-restrained versions. The unique design allows lower insertion forces than previous "push-on" gasket designs.
US Pipe and Foundry Co.
www.uspipe.com
Booth 4251
---
Submersible propeller pumps
Xylem's Flygt Submersible Propeller Pumps move large volumes of water within low to medium head applications. They are smaller than non-submersible offerings as the motor and hydraulics are integrated into one compact unit, resulting in smaller pumping stations that are less complex and thus more cost effective to build. Operating submerged they take up less space while noise and motor cooling problems are eliminated.
Xylem – Flygt Products
www.flygtus.com
Booth 6239
---
Vortex flow insert

The Vortex Flow Insert from IPEX USA helps eliminate odorous emissions and minimize corrosion in vertical sewer drops. With no moving parts and requiring virtually no maintenance, the inserts have delivered significant cost savings in monthly chemical feed, air-phase treatment and maintenance costs.
IPEX USA
www.ipexamerica.com
Booth 1344
---
Intake screens
Delta Screens offers passive, t-shape intake screens. When installed parallel to the current flow, the proven design efficiently collects a consistent rate of incoming water flow without plugging or harming aquatic life. With no moving parts to jam, clog or wear out, the intake screens require little to no maintenance. The simplistic design maintains constant flow rates across the length of the screen, which is critical to maintain average flow velocity.
Delta Screens
www.deltascreens.com
Booth 4471
---
Washer, compactor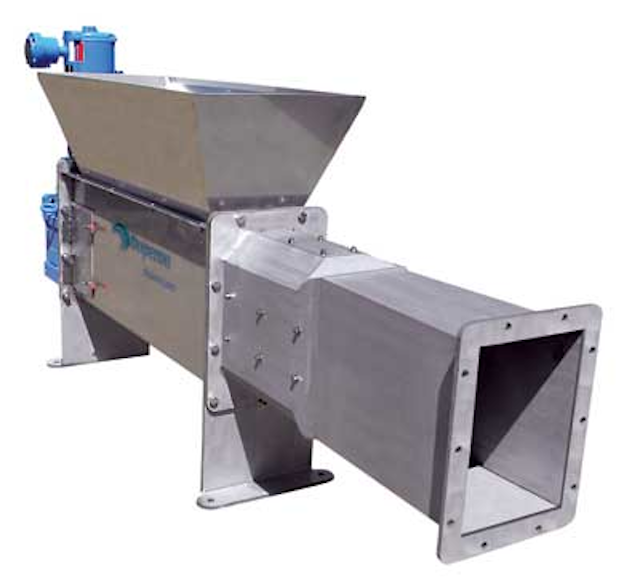 The Duperon® Washer Compactor is a simple, non-batching process machine that cleans and compacts screenings of less than 4" at rates of up to 60 cu. ft/hour. A self-adjusting compaction housing allows for the processing of all debris – from grease and septage to rocks, clothing, and metal. Positive displacement employed by the dual augers ensures that what comes in, goes out – without exception.
Duperon Corp.
www.duperon.com
Booth 7429
---
UV disinfection
Xylem's Wedeco brand has developed a new open channel ultraviolet (UV) disinfection system. The Duron UV system eliminates the need for chemical based disinfection as well as delivering lower operating and maintenance costs. A key benefit is its small footprint. An innovative 45 degrees vertical incline design, combined with Wedeco's expertise in vertical lamp arrangement, means that Duron requires less space than other UV systems. The system harnesses the power of Xylem's energy efficient Ecoray lamps and ballasts.
Wedeco, a Xylem brand
www.wedeco.com
Booth 6239
---
Oxidation ditch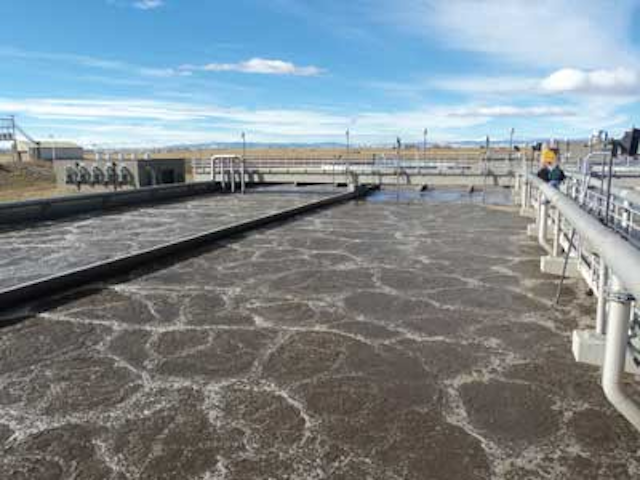 Xylem's Sanitaire Bioloop oxidation ditch features energy efficient aeration and mixing. The Sanitaire fine bubble diffused aeration delivers 6.0 – 8.0 lb O2/hp-hr. Employing a process solution approach, the Bioloop process typically includes aeration, submersible mixers, blowers, monitoring and process control systems with sludge age control, all designed to provide a flexible yet simple to operate system.
Sanitaire, a Xylem brand
www.xylemwatersolutions.com
Booth 6239
---
Odor control systems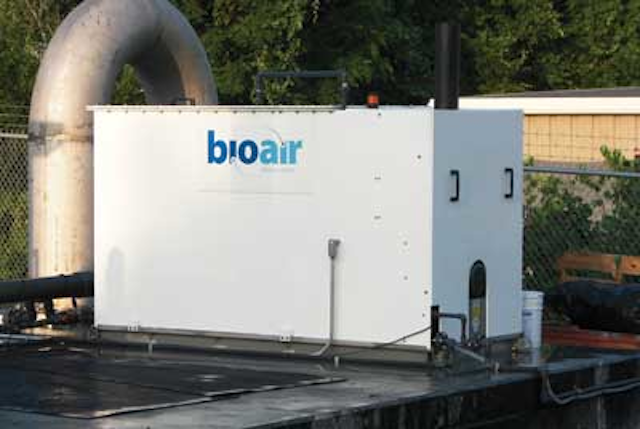 BioAir Solutions has developed compact, dual-technology systems that eliminate H2S and VOCs using no hazardous chemicals while delivering reliable performance with lower operating costs. The company's new low-profile EcoPure odor control models use the company's EcoBase® structured, synthetic biotrickling filter media. The patented media provides uniform air flow distribution, optimized mass transfer and a controlled microenvironment enabling the growth and proliferation of specific bacteria that consume odor compounds normally present in collection systems. Units handle airstreams ranging from 100 to 1,000 cfm in units standing between 5 and 9.5 feet tall.
BioAir Solutions
www.bioairsolutions.com
Booth 419
---
Submersible pump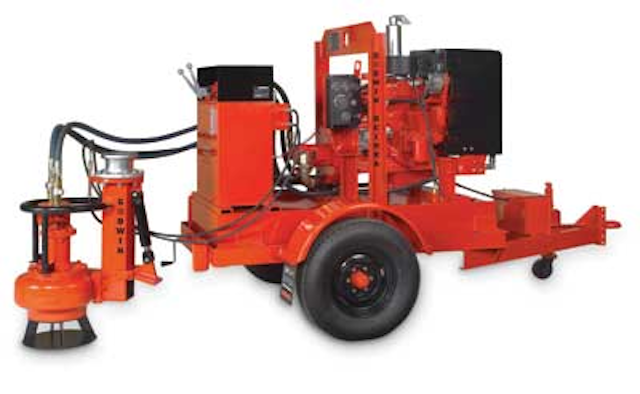 The Godwin Heidra 150NC hydraulic submersible pump is a powerful yet compact pump with flow capabilities to 1700 gpm and discharge heads to 185 feet of total dynamic head with a simple throttle adjustment. The pump features the unique patented Flygt N-technology with its self-cleaning impeller.
Godwin, a Xylem brand
www.godwinpumps.com
Booth 6239
---
Venturi flow meters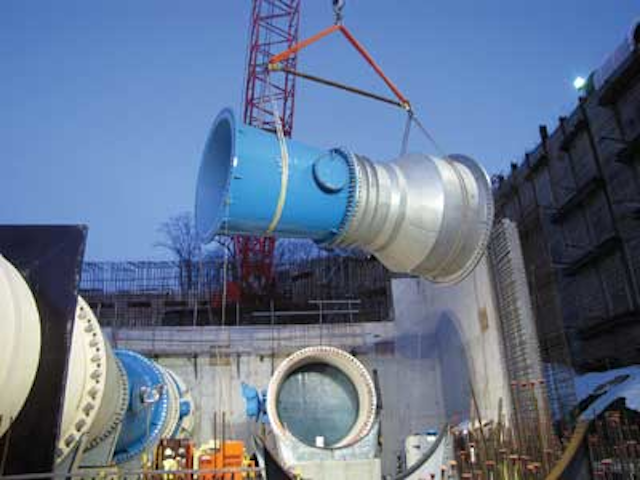 Primary Flow Signal will display its Venturi flow meters at WEFTEC. The meters feature the patented Halmi Venturi-type primary flow technology, which has the ability to deliver unparalleled metering accuracy for much longer and in harsher environments given its solid, cast-iron construction.
Primary Flow Signal Inc.
www.primaryflowsignal.com
Booth 5551
---
Biosolids processing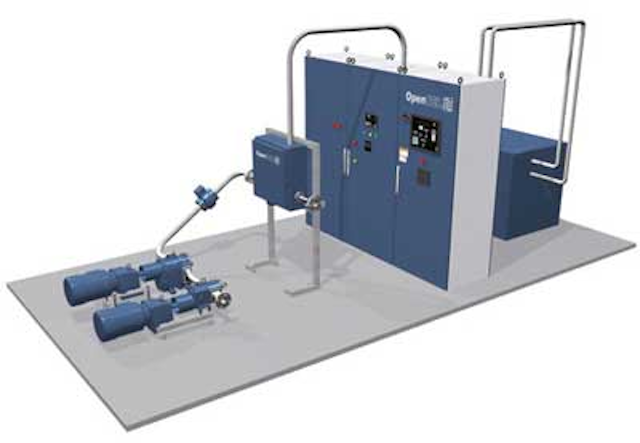 OpenCEL, an environmental biotechnology company, uses proprietary Focused Pulse Technology to achieve cell lysis. Prior to anaerobic digestion, the technology employs high frequency electrical pulses to waste activated sludge to make biomass cellular membranes fully permeable, releasing soluble material that is more readily digestible, reducing the amount of biosolids that are disposed of by 20-30% and increasing the amount of biogas by 30-60% that can be used for energy purposes.
OpenCEL
www.opencel.com
Booth 5542
---
PVC pipe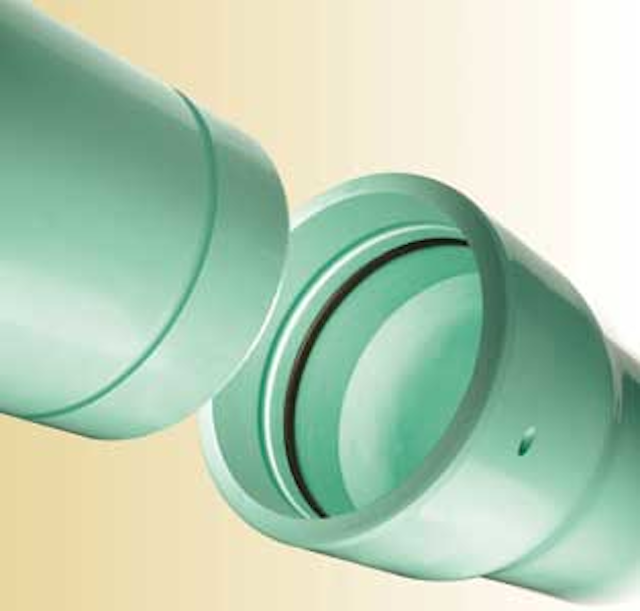 CertainTeed has expanded its Certa-Lok C900 restrained-joint PVC pipe product line to include an integral bell design option. The company also added a 14-inch diameter option to its line of Certa-Lok C905 RJ restrained-joint pipe to meet the growing industry demand for larger size water and sewer pipe system applications.
CertainTeed Corp.
www.certainteed.com
Booth 7846
---
Radar transmitter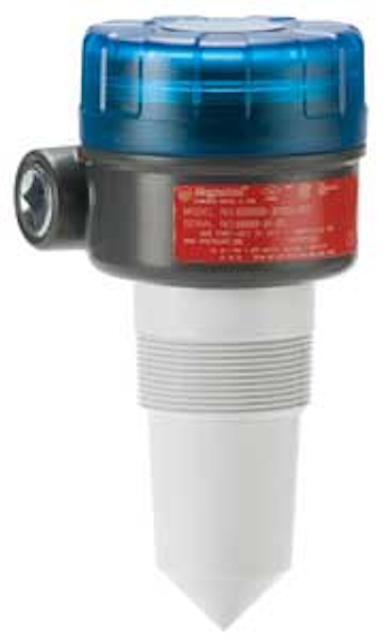 Magnetrol has enhanced its Model R82 Radar transmitter to include flow and volume measurement capabilities. Release of the new 2.0 firmware increases the application breadth and ease of use of the system. Embedded Open Channel Flow calculations allow measurement of a wide range of flumes and weirs found throughout the municipal water/wastewater and industrial markets.
Magnetrol Environmental
www.magnetrol.com
Booth 4026
---
LIMS system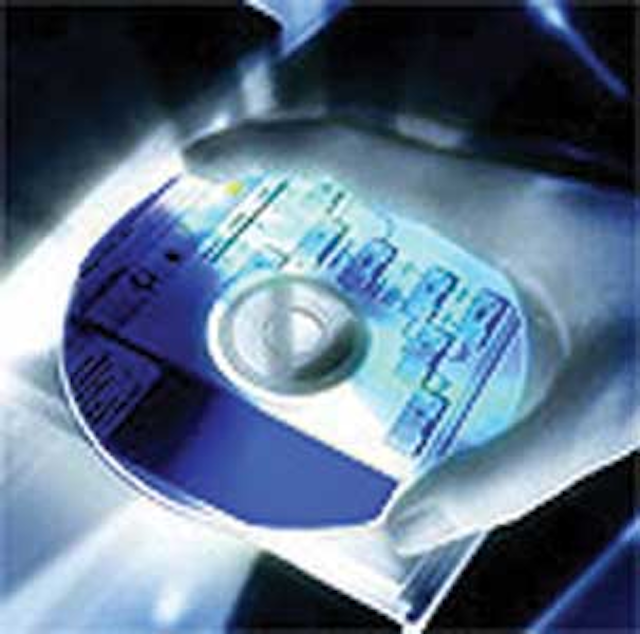 The Thermo Scientific Water and Environmental LIMS can help support the way utilities manage compliance in the laboratory. With its extensive built-in features for customer and sample management, the LIMS will generate, store and report on valid and traceable data to support quality and laboratory processes. Users can take advantage of pre-configured solutions that help laboratories improve efficiency, maintain records and traceability, and meet compliance requirements for ISO 17025 and NELAC.
Thermo Scientific Water and Environmental
www.thermoscientific.com/water
Booth 1804 277 on Reader Service Card
---
Portable CCTV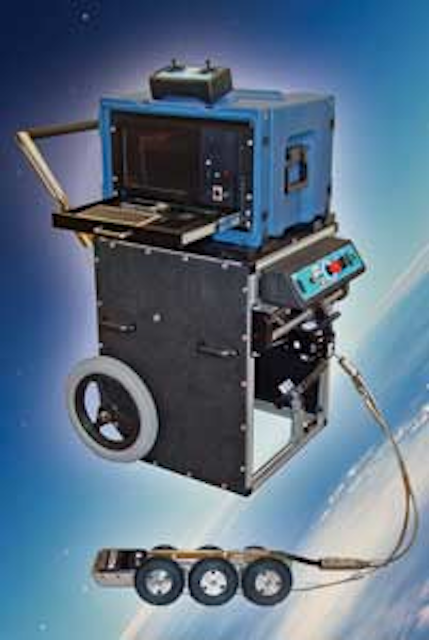 Cues offers various self-contained portable systems for CCTV inspection. Portable systems are available with the functions found in a truck-mounted system, but have the ability to achieve easement access and can be wheeled off-road for maximum versatility and mobility. Users can perform inspections and surveys of pipelines, wet wells, manholes, sewer treatment plants, steam generators, tanks, vessels, and other areas that are difficult to reach.
Cues Inc.
www.cuesinc.com
Booth 1127
---
Chemical scale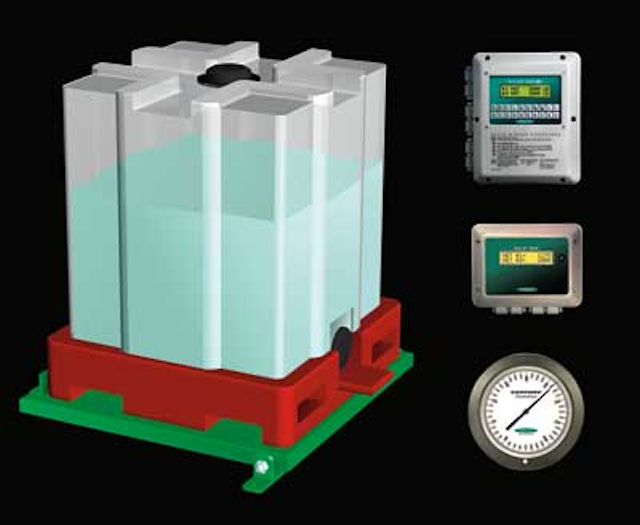 The IBC Tote Scale™ from Force Flow allows operators to accurately monitor polymer used in the dewatering process when being fed from IBC type totes. Simply place a tote on the platform and monitoring begins. Systems prevent over and under feed conditions and also enable the documentation of amount fed.
Force Flow
www.forceflow.com
Booth 2426
---
Gas shutoff system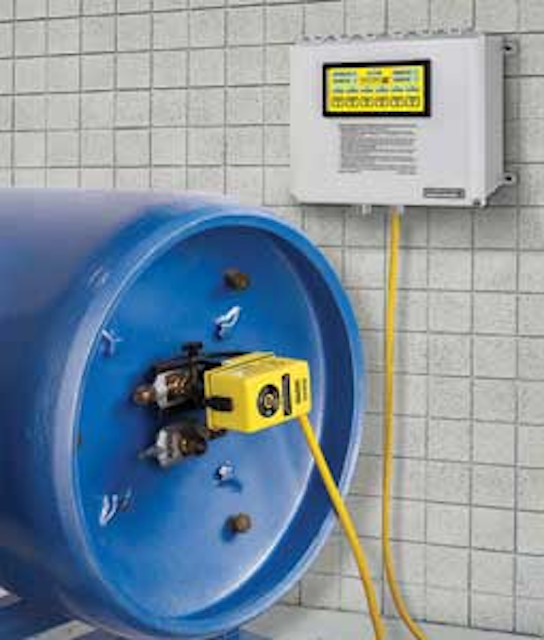 The Hexacon™ Model II control system from Halogen Valve quickly closes up to six Eclipse™ actuators on toxic gas cylinder and ton container valves when activated by panic buttons or remote gas sensors. The computer-controlled system applies 30 foot-pounds of torque for test closures and 50 foot-pounds of torque for emergency closures of the cylinder valve.
Halogen Valve Systems
www.halogenvalve.com
Booth 2726
---
Self-aspirating aerator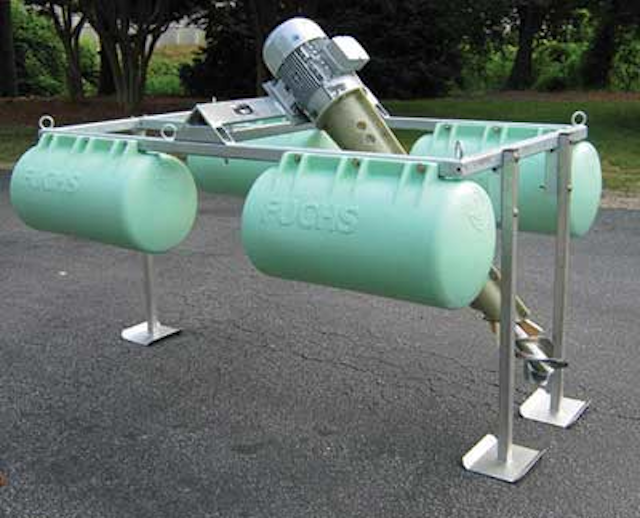 Kusters Water offers a complete line of Fuchs self aspirating aerators which are used in industrial and municipal applications including lagoons, aeration basins, oxidation ditches, and retrofits to existing systems. The precision shaft design uses extremely tight tolerances and eliminates the need for a lower guide or bearing. The result is a lubrication-free system with very low maintenance requirements.
Kusters Water
kusterszima.com
Booth 4017
---
Valve actuators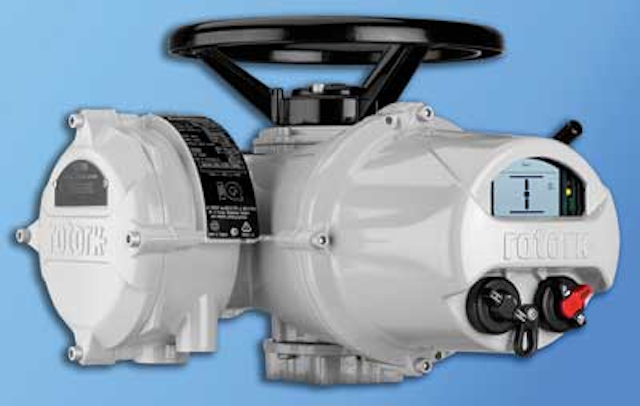 Rotork has introduced the third generation of its IQ range of intelligent, non-intrusive, electric valve actuators, which have widespread application throughout water and wastewater treatment plants. The new IQ3 actuators provide enhanced operational, data logging, and asset management capabilities. Features include a new secure Bluetooth™ hand-setting tool for convenient set-up, configuration, and commissioning as well as real-time data access; a large, wide-angle local display that provides user-friendly displays and real time asset management data; and several mechanical enhancements such as separately removable thrust bases across the entire range.
Rotork Controls Inc.
www.rotork.com
Booth 2334
---
Lining systems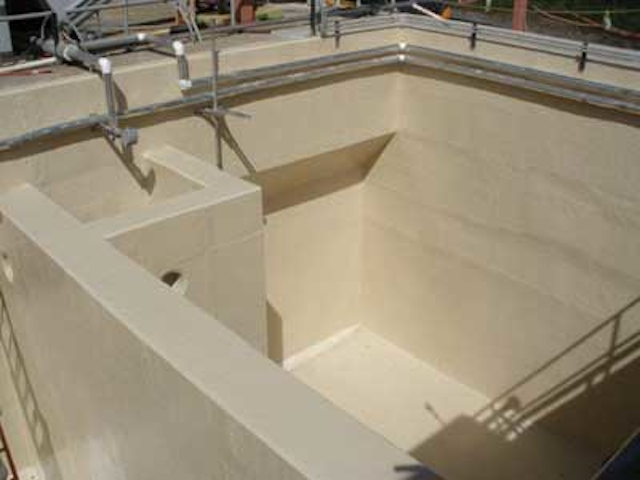 Sauereisen's SewerGard™ No. 210X, exhibits compressive strength exceeding 15,000 psi and elongation of 12.9%. Wherever extreme corrosive conditions exist, it can be used as a stand-alone, high strength lining that enables high build capabilities, while providing a chemical-resistant barrier for concrete, masonry, brick and steel substrates. As a 100% solids epoxy polymer, No. 210X is specified to protect infrastructure throughout the wastewater industry including: manholes, lift stations, tankage, structural steel, and secondary containment.
Sauereisen Inc.
www.sauereisen.com
Booth 2219
---
Pump control
The Eco Smart Station® from SJE-Rhombus provides an energy efficient solution for pump control in municipal lift station applications. The station integrates the Energy View® controller with the latest variable frequency drive technology into the multiple compartment Arc Armor® enclosure to reduce exposure to arc flash and save energy. The controller is powered by kW Logix® Software. The color touch screen HMI has the ability to provide level control, pump alternation, flow monitoring, data logging, alarm log, and historical trending. kW Logix™ Software provides up to a 30% energy savings over conventional control methods.
SJE-Rhombus
www.ecosmartpanel.com
Booth 3207
---
Media retainers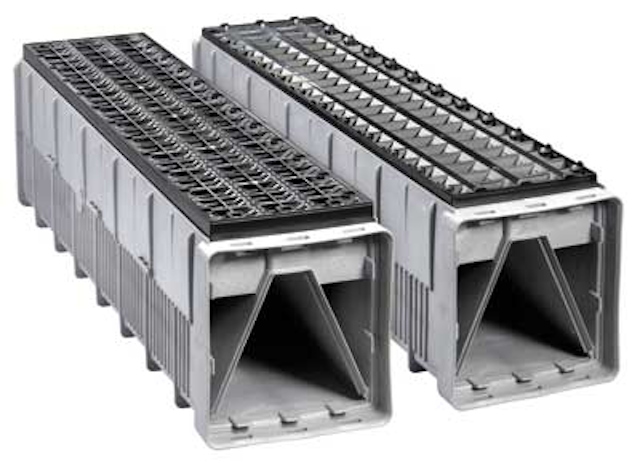 The new I.M.S® 1000 and I.M.S® 200 media retainers from Leopold® are designed to improve the efficiency and reliability of both water and wastewater filtration systems. As part of the complete Leopold underdrain system, the media retainers increase flexibility in media design by eliminating up to 14" of support gravel to allow for increased media depth and available driving head. And their physically rigid construction reduces flexing of the slots and the chance of clogging or biofouling. The I.M.S® 1000 model is suitable for use in wastewater plants, in GAC contactors, in biologically active filters and in the construction of filters for de-nitrification.
Leopold, a Xylem brand
www.fbleopold.com
Booth 6239
---
Ammonia analyzer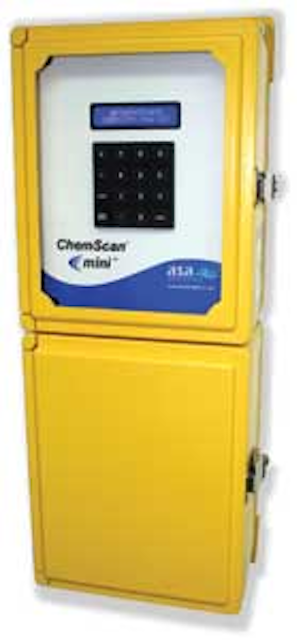 The new ChemScan mini LowAm Ammonia Analyzer from ASA Analytics is designed specifically for rapid and automatic batch analysis of ammonia in wastewater effluent. The analyzers are among the industry's lowest cost process analyzers. Like the larger ChemScan models, and unlike probes, the minis were designed from the ground up for accurate and reliable operation in the harsh real-world environment of the wastewater treatment plant. Requiring only minimal maintenance with quarterly reagent changes, the analyzer helps reduce the energy costs of aeration and provides verification of the process.
ASA Analytics
www.asaanalytics.com
Booth 1318
---
Check valve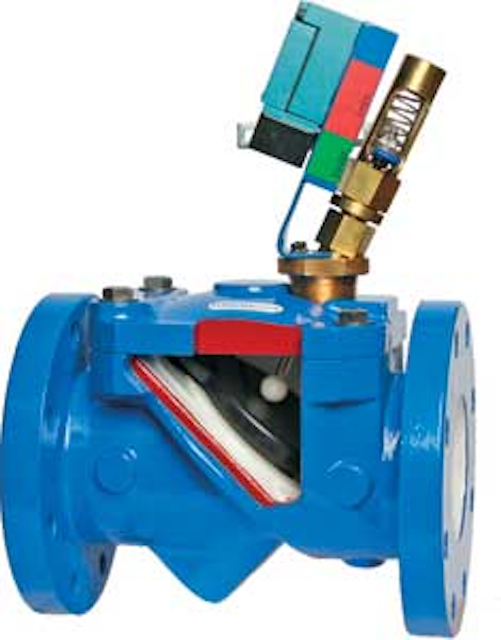 Flomatic introduces a new swing check valve with a limit switch and spring assistance closure to help reduce slamming. The check valve includes position indication and a fusion bonded, epoxy coated, ductile iron body. It features a 45° seat with a steel/ductile iron reinforced rubber disc valve called Flo-Flex®. The flange-to-flange lay length is according to ANSI/AWWA C508-01. This valve has a disc stroke of 35° to minimize disc slam, low head losses, and a long rubber disc life. It can be installed in a horizontal or vertical orientation.
Flomatic Corp.
www.flomatic.com
Booth 2962
---
Membrane bioreactors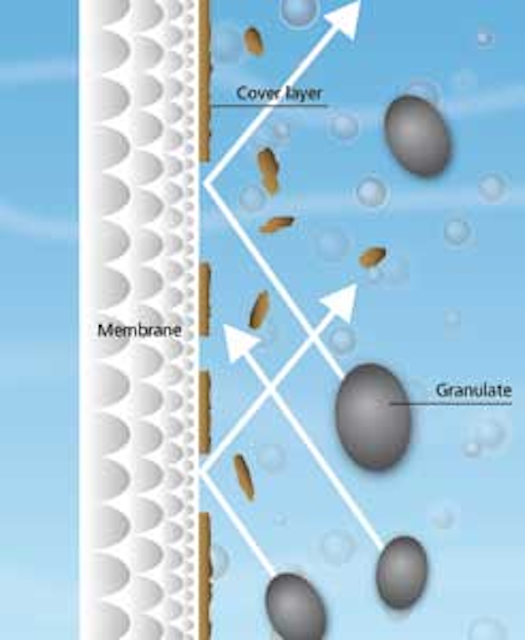 Microdyn offers membrane bioreactors with a new mechanical cleaning process (MCP). In order to optimize MBR systems and reduce energy demand, the BIO-CEL®-MCP process uses granulates to mechanically clean the membranes. The process also allows for an almost chemical free operation and even more importantly a significant enhancement of flux. In turn, the membrane area required can be reduced (or the output of an existing BIO-CEL® installation increased) but also the required volume of the filtration tanks will be significantly smaller.
Microdyn Technologies/Meurer Research
www.meurerresearch.com
Booth 3757
---
Metering pumps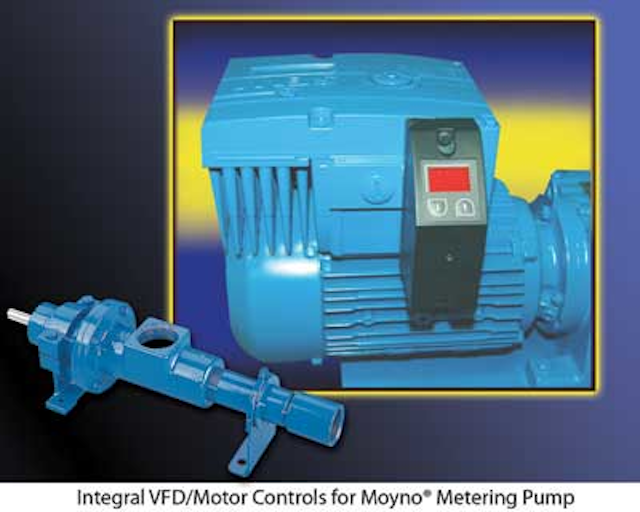 The Moyno® Metering Pump includes enhanced pumping elements and integral VFD/Motor Controls that expand the scope of metering applications and enhance performance when metering low-flow liquids in a wide range of processing applications including dosing, sampling and metering. The integral VFD/motor controls also improve metering accuracy and repeatability. The pumps are dust and water resistant for dirty, wet environments. They are available in .5-5 hp and 1 or 3 phase. They offer 4-20 mA input for feedback control and come with IP55 and IP55/NEMA enclosure as standard.
Moyno Inc., a unit of Robbins & Myers
www.moyno.com
Booth 5821
---
Septage receiving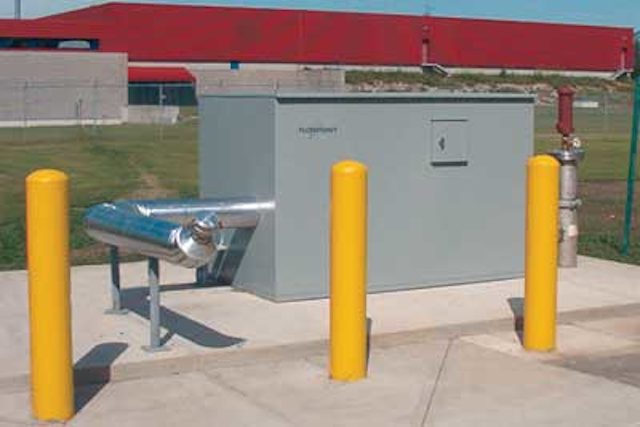 The Sewage General, available from Flowpoint Environmental (previously Municipal Solutions), is a permanent solution to eliminate the problems associated with uncontrolled dumping into a municipal collection system. The cornerstone of the Septage Receiving System is the Windows based Septage+ System Administration Software. It is used to control, monitor and analyze septage receiving stations and allows utilities to centrally manage multiple stations. Septage+ easily interfaces to municipal accounting systems, eliminating duplicate data entry.
Flowpoint Environmental Systems
www.flowpointsystems.com
Booth 6551
---
Turbo blowers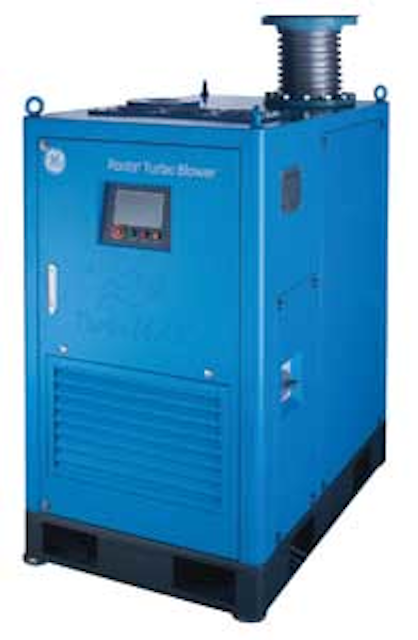 GE Energy offers new Roots™ turbo blowers, which offer an innovative air-foil bearing design and efficient high speed motor technology, proven in a power range of 600kW (800 hp) down to 22.5kW (30 hp). The blowers offer an efficient aeration solution for a wastewater treatment plant. For a typical aerobic digestion wastewater treatment plant, the aeration blower accounts for 50-60 percent of the total electricity used by the facility.
GE Energy
www.ge-energy.com Booth 4059
---
Fine screens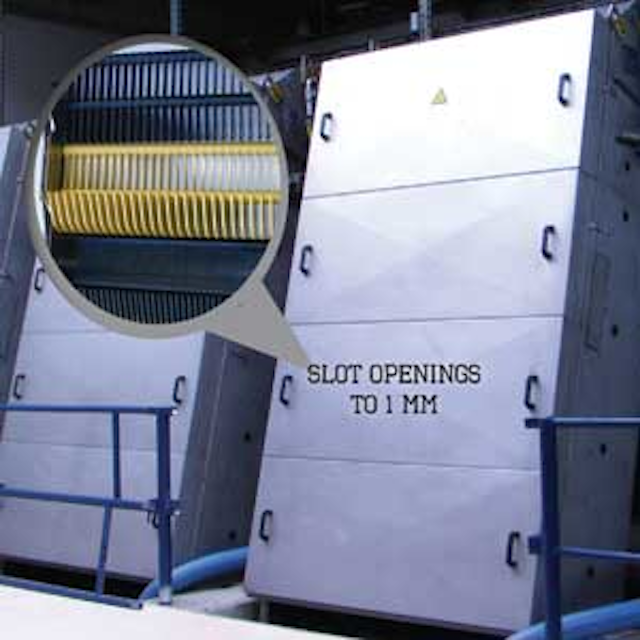 Schreiber's MC Fine Screen is a traveling band, deep channel screen with depths up to 50 feet and widths up to 14 feet including slot spacing to 1 mm. The screen requires very little maintenance and is easy to work on without dewatering due to the block design and no under water moving parts. The block design consists of two different elements, straight or hook that are interchangeable. The individual filter elements are mounted on two stainless steel support shafts with end caps making up separate blocks.
Schreiber LLC
www.schreiberwater.com
Booth 5931
---
Ultrafiltration systems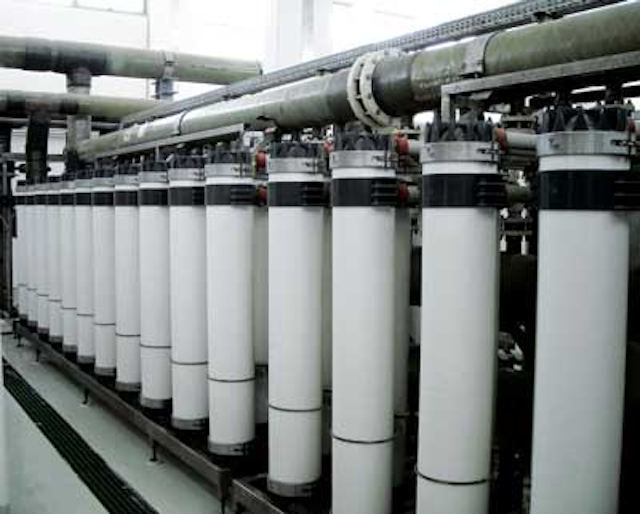 Aqua UltraFiltration Membrane Systems offer a compact, T-rack design, zero break fibers and no air scouring. The fibers are made of polyethersulphone (PES) with seven capillaries per fiber for improved strength. The alternating top and bottom feed and inside-out filtration flow provides uniform filtrate and backwash flows to minimize plugging, chemical usage, and cleaning frequency for longer membrane life.
Aqua-Aerobic Systems
www.aqua-aerobic.com
Booth 3327
---
Agitators, mixing systems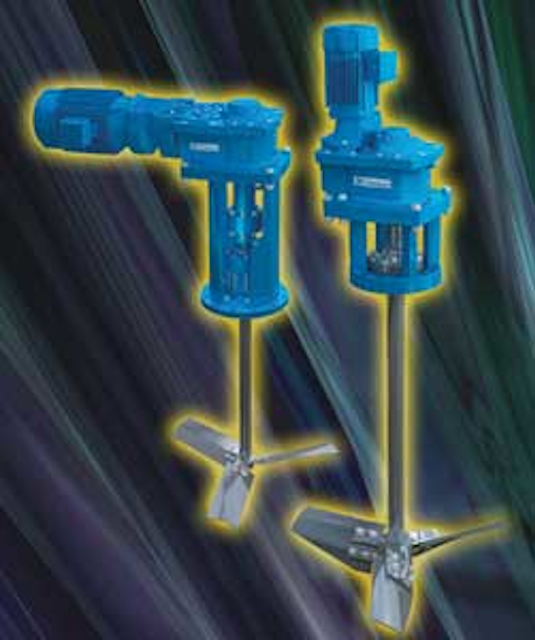 Chemineer offers an extensive line of fluid agitation equipment. It's turbine agitators with advanced impeller design options, and Kenics static mixers can be used in water treatment process applications such as raw water and rapid/flash mixing to flocculation, clarification, filtration and finally chlorination preparing the water for distribution. Proprietary mixer design technology and extensive field experience enables the company to provide accurate water application evaluations to ensure effective process solutions.
Chemineer Inc., a unit of Robbins & Myers
www.chemineer.com
Booth 5825
---
Oxygenation system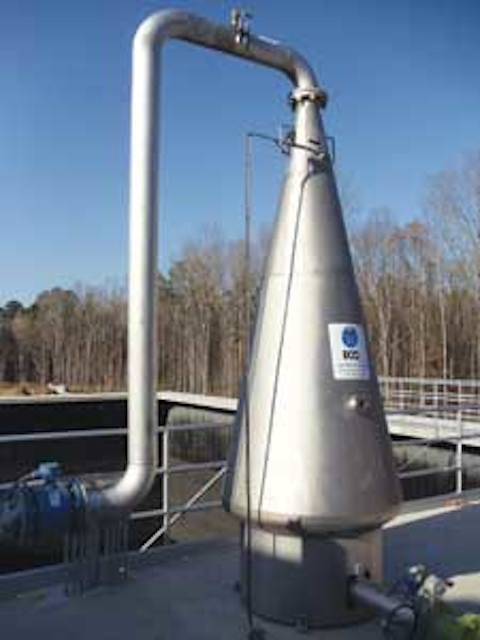 ECO2 SuperOxygenation technology is an environmentally friendly odor and corrosion control solution that can be applied in force mains or upstream of headworks and primary clarifiers to avoid corrosion problems in these otherwise hard to control locations. The system dissolves pure oxygen at >90% absorption efficiency into wastewater under pressure to achieve DO concentrations of 50 to >150 mg/L.
ECO Oxygen Technologies
www.eCO2tech.com
Booth 1918
---
GIS software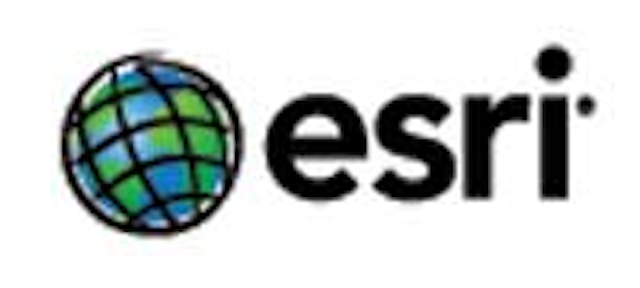 Water, wastewater, and stormwater utilities around the world use ESRI's geographic information system (GIS) software to collect, manage, and analyze geographic information, enabling users to see relationships and trends in their data not visible in a table or chart. The company's GIS systems can help utilities foster compliance by sharing data and analysis in an enlightening geographic context; drive sustainable utility practices by leveraging online tools and mobile technology; and maximize resources by extending GIS across the utility to operations, customer service and maintenance.
ESRI
www.esri.com/water
Booth 3735
---
Air, gas flow meter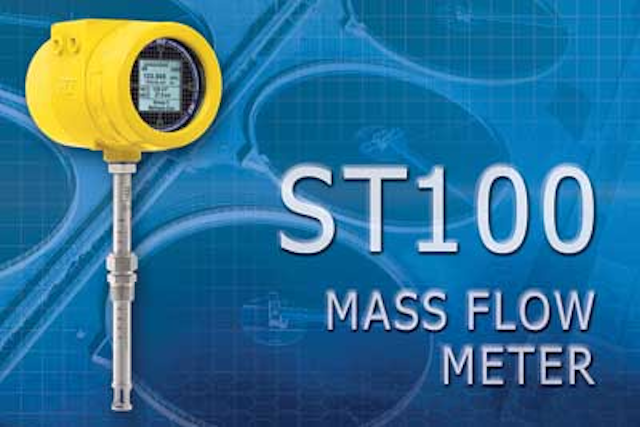 The ST100 Flow Meter from Fluid Components International features a variety of communication options, including 4-20 mA analog, frequency/pulse, alarm relays and fully-approved digital communications: HART, Foundation Fieldbus, Modbus and Profibus. The meters measure gas mass flow rate, total flow, temperature and pressure. They feature a plug-in card replacement that can be changed in the field to adapt to changing network communications. Their graphical, multivariable, backlit LCD display provides continuous measurement and alarm status displays.
Fluid Components International
www.fluidcomponents.com
Booth 4755
---
Chemical feed system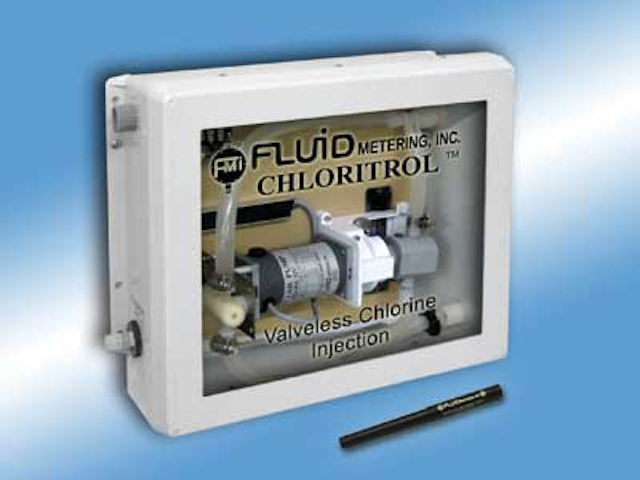 Fluid Metering offers the Chloritrol® valveless chemical feed system to accurately inject concentrated hypochlorite for water and wastewater treatment applications. The company's patented technology uses one moving part, a rotating and reciprocating ceramic piston to accomplish both pumping and valving functions, thereby eliminating check valves and associated maintenance. The patented fluidics easily handles chemicals that out-gas. The system will self-prime concentrated sodium and calcium hypochlorite against 125 psi, and never lose prime due to out-gassing.
Fluid Metering Inc.
www.fmipump.com
Booth 1255
---
Industrial bleach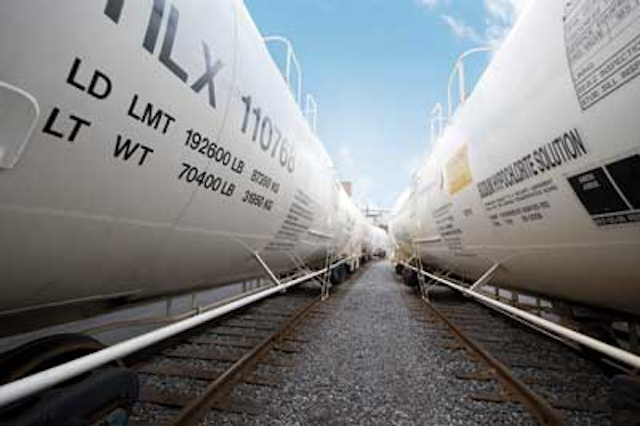 Olin Chlor Alkali Products is a supplier of chlorine and sodium hypochlorite (bleach) for drinking water and wastewater disinfection and purification. Because of its size, the company can make delivered bleach economical for drinking water and wastewater treatment facilities. When considering the total cost of ownership, delivered bleach can be competitive with onsite bleach generation, ultraviolet, ozone and other technologies. Using more than 400 rail cars, Olin has created a distribution network capable of delivering bleach coast-to-coast from 10 plants in the U.S. and Canada.
Olin Chlor Alkali Products
www.olinchloralkali.com
Booth 8213
---
Control panels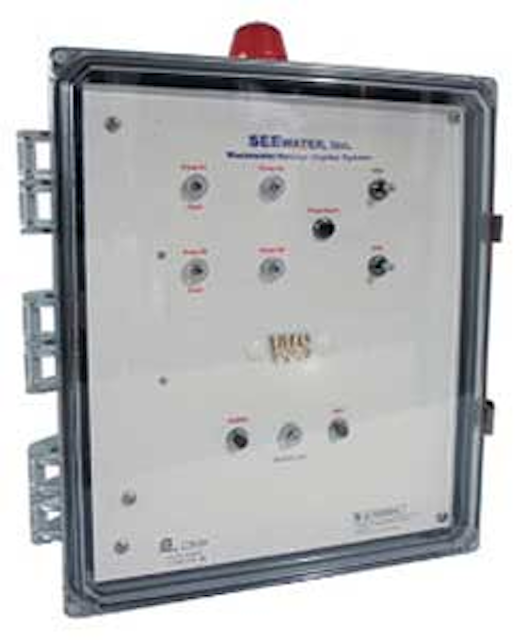 The WS Series™ control panels are advanced simplex and duplex systems controlled by SEEwater's "Smart Board" and designed for wastewater and sewage pump applications. The panels come standard with NEMA 4X enclosure, upgraded pump protection, pump fault indicators and auxiliary contacts for accessing building management systems (SCADA).
SEEwater Inc.
www.seewaterinc.com
Booth 6222
---
Tanks mixers
The GridBee GS-12 family of electric mixers for potable water storage tanks now includes models with 120v and 240v motors, reducing the purchase price to under $8,000. The mixers rest on the floor of a potable water storage tank, constantly circulating water to evenly distribute disinfectant and kill bacteria. Pulling water right off the tank floor ensures the most efficient mixing of important boundary layers—without disturbing the sediment—providing uniform distribution of disinfectant and uniform water age, as well as preventing stratification.
GridBee, a brand of Medora Corp.
www.medoraco.com
Booth 7251
---
PVDF membranes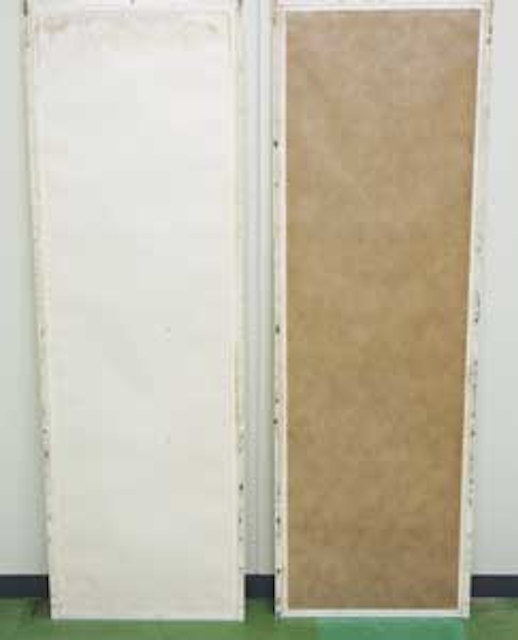 Toray Industries has developed an energy-saving, low fouling flat sheet PVDF membrane for MBR systems. While maintaining the current chemical durability and physical strength, the company has successfully provided a hydrophilic property to the PVDF flat sheet membranes which realize higher and stable permeability with lower air requirement for membrane scouring.
Toray Membrane USA Inc.
www.toraywater.com
Booth 4612
---
Drain outlet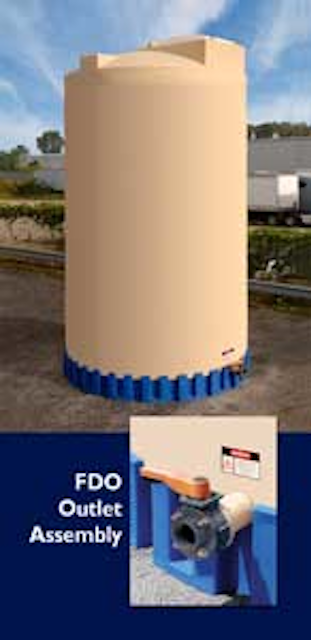 Assmann offers the patent pending Full Drain Outlet (FDO) assembly for tanks of 2,500 gallons and larger, providing the ability to drain the tank without mechanically installed nozzles. The system is used where heavy solids or salts may accumulate in the bottom of the tank. The company also offers cylindrical double wall tanks which eliminate chemical spills without the expense of lined concrete containment.
Assmann Corp. of America
www.assmann-usa.com
Booth 3152
---
Bypass pumps

Gorman-Rupp offers a new emergency bypass pump package that operates on natural gas. The unit features a 6" Super T Series® pump capable of passing a 3" spherical solid and offers a sound-proof lightweight aluminum enclosure. The enclosure has padlockable door panels and can be removed for maintenance of the pump or engine. This unit is a complete back-up package, ready for hook-up.
Gorman-Rupp Co.
www.grpumps.com
Booth 3527
---
Compact pumps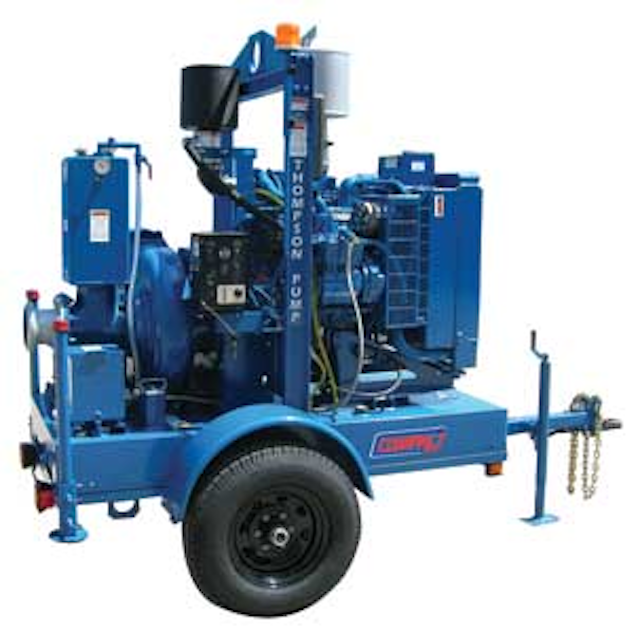 Thompson Pump now offers its Compact pump series with all the benefits of its JSC series with the new benefits of a smaller size, lighter weight, fewer parts, less maintenance, and lower price. The pumps are 35% smaller and 20% lighter but offer the same performance as a standard size pump with 24-hour run time fuel tank.
Thompson Pump & Manufacturing
www.thompsonpump.com.
Booth 7939
---
Pipe joining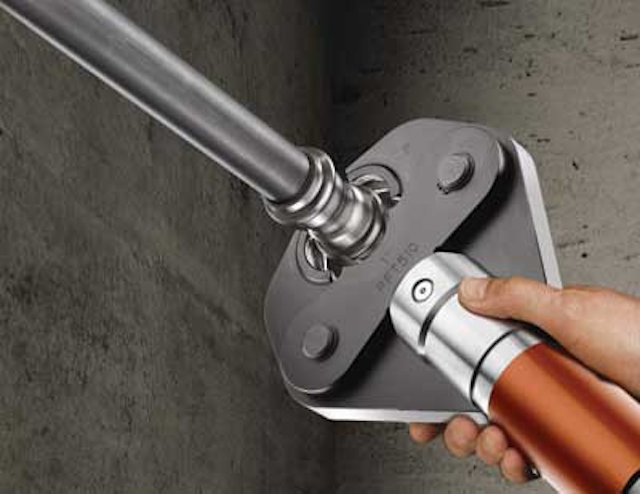 Victaulic has introduced the Vic-Press, a flame-free press system that joins pipe in a matter of seconds. The press-to-connect system is designed for off-the-shelf Schedule 10S stainless steel pipe. It offers safer, more efficient pipe assembly than welding, threading and flanging; and increased strength and durability and improved flow characteristics compared to light-wall tube systems.
Victaulic
www.vic-press.com
Booth 2736
---
Prestressed concrete tanks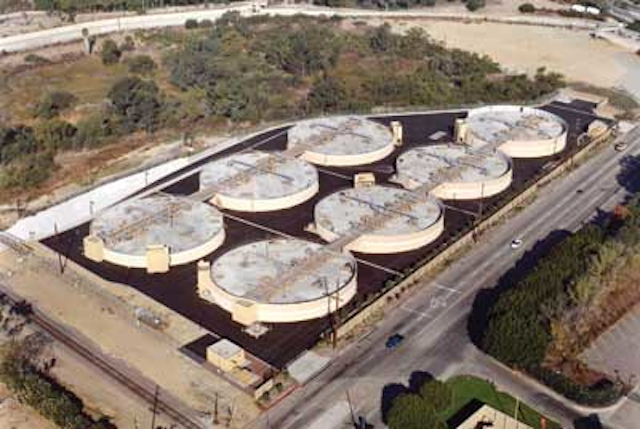 DN Tanks has completed the design, construction or prestressing of over four billion gallons of liquid storage from single holding tanks of 30' diameters to complex, large capacity multi-tank treatment plants. The company has partnered with engineering and construction firms and municipalities around the world to develop solutions to meet even the most complex wastewater needs.
DN Tanks
www.dntanks.com
Booth 5038
---
UV disinfection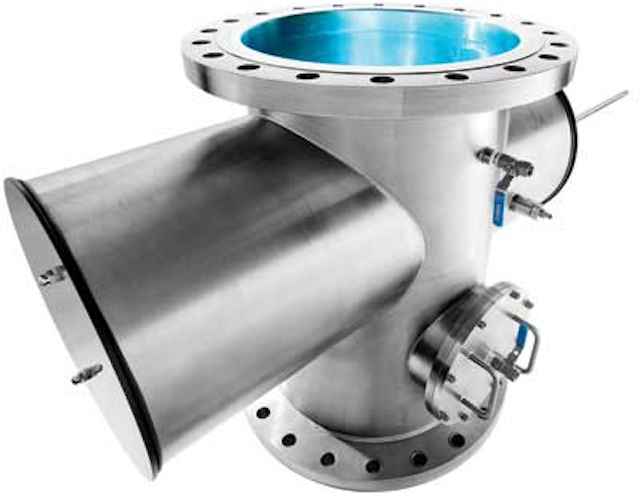 Compact and efficient UV disinfection systems from Aquionics pass wastewater through closed-vessel or open channel configurations and expose it to UV light from high-output, medium pressure or low-pressure high-output amalgam lamps. An automatic quartz-sleeve cleaning system ensures optimal disinfection and reduces maintenance. Simple intelligent control software allows facilities to access information on system performance and customize operating parameters to work with plant controls. A Power Stepping feature regulates power to the lamps, increasing and decreasing input power as needed ensuring adequate disinfection while optimizing power consumption. Systems have been third-party validated and treat a wide range of flows and water quality.
Aquionics Inc.
www.aquionics.com
Booth 5921
---
Insertable valve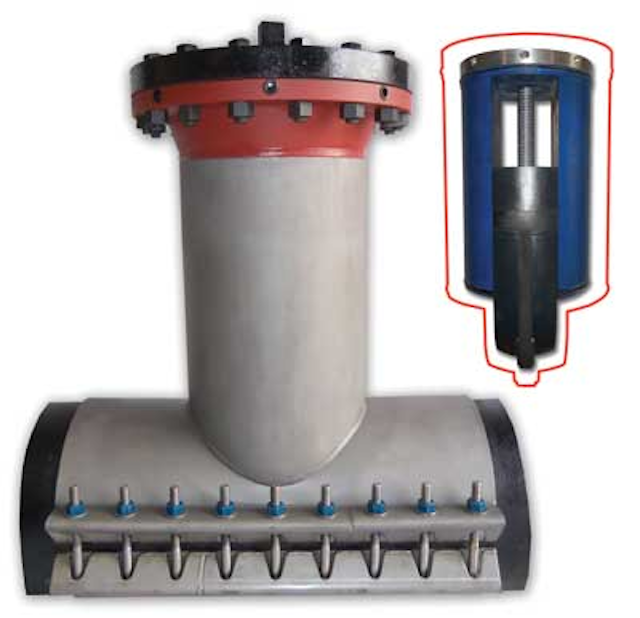 Hydra-Stop has introduced the new 16" IVP 250. This permanent, insertable gate valve is rated for a 250 psi working pressure and a 375 psi test pressure. It offers increased strength, improved performance, and simplified installation and operation. The valve features a 2" diameter stainless steel valve stem for strength and reliability: interchangeable valve gate/paddle system to accommodate most types of pipe; a double o-ring seal; true "wedge" style gate design; thrust washers; reinforced and improved valve gate seal; and loose stem nut design (aluminum bronze) for simplified operation and performance in severe conditions.
Hydra-Stop, a division of ADS LLC
www.hydra-stop.com
Booth 1331
---
Hose pump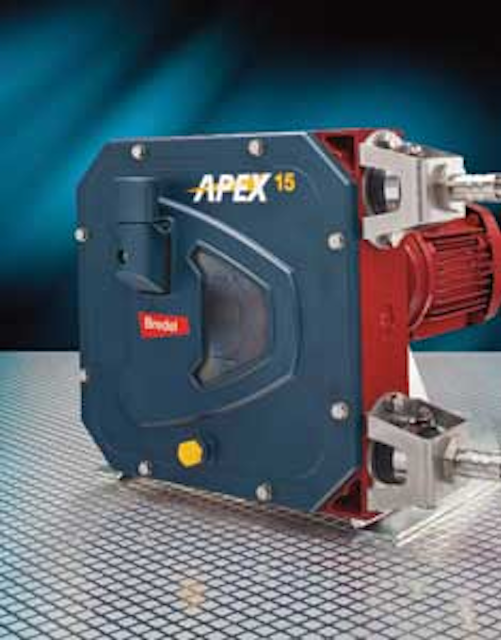 Bredel has introduced its new APEX range, an optimized pump designed to suit all dosing, metering and transfer duties between 0.7 - 317 gph. The hose pumps have no expensive wearing components such as seals, valves, membranes, stators, rotors or glands to maintain. They are suited for handling difficult fluids corrosive, viscous, shear-sensitive, gaseous, crystallizing or even fluids with a combination of these properties. The pumps use a new generation of long-lasting hoses that also support repeatable accuracy when dosing additives; while continuous pump speeds up to 100 rpm provide a wider capacity range compared to alternative hose pumps.
Bredel Hose Pumps
www.wmpg.com
Booth 2837
---
Flow monitor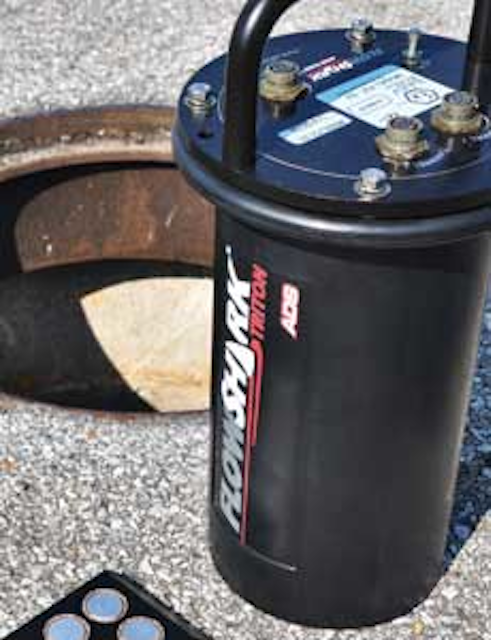 ADS Environmental Services' newest flow monitor, the FlowShark Triton, offers multiple velocity and depth measurements for accuracy in standard and challenging hydraulics. This fit-for-purpose monitor is offered with Intrinsic Safety as the standard. It offers simplified software with Qstart, which can be downloaded from the company's website. It allows set-up, activation, and collection in a few minutes yet has viewing options that enhance data accessibility. Sensor options including Peak Combo Sensor with peak Doppler velocity, an uplooking ultrasonic depth, and pressure depth all in one housing, and Surface Combo Sensor with surface velocity, downlooking quadredundant ultrasonic depth, pressure depth, and surcharge continuous wave velocity.
ADS Environmental Services
www.adsenv.com/triton
Booth 1327
---
Automation controls
Mitsubishi Electric Automation will be exhibiting its MC-Works SCADA solutions, Programmable Automation Controller platform and energy efficient variable frequency drives at WEFTEC. The company's SCADA solutions provide a customizable solution geared for both the Industrial and Municipal Water markets. The company offers a comprehensive selection of HMI units and SCADA software. Operators and service staff can access all the information and process data they need immediately – on site or from a central location. Drag and drop object oriented programming provide users with a single software package for interface, historian, alarm management and even multi-language support.
Mitsubishi Electric Automation
www.meau.com
Booth 8029
---
Check valves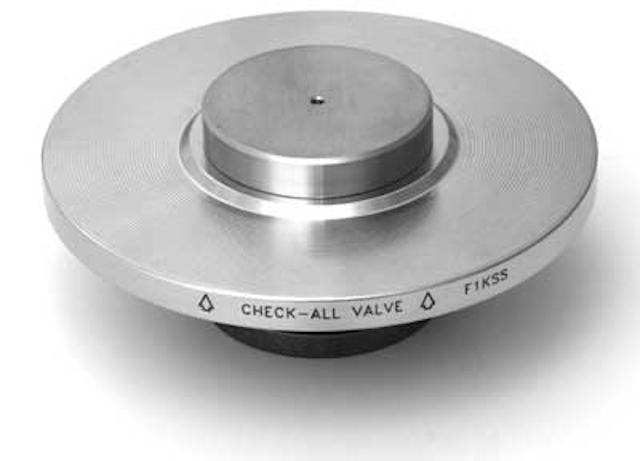 Check-All Valve offers a line of spring loaded inline check valves. The company offers a range of standard catalog items and custom design valves to meet specific application needs. The company's offers a wide range of spring, seat and body material options.
Check-All Valve Mfg. Co.
www.checkall.com
Booth 2345
---
Floating aerator
The new Turbo X-Treme from Airmaster Aerator is a high-efficiency, floating/surface aerator powered by an energy-saving 25 hp motor. It incorporates a "turbo" blower to achieve high-capacity water movement with maximum aeration and mixing incorporated in a discharge manifold. Due to its efficient design and operation, the system has replaced aerators requiring up to three times the horsepower, resulting in substantial energy savings. In operation, the new aerator raises the dissolved oxygen level in the water (in ponds, lagoons, etc..) while providing high-capacity water movement. The aerator is ideal for a variety of applications, including municipal, industrial, agricultural and disaster recovery.
Airmaster Aerator Inc.
www.airmasteraerator.com
Booth 6817
---
Aeration systems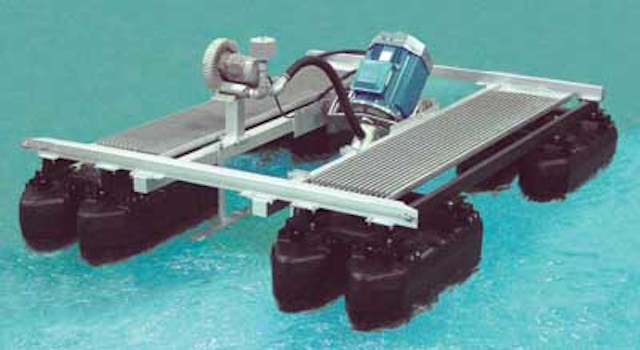 The Aire-O2 Triton® process aerator/mixers from Aeration Industries are easy retrofits. The surface-mounted aerator's underwater "fine bubbles" will be demonstrated at WEFTEC. They are suited for retrofitting both municipal and industrial wastewater treatment plants using aerated lagoons, activated sludge systems, oxidation ditches or sequencing batch reactors.
Aeration Industries International
www.aireo2.com
Booth 1627
---
Phosphate test kit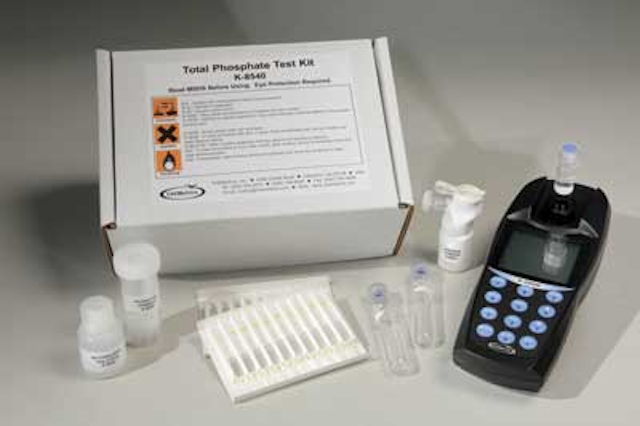 CHEMetrics has announced the availability of a new test kit for the determination of total phosphate in wastewater. Control and monitoring of phosphate concentrations in wastewater are critical before water is released back into the environment. Based on USEPA Methods 365.2 and 365.4 (1983), the test employs the persulfate digestion-ascorbic acid method to convert various forms of phosphate to orthophosphate.
CHEMetrics Inc.
www.chemetrics.com
Booth 2245
---
Mixers, agitators
SUMA has specialized in biogas, liquid manure and wastewater agitators since 1957. The company provides low maintenance, high capacity submersible and non-submersible agitators using the latest technology and innovations. Modular and custom solutions are available to fit specific applications.
SUMA America Inc.
www.gosuma.com
Booth 4671
WEFTEC®.12 Booth No. 2945
---
Pressure gauge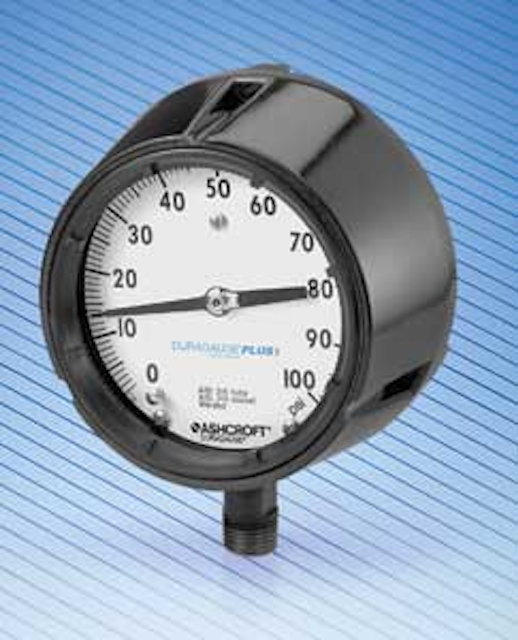 The Ashcroft® Type 1279 Duragauge® pressure gauge is now available with the company's patented Plus!™ protection for installations subject to high vibration and pulsation. The system efficiently quiets pointer flutter without the need for traditional liquid fill. To view a video demonstration on YouTube, visit the company's website.
Ashcroft Inc.
www.ashcroft.com
Booth 2330
---
Wall-mount enclosures
Empire Series wall mount enclosures from Allied Moulded Products have been designed for rugged applications where contractors are looking for an enclosure that is lighter in weight for easier installation and simple to access cabinet doors for improved service capability. The enclosures require as little as three snap latches along the side to open for accessible service. The design also covers the sealing requirements to achieve NEMA 4X ratings and rain tight applications.
Allied Moulded Products Inc.
www.alliedmoulded.com
Booth 1241
---
Water tanks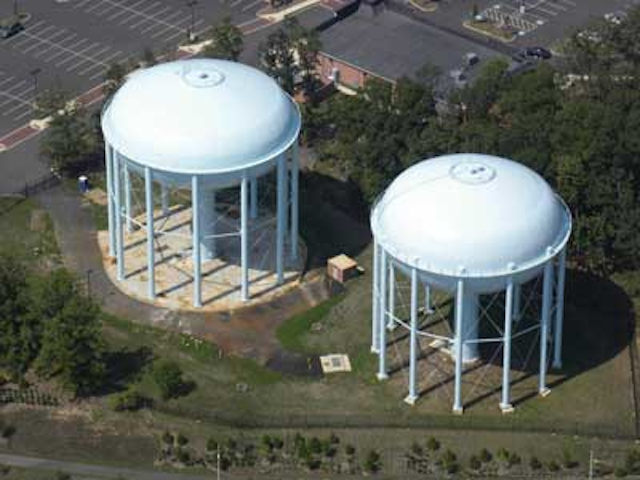 Caldwell has been building custom water tanks throughout North America since 1887. The company provides consultation regarding location, shape, size and tank type to fit the customer's and community's needs. Caldwell offers all types of elevated and ground storage field erected tank construction, including welded steel, prestressed concrete and steel bolted tanks.
Caldwell Tanks
www.caldwelltanks.com
Booth 4851
---
Membrane systems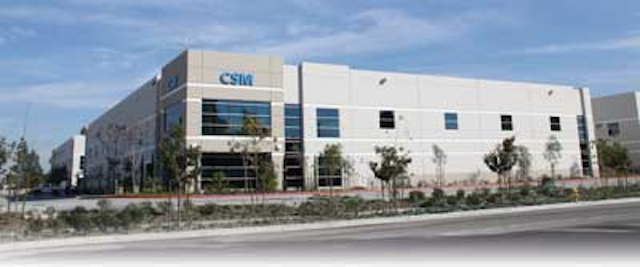 Woongjin Chemical America is the manufacturer of CSM membrane technologies (spiral-wound RO/NF/UF, hollow-fiber UF) used for a wide range of applications including municipal/potable use, wastewater reuse, and POE/POU systems. CSM membranes are fouling resistant and suited for water reuse and wastewater applications.
Woongjin Chemical America Inc.
www.csmfilter.com
Booth 1845
---
Chlorine monitor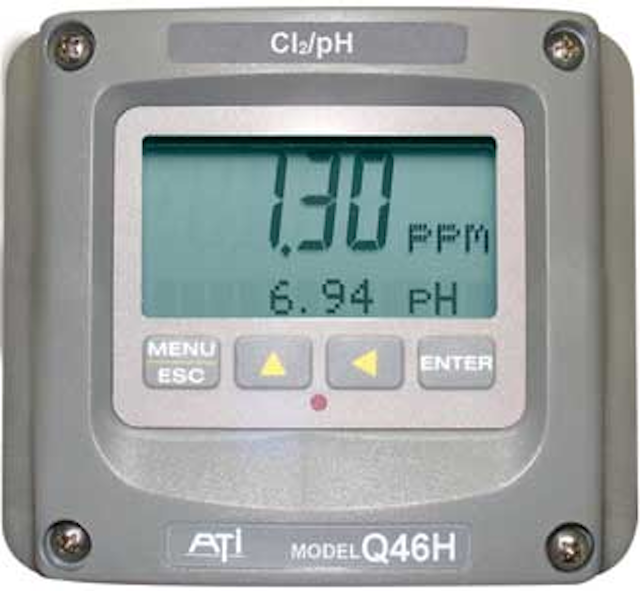 ATIs new Q46H Chlorine Monitor is the upgraded version of the Q45H system for continuous monitoring of free or combined chlorine. This system uses a polarographic membraned sensor to measure chlorine directly, without the need for chemical reagents. When needed, automatic pH compensation may be added for highest free chlorine measurement accuracy.
Analytical Technology Inc.
www.analyticaltechnology.com
Booth 7439
---
Chemical feeder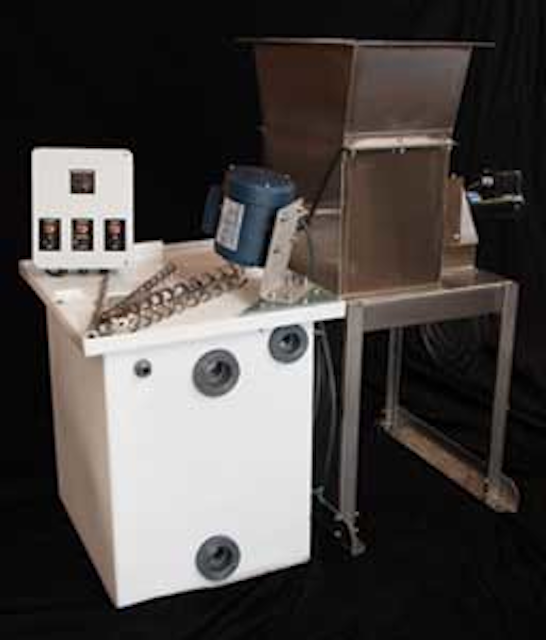 The Eagle Microsystems VF-100 Precision Dry Chemical Feeder is constructed of stainless steel and uses a rugged direct drive to ensure performance and durability in the harsh chemical feed environment. With no external gears, pulleys, chains, belts, or lubrications required; the feeder is user-friendly and low maintenance.
Eagle Microsystems
www.eaglemicrosystems.com
Booth 3647
---
Hypochlorite generators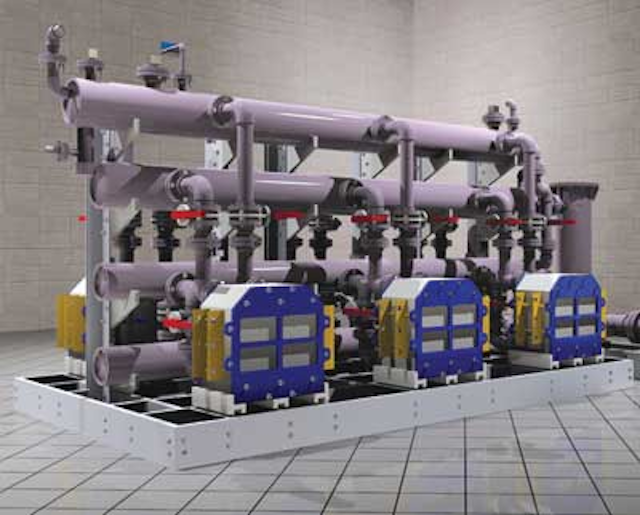 Klorigen™ chlorine gas and sodium hypochlorite generators provide on-site production capability, from 20 ppd to 40,000 ppd of equivalent chlorine. The systems generate NaOCl at 12.5% to 15% concentrations that comply with ANSI/NSF Standard 60 and are directly compatible with existing 12.5% trade concentration, product storage and metering systems. Existing Cl2 treatment systems can be retrofitted with Klorigen operating in the elemental chlorine gas mode, which operates at negative pressure and produces membrane-grade sodium hydroxide as the co-product.
Electrolytic Technologies Corp.
www.electrolytictech.com
Booth 3457
---
Multiparameter analyzer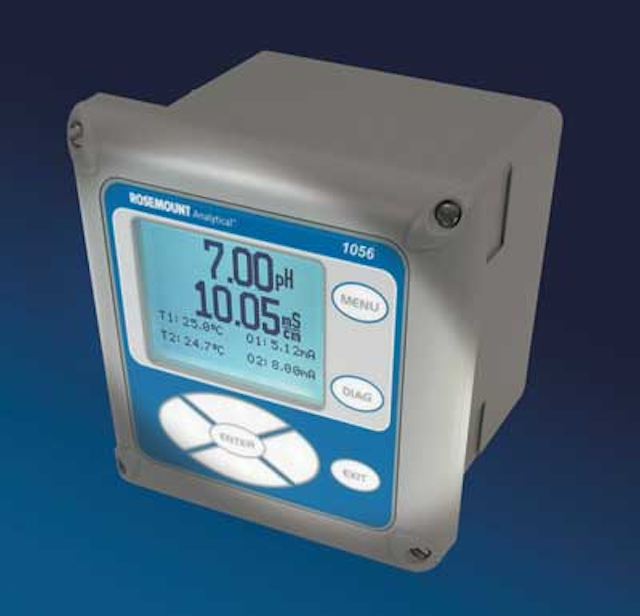 The Rosemount Analytical 1056 intelligent analyzer from Emerson Process Management is a flexible multiparameter analyzer for a wide range of industrial and municipal applications. Offering single- or dual-sensor input with an unrestricted choice of dual measurements, it measures turbidity; flow; pH/ORP/ISE; resistivity/conductivity; percent concentration; chlorine; oxygen; ozone; and temperature.
Emerson Process Management
---
Flowmeter
Endress+Hauser's Prosonic Flow B 200 is suited for continuous process control in biogas applications, offering Intrinsically Safe and Explosion-Proof designs approved for Class I, Division 1 areas. The flowmeter can be used in low pressure gas applications with multivariable measurement of volume flow rate, temperature and calculation of methane fraction and energy flow parameters.
Endress+Hauser USA
www.us.endress.com
Booth 3113
---
Septage station
Enviro-Care and SAVI S.r.l. have introduced the Flo-Septage Station DM, which is designed specifically for septage receiving. The DM unit is not just a screen in a tank with a ball valve; the tank is designed to eliminate sedimentation. A dual drive system allows the screen basket and an auger to run independently for better capture and faster removal of solids.
Enviro-Care Co.
www.enviro-care.com
Booth 4217
---
Pipe products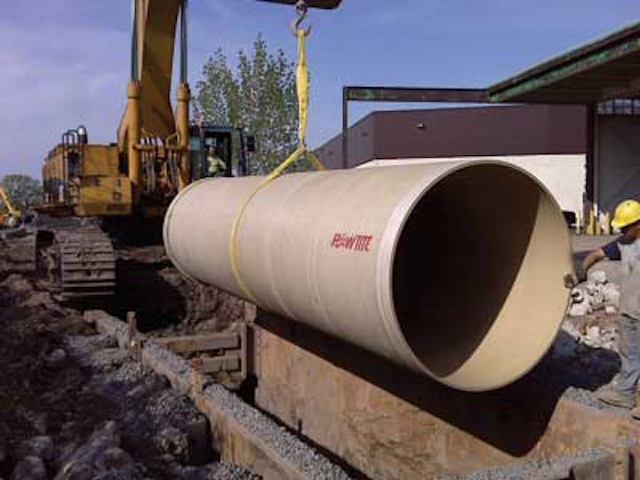 Flowtite® filament wound pressure pipe and Meyer® polymer concrete pipe products will be displayed at WEFTEC. Flowtite® filament wound pressure pipe products are produced in diameters from 12" to 156", up to 40-foot-long sections and 450 psi pressure class. The products are effective for non-corrosive pipeline systems.
Flowtite Pipe
www.flowtitepipe.com
Booth 2661
---
Turbidity monitoring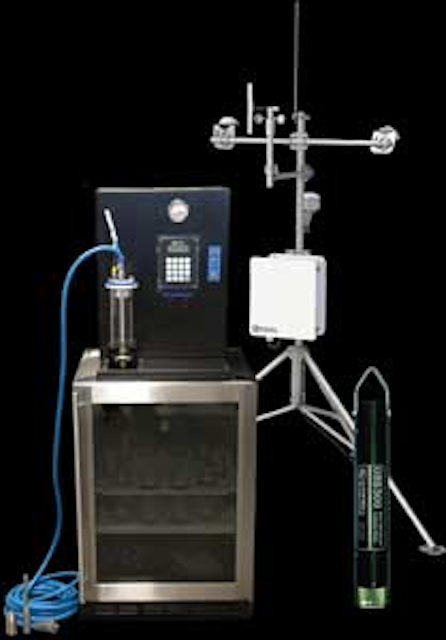 Campbell Scientific's new OBS500 dual turbidity probe combines backscatter and sidescatter sensors with multiple antifouling methods to provide accurate measurements for both low and high turbidity conditions in biologically active water. One probe covers a broad range of NTU values used in common municipal applications.
Campbell Scientific
www.campbellsci.com
Booth 2100
---
Rotary lobe pumps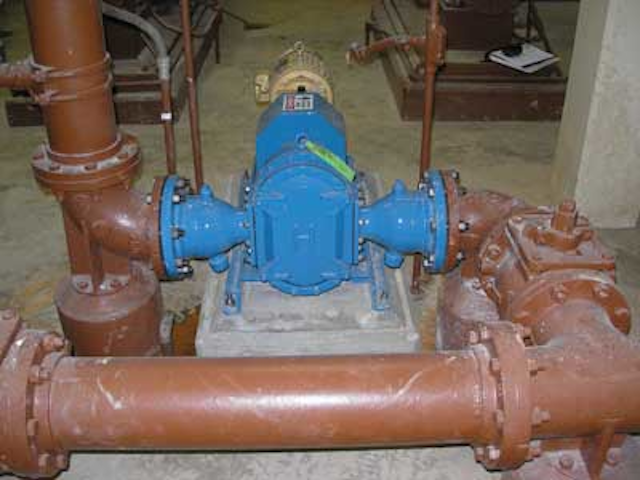 LobePro Rotary Pumps' G-series (General Use) and S-Series (Sludge, Mud, and Slurries) positive displacement rotary lobe pumps are suitable for pumping any WWTP sludge which has hard solids smaller than 1/8". The rotary lobe pumps are typically used to pump sludge to and from thickeners, separators (such as belt presses, centrifuges, and rotary presses), digesters and clarifiers.
LobePro Rotary Pumps
www.lobepro.com
Booth 945
---
Level controller
The new PSL 5.0 Pump Station Level Controller from Greyline Instruments features redundant level sensing. It includes a non-contacting ultrasonic sensor and users can also connect a loop-powered pressure sensor for redundant sensing in applications with foam or grease. The controller will recalibrate the pressure sensor automatically and switch back and forth from ultrasonic level to the pressure sensor as required.
Greyline Instruments Inc.
www.greyline.com
Booth 4502
---
Spectrophotometer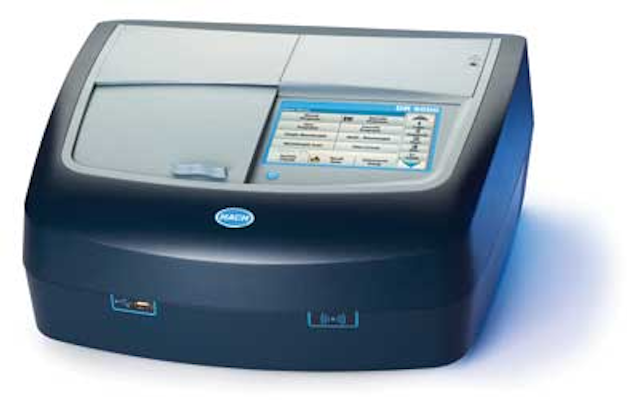 With high speed wavelength scanning across the UV and Visible Spectrum, and over 250 pre-programmed testing methods, Hach's DR 6000™ is an advanced lab spectrophotometer. The system comes with guided step-by-step procedures and integrated quality assurance software.
Hach Co.
www.hach.com/specsguide
Booth 5728
---
Bag filters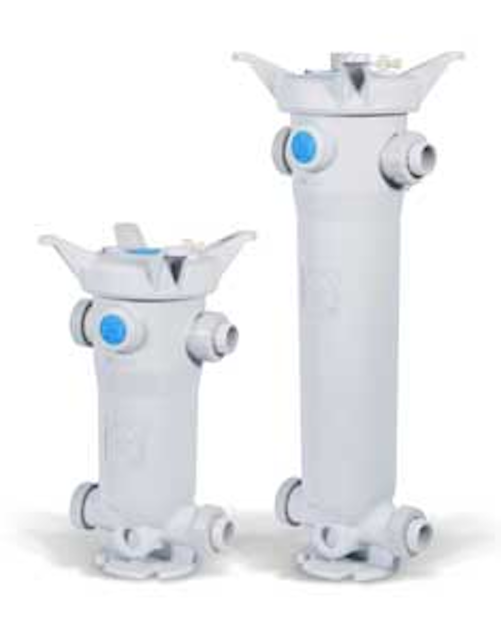 Hayward Flow Control has launched its new FLV Series Bag Filters. The new filters feature a one-piece injection molded platinum GF PP (Glass Filled Polypropylene) body in sizes 1 (16") and 2 (32"). Unlike traditional metal and plastic filters, the series offers a true-union design for multiple end connections and sizes as well as quick installation or removal. They are available in the size range of 1-1/4" through 4" in socket, threaded and flanged connections, as well as optional drill and tap NPT (Offset) ports for interchangeability with existing installations. The FLV series can be ordered as a Simplex through Quadplex unit. The filter vessel features a pressure rating of 150 psi at 70ºF non-shock for all sizes, and a service temperature of up to 240°F / 116°C. Also available for cartridges.

Hayward Flow Control
www.haywardflowcontrol.com
Booth 1739
---
Fluorimeter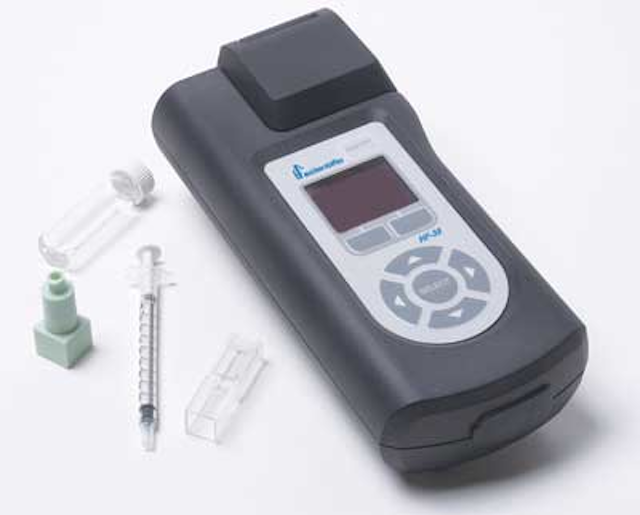 The new HF scientific HF-38 Fluorimeter is an extremely sensitive, hand-held, ruggedized instrument designed for field testing of toxic heavy metal contaminates in water supplies. It requires no special skill or knowledge of chemistry to operate. Through the use of DNA sensors, a reaction that fluoresces in the presence of a target contaminate substance, such as lead, is measured to determine the concentration of the target heavy metal and is reported in parts per billion (ppb).
HF scientific
www.hfscientific.com
Booth 1151
---
CCFRPM pipe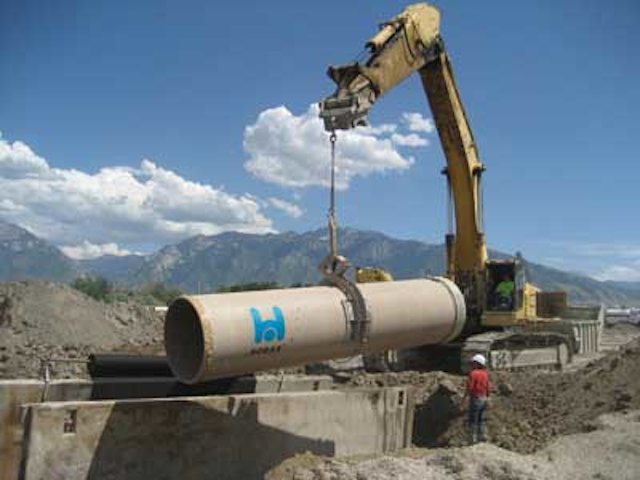 Hobas pipe is suitable for virtually every installation method of new construction and rehab. The centrifugally cast, fiberglass-reinforced, polymer mortar pipe is inherently corrosion resistant and lasts 100 years or more. Leak-free, push-together joints reduce installation time and costs. Key applications are sanitary and storm sewers, corrosive environments and potable water. Benefits include superior hydraulics, high strength and long, maintenance-free service life.
Hobas Pipe USA
www.hobaspipe.com
Booth 3235
---
Grit washing, dewatering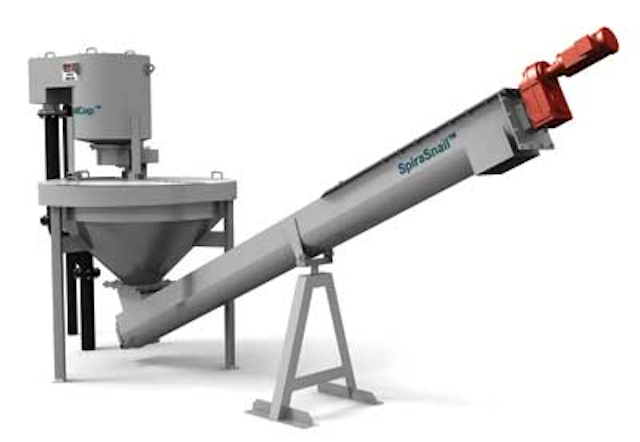 The GritCup™ and SpiraSnail™ grit washing and dewatering systems are the latest additions to Hydro International's line of Advanced Grit Removal equipment. The GritCup uses free vortex grit washing and the SpiraSnail unit's conical clarifier provides the surface area required to remove fine grit. The fully enclosed design reduces odors, and large internal clearances minimize the potential for obstruction. Access hatches improve maintenance accessibility. The system can either be operated intermittently or continuously and requires no wash water to operate.
Hydro International – Water & Wastewater Solutions
www.hydro-int.com
Booth 4929
---
Saw chain

The PowerGrit Utility Saw Chain from ICS/Blount is designed to cut through pipe ranging from ductile iron to plastic using a chainsaw. The chain features a brazed layer diamond coating on a patent pending chain design. Using a chain saw to cut pipe provides dramatically improved access to the cut with far less excavation. The ability to cut all the way through the pipe from one side reduces the difficulty of cutting pipe in the trench.
ICS | Blount Inc.
www.icsbestway.com
Booth 1265
---
Level transmitter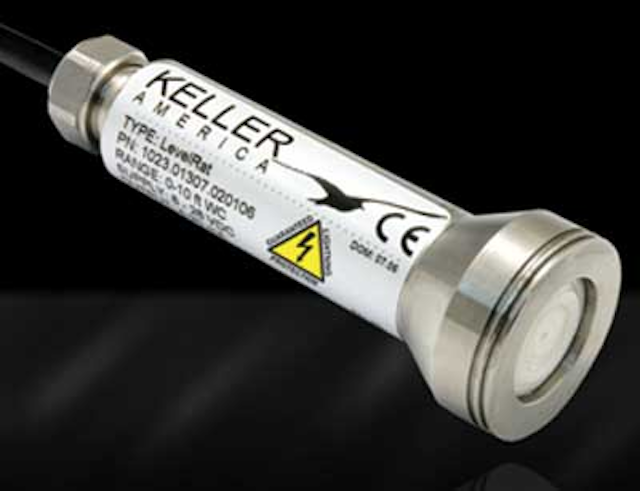 The LevelRat by Keller America is designed for lift station level measurement. Its Kynar® diaphragm combines the non-stick properties of Teflon® with superior resistance to puncture and abrasion. The result is a small, non-fouling level transmitter fit for use in even the worst environments. The transmitter also includes the company's guaranteed lightning protection, at no additional charge. This feature is standard on all 4-20 mA equipped LevelRats and provides a lifetime warranty against damage from electrical surge.
Keller America
www.kelleramerica.com
Booth 3939
---
Metering pump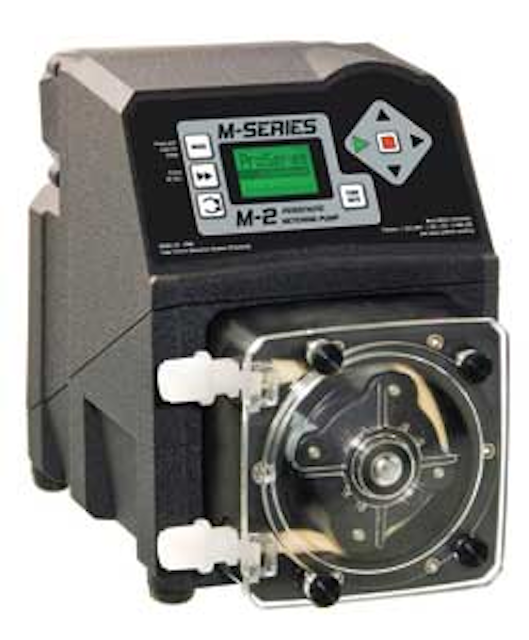 Blue-White® has announced a new addition to the ProSeries-M Line of Peristaltic Metering Pumps. The new M-2 pump offers feed rates from .007 to 15 gph; pressures to 125 psi; a 200:1 turndown ratio; 4-20 mA input and output (dual input ready). Communication options include Industrial Ethernet, Profibus, ProfiNet, Modbus and Modbus TCP (optional).
Blue-White Industries
www.proseries-m.com
Booth 2037
---
Water, air monitoring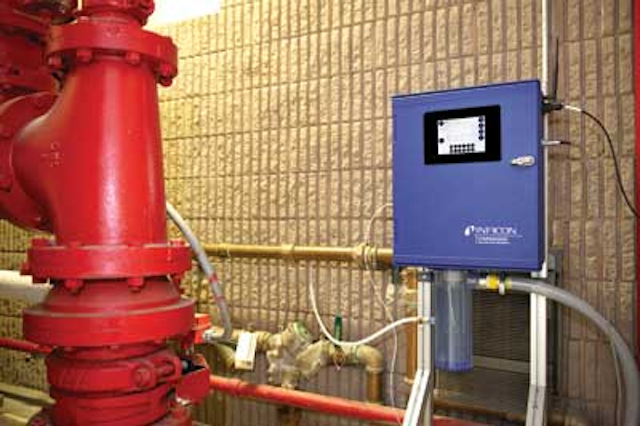 The INFICON CMS5000 Monitoring System provides continuous, unattended remote monitoring of water or air. Using GC (gas chromatograph) technology, it analyzes and quantifies VOCs and Toxic Industrial Chemicals (TICs) on-site for accurate results in minutes. The analytical data is representative of actual water conditions at the time of sampling. Managing the sample collection and analysis sequence is simplified through programmable CMS IQ software using on-board default methods. The monitor requires virtually no operator involvement once initial installation and setup is complete.
INFICON
www.inficon.com
Booth 1708
---
Membrane filtration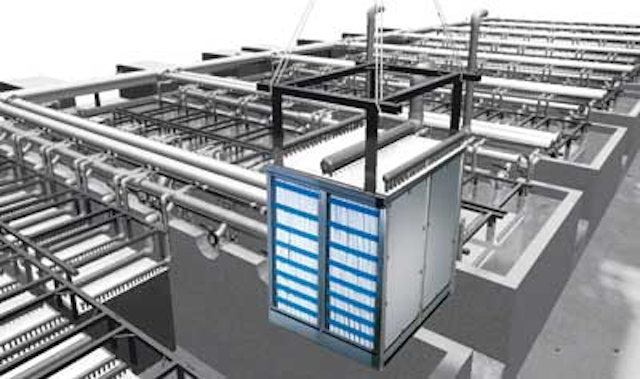 Koch Membrane Systems will be exhibiting its family of water treatment systems at WEFTEC. The company offers membrane systems for a range of applications as diverse as seawater desalination, wastewater treatment, and water reuse.
Koch Membrane Systems Inc.
www.kochmembrane.com
Booth 4543
---
Odor control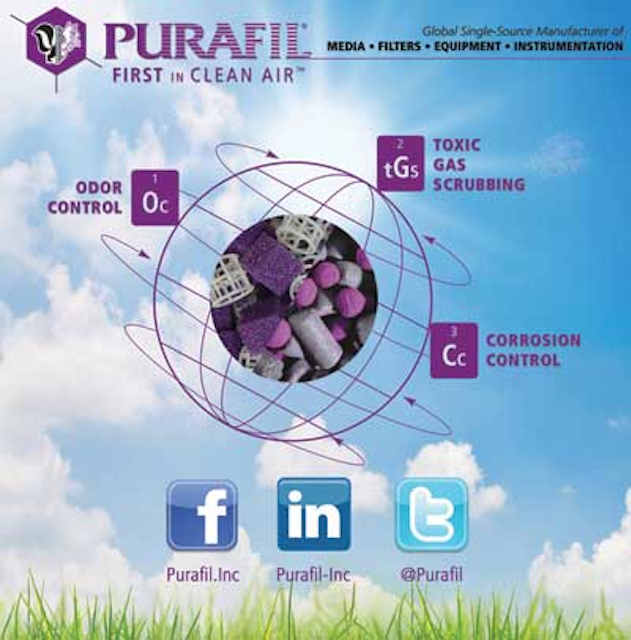 Purafil's Biological Air Treater (BAT) provides cost-effective odor removal at wide ranges of airflow and concentrations. The system's odor abatement and volatile organic compounds treatment can remove over 99 percent of hydrogen sulfide gas. The mixed media of foam cubes and spacers inside the BAT has been proven in various applications over the past 15 years. Ratios of foam-to-plastic vary based on a scientifically engineered formula customized for each application.
Purafil
www.purafil.com
Booth 1219
---
Vibration monitoring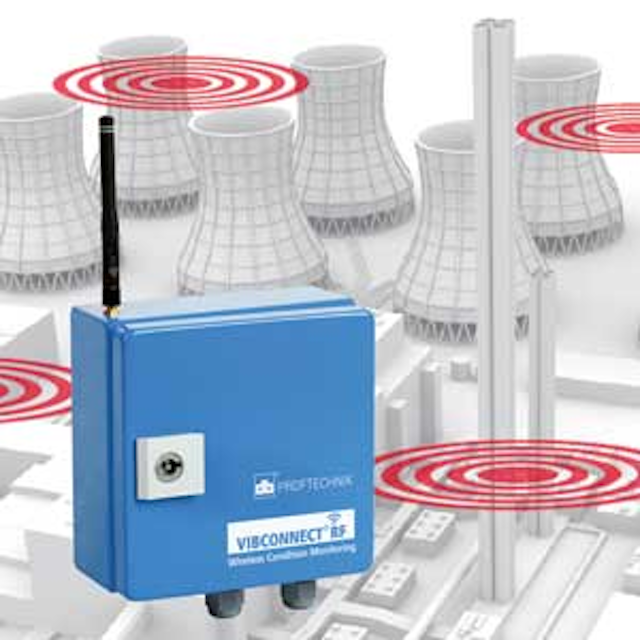 Vibconnect RF from Ludeca is a wireless condition monitoring system for plant machinery. Operators simply install a sensor unit consisting of a radio module and two combined sensors for vibration and temperature monitoring. The sensor unit monitors machine vibration, bearing condition and temperature and transmits the relevant data to a bridge where it is evaluated. Each bridge caters to as many as 50 sensor units located within the range of the system.
Ludeca Inc.
www.ludeca.com
Booth 6839
---
pH, temperature monitoring

Ultrapen™ PT2 pH & Temperature Pen from Myron L provides instant lab-accurate digital results. All measurements and calibrations are accomplished with the press of a button. Dip or scoop sampling simplifies testing vertical streams and bodies of water. The device can be used for all pH testing in municipal and industrial process control, including field use and spot checks. The PT2 is waterproof, has an outer case of aircraft aluminum and fully encapsulated electronics. Features include ±0.01 accuracy; 0.00-14.00 pH measurement range; automatic temperature compensation; 1, 2 & 3 point calibration; choice of snapshot and continuous measurement modes; and user replaceable pH sensor.
Myron L Co.
www.myronl.com
Booth 2445
---
MBR systems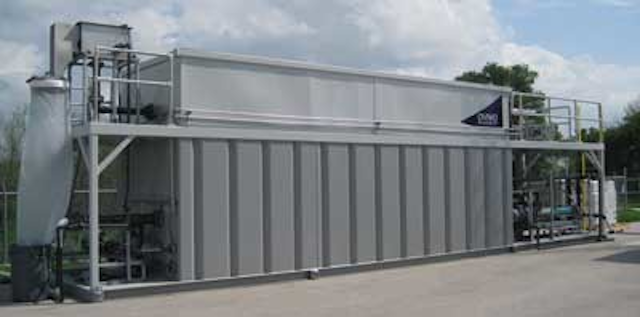 Ovivo's microBLOX™ Membrane Bioreactor (MBR) systems are fully functional solutions to wastewater treatment problems and are ideally suited for a wide range of applications, including, but not limited to: housing developments, isolated communities, sewer mining, some industrial and more.
Ovivo
www.ovivowater.com
Booth 1827
---
Tank mixing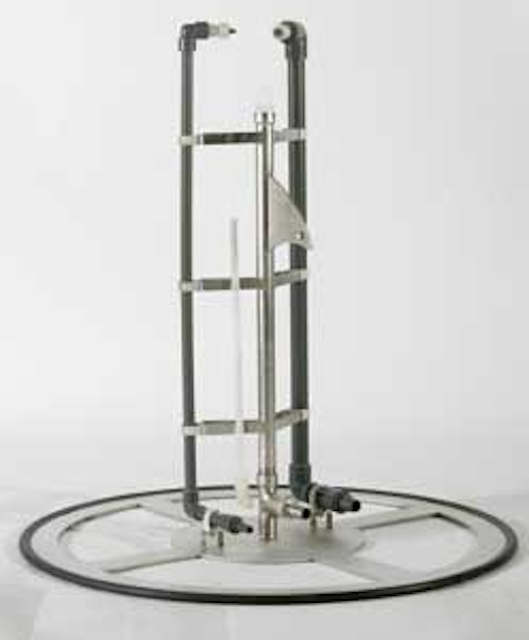 The Tank Shark from Process Solutions can help solve water quality issues in water storage tanks or reservoirs such as temperature stratification, stagnation, residual degradation, nitrification, high levels of VOCs or blending of different water qualities. The system is also capable of providing real time water samples and automated chlorine or chloramine injection to maintain required levels while concurrently mixing a homogeneous solution.
Process Solutions Inc.
www.4psi.net
Booth 8239
---
Metering pumps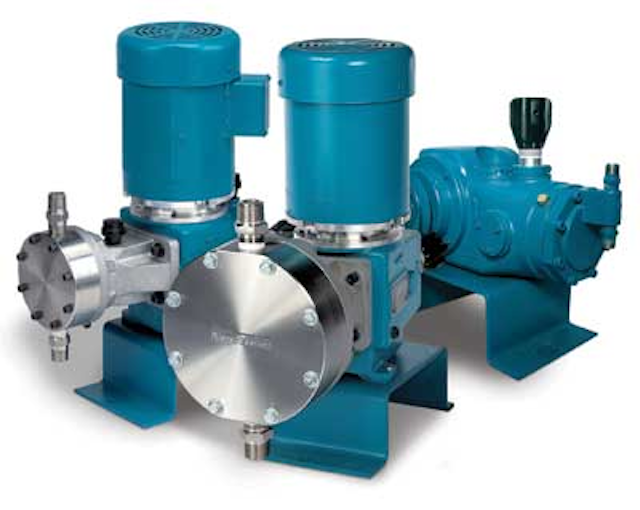 The Neptune™ Series 7000 mechanically actuated diaphragm metering pump was designed with water and wastewater applications in mind. Its mechanical design eliminates the use of contour plates on the liquid side of the diaphragm while the simple, straight-through valve and head design allows for improved flow characteristics. The series is self-priming, provides improved performance, and has a maximum capacity range up to 300 gph at 150 psi.
Neptune™ Chemical Pump Co.
www.psgdover.com/neptune/home
Booth 5649
---
Sludge reduction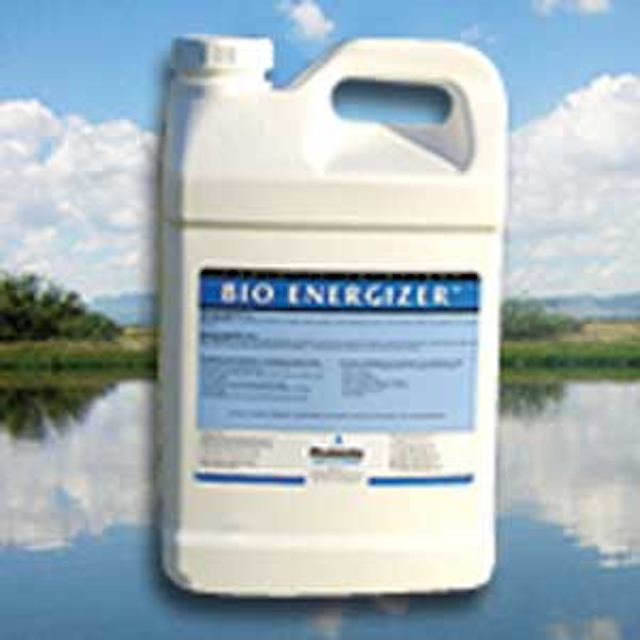 Bio Energizer® from Probiotic Solutions® is a specialized Micro Carbon Complex that is used in municipal and industrial systems to reduce sludge, odor, BOD/COD, FOG and costs in wastewater treatment plants and lagoons. The product bio-chemically oxidizes sludge in wastewater lagoons while remaining on line and continuing to work, and reduces the lagoon sludge blanket without the need for draining, drying, dredging, handling, or hauling.
Probiotic Solutions
www.probiotic.com
Booth 2145
---
Vortex pumps
KSB, a supplier of wastewater pumps, has released the versatile Amarex N pump to the U.S. market. The pumps are available in eight models to fit a variety of applications, such as wastewater transport, fluids containing long fibers and solid substances, fluids containing gas/air, raw, activated or digested sludge, or drainage of rooms subjected to a flooding risk in industrial and commercial premises. The vortex pumps employ KSB's F-type impeller with discharge sizes ranging from 2" to 4". The pumps are suitable for stationary wet-well installations (guide cable or guide rails) or portable installations.
KSB USA
www.ksbusa.com
Booth 519
---
Inspection system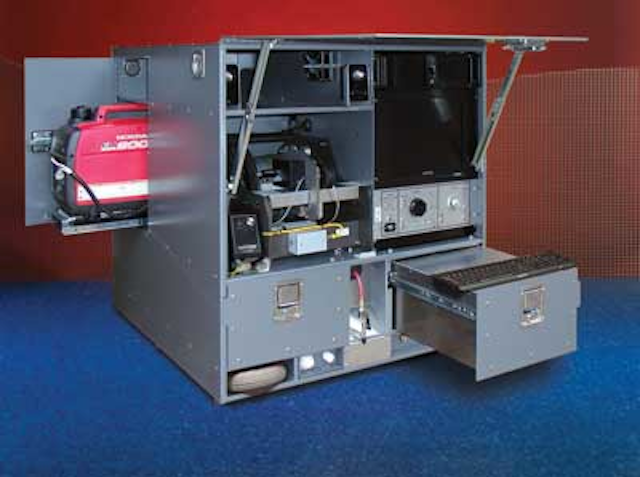 R.S. Technical's Cube system is a compact, all-inclusive mainline inspection system that offers all the inspection capabilities found in typical vehicle mounted systems but with the benefits of portability and transport flexibility. The system is ideal for easement work or those organizations who need the power of a full mainline system in a free-standing, mobile format. Housed in quarter-inch powder coated, glare resistant aluminum, the Cube has forklift access both front and rear along with stainless steel lift and tie-down hooks.
R.S. Technical Services
www.rstechserv.com
Booth 2629
---
Self-cleaning filters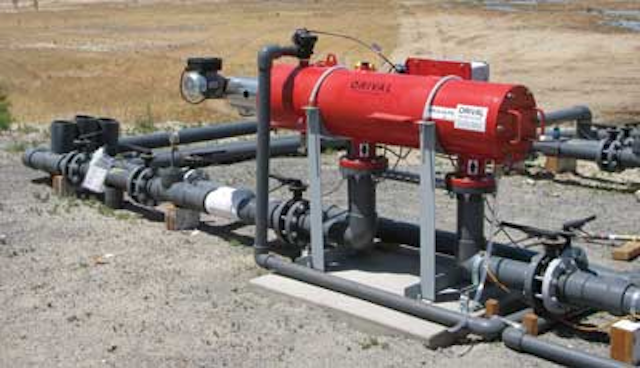 ORG Automatic Self-cleaning Filters by Orival are designed specifically to conserve rinse water while removing suspended solids. The vertical design of the filters minimizes the footprint while maximizing screen area to provide efficient solids removal with fewer cleaning cycles. In sizes from ¾" to 10" and 316L stainless steel screen elements from 5 to 3000 microns, these filters address most water filtration needs in a wide range of applications.
Orival Inc.
www.orival.com
Booth 1705
---
Stainless steel enclosures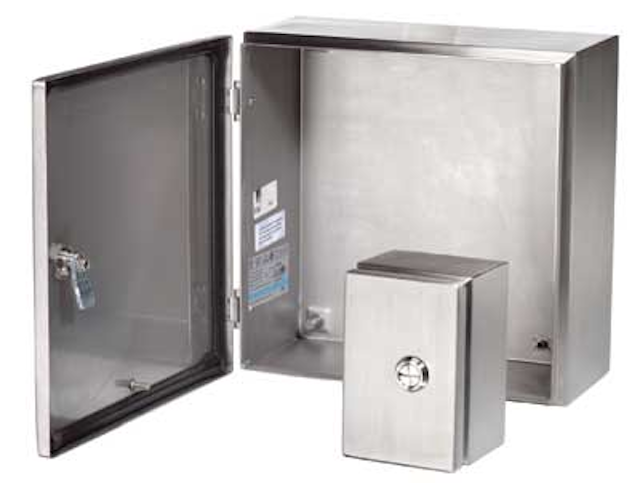 When precision instruments, measuring tools and critical controls need protection from the elements, Rittal's one-piece, space-saving wallmount designs are easy to install and maintain. Standard features include: 304 and 316L stainless steel construction; Blind nut mounting; Secure locking system; Foamed-on gaskets; and Zinc-plated mounting panels. Stainless steel enclosures are available in a variety of shapes, sizes and configurations for use in the most demanding environments.
Rittal Corp.
www.rittal-corp.com
Booth 7951
---
Weighing system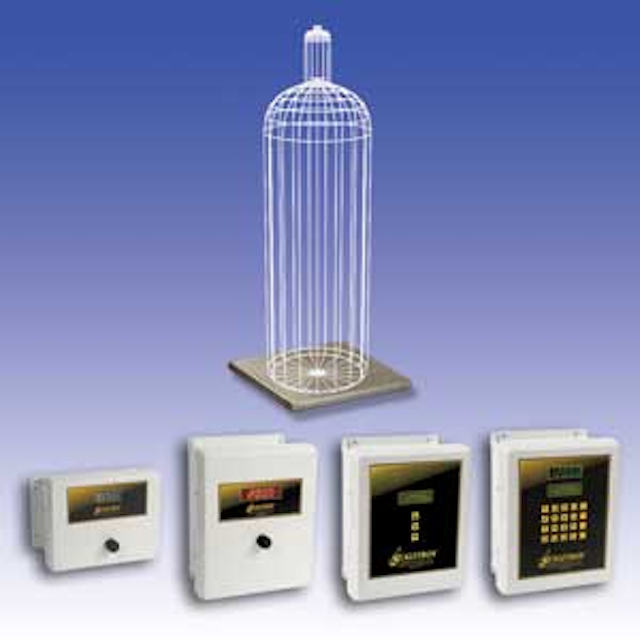 Scaletron Industries has introduced the Model 4000SS™ digital gas cabinet scale featuring a large scale base to readily accommodate dewars and other large diameter gas containment vessels. With base sizes measuring 15", 24" and 30" square, the scale meets gas feeding application demands in a wide range of industries including specialty gas, chemical processing, semiconductor manufacturing, oil/gas refining, fire protection and others. The scale offers complete corrosion resistance including stainless steel construction and hardware, corrosion resistant plating, and silicone coated NTEP-approved load cells. The scale accurately weighs up to 1000 lbs (453.6 kg) to within +/-0.5% of capacity.
Scaletron Industries, Ltd.
www.scaletronscales.com Booth 4276
---
Lining system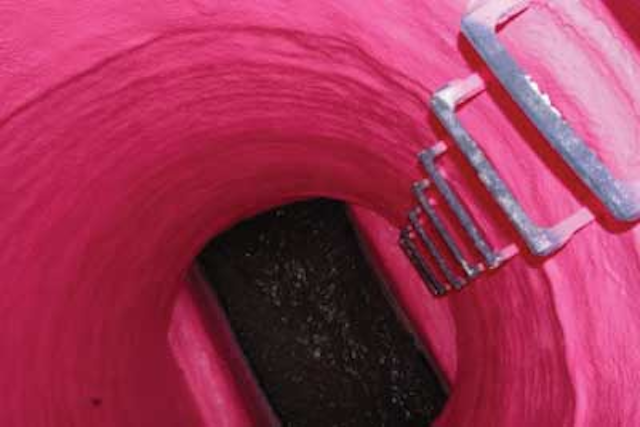 Patented SpectraShield® liner is a spray applied layered polymer system that is used to rehabilitate and protect municipal wastewater structures such as manholes, wet wells, or wastewater treatment plant facilities. Following structure cleaning and preparation, the multi-layered system is spray applied at elevated temperatures, creating a strong bond and curing quickly allowing a rapid return to service. SpectraShield stops groundwater infiltration, prevents corrosion, can be installed in any shape or configuration, and has a 10-year warranty.
Spectrashield Liner Systems
www.spectrashield.com Booth 1645
---
Process optimization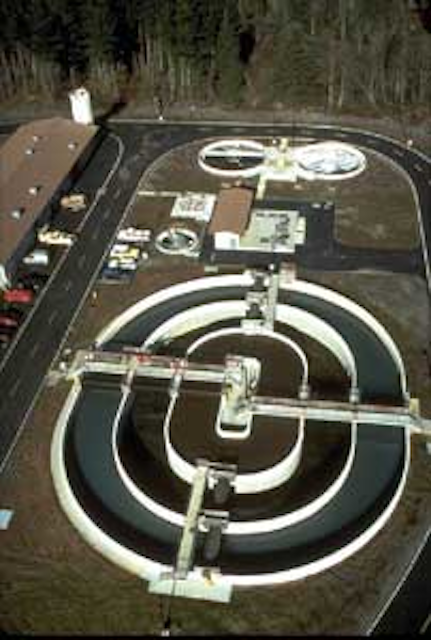 BioFlowsheet+ Solutions from Siemens Water Technologies is a process optimization program that fully integrates the main unit operations of a wastewater treatment plant into a single solution. With the system, the company's process experts work with the design team to analyze the efficiency of each process choice and its interaction with the other components, while optimizing the overall efficiency of the entire system from start to finish.
Siemens Industry Inc. - Water Technologies
www.siemens.com/water
Booth 4027
---
Power quality systems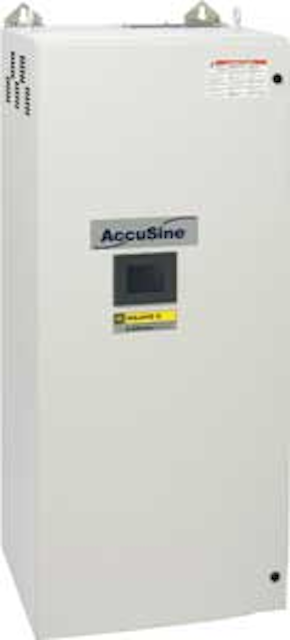 Schneider Electric will exhibit its power quality systems at WEFTEC. The company's Square D brand Harmonic Mitigation transformers are suited for protecting smaller critical applications such as UV disinfection systems from power system harmonics. The company also will showcase its Uninterruptable Power Supplies and Active Harmonic Filters. The company's APC UPS systems range from single phase for SCADA backup applications to three phase rated at several thousand kilowatts for process equipment backup.
Schneider Electric
www.schneider-electric.com Booth 6012
---
Transmitter/controller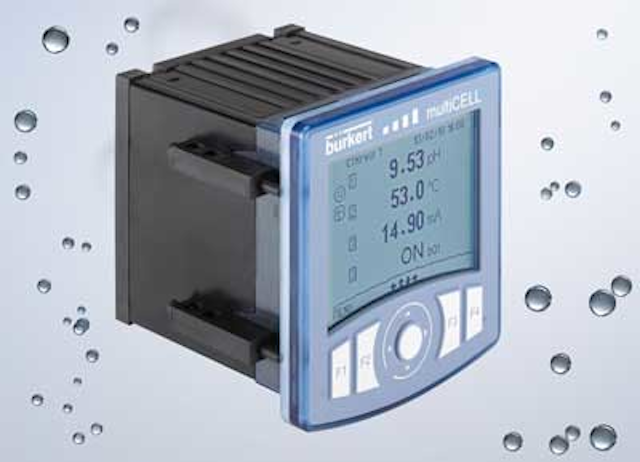 Burkert Fluid Control Systems has developed the MultiCELL Type 8619 multi-channel controller for water treatment, food and pharmaceutical applications. In reverse osmosis systems, the controller can be used for monitoring functions as a flow indicator, to measure the ORP value or percentage retention value.
Burkert Fluid Control Systems
www.burkert-usa.com
Booth 4077
---
Check valves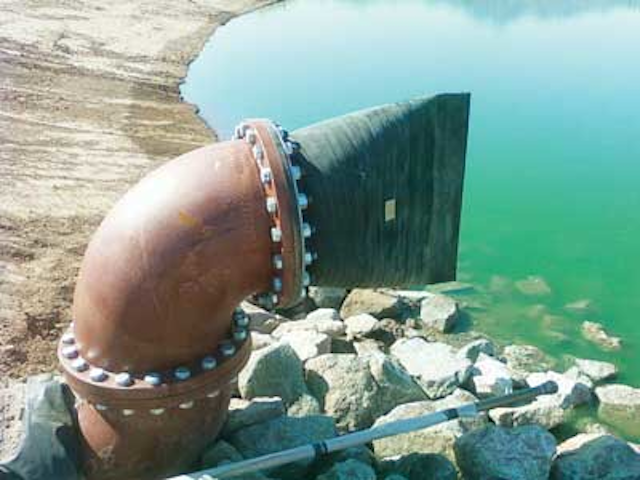 Proco Product's ProFlex® rubber duckbill check valve does not allow valve slam or water hammer. The valves are offered in a large range of dimensions as well as in a flanged or slip on cuffed design. Features include a full port design with very low head loss, excellent backflow prevention and barnacle, algae and fungicide resistance.
Proco Products Inc.
www.procoproducts.com
Booth 2800
---
Dataloggers
The Leveloader Gold is a field-ready, water resistant, handheld data transfer unit designed for use with the Solinst Levelogger Series of dataloggers. It is used to download, store and transfer multiple data files, using 8 MB of Flash memory. Field-located dataloggers can be reprogrammed on site. The Leveloader can also display water level readings recorded by the Levelogger in real-time.
Solinst Canada Ltd.
www.solinst.com
Booth 4608
---
Treatment systems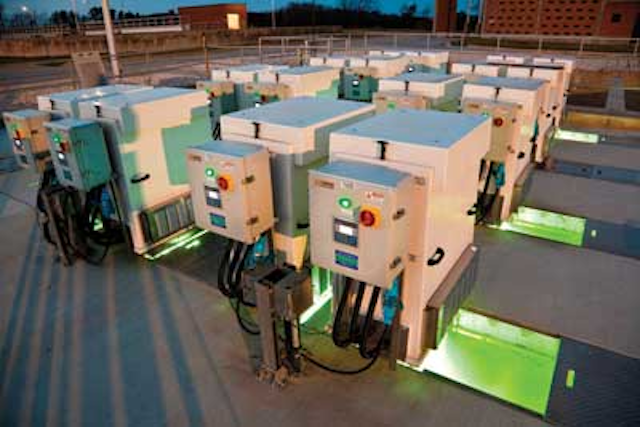 Severn Trent Services will exhibit a variety of technologies and systems at WEFTEC. Its Tetra® DeepBed™ filtration design is a down flow sand filter for the removal of TSS and BOD from municipal wastewater. While the Tetra Denite® system integrates well with other plant treatment processes to provide improved total nitrogen and phosphorous removal. The Tetra® LP Block™ is a dual-parallel lateral underdrain filter floor for drinking water and desalination pre-treatment applications that provides excellent distribution of both backwash air and water .
Severn Trent Services
www.severntrentservices.com
Booth 3437
---
Drying systems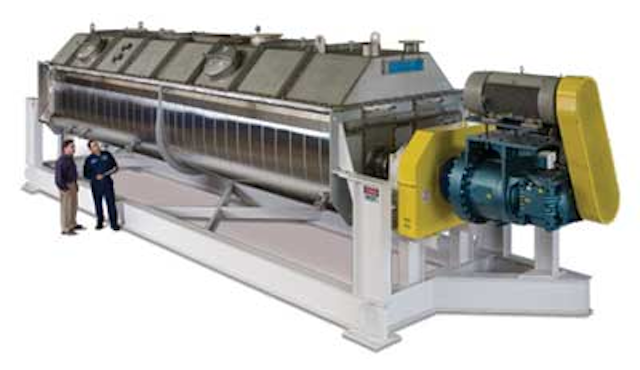 Komline-Sanderson offers complete biosolids drying systems capable of handling in excess of 1,000 tons of wet cake per day. Dryers are designed to use steam or thermal fluid with heat supplied from the combustion of natural gas, digester gas, landfill gas, or fuel oil. Excess heat from combustion engines or turbines can also be used to heat thermal fluid or produce steam. The dryer's shaft, hollow paddles, and trough are all heated. The robust design and low speed with minimal rotating parts results in reduced maintenance costs. Indirect drying using the airtight dryer results in minimal off-gas volume which allows simplified odor control systems and safe operation. The K-S biosolids drying system is versatile enough to produce material for a Class 'A' exceptional quality and a granular product for various agricultural uses.
Komline-Sanderson
www.komline.com Booth 3427 Circle No. 356 on Reader Service Card
---
Metering skid
seepex will be exhibiting its custom-engineered sodium hypochlorite metering skid complete with controls and framework. The systems help eliminate vapor lock, pulsation problems, and leaking pipes and protect from dry run and over pressure while minimizing pump life cycle costs. The system features a pulsation free flow from 10 mL/min to 100 gph, pressure capability up to 350 psi, and a turndown capability of 60:1. The system features solid Halar coated base assembly and PVC/CPVC, Titanium, Hastelloy and Viton wetted component construction for service longevity.
seepex Inc.
www.seepex.com Booth 2801
---
Protective coatings
SSPC: The Society for Protective Coatings will be featuring its Certification Quality Program (QP-1) at WEFTEC. SSPC QP-1 is a nationally recognized certification program designed to help facility owners, engineers, and specifiers select qualified industrial painting contractors. When utilities specify SSPC QP-1, they will know from the start that the contractors bidding on their work have industry-standard capabilities and a proven commitment to quality.
SSPC: The Society for Protective Coatings
www.sspc.org
Booth 2744
---
Clarification system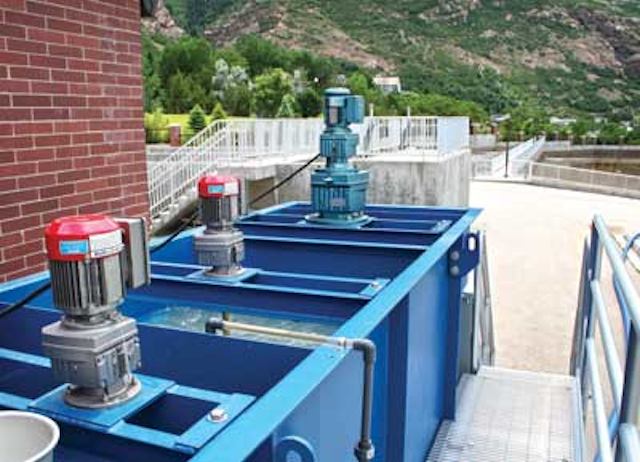 The WesTech RapiSand™ Ballasted Flocculation System is a high rate clarification process combining rapid mixing and multi-stage flocculation, followed by sedimentation. Sedimentation is extremely fast and can be applied in a wide variety of suspended solids removal applications. Typical advantages of the system include expanding plant capacity, minimizing plant footprint, providing fast startup capabilities, as well as providing improved performance characteristics.
WesTech Inc.
www.westech-inc.com
Booth 2926
---
Water quality monitoring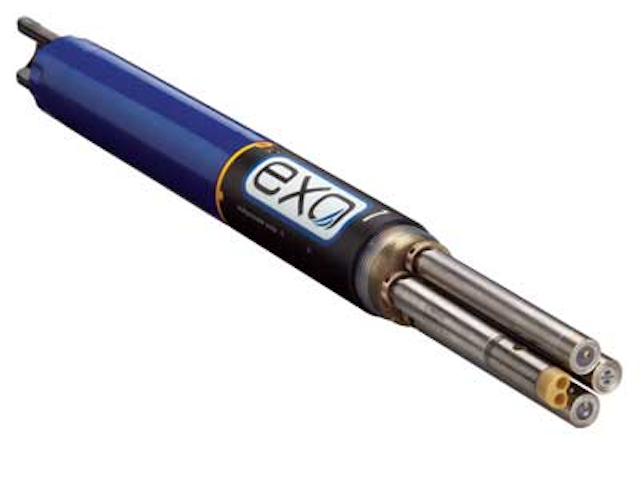 Water utilities can monitor and track the health of their source water before it reaches the treatment plant with YSI's EXO water-quality monitoring sondes and real-time alerts. Users can configure sondes quickly to move between laboratory and field sites, switching sensors as needed for the different parameters of interest at different sites. Sensors have fast response times for profiling and sampling, and a depth rating of 250 meters for long-term continuous monitoring in drinking water reservoirs and near intake structures.
YSI, a Xylem brand
www.exowater.com
Booth 6239
---
Information management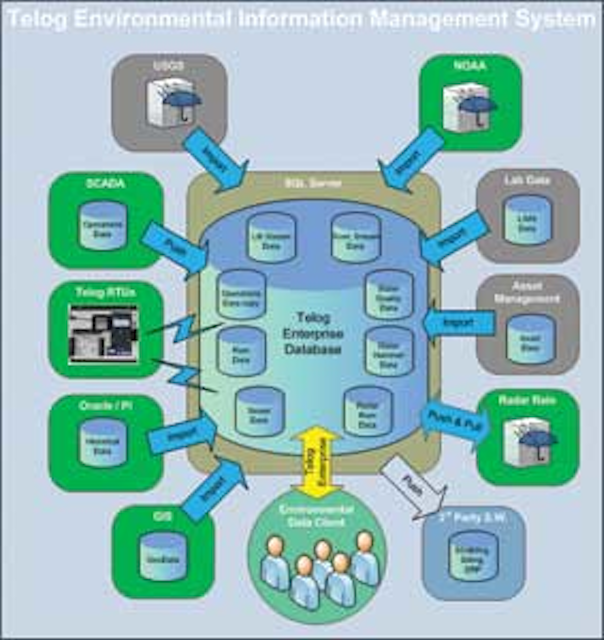 Telog's Environmental Information Management System (EIMS) centralizes data from a number of proprietary data sources, making it accessible on one system. Using EIMS, data can be imported, converted and integrated to create a comprehensive picture of every point in the utility's water management system giving utilities a comprehensive picture of their water system—without having to switch from one system to another to determine what's happening at any given point. EIMS displays each water monitoring site location with its current status on one map. Users see sites in conjunction with pipe locations, interceptors, and other infrastructure to correlate changes in station operations with occurrences of overflows, water quality, and other issues.
Telog Instruments Inc.
www.telog.com
Booth 3451
---