A selected group of new products for the water market
FEDCO has introduced the MSB-Hemi multi-stage centrifugal feed pump coupled with a turbine module for brine energy recovery.
Jul 1st, 2012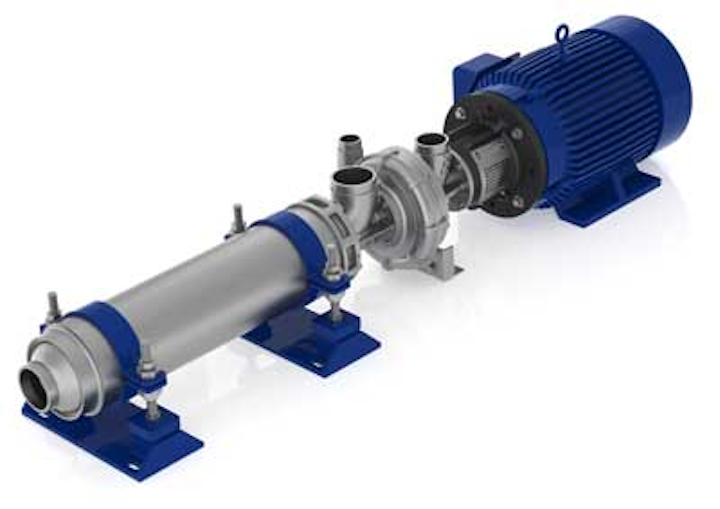 Feed pumps

FEDCO has introduced the MSB-Hemi multi-stage centrifugal feed pump coupled with a turbine module for brine energy recovery. The system improves energy efficiency in brackish RO systems over a broad range of flows and pressures. It handles feed flows up to 150 m3/hr and pressures up to 35 bar and brine flows up to 80 m3/hr. The turbine module uses custom-designed multi-vane turbine nozzles and impeller to achieve turbine efficiencies in excess of 80%.
Fluid Equipment Development Co.
www.fedco-usa.com
---
Rotating drum screens
Parkson has introduced a new line of rotating drum screens that doesn't require daily maintenance or lubrication. The Rotoshear® Ez-Care line provides the same capture rate as traditional Rotoshear units, while offering improvements in by-product recovery and screening efficiency. The drum screens incorporate non-metallic components in the wheel bearings and other key areas. The unit's drive system features polymeric components that greatly reduce wear and prevent severe erosion between the coupled components.
Parkson Corp.
www.parkson.com
---
Aeration blowers
Expanding its portfolio of aeration blowers for the wastewater treatment and process industries, GE has introduced the Roots Turbo Blower. The new blower is available in units ranging from 300 kilowatts down to 22.5 kilowatts and offers the next generation of oil-free bearing technology. The Bump Type airfoil bearing delivers better performance than earlier technology.
GE Measurement & Control
www.ge-mcs.com
---
Reporting software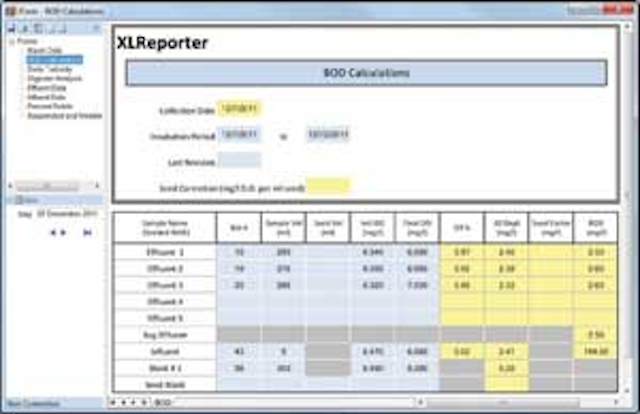 SyTech has released XLReporter Version 10.0. This latest evolution provides two new components – data entry management and reporting from text files. The software's data entry component turns Microsoft Excel into a "design studio" for the creation of data entry forms, database design and linkage of the forms to the databases, without any programming. The software's list of interfaces has been expanded to include text files, enabling direct reporting from data loggers. XLReporter's data entry component is designed to gather and store data in a consistent format so it is readily available for reporting.
SyTech Inc.
www.sytech.com
---
Thermoplastic pumps
Hayward Flow Control now offers the new T-Series Webster thermoplastic pumps. This new line of vertical seal-less immersible pumps features a single, non-coupled motor/impeller shaft with a proprietary patent-pending shaft seal. The pumps are available from 1/3 hp to 1 ½ hp with standard and wash-down motors and in voltages of 115/230 and 208-230/460. The pumps feature a CPVC pump head and impeller, a single, non-coupled motor shaft, and a patent-pending PTFE shaft seal design.
Hayward Flow Control
www.haywardflowcontrol.com
---
Sewer management software
Innovyze has announced the worldwide release of InfoMaster Sewer for the enterprise management and analysis of sewer collection system data. The product suite provides critical insight to all utility enterprise assets, their conditions and work processes, for better planning and control. It lets utilities use information and analytics in new ways to drive higher productivity and quality, while managing costs and increasing operational flexibility. It is available exclusively for the ESRI ArcGIS 10 platform and includes components to run on the desktop, web, tablet, and smartphone environments.
Innovyze
www.innovyze.com
---
Groundwater modeling
Schlumberger Water Services has released Visual ModFlow® Flex, a next generation of groundwater flow, heat and contaminant transport modeling software for groundwater professionals. The release improves modeling efficiency by integrating 3D hydrogeologic conceptual modeling and industry standard numeric engines in a single software environment.
Schlumberger Water Services
www.swstechnology.com
---
Lining system
Stonhard, a manufacturer of polymer floor and lining systems, offers Stonchem lining systems formulated specifically for water treatment facilities. The linings are seamless, resinous systems that protect underlying substrates from a broad range of chemicals, including most fuels, salts, oils, alkalis, acids and petroleum. Designed to resist corrosion and abrasion, temperature extremes and chemical attack, the systems are also NSF 61 Potable Water approved.
Stonhard
www.stonhard.com
More WaterWorld Current Issue Articles
More WaterWorld Archives Issue Articles