Products & Services: Pumps
Collection of Pumps products and services.
Oct 1st, 2012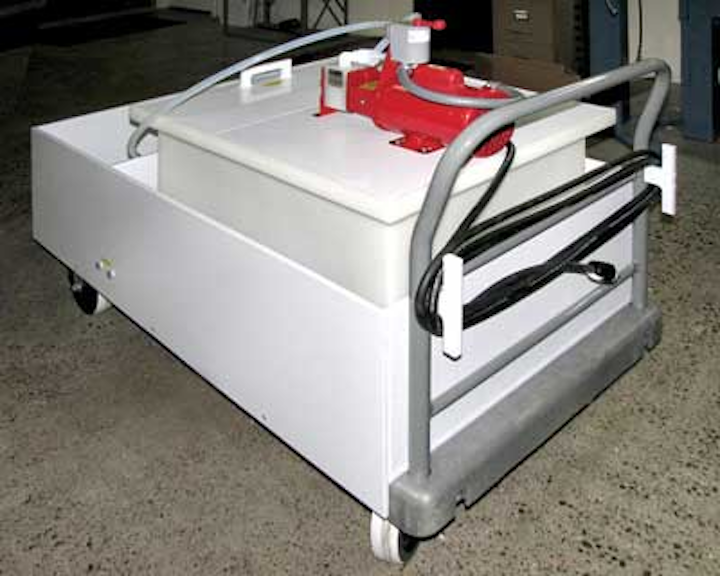 Pump tank, cart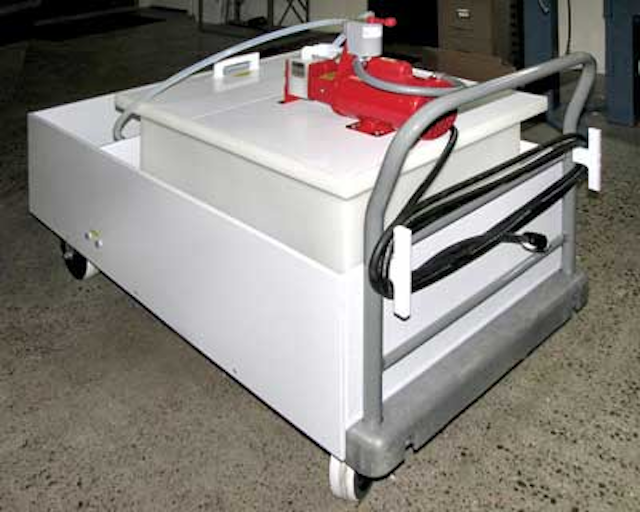 A new non-metallic, Mobile Pump/Tank Cart from transfers wastewater and caustic/acidic chemicals with no corrosion, and ultrapure fluids with no contamination. All fluid contact surfaces of the tank, base plate, and secondary containment chamber are of solid polypropylene, polyethylene, PVC or other inert thermoplastic, precluding chemical attack across the entire pH range.
Vanton Pump & Equipment Corp.
www.vanton.com
---
DC motors
Baldor Electric now offers customers the widest variety of permanent magnet and wound field industrial DC motors in the world. Both IEC and NEMA frame motors are available from stock from 1/50 to 500 HP, and Baldor meets specific application needs with custom-designed motors up to 3000 HP. While other manufacturers have left the DC motor market, ABB and Baldor continue to invest in DC product development and U.S. manufacturing.
Baldor Electric Co.
www.baldor.com
---
Pump cost calculator
Met-Pro Global Pump Solutions' online calculator can be used to estimate the total life cycle cost for one or more pumps. Simply input data including initial pump costs, installation costs and annual recurring costs such as maintenance. The calculator will take into account the energy costs in your state and generate an analysis including pie chart of the total life cycle costs.
Met-Pro Global Pump Solutions – Fybroc
www.mp-gps.com
---
Solids handling pumps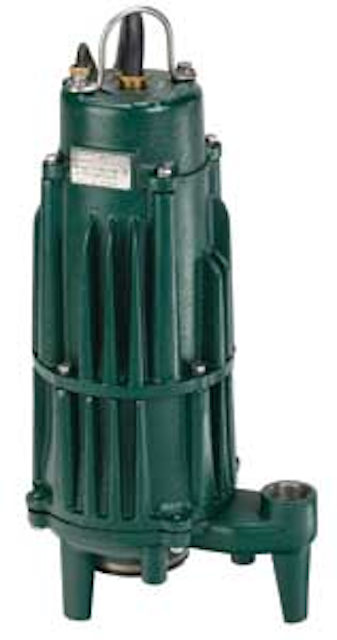 Zoeller offers a broad selection of 1-15 hp submersible solids handling pumps with vortex impellers. Vortex pumps, recognized for their improved solids handling capabilities, are being successfully applied in the most challenging wastewater pumping applications. The company offers these pumps in either 2.5" or 3" solids handling capacity.
Zoeller Engineered Products
www.zoellerengprod.com
---
Dewatering pumps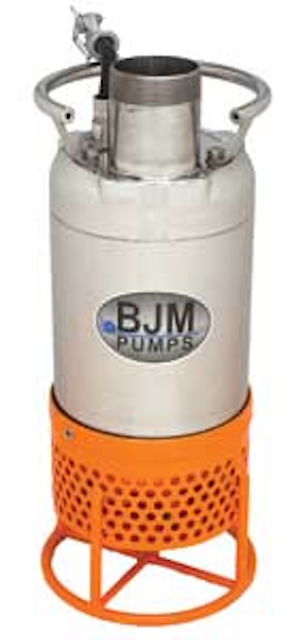 BJM Pumps' LWA is a light weight agitator pump that performs well in very abrasive dewatering applications. It has been used in the oil and gas drilling industry to transfer spent water from large holding ponds. The high chrome, hard metal submersible dewatering pumps are designed for dewatering sand, silt and abrasive light slurries. They feature a chrome iron impeller and wear plate, plus a hardened ductile iron agitator and volute.
BJM Pumps
www.bjmpumps.com
---
Metering pumps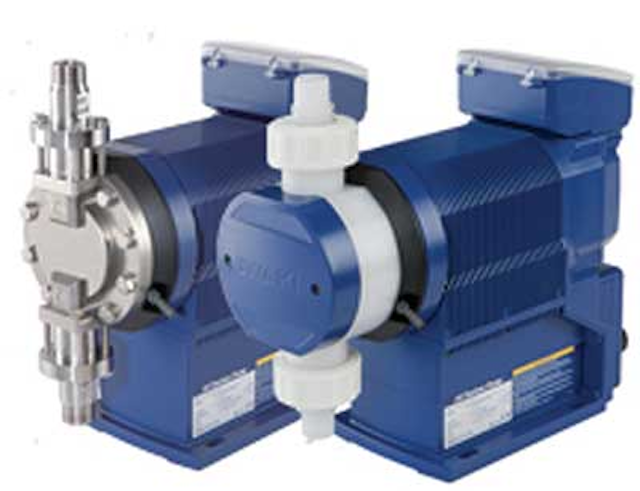 The Walchem IX Series are direct-drive, digitally controlled metering pumps combining both accuracy and flexibility in an energy efficient design. Precise control is maintained over a wide output range, enabling one pump to satisfy a broad range of application flow rate requirements. The series meets today's demands for automated chemical delivery in industries from wastewater treatment to chemical process.
Walchem, an Iwaki America Co.
www.walchem.com
---
Submersible pump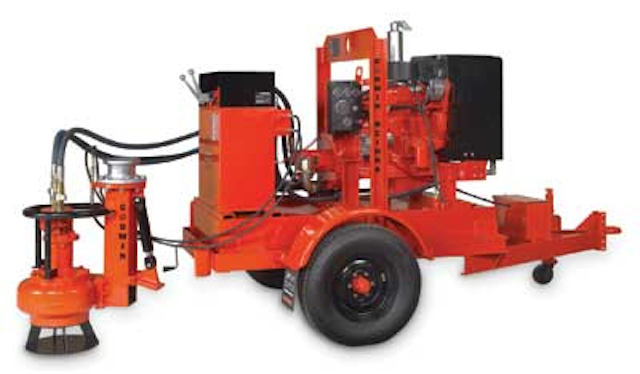 The Godwin Heidra 150NC hydraulic submersible pump is a powerful yet compact pump with flow capabilities to 1700 gpm and discharge heads to 185 feet of total dynamic head with a simple throttle adjustment. The pump features the unique patented Flygt N-technology with its self-cleaning impeller. The self-contained hydraulic submersible pump can pass stringy solids through its impeller without clogging and solids up to 1.75" in diameter.
Godwin, a Xylem brand
www.godwinpumps.com
---
Cake pump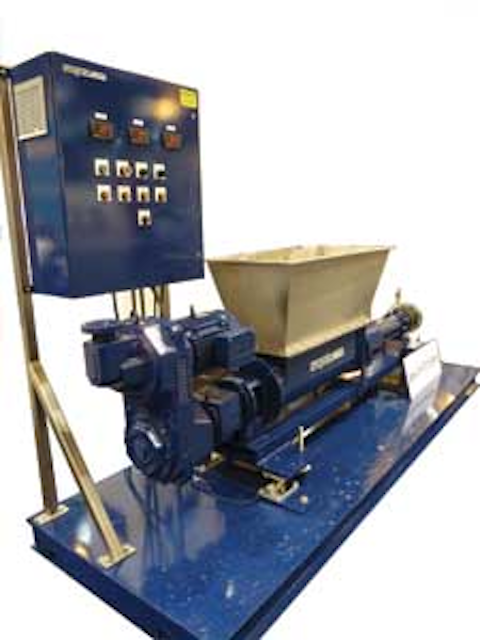 seepex presents a piping-contained cake transfer solution which replaces the open-air cake transfer method using conveyors. The pitch, diameter, and speed of the auger which pushes the cake into the pumping element can be adjusted to match the application while load cells automate the process. The hopper is fitted with sensors which detect the increase in weight and adjust the speed of the pump accordingly, saving energy. The system is also fitted with a pressure sensor, dry running protection sensor, and a boundary layer injection system.
Seepex Inc.
www.seepex.com
---
Bypass pumps

Gorman-Rupp offers a new emergency bypass pump package that operates on natural gas. The unit features a 6" Super T Series® pump capable of passing a 3" spherical solid and offers a sound-proof lightweight aluminum enclosure. The enclosure has padlockable door panels and can be removed for maintenance of the pump or engine. This unit is a complete back-up package, ready for hook-up.
Gorman-Rupp Co.
www.grpumps.com
---
Compact pumps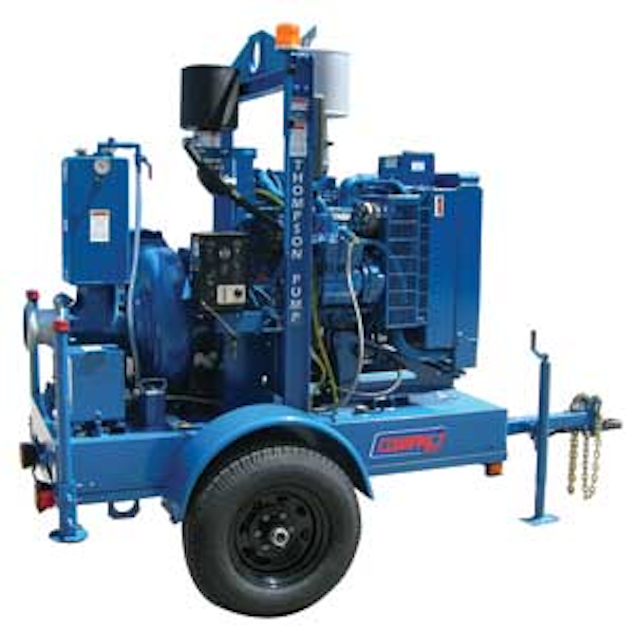 Thompson Pump now offers its Compact pump series with all the benefits of its JSC series with the new benefits of a smaller size, lighter weight, fewer parts, less maintenance, and lower price. The pumps are 35% smaller and 20% lighter but offer the same performance as a standard size pump with 24-hour run time fuel tank. They are available in the most common diesel-drive portable pump sizes of 4" and 6". Options include automatic start/stop and Silent Knight® sound attenuation.
Thompson Pump & Manufacturing
www.thompsonpump.com
---
Hose pump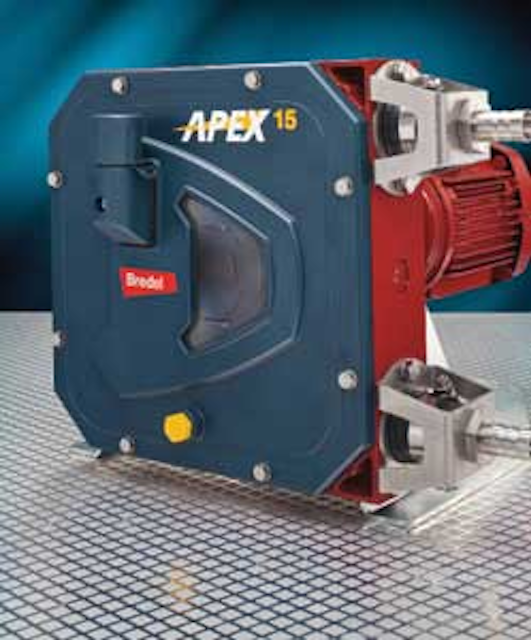 Bredel has introduced its new APEX range, an optimized pump designed to suit all dosing, metering and transfer duties between 0.7 - 317 gph. The hose pumps are suited for handling difficult fluids corrosive, viscous, shear-sensitive, gaseous, crystallizing or even fluids with a combination of these properties. The pumps use a new generation of long-lasting hoses that also support repeatable accuracy when dosing additives; while continuous pump speeds up to 100 rpm provide a wider capacity range compared to alternative hose pumps.
Bredel Hose Pumps
www.wmpg.com
---
Metering pump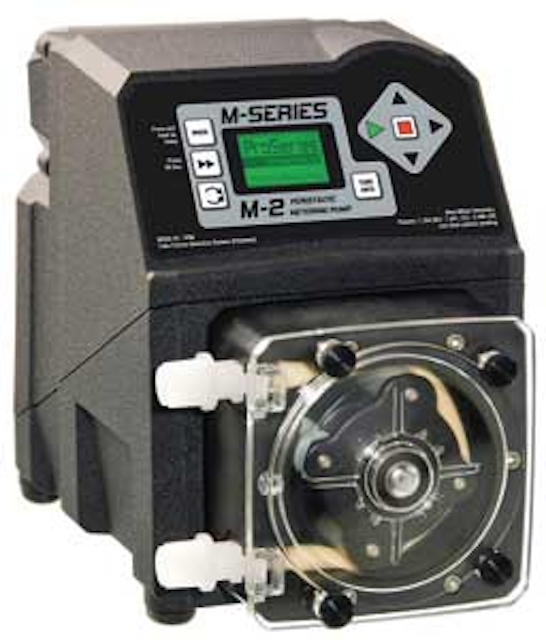 Blue-White® has announced a new addition to the ProSeries-M Line of Peristaltic Metering Pumps. The new M-2 pump offers feed rates from .007 to 15 gph; pressures to 125 psi; a 200:1 turndown ratio; 4-20 mA input and output (dual input ready). Communication options include Industrial Ethernet, Profibus, ProfiNet, Modbus and Modbus TCP (optional). The pumps are NSF Listed Std. 61 with a NEMA 4X rating.
Blue-White Industries
www.proseries-m.com
---
Vortex pumps
KSB, a supplier of wastewater pumps, has released the versatile Amarex N pump to the U.S. market. The pumps are available in eight models to fit a variety of applications, such as wastewater transport, fluids containing long fibers and solid substances, fluids containing gas/air, raw, activated or digested sludge, or drainage of rooms subjected to a flooding risk in industrial and commercial premises. The vortex pumps employ KSB's F-type impeller with discharge sizes ranging from 2" to 4". The pumps are suitable for stationary wet-well installations (guide cable or guide rails) or portable installations.
KSB USA
www.ksbusa.com
---
Metering pumps
The Neptune™ Series 7000 mechanically actuated diaphragm metering pump was designed with water and wastewater applications in mind. Its mechanical design eliminates the use of contour plates on the liquid side of the diaphragm while the simple, straight-through valve and head design allows for improved flow characteristics. The series is self-priming, provides improved performance, and has a maximum capacity range up to 300 gph at 150 psi.
Neptune™ Chemical Pump Co.
www.psgdover.com/neptune/home
---
Rotary lobe pumps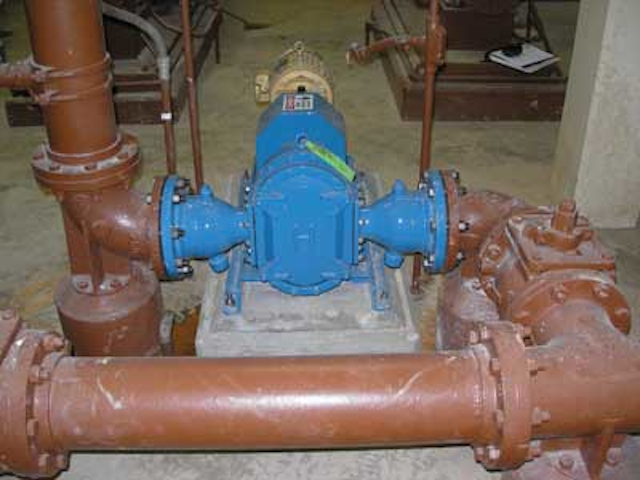 LobePro Rotary Pumps' G-series (General Use) and S-Series (Sludge, Mud, and Slurries) positive displacement rotary lobe pumps are suitable for pumping any WWTP sludge which has hard solids smaller than 1/8". The rotary lobe pumps are typically used to pump sludge to and from thickeners, separators (such as belt presses, centrifuges, and rotary presses), digesters and clarifiers. They handle flows from 8 gpm to 2000 gpm and pressures up to 150 psi. The customer can specify an in-line grinder, filter or knock-out tank should hard solids larger than 1/8" be present.
LobePro Rotary Pumps
www.lobepro.com
---
Horizontal split case pumps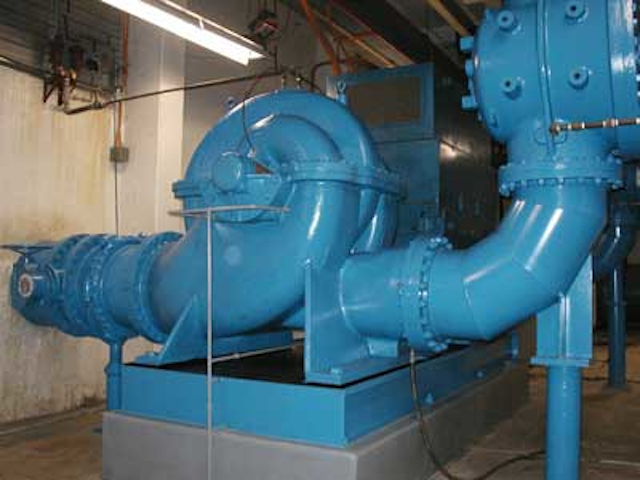 Patterson Horizontal Split Case Pumps are engineered to move clear water and low viscosity clear liquids at moderate heads more efficiently and economically than any other type of pump. Their simple design ensures long, efficient unit life and minimum power consumption. These split case pumps meet Hydraulic Institute Standards in capacities from 50 gpm to more than 100,000 gpm, with single stage heads to 550 ft. and two-stage heads to 1,150 ft.
Patterson Pump Co.
www.pattersonpumps.com
---
Pump control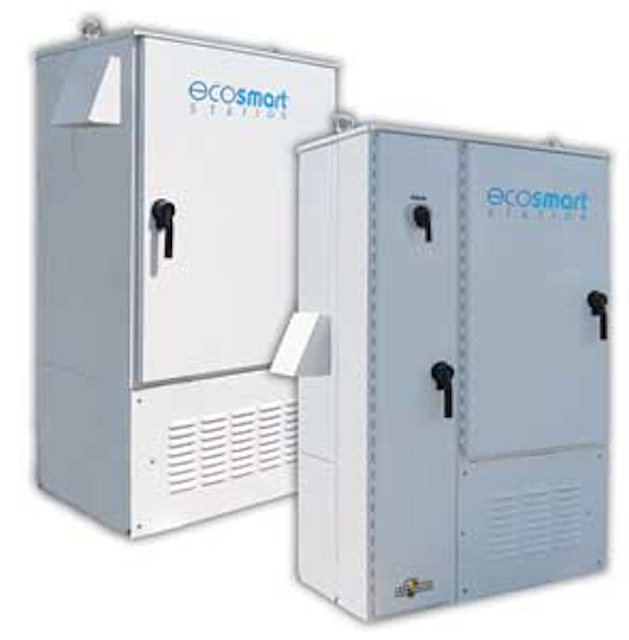 The Eco Smart Station® from SJE-Rhombus provides an energy efficient solution for pump control in municipal lift station applications. The station integrates the Energy View® controller with the latest variable frequency drive technology into the multiple compartment Arc Armor® enclosure to reduce exposure to arc flash and save energy. The controller is powered by kW Logix® Software.
SJE-Rhombus
www.ecosmartpanel.com
---
Pump station controller
Xylem's Flygt APP 800 automated pump station control system is designed to provide more uptime, greater energy savings, and less operating and maintenance costs. Unlike general-purpose PLC systems, this system with dedicated pump I/Os is specifically engineered for control of water and wastewater transport systems. It is modular and scalable, allowing flexibility to add or modify modules for future expansions with just a few pushes of a button on a user-friendly touch screen or clicks of a computer mouse.
Flygt, a Xylem brand
www.flygtus.com
---
Trash pumps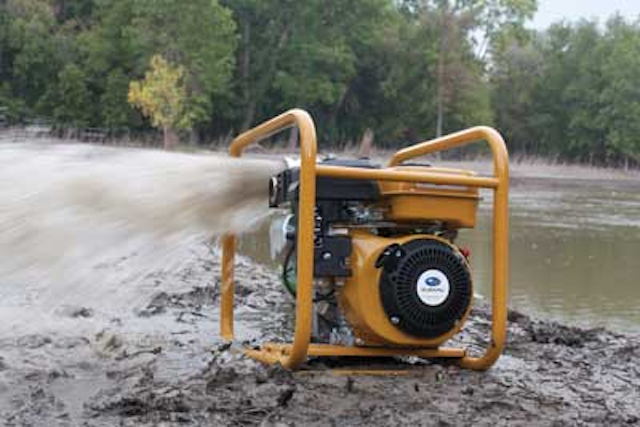 Subaru Trash Pumps combine a powerful engine and heavy-duty construction to move high volumes of trash water without clogging the pump. The pumps are now backed by Subaru's new 5-year limited warranty program, which covers both the pump and engine. The centrifugal-type pumps are available in models with 2-, 3- and 4-inch discharge outlets. A Subaru overhead cam or overhead valve gasoline engine powers each model.
Robin America Inc.
http://robinamerica.com/
---
Level controller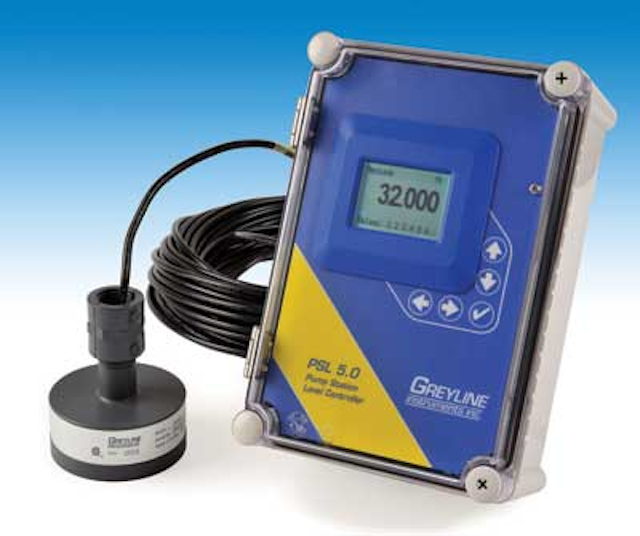 The new PSL 5.0 Pump Station Level Controller from Greyline Instruments features redundant level sensing. It includes a non-contacting ultrasonic sensor and users can also connect a loop-powered pressure sensor for redundant sensing in applications with foam or grease. The controller will recalibrate the pressure sensor automatically and switch back and forth from ultrasonic level to the pressure sensor as required. It is designed for sewage lift stations, wet wells and storage tanks. Calibration and relay set points are easy to enter through a user-friendly keypad and menu system.
Greyline Instruments Inc.
www.greyline.com
---
Screw pumps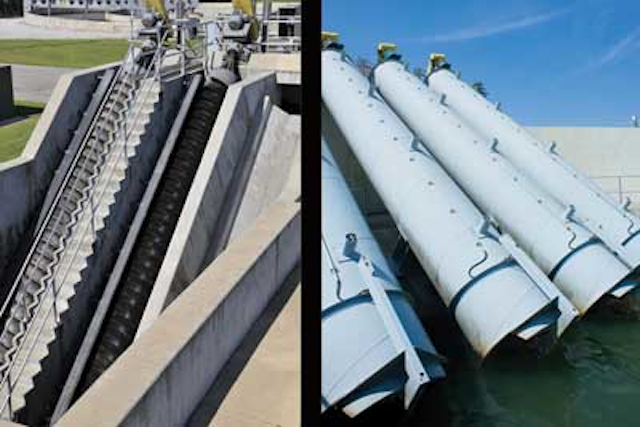 Schreiber incorporates the Archimedean Screw Pump concept in both the Tube Mounted Screw Pump and the Open Flight Screw Pump. This concept provides variable capacity at a constant speed up to its design maximum. The Tube Mounted Screw Pump transports liquid inside a stationary tube, simplifying structure design and eliminating the need for grouting. The units are completely factory assembled, which minimizes installation costs. Pumps can be set at a fixed angle or the lower end can be support by a hoist to vary the pump angle and for maintenance access.
Schreiber LLC
www.schreiberwater.com
---
Close-coupled pumps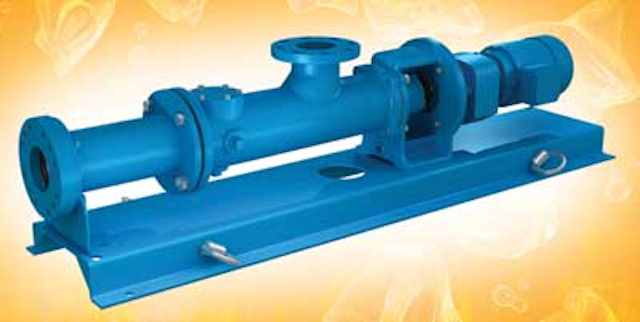 The Moyno® 2000 Model WA and WB close-coupled pumps are specifically designed for lower pressure, lower flow applications that do not require the full features and benefits of the Moyno 2000 G1 pump. They are ideal for municipal and industrial applications that require the transfer of highly viscous fluids and solids where a close coupled configuration is preferred, but the robustness of a gear joint is desired. Bearings are integral to the adapter housing that supports the radial thrust loads at the rotor/stator.
Moyno Inc.
www.moyno.com
---
Drives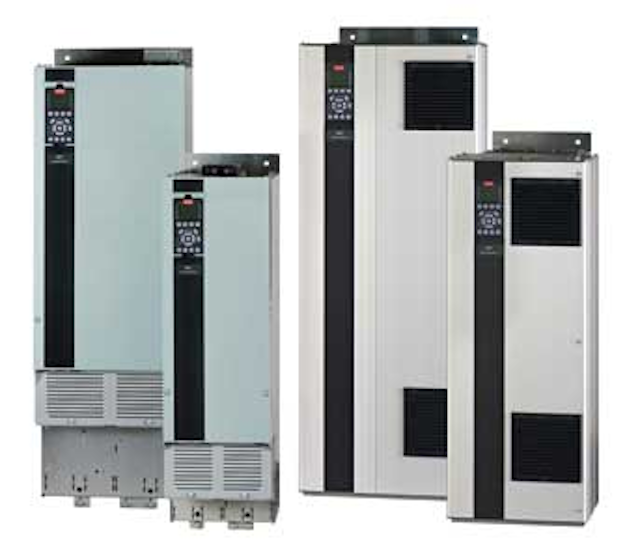 Danfoss has introduced its next generation D-Frame VLT® Drives. Available in a power range from 125-450 hp and up to 68% smaller than previous generation D-Frame drives, the new drives require significantly less panel or wall space than previous models which were already among the smallest in their class. This reduces installation costs and increases installation flexibility.
Danfoss VLT Drives
www.danfossdrives.com
---
Pump station manager
MultiTrode's MultiSmart is an intelligent Pump Station Manager that can help reduce energy consumption and operating costs. With out-of-the-box functionality designed for simplified deployment, the station manager combines thousands of dollars in technology, components and engineering into one comprehensive package. Pre-programmed logic developed from decades of real-world industry experience is designed to significantly reduce operating costs, decrease energy costs and consumption, and prevent failures, blockages and spills.
MultiTrode
www.multitrode.com