Products & Services: Pipe
Collection of Pipe products and services.
Oct 1st, 2012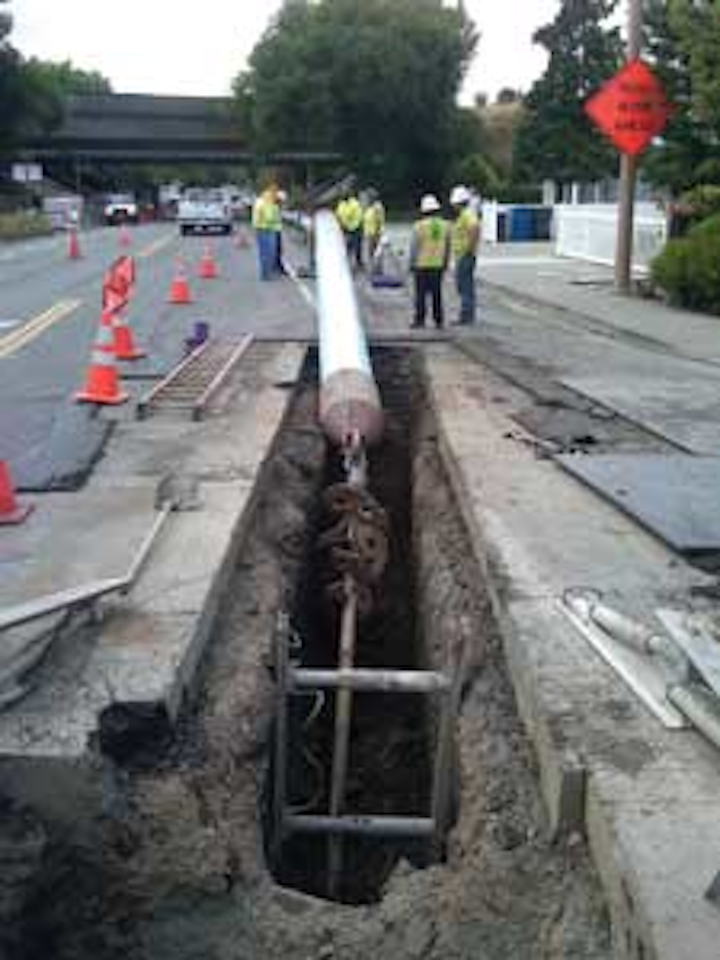 Fusible PVC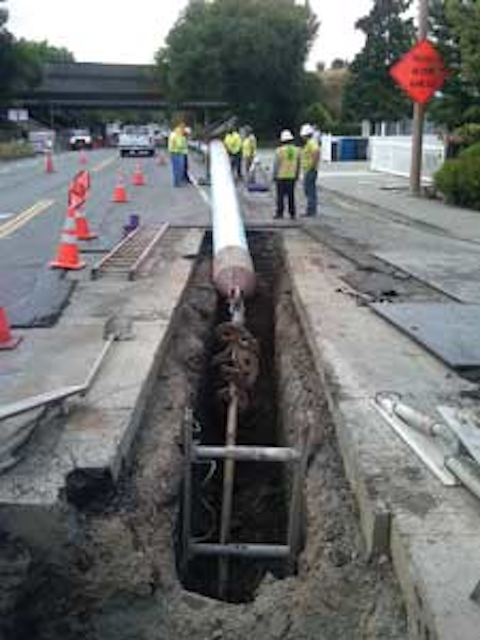 With about 5 million feet of Fusible PVC™ pipe installed, fused PVC pipe is one of the fastest growing infrastructure technologies in North America. Available in nominal diameters from 4" to 36", the pipe provides both trenchless and open-cut projects with economical solutions. The benefits of having no mechanical couplings or bells, and possessing a thinner wall for given pressure class versus other thermoplastic pipes, ensures that it maximizes flow and reconnects easily to ductile iron or bell & spigot lines.
Underground Solutions Inc.
www.undergroundsolutions.com
---
Joint seals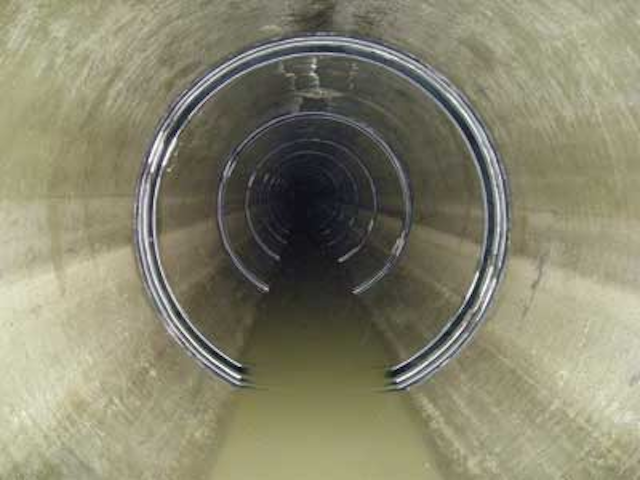 Cretex Specialty Products now offers HydraTite® Internal Joint Seals for the sewer and stormwater markets. The system is a mechanical, trenchless remediation for repair of pipe joints. It consists of a proprietary rubber seal which spans the joint and is held in place by stainless steel retaining bands which are hydraulically expanded and locked in place with a wedge lock design, eliminating all infiltration and exfiltration. Each seal is custom made for each application to ensure complete compliance with project specifications.
Cretex Specialty Products
www.cretexseals.com
---
Grouting system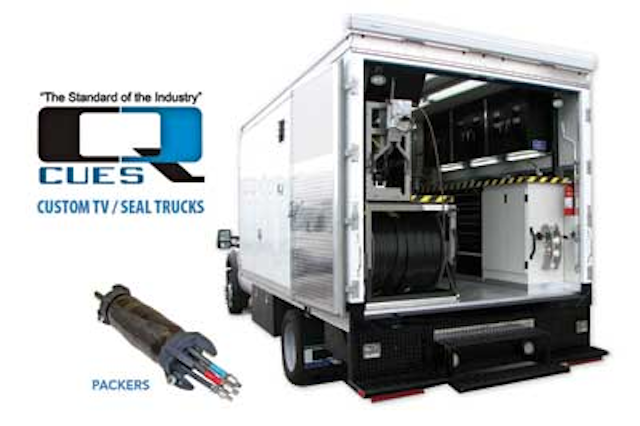 Cues offers truck and trailer mounted grout rehabilitation systems for mainline, manhole, and lateral joint sealing. The systems can be equipped with the latest CCTV equipment and decision support software for television inspection with documented condition assessment. All systems can be configured to run urethane, acrylamide and acrylate grouts. Grout packers are available for mainline and lateral sealing. Granite XP software is available to integrate data seamlessly with enterprise asset-management systems.
Cues Inc.
www.cuesinc.com
---
Pipe liner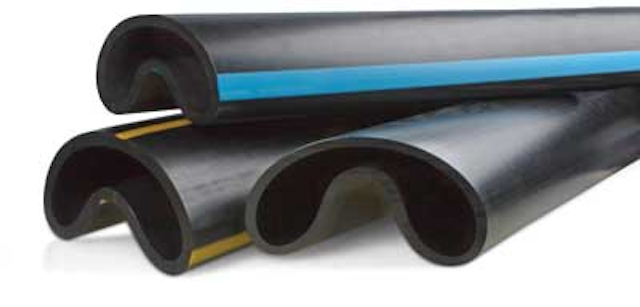 Agru America has introduced SureFIT®, a close fit liner that is specially designed for rehabilitating damaged pipelines with minimal impact to the environment. Its applications include sewage disposal and industrial piping networks as well as natural gas and potable water supply systems. Only steam and pressure are used during the installation process, and the liner made of PE 100 is ecologically friendly in production as well as application. The liner offers a tight bending radii and can be inserted via existing manholes or small construction pits. When heated up by steam, it regains its original round shape and adjusts to the wall of the existing pipe, reducing internal stresses and increasing resistance to crack initiation.
Agru America Inc.
www.agruamerica.com
---
Coating system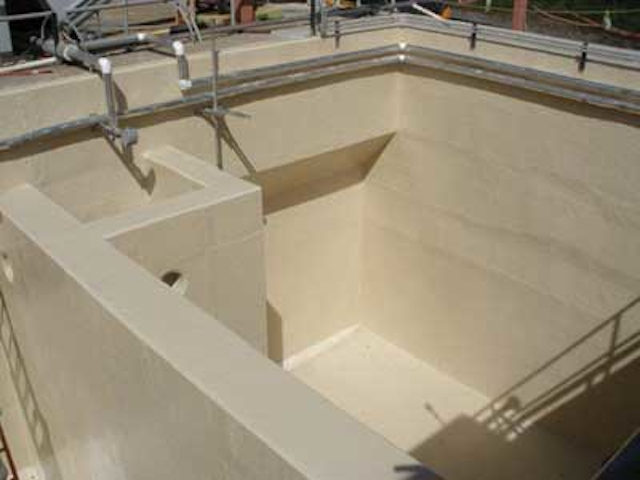 A new version of SewerGard™, Sauereisen's 210X, exhibits compressive strength exceeding 15,000 psi. Wherever extreme corrosive conditions exist, the coating is used as a stand-alone high strength lining that enables high build capabilities. Manholes subjected to heavy stress represent a typical area where the coating would be used. It is also intended for preserving the concrete and steel infrastructure of wastewater treatment plants. In either area, the environmentally friendly nature of the product (100% solids, zero VOCs) offers additional benefit.
Sauereisen Inc.
www.sauereisen.com
---
Saw chain

The PowerGrit Utility Saw Chain from ICS/Blount is designed to cut through pipe ranging from ductile iron to plastic using a chainsaw. The chain features a brazed layer diamond coating on a patent pending chain design. Using a chain saw to cut pipe provides dramatically improved access to the cut with far less excavation. The ability to cut all the way through the pipe from one side reduces the difficulty of cutting pipe in the trench.
ICS | Blount Inc.
www.icsbestway.com
---
Pipe supports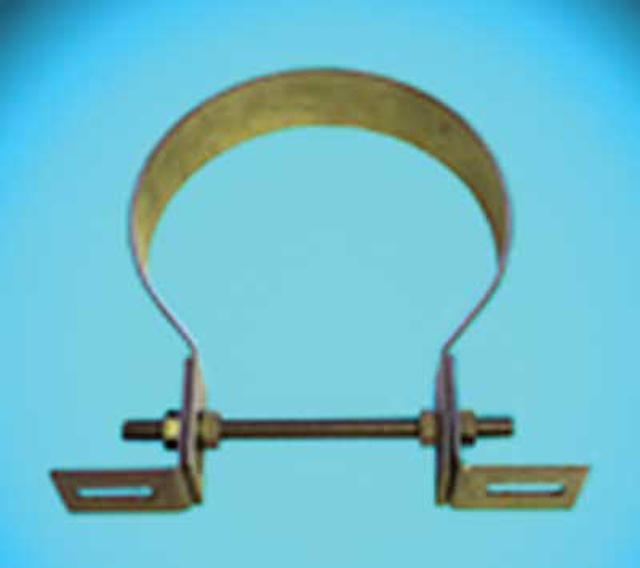 Pipe supports by Reliner®/ Duran are easily installed adjustable clamping pipe brackets made of non-corrosive 11 gauge 304 stainless steel. They securely attach pipes to manhole walls and other surfaces with no protruding hardware and are fully adjustable to fit irregular surfaces. Often used with the Reliner Inside Drop Bowl to eliminate outside drops in sanitary sewers or stormwater drops, they attach to the wall with 3/8" stainless steel bolts in non-corrosive shields. A range of clamp sizes from 1.5" – 30" for SDR 35, Schedule 40, C900, CIOD, etc. are kept in stock. Other sizes are produced. Pump support systems are also available.
Reliner®/ Duran Inc.
www.reliner.com
---
Pneumatic saws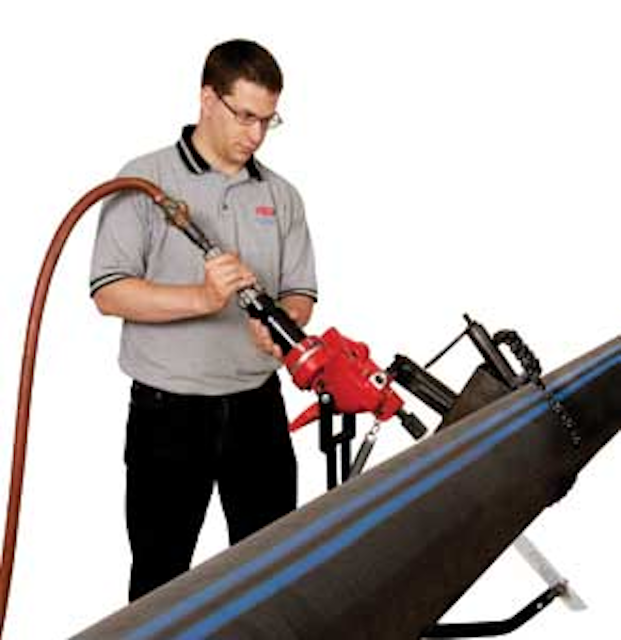 Reed now offers Blade Guides for the Saw It® pneumatic saw. Offered in both 21" and 30" lengths, the guides reach across the pipe section being cut and stabilize the blade so that it does not whip and vibrate. This extends the blade life, squares the cut and helps eliminate accidental blade breakage. Blade guides are sized to match blade length. Reed's Saw It® pneumatic saw provides power and reciprocating motion to blades for cutting plastic, steel, and stainless steel pipe.
Reed Manufacturing Co.
www.reedmfgco.com
---
Sewer assessment
InfoSense recently received the Innovative Technology Award from WEF for its Sewer Line Rapid Assessment Tool (SL-RAT™), a condition assessment tool for collection system crews that provides quick diagnostics of a sewer pipeline segment without the time and expense of a closed-circuit television (CCTV) inspection. The system consists of a mobile transmitter and a receiver, which are dropped down a manhole at opposite ends of a sewer line hundreds of feet apart. A low frequency sonic wave travels down the pipeline, and the resulting acoustic wave pattern is interpreted by computer formulas to indicate the likelihood that the line is fully open or blocked.
InfoSense Inc.
http://infosenseinc.com
---
HDPE pipe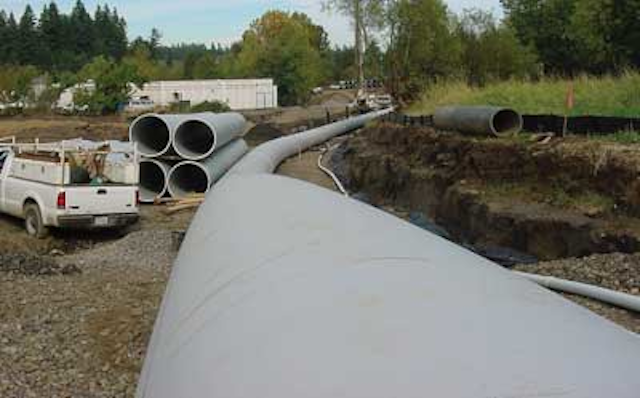 PolyPipe® has introduced LightView™ Plus HDPE pipe for forced main applications. Its specially formulated gray color allows inspection of the pipe interior via CCTV monitoring. The pipe is flexible enough to bend around obstacles and under roads, and is well suited for both open-cut and HDD installations. It is manufactured with high performance polyethylene resin, provides superior fatigue resistance, is resistant to corrosion, abrasion, and chemical attack, and suffers no damaging effects from freeze-thaw cycles.
PolyPipe Inc.
www.polypipeinc.com
---
Pipe restraint products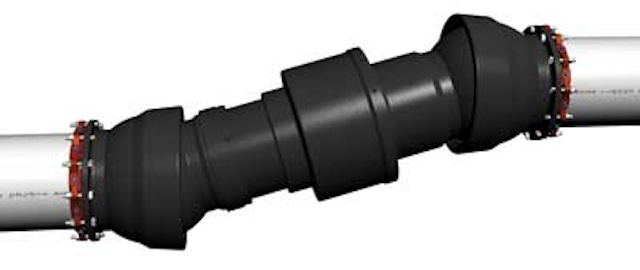 The two newest products from EBAA Iron are the Mega-Stop PVC Bell Protection System and Series 1900 PVC Restraint Systems. The bell protection device facilitates proper assembly of PVC pipe joints. It reduces damaging stresses in pipe joints caused by over-insertion, and incorporates an ERS to allow for pipe expansion and contraction. The PVC restraint systems are engineered to accommodate the increased pressure ratings for C900 and C909 PVC pipe. They effectively restrain pipe in a variety of applications – above or below ground, residential or industrial.
EBAA Iron
www.ebaa.com
---
Lining systems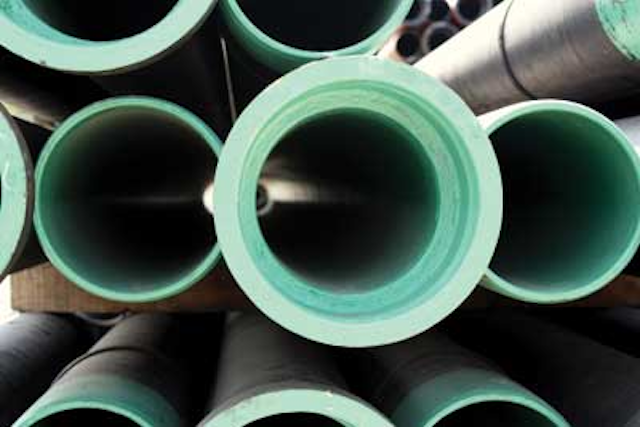 Tnemec's Series 431 Perma-Shield® PL is a high-performance, ceramic-modified epoxy lining for ductile iron and steel pipe. Formulated for the most aggressive sewer environments, it offers advanced permeation, abrasion, and chemical resistance. It can withstand 2500 psi hydrocleaning, and its light green color makes it easy to inspect.
Tnemec Co. Inc.
www.tnemec.com
---
Pipe joining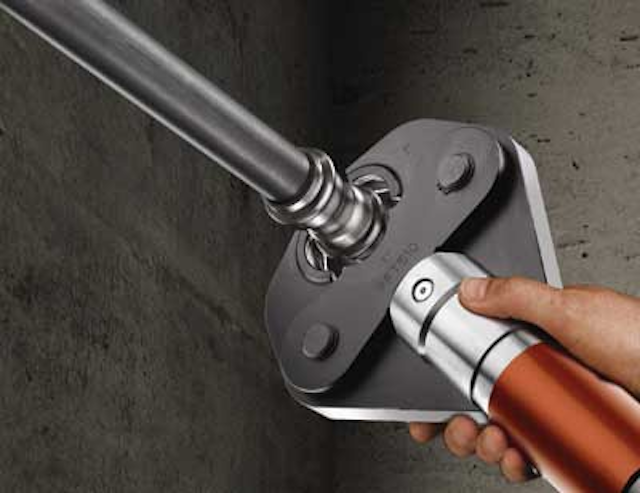 Victaulic has introduced the Vic-Press, a flame-free press system that joins pipe in a matter of seconds. The press-to-connect system is designed for off-the-shelf Schedule 10S stainless steel pipe. It offers safer, more efficient pipe assembly than welding, threading and flanging; and increased strength and durability and improved flow characteristics compared to light-wall tube systems. Vic-Press is ideal for a number of water industry applications, including compressed air/instrument air, dissolved air flotation and aeration lines.
Victaulic
www.vic-press.com
---
Root control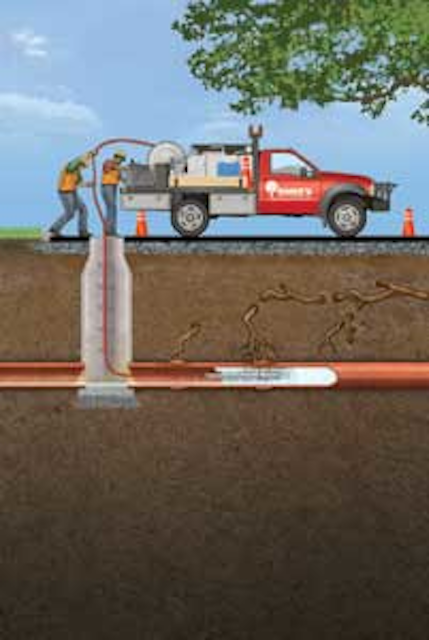 Duke's Root Control is a full-service root control company. Its proprietary herbicide, Razorooter II, has been used at over 2,000 U.S. municipalities to extend pipe life and reduce SSO occurrences. The company has successfully treated over 180 million feet of sewer line and can customize a root-control program that integrates CMOM into each municipality's O&M plan. The company only applies EPA-registered products that do not negatively impact downstream treatment facilities and are shown to be non-cancer-causing.
Duke's Sales & Service Inc.
www.dukes.com
---
PE pipe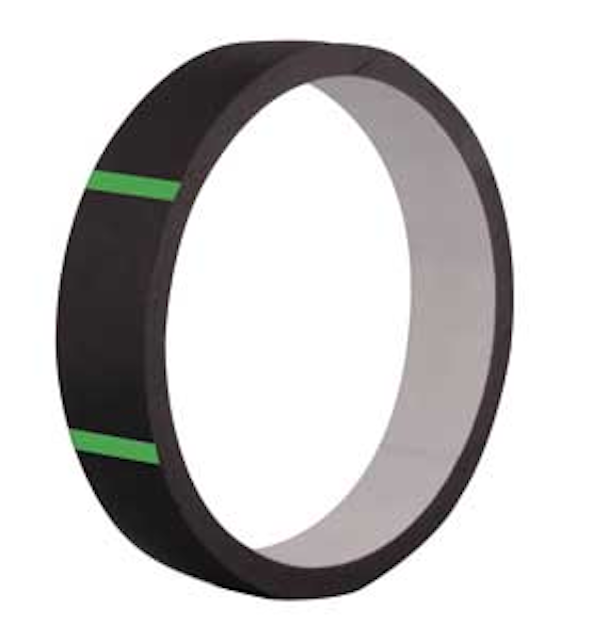 WL Plastics Camcore™ polyethylene pipe is suited for new construction and rehabilitating aging sewers and force mains. The pipe's light reflective interior enhances video inspections for locating obstructions and lateral locations. Heat fusion joints eliminate infiltration and exfiltration and are fully restrained for low-cost trenchless rehabilitation. A black UV protection system prevents deterioration during extended storage or long-term above grade service. Camcore™ PE4710 pipe is manufactured to ASTM D3035, ASTM F714, and AWWA C906 standards for pressure rated force main or non-pressure gravity sewer. Standard light gray interior.
WL Plastics Corp.
www.wlplastics.com
---
Pipe inspection software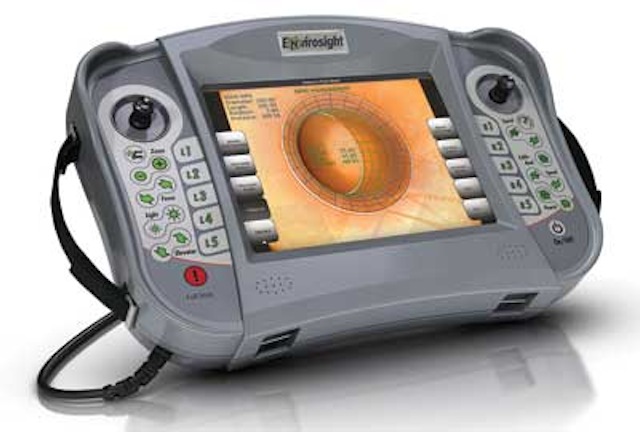 Envirosight's new Rovver Measurement Suite (RMS) image-analysis software for the Rovver X pipe inspection crawler allows an operator to measure a variety of pipe attributes directly from the system's touch-screen control pendant. Using adjustable overlays, the software calculates flow level; pipe diameter, bend and offset; and the branch angle, clock position and diameter of service connections. All measurements can be stored in the system's onboard WinCan-based inspection reporting database. Measurements can also be offloaded seamlessly to WinCan V8 software, the 3D module of which can use the data to build a virtual model of the inspected assets.
Envirosight LLC
www.envirosight.com
---
CIPP system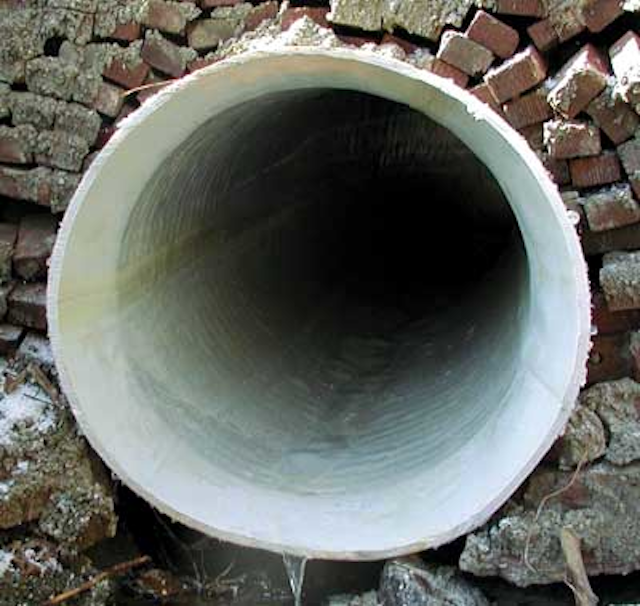 Inliner Technologies offers cured-in-place pipe renewal systems for pipes and culverts ranging in diameter from 4" to 120". The company's licensees are contracted by municipalities and industrial companies to renew storm, waste, and process sewer piping that has been damaged by corrosion and/or structural deterioration. With its focus on customer service and innovation, Inliner has installed over 14 million feet of lining in the U.S. and Canada since 1989.
Inliner Technologies
www.inliner.net