New Products
Collection of new products for the municipal drinking water and wastewater markets.
Oct 1st, 2012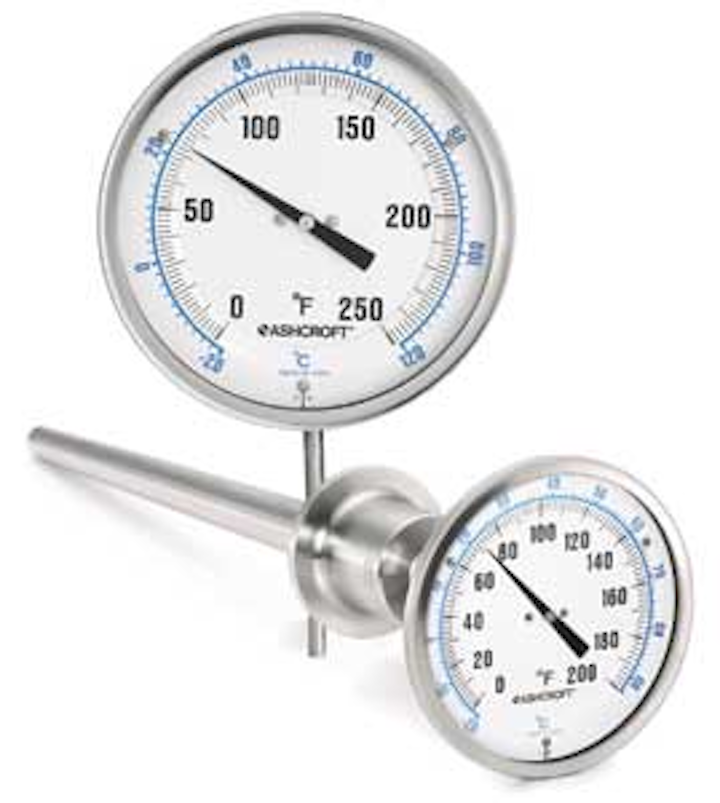 Mussel control
The U.S. Environmental Protection Agency has approved a dry formulation of Zequanox®, a biological product for controlling invasive mussels within enclosed systems and infrastructures. Available from Marrone Bio Innovations, the biopesticide is designed to control invasive zebra and quagga mussels. The product has shown 80 percent efficacy in controlling adult mussels and 90 percent in juveniles was demonstrated in multiple trials conducted throughout North America. Zequanox is composed of dead cells from a naturally occurring microbe found in soil and water bodies. This microbe has been proven to be lethal to zebra and quagga mussels (Dreissena species) without harming humans, infrastructure, non-target species, or the environment.
Marrone Bio Innovations Inc.
www.marronebio.com
---
Bimetal thermometers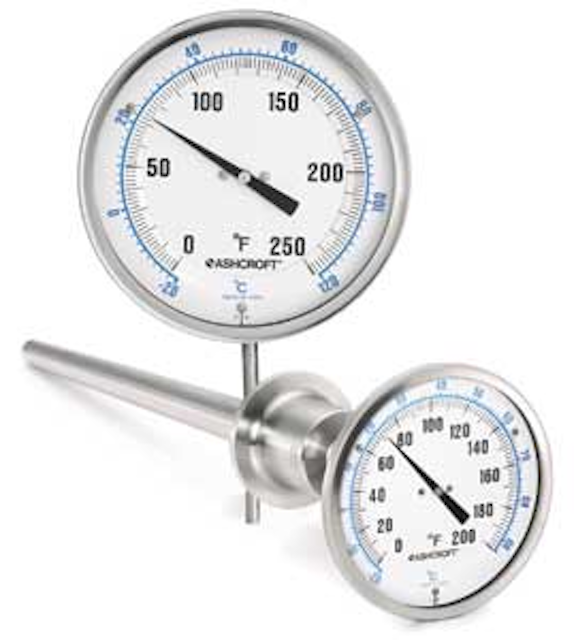 Ashcroft® bimetal thermometers eliminate the use of mercury to measure temperature. They are available in dial diameters from 2" to 5" and in ranges from -80 to 1000°F (and Celsius equivalents), these instruments are available in standard stem lengths from 2½" through 24" and special order stems up to 60". Ashcroft Maxivision® thermometers provide a fixed rear or bottom stem while the Everyangle™ design allows the stem angle to be adjusted. Hermetically sealed for easy wash-down or liquid filled to counter high vibration, the stainless steel bimetal thermometers are ideal for virtually every difficult installation.
Ashcroft Inc.
www.ashcroft.com
---
Gate valves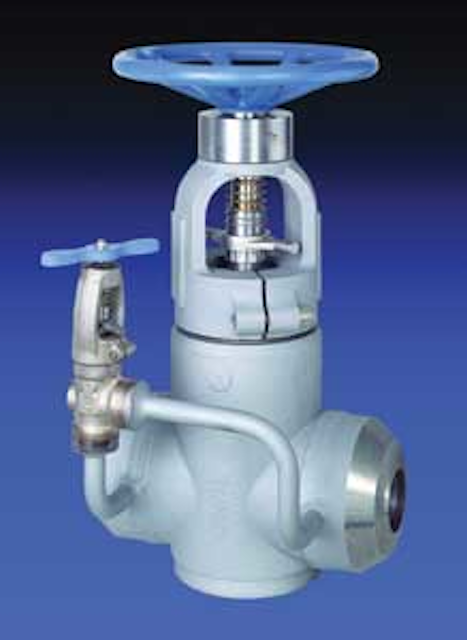 Conval offers Swivldisc® Gate Valves in ½" through 4" sizes. The valves feature a wedge gate design that employs a flexible disc. This disc permits the seating surface to achieve perfect alignment and establishes a tight seal that is not possible with standard wedge gates. The valves are available in ASME / ANSI Pressure Classes through #4500. Standard materials of construction are carbon steel and chromoly. Other materials are available upon request. Options include bypass, air or motor actuators.
Conval
www.conval.com
---
Water level meter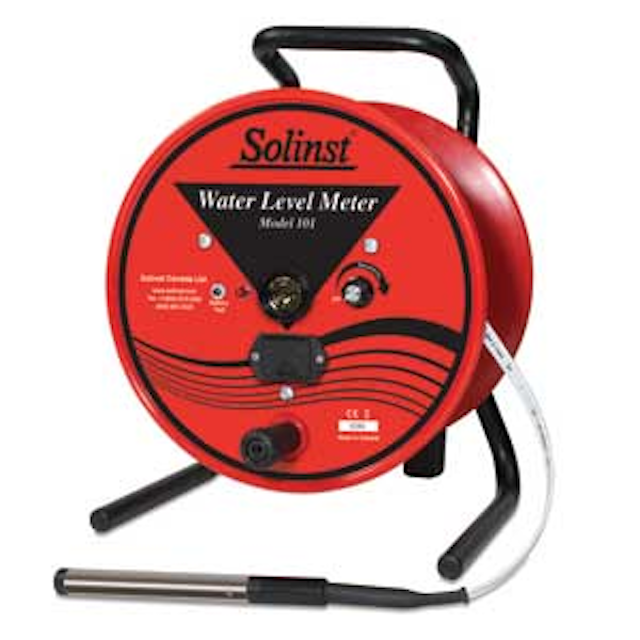 The Model 101 P7 Water Level Meter from Solinst features durable PVDF flat tape with laser markings every 1/100 ft or millimeter, certified traceable to National Standards. The tape has high tensile strength, abrasion resistance and electrical efficiency. The P7 Probe is submersible to 1000 ft. Standard Model 101 P2 Water Level Meters with heat embossed markings are also available.
Solinst Canada Ltd.
www.solinst.com
---
Biogas projects
Natural Systems Utilities (NSU) is now offering complimentary preliminary evaluations to review the viability of privately funded biogas projects. NSU offers clients a public-private partnership approach to design, build, finance, and operate plant upgrades at existing treatment plants to enable biogas capture and conversion to renewable energy. The company's approach features anaerobic digesters that capture and convert organic matter to biogas (methane) to reuse for energy generation, either by creating renewable natural gas or by creating vehicle fuel. Combined heat and power systems follow the digesters to convert the biogas into electricity and heat, recapturing up to 90 percent of the energy and reducing costs.
Natural Systems Utilities LLC
www.naturalsystemsutilities.com
---
Strap wrenches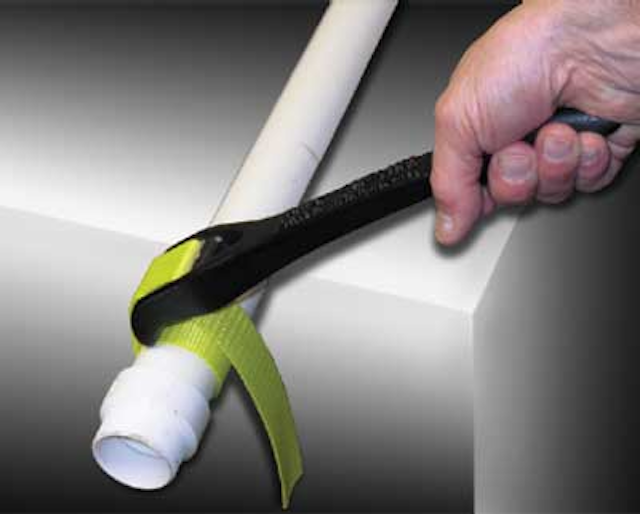 Lowell Corp. has added six new models to its lines of cast iron Simplex and Warnock strap wrenches, tools that make it possible to turn any shape without scratching, denting, or crushing in water and utility applications. Additions to the Simplex standard duty line are the S-1224, the S-1230, and the S-1848. The Warnock additions are the W-1224, the W-1230, and the W-1848. Specs are the same for both lines: handle lengths range from 12" to 18"; strap lengths range from 24" to 48"; and capacities range from 4" to 10". Custom strap lengths are available for both models. Applications include loosening and tightening oddly shaped and/or frozen fittings, machine and vehicle oil filters, small handwheels, PVC pipe, knurled fasteners and knobs, and turned shafts.
Lowell Corp.
www.lowellcorp.com
---
Surveillance software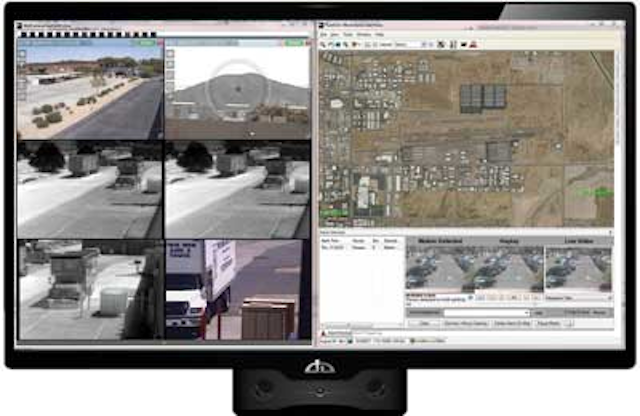 PureTech Systems has updated its PureActiv Wide Area Surveillance / PSIM software. PureActiv 10.0 includes an improved user interface, incorporating new control menu designs and the ability to more effectively display panoramic video sources. Other client features include the ability to process and display very large camera streams and detailed map images. The ability to digitally zoom on any live or recorded video, including PTZ cameras under operator control, has also been added. The update adds the capability to indicate actual range to target and target elevation. This allows for greater situational awareness and more advanced integration with long range security sensors.
PureTech Systems Inc.
www.puretechsystems.com
---
Diesel generators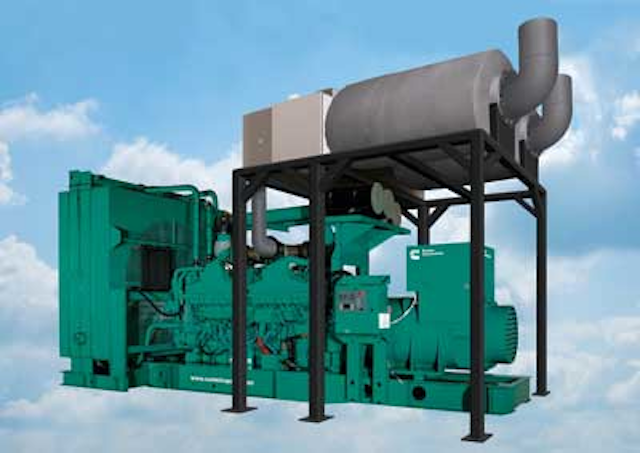 Cummins Power Generation's entire stationary diesel generator set range from 680–2,750 kW has received Environmental Protection Agency (EPA) Tier 4 interim (Tier 4i) certification for the North American market. EPA mandates that all non-emergency generator applications be Tier4i certified. Nonetheless, in certain locations, the local ordinances may require that emergency backup generators also adhere to stricter emissions limits. Because Cummins' stationary diesel generator sets can be configured to meet requirements beyond Tier 4i if necessary, the generator sets are available to comply with the most stringent emissions regulations.
Cummins Power Generation
www.tier4answers.com
---
Surge animation software
Innovyze has released the Surge Animation module for its surge product line. The pipe profile animation module brings a new level of visualization and interpretation power to transient analysis, helping engineers understand the complex phenomena occurring within their distribution systems. Available for InfoSurge and InfoWorks TS, the module is ideal for assessing the strength and effectiveness of water supply and distribution systems under a wide range of hydraulic transient conditions, from routine operation to emergency states. It can help users determine the best combination of surge protection devices to minimize the impact of objectionable pressure transients.
Innovyze
www.innovyze.com
---
Tank coatings, linings
Sherwin-Williams has introduced Infinitank™, a comprehensive set of specifications for exterior coatings and interior linings designed to extend the service life of water storage tanks. The 15-year coating system guideline recognizes and directly addresses the root causes of early tank failures from corrosion with products that assure correct film thickness, identify holidays and other discontinuities during application, and provide exceptional edge retention properties.
Sherwin-Williams
http://protective.sherwin-williams.com
---
Colorimeters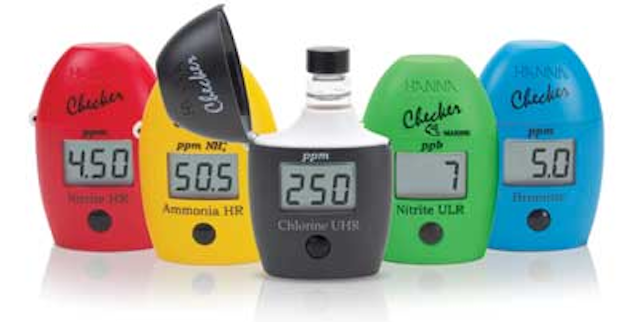 Hanna Instruments has released 12 new Checker® HC Handheld Colorimeters. The portable meters can measure a variety of parameters including ammonia, nitrite, total chlorine, low range silica, bromine, chromium VI, marine calcium and alkalinity. The inexpensive meters are designed for spot checking water quality and fill a niche between chemical test kits and higher end laboratory colorimeters.
Hanna Instruments
www.hannainst.com
---
Filter cartridges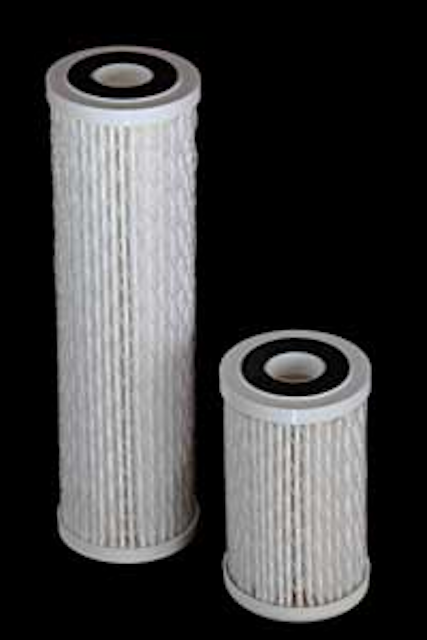 Argonide has launched a "no charge" sample program to demonstrate the efficacy and economic benefits of using its patented electropositive NanoCeram® filtration technology. The non-woven, pleated filters offer an average 2-micron pore size, which is very effective at filtering sub-micron particles at high flow rates. It is used extensively in commercial and industrial water purification. The filters are suited for use as prefilters for other systems including RO membranes, UV chambers and ion exchange beds.
Argonide Corp.
www.argonide.com
---
Limit switch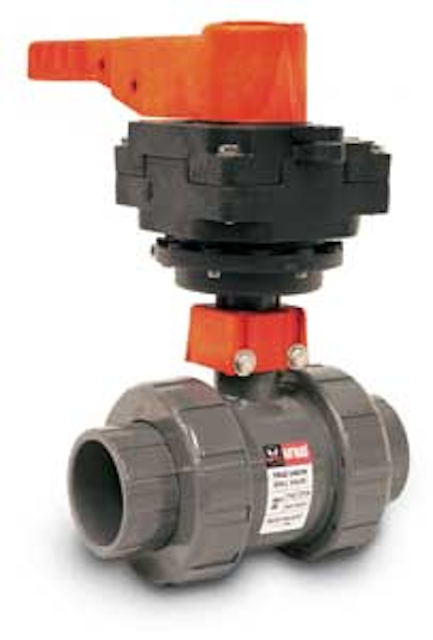 Hayward Flow Control's LHB Series Manual Limit Switch line now includes a Spring Return "Dead Man Handle" design for those applications where the valve must return to a closed position after operation. The LHB-SR ensures that the handle will always return to its original starting position as designated. The LHB-SR fits all sizes of Hayward TB Series Ball Valves and through 8" BY Series Butterfly Valves. Available in two sizes, LHB1-SR and LHB2-SR, it features a corrosion resistant GFPP housing with FPM seals and a 304 stainless steel stem.
Hayward Flow Control
www.haywardflowcontrol.com
---
Asset management
BMSI's webDPW™ Work Order Service and Asset Management is an online application that offers a complete service package to counties and local governments seeking easy automation of their processes. Besides generating work orders and invoices, this product also manages assets, equipment, fleet maintenance, depreciation, preventive maintenance, projects, job costs, fuel consumption and inventory. Operators can create and manage work orders, view information pertaining to work orders, track all assets including buildings, properties, equipment, signs, roads, storm drains, and water meters, etc. The system can include manuals, sketches and other documents that pertain to assets.
Business Management Systems Inc.
www.webdpw.com
---
Remote disconnect meter
Mueller Systems has expanded the capabilities of its fully integrated remote disconnect meter, the 420 RDM, with Mobile RDM, a standalone software that enables utility workers to remotely connect and disconnect water services from the safety of their vehicles. The system uses satellite mapping software to assist meter readers with their routes, can be installed on any laptop with a connection to a maintenance radio or an optional GPS device. While parked within 2000 feet of a service connection that is fitted with a 420 RDM, utility workers can use the maintenance radio or GPS device to send a high frequency radio signal directly to the Mi.Node transceiver, prompting the valve to turn on or shut off service for the account.
Mueller Systems
www.muellersystems.com
---
Ethernet adapter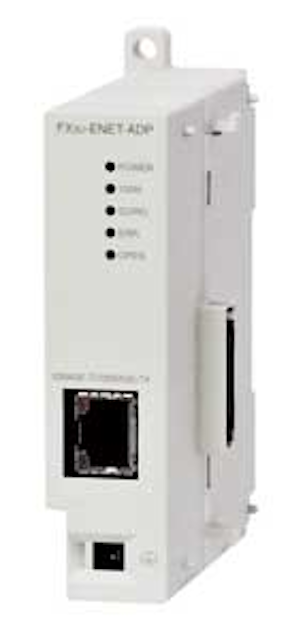 Mitsubishi Electric has introduced an Ethernet adapter for its FX3 Series PLCs. The new FX3U-ENET-ADP can be a cost-efficient alternative to micro PLCs to connect equipment such as PLCs, HMIs and personal computers, and has a built-in data monitoring tool so users can view real-time status and current data values of their equipment. The adapter features easy setup through standard programming software, four-channel communications for access to a wide range of devices, and an embedded data monitor for viewing network status using just a web browser.
Mitsubishi Electric Automation Inc.
www.meau.com
---
Storage tanks
American Structures is a provider of bolted, stainless steel tanks used for water and wastewater storage, agricultural, and municipal applications. The company uses stainless steel sheets of various thicknesses, precisely punching and rolling them into the required shapes. This process eases the erection of tanks at the job site. No additional welding or cutting is necessary after leaving the factory. The company has erection crews across the nation, which speeds assembly and lowers erection costs. Its bolted storage tanks can be easily expanded without changing the storage system or tank design, offering greater versatility, as well as the ability to grow with a utility's needs.
American Structures Inc.
www.ameristruc.com
---
Composite covers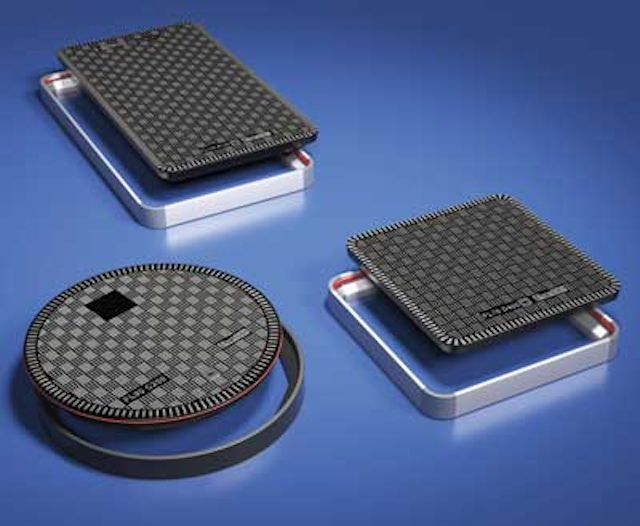 Fibrelite offers FRP composite cover and frame systems that can be used for access to sewerage systems, drainage networks, and electrical junction boxes. The covers exceed the load test requirements of ASHTO H20/25 and provide an anti-slip/skid surface which is guaranteed for the life of the cover. The covers combine long strand multi-directional fiberglass with a specifically formulated resin matrix to produce a durable but lightweight cover. Covers are chemically inert, have low thermal conductivity and are not electrically conductive.
Fibrelite Composites Ltd.
www.fibrelite.com
---
Flow monitors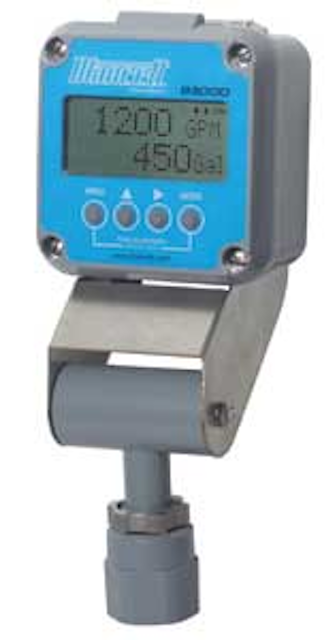 As part of the Badger Meter Blancett Turbine Flow Meter family, the new Blancett B3000 Flow Monitor metering solution provides a flexible platform suited for demanding environments. With advanced connectivity options, the meters can be connected to networks for remote monitoring and process automation capabilities. Robust alarm parameters provide faster warning when something changes in the process or pipeline. The monitors are available in several enclosure options for both liquid and gas applications, from intrinsically safe and explosion (flame) proof ratings to a solar-powered model. Models are housed in a UV-Resistant, NEMA 4X-rated enclosure available in direct, panel, pipe, DIN-rail or swivel mounts.
Badger Meter
www.blancett.com/B3000