Making the Disconnection: Three Examples of Creative Stormwater Management Solutions
Whether for new developments, redevelopments or retrofits, a key component of sustainable design is low impact development (LID), a land planning and engineering design approach for managing stormwater runoff.
Apr 1st, 2012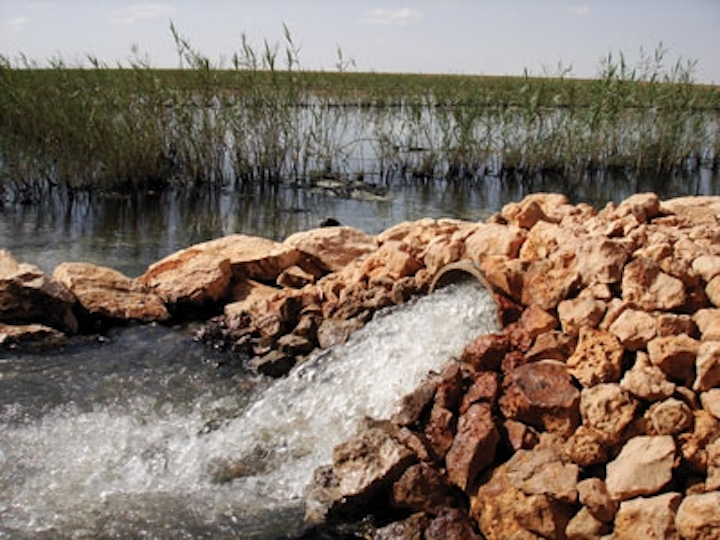 By Tom Powers
Whether for new developments, redevelopments or retrofits, a key component of sustainable design is low impact development (LID), a land planning and engineering design approach for managing stormwater runoff. One of the most cost-effective LID strategies is "disconnection," which decouples roof downspouts, roadways and other impervious areas from stormwater conveyance systems. Its primary objective is to reduce the amount of runoff leaving the site, which it accomplishes by collecting and managing stormwater on-site or dispersing it into the landscape.
Disconnection can be done fairly easily at sites where buildings are small and space is abundant. In fact, two of the most widely used disconnecting methods — grass swales and roadside ditches — have been around for decades. Effective solutions, however, are not as readily available in situations where the runoff is highly concentrated with faster flow rates. Disconnection strategies also become more complicated as buildings get taller and their footprints expand or when curbs are added to pavement, which eliminates sheet flow at its edges and increases concentration and flow rates. In general, any construction project in a congested urban space also makes the use of disconnection more challenging.
Yet with design creativity and the right engineering techniques, such obstacles can be overcome.
Joliet Junior College: A Mini "Treatment Train"
Bioretention is one of the easiest and least costly disconnection strategies when site availability, soils, water table, etc. are conducive. This method can be made even more effective through a multistep "treatment train process," which involves treating stormwater runoff at its source as it flows though the site and again before it leaves. For example, Wight & Company applied this principle at its headquarters. Stormwater becomes progressively cleaner as it flows from bioswales in the parking lot, through filtration trenches, across a restored prairie with native vegetation and into a landscaped rain garden.
The use of distributed bioretention areas combined with an abbreviated treatment train process were two of the key elements for an LID solution at Joliet Junior College (Joliet, IL). The project included a building addition with an enclosed plaza and a large parking area. Since downspouts were located close to the parking lot, circular splash blocks rimmed with large rocks were built at their points of discharge (see Fig. 1). These blocks help to dissipate the water's energy and prevent erosion in the bioretention strip between the building and parking area.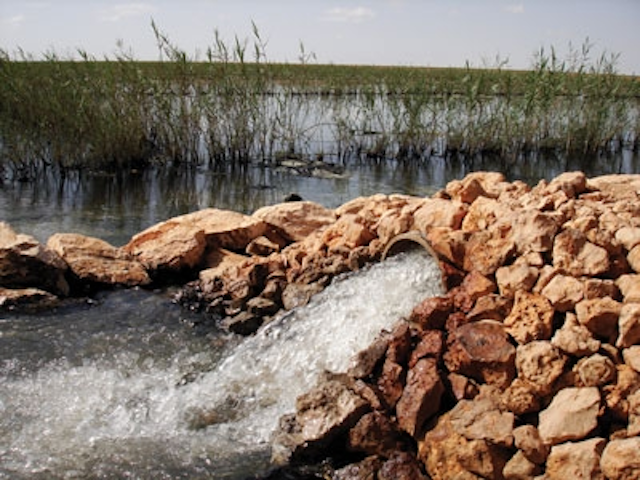 Fig. 1. Circular splash blocks rimmed with large rocks help dissipate the water's energy and prevent erosion.
At another one of the building's roof runoff discharge points, Wight built a splash zone of stones, which, about 15 feet from the building wall, had what appeared to be a sewer cover in its middle. Instead of connecting directly to the sewer this opening leads to underground pipes, which divert the water to bioretention zones in the plaza and elsewhere (see Fig. 2). Bioswales in strips at the edge of the parking lot also feature this type of hydrostatic piping system to transport excess runoff underground to areas where it can be absorbed in the landscape (see Fig. 3). This project shows that more sophisticated bioretention strategies can work even at sites that don't appear to have space available for rain gardens.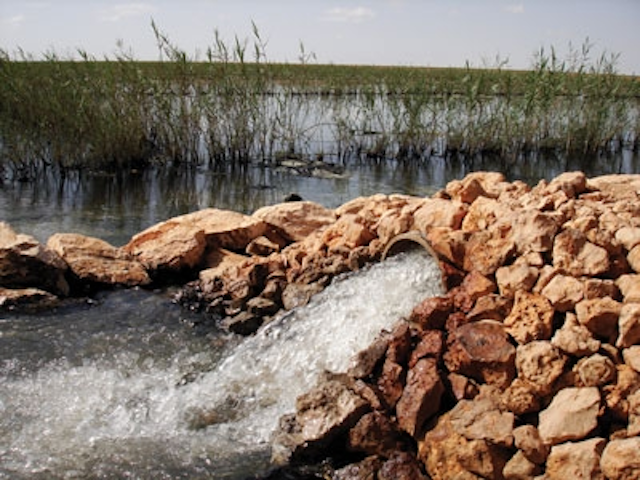 Fig. 2. Splash zones divert the water to bioretention zones in the plaza and elsewhere.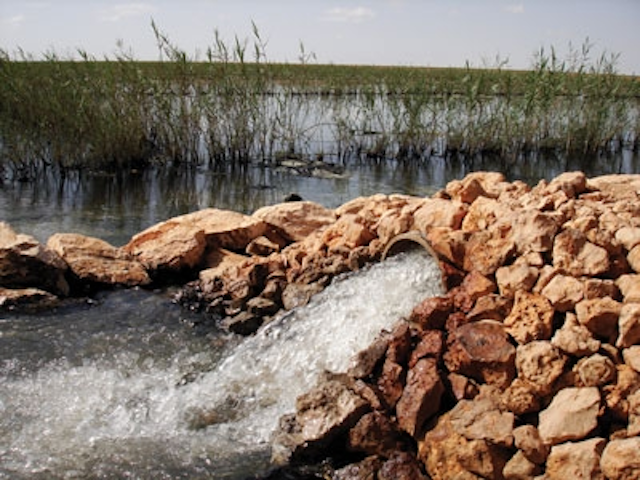 Fig. 3. Bioswales at the edge of the parking lot.
Kane County Judicial Center: Retrofitted Rain Gardens
When the 16th Judicial Circuit in St. Charles, IL, needed extra space for traffic court, Wight & Company was selected to convert a former large department store warehouse into a new Kane County Branch Court and Conference Center. In addition to a complete interior renovation, which received an Excellence in Design Architecture Award from AIA in 2011, Wight redesigned its large parking area with three specific goals in mind:
1) Improve traffic flow in the parking area, plus to and from a busy thoroughfare in front of the courthouse;
2) Make it easy and intuitive for drivers and pedestrians to know where to go; and
3) Significantly reduce the amount of stormwater runoff going into the nearby Fox River.
The solution to the first two challenges was to break up the expansive parking lot by creating traffic aisles and sidewalks, plus reconfiguring the nondescript entrance to become a focal point for all visitors. This linked nicely with the disconnection strategy for the third objective, which involved retrofitting the lot's sewer inlets to become rain gardens.
The entire site was designed to drain to the rain gardens, which had curb cuts to capture the runoff. The runnels were cut across the width of sidewalks for the same purpose, and were covered by grates to maintain a level surface for pedestrians (see Fig. 4). Decorative landscape blocks were added for erosion control.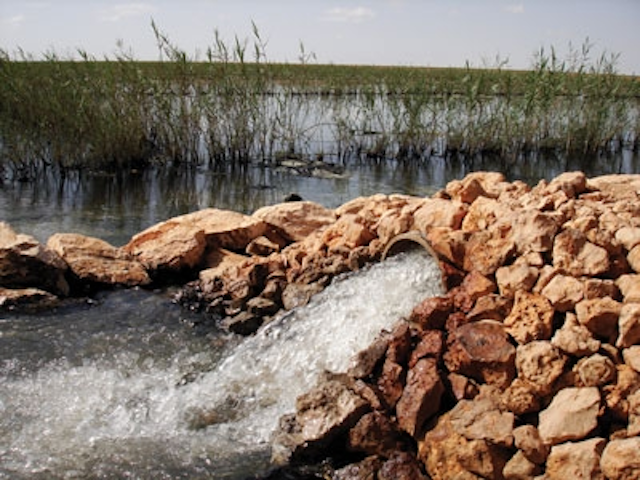 Fig. 4. The expansive parking lot was broken up and designed to drain to rain gardens.
Cermak Road: The 'Greenest' Street in Chicago
Daniel Burnham, the famed urban planner for Chicago and other cities, was quoted as saying, "Make no little plans. They have no magic to stir men's blood." There was nothing minuscule about the city's plans for a two-plus mile stretch of Cermak Road and Blue Island Avenue, which is now in the process of becoming the greenest street in the City of Chicago.
With factories and warehouses lining its gritty sidewalks, Cermak Road seems an unlikely candidate for cutting-edge environmental design. Yet Wight, which engineered the project's landscaping and other sustainable elements, is incorporating "green" techniques commonly associated with LEED®-certified buildings into its smallest details.
For stormwater management, the project's goal is to collect and purify up to 80 percent of the area's average annual rainfall before it hits city sewers. Its LID strategies and disconnection techniques include:
Bioswale parkways and infiltration planters to divert, clean and reuse stormwater (see Fig. 5)

Fig. 5. Cermak Road bioswale diverts and cleans stormwater.

Systems (such as a landscaped plaza with zero-depth waterworks and a cascading stormwater planter) to slow the flow of water and remove its impurities (see Fig. 6)

Fig. 6. Water feature helps slow the flow of water and remove impurities.

Concrete and/or glass cullet below the sidewalks for stormwater detention
Curb cuts to let the stormwater flow into small rain gardens the size of planter boxes
The use of gap-graded stone to provide storage for the water before it soaks into the ground
Lessons Learned, Practical Tips
Wight has been involved in more than 100 stormwater management projects over the last two decades. Here are some of the things the company has learned and practical considerations to keep in mind when planning and implementing LID and disconnection strategies.
Disconnection is cost-effective in porous soil but not an option when the soil is contaminated.
For buildings with proposed basements, disconnection should occur far enough away from the building. Installing new infiltration systems around existing basements should be avoided unless the walls are retrofitted with waterproofing.
It's important to assess the overall site and groundwater gradient; in some cases, surface water might drain away from the building close to the foundation but actually have a higher water table 15 to 20 feet out.
For buildings larger than two stories high, an underground rainwater dispersion structure may be necessary because of the volume and speed of the runoff.
Tips
Promote infiltration at the surface by using engineered topsoil and be sure to select the right plantings for erosion control.
Don't undersize the rocks used for splash blocks or inlets, and make sure all users are OK with their appearance before using this method.
A target grade for bioswales is between 0.5 and 1.25 percent; steeper bioswales will act as a ditch and suffer from erosion.
Keep in mind that if you use wood mulch and your bioretention areas fill up with water, the chips can float away into parking lots and clog stormwater inlets.
To help with weed control, consider the use of coconut matt or fiber materials that can be tacked down.
Rain gardens and infiltration zones should be built at the end of construction projects when the site is most stable and site runoff won't clog these areas.
Remember, aboveground disconnection techniques will result in short-term ponded water, which some might view as an eyesore. Therefore, property owners, building users and the community need to be educated about the environmental benefits of these strategies and the role they play in protecting waterways.
About the Author: Tom Powers, PE, CFM, LEED AP, CPESC, is a project manager who specializes in design and construction engineering services for public projects with Wight & Company, a company that provides sustainable design and construction with more than 60 LEED Accredited Professionals on staff.
More WaterWorld Current Issue Articles
More WaterWorld Archives Issue Articles