Pump energy calculator
A new tool from Rockwell Automation allows users to calculate potential savings derived from variable frequency drives to power pumps.
Jan 2nd, 2012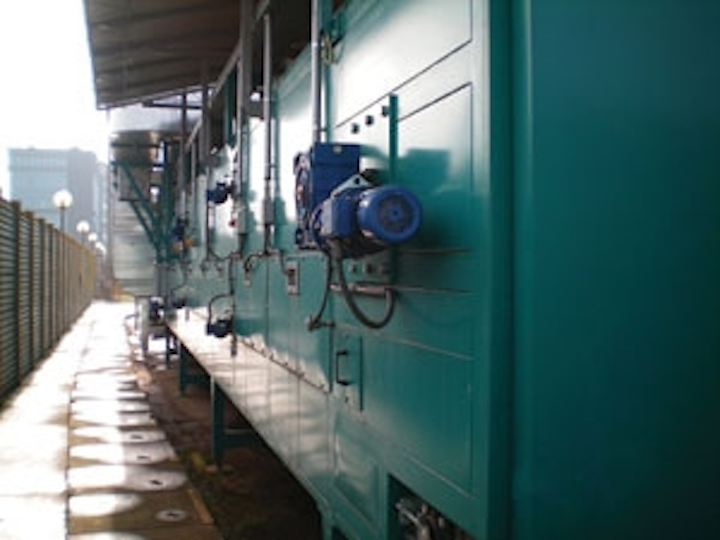 A new tool from Rockwell Automation allows users to calculate potential savings derived from variable frequency drives to power pumps. With this new tool, users can compare conventional methods, such as valves for pump control, to variable frequency drives and see estimated cost savings of installing an Allen-Bradley PowerFlex drive. The tool offers two ways to calculate energy consumption. Users can enter the minimum pump or flow percentages, annual operating hours, cost per kilowatt and other information, or use the sample data provided by Rockwell Automation built into the tool.
Rockwell Automation
www.rockwellenergycalc.com
---
LC-MS water analysis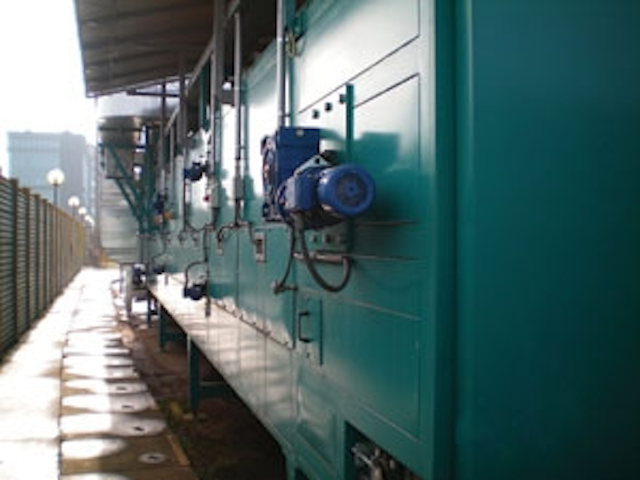 Thermo Fisher Scientific has developed a new technical library of LC-MS solutions for water analysis, including application information on the detection of pharmaceuticals and personal care products (PPCPs) and pesticides. The technical library is a comprehensive and regularly updated searchable resource containing application notes, webinars, technical posters, articles, case studies, videos and web resources for numerous applications, including the analysis of pesticides, PPCPs, herbicides, endocrine disruptors and perfluorinated compounds.
Thermo Fisher Scientific Inc.
www.thermoscientific.com/lcmswater
---
Inflow prevention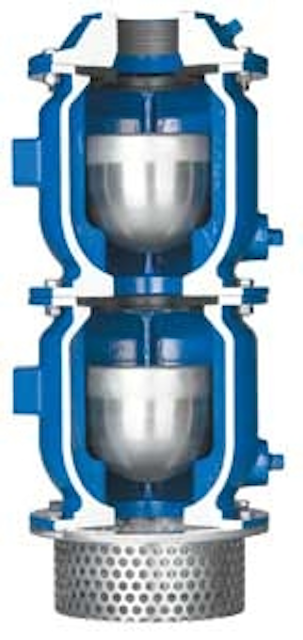 Val-Matic's white paper entitled "Protecting Drinking Water Pipelines with Inflow Prevention" is the latest on security and safe drinking water. The paper discusses the dangers of inflow into drinking water systems. It highlights use of FloodSafe® inflow preventers, which can be applied to new or existing air valves and reservoir vents to substantially mitigate contamination threats.
Val-Matic Valve & Manufacturing Corp.
www.valmatic.com
---
Flow conditioner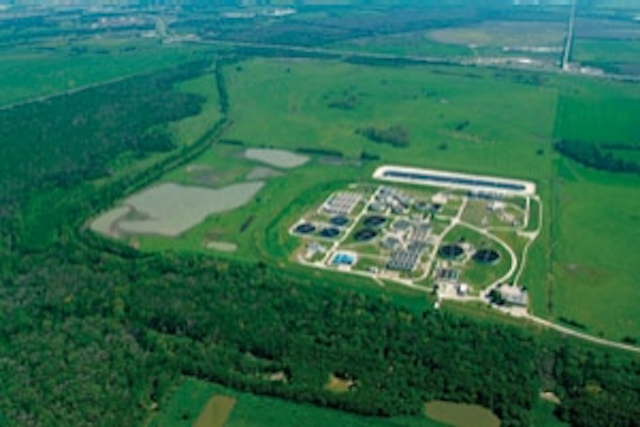 A new video from Fluid Components International features the flat panel Vortab® VIP (Vortab Insertion Panel) Flow Conditioner. The conditioner maximizes air/gas flow meter measurement performance accuracy with a simple to install, lightweight thin panel design, which significantly reduces flow meter straight-run requirements. The video demonstrates how the conditioner combines the performance of Vortab tab-type flow conditioning technology with the lower cost and ease of installation of an insertion panel type flow conditioner. Vortab tab-type flow conditioning technology greatly reduces line pressure drop compared to alternative technologies such as tube bundles, screens and perforated plates.
Fluid Components International
www.fluidcomponents.com
---
Flow measurement
Krohne has published a new brochure featuring its flow measurement products. The 58-page color brochure provides a thorough overview of the company's line of flowmeters. It was designed to help customers choose the right flow device for their application, offering a chart that directs users to the most appropriate products. It includes information about the company's electromagnetic, variable, ultrasonic, mass and vortex flowmeters, as well its flow controllers. For each category of flow measurement products, the brochure provides product highlights, relevant industries, product specifications and full-color photographs. It also includes explanatory diagrams to illustrate the measuring principles applied.
Krohne Inc.
www.krohne-downloadcenter.com
---
Lead-free white paper
Due to adverse health effects from drinking water contaminated by lead, there has been an increasing nationwide effort to reduce the amount of lead contained in all plumbing fittings and metering equipment used to deliver drinking water to end users. Badger Meter has developed a white paper, Upcoming Standards & Compliance Regarding Lead-Free Requirements, to provide water utilities with information about current and pending legislation affecting lead-free meter compliance in the United States. A legislation and standards chart provides a snapshot of the latest compliance updates by highlighting the effective date, legislation/standard description, allowable lead limits, required certifications, and current Badger Meter lead-free compliant products.
Badger Meter Inc.
www.badgermeter.com/lead-free
---
Dosing, pumping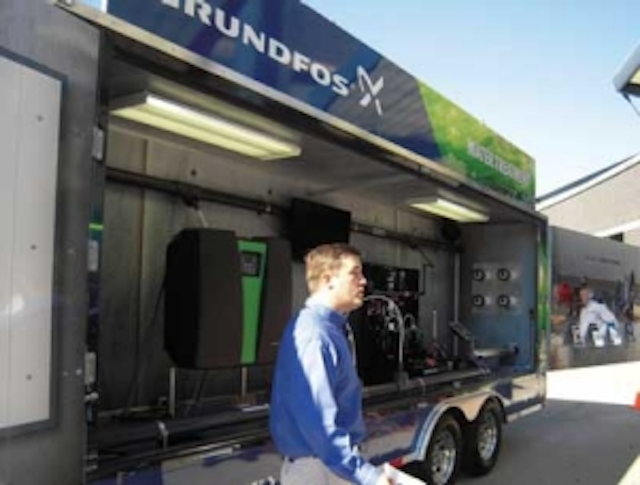 Grundfos Water Treatment has unveiled a new mobile educational center for water treatment experts. The 24-foot trailer, traveling across the US, includes two flat screen TVs for training videos and presentations, as well as a series of interactive, working displays from a wide selection of water treatment solutions the company offers. The trailer features many of the company's products including SmartDigital Dosing, SelcoPerm, OxiPerm and dosing products. It also displays pressure boosting and booster module products.
Grundfos Water Treatment
www.grundfos.us
---
Generator sizing software
Generac Power Systems has enhanced its Power Design Pro™ generator sizing software with a new exhaust piping module. The module allows users to enter the length of the exhaust piping run and the number of various elbow types. It then automatically selects the appropriate exhaust piping for a selected generator. The module also allows users to manually select the pipe size, after which it calculates the engine's exhaust back pressure. The exhaust piping module supports single and dual exhaust engine configurations. PowerDesign Pro is a complete generator sizing and system design tool supporting both electrical and mechanical design. It includes specification sheets, installation drawings, emission information, a specification text library with full inclusive design notes and the ability to link directly to supporting dealers for budgetary quoting and additional support.
Generac Power Systems
www.generac.com/powerdesignpro
---
Customer service
American Water Resources, subsidiary of American Water Works Co., has redesigned its website, offering current and potential customers, contractors and business partners an interactive tool to learn about its services and opportunities. The company provides water line, sewer line and in-home plumbing emergency protection programs to help protect homeowners. Through the website, visitors have a centralized gateway to access the most up-to-date information on available services, as well as links to online repair requests, enrollment forms, FAQs, customer reviews and a newsroom.
American Water Resources
www.awrusa.com
---
Unit conversion software
Hydromantis has released WaterUnits, a mobile application providing common unit conversions specifically for wastewater engineers. The software is built for the Android operating system and available for download in the Android Market or on the company's website. It offers conversion between various Metric (SI) and Imperial (US) units commonly used by wastewater professionals.
Hydromantis Environmental Software Solutions
www.hydromantis.com
More WaterWorld Current Issue Articles
More WaterWorld Archives Issue Articles