Product Showcase
Collection of new products of special interest to the municipal water and wastewater markets.
Aug 1st, 2012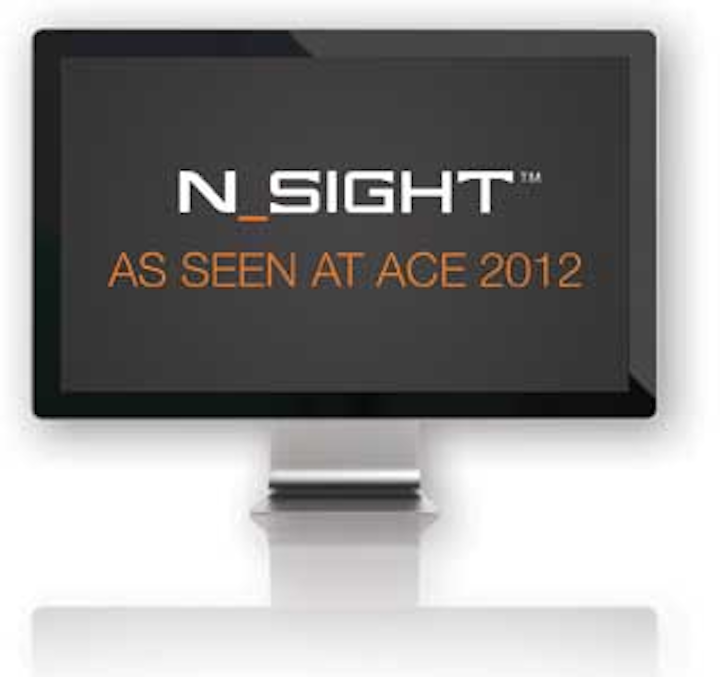 Metering software
Neptune's N_SIGHT™ software suite can help enhance revenues, improve customer service and optimize system health. The suite's R450™'s time-synchronized meter readings and unlimited grouping functionality help calculate Non-Revenue Water, provide enhanced customer services, and support water conservation efforts. The R900® provides support for handheld, mobile, and fixed network meter reading and allows migration without replacing software. The suite's IQ™ cloud-based intelligent data management and reporting system further empowers utilities to leverage the operational intelligence within their AMI data and their customers to better monitor and manage their own water consumption.
Neptune Technology Group
www.neptunetg.com
---
Peristaltic hose pumps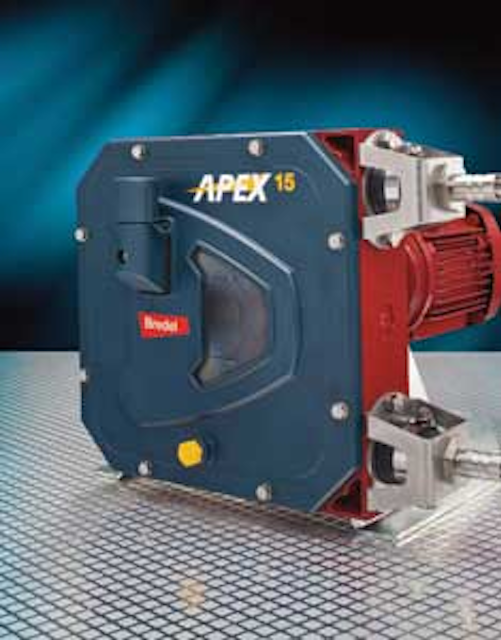 Bredel has introduced its new APEX range, an optimized pump designed to suit all dosing, metering and transfer duties between 0.7 - 317 gph. Unlike other pump types, the new hose pumps have no seals, valves, membranes, stators, rotors or glands to maintain. They are suited for handling difficult fluids corrosive, viscous, shear-sensitive, gaseous, crystallizing or even fluids with a combination of these properties. They can handle pressures up to 116 psi, and offer stable flow up to 317 gph.
Bredel Hose Pumps
www.wmpg.com
---
Lining system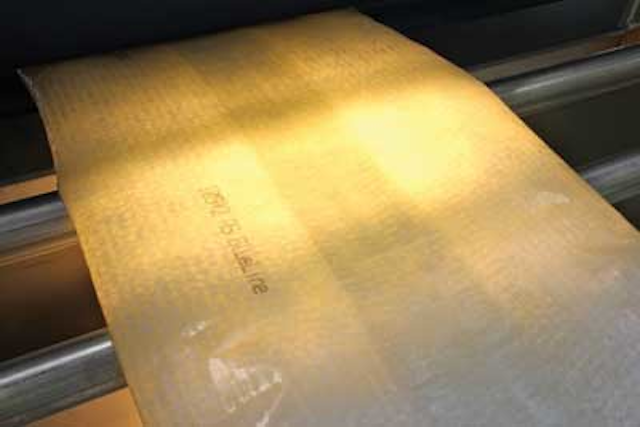 RS BlueLine®, a cured-in-place pipe (CIPP) system for pressure pipe rehabilitation, has received certification to NSF/ANSI 61: Drinking Water System Components-Health Effects. With this NSF acceptance, RS BlueLine, using exclusive Dow® formulated epoxies, is now approved for the renewal of all municipal pressure pipe systems including drinking water mains, transmission lines and force mains. It is best suited to rehabilitate waterlines ranging from 6" to 48" in diameter. The system meets AWWA Class IV providing a fully structural solution.
RS Lining Systems
www.rsliningsystems.com/website
---
Phosphate test kit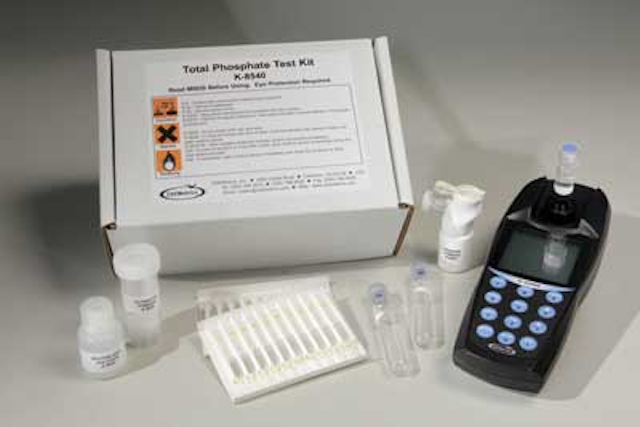 CHEMetrics has released a new test kit for the determination of Total Phosphate in wastewater. Based on USEPA Methods 365.2 and 365.4 (1983), the test employs the persulfate digestion-ascorbic acid method to convert various forms of phosphate to orthophosphate. Results can be obtained using the company's V-2000 Photometer or a spectrophotometer capable of accepting a 16 mm cell.
CHEMetrics Inc.
www.chemetrics.com
---
Multiparameter portable meter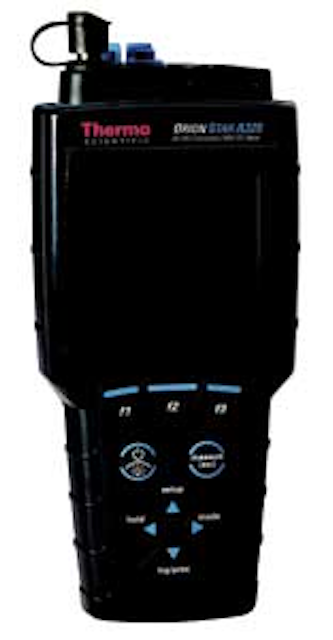 The Thermo Scientific Orion Star A329 pH/ISE/Conductivity/RDO/Dissolved Oxygen Portable Meter is a choice for advanced measurements anywhere. The large, backlit graphic LCD display works outdoors in full sun when testing from a wastewater aeration basin, or indoors when testing drinking water from the tap for fluoride. The display with local language prompts shows each parameter with temperature individually or all three with temperature simultaneously. The multiparameter meter is housed in a rugged, waterproof housing.
Thermo Scientific
www.thermoscientific.com/water
---
Submersible temperature transducer

Measurement Specialties has just released its new KPSI 380 submersible temperature transducer for applications that require battery-powered operation with minimal current drain, low system cost, and use of a single recorder with multiple sensors "daisy-chained" on one cable. These transducers are ideal for water level monitoring applications such as stream gauging, surface water monitoring, aquifer characterization and groundwater monitoring, and stormwater. This Nickel RTD, highly stable transducer consists of a welded 316 stainless steel body construction with an accuracy of ≤0.1°C at a 6 -28Vdc supply voltage and stability spec of ±0.05°C per 12 months. It comes with custom polyurethane cable lengths and optional lifetime lightning protection.
Measurement Specialties Inc.
www.meas-spec.com
---
Disc filter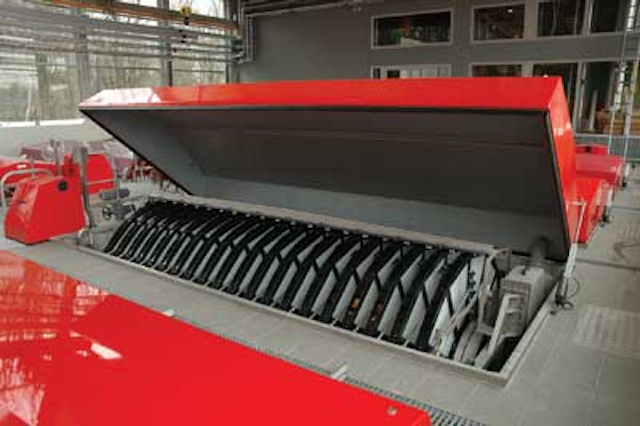 Hydrotech Discfilters from Kruger offer high filtration capacity, low energy usage, and a very small footprint. Woven cloth elements are installed vertically on multiple discs, allowing the filters to provide a large filtration area with footprint about 75% smaller than traditional sand filters. The filters are ideal for effluent polishing from a variety of process trains, including activated sludge, high rate clarification, MBBR, RBC, trickling filters, etc. The systems are used to produce reuse quality effluent and achieve phosphorus concentrations < 0.1 mg/L. They are used for a wide variety of other applications including membrane pre-treatment, primary and secondary wastewater filtration, CSO/SSO treatment, and process water recovery.
Kruger Inc.
www.krugerusa.com
---
Water sampler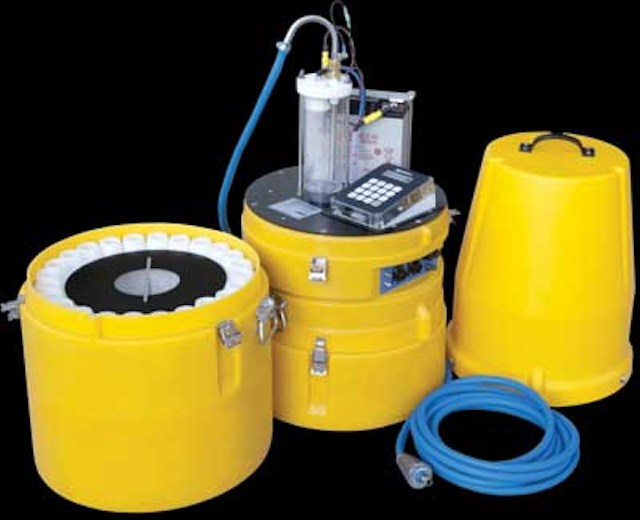 The Campbell Scientific PVS4100D is a portable, battery-operated water sampler that deposits its water samples into 24 containers. It uses the company's biggest sampler pump allowing fast sampling rates and long sampling distances. It includes a programmable controller with 16-key intuitive touch pad. The sampler can also interface with the company's dataloggers to measure a variety of sensors as well as control the sampler.
Campbell Scientific
www.campbellsci.com
---
Tertiary filter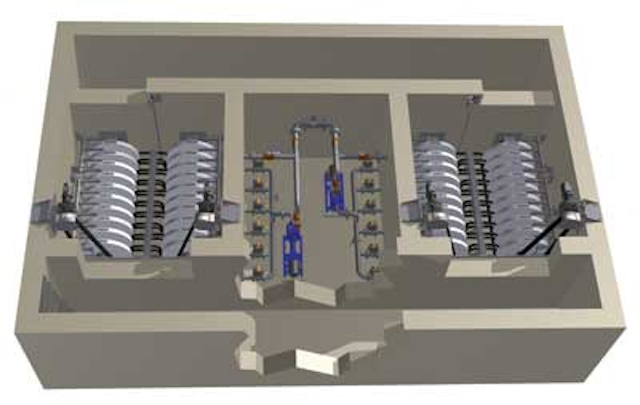 The Aqua MiniDisk tertiary filter features OptiFiber® pile cloth media and is designed to provide economical treatment of smaller flows with the added advantage of retrofitting existing traveling bridge sand filters. The modular design retrofits into existing 9 ft. (2.74 m) wide concrete traveling bridge filter basins, providing more than two times the hydraulic capacity of the original sand filters. The filter achieves low effluent TSS, NTU and phosphorus while offering high solids and hydraulic loading rates, minimal operating and maintenance costs, and a fully automatic PLC control system. The filter is ideal for municipal reuse and phosphorus removal applications, and is also available in steel package units for new construction.
Aqua-Aerobic Systems
www.aqua-aerobic.com