New Products
Collection of new products for the municipal drinking water and wastewater markets.
Aug 1st, 2012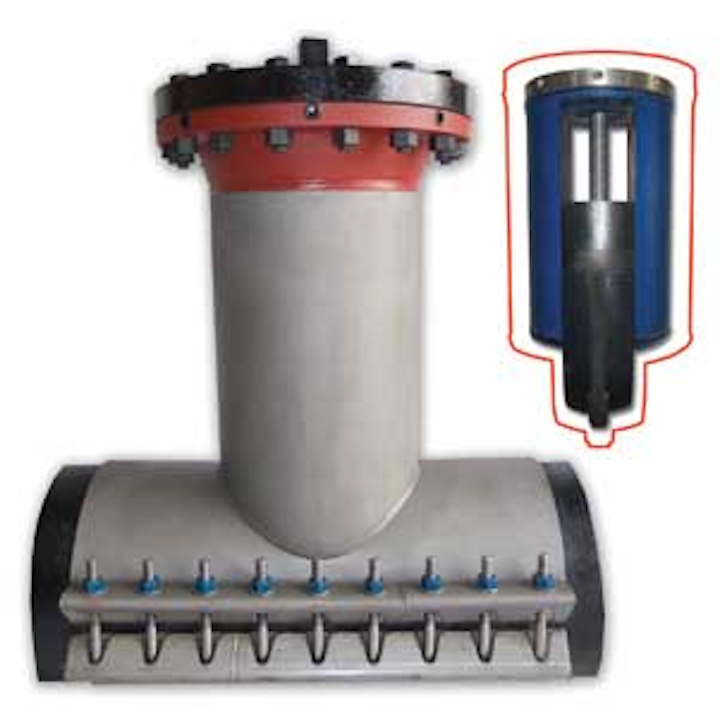 Hydra-Stop has introduced the new 16" IVP 250. This permanent, insertable gate valve is rated for a 250 psi working pressure and a 375 psi test pressure. It offers increased strength, improved performance, and simplified installation and operation. The valve features a 2" diameter stainless steel valve stem for strength and reliability: interchangeable valve gate/paddle system to accommodate most types of pipe; a double o-ring seal; true "wedge" style gate design; thrust washers; reinforced and improved valve gate seal; and loose stem nut design (aluminum bronze) for simplified operation and performance in severe conditions.
Hydra-Stop, a division of ADS LLC
www.hydra-stop.com
---
Plunger valve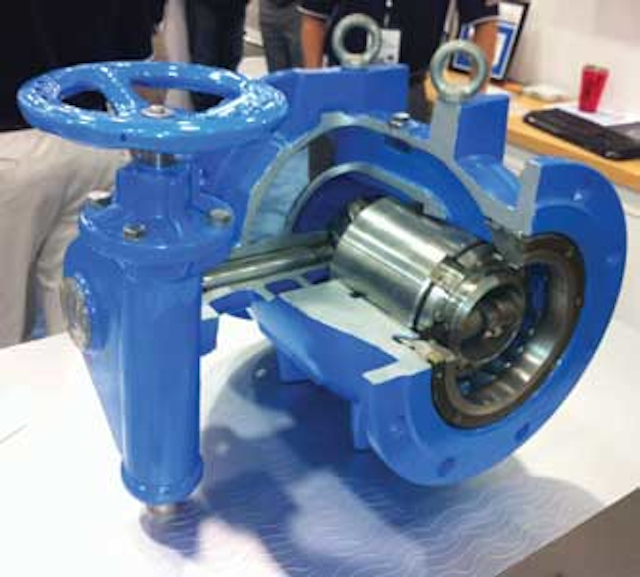 The Henry Pratt Series 300 Plunger Valve is a flow control valve that reduces cavitation and stagnant water creation to help water systems improve operational safety, efficiency and flow control. The new valve contains a valve actuator mechanism that provides non-linear closure with precise surge resistance and effective control ranges as high as 96 percent. The plunger's O-ring seal, which is located outside of the cavitation zone — and four hard faced cylinder support guides — work together to help minimize wear and provide the valve with a longer operational lifespan.
Henry Pratt Co., a subsidiary of Mueller Water Products
www.henrypratt.com
---
CMMS software
Hach JOB Cal Plus® is a Computerized Maintenance Management Software (CMMS) solution that provides maintenance tracking and scheduling for drinking water, wastewater and industrial markets. Designed specifically for maintenance departments, the software can improve productivity and efficiency with intuitive screens and easy access to information. Work orders, with detailed equipment information, instructions and graphics, are easily created, edited and distributed.
Hach Co.
www.hach.com
---
Cloud-based CIS
Global Water Resources has launched a cloud-based, geo-spatial customer information system (CIS) – a critical addition to its Fathom™ Operating System. Many small-to-midsized utilities cannot afford the significant up-front costs associated with the hardware, software and implementation of traditional CIS systems. The Fathom OS maximizes a cloud-based delivery that allows utilities to rent – rather than own – these systems.
Global Water Resources Corp.
www.gwfathom.com
---
Water rates
The AWWA has updated its publication of Principles of Water Rates, Fees, and Charges (M1). The publication is designed to help utilities recover the cost of producing and delivering safe water, while charging different customer classes equitably, planning for capital improvements, and supporting community's social, economic, political, and environmental concerns. The manual presents all the water rate structures, fees, and charges in common use among water utilities and explains the advantages and disadvantages of each, including how various water rates and charges will affect customers and the utility.
American Water Works Association
www.awwa.org/store
---
Vibration meter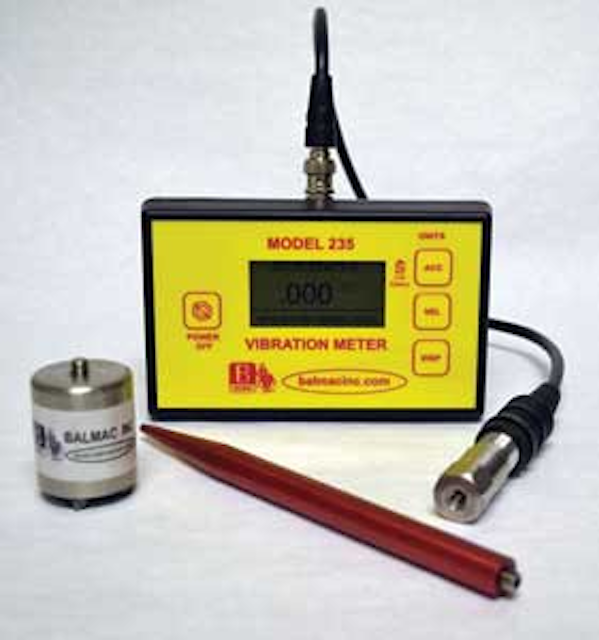 The Balmac Model 235 Vibration Meter simplifies rotating machinery vibration measurements. The user simply selects the vibration measurement unit by pressing the Acceleration, Velocity or Displacement button. The automatic ranging capability scales the meter for the most accurate measurement. Pressing the button again holds the measurement for the user. The meter includes the standard 100 mV/g Vibration Pickup, Pickup Cable, Magnetic Pickup Base and Extension Probe.
Balmac Inc.
www.balmacinc.com
---
UV disinfection
Xylem has launched a next-generation ultraviolet closed vessel reactor for drinking water disinfection. The Wedeco Spektron e uses the company's Ecoray UV lamps. Particularly in dim mode the lamps deliver energy savings of up to 20 percent and use up to 80 percent less mercury than previous generation lamps. The system is aimed at the municipal drinking water market for flows from 200 gpm to more than 11 mgd. The units are equipped with an automatic wiping system and improved hydraulic conditions inside the reactor.
Wedeco, a Xylem Brand
www.wedeco.com
---
Level transmitter
AMETEK Drexelbrook has launched the Universal IV™, its fourth generation Radio Frequency (RF) Admittance/Capacitance continuous level measurement transmitter. The transmitter offers a wide range of features and options and is suited for the most common to the most challenging level measurement applications. It is intrinsically safe, explosion proof and flameproof for Class 1 Div 1 Zone 0 hazardous locations. It features stable, repeatable and accurate measurement within 0.25% of range and a push-button LCD display for configuration and monitoring.
AMETEK Drexelbrook
www.drexelbrook.com
---
Digital gauge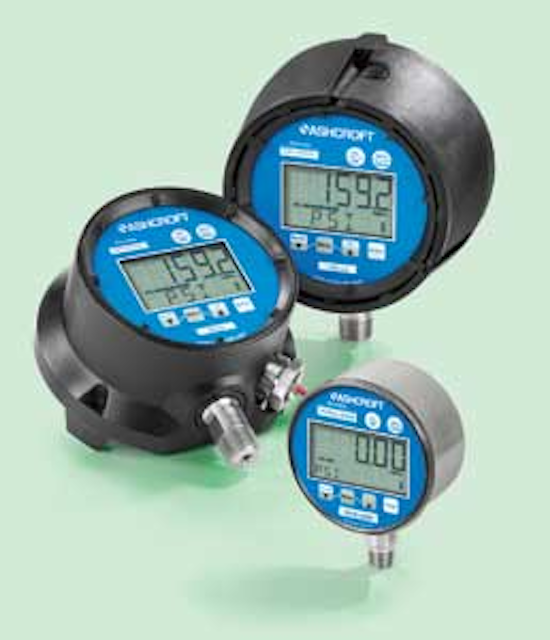 Ashcroft® industrial digital gauges offer advanced features for measurement and monitoring of pressure in a wide variety of applications. Features such as a large digital display, SPDT switches and a 4-20mA output allow the types 2074, 2174 and 2274 to do the work of a pressure gauge, switch and transmitter, all for the price of a single device. Pressure ranges from vacuum through 20,000 psi are offered along with a choice of case sizes and materials.
Ashcroft Inc.
www.ashcroft.com
---
Inspection crawler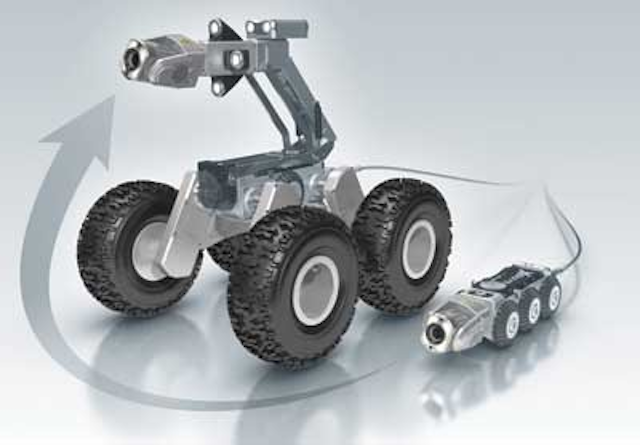 The Rovver X from Envirosight can now inspect more pipe sizes than any other crawler on the market, thanks to a new bolt-on carriage that raises the crawler, expands its wheelbase, and increases its ground clearance. The carriage attaches in seconds, and accepts all Rovver wheels, as well as two new pneumatic wheel options. When used in tandem with the system's remote camera lift accessory, the carriage gives the crawler an overall inspection capability of 6-72", plus the ability for centered viewing in most common pipe sizes 24" and larger. It elevates the crawler at least 4.4", or considerably more when upgrading to pneumatic wheels.
Envirosight LLC
www.envirosight.com
---
Turbidity probe

The Campbell Scientific OBS500 is a submersible turbidity probe that incorporates the Clear Sensor™ Antifouling Method to ensure measurement accuracy in biologically active water with both high and low turbidity. This method uses a shutter/wiper mechanism to protect and clean the optics. The probe outputs an SDI-12, digitally processed signal that many of dataloggers can measure.
Campbell Scientific
---
Ultrasonic flowmeter
The new Greyline TTFM 1.0 Transit Time Flowmeter includes clamp-on ultrasonic transducers for flow measurement of liquids including water, oils and chemicals. The step-by-step setup menu determines sensor mounting configuration and separation distance. Powerful new digital signal processing ensures ±1.0% accuracy in a wide range of applications and operating conditions. Flow rate, flow direction, totalizer and relay status are shown on the backlit LCD display.
Greyline Instruments Inc.
www.greyline.com
---
HMI/SCADA
Iconics has released Genesis64™ V10.7. The automation suite is designed from the ground up to take advantage of 64-bit multi-processing, multi-threading and 3D graphic hardware acceleration. It is an advanced HMI /SCADA product suite that provides a platform that can integrate water collection, pump and lift stations, and all treatment plant operations into a real-time, distributed automation platform. Users can create 2D and 3D visualization, distributed alarming, and data logging solutions for all utility operations.
Iconics Inc.
www.iconics.com
---
Gas shutoff system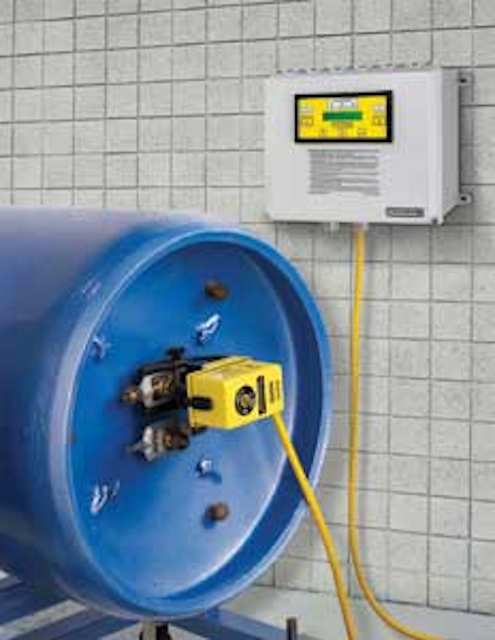 Eclipse Actuators from Halogen Valve close toxic gas valves on 150 lb. and ton cylinders in less than one second when activated by remote sensors. These electronic actuators are "close only devices" requiring an operator to visit the site to determine the cause of the problem. The operator can then correct the condition, check the facility, and then manually reset the valve before restarting the gas system.
Halogen Valve Systems
www.halogenvalve.com
---
Chlorine measurement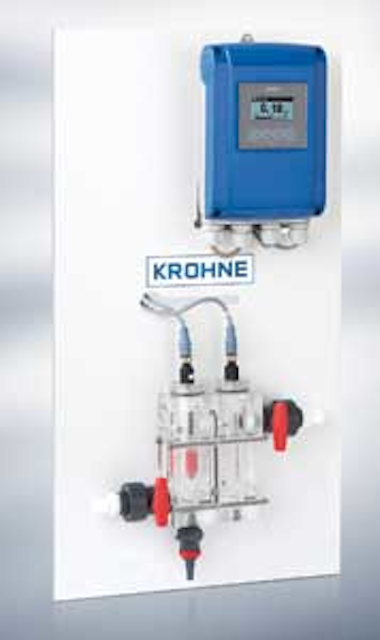 Krohne has introduced the OPTISYS CL 1100, a device for determining the chlorine content in drinking water and for measuring free chlorine in the emergency chlorination of waterworks. Chlorine is measured by a sensor with a three-electrode design, which uses a patented automatic sensor cleaning, to ensure long life span and extremely low maintenance. It also features a membrane-free potentiostatic sensor, with no pores that can be clogged by biological fouling.
Krohne
www.us.krohne.com
---
Pipe elbows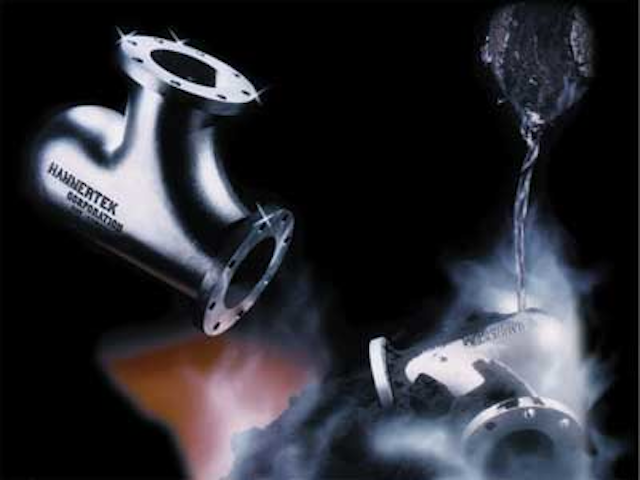 HammerTek's Smart Elbows are designed to reduce maintenance and replacement costs, and limit plants downtime, and protects the integrity of your product. By creating a deflection zone, the elbow virtually eliminates elbow wear, product degradation, plugging, surging, cross contamination, noise, and turbulence.
HammerTek Corp.
www.hammertek.com

---
Surveillance system
PureTech Systems has integrated its PureActiv wide area surveillance solution with the Sarix TI line of Thermal Imaging cameras from Pelco by Schneider Electric. The solution, targeted for perimeter protection, leverages PureTech's video analytic capabilities by providing the ability to detect and dynamically display the target's location on a map-enabled, geospatial PSIM.
PureTech Systems Inc.
www.puretechsystems.com