Product Focus
Many mechanical joints contain sharp objects that protrude from their surface.
Nov 1st, 2009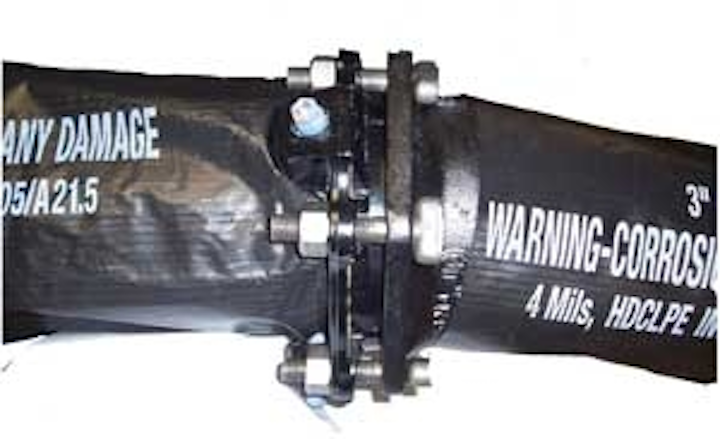 Many mechanical joints contain sharp objects that protrude from their surface. These sharp objects can puncture and tear through standard corrosion protection wraps including both 8 MIL Linear Low Density (LLDPE) and even 4 MIL Cross-Laminated High Density (CLHDPE) wraps. Punctures and tears in the wrap leave the joint vulnerable to soil contact and corrosion, shortening the life of one of the key elements in any piping system.
After talking with distributors at the 2007 American Water Works Association annual conference, staff at AA Thread Seal Tape began developing a product that could meet their distributors demands. What they came up with after a couple years of brain storming, developing and tweaking their design is a 10 MIL CLHDPE Joint Wrap that is resistant to almost any kind of puncture or tear that can occur during installation.
Mechanical Joint with sharp objects
During their research, company staff found the main contributor to punctured or torn joint wraps is the bolt heads that shear off when the proper torque is applied during joint assembly. The shaft of the bolt that is left behind almost always has a sharp spot on the top where the head sheared off. During installation and backfilling there is enough pressure put against the wrap that this small sharp spot can poke through standard polyethylene wraps that are currently used. Even the smallest of holes can put the joint at risk for corrosion.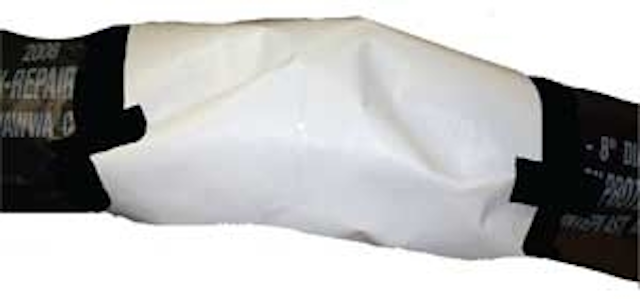 Full Corrosion Protection without Punctures or Tears
AA Thread's 10 MIL CLHDPE Joint Wrap exceeds the specifications of ANSI/AWWA C105/A21.5. The material is made from 100% virgin high density polyethylene resins and is 2 ½ times thicker that the industry standard 4 MIL CLHDPE. It exceeds the spec for elongation by 700%, and also the impact resistance spec by 200 grams. In addition, it exceeds the company's 4 MIL CLHDPE material in propagation puncture and tear resistance by over 5,000 grams.
CLHDPE material is unusual because the film is not blown into a tube as is the practice for standard 8 MIL LLDPE. This film is extruded from high density polyethylene resins, molecularly orientated through a stretching process, and then two single ply layers are laminated to each other in a bi-directional fashion. The grain orientation of each layer is run at 90 degrees of each other, which produces a high strength material. All CLHDPE material is basically made in the same manner up to this point. AA Thread's wrap undergoes an additional step. The material is finished through a heated ribbing process which creates a virtual third layer of strength. It also makes the product visually different, as it is the only wrap that has these unique ribs.
"We wanted to develop a product that is both unique and highly effective," said Bill Jones, Vice President of AA Thread Seal Tape and the brains behind the product. "We worked closely with our manufacturer to develop a material that would be the strongest available in the market and also easy to use."
The wrap is available in 20-inch and 30-inch-wide rolls that can be used to spiral wrap the joint in the field. They company also offers pre-manufactured tubes that can be slipped over the joint. The tubes are available for joints ranging from 6 inch to 24 inch in diameter.
AA Thread Seal Tape Inc. was founded in 1979 in Barrington, IL. For more information on the company's new 10 MIL CLHDPE Joint wrap or any of its other products, visit www.aathread.com. WW
More WaterWorld Current Issue Articles
More WaterWorld Archives Issue Articles