Utility Moves Full-Speed Ahead with Wastewater Plant Expansion
The city of St. Peters, MO, located in the western part of the St. Louis metropolitan area, has grown rapidly since 1970 from a population of 1,000 to a present-day population of nearly 60,000.
Dec 1st, 2009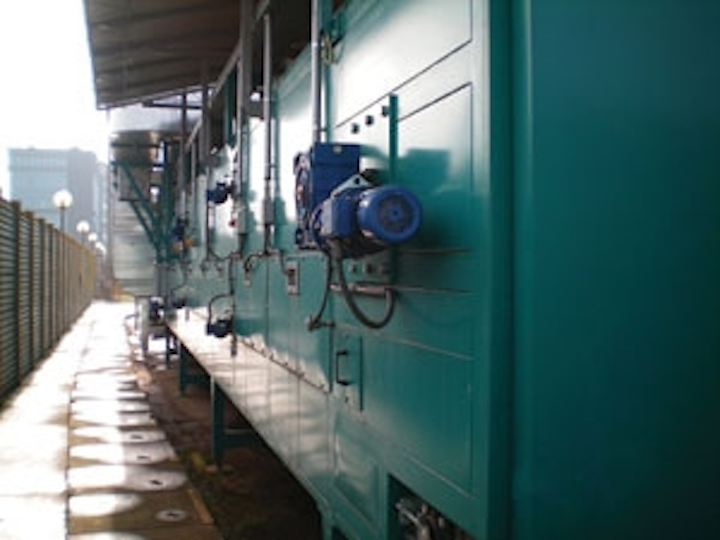 By Tom Ratzki and Bill Malach
The city of St. Peters, MO, located in the western part of the St. Louis metropolitan area, has grown rapidly since 1970 from a population of 1,000 to a present-day population of nearly 60,000. The city has upgraded its water and wastewater treatment plants several times over the years while maintaining the lowest combined water and sewer rates in the region. A professional staff, selection of well qualified consultants, and long-range planning have helped the city manage the growth over the past several decades despite the ups and downs in the economy.
Funding for its most recent wastewater plant improvement project was established with passage of the November 2006 $15 Million Water/Sewer Bond Issue approved by voters to address infrastructure improvement needs in St. Peters. The projects listed for the bond issue were identified in the city's 5-year capital improvements plan, which is updated annually. An initial $10 million issuance of bonds in 2007 enabled the city to complete various projects. Although city leaders were concerned about the sales potential for a second bond issue in 2009, the city's favorable bond rating enabled it to sell the remaining $5 million issue and complete the scheduled improvements projects for the wastewater plant and the compost facility.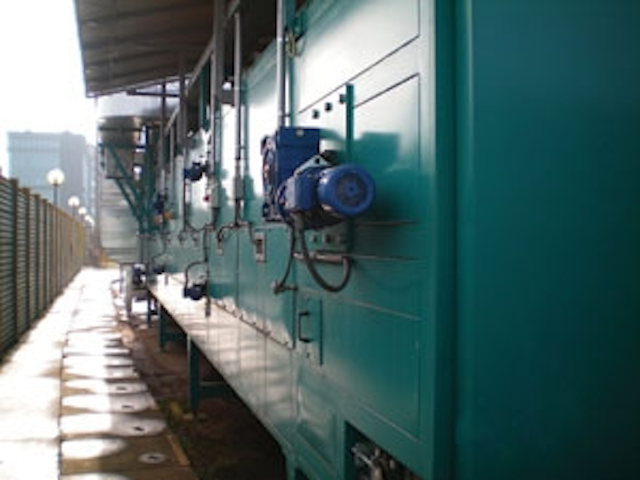 A new clarifier is part of the 2.6-mgd expansion of the St. Peters, MO, wastewater treatment plant. (Photo credit: KCI Constructors)
Russ Batzel, Manager of Public Works Services, credits the city's long-range planning and establishment of funding authority before it was needed as keys to successfully completing projects even during challenging times. A proven track record of completing projects within budget helps instill ratepayer confidence, and a well-run utility supports a high city bond rating.
The St. Peters Spencer Creek Wastewater Treatment Plant expansion project has flourished during the economic downturn. Bid in October 2008, the project has progressed ahead of schedule. In fact, the city has expanded the project scope to include upgrades to the city's composting facility.
The $9.5 million wastewater treatment project will enable the city to meet new regulatory requirements for disinfection and expand the plant to handle growth spurred by residential expansion and new industrial and commercial property.
"In 2006 the city invested in new and improved levees to protect property from Mississippi River floods. The levees were also developed with the potential to add commercial tracts and more parks in the city," Batzel said. "Once the levees were complete, we put into motion plans to expand our nearly overloaded wastewater treatment plant."
The city faced new disinfection requirements in a NPDES permit that goes into effect in 2011. In 2007 Black & Veatch was selected to assist St. Peters in re-rating the plant, finding opportunities to optimize existing processes, improve energy efficiency, and accommodate new processes and facilities on a plant site that not only housed the wastewater treatment plant but also the water treatment plant, the city's yard waste/biosolids composting facility, and municipal solid waste recycling center. In addition, Black & Veatch developed a conceptual plan for future biological nutrient removal (BNR).
When completed in February 2010, the expansion will increase dry-weather flow from 6.9 million gallons per day (mgd) to 9.5 mgd and the design peak daily flow from 14 mgd to 19 mgd. Basic components of the project include:
– Replacement of existing influent screw pumps with variable frequency drive (VFD) submersible pumps.
– Installation of a new influent screen channel to provide redundant screening capabilities at peak design flow.
– Upgrade of the existing oxidation basin aerators with 200 HP VFD motors and dual impellers to improve mixing capabilities and energy efficiency.
– Installation of a dissolved oxygen control system to improve energy efficiency and increase nitrification capabilities.
– Addition of a third final clarifier.
– Addition of a UV disinfection system.
– Addition of a new return activated sludge pump to increase capacity.
– Addition of a new splitter structure before the final clarifiers to control flows to each clarifier.
– Addition of a new electrical service and emergency generator to meet the increased electrical loads at the plant.
– SCADA system upgrades.
"One of the biggest challenges in the project was the fact the existing plant was reaching its design capacity, and we planned to make the oxidation basin modifications and add hydraulic flexibility and new processes without taking the plant out of service during construction," said Black & Veatch Project Engineer Ben Freese. "We developed a phasing plan that incorporated the replacement equipment, new facilities, and electrical switch-over that the contractor used as model for his planning. It worked extremely well with no operations impacts or plant upsets."
As the wastewater improvements project approached the midpoint of construction in July 2009, St. Peters officials decided to address issues from the city's yard waste and biosolids composting operation. Using savings from lower-than-anticipated bids on other projects, a $1.75 million composting project was conceived using a 30,000 ton/year aerated static pile aeration system from Engineered Compost Systems. Black & Veatch assisted the city in developing a bid package to build the basic infrastructure for the compost system so that ECS could install the equipment by the summer of 2010.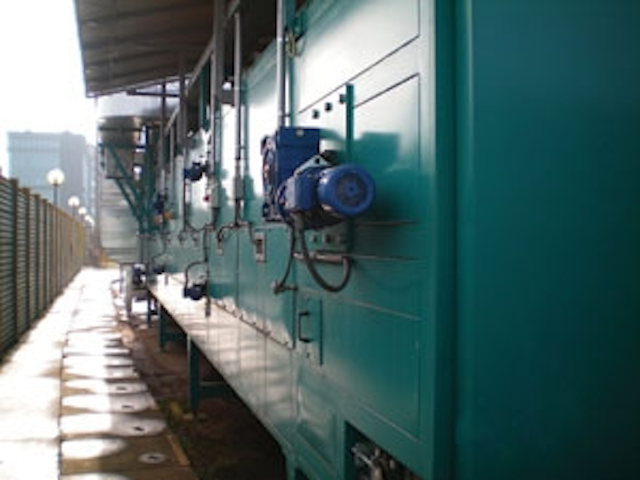 Upgrades were made to the oxidation basins to improve energy efficiency and nutrient removal. (Photo credit: KCI Constructors)
The following compost systems were included to the plant upgrades in September 2009:
– Eight cast-in-place composting bins, each sized 31 ft. wide by 68 ft. long with 10 ft. high concrete walls.
– Two biofilter cells for odor control
– Aeration piping and VFD blowers controlled by ECS software to provide positive or negative air flow to the static piles and biofilter cells based on temperature in the piles.
Project Highlights
UV disinfection. Black & Veatch used a competitive pre-selection process to evaluate and select the lowest life-cycle cost UV system for the plant. The process included independent site visits to observe and audit operating costs of various manufacturers' systems. More than 25 percent in equipment cost was saved through the pre-selection evaluation process, and the selection of equipment midway through design allowed the designers to tailor new construction to the selected UV system's electrical, space, and cleaning-system requirements.
Oxidation basins. The existing system was a carrousel system. Project engineers conducted performance and energy efficiency evaluations and found that replacing existing 125 HP fixed speed aerators with new 200 HP VFD aerators with dual impellers coupled with an automated dissolved oxygen control system would reduce energy consumption, improve nitrogen removal, and provide future flexibly to use the basins as part of long-term nutrient removal facilities plan.
The project has been successful both financially and by maintaining the desired schedule. The addition of composting facility improvements has not delayed any milestone, and change orders to date have been less than 1 percent of construction cost.
"We are quite pleased with all the players that have been part of this successful project and the strong leadership and management provided by the city's utilities staff," said City Administrator Bill Charnisky.
"Even faced with the most difficult financial conditions in our lifetime, we stayed within budget and met all our scheduled milestones. This has been a good project for St. Peters." WW
---
About the Authors:
Tom Ratzki is a Project Director for Black & Veatch's global water business based out of the St. Louis, MO, office. His responsibilities for the engineering, construction, and consulting company include directing water and wastewater facility design and construction projects throughout the Midwest. Bill Malach is the Director of Utilities for the City of St. Peters, MO. He is responsible for planning and directing the capital improvement program for the city's water, wastewater, stormwater and composting facilities. He also supervises the operation of the city's treatment plants, composting facility, and water distribution and wastewater collection systems.
More WaterWorld Current Issue Articles
More WaterWorld Archives Issue Articles