Flow Monitoring Service Simplifies Life in Oil City
The city of Oil City, PA, has been using a new flow monitoring service to track wastewater coming in from two neighboring townships.
Jun 1st, 2009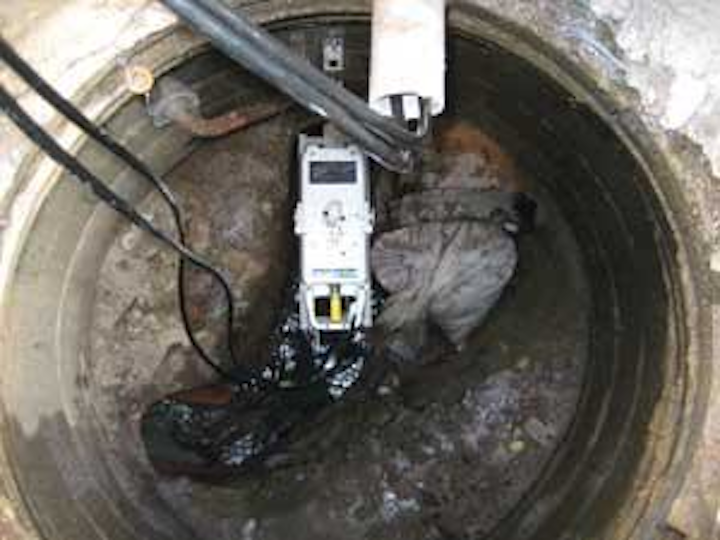 The city of Oil City, PA, has been using a new flow monitoring service to track wastewater coming in from two neighboring townships. Using the fee-based service is helping reduce staff labor costs and will also provide third-party verification of flows both in dry and wet weather.
Oil City recently completed a $4 million upgrade to its wastewater treatment facility and has extra capacity in its system. The city is currently accepting wastewater flows from the Cranberry and Cornplanter townships. The city is in the process of developing contract language and will use the flow data to help establish fees for the treatment service.
"In a billing situation like ours, having an independent third party involved adds a great deal to the situation," said Dave Appel, treatment plant operator at Oil City. "Billing can be touchy. With a third party involved in calibration and maintenance, you're hands off."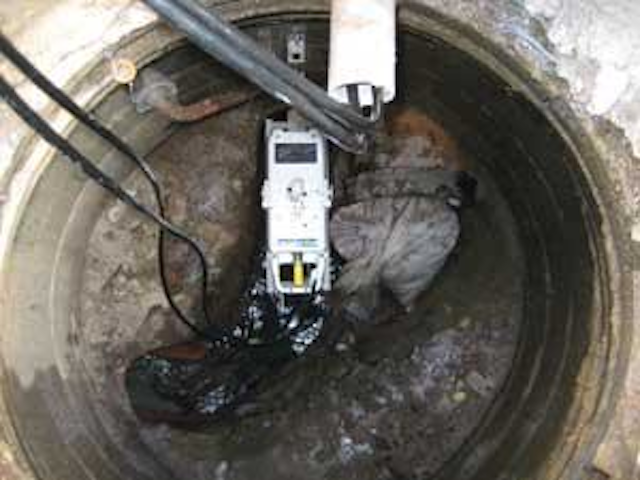 DDS Flo-Dar monitoring flow in 10" line at Allegheny Avenue in Oil City, PA.
Click here to enlarge image
Oil City is using Data Delivery Services (DDS), a flow-monitoring service available from Hach Co. As part of the contract, the company provides Flo-Dar flow meters, installation and setup, plus monitoring and data collection. Staff at Oil City simply sign on to a secure website to download the raw flow data.
Oil City has six locations monitoring flow from the neighboring townships and another unit monitoring flow into its treatment plant. Five monitoring sites use Flo-Dar meters while the other two have a mag meter and Parshall flume, respectively.
Prior to the DDS installation seven months ago, the city used Sigma 950 flow meters with area velocity bubbler probes. Appel said the meters were accurate but required regular maintenance. Once a week, two employees would take an entire day to visit each site, brush off the probes and clear away any silt buildup. Once a month they also conducted a general calibration to insure the meters' accuracy.
Now, Appel can check data from all the sites in about 20 minutes. Staff from Hach handle all upkeep and maintenance on the meters.
"I go in every day and check each site," he said. In one case, "we had a transformer go out over the weekend. I checked it Monday morning and we only lost 2½ days of data.
"By checking every day I can keep an eye on everything that happens," Appel said. "We had an issue with one township where their line was showing zero flow coming in. We caught that within a couple hours and notified the township they had a blockage."
Sewage was backing up in the line, but the township was able to fix the problem and avoid an overflow.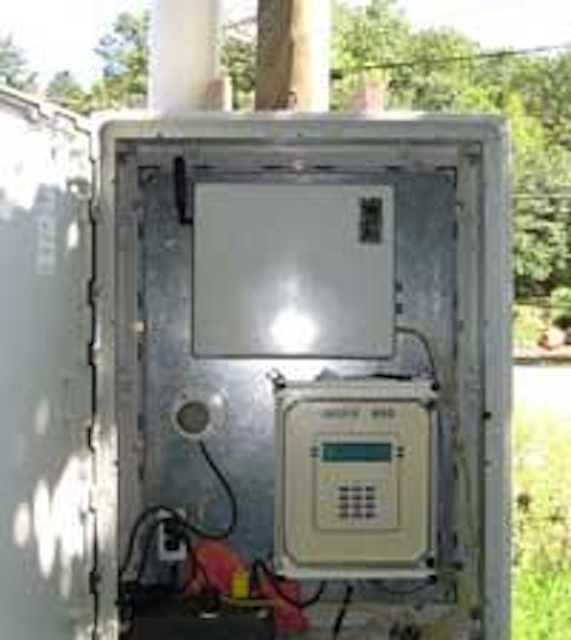 DDS Sigma Model 980 located at the entrance to the treatment plant on Hays Hollow.
Click here to enlarge image
It's also clear from checking data that the townships have a problem with inflow and infiltration into their systems. The DDS flow monitoring system also includes a rain gauge.
"You can see the trends very easily in the graphs on the website. When the rains come, the flows go up," Appel said.
Oil City staff uses Flo-Ware software to generate reports that are sent to management. The DDS service also offers a graphical web-based user interface. Hydrographs, scatter-plots, and tabular data indicating min, max, and average values for any user-selectable measurement including level, velocity, flow, battery voltage, call log, continuity, temperature, and sensor specific diagnostic and quality parameters are provided.
Users can view their flow data from any Internet connected web browser through a secure log-in. Multiple users can be granted different data access levels based on job function.
Alerts can be sent to a PDA, e-mail, mobile phone, or pager. Alerts include overflow or anything that's being measured. Flexible notification schemes provide alerts to the appropriate personnel based on pre-defined availability schedules.
Hach monitors the health and status of all networked flow meters 24/7. If a problem is detected with meters, they are repaired or replaced within the data uptime guarantee.
Oil City is currently planning a $5 million CSO monitoring and repair project. The city captures an estimated 69 percent of flows in its system but the Pennsylvania DEP wants that raised to 85 percent capture. While the current flow monitoring system is not directly tied to that project, being able to identify the issue of I&I from the neighboring townships is an important first step, Appel said. WW