Product Showcase
The Breeze® air stripper is a low maintenance VOC (Volatile Organic Compound) removal system.
Jun 1st, 2009
VOC removal system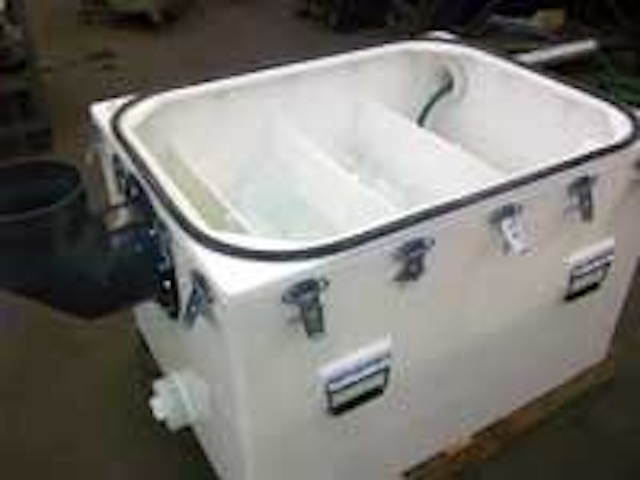 Click here to enlarge image
The Breeze® air stripper is a low maintenance VOC (Volatile Organic Compound) removal system. It is capable of removing contaminates such as BTEX, MBE, TCE, ammonia, radon and many more. The system is a great alternative to filters, packed towers and mechanical aerators for stripping of VOC's from water. Rising bubbles and turbulence provide the air-to-water interface needed for the stripping and contaminant removal without the need for packing or media. The system is ideal for groundwater remediation and industrial applications. Single units can handle flow rates up to 175 gpm. Multiple units can handle virtually any flow rate.
Aeromix Systems Inc.
Minneapolis, MN Tel: 800-879-3677 Web: www.aeromix.com
Circle No. 201 on Reader Service Card
UV disinfection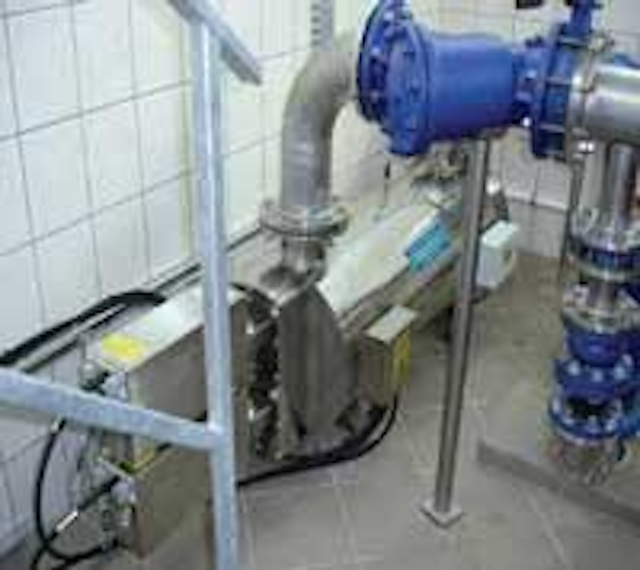 Click here to enlarge image
Severn Trent Services has introduced the new MicroDynamics® Closed Vessel Microwave Ultraviolet (UV) disinfection system. The system uses microwave energy to energize the bulbs and generate consistent-strength UV disinfection. Bulb replacement and maintenance costs can be as little as half of competing UV technologies, primarily driven by the unique microwave powered electrodeless lamps. Each system comes with a three-year bulb life warranty. The lamps operate at similar pressures and temperatures to traditional low pressure lamps. A single MicroDynamics CV02 system can treat flow rates up to 1200 gpm. Multiple vessels can be arranged in series or parallel to increase the flow rate through the system.
Severn Trent Services
Fort Washington, PA
Web: www.severntrentservices.com
Circle No. 202 on Reader Service Card
Metering system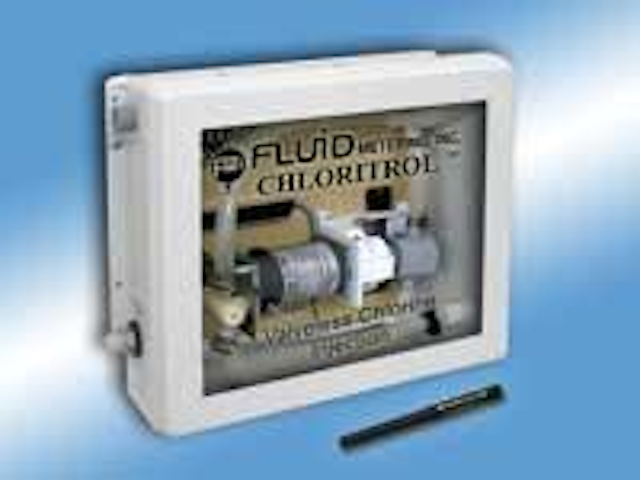 Click here to enlarge image
Fluid Metering has introduced the Chloritrol™ valveless metering system for injection of liquid sodium and calcium hypochlorite. The system uses a valveless duplex pump design. The primary pump injects liquid hypochlorite directly into the water main. The secondary pump removes out-gas bubbles from the system preventing loss of prime. The system will self prime against pressures up to 125 psi. Internal components are made of sapphire-hard ceramics which provide long term drift-free accuracy. Flow rate is controlled by FMI's Model V300 Variable Flow Controller, which accepts 4-20 mA, 0-5 VDC, and 0-10 VDC, signals from process sensors and instrumentation. Flow rate can be manually controlled as well using convenient front panel membrane switches and LED readout.
Fluid Metering Inc.
Syosset, NY
Tel: 800-223-3388 Web: www.chloritrol.com
Circle No. 204 on Reader Service Card
Fixed network AMI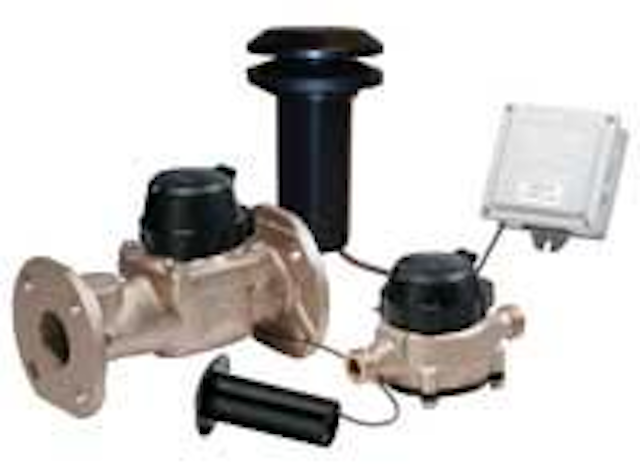 Click here to enlarge image
The Galaxy fixed network AMI system from Badger Meter uses high-powered meter transmitters in conjunction with a network of receivers that bring daily water meter data to the desktop. The system allows the use of multiple network backhaul options to provide additional flexibility, security and reliability. In addition to providing timely billing information, the system quickly flags vandalized transmitters or accounts that may have a potential leak.
Badger Meter
Milwaukee, WI
Tel: 800-656-3837
Web: www.badgermeter.com
Circle No. 203 on Reader Service Card
Turbidity analyzer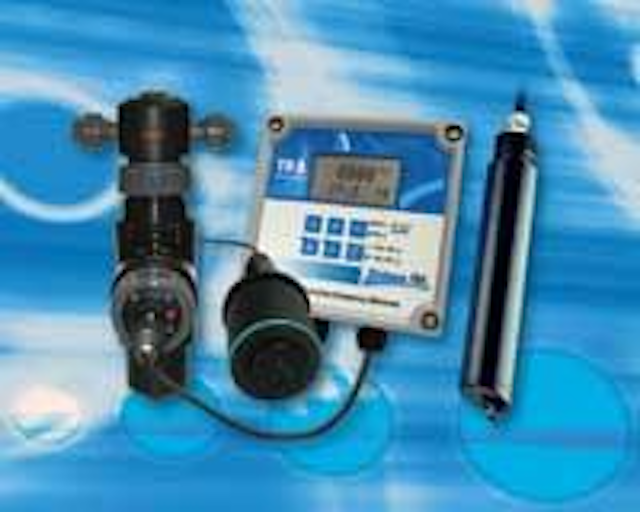 Click here to enlarge image
The new Triton TR8 Turbidity Analyzer from Electro-Chemical Devices measures turbidity with a unique multi-beam optical assembly. The first light beam is a reference detector that compensates for changes in the LED light source caused by aging or other variables. The second light beam detects the short path length, which is best of high concentration measurement. The third light beam measures the longer path length, which is best for lower concentrations. With its microprocessor-based design, the sensor electronics constantly adjusts turbidity signal readings versus the reference detector for improved measurement accuracy. A built-in digital filter helps to suppress potentially interfering signals while self-monitoring diagnostics assure reliability.
Electro-Chemical Devices
Yorba Linda, CA
Tel: 800-729-1333
Web: www.ecdi.com
Circle No. 205 on Reader Service Card
Sludge blanket monitoring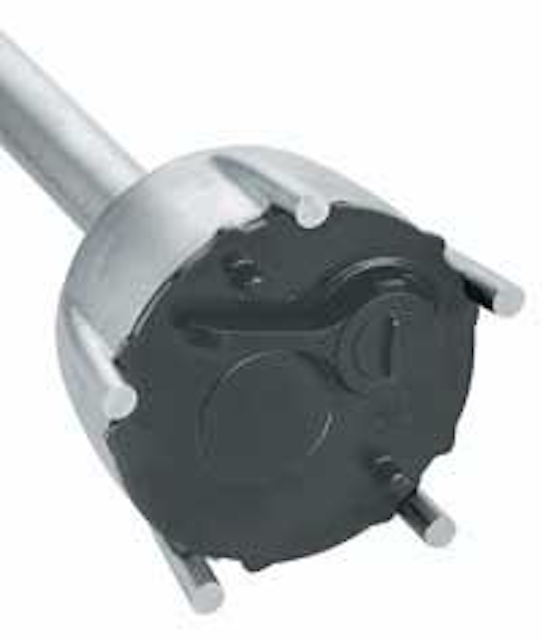 Click here to enlarge image
Hach's Sonatax sc sludge blanket level monitoring system optimizes sludge extraction, manages recirculation, and warns of potential solids washouts that may result in permit violations. The probe stays clean by using a magnetic coupled wiper that wipes the face of the probe. The wiper functions with a magnetic connection and without a shaft so there are no o-rings to replace and no need to open the probe housing. The ultrasonic probe automatically scans a range of frequencies to find the ideal settings for the solids concentration for the application. Built-in software can disregard signals reflected from tank structures such as pipes, rods, etc. The sludge level in the tank is then graphically displayed on the controller screen.
Hach Co.
Loveland, CO
Tel: 800-227-4224
Web: www.hach.com
Circle No. 206 on Reader Service Card
Control system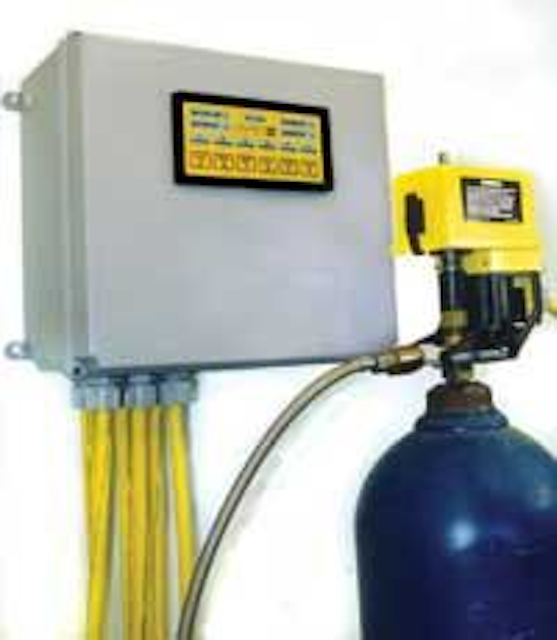 Click here to enlarge image
The Hexacon™ Model II control system quickly closes up to six Eclipse™ actuators on toxic gas cylinder and ton container valves by remote contact switches. The microprocessor system applies 30 foot-pounds of torque for test closures and 50 foot-pounds of torque for emergency closures of cylinder valves. All Fire Codes recognize and approve the "automatic-closing fail-safe shutoff valve" system in lieu of a scrubber. With a SCADA option, the system provides actuator closure status and error codes to quickly analyze problems and to take corrective action.
Halogen Valve Systems
Irvine, CA
Tel: 877-476-4222
Web:www.halogenvalve.com
Circle No. 208 on Reader Service Card
Pipe liner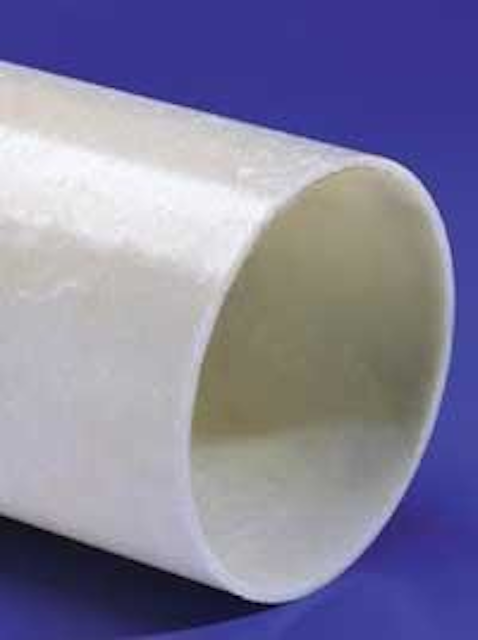 Click here to enlarge image
Insituform Technologies has introduced the InsituMain™ system, its new cured-in-place pipe for pressure pipe rehabilitation. The lining system is an AWWA Class IV fully structural CIPP product suitable for all potable and non-potable pressure pipes. The liner was designed to handle the internal pressure and external load requirements of pressure pipe. It has been tested to ANSI/NSF 61 requirements. The system has a polyethylene layer on the inside pipe surface that increases the pipe's smoothness, reduces surface friction, minimizes reduction in flow, and provides an additional corrosion barrier for the pipe.
Insituform Technologies Inc.
Chesterfield, MO
Tel: 636-530-3329
Web: www.insituform.com.
Circle No. 207 on Reader Service Card