Products & Services: Software & Systems
CUES has released new applications that enable utilities and contractors to execute a comprehensive CMOM management program.
Jun 1st, 2009
Pipe maintenance software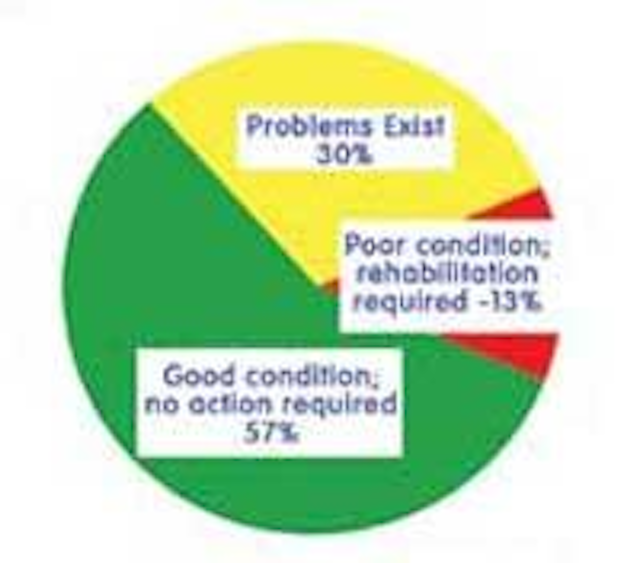 Click here to enlarge image
CUES has released new applications that enable utilities and contractors to execute a comprehensive CMOM management program. In conjunction with NASSCO, the Manhole Assessment and Certification Program (MACP) will be released in the company's Granite XP software. Certified inspectors will be able to collect MACP-compliant inspection data and GPS coordinates.
Cues Inc.
Tel: 800-327-7791
Web: www.cuesinc.com
Circle No. 209 on Reader Service Card
Pump optimization software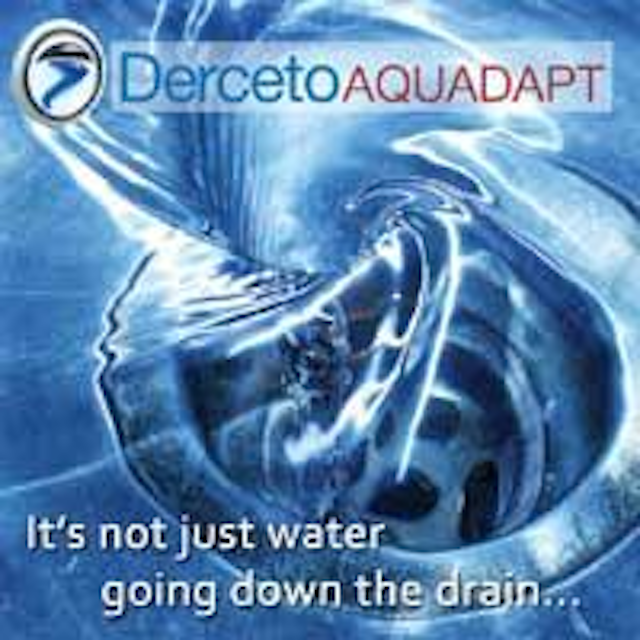 Click here to enlarge image
Derceto's Aquadapt is a software solution designed to help reduce energy costs and CO2 emissions in pumping systems. It acts like an autopilot for the control room operators enabling them to achieve optimal control of energy used for water distribution during the course of the day. Users of the system have reported total energy cost savings of up to 20% and efficiency gains of 5-10%.
Derceto Inc.
San Francisco, CA
Tel: 415-646-8960
Web: www.derceto.com
Circle No. 210 on Reader Service Card
Data management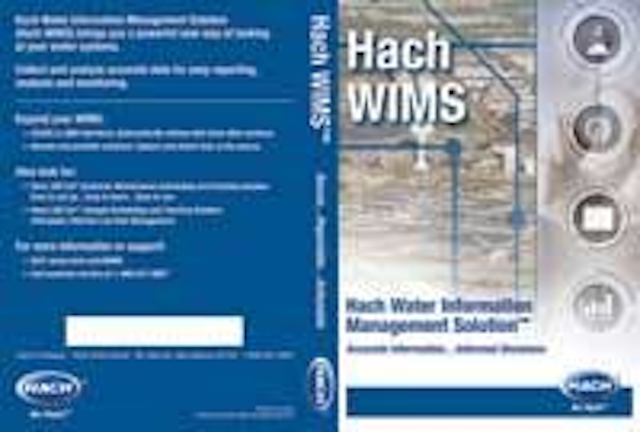 Click here to enlarge image
The Hach Water Information Management Solution (WIMS™) provides a set of scalable products that collect, incorporate, and analyze data and communicate information. The products offer an affordable choice versus custom developed applications and a reliable alternative to manual processes. Designed specifically for drinking water and wastewater systems of any size, the system aggregates independent sources of data.
Hach Co.
Loveland, CO
Tel: 800-677-0067
Web: www.hach.com/im
Circle No. 212 on Reader Service Card
Valve control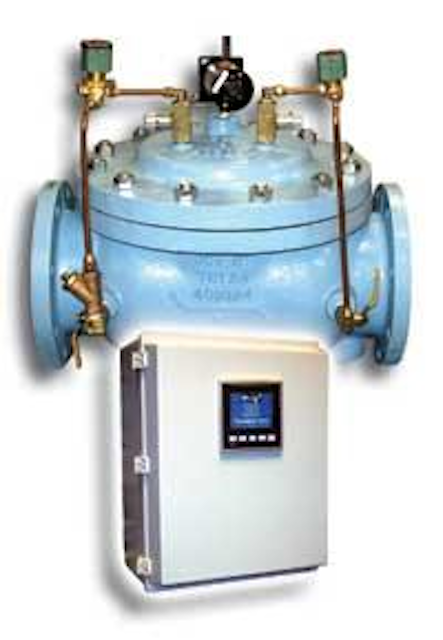 Click here to enlarge image
The OCV ValveMeter Ultra is a stand-alone, electronic flow measuring and control system. Based upon the variables of valve differential pressure and valve position, the system automatically calculates and displays the flow rate and signals the solenoids on the control valve to control the flow rate at a given set point.
OCV Control Valves
Tulsa, OK
Tel: 888-628-8258
Web: www.controlvalves.com
Circle No. 211 on Reader Service Card
Meter reading software

Click here to enlarge image
Neptune's software suite, which includes its ARB® N_SIGHT™ Mobile and FixedBase systems, provides utilities with solutions for their meter reading and billing processes. The mobile system is an easy-to-use software application that helps utilities reliably maintain meter reading schedules regardless of size or industry type. It will provide users with automatic web updates, electronic work order processing, multi-level security, and enhanced reporting functionality.
Neptune Technology Group
Tallassee, AL
Tel: 800-633-8754
Web: www.neptunetg.com
Circle No. 213 on Reader Service Card
Control system software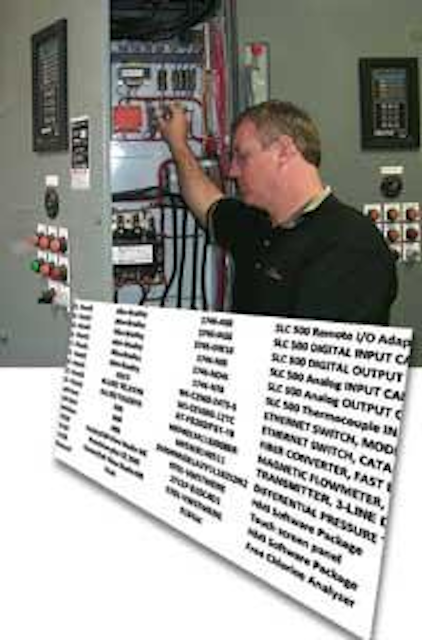 Click here to enlarge image
Revere Control Systems offers an aftermarket service program for control system software. The program covers PLC software upgrades; programming for PLCs, HMI, DCS, and SCADA; computer hardware and software upgrades; network security; and custom report generation. The company also provides site control systems inspection; loop tuning; circuit board exchange; calibration; and wireless and fiber optic work.
Revere Control Systems
Tel: 800-536-2525
Web: www.reverecontrol.com
Circle No. 214 on Reader Service Card
Pump controller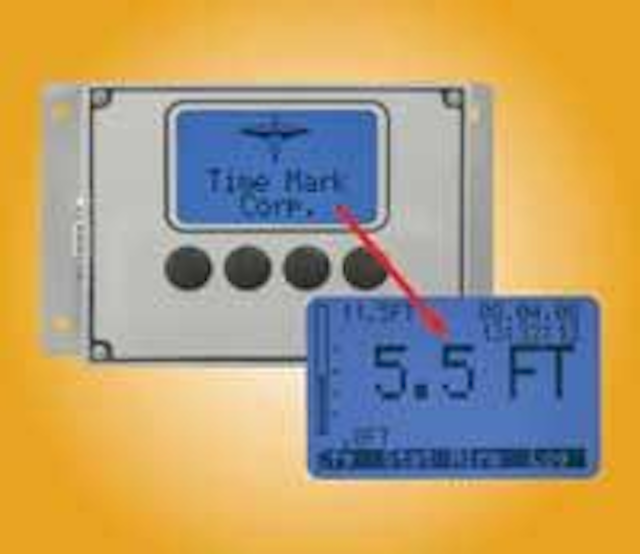 Click here to enlarge image
The Time Mark Model 42A Pump Controller is a versatile liquid level/pump management system that can control up to three pumps with a 4-20mA input or 2 pumps with a 4-20mA input and backup floats. The controller offers alarm inputs for seal failure, over temp, contactor fail and a spare. An n alarm output relay also is provided.
Time Mark Corp.
Tulsa, OK
Tel: 800-862-2875
Web: www.time-mark.com
Circle No. 215 on Reader Service Card
Data collection system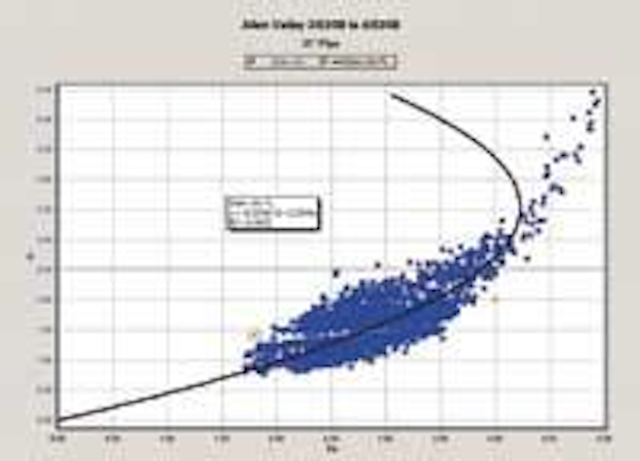 Click here to enlarge image
Telog Instruments now offers Telogers Enterprise 4.0, the latest version of the company's data collection and information system. The new release features a lift station algorithm that allows users to monitor their lift stations effectively and find trouble spots before they become flood events. It can gather information about the volume of water traveling through the sump and the intervals at which the pump turns on and off, and calculate the flow with a high level of accuracy.
Telog Instruments
Victor, NY
Tel: 585-742-3000
Web: www.telog.com
Circle No. 216 on Reader Service Card
Modeling software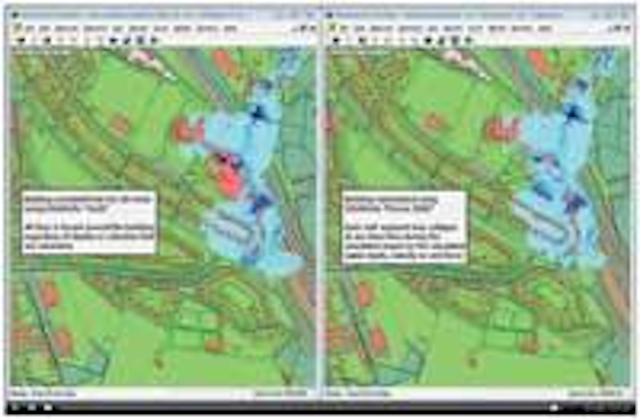 Click here to enlarge image
Wallingford Software has released Version 10.0 of InfoWorks, FloodWorks and InfoNet modeling software. A major addition to InfoWorks RS, CS and SD is the new collapsing wall functionality of the 2D engine. Initially developed to model cascades of falling dams V10.0 enables any type of barrier to collapse based on either; depth, water level, velocity or unit force criteria. The new release restores Water Quality Modeling to InfoWorks SD. The introduction of a 64-bit platform for 2D models provides technical advances in terms of larger meshes and faster mesh processing speed.
Wallingford Software
Web: www.wallingfordsoftware.com
Circle No. 217 on Reader Service Card
Monitoring, operating data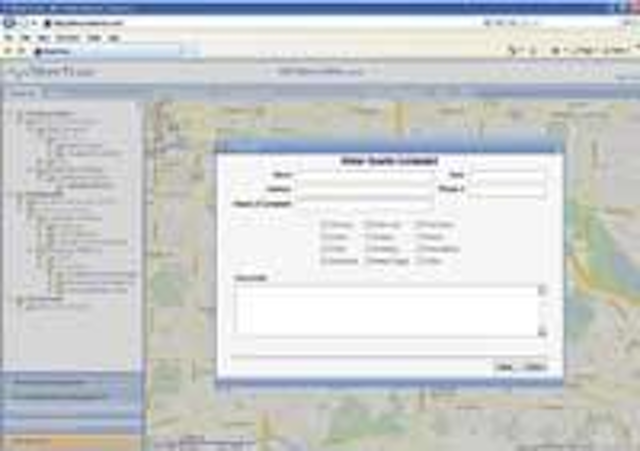 Click here to enlarge image
WaterTrax Software-as-a-Service products include features to consolidate, screen, report, and share drinking water monitoring and operating data. The service is specifically designed for any drinking water system, from the water source(s), through the treatment plant(s) and out into the distribution system(s). Multiple users get secure and instant access through the Internet to all their water system's monitoring data.
WaterTrax Inc.
Seattle, WA
Tel: 866-812-2233
Web: www.watertrax.com
Circle No. 218 on Reader Service Card
Water modeling software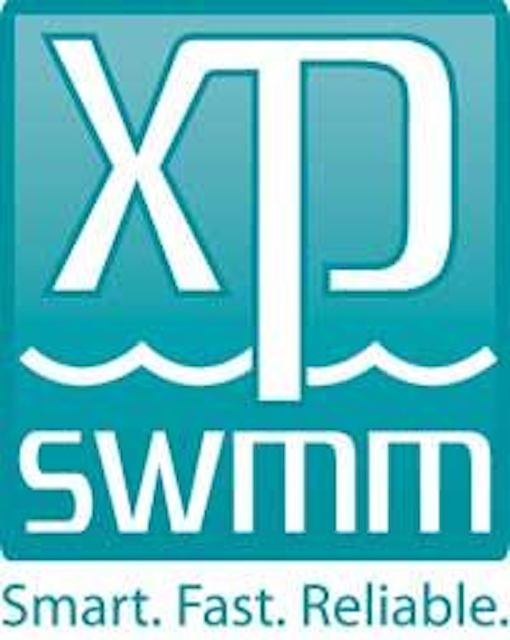 Click here to enlarge image
XP Software's XPSWMM is a comprehensive software package for modeling stormwater, sanitary and river systems, and is used by scientists, engineers and managers to develop link-node (1D) and spatially distributed hydraulic models (2D). It simulates natural rainfall-runoff processes and the performance of engineered systems that manage water resources. Models are used for the analysis, design and operation of storm and wastewater systems.
XP Software Inc.
Tel: 888-554-5022
Web: www.xpsoftware.com
Circle No. 219 on Reader Service Card
Underground marking system
3M has introduced the new 3M™ Dynatel™ Model 1420EZ-Writer Station, which is used with the company's RFID underground utility marking system. The station provides the ability to write up to 10 ID markers at one time. To write markers, the station connects to a PC that allows users to define the information to be written to 3M iD markers, as well as remotely controls the writing station from the PC keyboard.
3M Track and Trace Solutions
Austin, TX
Tel: 800-426-8688
Web: www.3mtrackandtrace.com
Circle No. 220 on Reader Service Card
BNR control

Click here to enlarge image
Kruger, a Veolia Water Solutions & Technologies company, offers STAC, a real time biological nutrient removal control for Phased Isolation Ditch (PID) technologies. The system uses online monitoring of nitrate and ammonia to dynamically control the phase length in response to incoming loading. This monitoring system will also monitor orthophosphate, thereby using that information to aid in the control of chemical dosing for phosphorus removal. Switching from fixed to variable phase length control with the system allows for continuous and automatic optimization of the alternating anoxic-aerobic pattern of Bio-Denitro™ and Bio-Denipho™ plants.
Kruger, a Veolia Company
Cary, NC
Web: www.krugerusa.com
Circle No. 221 on Reader Service Card
Mobile software, hardware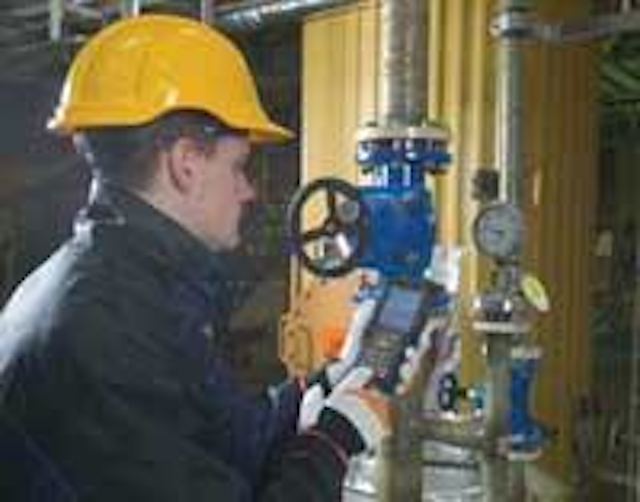 Click here to enlarge image
The Wonderware IntelaTrac system includes software and ruggedized mobile hardware solutions that enable field workers in the water industry to follow best operating practices, improve equipment reliability, gain better operational awareness and ensure regulatory compliance. Mobile workers become more productive because the software delivers up-to-date operating procedures and task lists so they know exactly what to do next.
Wonderware
Lake Forest, CA
Web: www.wonderware.com
Circle No. 222 on Reader Service Card