New Pump Station Supplies Water to Drought-Stricken Areas
The extreme drought conditions plaguing the Southeastern U.S. are playing havoc with water resources in the area.
Apr 1st, 2009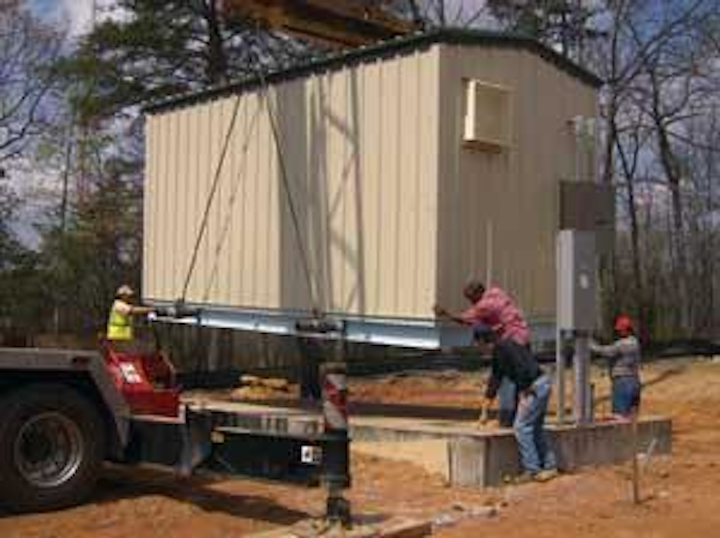 By Craig Dickinson
The extreme drought conditions plaguing the Southeastern U.S. are playing havoc with water resources in the area. Habersham County Water Authority, in northeastern Georgia, found itself in the heart of the drought-stricken area and in need of additional sources of municipal water for the cities and towns in its jurisdiction. The county's hard-hit existing resources just couldn't keep up. Fortunately, the city of Toccoa, in neighboring Stephens County, proved to be Habersham's best new resource.
The all-steel, factory-built packaged pump station was set on its foundation. It was hooked to electricity, connected to incoming and outgoing water lines, and ready for testing in less than 48 hours.
Click here to enlarge image
The Water Authority contracted with Toccoa for one million gallons of water per day with the possibility to increase up to three million gallons per day, as needed. The source for the contracted water would be Yonah Lake, a major facility in the mountains of Stephens County, which normally receives more rainfall than lower elevations. Water from this lake would be pumped to an elevated storage tank owned by the city of Toccoa near Highway 17.
Habersham County Water officials had seven months to build a new pump station adjacent to the storage tank, lay five miles of 16 inch pipe to their own storage facility and bring everything online before switching to the new water source. They quickly drew up specifications for the new Highway 17 Alternate Water Supply Main & Booster Station, calling for horizontal split case pumps to be housed in a fiberglass building. However, an alternative plan for the pump station was submitted and accepted.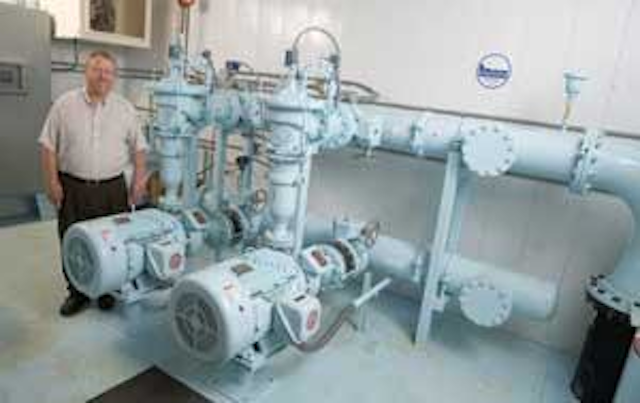 Terry Purcell, Habersham County Public Utilities Director, was pleased with initial testing of the end suction pumps, which required only minor adjustments, and with their continuing performance to specifications.
Click here to enlarge image
The winning bid came from Patterson Pump Co. The proposed new pump station was a factory-built, Patterson Flo-Pak® Integrated Pumping System in an all-steel, above-grade enclosure.
Instead of horizontal split case pumps, the new plan called for two, close-coupled end suction pumps – each required to produce 585 gpm at 295 tdh. Provisions were also made for the addition of a third pump as more water is needed in the future. These pumps were selected because they provide increased efficiency in a smaller footprint, bringing substantial savings not only in initial installation but also in ongoing operation costs through savings in electricity.
The pumps feature tangential discharge – a high-efficiency design that minimizes energy consumption. A back pullout design allows removal of the rotating element without disturbing suction and discharge connections, and each pump is fitted with a shaft sleeve and a self-flushing mechanical seal.
The pumping system is controlled by a UL508A and ETL listed pump control panel that was designed and manufactured by Patterson. Station equipment includes a variety of Allen Bradley products, including a PanelView Plus 600 operator interface with a 6 inch color touch screen, a Compact Logix PLC and SMC Flex solid state reduced voltage starters. The control system is state of the art and allows for a variety of communication methods including Ethernet IP and Modbus RTU.
The station's above-grade enclosure was constructed with a 4 inch steel framework and 12-, 14- and 16-gauge galvanized steel. More economical than the initial fiberglass option, the steel structure is coated inside and out with Kynar 500™, a baked-on, polyester resin finish that is resistant to chemicals and guaranteed against fading or chalking for 30 years and against paint separation and chipping for 40 years.
Factory-Built
The entire packaged pump station was built in a factory environment while the five miles of pipe were being laid. This was a crucial element in meeting the short timetable. Pump station fabrication was able to continue every scheduled day, without being dependent on the weather.
The factory environment also allowed for a level of quality control that is not generally available in the field. Pump station construction requires the expertise of many disciplines – electrical, mechanical, hydraulic and civil. Most contractors are not proficient in all of these areas. But the packaged pump system solution puts these concerns back in the hands of the experts–the pump manufacturer.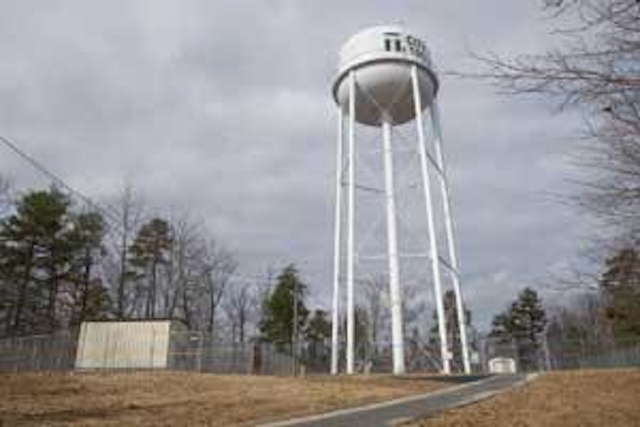 An elevated storage tank, owned by the city of Toccoa, feeds water to the adjacent pump station. Water is pumped 12 miles to another elevated storage tank in Habersham County for serving municipalities in that county.
Click here to enlarge image
The Habersham County Municipal Authority also received more comprehensive operator training and peace of mind with the packaged pump system, knowing there is a single point of contact for service and warranty claims.
The completed pump station was delivered to the Highway 17 site within 60 days. It was set in place, hooked to electricity, connected to incoming and outgoing water lines and was ready for testing within 48 hours.
"Testing went very well with only minor adjustments," said Terry Purcell, Public Utilities Director for Habersham County, "and the pumps continue to perform as specified."
The pumps are fed by water from the elevated storage tank owned by the city of Toccoa. Water is pumped 12 miles to another elevated storage tank located in, and owned by, Habersham County. There are currently 500 meters on line, mostly customers in the city of Clarksville, with whom the Water Authority has a contract.
This additional water source will also allow the Authority to become a wholesaler of water to other cities within the county. Negotiations are currently under way with the town of Mt. Airy and the city of Cornelia. There are also 34 Toccoa customers located along the route to the Habersham County storage tank who are benefitting from the added pressure created by the new pump station. WW
About the Author:
Craig Dickinson is Municipal Systems Sales Manager for Patterson Pump Co., a manufacturer of pumps and packaged systems for water supply, irrigation, flood prevention and wastewater treatment. He is a member of WEF, the Georgia Association of Water Professionals and the Georgia Rural Water Association.