Steps to Consider When Establishing CCTV Inspection Programs
Many sewer and storm drain systems around the country are reaching the end of their design life.
Apr 1st, 2009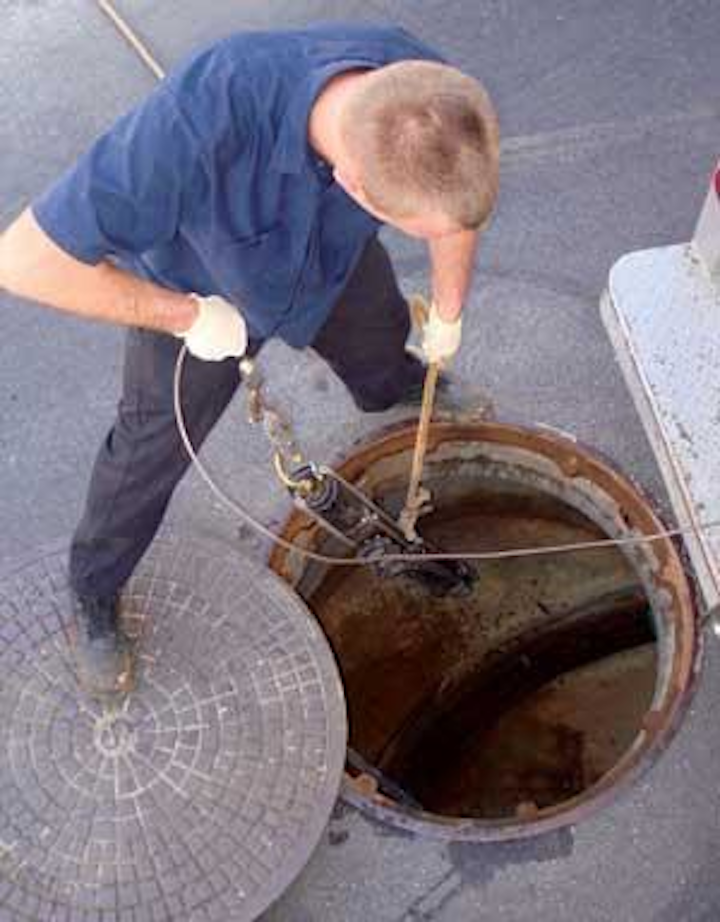 By Jim Aanderud
Many sewer and storm drain systems around the country are reaching the end of their design life. Fortunately, technological advancements have made it possible to thoroughly assess pipeline conditions. Low lux cameras transported on remote controlled crawlers are now capable of accurately determining the structural integrity of most sewer and storm drain systems. The quality of the information gathered is essential in prioritizing rehabilitation projects.
As demand grows to inspect entire sewer systems, cities and utilities must decide between embarking on their own inspection programs or outsourcing the work. Even agencies which own CCTV equipment oftentimes find it necessary to contract out some of their pipeline inspection services.
The decision to establish a CCTV inspection program must be carefully considered. A thorough understanding of the process can go a long way in ensuring success. Looking at other agencies can help your utility learn about the advantages and pitfalls of inspection programs.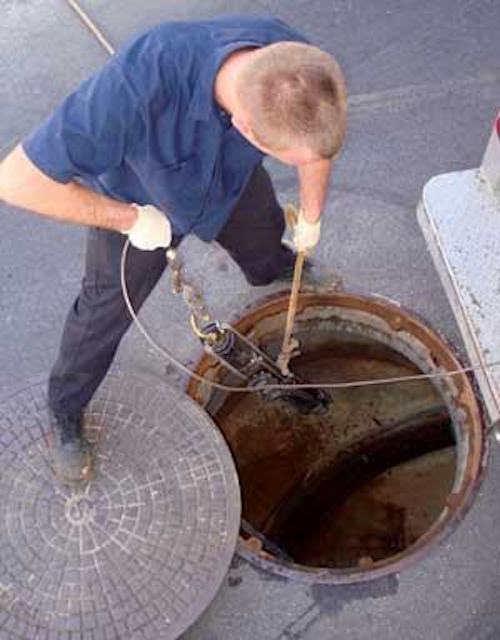 Operator Jake Zeigler lowers camera into a manhole.
Click here to enlarge image
Perhaps the largest initial cost is the purchase of a pipeline inspection vehicle. The decision to purchase a dedicated CCTV vehicle and related equipment must be thoroughly analyzed and then justified. This process requires a critical analysis of your utility's needs and a good understanding of the long term costs involved.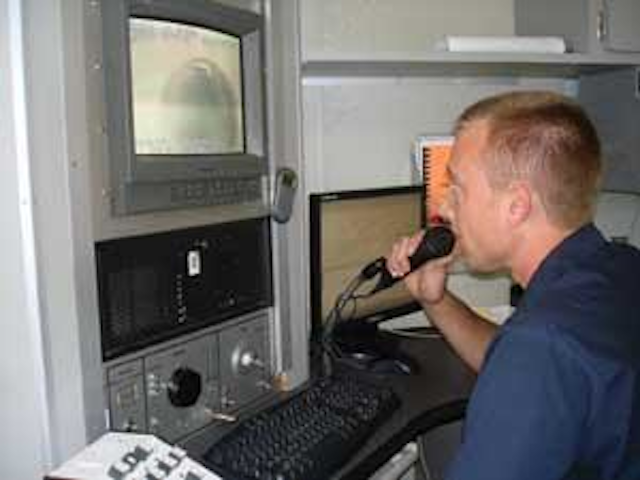 Operator Jake Zeigler speaks into microphone during a CCTV pipeline inspection.
Click here to enlarge image
Unfortunately, this critical analysis is often minimized and results in a CCTV inspection system that never achieves its intended purpose. As a result, there are hundreds of inspection vans across this nation that are either underused or are simply abandoned in city yards.
So how does something like this happen? Many people have the misconception that the retail price of a van is its final cost. Nothing could be further from the truth. In fact, there are many other financial considerations involved in owning and operating an inspection system that drive up the cost.
So, what are some of the costs that need to be taken into account?
Employees: Do you know how much it costs to have employees operating a CCTV inspection van? What about the cost to train them in the use of the equipment, the use of the software, repairing the equipment and obtaining certifications? The cost of an inspection operator alone can be half the purchase price of the van each year. Any other personnel assigned to the inspection team will drive up the annual cost of its operation.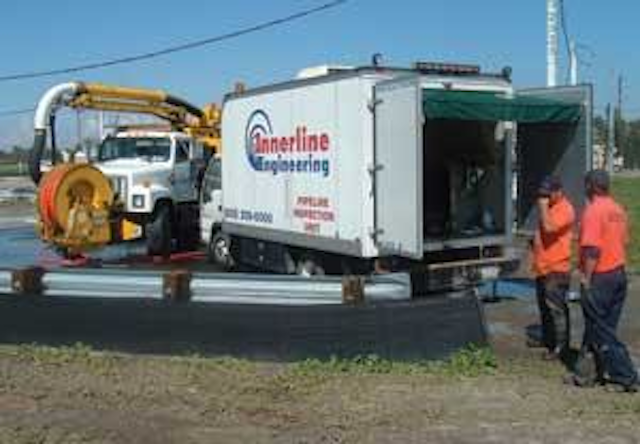 CCTV pipeline inspection vehicles often work side by side with combination units during cleaning and inspection programs.
Click here to enlarge image
Maintenance: The cost of repairs is an area that is most often overlooked. Sales people tend to downplay the cost of maintenance. But the truth is that CCTV inspection equipment breaks down. No matter how rugged it is, it is subjected to harsh environments and is often handled by less than gentle employees. Although repairs occur less frequently when the equipment is new, they escalate dramatically as it ages. Repairs to CCTV inspection equipment can easily exceed 15 to 25 percent of the original cost of the van per year.
Insurance, permits and licenses: Too often, people making the decision to purchase a van aren't the ones paying the bills. Therefore, they do not take into account all of the costs that will be incurred. For example, there is auto insurance coverage, liability insurance coverage, operating permits and vehicle licenses to consider, along with a lot of other incidental costs.
Tools and equipment: Before a CCTV inspection van can roll, it must be equipped with the necessary tools and equipment. That can include everything from manhole hooks, to gas monitors, ratchet sets, assorted hand tools, power tools, traffic control signs, traffic control delineators, arrow boards, and computer battery backups. Over time some of this equipment will wear out or be lost and will need to be replaced. Other costs will include software upgrades and yearly services agreements with the software companies, plus computer replacements at least every three years. All of these costs translate into thousands of dollars per year.
Consumables: As pipeline inspections take place, the video is recorded to the computer. At some point, DVDs and hard drives must be purchased in order to export the data from the computer. The reports that are generated from each inspection must be printed on paper and organized into binders incurring paper, ink and binder costs. Light bulbs, screws, tires and many other small parts for the CCTV equipment must be figured into the annual cost of the van. These consumables can easily rack up four digit costs.
Additional inspection equipment: Once the inspection program begins, it may be necessary to add more equipment in order to inspect different types of pipe. A large crawler may be needed for large diameter pipe at a cost of $20,000 to $60,000. Wheels that help facilitate the crawler in difficult areas of pipe may be needed. Perhaps even a backup camera may be needed because loaners are never available. All of these are unanticipated costs that drive up the cost of business.
Technical Considerations
Knowing the size of the pipelines to be inspected is critical in the selection of CCTV inspection equipment. Mainline crawlers are typically designed to inspect pipelines from 6 to 18 inches in diameter. They can be used for larger diameter lines as well but auxiliary lighting may be required.
Once pipe sizes exceed 24 inches, storm drain crawlers should be employed. These crawlers use the same cameras systems and are capable of inspecting pipelines over 100 inches in diameter.
Picture quality should be carefully considered. Some cameras work better in small diameter pipelines while others are better suited for large diameter lines. Whichever system is selected, it is important to ensure that sufficient lighting is provided.
Cable length is an area that varies from manufacturer to manufacturer. Most systems have between 1,300 and 2,000 feet of cable. The durability of the cable and the ability to terminate it in the field should be carefully considered.
Purchasing
When you purchase a CCTV inspection van, you are entering into a relationship with the brand. A month will rarely pass without some type of interaction with the manufacturer or the service provider. Whether it's troubleshooting equipment failures, purchasing parts, or shipping the equipment for repairs, the relationship with the brand will be vital to the success of the CCTV inspection program. Remember, it's not IF the equipment will break down, it is WHEN the equipment will break down.
How well the manufacturer of you equipment does their job will contribute significantly to the success or failure of your CCTV inspection program. How quickly they are able to make repairs and how well they are able to service you with loaner equipment are significant issues to consider.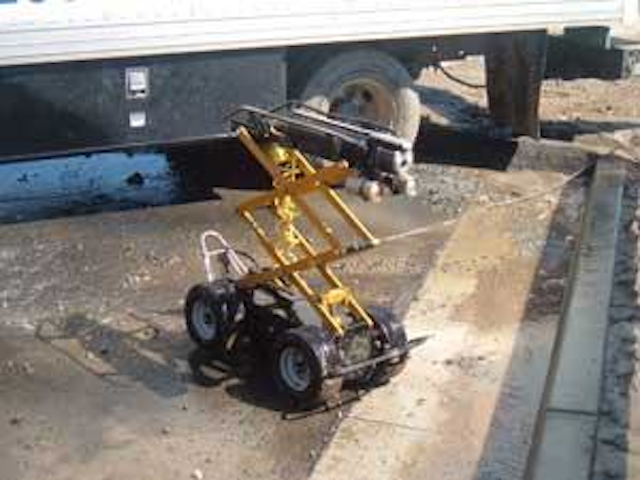 A storm drain tractor with its scissor lift extended for inspecting large diameter lines
Click here to enlarge image
The location of service centers should be taken into account as well. Find out what the turn around time will be on repairs. Can you drive to a service center or does everything have to be shipped? If your van is down for more than a week, program goals may be jeopardized.
Don't take a salesman's word for granted. Get a list of agencies and contractors that are current users of the equipment. Find out first hand how happy they are with the equipment and the company's responsiveness to service.
Software also is a significant consideration. Settling for the pipeline inspection software that comes with the van isn't necessarily the best thing. It is important to consider the various programs that are out there. Make sure that they are PACP compliant, user friendly, and exportable to GIS mapping.
There is an ongoing relationship with the software manufacture as well. Make sure that you are comfortable with their upgrade policy, their openness to customization, their responsiveness to troubleshooting and know up front what their annual fees are. Again, check with current users of the software to get an accurate picture of the company before entering into contract with them. WW
About the Author:
Jim Aanderud has build his career from the bottom up, beginning as a CCTV pipeline inspection operator in 1992. He joined Innerline Engineering in 1999 as an operations manager before purchasing the company in 2006. Aanderud is a Certified NASSCO/PACP Trainer and the current secretary and past chairman of the California Water Environment Association, Southern Sections Collections Systems Committee. He has numerous published articles on CCTV inspection topics and speaks regularly on a local and national level. Aanderud may be contacted via e-mail at jaanderud@AOL.com
Looking Ahead
In our next article, scheduled for June 2009, Aanderud will take a closer look at the CCTV pipeline inspection program by focusing on the CCTV pipeline inspection operator. He will also discuss the importance of the management role and how it contributes to the overall success of an inspection program.