Product Showcase
Pretreatment is becoming an integral part of wastewater treatment. The Schreiber Fuzzy Filter™, with its compressible media filter, is a high rate (30+ gpm/ ft2) filter for water and wastewater solutions.
Apr 1st, 2009
Pre-treatment Filtration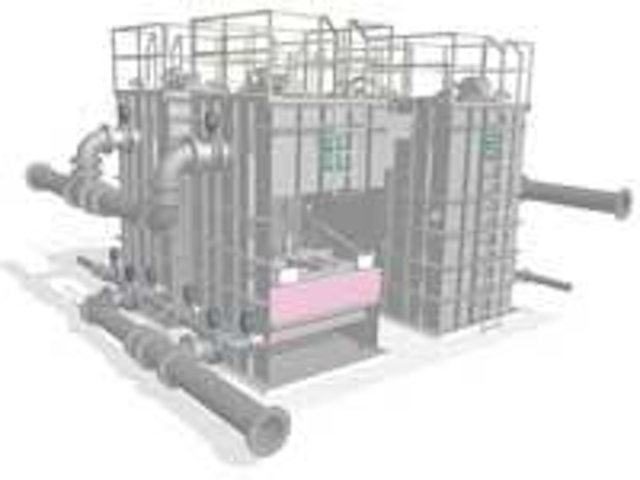 Click here to enlarge image
Pretreatment is becoming an integral part of wastewater treatment. The Schreiber Fuzzy Filter™, with its compressible media filter, is a high rate (30+ gpm/ ft2) filter for water and wastewater solutions. The filter takes 20% of the space of most sand filters and combines advantages of a depth filter and multimedia filter with solids storage of up to 1.2 lbs/ cu. ft of media. Membrane treatment systems can benefit from removal of up to 90% of suspended solids.
Schreiber LLC
Trussville, AL
Tel: 205-655-7466
Web: www.schreiberwater.com
Circle No. 201 on Reader Service Card
Hose reel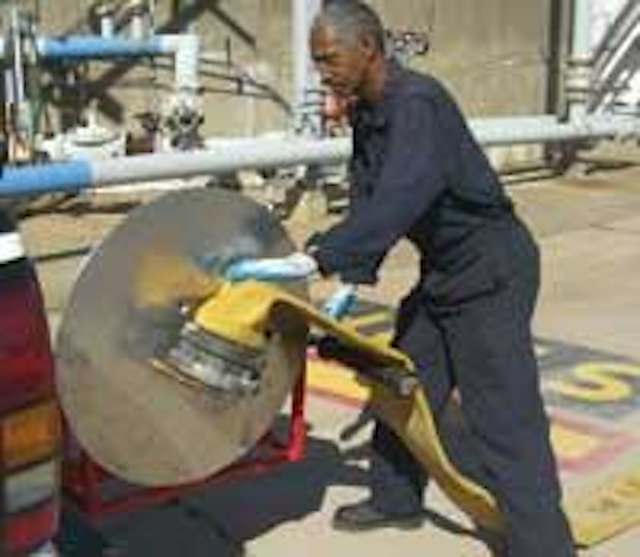 Click here to enlarge image
Deschutes River Manufacturing is offering portable, motorized hose rollers for use by water departments. Its Rookie Sidekick system was purchased recently by the City of Bend, Oregon's Water Reclamation Department to help reduce exposure to potential injury from handling the heavy, large-diameter hose it uses for sewer and storm water system maintenance. The system can mount to any vehicle receiver hitch, can be used to roll up hoses from three different directions without moving the vehicle and is operated by one person with a foot control pedal. Mounting height adjusts in 6-inch increments.
Deschutes River Manufacturing
Bend, OR
Tel: 877-868-1951
Web: www.the-rookie.com
Circle No. 202 on Reader Service Card
Air flow measurement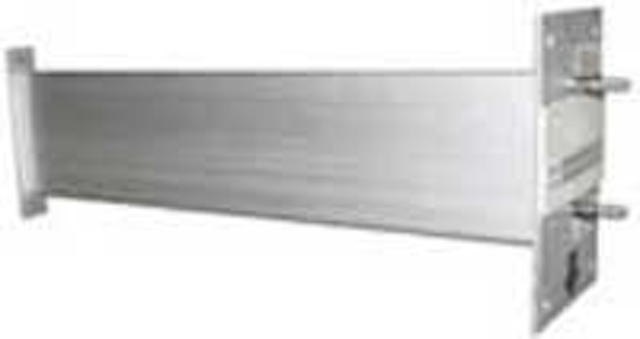 Click here to enlarge image
Dwyer Instruments has released release its new series DAFM Duct Air Flow Measuring Probes. The probes are designed to accurately measure the air flows in ducts. They use evenly distributed total and static pressure measuring points to deliver an accurate measurement of flows in a duct. The probe can be installed from outside of the fan making it ideal for when proper duct locations are unavailable. They may be purchased to fit ducts ranging in diameters from 6" to 96".
Dwyer Instruments, Inc.
Michigan City, IN
Tel: 800-872-9141 Web: www.dwyer-inst.com
Circle No. 204 on Reader Service Card
Solids handling pump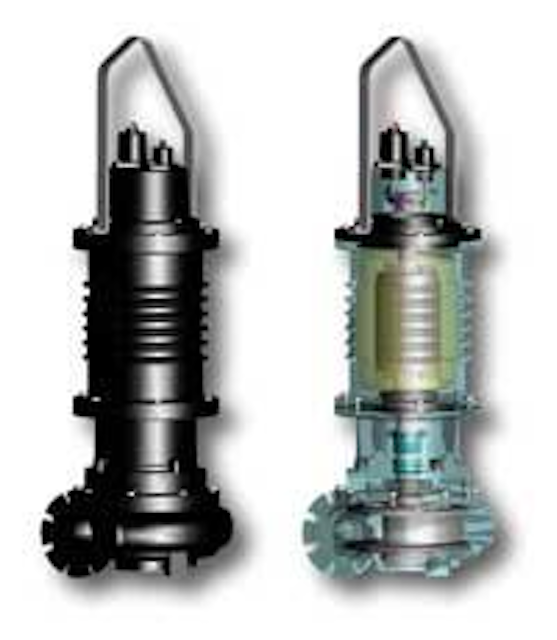 Click here to enlarge image
Yeomans Chicago has introduced the new Model 412.53SV submersible solids-handling pump. The pump uses a single-vane impeller that is trimmable to meet the specific duty rating necessary for each application. The impeller will also pass full 3" spherical solids to meet the preferred specification requirements of today's sewage pumping industry. The pump's capacity range is 100 to 1100 gpm and it produces discharge pressure up to 175 feet TDH. The model is provided in both free-standing and guide rail mounted configurations and is F.M. listed for Class 1, Div. 1, Group C & D hazardous locations. Silicon carbide mechanical seals, moisture detection and thermal overload sensors are standard. Motor sizes range from 15 to 40 HP.
Yeomans Chicago Corp.
Aurora, IL
Web: www.yccpump.com
Circle No. 203 on Reader Service Card
Pump controller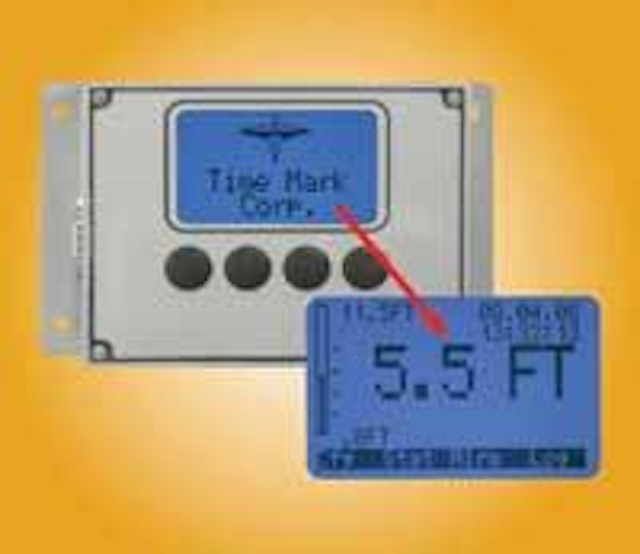 Click here to enlarge image
The Time Mark Model 42A Pump Controller is a liquid level/pump management system that can control up to three pumps with a 4-20 mA input or two pumps with a 4-20 mA input and backup floats. Alarm inputs for seal failure, over temp, contactor fail and a spare (ex. 2nd seal fail) and an alarm output relay are provided. The graphic display shows current depth, a liquid level graph with set-points, date/time and alarm status. Four buttons allow access to configuration settings (password protectable), pump status with run time meters, alarm status and real time alarm event logs with alarm type, date & time.
Time Mark Corp.
Tulsa, OK
Tel: 800-862-2875
Web: www.time-mark.com
Circle No. 208 on Reader Service Card
Wet well washing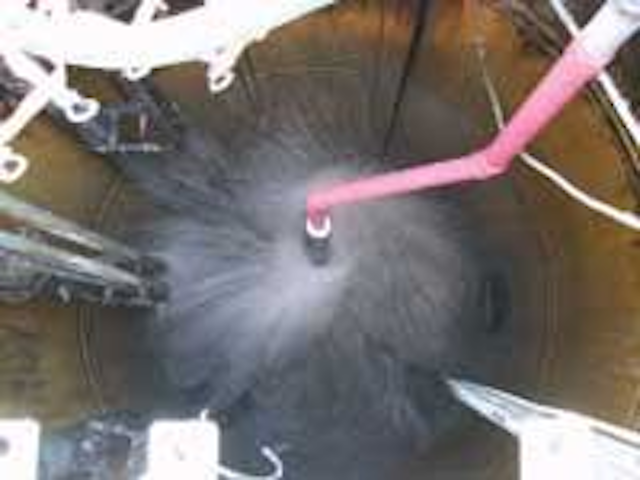 Click here to enlarge image
Anue Environmental has released the new EP-1300 series for agitating, oxygenating and cleaning pump stations, all without the use of external power or potable water. The mechanical system is a "green solution" for eliminating fat, oil, grease (FOG) and bio-film plus H2S and odors associated with bio-film in the well. Its mechanical action increases dissolved oxygen and promotes aerobic respiration. Users can expect to lower costs for well vacuuming, water cleaning and dumping of wastes. Even more savings are realized when chemicals for odor abatement are eliminated.
Anue Environmental
Carlsbad, CA
Tel: 800-559-7159
Web: www.anueenv.com
Circle No. 205 on Reader Service Card
Pipe supports
Click here to enlarge image
Pipe supports by Reliner® are easily installed, fully adjustable clamping pipe brackets made of non-corrosive 11 gauge 304 Stainless. They securely attach pipes to manhole walls and other surfaces with no protruding hardware and are fully adjustable to fit irregular surfaces. Often used with the company's Inside Drop Bowl to eliminate outside drops in sanitary sewers or stormwater drops. The pipe clamps attach to the structure wall with ⅜" stainless steel bolts in non-corrosive shields. A wide range of clamp sizes are in stock: 1.5" – 30" for SDR 35, Schedule 40, C900, CIOD, etc. Pump support systems are also available.
RELINER®/ Duran Inc.
Lyme, CT
Tel: 800-508-6001
Web: www.reliner.com
Circle No. 207 on Reader Service Card
Wet D/P transmitter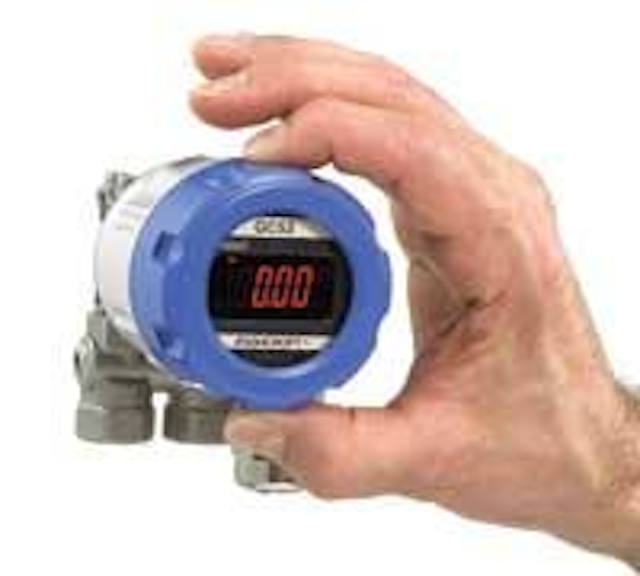 Click here to enlarge image
The new Ashcroft® Model GC52 is a compact wet-wet low differential pressure transmitter, ideal for measuring flow restrictions across filters and membranes. Equipped with the patented SiGlas™ 316 stainless steel isolated sensor, it can monitor a wide variety of wet or dry media. Available in uni-directional ranges from 0-4 to 0-400 inches W.C. and bi-directional ranges up to ±200 inches W.C., the GC52 operates on line (static) pressures up to 300 psi. A rugged aluminum NEMA 4X / IP65 enclosure measures only 2.56" in diameter and incorporates an LCD display for local reading.
Ashcroft Inc.
Stratford, CT
Tel: 800-328-8258
Web: www.ashcroft.com
Circle No. 206 on Reader Service Card