New Products
Norman Noe offers brass relief valves that help control water system pressure when a water storage tank is off line.
Apr 1st, 2009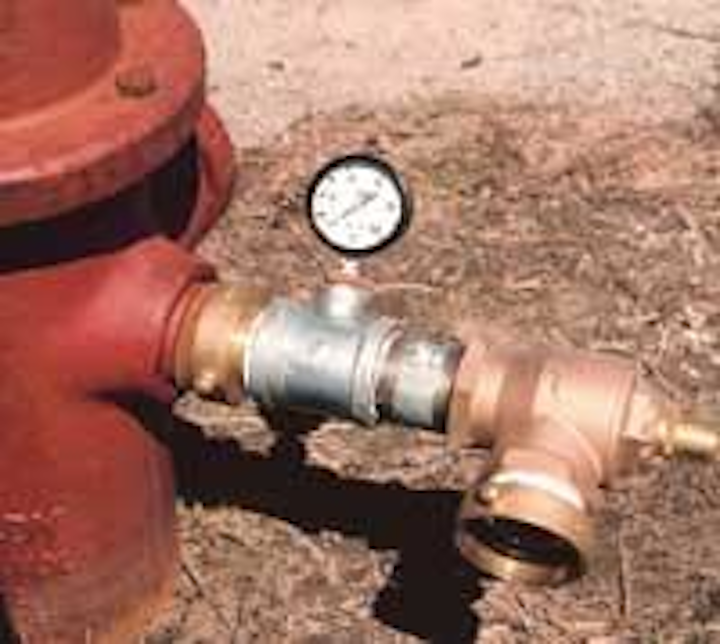 Relief valves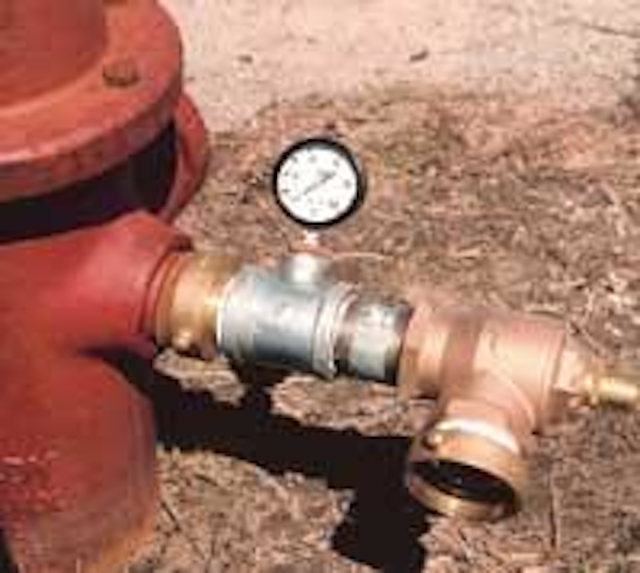 Click here to enlarge image
Norman Noe offers brass relief valves that help control water system pressure when a water storage tank is off line. The valves are installed on fire hydrants and allow users to pump water directly into the system while the water storage tank is out of service for inspection, painting or various emergencies. The adjustable valves are preset at 65 psi and come complete with brass fireplug and fire hose discharge adapters and pressure gauge.
Norman Noe Co.
Nineveh, IN
Tel: 317-933-2274
Web: www.normannoewatertankinspecton.com
Circle No. 235 on Reader Service Card
Design software
Create, modify, and manage piping and instrumentation diagrams with AutoCAD P&ID 2010. Built on the latest AutoCAD platform, the software is familiar to designers and engineers, so design teams can start immediately with minimal training. Common tasks performed every day are streamlined and automated to boost productivity, while component and line information is easily accessed by designers as they work. The software offers simplified reporting, editing, sharing, validation, and exchange of design information.
Autodesk Inc.
San Rafael, CA
Web: http://usa.autodesk.com
Circle No. 236 on Reader Service Card
Metering pump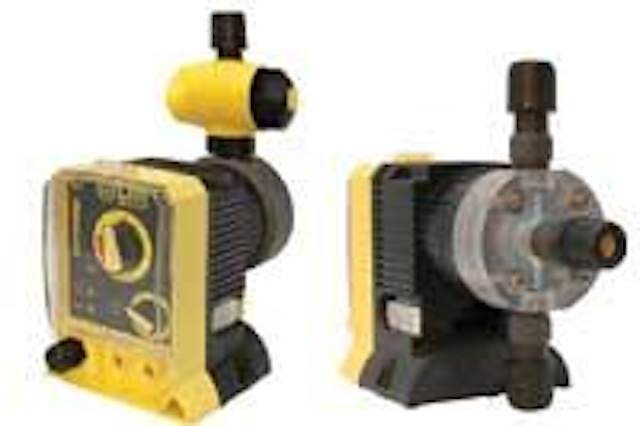 Click here to enlarge image
LMI's new Roytronic Metering Pump series was designed with advanced features required by the most demanding metering pump applications. The standard FastPrime™ liquid end makes start-up simple while the AutoPrime™ pumps assure the pump keeps working on Sodium Hypochlorite applications, even in remote installations. The optional degassing liquid-end eliminates "vapor lock" and unnecessary downtime to manually block and bleed the line. Pumps are available for applications up to 250 psi, and with capacities between 0.001 and 2.0 gph. A wide range of wetted material options are available for water treatment chemicals.
LMI
Ivyland, PA
Tel: 215-293-0401
Web: www.lmipumps.com
Circle No. 237 on Reader Service Card
Water test kit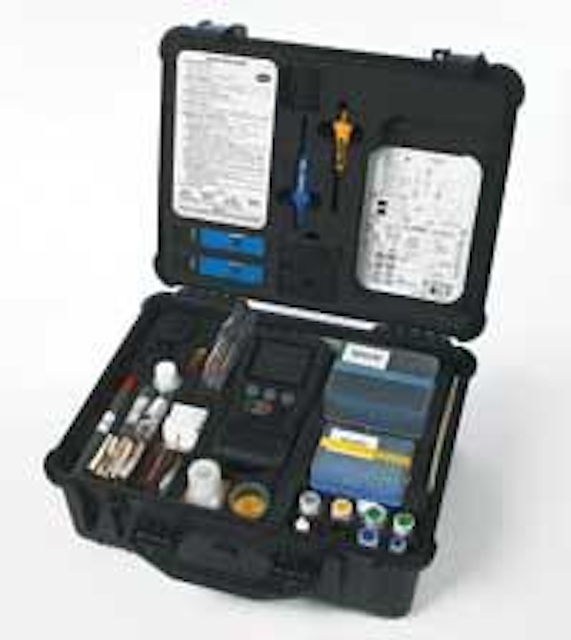 Click here to enlarge image
Hach Company has acquired the Eclox™ Rapid Response Water Test Kit from Severn Trent Services (STS). Initially designed for military applications, Eclox tests for chemical contamination of water in just four minutes. At the heart of the test kit is the Eclox luminometer for generic identification of the toxicity or purity of a water sample via the Eclox Chemiluminescence Toxicity Test. The technique used by the luminometer is the same as that validated by the USEPA Environmental Technology Verification (ETV) program to yield reliable detection of heavy metals, poisons, and chemical warfare agents on site.
Hach Homeland Security Technologies
Loveland, CO
Tel: 800-227-4224 Web: www.hach.com
Circle No. 234 on Reader Service Card
Infrastructure modeling software
Autodesk has released new Infrastructure Modeling software products designed to help utilities and government agencies improve the design and management of their infrastructure. The company's portfolio of products–including Map 3D 2010, Raster Design 2010, MapGuide Enterprise 2010, and Topobase 2010 -- provide users with a comprehensive solution for designing, visualizing, simulating and analyzing infrastructure assets and development plans.
Autodesk Inc.
San Rafael, CA
Web: www.autodesk.com
Circle No. 238 on Reader Service Card
Small utility GIS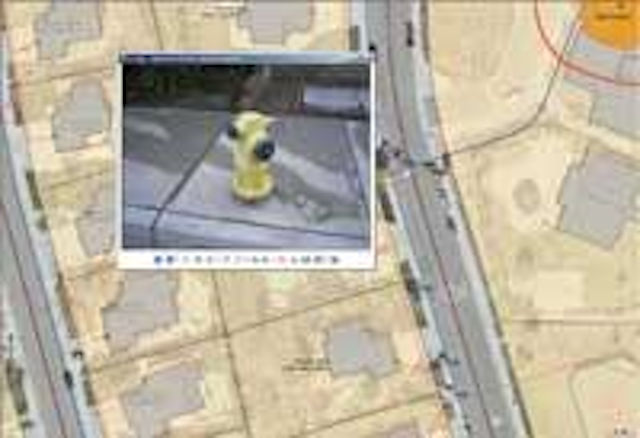 Click here to enlarge image
ESRI has introduced a Small Utilities Enterprise License Agreement (SU-ELA) program that gives small utilities greater access to geographic information system (GIS) technology. For an affordable, fixed cost, the program provides IT, business, and procurement benefits to U.S. utilities with 100,000 meters/connections or fewer. The program offers select unlimited deployments to desktop, server, Web, and mobile solutions of ESRI's ArcGIS platform; maintenance and support for products; staff training; and passes to ESRI's International User Conference.
ESRI
Redlands, CA Tel: 800-447-9778 Web: www.esri.com/suela
Circle No. 239 on Reader Service Card
Out of service bags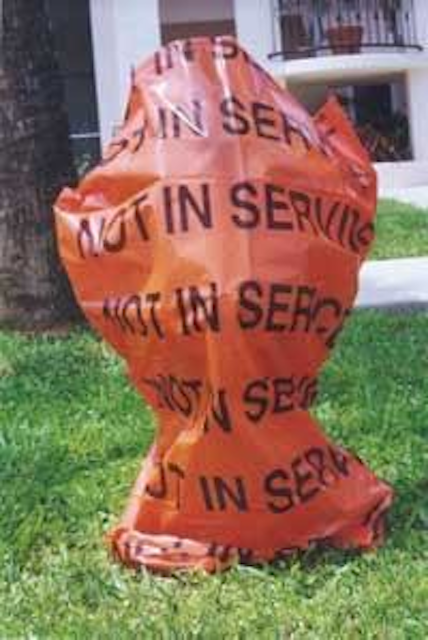 Click here to enlarge image
Assured Flow's N.I.S. (Not In Service) Bags are an economical method of identifying fire hydrants not functioning properly. The bags can be installed in a matter of seconds and will stay firmly attached to the fire hydrant. The brilliant safety orange poly bags are designed to give a quick, visible reference that a fire hydrant is not in service.
Assured Flow Sales Inc.
Sarasota, FL
Tel: 800-388-0678
Web: www.gradelok.com
Circle No. 240 on Reader Service Card
Optical brighteners detection
Turner Designs' Trilogy Laboratory Fluorometer now includes a module for detecting optical brighteners. The Optical Brightener Module easily snaps in and can be purchased with a new Trilogy or as an addition to a previously purchased Trilogy. The company also offers Optical Brightener kits for its 10AU Field Fluorometer, Cyclops-7 & C3 Submersible Fluorometers, C6 Multi-Sensor Platform, and Aquafluor Handheld Fluorometer. Optical brighteners or fluorescent whitening agents are added to products such as laundry soaps, detergents, and cleaning agents. The presence of brighteners in water systems to which wastewater is being discharged can mean failing septic systems, sewage leaks, or complete lack of water treatment.
Turner Designs
Sunnyvale, CA
Tel: 408-212-4046
Web: www.turnerdesigns.com
Circle No. 241 on Reader Service Card