Rising Prices Drive Change in Chemical Treatment Processes
We've all seen the ripple effects of the rising cost of crude oil: higher prices at the pump, grocery store, restaurants, and even at the neighborhood pet store.
Mar 1st, 2009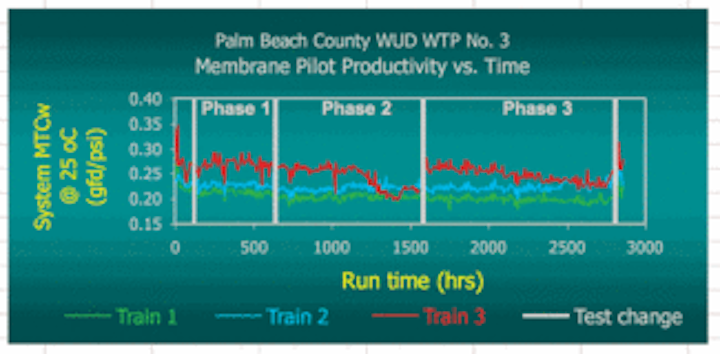 By William A. Lovins
We've all seen the ripple effects of the rising cost of crude oil: higher prices at the pump, grocery store, restaurants, and even at the neighborhood pet store. Now, let's add to that higher prices for chemicals used in water treatment. The sharp hike in the price of crude oil last year was one of a number of factors that dramatically increased the cost of sulfuric acid, lime, chlorine, and a host of other chemicals used to treat potable water.
Facing an uncertain future for chemical cost and supply, many utilities are looking to curb the impact via the primary component over which they have control – their treatment processes. One example is the Palm Beach County, Florida, Water Utilities Department, which switched from the use of sulfuric acid as the sole pretreatment chemical for its 30 mgd membrane softening plant to the addition of anti-scalant as part of the process. This modification proved particularly beneficial following the chemical supplier's increase in price for sulfuric acid by 486 percent from $65.40 per ton to $317.46 per ton. Without this change in treatment, the county would have experienced a dramatic increase in its annual operations and maintenance budget.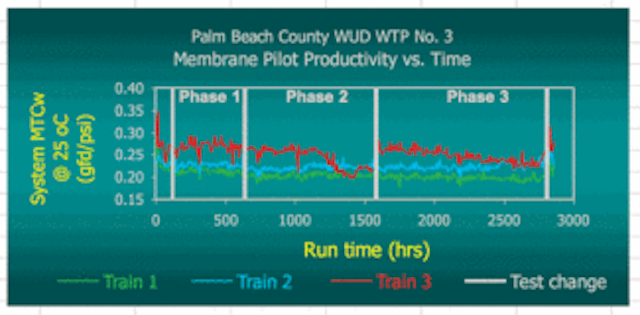 Palm Beach County WUD WTP No. 3 Membrane Pilot Productivity vs. Time
Click here to enlarge image
The county provides drinking water to approximately 500,000 residents in southeastern Florida. It operates multiple water treatment plants as well as a water reclamation facility. Water Treatment Plant No. 3 is a 30 mgd facility with 25.5 mgd of membrane softening capacity blended with 4.5 mgd of filtered groundwater.
Chemical pretreatment at the plant has historically consisted solely of the addition of sulfuric acid to the water supply. Acid controls calcium carbonate scaling within the membrane trains by lowering carbonate alkalinity and pH in the process feed water. A consequence of using acid pretreatment without anti-scalant has been high sulfuric acid consumption.
While sulfuric acid provides good calcium carbonate scaling control, the exceptionally high dosages account for a substantial portion of the annual chemical cost budget. By reducing the use of sulfuric acid and implementing anti-scalant, the county realized a projected cost savings of over $900,000 per year. In addition to cost, other advantages include enhanced operator safety by reduced chemical handling, optimized plant operations, and mitigated corrosion in the membrane concentrate deep-injection well, as identified in a report prepared by Brown and Caldwell and AECOM Water (formerly Boyle Engineering).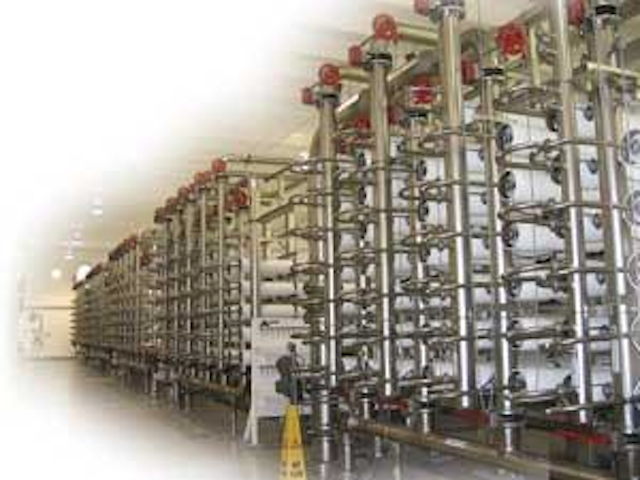 Adding anti-scalant and reducing sulfuric acid pretreatment dramatically reduced chemical costs in Palm Beach County, Florida.
Click here to enlarge image
Pilot testing served a key role in this effort by demonstrating feasibility prior to full-scale implementation. A series of tests with multiple product vendors showed the alternative pre-treatment scheme was viable for two different products that showed good long-term membrane performance.
Testing was performed over the course of three separate phases. Phase 1 provided a reference to existing conditions by pre-treating with acid and no anti-scalant. Subsequent tests included anti-scalant with reduced acid feed in Phase 2 and anti-scalant without acid in Phase 3. Target hydraulic operating conditions matched the full-scale process with water flux rate of 15 gallons per square foot day (gfd) and 85 percent recovery of raw water as treated membrane permeate. Three membrane trains were tested side by side, each with a separate anti-scalant product.
Results are illustrated by the membrane productivity data. Membrane productivity is one of several key parameters that monitor performance over time by calculating the water flow per membrane area (water flux), dividing it by the net pressure across the membrane (feed-concentrate to permeate), and correcting to 25 degrees centigrade. In this case, productivity proved to be the deciding factor in product performance. Ideally, productivity is sustained for long-periods of time, which was indeed the case for Trains 1 and 2. The rapidly declining trends observed with Train 3 show one product was not suitable for this application based on diminished scaling/fouling control and significant loss in membrane performance within a relatively short period of time.
The tests served to pre-qualify and ultimately select a proprietary anti-scalant product capable of meeting the county's performance objectives. This enabled the county to lower its dependence on sulfuric acid without jeopardizing the investment in full-scale membranes or causing other undesired outcomes for increased power consumption, labor intensity, or system downtime caused by lower membrane performance.
Looking to the Future
While the long-term effect that rising water treatment chemical costs has on the industry remains to be seen, several logical outcomes are apparent. These include a preference towards less chemically intensive treatment technologies (e.g., UV disinfection, biofiltration, and riverbank filtration), significant price sensitivity to contract duration, and the allowance of previously sole-sourced chemical contracts to open-bid as a means to control price through competition.
The Palm Beach County Water Utilities Department real-life scenario highlights the benefits of continually seeking ways to enhance operation and treatment, which often requires a team approach involving a utility's internal operations and engineering resources, combined with consultants and chemical manufacturers. Those utilities that embrace this mindset and build it into their organizational philosophy will be best equipped to reap the benefits of enhanced treatment in these economically trying times.WW
About the Author:
William A. Lovins, PhD, PE, specializes in environmental engineering projects for AECOM Water. He has served as a professional engineer in the areas of analysis, planning, design, construction and start-up of water supply, treatment, and distribution systems. As a Senior Project Engineer, his expertise comprises national and international contributions in the advanced water treatment and membrane processes industries.