Product & Services: Flow, Level
Shenitech's new Digital Mag888 flowmeter uses leading-edge digital signal processing and electromagnetic sensor technologies for accuracy and performance.
Mar 1st, 2009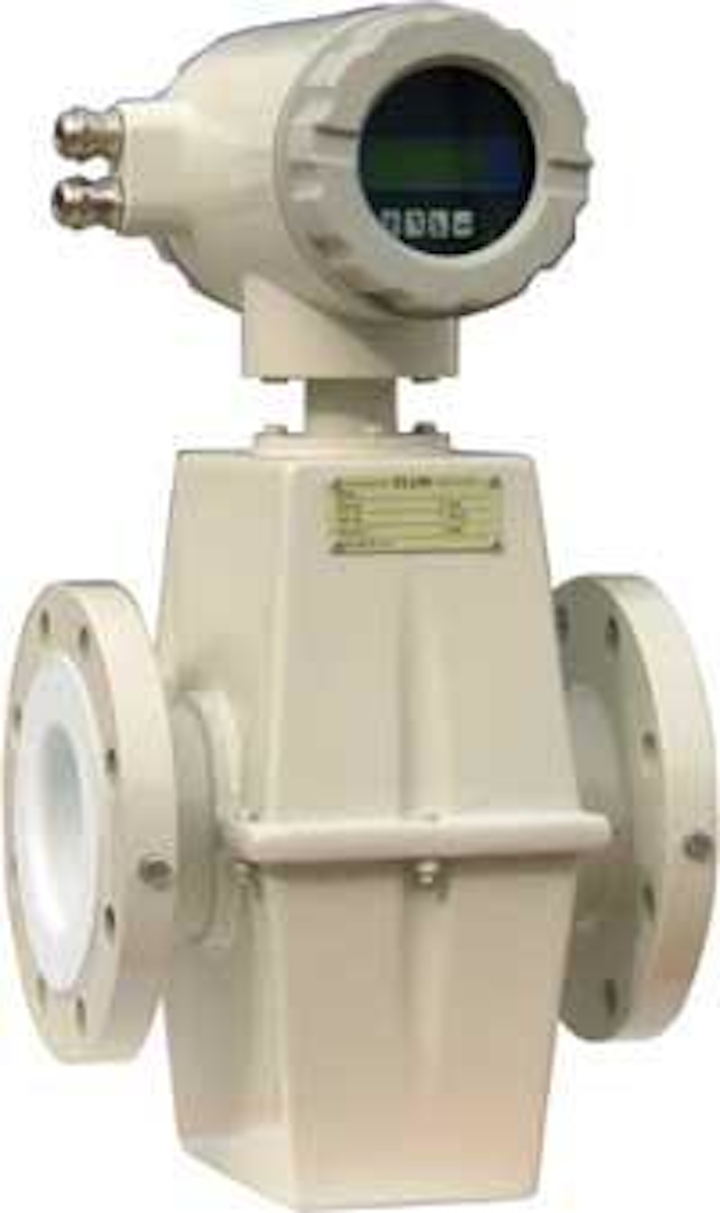 Magmeter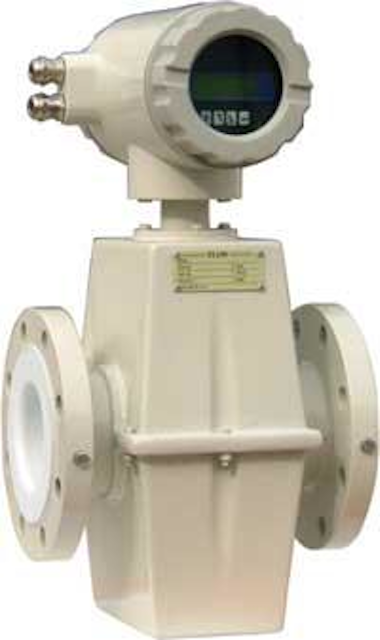 Click here to enlarge image
Shenitech's new Digital Mag888 flowmeter uses leading-edge digital signal processing and electromagnetic sensor technologies for accuracy and performance. The converter measures bidirectional flow and totalizes the flow in both forward and reverse directions separately. The meter monitors difficult flow such as raw waste, sludge, river water, pulp and even dredging flow, within a 0.3~0.5% degree of accuracy.
Shenitech, LLC
Woburn, MA
Tel: 888-738-0188
Web: www.shenitech.com
Circle No. 237 on Reader Service Card
Ultrasonic level, flow meter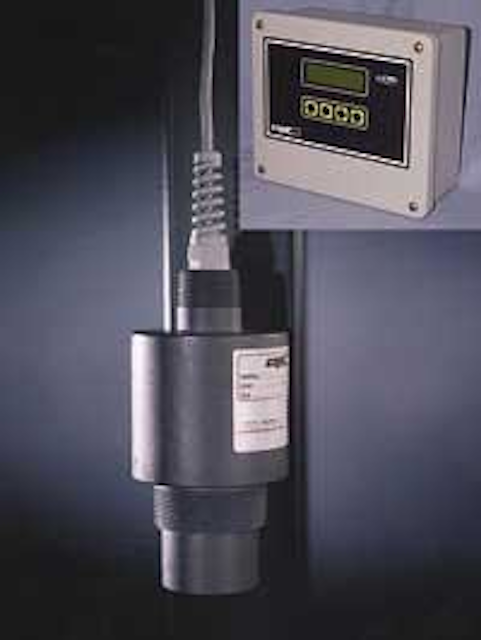 Click here to enlarge image
The new Eagle Microsystems USL-1000 Ultrasonic Level Systems can be configured for accurate measurement of tank level (USL-1000) or open channel flow (USF-1000). The system uses a precision ultrasonic transducer coupled with a simple-to-use digital readout instrument. The instrument can be used for measurement and display of bulk storage tank level or volume, or open channel flow using any common head producer such as a rectangular or V-notch weir or Parshall flume. The all-PVC ultrasonic sensor is suitable for most water and wastewater applications.
Eagle Microsystems Inc.
Pottstown, PA
Tel: 800-780-8636
Web: www.eaglemicrosystems.com
Circle No. 238 on Reader Service Card
Pressure switches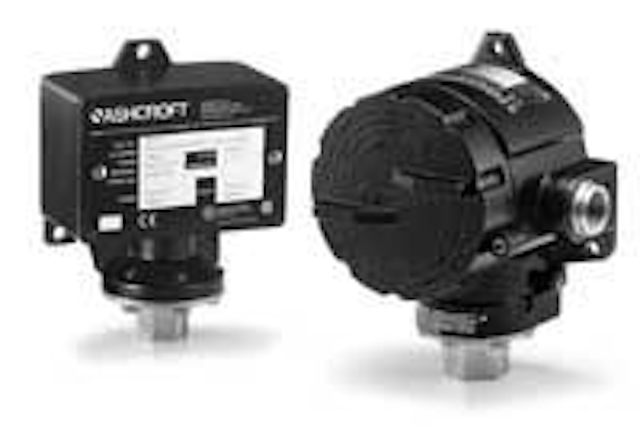 Click here to enlarge image
Ashcroft® B-Series pressure switches are designed for demanding industrial service. Provided with either NEMA 4 watertight or NEMA 7 explosion-proof housings, the switches are used in a wide variety of industrial applications and operating environments. Ranges from 0/10" H2O to 0/3000 psi and D/P ranges to 600 psid are available, along with a variety of diaphragm materials, sanitary connections or external media isolators for specialized installations.
Ashcroft
Tel: 800-328-8258
Web: www.ashcroft.com
Circle No. 239 on Reader Service Card
Interface level detection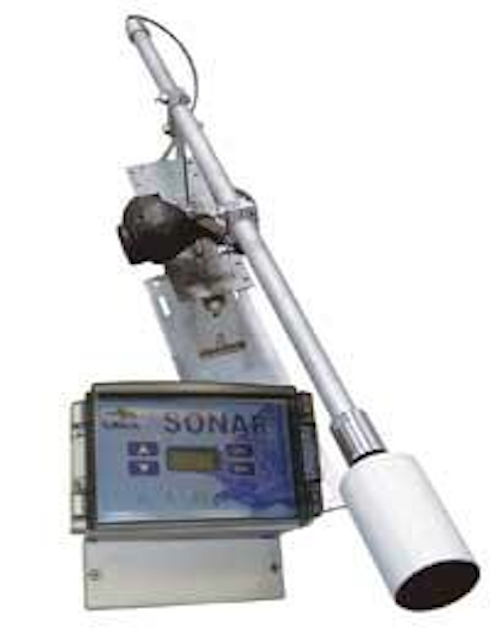 Click here to enlarge image
Processing Magazine has presented Hawk Measurement with its 11th annual Breakthrough Products of the Year Award. In March 2008 Hawk introduced a new line of "fourth generation" sonar transducers for improved sensing of interface levels. The new sensors offer improvements in overall power, penetration, and calibration density range.
Hawk Measurement
Tel: 888-429-5538
Web: www.hawkmeasure.com
Circle No. 240 on Reader Service Card
Differential pressure transmitter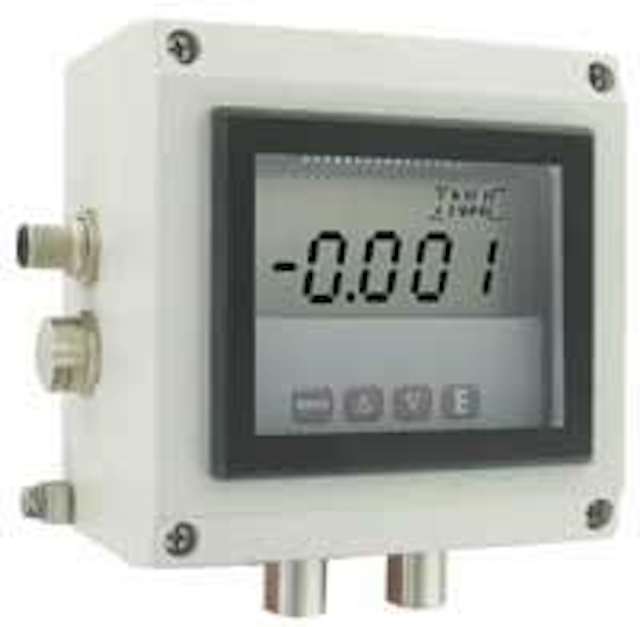 Click here to enlarge image
The new ISDP Differential Pressure Transmitter from Dwyer provides a 4-20 mA process output, a robust NEMA 4x enclosure, plus a large LCD display that can be programmed to read in pressure, velocity or flow. The transmitter offers simplified programming via a Menu key that enables the user to select: security level; English or Metric engineering units; pressure, velocity or flow operation, K-factor for use with various Pitot tubes and flow sensors, circular or rectangular duct size for volumetric flow operation plus many more.
Dwyer Instruments Inc.
Michigan City, IN
Tel: 800-872-9141
Web: www.dwyer-inst.com
Circle No. 241 on Reader Service Card
Submersible level transducers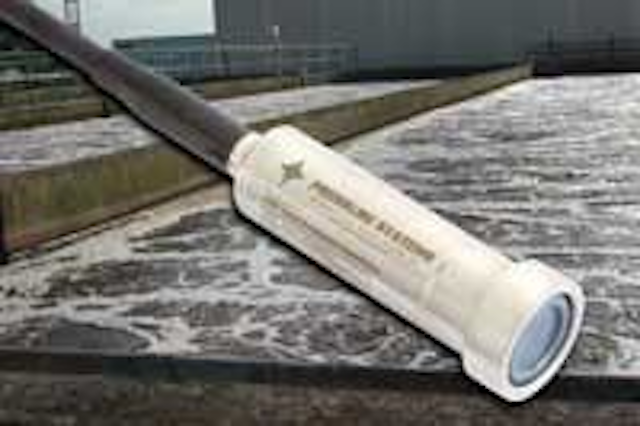 Click here to enlarge image
Pressure Systems has introduced a new, enhanced KPSI Series 705 submersible level transducer with static accuracy of ± 0.25% FSO. This new specification is now standard for the series and is offered without a price increase over the earlier model. The company first introduced the Series 705 to the market in 2005 to address the harsh operating conditions found in wastewater lift station applications. With its wide sensing area and flush-mount, Teflon® coated, elastomeric diaphragm, it is ideally suited to highly viscous or slurry environments.
Pressure Systems
Hampton, VA
Tel: 800-328-3665
Web: www.pressuresystems.com
Circle No. 242 on Reader Service Card
Level transmitter
Click here to enlarge image
The WIKA TRONIC line of submersible liquid level transmitters, which includes the WIKA LS-10, are engineered for a variety of industrial and municipal liquid level measurement applications. The transmitter's rugged design makes it suitable for environments associated with water and wastewater treatment, well depth measurement and offshore water depth measurement. The LS-10 provides a signal output of 4-20 mA and an accuracy of 0.25% of span. Standard stocked pressure ranges are assembled with any length cable.
WIKA Instrument Corp.
Lawrenceville, GA
Tel 678-739-2549
Web: www.wika.com
Circle No. 243 on Reader Service Card
Water level meter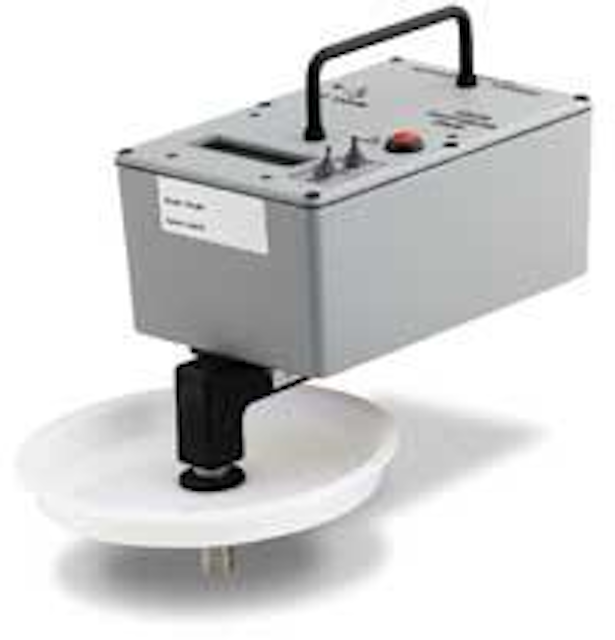 Click here to enlarge image
The Global Water WL600 Sonic, available from Forestry Suppliers Inc., uses sound waves to measure well water level in crooked wells, wells with cascading water, partially cased rock wells, wells with submersible pumps, capped or uncapped wells and wells with pipes and wires inside. Forestry Suppliers offers a complete selection of environmental equipment and supplies in its current catalog and on its website.
Forestry Suppliers Inc.
Jackson, MS
Tel: 800-360-7788
Web: www.forestry-suppliers.com
Circle No. 244 on Reader Service Card
Level transmitter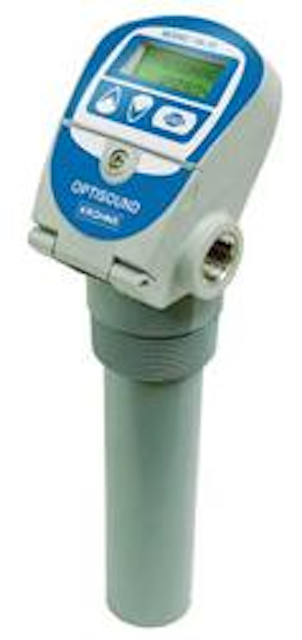 Click here to enlarge image
Krohne has added the Optisound VU3X Series Continuous Ultrasonic Level transmitter to its level measurement product line. The device was introduced to meet specific level or open channel flow measurement needs of the North American industrial and municipal markets. The ultrasonic transmitter provides a repeatable and accurate (0.15%) continuous level measurement of liquids.
Krohne Inc.
Peabody, MA
Tel: 800-356-9464
Web: www.krohne.com/northamerica
Circle No. 245 on Reader Service Card
Pressure sensor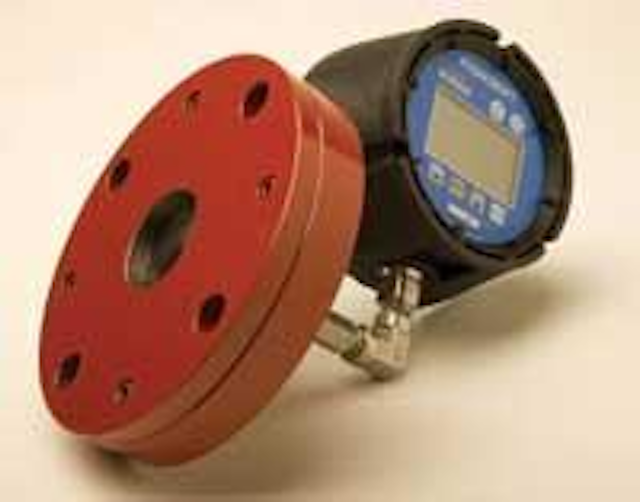 Click here to enlarge image
Red Valve's new Series 45 Pressure Sensor with digital instrumentation is designed specifically for tank level control and indication. The remote digital read out lends itself to easy installation in flange outlets on storage tanks. Beside storage tanks, the pressure sensor is also ideal for handling raw sewage, oil, water, chemicals, etc. The digital instruments are now available in 2" through 12" flange mounting. This makes the direct mounting of gauges, pressure switches and transmitters possible for either digital reading or remote control.
Red Valve Co. Inc.
Carnegie, PA
Tel: 412-279-0044
Web: www.redvalve.com
Circle No. 246 on Reader Service Card
Level, pressure transmitters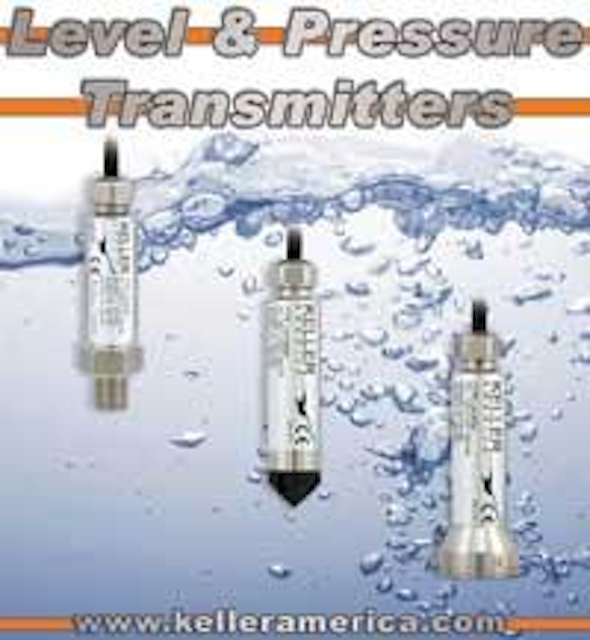 Click here to enlarge image
Keller America offers a line of pressure transmitters, submersible level transmitters, digital pressure gauges, and autonomous level loggers. The company has a standard lead time of only 3 days ARO for most products and provides guaranteed lightning protection at no additional cost. Keller is one of the world's largest suppliers to end users, system integrators and panel shops of above- and below-ground pressure and level transmitters.
Keller America
Newport News, VA Tel: 877-253-5537 Web: www.kelleramerica.com
Circle No. 247 on Reader Service Card
Open channel flow meter

Click here to enlarge image
Hach has developed a new open channel flow meter website – www.hachflow.com. The new website provides visitors with on-line sales and customer support information for Hach's Sigma and Marsh-McBirney flow products and services in an easy to navigate site. Website highlights include an Ask The Flow Experts forum, where visitors can ask experienced flow meter professionals about specific flow monitoring issues.
Hach Co./Marsh-McBirney
Frederick, MD
Tel: 800-368-2723
Web: www.hachflow.com
Circle No. 248 on Reader Service Card
Submersible pressure transducer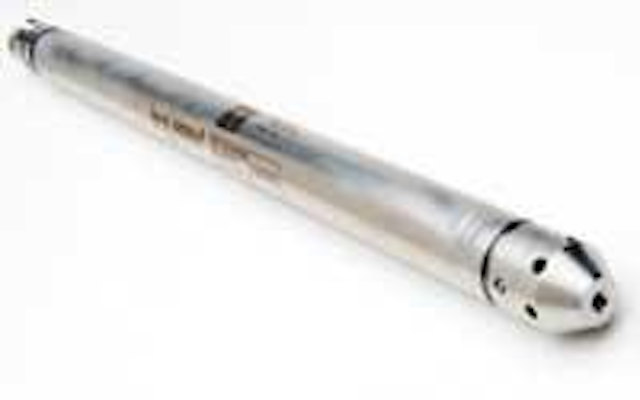 Click here to enlarge image
The YSI Level Scout™ is a submersible pressure transducer with built in logging capabilities that measures level and temperature. The transducer can be used in many applications including continuous monitoring of water level in ground water and surface water supplies. It can also be used to monitor within a wastewater system to examine intake levels and warn of a potential combined sewer over flow.
YSI Inc.
Yellow Springs, OH
Tel: 800-897-4151
Web: www.ysi.com
Circle No. 249 on Reader Service Card
Vibratory level switches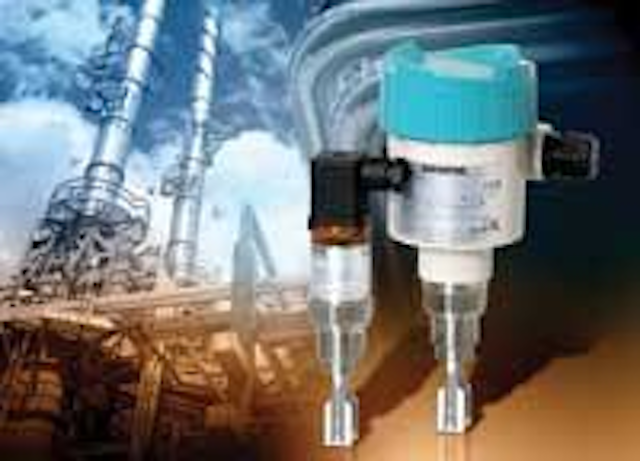 Click here to enlarge image
The new Sitrans LVL100 and LVL200 vibratory switches from the Siemens Industry Automation Division are suitable for signaling when the level of liquid media is sufficiently high, liquid media is required or needs to be refilled, and for protecting pumps. The compact switches measure reliably even if the conditions change, for example variations in the dielectric permittivity of a medium or the formation of vapor or bubbles.
Siemens Energy & Automation
Spring House, PA Web: www.sea.siemens.com/ia
Circle No. 250 on Reader Service Card
Impulse recorder
Telog Instruments has announced the availability of a new impulse recorder for monitoring of water hammer and negative pressure events. The recorder is based on the company's HPR-31 hydrant pressure recorder, which monitors water pressure at the hydrant or at the customer site. The new device, the HPR-31i, monitors and captures water pressure impulse events in the distribution system caused by power outages, routine pump shut-downs, valve operations, flushing, firefighting, main breaks and other events which create water surges and low or negative pressure events.
Telog Instruments
Victor, NY Tel: 585-742-3000 Web: www.telog.com
Circle No. 251 on Reader Service Card
Safety switch
Click here to enlarge image
AMETEK Drexelbrook has introduced the Safety IntelliPoint RF™ Switch, an RF Admittance device with SIL certification. The safety switch was developed specifically for above ground bulk storage facilities, such as tank farms, for overfill and spill protection. The safety switch is able to detect the presence or absence of material without calibration. Users need only to install the switch in a tank and apply the power.
AMETEK Drexelbrook
Horsham, PA
Tel: 215-674-1234
Web: www.drexelbrook.com
Circle No. 252 on Reader Service Card
Remote stormwater monitoring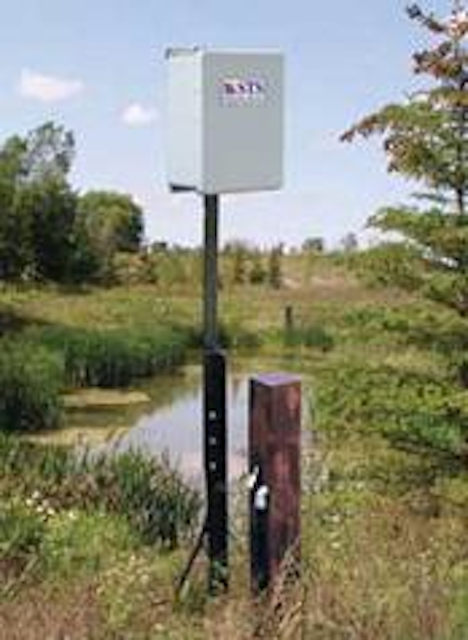 Click here to enlarge image
Access remote stormwater data instantly using the Solinst STS Gold Telemetry System. Built especially for Solinst Leveloggers, the system combines high quality data loggers and wireless communication technology to create a remote monitoring solution. Cellular, satellite and radio options give the flexibility to suit any project. Intuitive STS software allows users to manage the data and set up alarm notifications.
Solinst Canada Ltd.
Georgetown, ON Canada
Tel: 905-873-2255
Web: www.solinst.com
Circle No. 253 on Reader Service Card
Ultrasonic flow meter
Click here to enlarge image
The new Portaflow Transit Time Flow Meter is designed for measuring clean liquids from outside the pipe. It can be used for troubleshooting, spot checks and balancing flow. Strap-on sensors mount on the outside of plastic or metal pipes and ultrasonic signals are injected through the pipe between the two sensors.
Greyline Instruments Inc.
Massena, NY
Tel: 888-473-9546
Web: www.greyline.com
Circle No. 254 on Reader Service Card
Paddlewheel flow sensor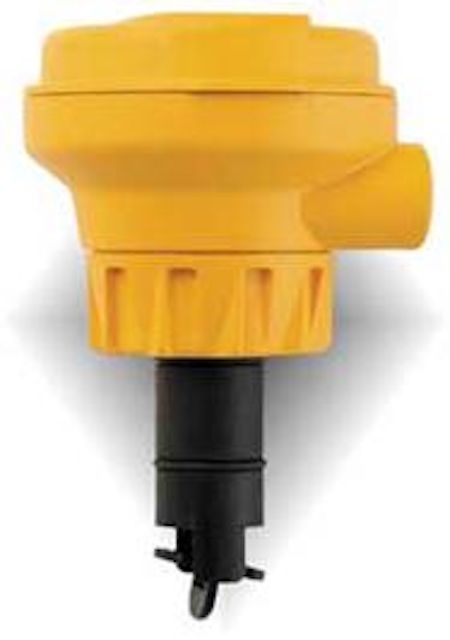 Click here to enlarge image
The FPB100 from Omega is a new, improved paddlewheel flow sensor with the added functionality of various output options including flow switch, multi-functional pulse divider, or a 4 to 20mA signal. The input frequency range is 1 to 1000Hz for all models. Depending on the model, the sensor is either made of polypropylene or PVDF material. For polypropylene models, the rotor pin is titanium and the rotor is black PVDF. For PVDF models, the rotor pin is PVDF and the rotor is natural PVDF material.
Omega Engineering
Stamford, CT
Tel: 203-359-1660
Web: www.omega.com
Circle No. 255 on Reader Service Card
Level gauge rentals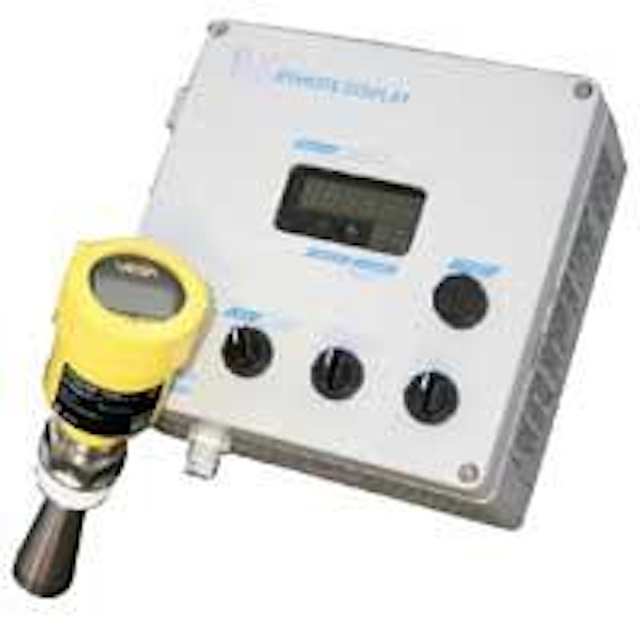 Click here to enlarge image
The portable Radar Liquid Level Gauge from Rain for Rent continuously measures liquid levels with a non-intrusive 26 GHz radar signal. The gauge is suited for monitoring, measuring, and controlling liquid levels in portable or fixed tanks. Level measurements are not affected by temperature (-40° to 266° F), gas, vapor or liquid agitation.
Rain for Rent
Bakersfield, CA
Tel: 661-399-9128
Web: www.rainforrent.com
Circle No. 258 on Reader Service Card
Level monitoring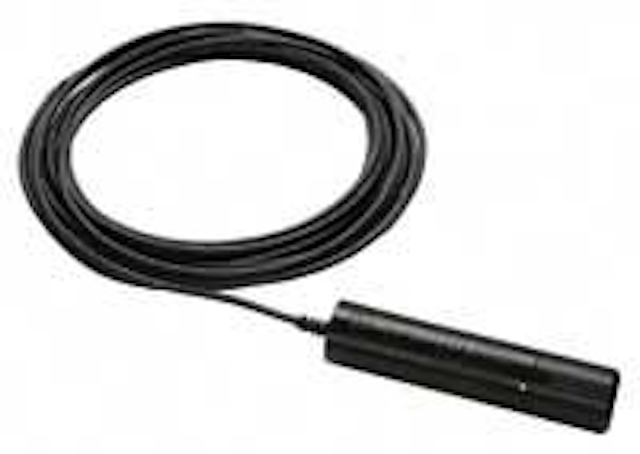 Click here to enlarge image
In-Situ® offers a family of water level instruments for virtually every application and budget. From advanced aquifer characterization to long-term monitoring to economical data collection, the company's Level Troll® instruments measure and log water level, temperature, and pressure. With five instruments to choose from, users can select the right equipment for their monitoring needs. Depending on the project, the instruments meet application requirements with true logarithmic, step linear, linear average, event, and linear logging modes.
In-Situ Inc.
Fort Collins, CO
Tel: 800-446-7488
Web: www.in-situ.com
Circle No. 256 on Reader Service Card
Flow transmitters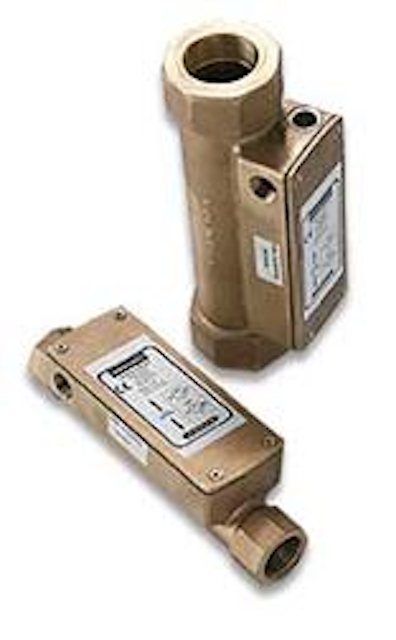 Click here to enlarge image
Clark Solutions CSLFB Ultrasonic Flow Transmitters are ideal for measuring flow in most clean liquids and many liquids with entrained solids. The transmitters are designed for full-scale flow ranges from 15 to 400 gpm in ¾" to 3" pipe. They are a rugged cast brass design and have an accuracy of ±0.75% F.S. The transmitters feature no moving parts, excellent long-term stability, no pressure drop, broad fluid compatibility, and accuracy at approximately half the cost of similar instruments.
Clark Solutions
Hudson, MA Tel: 978-568-3400 Web: www.clarksol.com
Circle No. 259 on Reader Service Card
Level sensor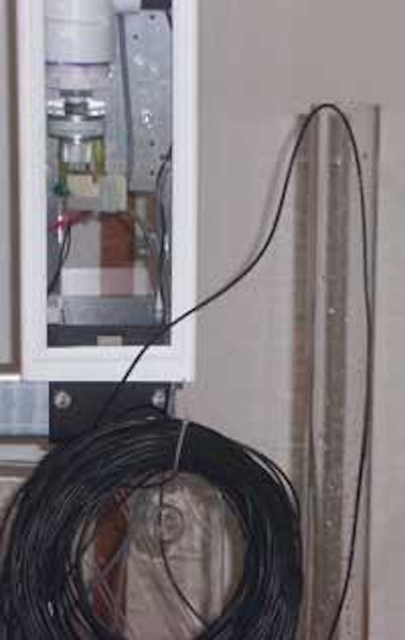 Click here to enlarge image
Automata's Bubbler is designed to facilitate water level measurement without the need to immerse instruments into the water. The end of the tubing is placed at a known depth below the water surface that is to be measured. The pressure required to force bubbles out of the end of the tube equals the hydrostatic head of water above the end of the tube. It is easy to use and only the tubing is submerged. The device can be connected to Automata's MINI-SAT™ or MINI-SS Field Station and the user can view the data either by Internet or personal computer depending on the telemetry of each field station.
Automata Inc.
Nevada City, CA
Tel: 800-994-0380
Web: www.automata-inc.com
Circle No. 257 on Reader Service Card
Multi-parameter sensor
Instrumentation Northwest offers AquiStar® PT2X Smart Sensors with built-in datalogging. Measuring pressure/level, temperature, and time, these industry standard digital RS485 interface devices record over 130,000 records in non-volatile memory and operate on low power. They are 0.75" in diameter and offer easy battery replacement and debris removal. The sensors come with Windows®-based Aqua4Plus software, affording the user extensive control, including real time monitoring and flexible programming, as well as versatile data display options.
Instrumentation Northwest Inc.
Kirkland, WA
Tel: 425-822-4434
Web: www.inwusa.com
Circle No. 260 on Reader Service Card
Pressure sensor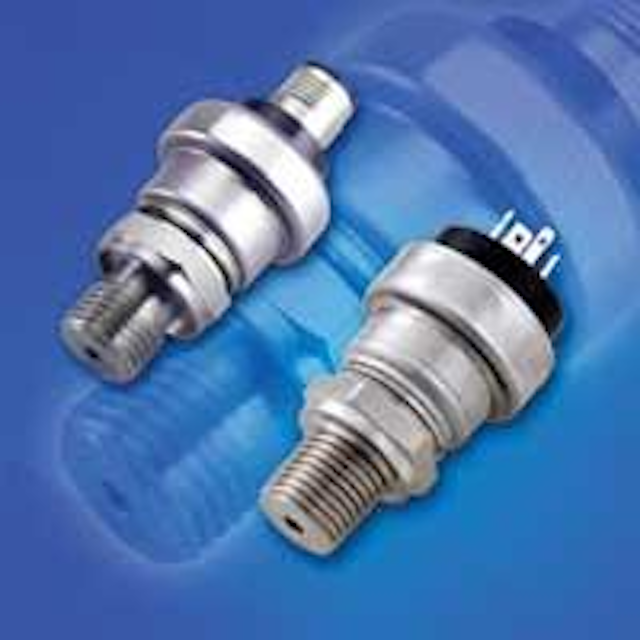 Click here to enlarge image
Kavlico, a global business unit of Custom Sensors & Technologies (CST), has launched a line of sealed industrial pressure sensors that incorporate a stainless steel diaphragm in an all welded 304L stainless steel housing making them well-suited for hostile environment applications. The sensors use the company's oil-filled piezo-resistive (PRT) sensing technology along with a state-of-the-art ASIC.
Kavlico
Moorpark, CA
Tel: 805-552-3406
Web: www.kavlico.com
Circle No. 261 on Reader Service Card
Pressure sensor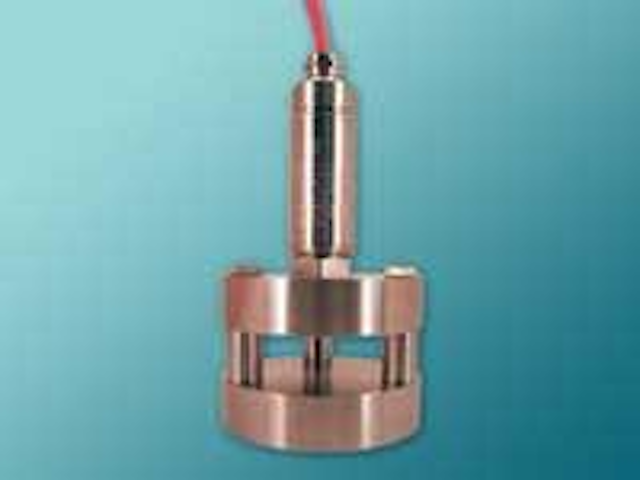 Click here to enlarge image
American Sensor Technologies (AST) offers a media isolated, submersible pressure sensor with a flush diaphragm steel cage design - the AST4520. Featuring all stainless steel construction and approved to UL/cUL913 Class 1, Division 1 IS, Groups C and D with an approved barrier, the sensor is suited for level monitoring of turbulent tanks with viscous media. The Flush Diaphragm Steel Cage design allows for proper flow of media while keeping the sensor at the bottom of the tank or well.
American Sensor Technologies Inc.
Mt. Olive, NJ
Tel: 973-448-1901
Web: www.astsensors.com
Circle No. 262 on Reader Service Card