New Products
With its advanced point infrared combustible gas sensing element, the new IR400 Combustible Gas Detector from General Monitors protects against explosive hydrocarbon gases with a low power design that installs in minutes.
Jan 1st, 2009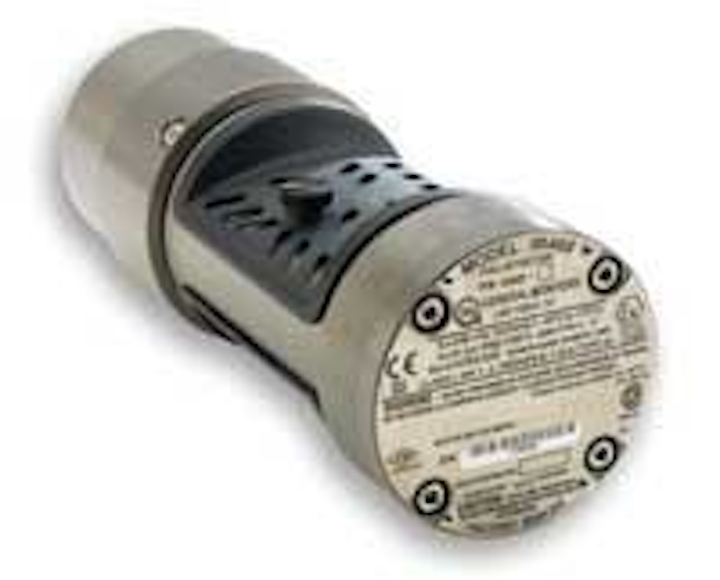 Gas detector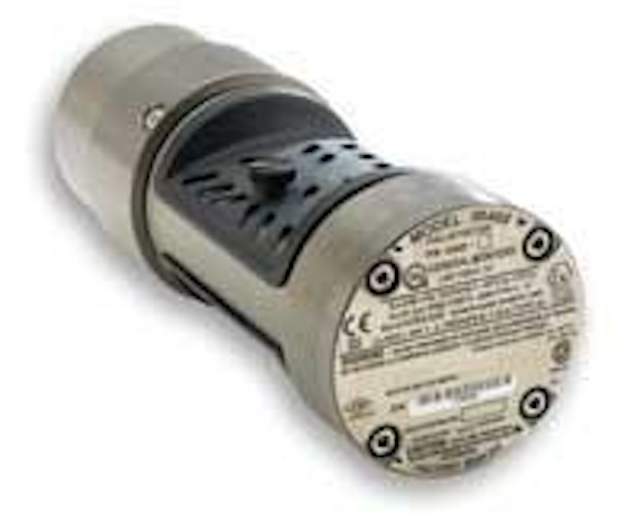 Click here to enlarge image
With its advanced point infrared combustible gas sensing element, the new IR400 Combustible Gas Detector from General Monitors protects against explosive hydrocarbon gases with a low power design that installs in minutes. It features heated optics to eliminate condensation and includes a dirty optics indicator for fail safe operation. The detector continuously monitors combustible gases in the lower explosive limit (LEL) range and provides a 4-20 mA analog signal proportional to the 0 to 100% LEL concentration.
General Monitors
Lake Forest, CA
Tel: 800-330-9161
Web: www.generalmonitors.com
Circle No. 256 on Reader Service Card
RTO packing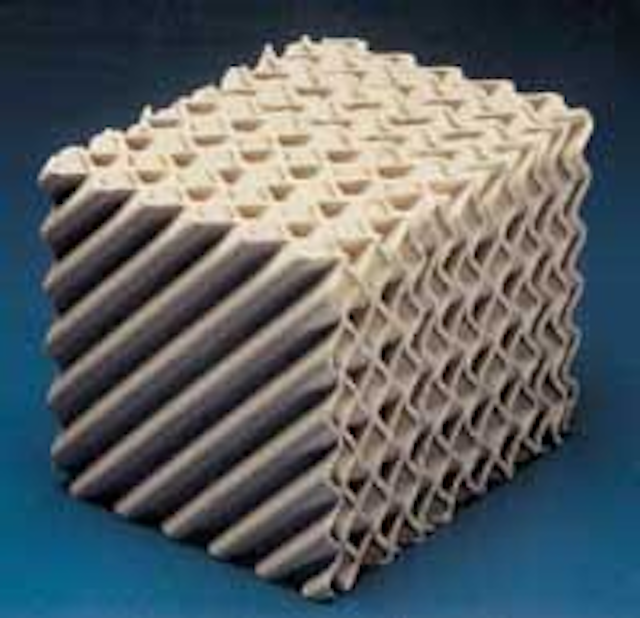 Click here to enlarge image
Koch Knight's Flexeramic® ceramic structured packing is engineered to resist siloxane clogging and maximize RTO uptime. Coupled with biosolids driers, regenerative thermal oxidizers can be used to abate volatile organic compounds (VOCs) and odor. The structured packing is composed of corrugated ceramic sheets that are vertically aligned in the RTO bed, eliminating any horizontal surfaces that may create resistance to vapor flow. This geometric construction dramatically reduces the channeling of vapor and provides for more efficient contact of hot gases with the ceramic surface.
Koch Knight LLC
East Canton, OH
Tel: 330-488-1651
Web: www.kochknight.com
Circle No. 260 on Reader Service Card
Valve actuators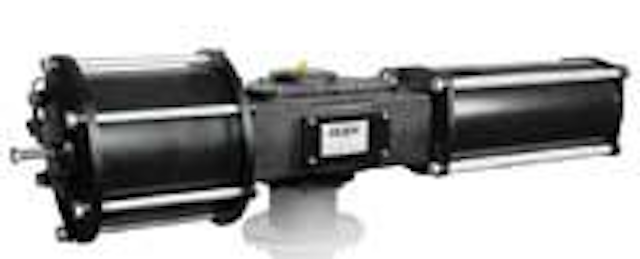 Click here to enlarge image
Tyco Flow Control has significantly expanded its Morin scotch yoke product offering. The new "Extended Torque" actuators have an output four times greater than the power available from existing models and can generate torque in excess of one million inch pounds – which can operate valves up to 108" in size depending on service conditions.
Tyco Flow Control
Houston, TX
Web: www.tycoflowcontrol.com
Circle No. 262 on Reader Service Card
Membrane system software
Toray Membrane USA has updated its TorayTrak® normalization software. The latest version of the software offers ease of use and accurate normalization routines. Features include the ability to import large numbers of data sets directly from Excel spreadsheets and in many cases acquire data directly from SCADA systems or PLC I/O servers. The software uses the company's membrane element data combined with ASTM normalization methods to provide reliable results. Other features include the ability to export data to Excel or text files, database export, backup, and individual record editing capability.
Toray Membrane USA
Poway, CA
Tel: 858-218-2390
Web: www.toraywater.com
Circle No. 257 on Reader Service Card
Pipeline inspection system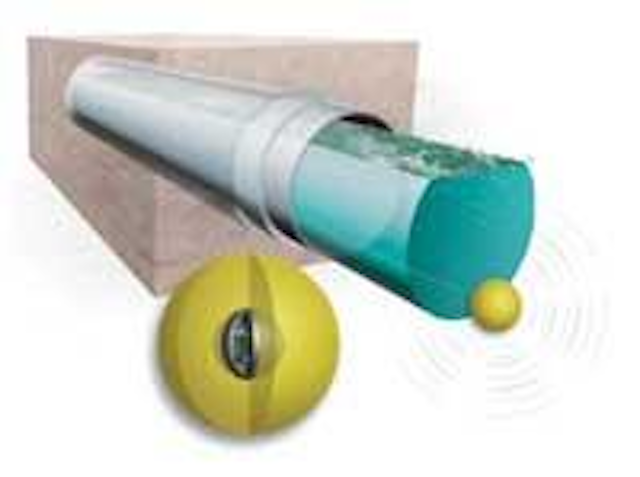 Click here to enlarge image
Pure Technologies recently expanded its services to the wastewater industry with the launch of its SmartBall technology for use in sewer force mains. The technology consists of an instrumented foam ball released into the water stream and allowed to traverse the pipeline with the flow. Instruments inside the ball record acoustic activity, which is then evaluated to determine the location and magnitude of leaks and air pockets. Within the past six months, three wastewater force mains have been surveyed using the SmartBall technology and five additional projects are slated to commence over the next several months.
Pure Technologies Ltd.
Calgary, Canada
Tel: 403-266-6794
Web: www.puretechnologiesltd.com
Circle No. 261 on Reader Service Card
AC drives
The global AC drives manufacturer Vacon has introduced the new Vacon 10 product line to the North American market. Designed for a wide range of applications, the AC drives offer flexibility and tailorability for OEM customers and simplicity of selection for basic end-user needs. The drives are available in ranges from 0.33 HP - 7.5 HP, available for the input voltages of 208-240 V (1-phase, up to 3 HP) and 380-480 V (3-phase, up to 7.5 HP).
Vacon Group
Chambersburg, PA
Tel: 877-822-6606
Web: www.vacon.com
Circle No. 258 on Reader Service Card
Odor control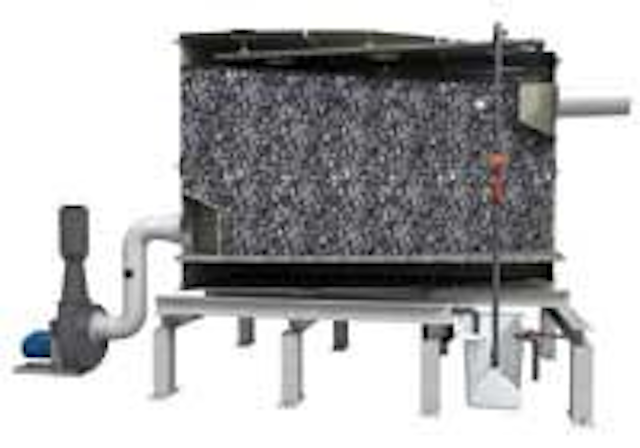 Click here to enlarge image
Bord na Móna has announced the U.S. introduction of its Mónashell® Biofiltration Odor Control System. The system is a sustainable, low maintenance and low operating cost alternative to traditional carbon or chemical scrubbing. The reuse of waste sea shells as media maintains a neutral pH, allowing for highly effective biological treatment of odorous sulfur compounds in wastewater airstreams without the use of chemicals.
Bord na Mona Environmental Products U.S. Inc.
Greensboro, NC
Tel: 800-787-2356
Web: www.bnm-us.com
Circle No. 266 on Reader Service Card
Turbidity, sludge meter
Click here to enlarge image
Hach has introduced the TSS Portable hand-held meter offering turbidity, suspended solids, and sludge blanket level in one instrument. The meter is ideal for remote monitoring of rivers, wastewater, and drinking water. Additionally, this instrument can be used as an optimization tool or as an easy way to calibrate or validate on-line sensors.
Hach Co.
Loveland, CO
Tel: 800-227-4224
Web: www.hach.com
Circle No. 263 on Reader Service Card
Work order management
eRPortal is an easy to use PM and work order management solution for the Water/Wastewater industry. It is web and mobile ready and interfaces to existing SCADA systems for predictive and utilization based maintenance. It includes a comprehensive materials management application that controls parts inventory, reorder and purchasing, and barcode label generation functionality. The system gives each user a distinct profile or software interface that is customized for his/her specific job functions and tasks.
eRPortal Software Group, LLC
West Springfield, MA
Tel: 413 233-5424
Web: www.erportalsoftware.com
Circle No. 259 on Reader Service Card
Ratchet wrenches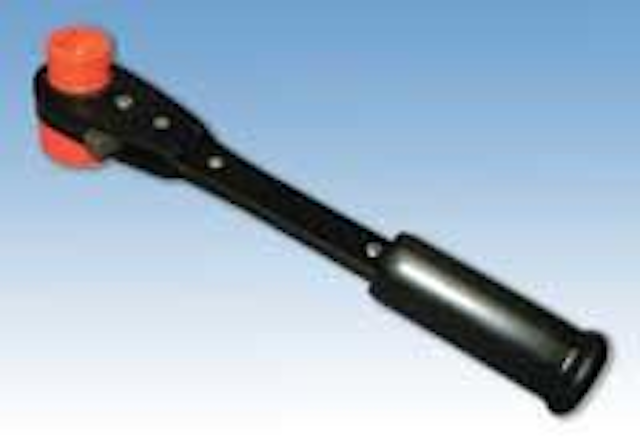 Click here to enlarge image
Lowell Corp. has added new comfort grips to its Model 151 Double Shot dedicated ratchet wrenches and its 151T socket ratchet wrenches. The updates promise greater comfort and improved performance for workers in the water, sewer, and electrical utilities. The new 1 ½" fat grip makes using the tools more comfortable and secure, while also reducing fatigue. Both wrenches incorporate Lowell's Bolt-Thru design.
Lowell Corp.
Tel: 800-456-9355
Web: www.lowellcorp.com
Circle No. 265 on Reader Service Card
Aftermarket services
Parkson has launched a new customer-focused aftermarket service and equipment maintenance program through its Outside Sales force in combination with newly created Certified Installer Providers. The company has traditionally focused only on selling OEM parts and now offers a combination of OEM parts, service, maintenance and if appropriate, a retrofit or rebuild service. Parkson is developing a business model based upon marketing and selling not only OEM replacement parts for equipment, but also rebuilds, retrofits and field services like IO&M training, service contracts, equipment inspections, equipment replacements and predictive maintenance programs.
Parkson Corp.
Fort Lauderdale, FL
Tel: 888-727-5766
Web: www.parkson.com
Circle No. 264 on Reader Service Card
Vacuum package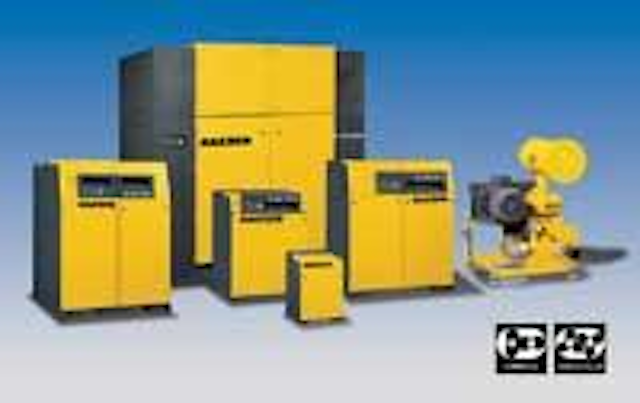 Click here to enlarge image
Kaeser Compressors offers a complete line of vacuum systems featuring its proprietary Omega rotary lobe blowers in two-lobe and tri-lobe designs. These positive displacement, rotary-lobe blowers provide reliable, consistent vacuum with heavy-duty construction and low noise levels. The complete, customized packages include inlet and discharge silencers, a high-efficiency, EPAct compliant TEFC motor and an automatic v-belt tensioning device.
Kaeser Compressors
Tel: 800-777-7873 Web: www.kaeser.com/omega.
Circle No. 269 on Reader Service Card
Mixers

Click here to enlarge image
Neptune Mixer's new Series HGL (430 RPM) mixers allow easy integration with standard intermediate bulk-containers (IBCs) or poly tote bins by use of an optional 2" 316SS bulkhead fitting. The mixers feature a short shaft and a folding propeller that are constructed of 316SS and capable of fitting through a 2" opening; the prop's operating diameter is 9". A second folding propeller can be added as an accessory and bolted anywhere on the ¾" dia. shaft. Motors available include TEFC electric motors (1/3 to 1 HP) or air motors (½ to 1 HP). Explosion-proof motors are also available.
Neptune Mixer Co.
Lansdale, PA
Tel: 215-699-8700
Web: www.neptune1.com
Circle No. 268 on Reader Service Card
Stormwater detention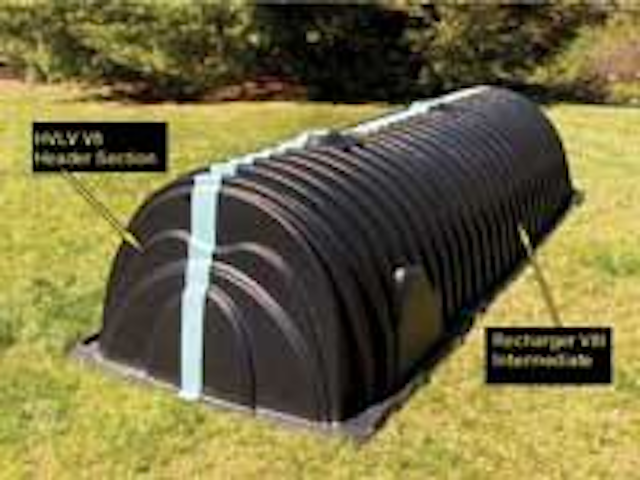 Click here to enlarge image
Cultec Recharger® V8™ is the company's largest capacity plastic chamber able to hold approximately 100 cubic feet of water when installed according to manufacturer's instructions. The units can be used for subsurface retention, detention, recharging, or controlling the flow of wastewater in municipal applications. It is 34" high and 54" wide, with the capacity of 8.933 cubic feet per linear foot, and each chamber holds approximately 500 gallons. The chambers use HVLV™ V8™ Header Sections as the starter and ending units. These same sections also make up the unique internal manifold feature found only on Cultec chambers.
Cultec Inc.
Brookfield, CT
Tel: 800-428-5832
Web: www.cultec.com
Circle No. 271 on Reader Service Card
Modeling software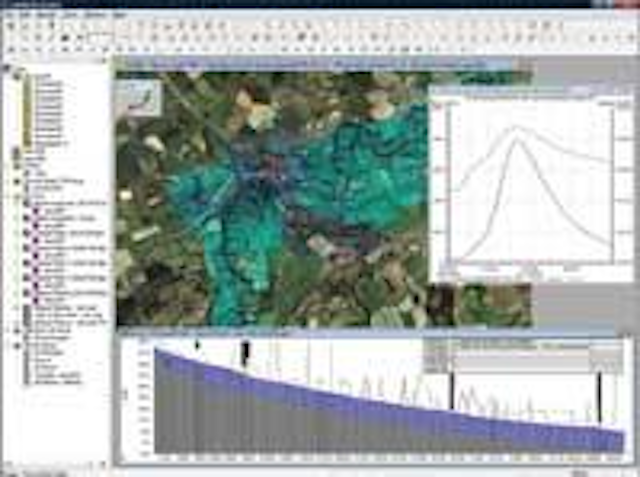 Click here to enlarge image
Wallingford Software has released Version 9.0 of InfoWorks. In addition to major developments -- such as the ability to model 2D flows using InfoWorks RS – the new version includes scores of enhancements that will improve personal productivity and performance. As an example, users can export InfoWorks models and results to Google Earth format for sharing across the Internet.
Wallingford Software
Web: www.wallingfordsoftware.com
Circle No. 272 on Reader Service Card