Products & Services: Scada & Process Control
The new ADS Spider-Q™ is a place-anywhere volumetric quantification system designed specifically for pump station monitoring and alarming.
Jan 1st, 2009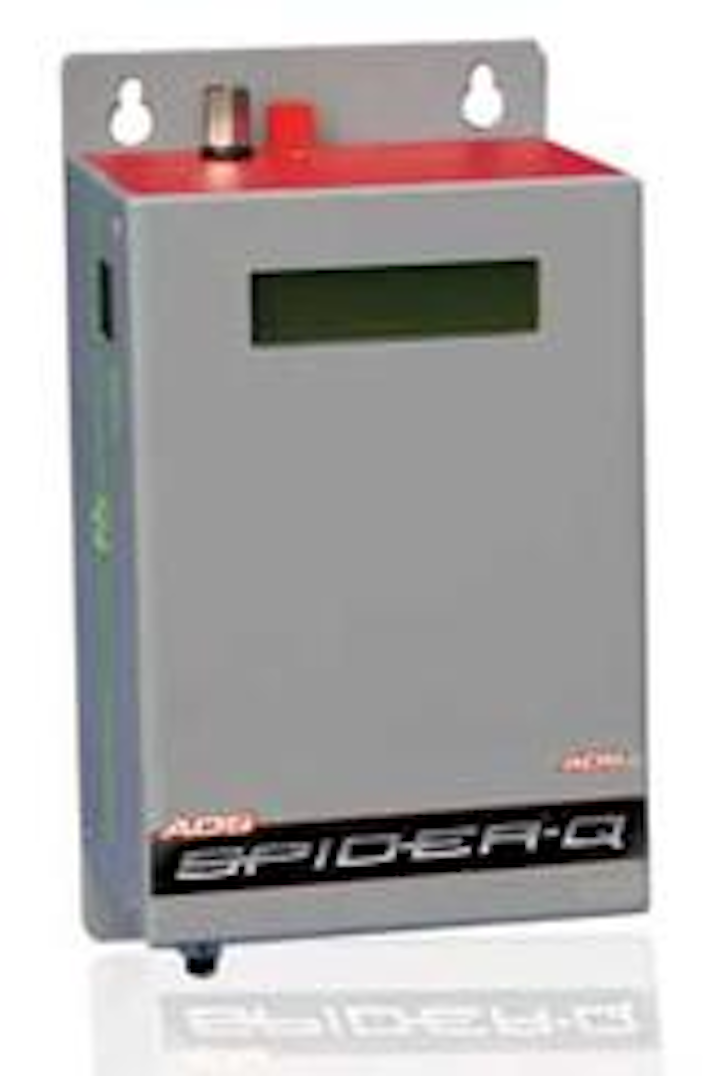 Pump station monitoring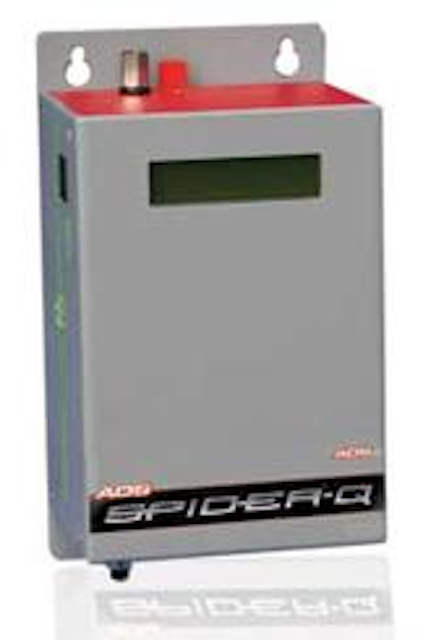 Click here to enlarge image
The new ADS Spider-Q™ is a place-anywhere volumetric quantification system designed specifically for pump station monitoring and alarming. It features wireless data access, automatic data delivery, influent and effluent flow calculation, alarming, and reporting. The stand-alone, compact, single-box system requires no user software and operates using a Web server built into the monitor. This allows direct communication with most computers regardless of brand or operating system.
ADS LLC
Huntsville, AL
Web: www.adsenv.com
Circle No. 208 on Reader Service Card
Operations software
The Wonderware IndustryPack for Water & Wastewater is designed to enhance overall productivity in facility operations. This is the first in a series of IndustryPacks to be introduced by Wonderware that will focus on specific vertical market segments. The company is providing a single unified software platform for integrating real-time information with business critical applications.
Wonderware, a business unit of Invensys
Lake Forest, CA
Web: http://us.wonderware.com
Circle No. 210 on Reader Service Card
Gas detection system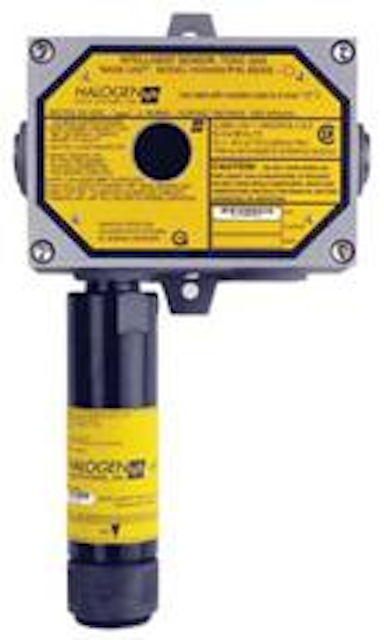 Click here to enlarge image
The Jupiter gas detection system (Model HVS4000) monitors and reports accurate information about hazardous and toxic gases to a SCADA monitoring systems. Its features include a sensor life indication, two (250 vAC - 8 amp) settable internal relays, a three-digit display, dual MODBUS connections and 4-20 mA proportional gas level output. This system can be connected directly to the company's Emergency Gas Shutoff systems to immediately remedy a gas leak situation.
Halogen Valve Systems Inc.
Irvine, CA
Tel: 877-476-4222
Web: www.halogenvalve.com
Circle No. 209 on Reader Service Card
Hydraulic modeling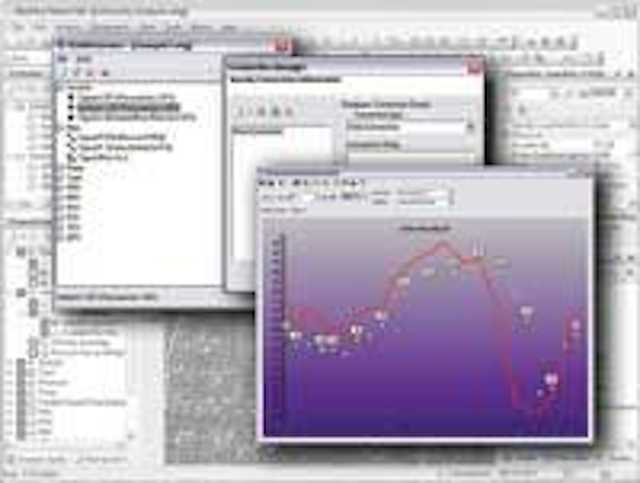 Click here to enlarge image
Bentley's SCADAConnect can be used to link the company's WaterGEMS or WaterCAD with a SCADA system, creating real-time system simulators. The system lets users integrate operational and modeling workflows, plus automate data entry workflow. Operators can troubleshoot past system problems, perform forensic performance analysis, and create continuously calibrated models.
Bentley
Exton, PA
Tel: 800-236-8539 Web: www.bentley.com
Circle No. 211 on Reader Service Card
TDS controller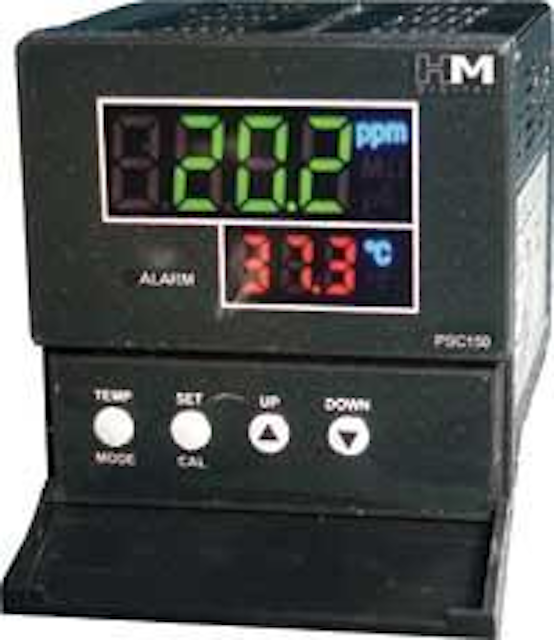 Click here to enlarge image
HM Digital's new PSC-150 is a TDS controller that monitors and controls EC levels (0-9999 µS) and TDS levels (0-5000 ppm) of a water line. It features a four-digit LCD display and on-screen temperature in Celsius or Fahrenheit. The controller includes Automatic Temperature Compensation (ATC), a resolution of 0.1 µS/ppm, digital calibration, digital set-point control, an optional alarm and an analog output relay (model PSC-154 includes a 4-20 mA output signal). The unit includes a ½" sensor.
HM Digital Inc.
Culver City, CA
Tel: 800-383-2777
Web: www.hmdigital.com
Circle No. 216 on Reader Service Card
Level gauge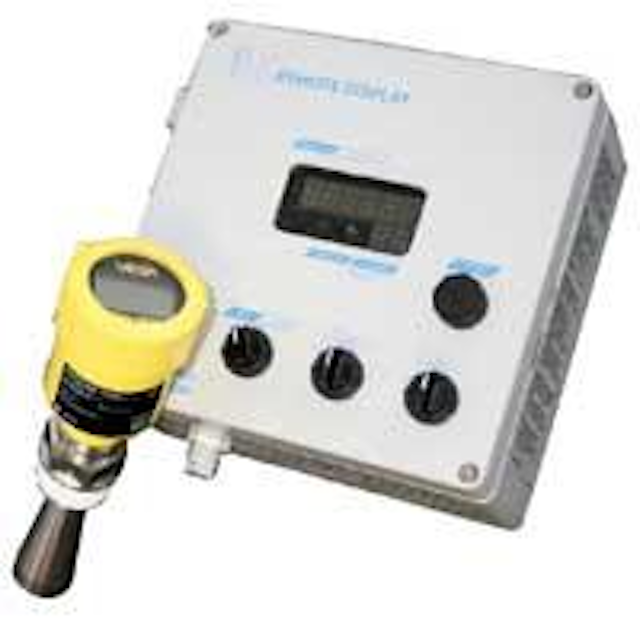 Click here to enlarge image
The portable Radar Liquid Level Gauge from Rain for Rent continuously measures liquid levels with a non-intrusive 26 GHz radar signal. Monitoring, measuring, and controlling liquid levels in portable or fixed tanks is simplified with the portable radar gauge. Level measurements are not affected by temperature (-40° to 266°F), gas, vapor or liquid agitation. Accuracy is ± .12" of liquid with a measuring range of 99 ft. The analog signal output can be used to control process instruments and FVD pumps for flow monitoring and liquid levels.
Rain for Rent
Bakersfield, CA
Tel: 800-742-7246
Web: www.rainforrent.com
Circle No. 217 on Reader Service Card
Analog panel meters
Yokogawa has released the new ToughMeter™ series 270. The series of analog panel meters is designed to operate in harsh environments. The 2½" and 3½" meters offer an accuracy of 2% DC and 3% AC, have all metal cases and polycarbonate windows, gasket -sealed bezels, terminals, and zero regulators to ensure dust and moisture protection. Made in the USA and IP66 approved, the meter mechanisms have a history of durability. Either pivot and jewel or taut band suspension is available.
Yokogawa Corp. of America
Newnan, GA
Tel: 770-254-0400
Web: www.yokogawa.com/us
Circle No. 218 on Reader Service Card
Pump control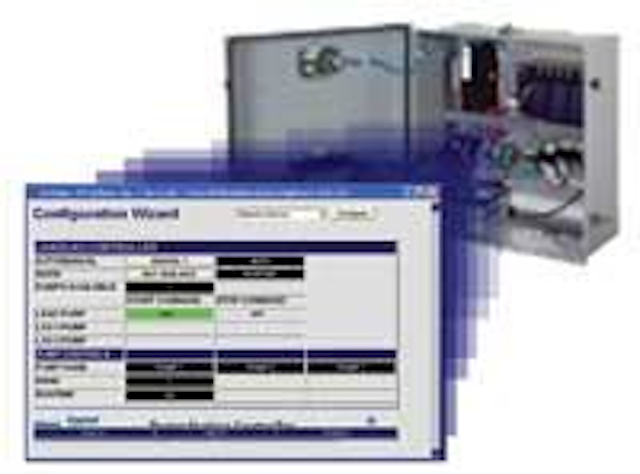 Click here to enlarge image
The Bristol® ControlWave® Integrated Pump Control Solution was designed and built by Emerson Process Management for out-of-the-box installation and start-up. The single program offers performance and simplicity for monitoring and control of remote water and wastewater applications, including well stations, tanks, reservoirs and duplex or triplex lift or booster stations. This standard pre-programmed application can be used with the appropriate Bristol ControlWave PLC/RTU to meet the I/O requirements at the various sites.
Emerson Process Management
Remote Automation Solutions
Watertown, CT
Tel: 860-945-2295
Web: www.emersonprocess.com/remote
Circle No. 219 on Reader Service Card
Automation controllers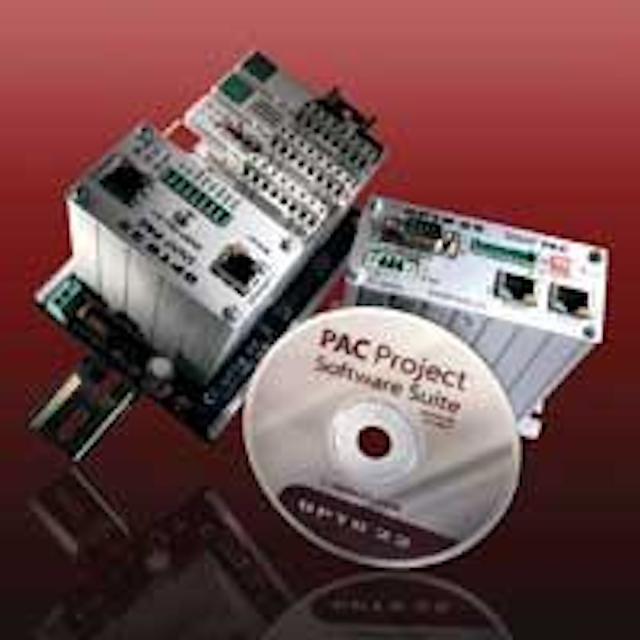 Click here to enlarge image
Opto 22 SNAP PACs (programmable automation controllers) form the core of an industrial process control system that can monitor and manage many of the key elements of a water or wastewater treatment facility. Users can manage filter beds, level sensors, and other components to optimize filter use and backwashing; continuously monitor chlorine and contaminant levels, turbidity, and other water conditions; alert maintenance personnel via local alarm, pager, or e-mail; remotely diagnose and correct problems with pumps, valves, and other devices at pumping stations; and monitor chlorine storage tanks for leaks and automatically trigger alarms, close valves, and take other corrective measures as required.
Opto 22
Temecula, CA
Tel: 800-321-6786
Web: www.opto22.com
Circle No. 222 on Reader Service Card
Flow switch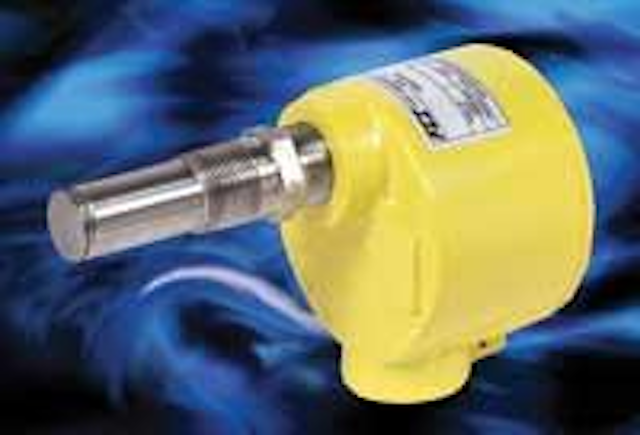 Click here to enlarge image
The NuTec™ FS2000H Flow Switch from Fluid Components International provides precise, rapid control in liquids, slurries, gases and air. Designed with an insertion style non-invasive flow sensor, the switch is unaffected by entrained particles or bubbles. It installs in minutes as an insertion-type flow switch, which never clogs or impedes flow because its unique sensor doesn't protrude into the media. That means there is absolutely no pressure-drop as well.
Fluid Components International
San Marcos, CA
Tel: 800-863-8703 Web: www.fluidcomponents.com
Circle No. 224 on Reader Service Card
Flowmeter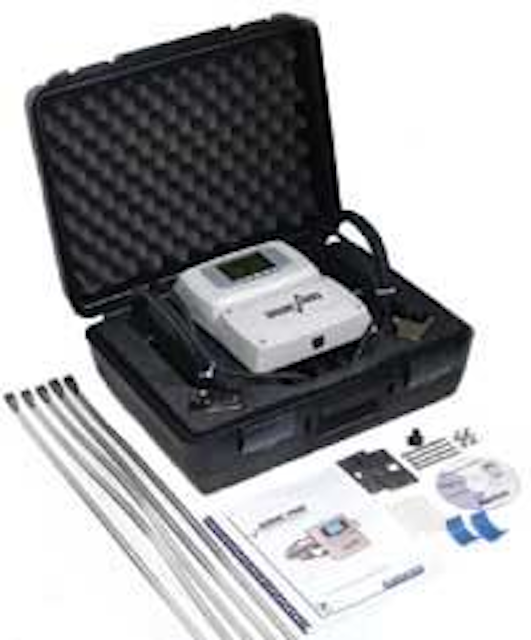 Click here to enlarge image
The Sonic-Pro™ S3, available from Blue-White, is now shipped in a specially designed case. The case measures 19" wide, 8" high, and 14" deep. The approximate weight, including the flowmeter, is 22 lb. The S3 package includes: Hard sided case; the flowmeter; a CD with instructional manuals; all necessary transducer and enclosure mounting hardware; two sets of transducer acoustic mounting gaskets, one for temporary installations and one for permanent installations.
Blue-White Industries
Huntington Beach, CA
Tel: 714-893-8529
Web: www.bluwhite.com
Circle No. 223 on Reader Service Card
Uninterruptible power supply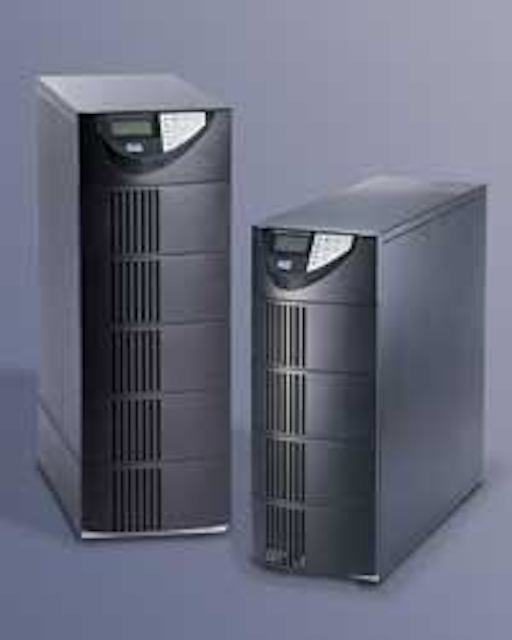 Click here to enlarge image
The UniStar P series single-phase online Uninterruptible Power Supply (UPS) from Staco Energy Products is now available in tower designs for industrial, commercial and office environments. This true on-line double-conversion UPS is available in 6, 8, and 10-kVA models, to protect from outages and irregularities in incoming line voltages from 160 to 280 vA at 45 – 65 Hz. Up to four UniStar P modules can be installed in parallel for redundancy or additional capacity.
Staco Energy Products Co.
Dayton, OH
Tel: 866-261-1191
Web: www.staco-news.com
Circle No. 228 on Reader Service Card
Wireless sensors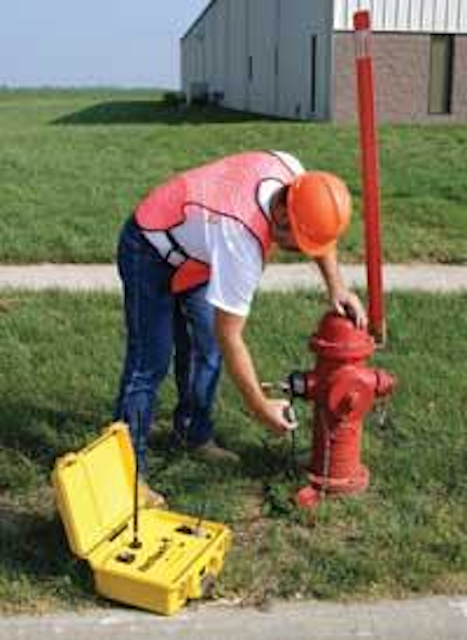 Click here to enlarge image
Electrochem has been selected to provide its new wireless sensor solutions to Hurco Technologies for their latest Fire Flow Pro product. Electrochem's PressureSensorOne is enabling Hurco's newest hydrant health diagnostic tool, transmitting water pressure data wirelessly between fire hydrants under test. This information is critical to fire departments to ascertain both the amount of water available prior to use and how much water is being drawn when in use.
Electrochem Solutions Inc.
Tel: 716-759-5627
Web: www.electrochemsolutions.com
Circle No. 227 on Reader Service Card
Process controller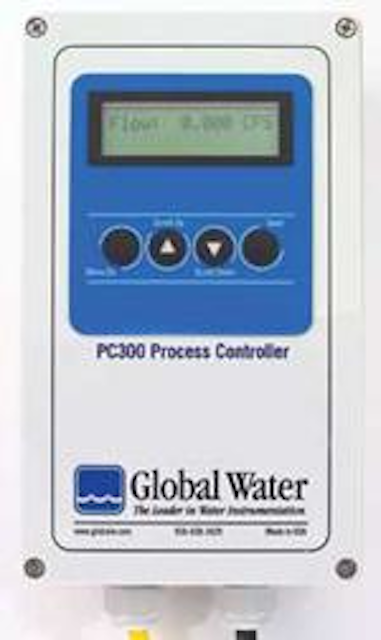 Click here to enlarge image
Global Water's PC300 Process Controller is suited for measuring all types of 2 and 3 wire sensors with 4-20mA outputs, including the company's water quality sensors. The controller comes pre-programmed for use with 10 types of sensors and 14 engineering units. The LCD screen shows the type of sensor being monitored, the data reading and the chosen engineering units. Two independent relays are provided for controlling external devices including samplers, alarms, mixers, pumps, control valves, and floodgates.
Global Water
Gold River, CA
Tel: 800-876-1172
Web: www.globalw.com
Circle No. 229 on Reader Service Card
Weather stations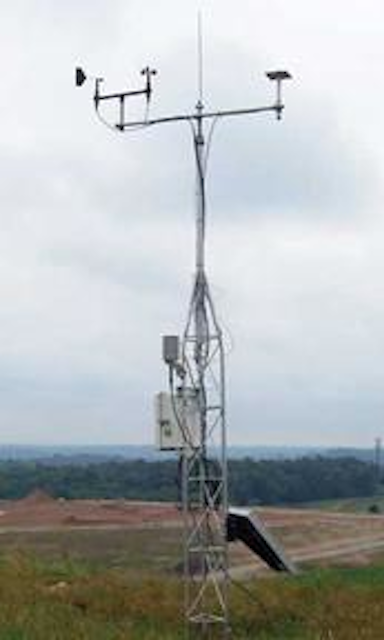 Click here to enlarge image
Campbell Scientific weather stations provide meteorological data that can be integrated into odor control strategies and systems. The low-power stations and multiple telemetry options make remote, unattended monitoring possible over long periods of time. The stations support Modbus, and DNP3 protocols making it simple to integrate with existing software and other equipment. They also feature NIST traceable data. Data can be made available via the Internet, phone, satellite, or radio.
Campbell Scientific Inc.
Logan, UT
Tel: 435-750-1799
Web: www.campbellsci.com
Circle No. 230 on Reader Service Card
Signal conditioning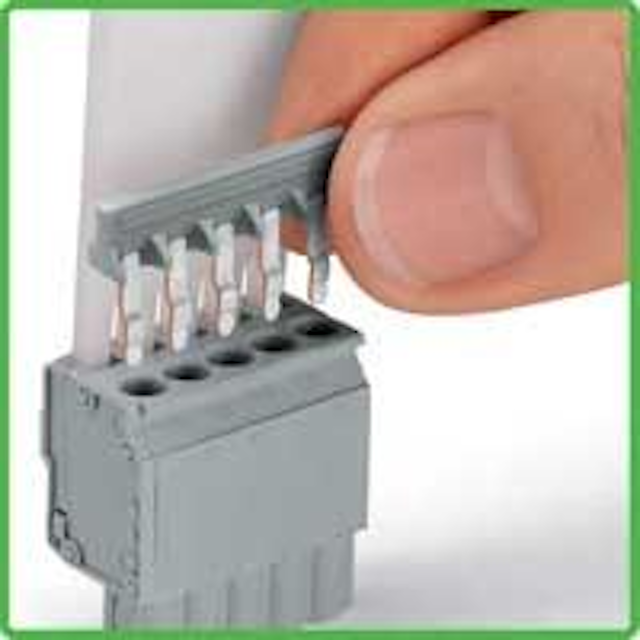 Click here to enlarge image
A new family of 6 mm-wide, DIN rail mount, signal conditioning and relay modules are available from WAGO Corp. Designated the 857 Series, aka JumpFlex, the modules offer a system approach to signal switching and conditioning. The devices support the HART protocol, making them ideal for industrial water and wastewater treatment applications such as pH and level sensors. Housed in a "true" 6mm-wide package, the signal conditioning and relay modules also offer the same dimensional outline.
WAGO Corp.
Tel: 800-346-7245
Web: www.wago.us/jumpflex.htm
Circle No. 221 on Reader Service Card
Pressure gauge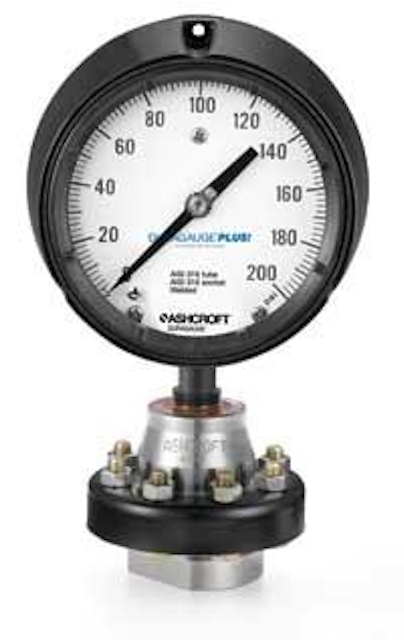 Click here to enlarge image
The Ashcroft type 1279 Duragauge® pressure gauge coupled with types 100 or 200 diaphragm seals offer longer life in harsh pressure media. The gauges feature a stainless steel movement and the as-welded Duratube™ Bourdon tube. This solid front, 4 ½" pressure gauge is available in dry, liquid filled or with the PLUS!™ option to steady the pointer and protect the movement from vibration/pulsation without a liquid fill. A wide choice of process connections, wetted materials and an optional flush port allow the gauge/seal combination to be used in nearly any caustic media application up to 5000 psi.
Ashcroft
Stratford, CT
Tel: 800-328-8258
Web: www.ashcroft.com
Circle No. 212 on Reader Service Card
Data loggers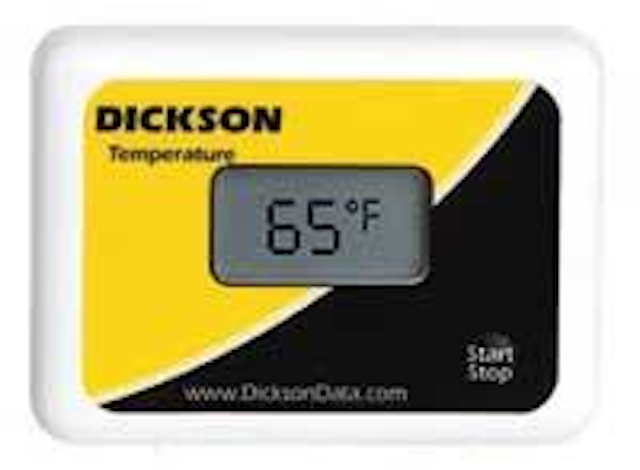 Click here to enlarge image
Dickson Multi-feature Digital Display Temperature & Humidity Data Loggers are available with both push-to-start and push-to-stop functions. Data recording is clean and easy-to-read. A temperature only version is also available. The loggers offer options to display current or min/max temperature and humidity readings. They have a user-replaceable battery and feature USB-enabled triple-speed data downloading.
Dickson
Addison, IL
Tel: 800-757-3747
Web: www.dicksondata.com
Circle No. 232 on Reader Service Card
Pressure gauges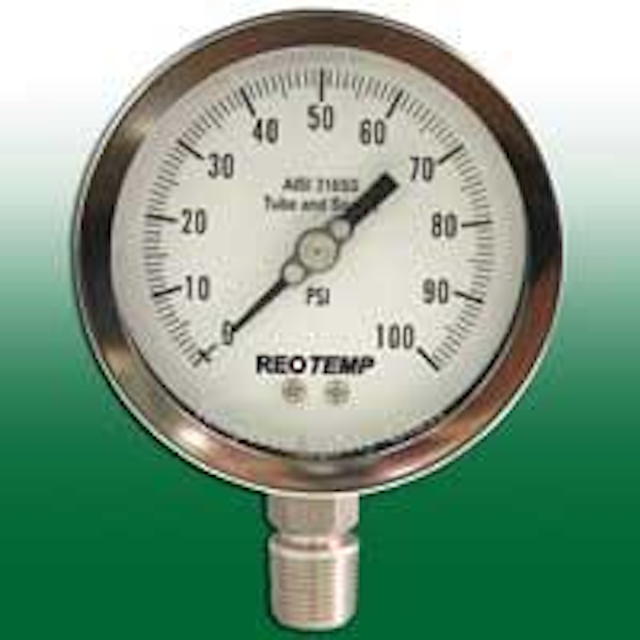 Click here to enlarge image
The REOTEMP Industrial Stainless Steel Pressure Gauge with Bayonet Case (Series PR) has a rugged, all-welded design, making it suited for a wide variety of process markets. The standard stainless steel internals (and optional Monel internals) make this pressure gauge a good choice for applications where corrosion resistance is a requirement. The Series PR has a removable bayonet ring that makes it field repairable. It can also be liquid filled to reduce the negative effects of process vibration. Standard features include: 2.5", 3.5", 4" and 6" dials, ¼" NPT or ½" NPT process connections, bottom or back mounting, and a variety of pressure ranges.
REOTEMP Instruments
San Diego, CA
Tel: 800-648-7737
Web: www.reotemp.com
Circle No. 213 on Reader Service Card
Exception reporting
BirdNest, a company that develops information systems for the water/wastewater industry, has created a tool called Automated Exception Reporting (AER) to help make it easier to comply with regulations each month. The system provides a running 24 x 7 real-time view of all the data that has not yet been submitted by field operators. The system is more efficient than backtracking at the end of the month to find out where the gaps are, contacting the field operators involved, collecting and compiling the missing data and backfilling into the reporting system.
BirdNest
Houston, TX
Tel: 713-868-2900
Web: www.birdnest.com
Circle No. 231 on Reader Service Card
Remote communication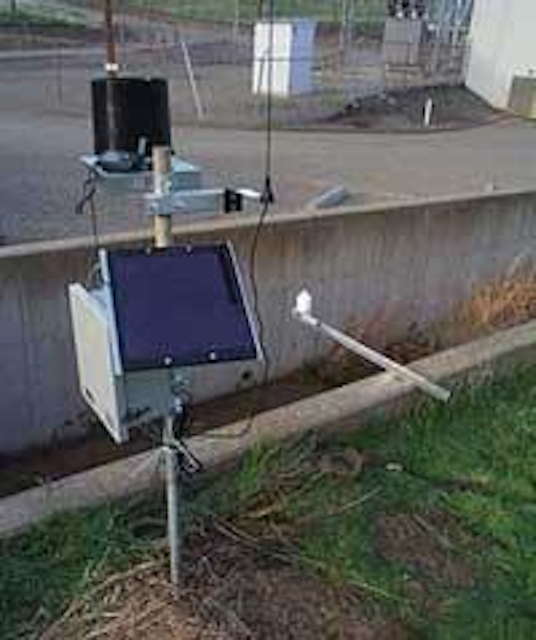 Click here to enlarge image
Automata offers the Mini-Sat™ Field Station, which provides remote monitoring and control from anywhere in the world. Satellite direct transmission produces communication between the remote field station and the Internet for unlimited networking capability. It can be centrally located in the field, at a pump station, or at a water level monitoring site. The stations are particularly competitive at remote, isolated sites with a reasonable amount of data flow. The user can be notified of any changes through email or via pager, or can view any changes on the Internet.
Automata Inc.
Nevada City, CA
Tel: 530-478-5882
Web: www.automata-inc.com
Circle No. 233 on Reader Service Card
SCADA, GIS integration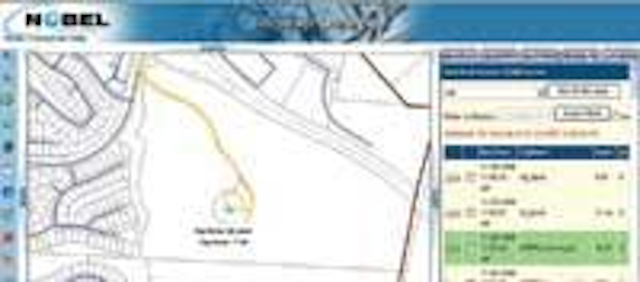 Click here to enlarge image
Nobel's GIS Application, GeoViewer links to SCADA systems for up to the minute, read-only information. The system can also link GIS data with a hydraulic model, along with the SCADA system. This process allows for much more accurate model calibration, because users can see model results and real world data side by side. SCADA linking can be done by periodically transferring the data into a central repository and accessing it from GIS, to retain data integrity or by creating a live link between GIS and SCADA for real time information.
Nobel Systems Inc.
San Bernardino, CA
Tel: 866-662-3579
Circle No. 214 on Reader Service Card
Monitor/controllers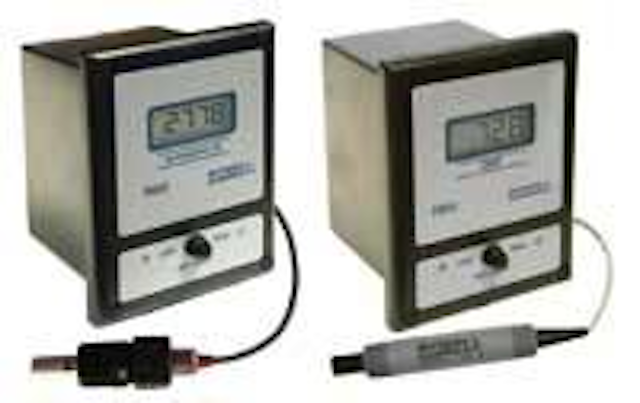 Click here to enlarge image
Myron L automatic inline monitor/controllers allow users to monitor and maintain solution concentrations within setpoints for conductivity, resistivity, TDS, pH, ORP and temperature. A push-to-test button makes setpoint checks easy, while an internal alarm set discourages unauthorized adjustments. The unique circuitry of 700 Series II Monitor/controllers guarantees accurate measurements. Built-in electronic calibration allows for quality checks without calibration solutions.
Myron L Co.
Carlsbad, CA
Tel: 800-869-7668
Web: www.myronl.com
Circle No. 215 on Reader Service Card
Level monitoring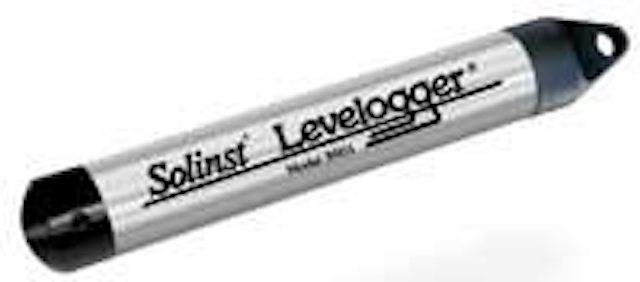 Click here to enlarge image
For important projects with a tight budget, Solinst's Levelogger Junior provides a low cost solution for continuous water level and temperature measurement. It is simple to deploy and program with Levelogger Gold accessories and software. Accuracy is 0.1% FS with lifetime calibration, the battery lasts five years, and memory holds 32,000 sets of readings.
Solinst Canada Ltd.
Georgetown, Ontario
Tel: 905-873-2255
Web: www.solinst.com
Circle No. 220 on Reader Service Card
Ethernet radios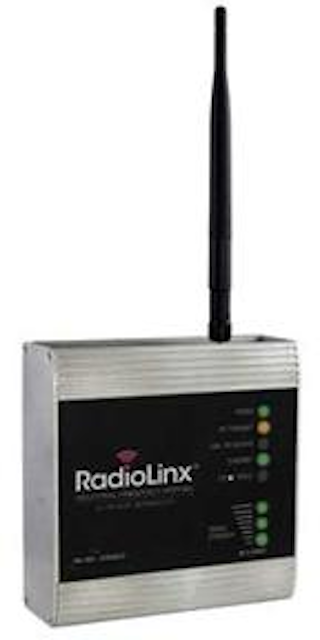 Click here to enlarge image
ProSoft Technology's new Industrial Frequency Hopping Ethernet radios are license-free and are available for both the 900 MHz (RLX-IFH9E) and the 2.4 GHz (RLX-IFH24E) bands. Frequency hopping radios use a proprietary signal that hops from channel to channel, which provides the wireless network with an extra layer of security, allowing it to avoid interference with existing wireless networks.
ProSoft Technology Inc.
Bakersfield, CA
Tel: 661-716-5100
Web: www.prosoft-technology.com
Circle No. 225 on Reader Service Card
RTU system
Semaphore offers the T-Box RTU, the first IP-based telemetry solution that enables the complete integration of SCADA, control, and communications functionality in one package. It leverages easy-to-use Web technologies and inexpensive public networks for decentralized monitoring and control systems. The T-Box products offer up to 50% less total installed cost per point versus traditional SCADA/PLC systems and permit greater organizational access to data through automated reporting and browser software.
Semaphore
Nashua, NH
Tel: 603-577-3803
Web: www.cse-semaphore.com
Circle No. 226 on Reader Service Card