WEFTEC: Exhibitor Products: Part 8
Sep 1st, 2010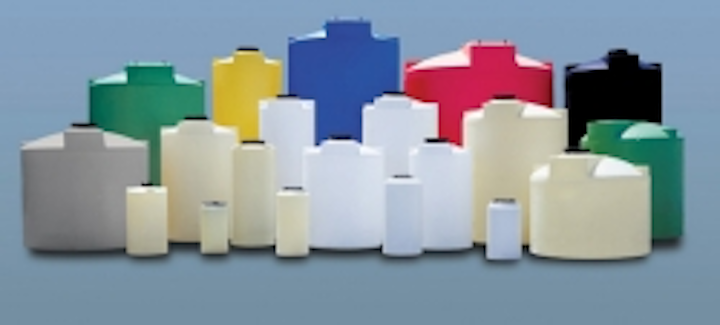 Flow monitor
The new FlowShark® Triton from ADS Environmental Services® is a new monitoring device with multiple depth measurement technologies and multiple velocity measurement technologies in a single Intrinsically Safe monitor. The monitor features Cross-Checking of up to three depths and two velocities with four sensor options. Each sensor provides multiple technologies for continuous running of comparisons and tolerances. Sensor with surface velocity, downlooking quadredundant ultrasonic depth, pressure depth, and surcharge continuous wave velocity; and Quadredundant Ultrasonic Sensor with ultrasonic depth measurement.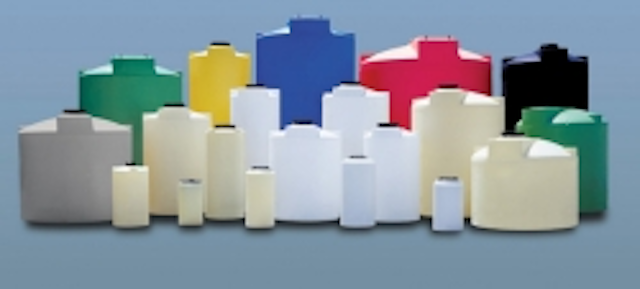 ADS LLC
Huntsville, AL
Tel: 800-633-7246
Web: www.adsenv.com
Booth 6045
Circle No. 403 on Reader Service Card
Odor control
BioAir Solutions® has developed a compact dual-technology odor control system using the company's EcoBase™ structured, synthetic biotrickling filter media. The newly introduced EcoPure® Mini eliminates H2S and VOCs using absolutely no hazardous chemicals.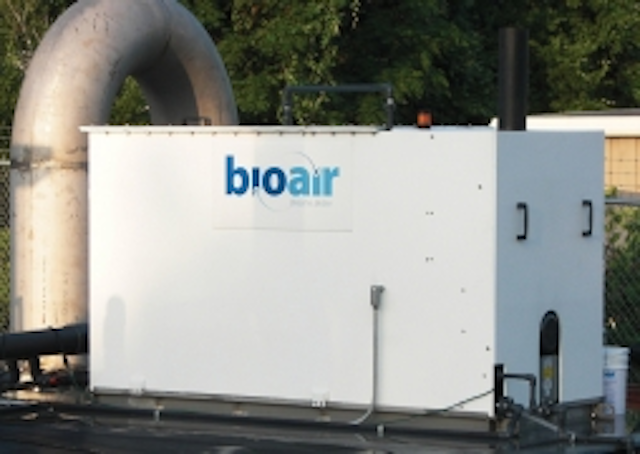 BioAir Solutions LLC
Voorhees, NJ
Tel: 856-258-6969
Web: www.bioairsolutions.com
Booth 6213
Circle No. 407 on Reader Service Card
Self-cleaning filter
Miller-Leaman's automatic, self-cleaning Turbo-Disc Filter is suited for filtering reuse water for irrigation and industrial use, stormwater, cooling tower water, well water, surface water, and other environmental applications. The lightweight, three-dimensional, polypropylene disc media is available in multiple micron sizes and uses a minimal amount of backwash water, approximately 10 gallons of water per pod.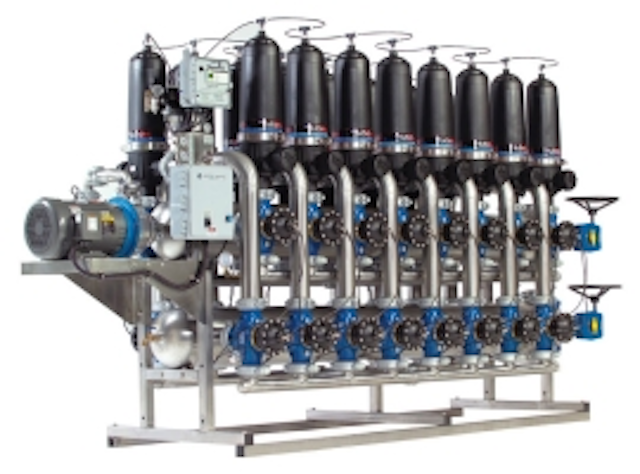 Miller-Leaman, Inc.
Daytona Beach, FL
Tel: 800-881-0320
Web: www.millerleaman.com
Booth 2079
Circle No. 400 on Reader Service Card
Closed vessel UV reactors
Engineered Treatment Systems (ETS) is launching a new range of high electrical efficiency closed vessel UV reactors. The ETS UVLX range of reactors will use the latest in amalgam lamp technology. The range will compliment the company's existing line of small footprint medium pressure offerings including: SW, SX, ECF, and ECP. The UVLX range of reactors will have the following features and benefits: 800W variable power amalgam lamps, vertical or horizontal installation, small installation footprint with high energy efficiency, embedded pulse automatic wiping mechanism using either mechanical or chemical/mechanical, access hatch for maintenance, either relative or absolute UV sensors, and CFD optimized designs.

Engineered Treatment Systems (ETS), LLC
Beaver Dam, WI
Tel: 877-885-4628
Web: www.ets-uv.com
Booth 1438
Circle No. 404 on Reader Service Card
Odor management
Parkson has introduced OHxyPhogg™, an odor removal technology with a patented air-atomizing 3-fluid nozzle. The system combines ozone, water and air, creating 5-micron sized oxidant enriched water particles that disperse and fill partially or fully enclosed spaces such as lift stations, wet wells, holding tanks and headworks.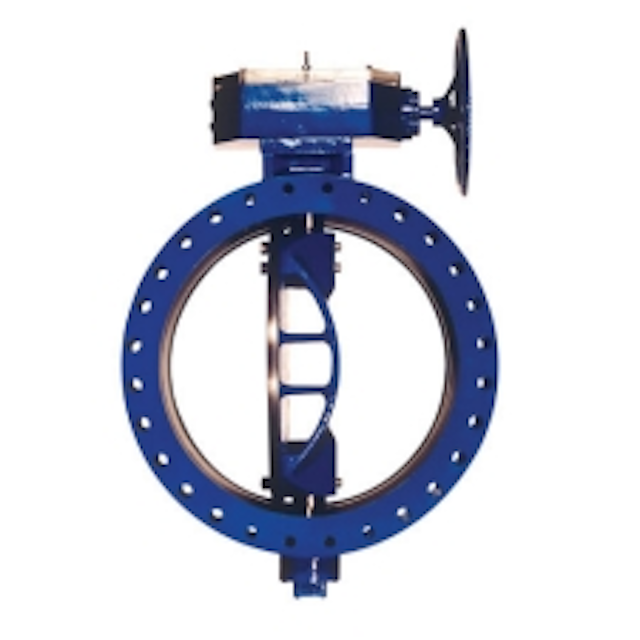 Parkson Corp.
Fort Lauderdale, FL
Tel: 800-553-5419
Web: www.parkson.com
Booth 1301
Circle No. 408 on Reader Service Card
Level detector
Because the Opti-Float® level detector from Cox Research uses fiber optic cable and light instead of copper wires and electricity, it can be used directly in explosive areas such as wastewater pump station wet wells. The float, cable and UL / CSA listed transceiver are durable and have been tested to over 1,000,000 operations. The level detector is constructed with all recyclable materials and is a suitable replacement for mercury floats.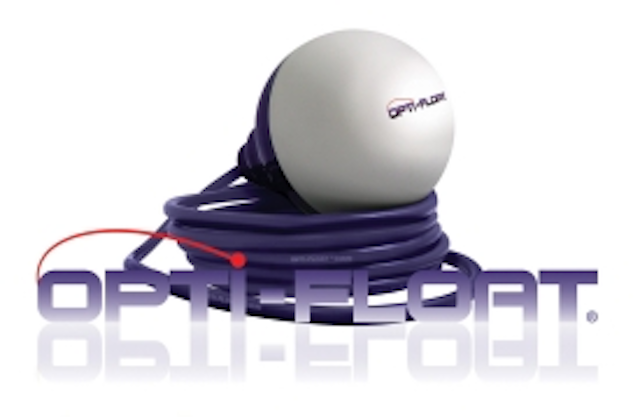 Cox Research
Baton Rouge, LA
Tel: 800-910-9109
Web: www.coxresearch.com
Booth 1936
Circle No. 401 on Reader Service Card
Split seals
The Type 3740 is a family of split seals using the latest modular technology from John Crane. The seals combine the unique design requirements for wet-running and dry-running services onto one common seal platform. The Type 3740 wet-running split seal incorporates features for simplified seal installation, while providing reliable seal performance in demanding pump and other rotating equipment fluid services.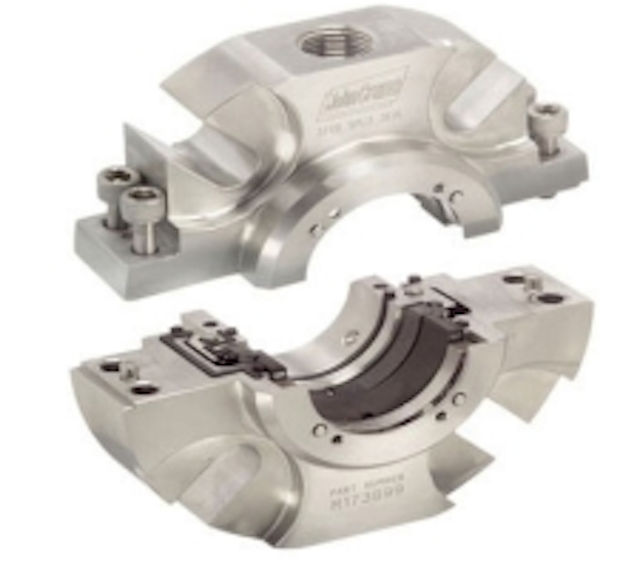 John Crane
Morton Grove, IL
Tel: 800-732-5464
Web: www.johncrane.com
Booth 2007
Circle No. 405 on Reader Service Card
Sewer cleaner
Designed for public utilities and professional contractors cleaning entire wastewater and sanitary systems, the Vactor 2100 Plus from Vactor Manufacturing features increased vacuum performance and improvements to operator comfort and control, air routing and filtration efficiency and fuel efficiency. "Smart Truck" concept features have been integrated on the sewer cleaner, including internal monitoring systems that enable the operator to monitor and troubleshoot flow and pressure, blower temperature and oil level, drive system idle and open vacuum relief.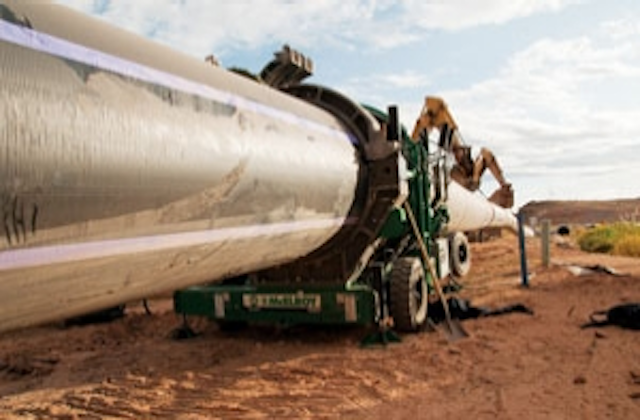 Vactor Manufacturing
Tel: 800-627-3171
Web: www.vactor.com
Booth 1001
Circle No. 409 on Reader Service Card
FRP enclosures
Allied Moulded Products manufactures a line of NEMA type 4X fiberglass reinforced polyester enclosures offering all the advantages of nonmetallic materials including: increased strength, reduced weight, corrosion resistance, non-conductivity, cost savings and ease of installation. These enclosures have been used in hundreds of applications and dozens of industries worldwide.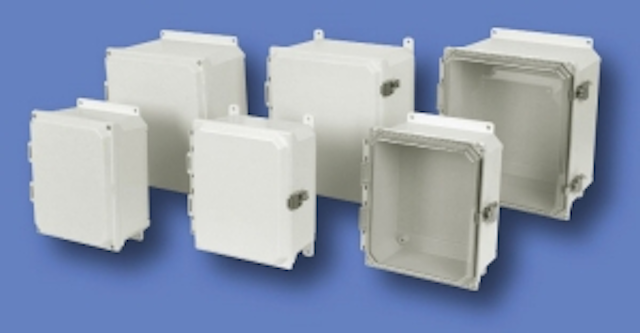 Allied Moulded Products Inc.
Bryan, OH
Tel: 419-636-4217
Web: www.alliedmoulded.com
Booth 5315
Circle No. 410 on Reader Service Card
GIS mapping
The newest version of Accela Automation® software offers new GIS mapping functionality that allows water-utility maintenance workers to create and edit geospatial data - both online and offline - right from the field. The software lets field teams dynamically add or modify the locations, attributes, and maintenance histories of their infrastructure assets into the main GIS database, either in real-time, or in disconnected mode with synchronization at the end of the day.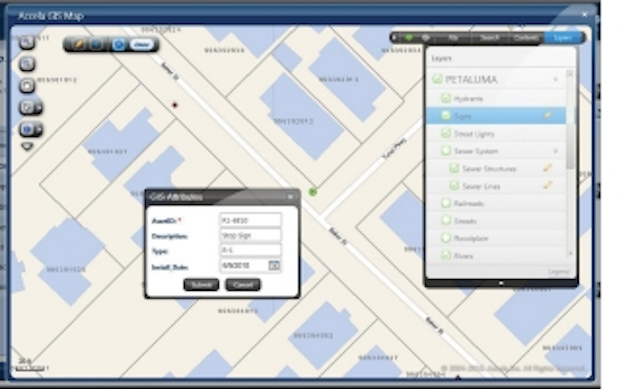 Accela Inc.
Web: www.accela.com
Booth 1127
Circle No. 414 on Reader Service Card
Aerators
The Twister® Low Speed Aerator from Aeromix is suited for use in a variety of wastewater treatment processes ranging from activated sludge to oxidation ditches. It is ideal for high oxygen demand biological treatment applications in municipal, petrochemical, pulp & paper and other industries. Designed for long-term continuous operation, the aerator's hydro-dynamically efficient rotor is constructed of composite material.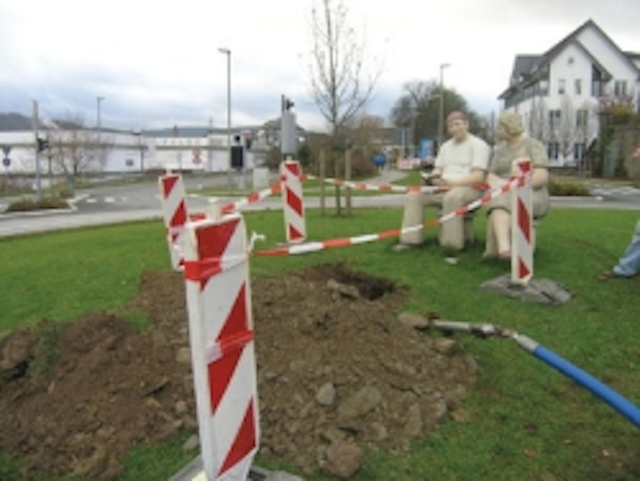 Aeromix Systems Inc.
Tel: 800-879-3677
Web: www.aeromix.com
Booth 1426
Circle No. 418 on Reader Service Card
Non-clog pumps
Weir Specialty Pumps has released its new WEMCO Non-Clog pumps. The pumps feature an improved, modern design. They are available with an assisted priming system called the WEMCO Prime Assist (WPA). The company also introduced a WEMCO Non-Clog Diesel-Engine Driven trailer unit. The Weir-built package includes an adjustable lifting bale, fuel tank sized for minimum 24 hr. operation, heavy-duty diamond plate "stand on" fenders, Torflex® axle, electric trailer brakes, larger tires, and three removable leveling jacks.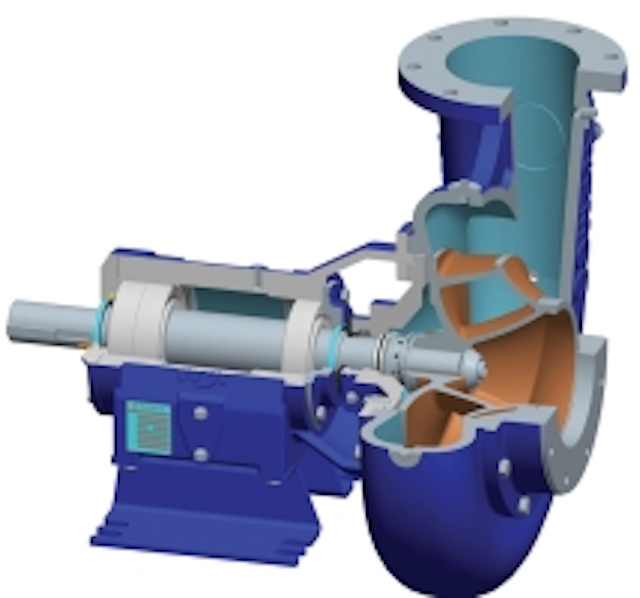 Weir Specialty Pumps
Salt Lake City, UT
Tel: 801-530-7814
Web: www.weirpowerindustrial.com
Booth 4828
Circle No. 411 on Reader Service Card
Energy management
The Wonderware® Corporate Energy Management Application from Invensys enables municipal water and wastewater operations to implement an energy management program and achieve sustainability goals. Users can monitor energy and detect and notify personnel of energy inefficiencies. It connects directly to meters on a network, through industrial controllers, and accepts manual entry via the company's Wonderware InTouch® HMI and IntelaTrac™ mobile solutions.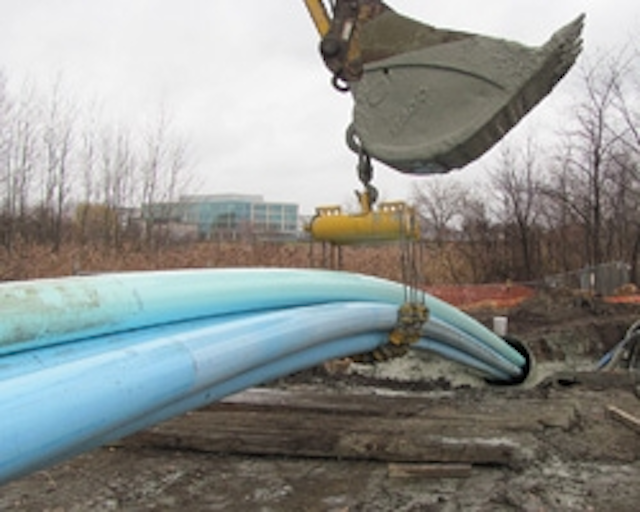 Invensys Operations Management
Web: www.iom.invensys.com
Booth 7649
Circle No. 415 on Reader Service Card
Ultrasonic flow meter
The TFX Ultra from Dynasonics is an ultrasonic flow meter that clamps on the outside of existing pipes without contacting liquids. There is no need to shut down the process for installation or maintenance, therefore the meter can be installed and fully operational in minutes. With no moving parts, there is no mechanical wear. The meter provides repeatable flow measurement readings for full pipe liquids on nearly all pipe material sizes ½" and larger.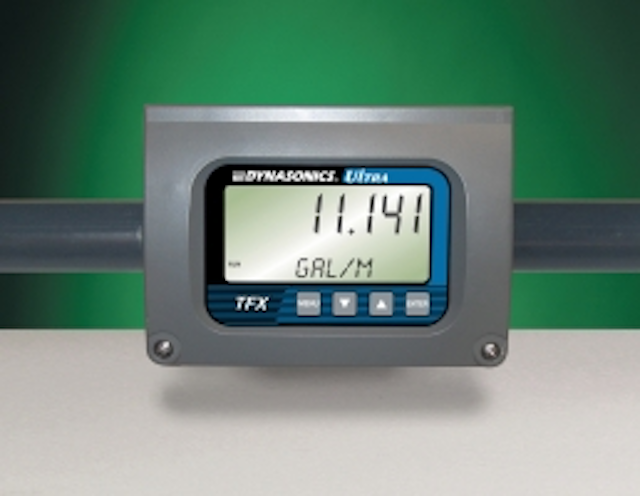 Dynasonics
Racine, WI
Tel: 800-535-3569
Web: www.dynasonics.com
Booth 1634
Circle No. 419 on Reader Service Card
Screenings conditioner
The Spiralift SC Screenings Conditioner from Franklin Miller cleans, conditions, washes and compacts screenings. A high impact spray-wash zone adds high pressure washing in the drop area between the grinder and the auger. With this design, the output from the system is cleaner and more homogenous than ever. As the screenings are received from the bar screen in the SC hopper, they are finely ground by a Taskmaster® grinder and spray washed. The solids then drop into a second washing zone for washing under high pressure.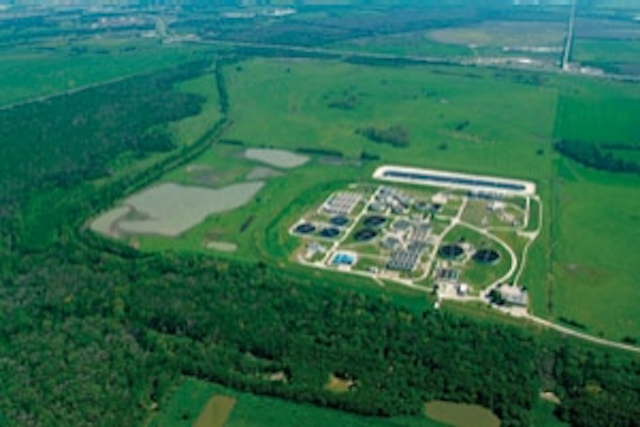 Franklin Miller Inc.
Livingston, NJ
Tel: 973-535-9200
Web: www.franklinmiller.com
Booth 5331
Circle No. 412 on Reader Service Card
Plant automation
Rockwell Automation solutions can help utilities handle difficult process control challenges in fresh water, wastewater or desalinization. Its plant-wide enabled PlantPAx™ (Plant-wide Process Automation Excellence) Process Automation System gives utility staff access to all the information they need to configure, control and optimize water operations. Integrated monitoring and alerting, detailed diagnostic and historical data, and networked systems can help reduce engineering time, and installation and maintenance costs.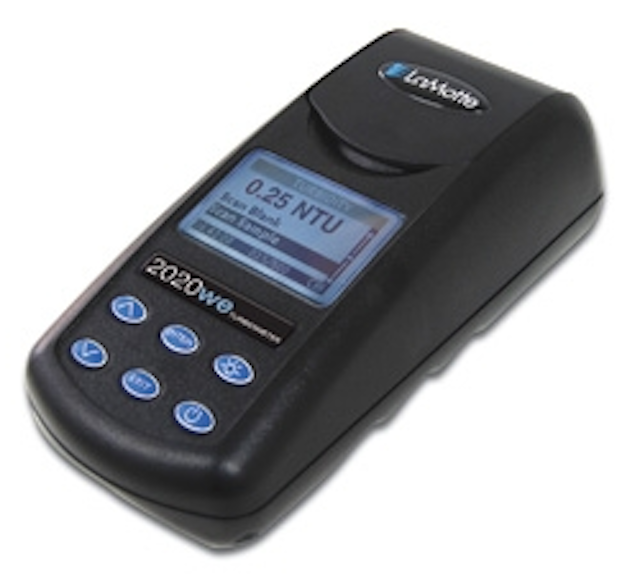 Rockwell Automation
Web: www.rockwellautomation.com
Booth 2409
Circle No. 416 on Reader Service Card
Pump station control
The new Flygt Station Control Panel "SCP" provides unique control flexibility that allows for dramatic operational change without rewiring. At the heart of the system is the Flygt APP 721 all-in-one station controller. Its pre-configured wastewater transport control algorithms allow collection system optimization.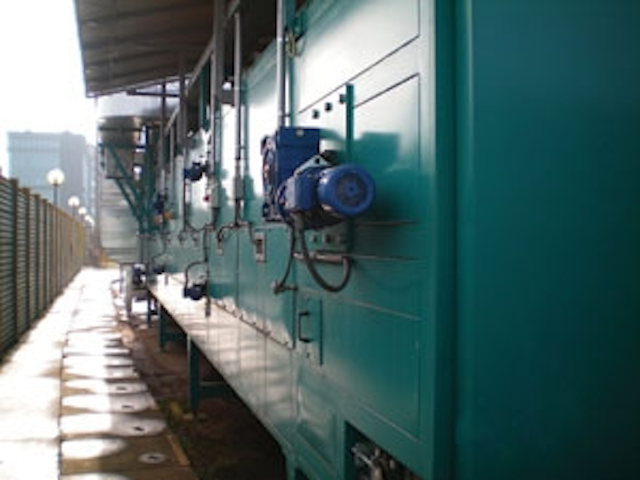 ITT Corp., Flygt Products
Shelton, CT
Tel: 203-712-8999
Web: www.flygtus.com
Booth 5025
Circle No. 420 on Reader Service Card
Backflow preventers
The new Wilkins 300AR Series Backflow Preventers include an integral spacer spool, pre-assembled from the factory, ready to drop-in. They are fully approved in 2 ½" - 10" sizes and available in four models: 350AR Double Check Valve Assembly, 350ADAR Double Check Detector Assembly, 375AR Reduced Pressure Principle Assembly and 375ADAR Reduced Pressure Detector Assembly. The series is designed for drop-in replacement of existing longer lay length assemblies without the need for additional external spools or spacers.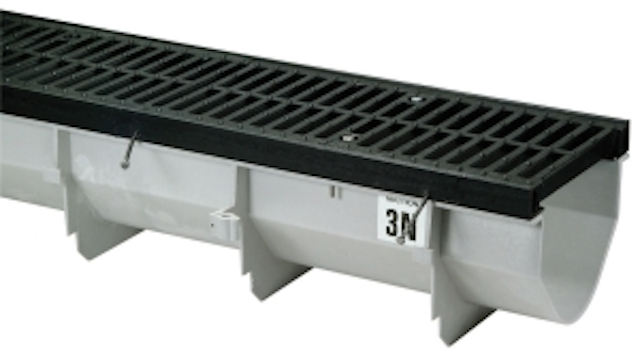 Wilkins, A Zurn Company
Tel: 805-226-6287
Web: www.zurn.com
Booth 4720
Circle No. 413 on Reader Service Card
Check valves
Duckbill Check Valves, available through Onyx Valve, are constructed of 100% reinforced rubber and molded to the customer's application requirements. They are rust and corrosion resistant, offer silent operation, and have no mechanical parts. Flanged or Slip-On connections are available, as are many elastomers to suit the application. The valves offer low pressure drop with excellent back flow sealing capability.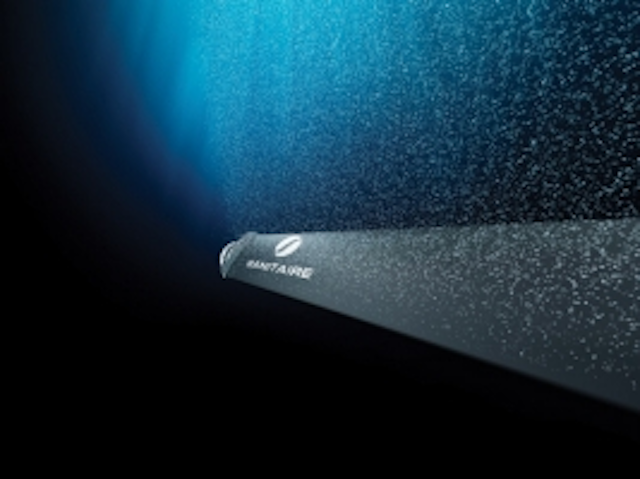 Onyx Valve Co.
Cinnaminson, NJ
Tel: 856-829-2888
Web: www.onyxvalve.com
Booth 1910
Circle No. 417 on Reader Service Card
Membrane diffuser
With its top-half-only perforation design the EDI FlexAir® MiniPanel™ diffuser is a unique fine pore, flexible membrane diffuser that provides improved operational flexibility and oxygen transfer efficiency compared to other membrane or rigid fine pore (ceramic) diffusers. A full 366 square inches of perforated area is provided with a single MiniPanel™ diffuser. The geometry of the diffuser supports high diffuser density applications; over 65% floor coverage when highest oxygen transfer efficiencies are desired.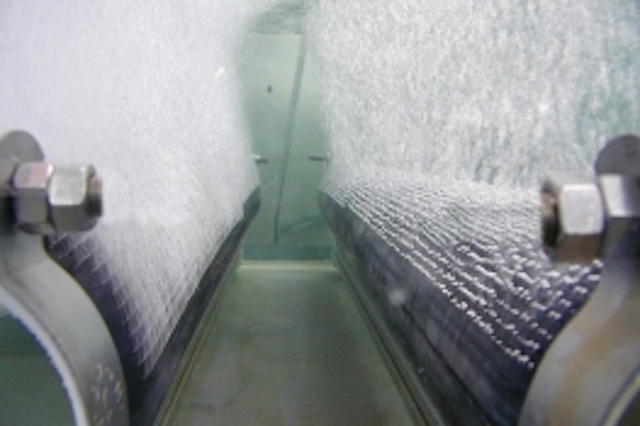 Environmental Dynamics Inc.
Tel: 573-474-9456
Web: www.wastewater.com
Booth 1609
Circle No. 421 on Reader Service Card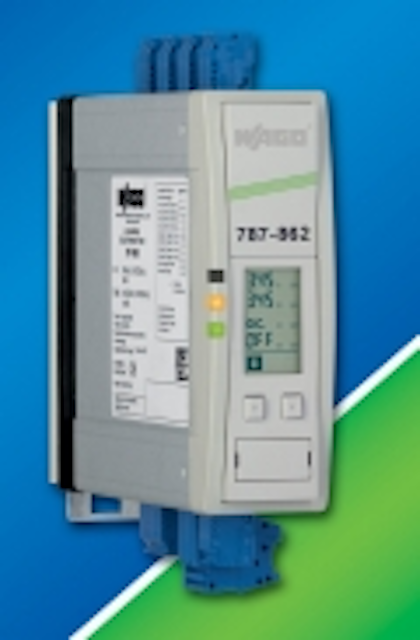 Circuit breakers
WAGO's Epsitron® 4-Channel Electronic Circuit Breakers independently protect up to four current paths (up to 10A at 24 vDC max. each), selectively halting a faulted load. This enables continued operation of PLCs, SCADA systems and other crucial instrumentation to prevent a system-wide shutdown and potential data loss. With three models and several exclusive features, the DIN-rail mount circuit breakers save municipalities money by eliminating redundant power-monitoring components (e.g., volt, amp and operational hour meters).
WAGO Corp.
Germantown, WI
Web: www.wago.us
Tel: 800-346-7245 Booth 1638
Circle No. 422 on Reader Service Card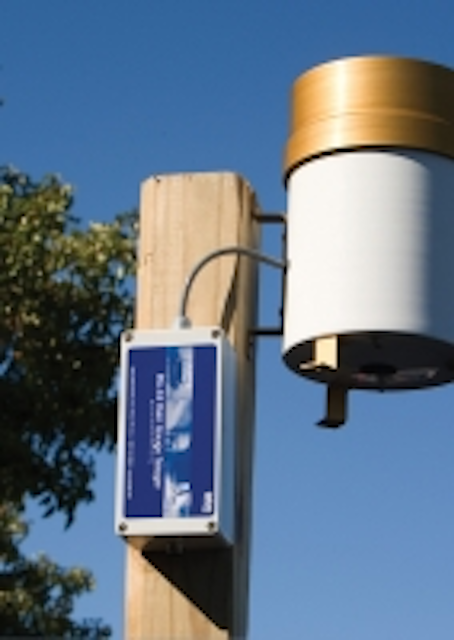 Rain gauge recorder
Telog Instruments offers the 32 series of wireless RTUs, featuring an innovative new wireless modem, exceptional battery life, small size and low power consumption. The RG-32 Rain Gauge Teloger will monitor a tipping bucket rain gauge for up to five years on a single, user-replaceable D cell lithium battery, making two cellular calls to a host computer per day.
Telog Instruments
Victor, NY
Tel: 585-742-3000
Web: www.telog.com
Booth 2011
Circle No. 424 on Reader Service Card
Screw compressor
Robuschi, a global supplier of pumps, blowers and compressors, has announced the release of the Robox Screw®. This oil-free compressor was designed for use in the fields of pneumatic transport, wastewater treatment, water treatment, and pressure/vacuum applications. The simple, compact design can reduce energy costs and allow for ease of maintenance and servicing.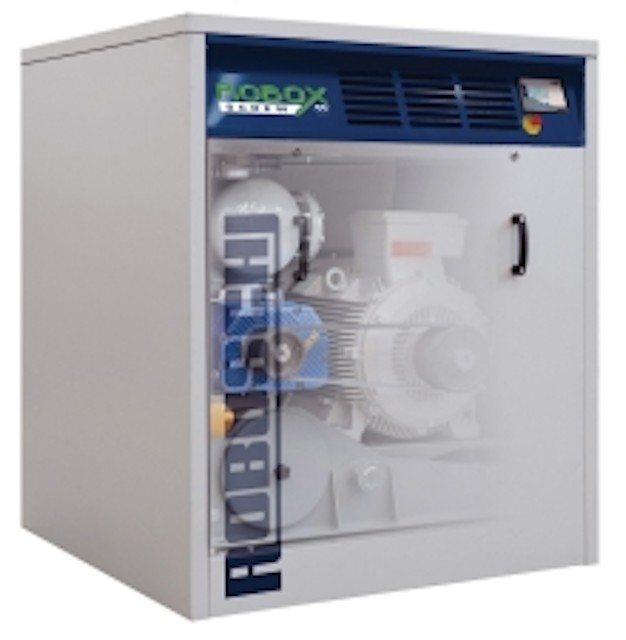 Robuschi USA Inc.
Charlotte, NC
Tel: 704-424-1018
Web: www.robushi.com
Booth 2209
Circle No. 425 on Reader Service Card
Screw press
The Huber Technology RoS3Q Inclined Screw Press has changed the current market perception of slow rotational dewatering technologies. It is especially suited to handle thin biological sludge, producing high cake solids without compromise of the capture rate. The system can help utilities reduce chemical, electrical, civil, maintenance, operations and sludge disposal costs.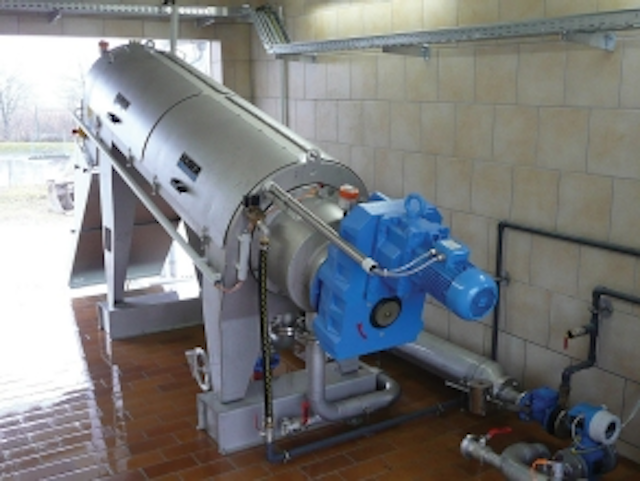 Huber Technology Inc.
Huntersville, NC
Tel: 704-949-1002
Web: www.huber-technology.com
Booth 3151
Circle No. 423 on Reader Service Card
More WaterWorld Current Issue Articles
More WaterWorld Archives Issue Articles