Change Your Thinking About Water!
Most people do not worry or think about water.
Jun 1st, 2010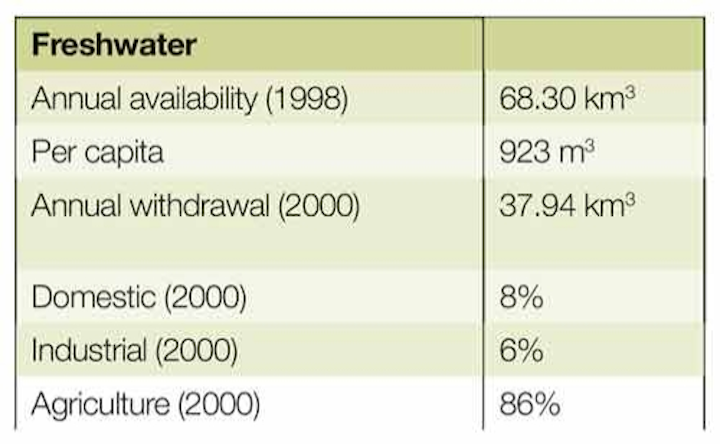 By Jim Fuller
Most people do not worry or think about water. It is taken for granted by many of us in the United States, yet everyone depends on it for their life. Worldwide, the average person has a virtual water footprint of about 328,410 gallons each year. That includes everything used to make the food, clothing, and other water-driven products we consume. Reports show China's average is only 185,412 gallons, while in the United States it is 656,012–the largest on the planet. (To determine your own virtual water footprint, go to http://www.waterfootprint.org/)
There is a virtual water count for everything. Here's how it is figured:
It takes about 155 gallons of water on average to grow a pound of wheat. So the virtual water of this pound of wheat is 155 gallons.
One pound of meat, the virtual water is 5 to 10 times higher.
One cup of coffee is 37 gallons, not counting the 8 ounces you used to brew it.
An apple is 19 gallons, banana 27, slice of bread 10, and a sheet of paper is 3.
Leather shoes - 4,400 gallons - WOW!
Where are we today for saving our water resources?
I like the idea of virtual water because it helps us think about our water supply and use differently without having to make giant, complicated leaps. It puts water in terms that are more visible. We use water every day–for drinking, watering our lawns and gardens, recreation, and many uses that we don't necessarily see but which are critical. Large quantities of water are used to generate power, for irrigation, aquaculture, and many industrial processes and commercial uses. Our nation's underground and surface waters are vitally important to our everyday life.
Since the 1950s, massive amounts of data has been collected on the amount of water used in homes, businesses, industries and farms throughout the United States, and has described how that use has changed over time.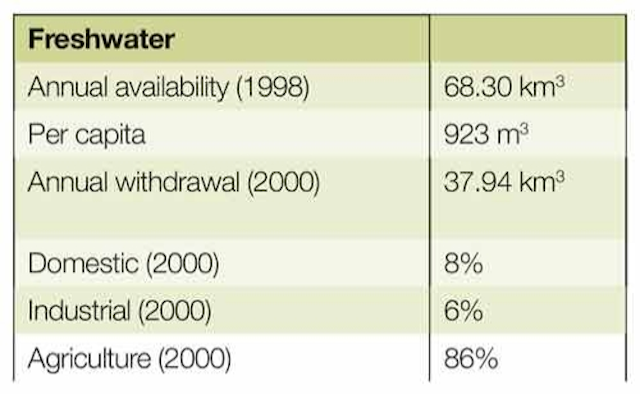 Water availability has emerged as an important issue for the 21st century. Between 1950 and 1980 there was a steady increase in water use in the United States. During this time, the expectation was that as population increased, so would water use. Contrary to expectation, reported water withdrawals declined in 1985 and have remained relatively stable since then in spite of a steady increase in United States population. Changes in technology, in State and Federal laws, and in economic factors, along with increased awareness of the need for water conservation, have resulted in more efficient use of the water from the Nation's rivers, lakes, reservoirs, and aquifers.
Changing mind-sets and using modern technology
There is much government talk about our declining water infrastructure and how to deal with it; basically the same old finger pointing. The fact is, it is not going to be cheap or immediate but we must continue our efforts in evaluating and rebuilding towards a better water distribution model.
To gain more momentum we should think drop by drop...change your thinking about water! This is where domestic water companies, municipalities, and local water districts must continue to take action. Innovative technologies have helped utilities around the world achieve optimum water and energy conservation. In leak detection, the smallest details can make a huge difference.
Today's products that allow our water resource to be transported, stored, measured, purified, and always available to provide for safety and fire protection are the best they have ever been. Many manufactures have taken extra steps for conservation by creating better piping, higher quality valves and hydrants, new material with greater service life, to supersonic water metering; all working together to provide greater solutions for saving our #1 resource - Water.
Measurement is the absolute key for success in any business or plan. Measuring with greater accuracies...well it's priceless. Every time new innovative products are introduced that are able to improve how we measure and control daily processes enables your ability as a water supplier to gain efficiencies in labor, water usage, and increased revenue jumps exponentially.
One example would be your water meter manufacturers and how they are expanding ways to have two-way communications between you and your customers. This increased information is a great benefit for the water supplier and enables the customers to understand their usage and make better decisions. Simply put, by updating water meters in your system, you may improve your cash flow and increase customer awareness and satisfaction; additionally, your consumers are better able to take a role in energy conservation, aid in reducing our water footprint, all the while protecting your vital capital and infrastructure investments.
WASDA members, both distributors and manufacturer's, are working together in providing these new innovative technologies, processes and quality products; combined these provide you with a more accurate, higher quality distribution system than ever before. To achieve our objectives it takes us all working toward a common goal of improving our nation's sagging infrastructure. WW
---
About the Author:
Jim Fuller, of the Coburn Supply Co., is Chair of the WASDA Marketing Committee.
More WaterWorld Current Issue Articles
More WaterWorld Archives Issue Articles