Ozone Proves Itself at Award-Winning Water Treatment Plant
Although still not as widely accepted as in Europe and Asia, the use of ozone for water treatment has gained increased application in North America's plants, especially those dependent on large reservoirs, rivers and other surface sources for their raw water supply.
Aug 1st, 2010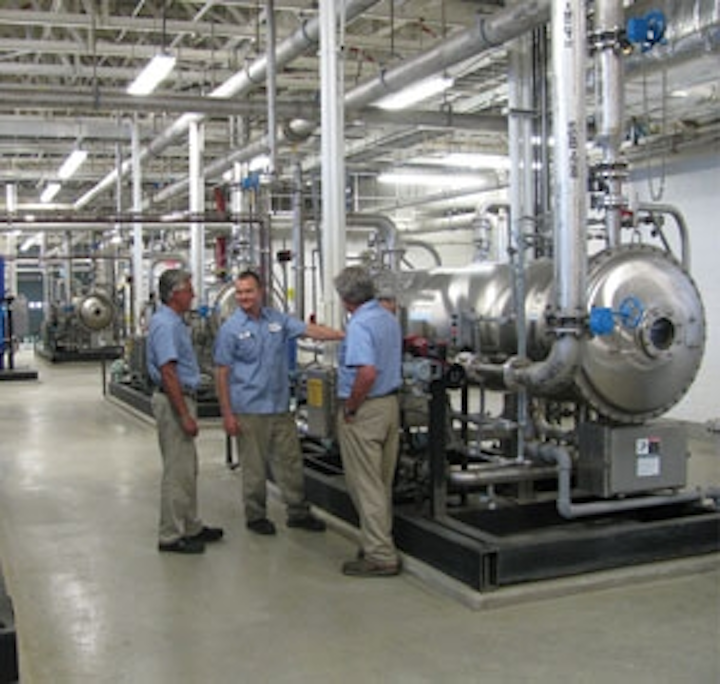 Although still not as widely accepted as in Europe and Asia, the use of ozone for water treatment has gained increased application in North America's plants, especially those dependent on large reservoirs, rivers and other surface sources for their raw water supply.
Enactment of the Long Term 2 Enhanced Surface Water Treatment Rule and the Stage 2 Disinfectant-Disinfection Byproduct Rule (D/DBPR) will require both large and small drinking water utilities to reduce total organic carbon (TOC), Cryptosporidium and disinfection byproducts (DBPs) in the treated drinking water distributed to the public. Ozonation has helped prepare a North Carolina Water Treatment Plant (WTP) to comply with these federal drinking water regulations.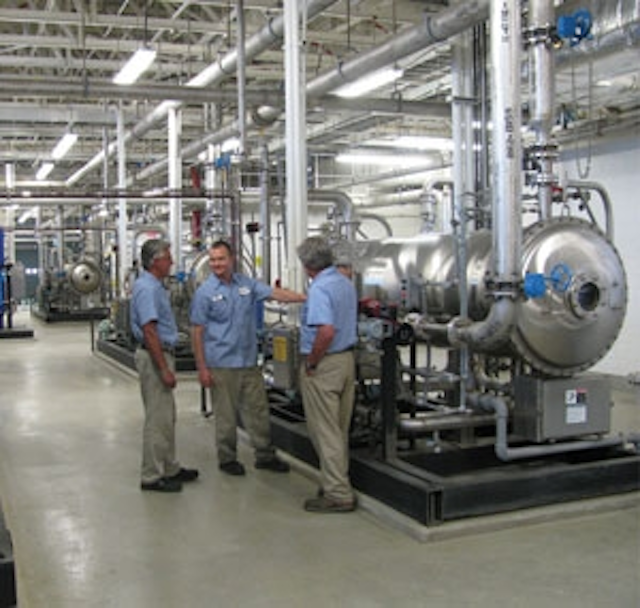 Ozonation was added to the process trains at Cary/Apex WTP to eliminate seasonal taste and odor events caused by algae blooms in the plant's surface source water. The treatment brought the benefit of an additional disinfection barrier.
An ozone system was an important building block in the expansion of the award-winning Cary/Apex Water Treatment Plant in North Carolina. The facility is jointly owned by the two namesake communities and managed by the Town of Cary Public Works & Utilities Department. The plant's service areas take in the Towns of Cary and Apex, as well as the Town of Morrisville, and the Wake County portion of the Research Triangle Park.
The Cary/Apex WTP initially entered service in 1993 and underwent a two-phase expansion designed by Camp Dresser & McKee (CDM) a decade later. In addition to adding ozone, the $40 million project increased the maximum capacity to 40 mgd, added 6 million gallons of on-site storage, replaced chlorine gas with sodium hypochlorite disinfection and added other upgrades.
The two-phase contract more than doubled the plant's previous capacity and instilled enough reserve to accept significant growth in the highly desirable area. Winter peaks currently average 14 mgd, and water demand reaches about 25 mgd during summer months. The highest recorded peak thus far was 28 mgd. After undergoing treatment, the plant distributes potable water to 180,000 people through more than 600 miles of transmission lines up to 42 inches in diameter, four pump stations and seven post treatment storage tanks.
It didn't take long for the plant to become an award winner. The plant construction phase received the AGC Marvin M. Black Excellence in Partnering Award for the successful teamwork of the town staffs, CDM staff and the contractor (Crowder Construction Company). The Cary/Apex WTP went on to earn the prestigious Directors Award from the Partnership for Safe Drinking Water within two years of completing the expansion and received the Five Year Directors Award in 2009 for demonstrating excellent operations of the advanced facilities.
The plant draws raw water from the B. Everett Jordan Lake, a nearly 14,000-acre flood control reservoir completed in 1974. The inclusion of a WEDECO two-stage ozone system supplied by ITT Water & Wastewater was primarily intended to control objectionable taste and odor. The extra treatment barrier–and operational gain–were bonuses delivered by the demonstrated oxidation/disinfection properties of the technology.
The WEDECO ozone system, rated at a minimum 300 lbs/day to 3,000 lbs/day maximum, consists of two 9000-gallon liquid oxygen (LOX) tanks; three 1500 lbs/day ozone generators; two 205,000 gallon pre-ozone contactors; four 158,000 gallon settled water ozone contactors; a nitrogen boost system (NBS), dissolution system, off-gas treatment, cooling water system, calcium thiosulfate system and a gas leak detection system.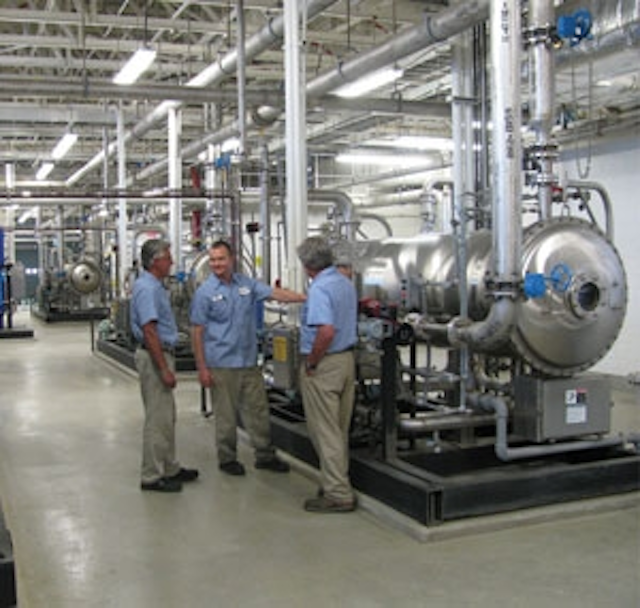 Oxygen storage tanks at the plant. The ozone treatment technology has reduced the use of powdered activated carbon and helps comply with DBP regulations.
"We took the leap into ozone as part of our raw water pretreatment only after pilot testing the WEDECO system," said Kelvin Creech, plant manager. "We had full confidence in the technology before our shovels ever turned the ground.
"Taste and odor were our primary problems so we don't really rely on it for the disinfection value," he said. "The lake we draw our raw water from is downstream from large urban areas, ongoing development and an agricultural watershed. The wide mix of land uses impacting the lake contribute nutrient loading which in turn causes a lot of algae blooms. These seasonal peaks led to the two-stage system which allows plant operators to gain a polishing step during periods of significant algae blooms. Both doses are at 8 percent concentrations.
"However," Creech said, "we anticipate other benefits from having ozone. For example, we are in a good position to cope with future regulation changes."
In addition to the WEDECO ozone system, the plant expansion project expanded the flocculation-clarification system to remove particulate matter ahead of the 10 multi-media filters in the process flow. This stage of the process improves the floc and the overall effectiveness of the filtration. Filtered water receives specified ammonia and fluoride ahead of the feed into final distribution. As for the perception of adding costs to a plant, the Cary/Apex plant manager points to some offsetting savings.
"The ozone system allows us to operate the plant more efficiently in terms of chemical usage," Creech said. "Ozone has what they call microflocculation benefits that make the pretreatment stage more efficient and makes the plant easier to operate in the sedimentation and filtration stage. We previously had to use a lot of powdered activated carbon for odor control but that is no longer the case. We now typically need 5 mg/L versus 30 mg/L to 40 mg/L in the years before the addition of ozone. Because of ozone's disinfection power, we have even reduced our chlorine use before releasing the finished water into our distribution system."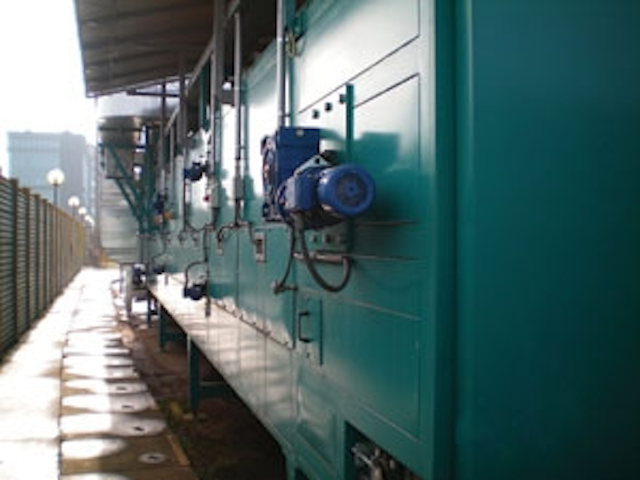 Control panel for the Wedeco ozone system is easy to operate. The experience at this plant dispels misconceptions about ozone systems being difficult to operate.
In addressing claims that ozone systems are complex and difficult to operate Creech noted: "Our plant has a highly automated system with a lot of instrumentation and control. We didn't have any experience with ozone but didn't require any exotic, fast-track training. Based on our experience here, I would not think ozone treatment presents any negatives."
If done correctly, an ozone system can be simple, effective and easy to implement. The Cary/Apex plant is an excellent example of a site where any doubts were dispelled and confidence gained by running the system efficiently for nearly a decade. WW
More WaterWorld Current Issue Articles
More WaterWorld Archives Issue Articles