Stimulus Helps Fund Energy Efficiency Improvements at WWTP
Thanks to significant upgrades that will implement energy and environmental reform, Pittsfield, MA, is being regarded as a city at the forefront of the country's "green" revolution.
Oct 1st, 2010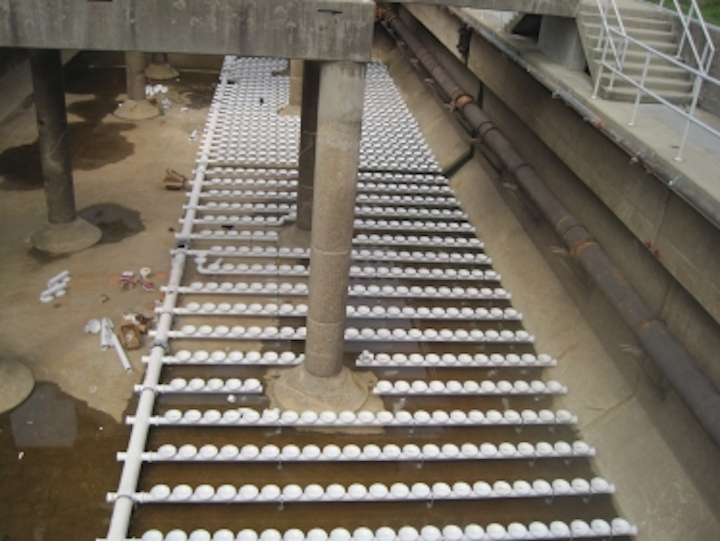 By Alan Wells
Thanks to significant upgrades that will implement energy and environmental reform, Pittsfield, MA, is being regarded as a city at the forefront of the country's "green" revolution.
The western Massachusetts city leveraged funding opportunities from the American Recovery and Reinvestment Act to implement projects that will leave its wastewater treatment plant nearly self-sufficient with respect to its electrical needs. Employing green technologies and increasing energy efficiency, the city is continuing a tradition of wastewater treatment innovation that stretches back to 1890 with the construction of the original plant.
Pittsfield's wastewater treatment plant is undergoing two significant upgrades. One will feature the installation of a combined heat and power (CHP) system, which will use three 65-kW rated, skid-mounted microturbines fueled by digester gas. The second involves upgrading the existing aeration system from a single-speed mechanical mixing system to a fine bubble aeration system.
Pittsfield operates an advanced, nutrient-removal treatment facility that treats municipal and industrial wastes from the city itself, as well as neighboring communities such as Dalton, Hinsdale, Lanesborough, and North Lenox. The aeration process currently accounts for the largest power demand at the wastewater treatment plant, totaling 30 percent of all power demands and costing roughly $250,000 a year in electrical costs. The process also employs old, though reliable, mechanical aerators.
The upgrade will consist of a fine bubble diffused aeration system featuring three turbo blowers with a rate of 3,750 standard cubic feet per minute. The turbo blowers, born out of jet technology, operate at speeds of up to 40,000 revolutions per minute. They were developed in response to new, high-speed motors and require sophisticated cast or machined impellers. All told, they are 15-20 percent more energy efficient that conventional blowers.
The upgrades will also allow the aeration system to run more efficiently. The wastewater treatment plant's old mixers operated blindly, working at full speed regardless of real-time oxygen demands, which resulted in wasted energy under certain conditions. With these upgrades, the use of variable frequency drives (VFDs) will allow the blowers to run at optimum efficiencies under varying oxygen demand conditions. The use of oxygen sensors in the aeration tank provide real-time feedback of oxygen levels in the process and automatically adjust the speed of the blowers. This allows the blower to provide just the appropriate amount of air, and that the aeration system will only run as hard as necessary and with no wasted energy.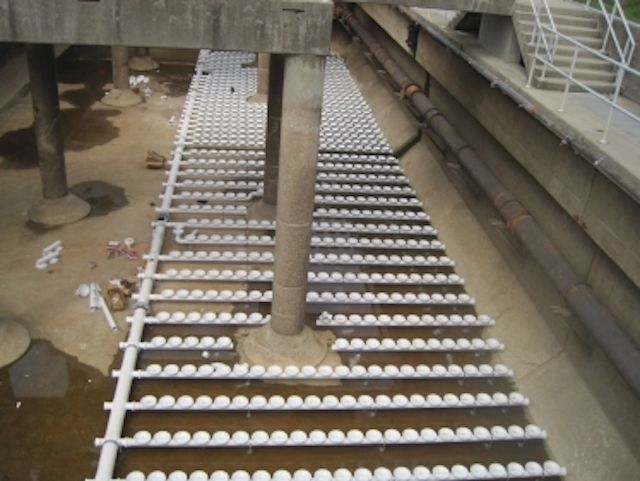 The Pittsfield project included installation of a fine bubble diffused aeration system fed by three turbo blowers.
Finally, the wastewater treatment plant upgrade will feature new instrumentation and new controls, as well as an 800-kilowatt standby generator. Also, the upgrade's flexible design allows for future air requirements, as well as offers space for up to three additional turbo blowers.
Those associated with the upgrades quickly learned that these modifications not only promote "green" initiatives in the environmental sense, but green savings in the more traditional sense, saving the city tens of thousands of dollars annually. The upgrades are expected to result in a 919,000-kilowatt reduction in power each year, as well a 20 percent decrease in overall power demand. The annual monetary savings will be around $130,000. WW
---
About the Author: Alan Wells, P.E., is associated with SEA Consultants, based in Rocky Hill, CT. He may be contacted at al.wells@seacon.com.
More WaterWorld Current Issue Articles
More WaterWorld Archives Issue Articles