AMI System Helps Rural Water Utility Reduce Leakage
The Chesterfield Rural Water Company (CRWC) is responsible for delivering water service to the third-largest utility district in South Carolina.
Feb 1st, 2010
The Chesterfield Rural Water Company (CRWC) is responsible for delivering water service to the third-largest utility district in South Carolina. While that task involves unique challenges, CRWC officials are witnessing economical, environmental and customer service advantages, thanks to a newly installed and fully operational automated metering infrastructure (AMI) system.
CCRWC uses the Sensus FlexNet system to service its 800-plus square-mile territory, which is comprised mostly of agricultural areas and poultry farms, dotted with small towns. The size of this rural home to 22,000 residents is only one of the challenges. Another issue is the rolling terrain and a 700-foot elevation variance from the area's northwest to southeast corners. And, 30% of the area is state and federal wildlife refuge lands, keeping CCRWC officials aware of the environmental impact of its operations.
Chesterfield CEO Charlie Gray said the AMI system is helping reduce the water company's fuel consumption and carbon footprint while increasing the integrity of the distribution system and improving customer satisfaction. Leaks are often discovered in six hours or less, compared to weeks or months in the past. CCRWC customer service reps are now able to proactively alert customers to leaks, saving time and resources, while minimizing damage, cost and aggravation.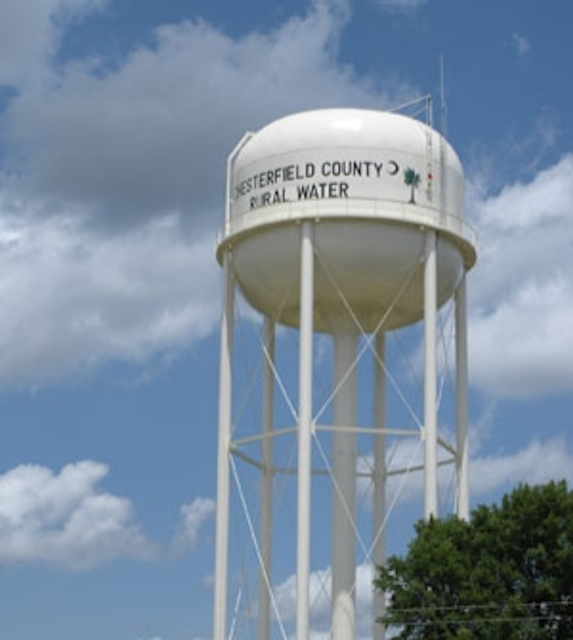 The FlexNet Tower Gateway Basestation, installed on utility-owned tower, maximizes network coverage while reducing deployment costs.
Overall, Gray considers their upgrade to FlexNet to be a win-win-win for the company, customers and the environment.
Prior to the switch to the new system, CCRWC used a team of six meter readers equipped with Sensus TouchRead handhelds for reading and billing. Officials knew that a fixed base system could offer a myriad of features to enhance customer service and save money.
A selection process via competitive bid was launched and the FlexNet system was chosen. Major considerations were the 20-year battery life of the metering interface units and the reduced number of Tower Gateway Basestations (TGBs) required.
The utility worked with local distributor Ferguson Waterworks, to deploy the new system. Inactive meters were worked into the program, so that FlexNet's system could detect unauthorized use and leaks, and locate inactive meters. CCRWC leased land to install two monopoles for an antenna and TGB.
Prior to FlexNet, leaks were reported when discovered by high bills or literally finding running water. Had that been the case in the uncharacteristically cold January 2009, water leakage would've ruined one customer's home. A water pipe located in the ceiling of a home vacated by an elderly couple ruptured on a Saturday morning. When CCRWC's Controller, Gale Griggs, checked readings that morning, the abnormal usage was immediately identified and the water was shut off within hours of the break. Minimal damage occurred.
"If it was the old system, it would've taken someone seeing water running out the door. The plumber servicing the property credited our system for saving that house from being totally destroyed," Griggs said.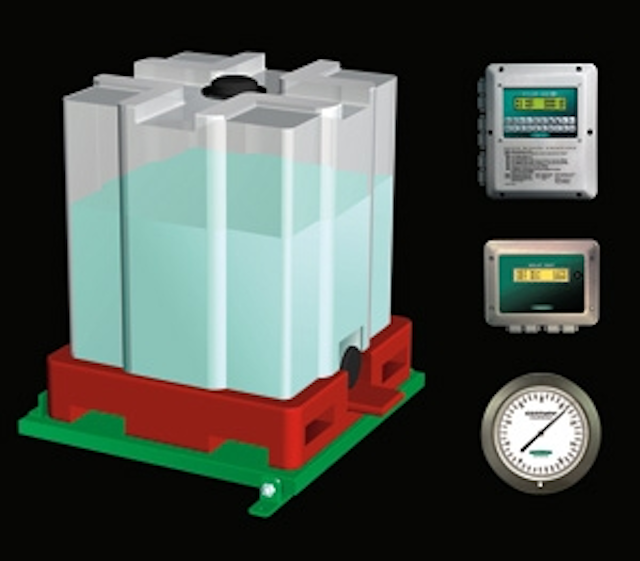 The FlexNet SmartPoint Model 520X is used to collect and transmit usage data back to the utility.
In that same month, a major line break in a creek bottom, under 6-inches of snow, caused CCRWC to hemorrhage approximately 1,000 gallons per minute while about 100 customers had leaks from broken water lines ranging from 100 gallons per hour to 1,800 gallons per hour.
"We were immediately able to isolate the leaks. Had we not been able to do that, we literally would've run out of water. We were losing water faster than we could keep up with it," Gray said.
CCRWC has also provided ways for customers to have more control of their water use. During installation, every meter was installed with a new customer-side shutoff valve, costing about $11 each. Customers can shut off their water when going on vacation, remodeling, or they can quickly shut off their own water in the event of a leak.
"It saves time and property when the customer can shut off their water instead of waiting for a serviceman to drive 30 or 40 minutes or more across the county – and it saves the company money," said Project Manager Ray Wallace.
"The reliability of FlexNet also gives us a solid 30-day billing cycle. When we read meters manually, holidays and weather sometime prevented us from doing so, and the billing period could have a 27-35 day billing swing," Gray said. "For our customers on a fixed income, that presented a problem. Those days are over."
Griggs said customer service reps are also reaping the human benefits of FlexNet. "We're getting customers calling in to thank us for timely notification of leaks. Our office personnel used to just collect their money – now we're in a position to help them."
Another beneficial human side of this story is the joining of three entities in the name of conservation. CCRWC partnered with the adjacent towns of Cheraw and Chesterfield for tower placement. CCRWC gained the use of these towns' water tanks for the antennas, and the two towns were allowed to share the antennas and TGBs in return.
"I'm a strong proponent for regionalization. We're living proof that regionalization works, small towns can make more money and benefit more by utilizing regional systems. The other two towns would've never been able to use FlexNet without partnering with us, and we have 100 percent coverage at reasonable costs thanks to them," Gray said.
"In the long run, there's no reason why neighboring utilities couldn't use our towers and system. I would like to see the whole region completely blanketed by FlexNet. We all could share antennas, save money, and be environmentally friendly," Gray added. "This technology makes us economically viable, keeps our rates down and allows us to be more customer friendly than we've ever been in the past."
But Gray is also the first to say FlexNet is only what the utility personnel put into it. "If you don't manage your system on a daily basis to find leaks, tampers, unauthorized use, etc., this system is not realizing its full potential. You'll only get a tenth of the benefit.
"The real value in the system is not the monthly reads, it's all these little things that really make up the list of assets in incorporating this data collection system."
The fixed-base metering infrastructure is fueling a host of new programs for CCRWC. They plan to be the first water utility in America to offer pre-pay options and automated notification when pre-set water usage is nearing depletion. Plans are underway to replace payment drop boxes with kiosks to allow for real-time balance, payments, and more.
"We are determined to utilize the full capabilities of our AMI system to benefit our company, customers and the environment," Gray said. WW
More WaterWorld Current Issue Articles
More WaterWorld Archives Issue Articles