New Article
When municipalities address the issues of inflow and infiltration (I&I) reduction in regulating sanitary sewer overflow (SSO) and combined sewer overflow (CSO), real-time monitoring can be one of a sewer utility's most important tools.
Jan 1st, 2019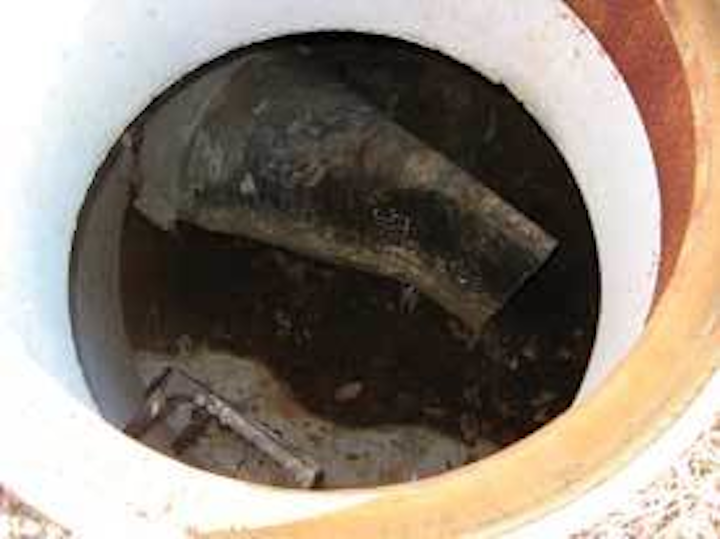 by Gregory DeSantis
When municipalities address the issues of inflow and infiltration (I&I) reduction in regulating sanitary sewer overflow (SSO) and combined sewer overflow (CSO), real-time monitoring can be one of a sewer utility's most important tools.
New systems on the market allow utilities to see and act upon events as they happen. This can make the difference between a minor overflow and the contamination of a river or lake, especially when information from many points in the wastewater management system can come together in a central data acquisition platform. Using monitors and recorders than transmit data in real time, a flow management system can detect the potential for overflows, send data on these critical points to the information system at central operations, and make that data available to operators and technicians through password-protected websites.
This access to data about events as they happen can mean a new level of wastewater management for sewer districts, especially those with older CSO systems.
This real-time data acquisition capability does not necessarily require a major investment or an overhaul of current operations. Flow monitoring and recording products developed by Telog Instruments can collect and transmit data through an open architecture platform, allowing municipalities to use other manufacturers' flow meters and devices that may already be in place in the field. The Telog Ru-33 and third party flow meters and rain gauges connect a sewer district's essential data with Telog Enterprise, a SQL-based information management software package designed specifically for water management applications. The data is transmitted from the Ru-33 to Enterprise over the metropolitan area's existing cellular network.
This immediacy in data acquisition can be critically important to older districts with legacy sewer systems and CSOs. With more and more municipalities operating under consent decrees and working to correct CSO and SSO issues, the ability to collect, track and report on data from the field has become more important than ever before in the industry. Real-time monitoring allows these sewer districts to meet stringent reporting requirements, bringing the system into regulatory compliance with federal standards.
St. Louis, MO
When the St. Louis Metropolitan Sewer District (MSD) in Missouri took steps to protect the Mississippi and Missouri rivers from CSO pollution, officials chose the advantages of proactive real-time monitoring over the more reactive methods it had practiced in the past.
Using remote telemetry units and software provided by Telog, and devices from Red Valve Co., St. Louis MSD gathers information about Red Valve Tideflex valves in its CSOs. MSD has installed contact switches to monitor the opening and closing of the valves, and separate pressure transducers to determine the water level upstream of the valves. The information is transmitted directly to the server, where it alarms operators and is stored in Telog Enterprise software for analysis.
Operators know there is an event occurring, and whether or not there is enough pressure to open the valves - which allows St. Louis to initiate action that helps it evaluate the event, like determining water quality and moving to prevent events that could impact the environment.
Not only does St. Louis know when an event happens, but MSD also knows when the event started, how long it lasted and the changes in water flow before, during and after the event. All of this information becomes particularly important when the utility works to fulfill its Capacity Management Operations and Maintenance (CMOM) requirement. St. Louis can monitor and record events in accordance with CMOM, giving the sewer district the data its operators need to make better decisions based on system performance.
Erie County
In Erie County, NY, the Erie County Division of Sewerage Management chose Telog as a partner with Conestoga-Rovers & Associates (CRA), TECsmith Inc., and Computational Hydraulics International (CHI) to demonstrate a real-time, web-based wireless flow monitoring system, and the development of an online flow model using GIS software as the web interface. Using the information collected by in-situ recorders and sent to the Enterprise server, the relevant data is integrated with ArcView GIS, a mapping system developed by ESRI, to pinpoint the key locations and observe them in conditions that may require action-for example, in the aftermath of a storm.
Sanitary sewer overflows can also occur in the Buffalo area, whether in dry weather due to conditions such as construction debris or accumulated winter trash, creating unforeseen blockages in sewers, or from stormwater entering the system as inflow and infiltration (I&I). Detecting these events as they happen makes a difference in the county's ability to respond quickly, clear the blockage or relieve the surcharge and restore the capacity in the system and prevent further disruption in municipal services.
According to Michael Quinn, P.E., Assistant Deputy Commissioner of the DSM, real-time monitoring helps operators and maintenance staff identify these conditions and correct the problems faster and more effectively than ever before.
Erie County also will integrate this data with CHI's PCSWMM, the sewer system modeling software that allows the district to evaluate capacity issues and determine potential problems in the system before they happen, while using actual data from real events to compare PCSWMM's predictions with reality. This will bring immediate problems in the system to light quickly, as operators dispatch crews directly to the points in the system that do not behave as predicted.
The ability to use real-time data allows Erie County to model future events and predict the weak points in the system, whether the upcoming issue is a 5-year storm or a bowling ball stuck in a sewer main. Quinn also noted that these real-time modeling results will accurately identify the capacity within the system to ensure that development in a particular area will not cause surcharging or other capacity related issues, either at the point of connection or downstream.
SCADA Integration
In choosing real-time data acquisition devices and software, many municipalities have one overarching requirement: The data must be compatible with the SCADA infrastructure in which they have already invested.
Using cellular technology to transmit collected data, real-time reporting devices provide SCADA-compatible data that can be transferred from the Enterprise server to the SCADA system - and Telog remote telemetry units can be placed in remote locations that often are too far away from central operations to be part of the SCADA network. Switch packet protocol in these remote devices allows them to send data from areas on the fringes of the water management district, and their battery-powered operation requires only occasional maintenance (i.e. once a year or less), making these devices a cost-effective extension of SCADA hardware in remote locations.
Once real-time data has been collected and is stored in the Enterprise server, users can bring this data into a SCADA system to share it with existing SCADA operations centers. SCADA can be used to query the data on the Enterprise system as well, making it an effective complement to the network that's already in place.
About the Author:
Greg DeSantis has been involved in the environmental and wastewater industry for over 30 years. He began his career with an upstate New York consulting engineering firm, working on environmental and wastewater study projects for 13 years, after which he spent six years as the Director of Field Services for a New York based environmental analytical laboratory. He went on to become a regional sales manager and later a director of strategic accounts for a leading instrumentation manufacturer. His current position is vice president of sales for Telog Instruments, a company providing remote data acquisition in the water and wastewater industry.