PRODUCTS & SERVICES CHEMICALS & APPLICATION
EP Minerals has been filtering beverages for the last 60 years, and now has developed a patented, NSF approved, arsenic adsorption media, NXT-2.
Sep 1st, 2007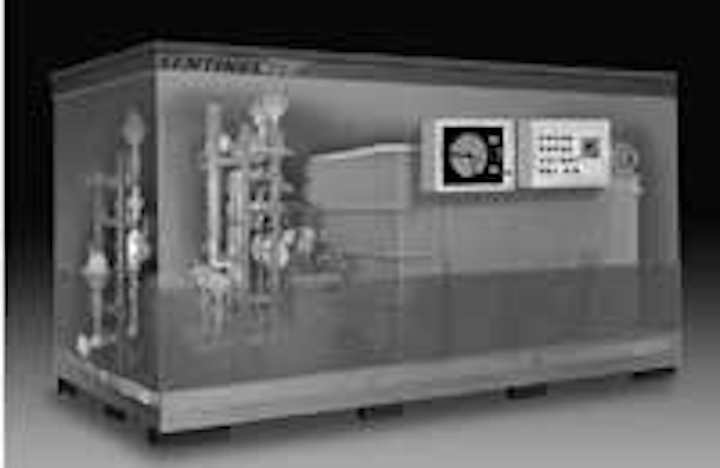 Arsenic removal
EP Minerals has been filtering beverages for the last 60 years, and now has developed a patented, NSF approved, arsenic adsorption media, NXT-2. The media has demonstrated removal results to less than 10 ppb arsenic to meet the new MCL. The lanthanum/ferric hydroxide based media can also provide additional benefits such as improved stability in the column to protect against possible desorption caused by pH upset.
EP Minerals
Reno, NV
Tel: 775-824-7600
Web: www.epminerals.com
Fluoride dosing system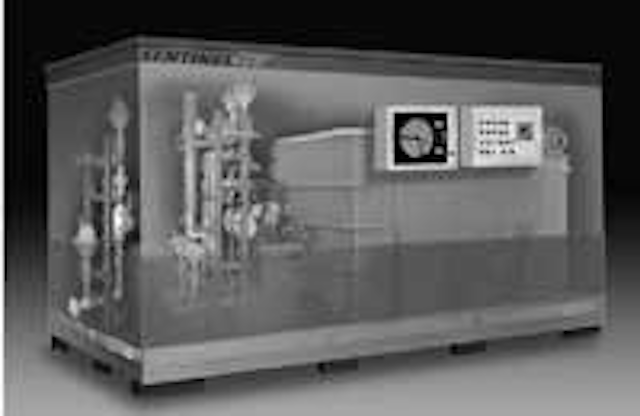 Click here to enlarge image
The Fluoride Safety Sentinel 21 is a fully automated modular fluoridation system manufactured to inject fluorosilicic acid into the public water supply. Designed as a closed-loop system, the need for operating personnel to estimate daily flow rates, coupled with the possibility of human error, is eliminated. The standalone system instantaneously adjusts chemical feed rates with each change in supply flow rate or fluorosilicic acid concentrations. The system can be configured to meet the specific operating requirements of various municipalities.
Fluoride Safety Corp.
Paramus, NJ
Tel: 201-689-0010
Web: www.fluoridesafety.com
Metering pump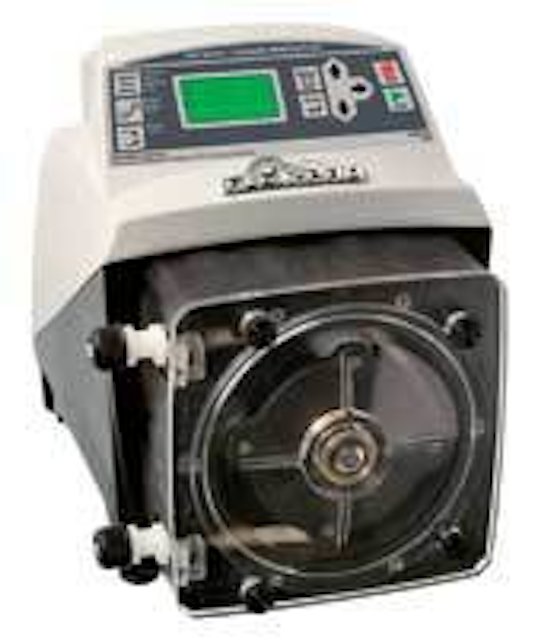 Click here to enlarge image
Blue-White's New Flex-ProTM A3 Peristaltic Metering Pump offers a variety of benefits, including: Outputs to 33.3 gpm; output pressures to 125 psi; automated PPM dosing; and the ability to self prime even against maximum line pressure. Bypass valves are not required and the pump won't vapor lock or lose prime. The pump features one button Prime Mode for simplified priming and servicing. It has a brushless variable speed motor and digital touch pad with menu driven software. Available inputs include: 4-20 mA, 0-10 vDC, pulse signal inputs for external speed control, and 30 vDC contact closure for remote start/stop.
Blue-White Industries
Huntington Beach, CA
Tel: 714-893-8529
Web: www.bluwhite.com
Chemical scales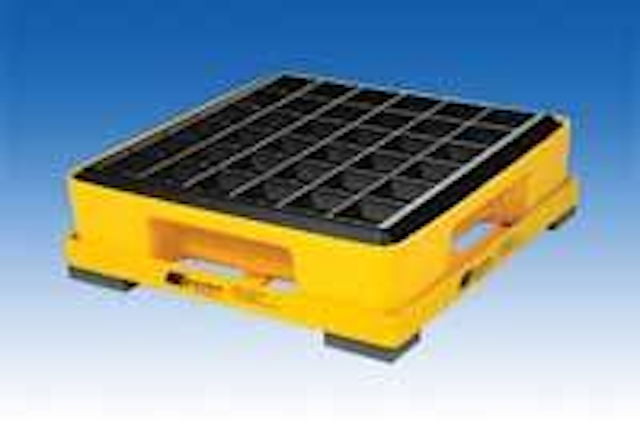 Click here to enlarge image
Scaletron Industries has introduced its new Models 4042TM Spill Containment Scale and Model 4042WBTM Secondary Spill Containment ScaleTM for weighing chemicals in tanks, drums, intermediate bulk containers (IBCs) and tote bins. The scales weigh only the chemical dispensed into the water treatment system. If there is a chemical spill, the weight is still on the scale and doesn't read as though it has been dispensed into the system. The scales have four load cells that are sealed in PVC and vinyl plastic enclosures, which means that they are protected from spilled chemicals and that the chemical containers do not have to be centered, balanced or leveled.
Scaletron Industries Ltd.
Plumsteadville, PA
Tel: 800-257-5911
Web: www.scaletronscales.com
Bulk bag unloading
Click here to enlarge image
Metalfab, a manufacturer of dry solids processing equipment and integrated systems, is offering a new brochure on its range of bulk bag unloader choices for complete and positive discharge of dry bulk materials. The brochure includes an overview of bulk bag unloader construction for simple, safe and dust-free operation, available base, mid level, and top level model choices to meet virtually any unloading requirement, and ability of each model to accommodate a wide range of bag styles and sizes required by today's diverse process operation conditions.
Metalfab Inc.
Vernon, NJ
Tel: 800-764-2999
Web: www.metalfabinc.com
Bulk bag handling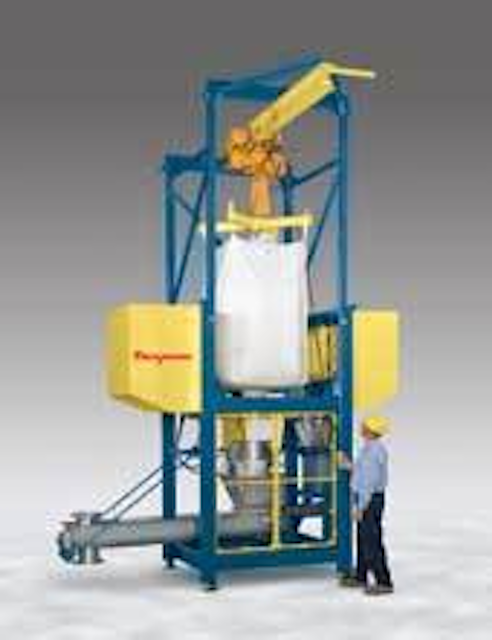 Click here to enlarge image
A new Bulk Bag Conditioner-Unloader System from Flexicon loosens bulk solid material that has solidified during storage and shipment, allowing the material to discharge through a bag spout. The integral configuration of the conditioner eliminates the time, labor and equipment needed for separate loading of bulk bags into a stand-alone conditioner. The design also consumes significantly less floor space than two separate pieces of equipment and requires less material and labor to construct, reducing initial cost.
Flexicon Corp.
Bethlehem, PA
Tel: 888-353-9426
Web: www.flexicon.com
Liquid feed control
The Royce Model 4100 Automatic Vacuum Liquid Feed Control System has been added to the Royce Technologies line of wastewater treatment process control products and will introduce the company to the clean water and disinfection segments of the industry. The new product is focused on the chemical dosing requirements common to the water and wastewater treatment markets. The system uses an ejector to introduce the carrier water stream and create a vacuum to deliver the feed chemical.
Royce Technologies
Charlotte, NC
Tel: 800-347-3505
Peristaltic pump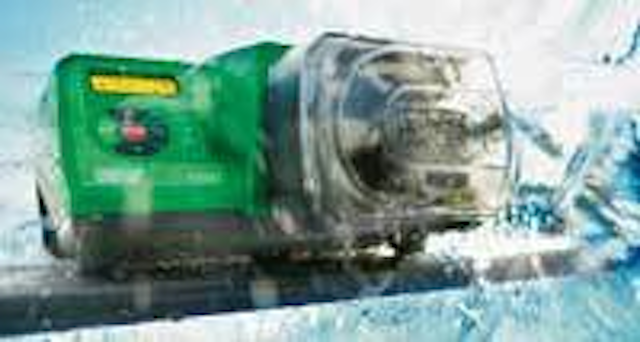 Click here to enlarge image
Watson-Marlow Bredel offers the 520 Series peristaltic pump for sodium hypochlorite handling. Entrained gas is pumped with ease, eliminating the occurrence of vapor locking that prevents conventional pumps from functioning properly. The series contain fluids within the tube at all times and never allows the sodium hypochlorite to come into contact with the pump mechanism. This helps provide predictable life costs for the pump as the tube is the only part that will need replacing.
Watson-Marlow Bredel Pumps
Tel: 800-282-8823
Web: www.watson-marlow.com
Emergency gas shutoff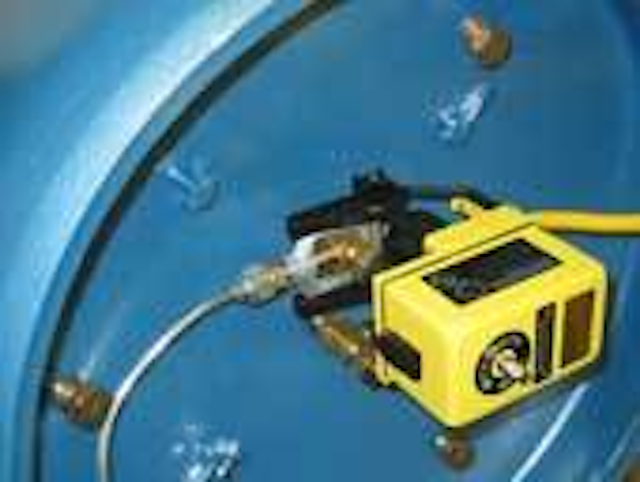 Click here to enlarge image
Eclipse Actuators quickly close toxic gas valves on 150 lb. and ton cylinders in less than one second when activated by remote sensors. This actuator system will then provide a closed contact to signal that the valve is closed and sealed. The operator can then visit the site to correct the condition, check the gas connections, and manually reopen the valve to start the gas system. The Eclipse is a battery-operated actuator and allows an operator or remote gas sensor to shut off leaking toxic gas without requiring the operator to enter the hazardous atmosphere.
Halogen Valve Systems
Irvine, CA
Tel: 877-476-4222
Web: www.halogenvalve.com
On-site hypochlorite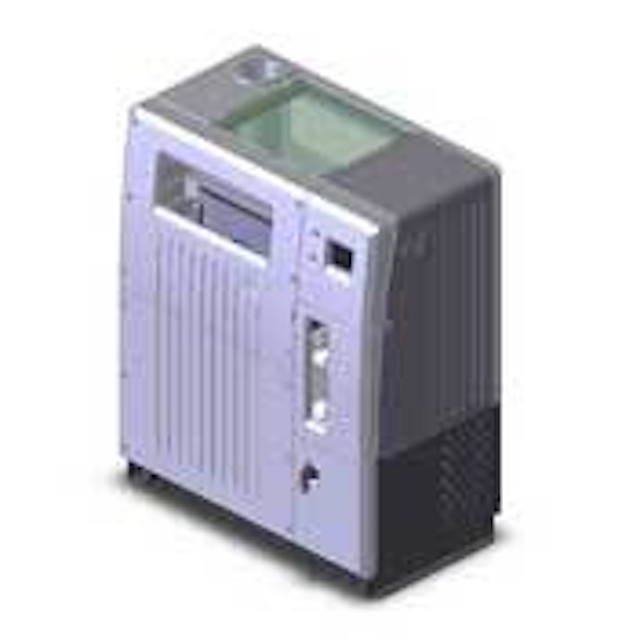 Click here to enlarge image
MIOX now offers the best salt and power conversion efficiencies in the industry, with a total redesign of its mid-size units. New features include expandability up to 500 pounds of chlorine within the same footprint; ease of conversion between mixed oxidants and hypochlorite; air-cooled power supplies; integrated hydrogen dilution air system (optional); and improved controls package.
MIOX Corp.
Albuquerque, NM
Tel: 505-343-0090
Web: www.miox.com
Chlorine gas containment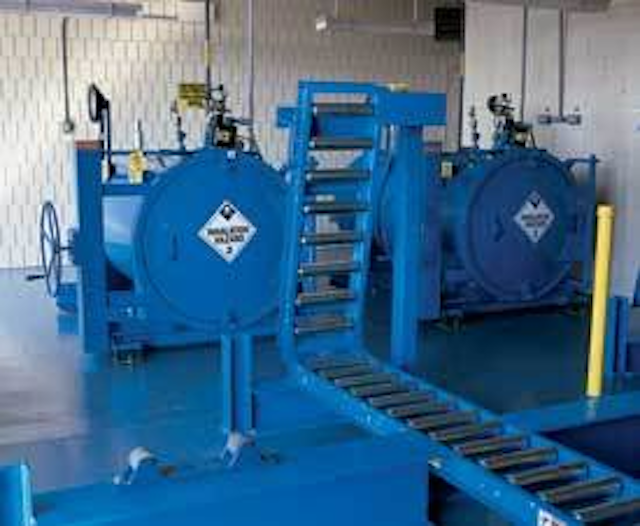 Click here to enlarge image
ChlorTainer® - Total Containment System, offered by TGO Technologies, processes a ton or 150 pound cylinder(s) from within a sealed vessel. This 'zero release' technology is an alternative choice for leak prevention. Total containment is the only technology considered passive for RMP considerations, and fully complies with Article 80 of the Uniform Fire Code. It eliminates the need for scrubbers.
TGO Technologies, Inc.
Santa Rosa, CA
Tel: 800-543-6603
Web: www.tgotech.com
DPD reagent dispenser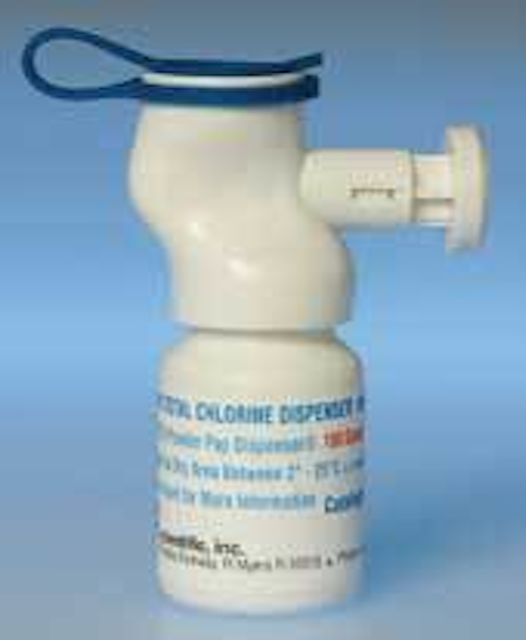 Click here to enlarge image
HF scientific has upgraded its HF DPD Powder Pop® Dispenser. The portable dispenser delivers the correct volume of DPD reagent for free or total chlorine. It is supplied with enough DPD powder for 100 tests or in multi-packs providing 400 or 1,000 tests. To use, simply invert the dispenser over sample and press the button to dispense reagent. Powder dissolves quickly in sample, leaving no messy residue behind.
HF scientific Inc.
Fort Myers, FL
Tel: 239-337-2116
Web: www.hfscientific.com
Coagulant charge analyzer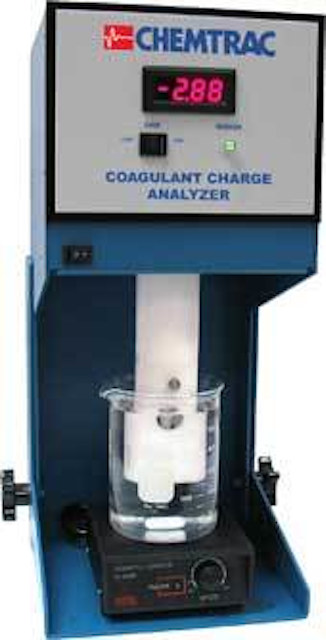 Click here to enlarge image
Chemtrac's Coagulant Charge Analyzer (CCA3100) offers water treatment operators a titration procedure to determine the optimum coagulant dose faster and more accurately than jar tests (5 minutes or less). Water treatment plants have used the company's Streaming Current Monitors for on-line coagulant and polymer feed control since 1985.
Chemtrac Systems Inc.
Norcross, GA Tel: 770-449-6233 Web: www.chemtrac.com
Dosing pumps
Click here to enlarge image
Grundfos offers pump solutions for the water treatment and chemical feed industries including piston/diaphragm metering pumps; sensors and controls; accessories; and products for disinfection and water treatment projects. Along with metering pumps, the company provides centrifugal pumps, packaged pumping systems, and much more.
Grundfos Pumps Corp.
Web: www.grundfos.com
Polymer blending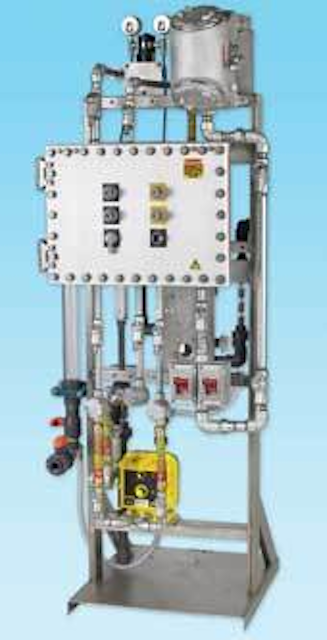 Click here to enlarge image
Fluid Dynamics has introduced the L Series dynaBLEND® polymer blending and activation system. The units feature the patented HydroACTION® non-mechanical, high-energy polymer mixing chamber, with a choice of diaphragm metering or progressing cavity pumps. Control options range from simple manual systems to fully instrumented PLC-based units with an unlimited variety of inputs and outputs. Standard units are available to provide activated polymer solution from 30 gph through 21,000 gph.
Fluid Dynamics Inc.
Boulder, CO
Tel: 888-530-7300
Web: www.dynablend.com
Mixing systems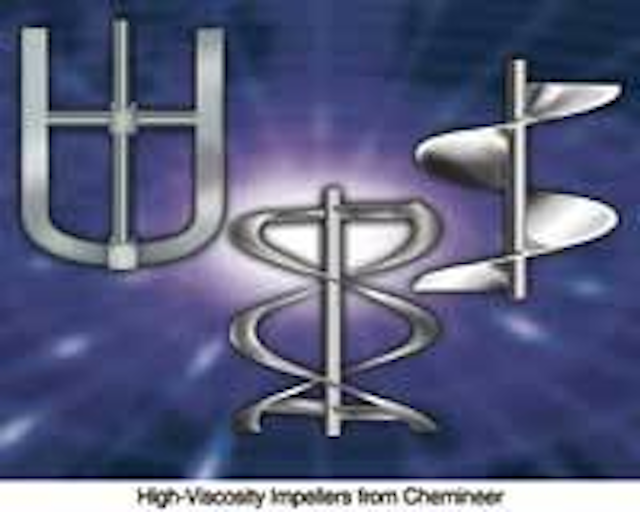 Click here to enlarge image
Chemineer offers several high-viscosity impellers designed to handle rugged applications. The company's impeller designs are the result of over five decades of research and applied application experience. Its Double Helical Ribbon Impeller is ideal for high viscosity, laminar flows, effective in heat transfer and efficiently incorporates surface liquids and solids with viscosities over 30,000 Mpa. Its Anchor Impeller is an economical laminar flow impeller offering horizontal flow well-suited for low-liquid-level geometries. The company's Screw (Auger) Impeller is ideal for shear sensitive, uniform blending applications.
Chemineer Inc.
Dayton, OH
Tel: 937-454-3200
Web: www.chemineer.com