Treatment Plant Finds New Life with Membrane Bioreactor Technology
Requirements to improve water quality in the Chesapeake Bay are placing a heavy burden on wastewater treatment plants in the Susquehanna River Basin.
Jun 1st, 2007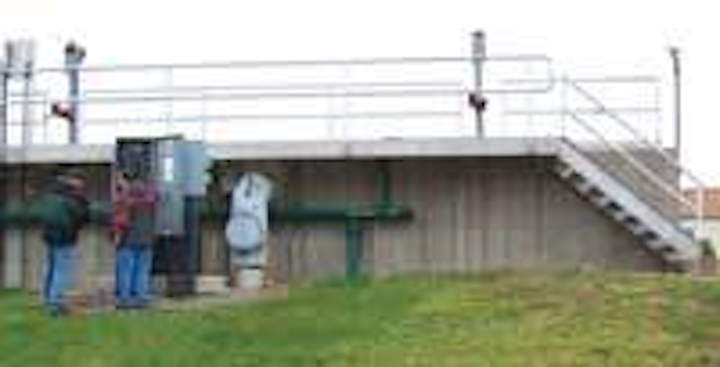 by Jason Wert
Requirements to improve water quality in the Chesapeake Bay are placing a heavy burden on wastewater treatment plants in the Susquehanna River Basin. Striving to be responsible stewards of their customers' money, some treatment plant operators are upgrading their facilities to meet or exceed pending regulatory limits for Total Nitrogen and Total Phosphorous. Mifflinburg Borough is one such treatment plant, and Membrane Bioreactor technology is allowing staff there to achieve enhanced nutrient removal (ENR) while reusing much of their existing facilities.
The Mifflinburg Borough wastewater treatment plant was constructed in 1958, with its most recent major upgrade to a Sequencing Batch Reactor occurring in 1988. Over the past 19 years, the plant was re-rated from 0.9 mgd to 1.4 mgd by replacing the raw sewage pumps with larger units, adding chemical dechlorination equipment to comply with regulatory requirements, and adding a screw press and polymer feed facilities to improve sludge disposal.
However, much of the systems were still in service from the original plant. The aerobic digesters and control building were structurally degraded and had reached the end of their design life. Coupled with age, much of the plant was unable to handle increasing flows from the collection system, including periodic inflow and infiltration.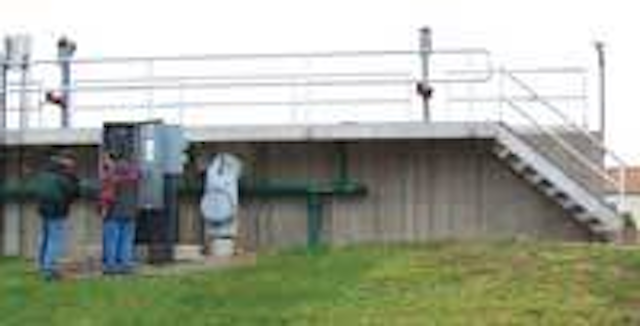 Conversion to a membrane bioreactor system will allow the Mifflinburg Borough to meet Chesapeake Bay Tributary Strategy limits for nitrogen and phosphorous.
Click here to enlarge image
Despite these deficiencies, the Mifflinburg Borough wastewater treatment plant provides excellent treatment at its current flows and loading to secondary levels, but it will be unable to consistently meet the proposed limits of the Chesapeake Bay Tributary Strategy for nutrient removal. In planning for the next 20 years, the facility will need to achieve approximately 4.0 mg/ of Total Nitrogen and 0.5 mg/l of Total Phosphorous at its design flow of 1.4 mgd.
Options Considered
Seeing the need for change, management at Mifflinburg Borough asked the engineering firm of Herbert, Rowland & Grubic Inc. to prepare a capital improvement plan and evaluate the best course of action to meet future wastewater treatment needs and regulatory requirements.
In preparing the plan, HRG engineers studied the historical flow and loading to the plant, the potential for growth and development in the service area and the current state of the treatment plant. They selected various alternatives for review and evaluated their advantages, disadvantages, and costs. These options included the construction and rehabilitation of the Sequencing Batch Reactors, construction of a Vertical Loop Reactor, and conversion of the Sequencing Batch Reactors to a Membrane Bioreactor.
To fully evaluate each of these alternatives, Mifflinburg considered several factors:
Ability to meet current and proposed regulations
Overall reliability and stability
Ability to handle changing conditions such as future growth or changes in flow and concentration as a result of the ongoing inflow and infiltration program
Ability to minimize impacts to environmental and cultural or historical resources
Overall capital cost, operation costs and present worth of the alternatives.
While the membrane bioreactor option was more expensive than upgrading the sequencing batch reactors, the ability of a membrane bioreactor to maximize the existing tankage and provide valuable additional tankage to meet and exceed the proposed nutrient limits was found to be the deciding factor.
When construction is complete, the membrane bioreactor and biological system will use a traditional biological treatment scheme and will replace traditional clarification for solids separation with a submerged or pressure membrane. Because the membrane provides a near-total barrier to suspended solids, concerns over bulking sludge will be virtually eliminated, and the biological process can be operated at elevated mixed liquor suspended solids concentrations. This allows smaller tank volumes to achieve the same treatment results, and the minimization of treatment tankage is what allows Mifflinburg to use its existing sequencing batch reactor tankage for maximum benefit.
Proposed Upgrades
To complete the Membrane Bioreactor improvements, the Borough of Mifflinburg will rehabilitate many portions of its facility including:
Installation of fine screening/grit removal and solids handling in a new 9 mgd headworks
Conversion of a portion of the existing sequencing batch reactors to flow equalization storage and construction of a stand-alone 1 MG equalization tank
Conversion of a portion of the existing sequencing batch reactors to a membrane bioreactor with an integrated biological nutrient removal system capable of passing peak flows of 4.5 mgd
Installation of ultraviolet light disinfection
Installation of a chemical precipitation system for enhanced total phosphorus removal
Conversion of a portion of the existing sequencing batch reactors to aerobic digesters
The estimated probable project cost of the Membrane Bioreactor Improvements is $7.8 million with annual operating costs of $624,000. Construction of the upgraded facilities are scheduled to begin in the winter of 2007-2008 and should be completed by July 2009.
Using MBR technology, the borough will be able to reuse much of its existing equipment while meeting the strictest limits for nutrient removal that current technology will allow, reducing the likelihood of another upgrade in the near future.
About the Author:
Jason Wert, P.E., BCEE, is a senior project manager for Herbert, Rowland & Grubic, Inc. (HRG), a civil engineering firm providing water and wastewater treatment, environmental permitting and engineering, site development, transportation, surveying, and civil infrastructure services throughout the Mid-Atlantic Region. He has extensive knowledge of membrane filtration and has significant experience with Biological Nutrient Removal systems. He can be reached by email at jwert@hrg-inc.com.