High Flow Management Plan Enables WWTP to Function in Record Rains
Every spring, the Greenville, NH, wastewater treatment plant (WWTP) could count on facing the same challenge: Snow thaws and heavy rains...
Oct 1st, 2007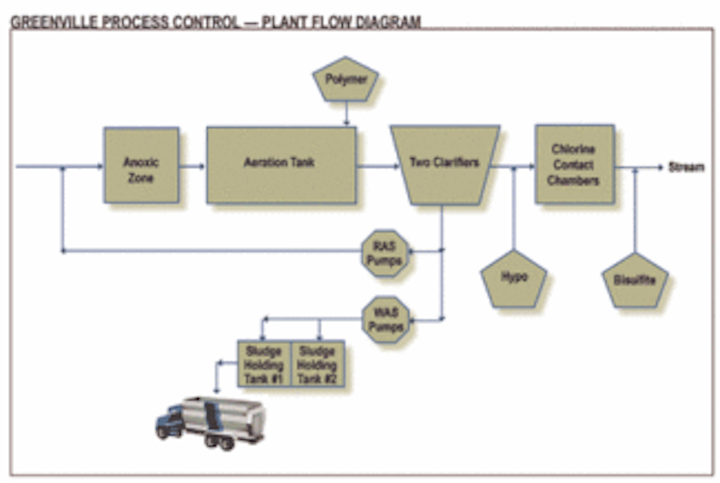 by Harvey King and Carla Mary
Every spring, the Greenville, NH, wastewater treatment plant (WWTP) could count on facing the same challenge: Snow thaws and heavy rains caused solids washouts from the clarifiers, resulting in exceedances of effluent standards. That is no longer true. As managers of the water and wastewater treatment plants, Woodard & Curran implemented an effective High Flow Management Program that includes on-line instrumentation, automated controls monitoring, and the development and implementation of a standard operating procedure (SOP). These changes have reduced the risk of solids washout and improved effluent compliance, as demonstrated during the record rainfall in 2006 and 2007.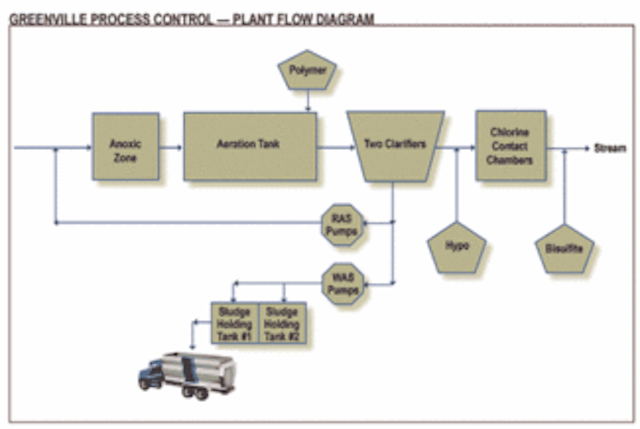 Click here to enlarge image
Seventeen inches of rain fell in five days in this region in the spring of 2006, the most since the 1930s, according to the National Weather Service. The downpour closed roads, washed out bridges, and strained dams to near-failure, but the Greenville WWTP maintained compliance with all permit discharge parameters.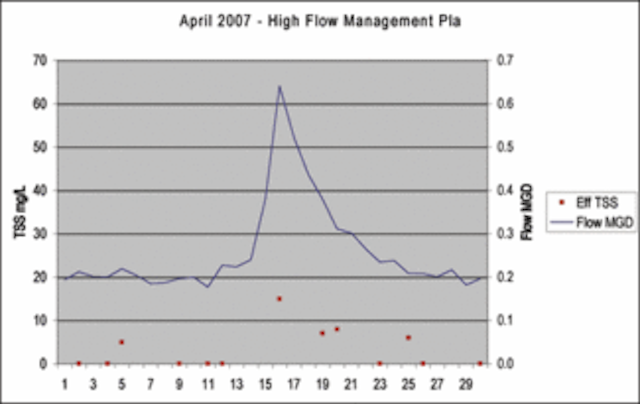 After implementation of the SOP described in this article, effluent TSS held at steady levels, within permit, even in the record rainfall of April 2007.
Click here to enlarge image
Built in 1974, the plant has a design flow of 0.233 million gallons per day (mgd), with a daily maximum flow of 0.595 mgd and a peak hourly flow of 1.04 mgd. At present, its daily average flow is 0.174 mgd. The plant operates in an extended aeration system mode and uses a curtain entry cell to serve as an anoxic selector. The basic control strategy is to operate the system at a nine-day suspended solids mean cells residence time (MCRT) and maintain an MLSS (mixed liquor suspended solids) of approximately 2,000 milligrams per liter.
The plant was especially susceptible to solids washouts from its two clarifiers because they are only 7 feet deep with a combined capacity of 33,000 gallons. Collection system inflow and infiltration (I/I) during heavy rain events regularly over-taxed the peak design capacity of the small, shallow clarifiers.
An additional concern was that the plant staff of three individuals tended to respond with different procedures during high-flow events. The need for a consistent response was realized. Staff collaborated with operations-specific input to achieve a consensus about the optimum response strategy. The team effort assured a consistent response. A high-flow standard operating procedure (SOP) was developed and implemented. Everyone understood that it was open to revision, based on new information gained from each event.
The established SOP strives to provide compliance by maintaining treatment and managing total suspended solids as follows:
During high-flow periods, the two variable frequency drive (VFD) blowers are turned off and run by hand for 5 minutes every hour. This process enabled staff to retain solids in the aeration tank during high-flow periods and also provides sufficient oxygen to keep the microorganisms alive;
The return activated sludge (RAS) flow is maximized;
The polymer pump is set at Assist Clarifier Settling, at a rate of 15 GPD;
The anoxic zone mixer is kept on throughout the event;
The clarifier blankets and effluent turbidity are manually monitored each hour; and
The chlorine residual is closely monitored and adjusted to assure fecal coliform kill.
According to the SOP, when the plant flow subsided to 0.233 mgd or less, staff returned the aeration blowers to continuous operation and gradually decreased the RAS rate back to normal rates. Polymer feed was also gradually reduced based on results of hourly checks of the clarifier blankets and turbidity.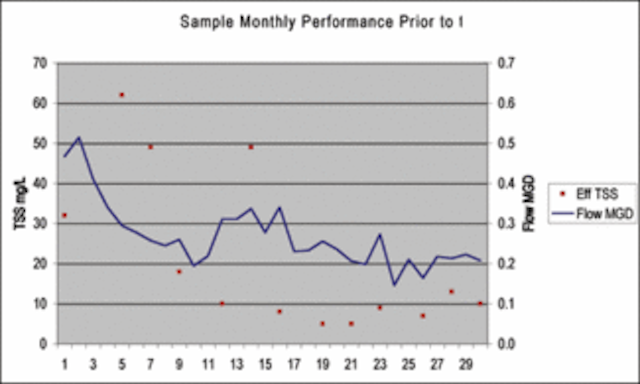 Before implementation of the SOP described in this article, effluent TSS fluctuated dramatically, often exceeding permit. levels.
Click here to enlarge image
By following this SOP, the plant staff achieved consistency of response and alleviated the washout problem, but did not eliminate it. In fact, the SOP revealed shortcomings that mere procedural improvements could not fix. For example, the SOP specified constant monitoring, but the facility is staffed for only eight hours per day under normal conditions. Staff time was at a premium during these events, because many tasks required attention.
System Enhancements
In order to address this issue, several physical enhancements were made. The RAS-pump and VFD-blower combinations were programmed to pace their operation with the influent flow. This modification reduced strain on the entire system. A spare aeration blower was linked to an operational timer, set to run 15 minutes every three hours. This ensured retention of solids during high flows. Additionally, the polymer feed pump was adjusted to flow pace its feed based on the influent flow rate. The costs of these modifications were funded by the project's annual maintenance and repair budget.
Finally, an alarm was tied into the dialer and effluent flow recorder through the plant's instrumentation and control system. When effluent flow reaches 0.45 mgd and maintains that flow for one hour, the alarm alerts the on-call staff to come to the plant and initiate the previously described high-flow procedures. The plant is operated under these conditions until flow recedes to 0.35 mgd. At this point, normal operating procedures are resumed.
As a side note, the staff jar-tested many polymers, finally agreeing that a liquid polyaluminum chloride product provided the best settling performance. Its ease of application and effectiveness justified its relatively high price of $6 per gallon. The plant expends 11 to 15 gallons of this product per day during high flow events.
Results
Prior to developing a high flow management plan, the plant experienced numerous combinations of BOD, suspended solids and/or fecal coliform permit exceedances during high flow events. Since making the physical modifications and implementing the SOP, the plant has experienced a minimal number of exceedances. The reduction in exceedances indicates that the staff's goal was attained - through creativity, teamwork, and commitment.
About the Authors:
Harvey King has more than 20 years of experience managing and operating municipal and industrial wastewater facilities, as well as groundwater treatment plants. He is based in Woodard & Curran's Manchester, NH, office and may be contacted via e-mail at hking@woodardcurran.com. Carla Mary has 21 years of experience in the water and wastewater treatment field, supervising and performing duties related to the treatment, storage and distribution of potable water. She is based at the Greenville, NH, wastewater/water treatment plant and can be contacted at cmary@woodardcurran.com.