PRODUCTS & SERVICES: ODOR CONTROL
ATI has developed sensor technology that allows continuous monitoring in scrubbers that employ a wet process using hypochlorite solution ...
Apr 1st, 2007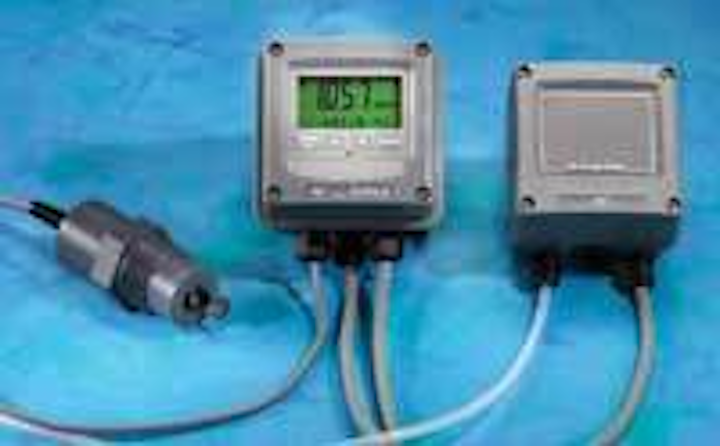 Wet H2S monitor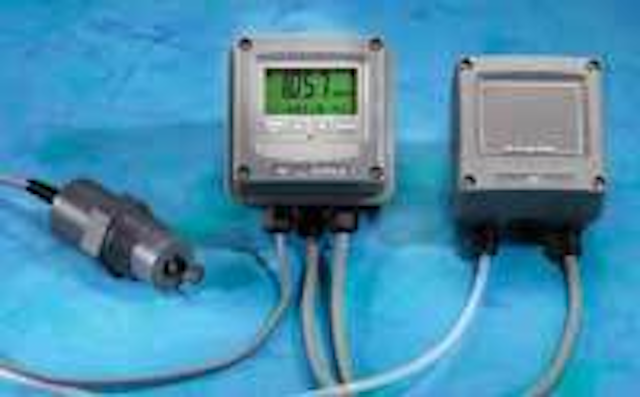 Click here to enlarge image
ATI has developed sensor technology that allows continuous monitoring in scrubbers that employ a wet process using hypochlorite solution to remove H2S from air streams prior to discharge. The Q45S odor monitoring system uses the company's standard Q45 electronics package in conjunction with a special "Wet H2S" sensor. Measurements may be made either at the inlet to the scrubber system where concentrations can run as high as 200 ppm, or at the outlet where concentrations are ideally down below 0.5 ppm.
Analytical Technology Inc.
Collegeville, PA
Tel: 610-917-0991
Web: www.analyticaltechnology.com
Retractable covers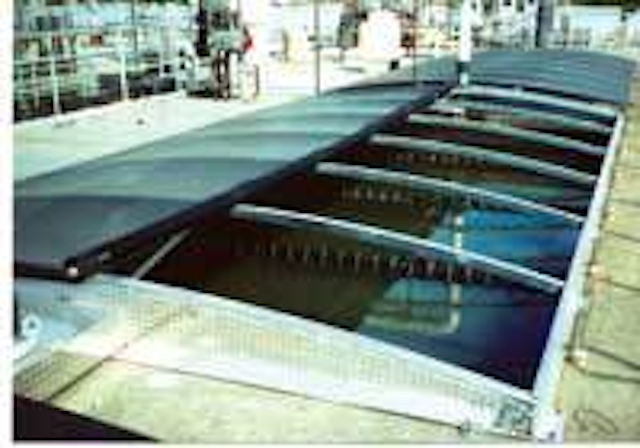 Click here to enlarge image
GTI's retractable, structurally supported cover system consists of a sheet of high strength, UV-protected, coated fabric tensioned across a series of low profile aluminum arches which span a tank opening. Applications include odor control, blocking sunlight, temperature control, or preventing debris from entering the tank. The fabric cover is sufficiently air tight to allow a ventilation system to function, yet it can be detached on three sides and retracted to expose the tank contents for inspection or maintenance.
GTI Tank and Lagoon Covers
Fredericton, NB
Tel: 506-452-7304
Web: www.gticovers.com
Aerator/mixer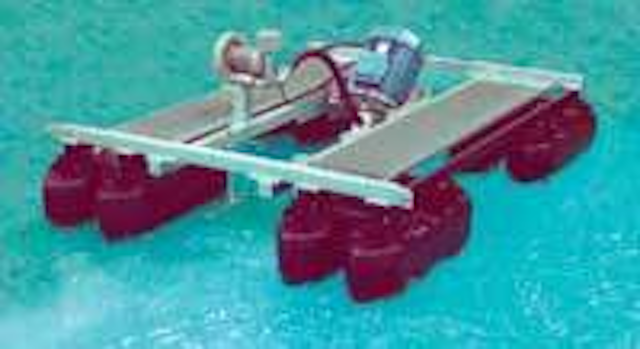 Click here to enlarge image
The AIRE-O2 Triton® process aerator/mixer's oxygenation and mixing improves treatment performance efficiencies making it ideal for odor control in urban areas. Additionally, air is introduced and transferred below the water's surface thereby eliminating odor problems associated with surface splashing type systems that generate aerosols. The system has a very low dB noise level for urban, populated areas and can also reduce energy consumption. The system an provide oxygen transfer, dispersion and mixing to 33 feet deep that ensures de-stratification and treatment of the entire biomass for aerobic treatment.
Aeration Industries International Inc.
Minneapolis, MN
Tel: 800-328-8287
Web: www.aireo2.com
Odor control
Officials of ADAPCO Environmental Solutions (AES) have introduced VulchurTM, a new chemical product for the wastewater industry that can control both odor-causing bacteria and corrosion in wastewater systems. The product is designed to remove hydrogen sulfide and mercaptans from wastewater systems. It also reacts to form a corrosion inhibitor for concrete and metal infrastructure and equipment. The product is a direct drop-in replacement for caustic and bleach in wet scrubber systems. It does not increase a system's pH level, it does not create system solids or build-up and it uses 25% less chemical than other products.
ADAPCO Environmental Solutions
Sanford, FL
Tel: 800-920-1001
Web: www.vulchur.com
Odor control
Calgon Carbon's Centaur®HSV is a vapor phase virgin granular activated carbon that has been developed specifically for odor removal from sewage treatment operations. This agglomerated bituminous coal-based product has a high adsorption capacity for H2S - without chemical impregnants - and adsorbs volatile organic compounds (VOCs) in an effective manner. The product, by its catalytic functionality, oxidizes H2S and converts it to water soluble sulfur compounds.
Calgon Carbon Corp.
Pittsburgh, PA
Tel: 800-422-7266
Web: www.calgoncarbon.com
Sodium hypochlorite
Click here to enlarge image
Pepcon Systems' ChlorMaster® line provides on-site sodium hypochlorite generation for water applications and odor control. Water and wastewater disinfection, potable water chlorination, marine organism control and odor control systems are available. The company's electrolytic cells are installed worldwide for use with sewage treatment plants, sewage collection systems, desalination plants, onshore and offshore oil production facilities, power plants, and chemical plants.
Pepcon Systems
Cedar City, UT
Tel: 435-865-5045
Web: www.pepconsystems.com
Scrubber system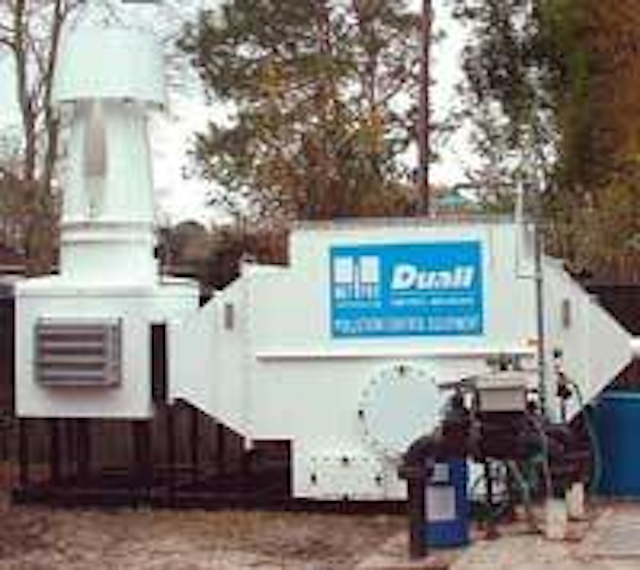 Click here to enlarge image
Duall offers the AroBIOSTM Bioscrubber System, a biological air pollution control technology which removes odors and gaseous contaminants without the use of chemicals or incineration. Duall also offers a selection of corrosion-resistant DuallastTM FRP and thermoplastic chemical scrubbers, carbon adsorbers, fans, and ventilation products for industrial and municipal wastewater treatment odor control applications.
Duall Division, Met-Pro Corp.
Owosso, MI
Tel: 989-725-8184
Web: www.dualldiv.com
Vertical pump

Click here to enlarge image
The Fybroc 5530 Series vertical pump is a corrosion resistant pump suitable for handling dry pit applications including acids, bleaches and caustics. Critical design details make the series an excellent choice for use on odor control scrubber systems. The pump's design features include: lower cost than in-tank vertical pumps; mounting outside tank; FRP construction and FRP wrapped shaft (1/8"); heavy duty column, shaft and bearings; and optional high pressure shaft seal.
Fybroc Division, Met-Pro Corp.
Telford, PA
Tel: 215-723-8155
Web: www.fybroc.com
Taste, odor control
Applied Process Technology has announced the availability of HiPOx Plus, a waste-free Advanced Oxidation Process (AOP) that targets taste and odor issues in drinking water. The system combines ozone and hydrogen peroxide to form hydroxyl radicals, aggressive oxidants that react chemically with taste and odor compounds. The process simultaneously removes a wide range of volatile organic compounds (VOCs) and micro-contaminants as well. Its reactor design enables the system to also perform as an effective ozone contactor, or users can alternate between ozone and AOP mode to achieve a variety of application-specific requirements. Multiple reagent injection and reaction points provide improved contaminant destruction and disinfection. In addition to fully engineered packaged treatment systems, the process can also be provided as a stand-alone reactor for integration with other equipment.
Applied Process Technology Inc.
Pleasant Hill, CA Tel: 888-307-2749 Web: www.aptwater.com
Odor control
Baker Filtration, an activated carbon technologies division of Baker Tanks, provides a turn-key solution for cities afflicted by municipal odor control applications. It's capable of design, delivery and installation of a proven SCAQMD permitted odor control system for temporary or permanent use. A system fan mounted in a sound enclosure to reduce sound levels combined with a high flow carbon vessel provide an effective means to eliminate sewer odors.
Baker Tanks Inc.
Seal Beach, CA
Tel: 800-310-6569 Web: www.bakerfiltration.com