Stormwater Treatment Chemical Based on Recycled Crab Shells
Little Bear Creek in Woodinville, WA, is a highly sensitive salmon spawning creek.
Mar 1st, 2007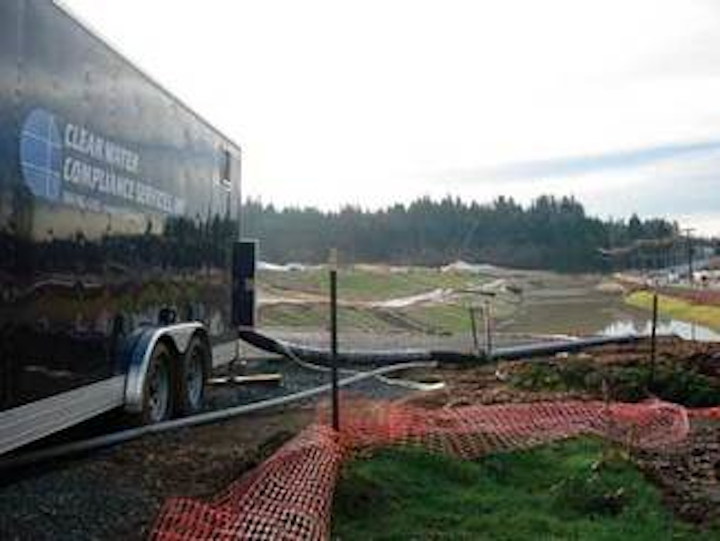 By Jason Ziemer
Little Bear Creek in Woodinville, WA, is a highly sensitive salmon spawning creek. The creek winds its way through various urbanized areas and crosses the King/Snohomish County line as it meanders along the west side of state road SR 9. The creek is a 303(d) listed waterbody for fecal coliform and there are restrictions for turbidity and dissolved oxygen within segments of the creek. Surrounding municipalities have made the creek the "poster child" for stormwater compliance.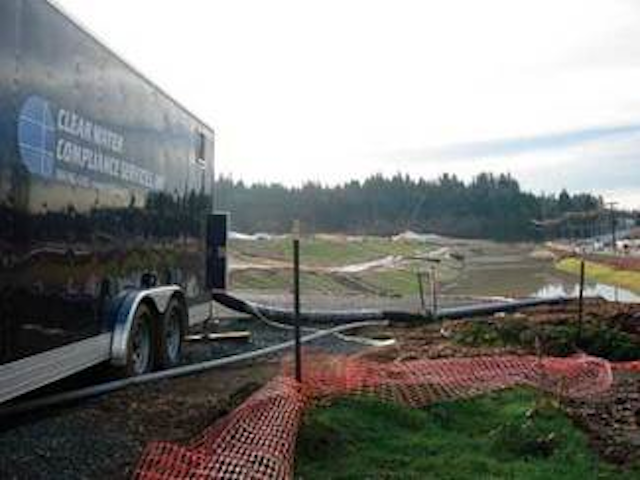 CESF is a flow-through technology that is capable of reducing typical stormwater turbidities to less than 5 NTU at flow rates of 500 gpm.
Click here to enlarge image
Complying with NPDES permit requirements and controlling turbidity from construction and industrial stormwater runoff has been difficult in this area because of precipitation volumes, rapid development and environmental impacts from previous industrial activities.
Two major construction projects are underway which, either directly or indirectly, discharge stormwater to Little Bear Creek. One of the projects is the high-profile development of King County's new Brightwater Treatment Facility in Woodinville. The 114-acre project started in the summer of 2006 and is scheduled to be completed by 2010. The Brightwater project is a joint venture between Snohomish and King County to create a centralized wastewater treatment plant. The project scope includes construction of the wastewater treatment facility, 10 miles of tunneling and a terminal marine outfall.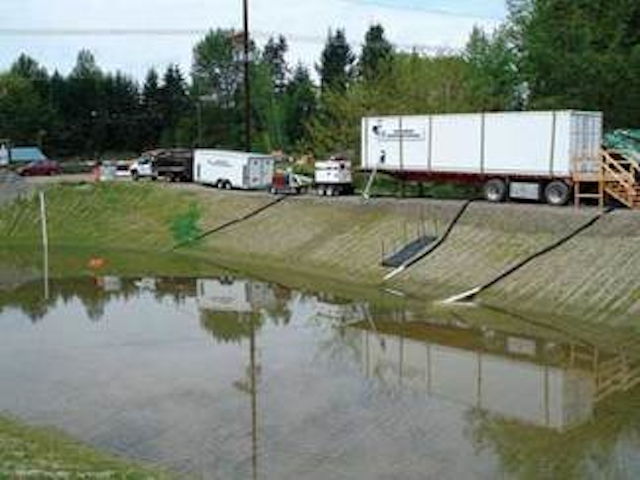 Water collected in stormwater detention ponds is treated to remove turbidity and other pollutants. The CESF process typically reduces turbidity by over 95%.
Click here to enlarge image
The second major project in the area is the expansion of SR 9, a state road that parallels the creek for much of its duration. This project is linear in nature, which limits the area of disturbed and exposed soil but creates unique stormwater management challenges.
The regulatory agencies and engineers on both projects agreed that implementation of conventional BMPs would not be adequate to meet water quality standards for discharge to the creek. They turned their attention to the previous success of other projects within the drainage basin, including Costco Wholesale and a Waste Management recycling facility, both of which used a stormwater treatment BMP called CESF (Chitosan Enhanced Sand Filtration). Clear Water Compliance Services of Lynnwood, WA, was selected to be the CESF service provider for both projects.
Unlike conventional BMPs, which rely on physical processes to remove suspended sediment, CESF combines a chemical process and pressurized sand filtration to achieve desired water quality results. CESF uses a unique water treatment chemical called chitosan. Chitosan is extracted from recycled crab shells and is fully biodegradable. When added to stormwater, the chitosan creates an ionic attraction to the fine particles suspended in water.
The chitosan-treated particles have an affinity to one another, which encourages flocculation. The agglomerated particles are then removed from the water through a high-flow-rate sand filtration system. The CESF process reduces turbidity by over 95% and often reduces other sediment-related pollutants such as phosphorus, nitrogen and trace metals. CESF is a flow-through technology that is capable of reducing typical stormwater turbidities to less than 5 NTU at flow rates of 500 gpm.
Clear Water's CESF control unit, Revolu+ION, is the "brains" behind the treatment system. Water coming into the unit from a collection pond is tested for acceptable turbidity and pH levels with flow-through equipment. The water is then injected with a dose of chitosan which goes through the flocculation process along the length of the pipes. The floc is then filtered and removed through the multi-media sand filters. The filtered water is pumped back into the unit where it is again measured for turbidity and pH. If the water meets the pre-specified criteria, it is discharged. If it does not meet the water quality standards necessary, the Revolu+ION automatically shuts down or sends the water back to its point of origin. Water that does not meet determined water quality criteria is not allowed to be discharged from the treatment system. All treatment system monitoring data is logged in an onboard computer and readily available for reporting purposes.
In the case of the SR 9 project, stormwater is collected in three separate ponds at different locations along the route. The CESF system was trailer mounted so it could be moved from one pond to the next.
The initially proposed 500 gpm discharge rate raised concerns about potential scouring and erosion in and along the creek and discharge limits to creek tributaries (Whistle Creek, and Unnamed Creek #2083) during the summer months. Clear Water mitigated the situation by designing and installing a pressurized spreader/dispersal system, which infiltrates treated water to surrounding vegetated areas at a rate of 350-400 gpm. Without the spreader/dispersal system the discharge flow rate would have been restricted to less than 50 gpm, which would have made treating the volume of stormwater generated from the project nearly impossible, even for small rain events.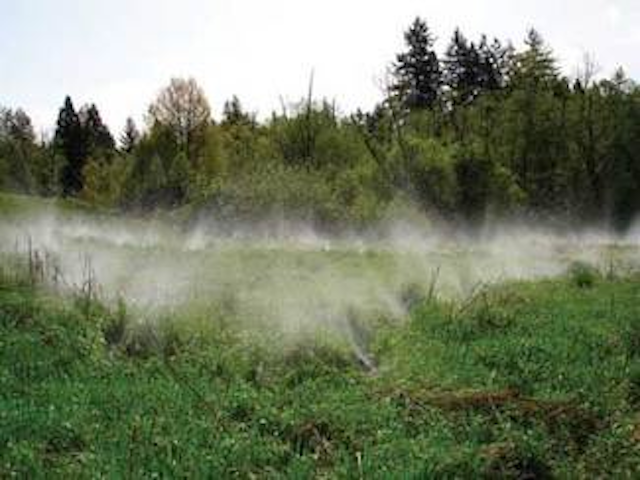 A pressurized spreader/dispersal system can infiltrate treated water to surrounding vegetated areas at a rate of 350-400 gpm.
Click here to enlarge image
Since the SR 9 project began in March 2006, over 2.5 million gallons of stormwater have been treated and discharged. The project has seen turbidity levels as high as 600 NTU and has been able to reduce those levels to an average discharge of 3.3 NTU with no violations of requisite water quality standards.
The Revolu+ION system for the Brightwater project was installed on December 18, 2006. Since that time, over 1.1 million gallons of water have been treated and discharged to the creek. The average incoming turbidity to the system has been 375 NTU and the average discharge has been 1.76 NTU with an average flow rate of 400 gpm.
About the Author:
Jason Ziemer is COO of Clear Water Compliance Services. He has been involved in the research and development of the Chitosan-Enhanced Sand Filtration technology for a number of years and has successfully implemented the technology on dozens of projects throughout the United States. While with EMCON Northwest of Bothell, WA, Ziemer performed the first chitosan-enhanced construction stormwater treatment test in March 1999. Research demonstrated the efficacy of chitosan removal of turbidity in conjunction with filtration absent of aquatic toxicity. More information about the system can be found at www.ch2ocsi.com.